If you're a startup or small business, you're probably looking for ways to make your business look professional without spending a ton of money. A business email address with a custom domain is one of the first steps you should take towards creating a professional-looking brand that inspires confidence in your products and services. That's why we've put together this article giving you eight ways to create a free business email so you can save money while still showing your business in a professional light.
You may be wondering if a business email address really matters. Or, maybe you're thinking you can get away with doing something like [email protected]. Before we get into the ways you can create a free email for your business, we want to make sure you understand how important it is to have a business email address and why the average Gmail address just isn't going to cut it if you want to get serious about email marketing.
---
How to Create a Free Business Email for a Professional Brand on a Budget:
---
Why You Need a Business Email Address
You already know that a business email address makes your brand look more professional and inspires trust in your brand, products, and services. But there are other benefits that make it all worth it to create a business email address—especially when you can do it for free.
A business email address uses your own domain name for your email, making it a lot harder to fake. That means when your audience gets your marketing emails, they know that those emails are legitimate. Having your own business email address inspires trust. Plus, they can increase brand awareness.
---
What to Look for in Free Business Email Providers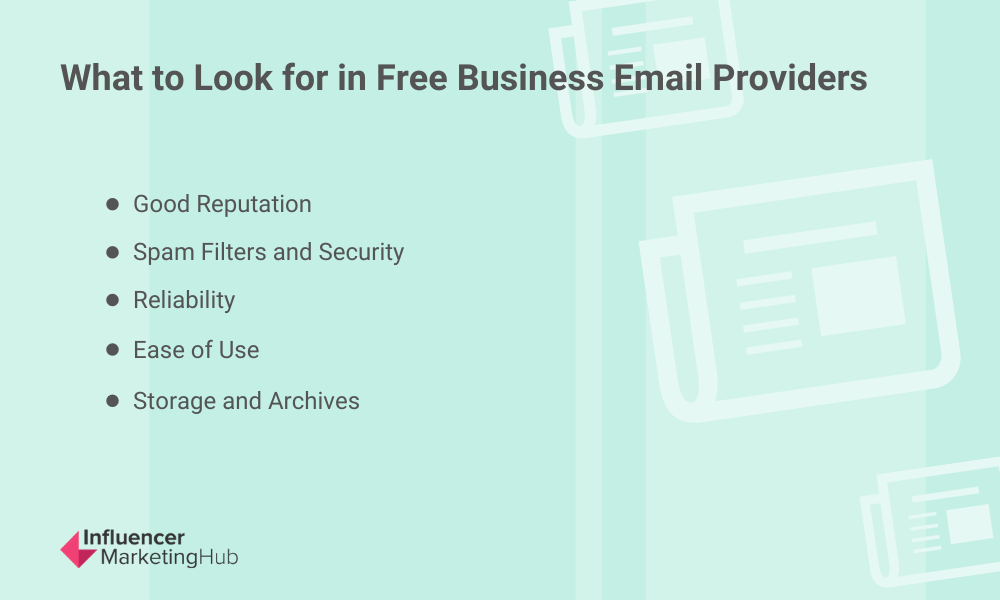 All website hosting providers are going to offer up a business email, even if the features vary widely and you might have to configure everything on your own. So, what should you really look for when you're considering your options for ways to create free business email addresses? We think it's important to find an email provider with a great reputation, but there's more to it than that. So, let's take a look at six key areas you'll want to consider when choosing the right free business email option for you.
Good Reputation
One of the easiest ways to figure out what kind of company you're looking at is by checking the reviews. Are customers happy with the provider? Check out both positive and negative reviews to get a better idea of the provider. Typically, three-star reviews are going to be most helpful when it comes to making a decision since one-star reviews are usually given by people who were mad about a specific, singular event and five-star reviews tend to not be super objective, either. So read a few of the one-star and five-star reviews, but spend most of your time on the three-star reviews to get a more rounded grasp on the positives and negatives you're likely to experience as a customer.
Spam Filters and Security
Your email service provider needs to include security options and spam filters so you can keep your own inbox secure. Unsecured email is a great way to get hacked and have your customers' information put at risk. Not a good look for a business. If you can find a hosting provider that offers built-in malware detection or other security apps, consider it a bonus.
Reliability
Reliability is vital. You don't want to choose a provider that's going to have tons of downtime. These days, it's really not great if a hosting provider has uptime lower than 99.99%. Uptime is what keeps you connected to your customers, so find an email provider that rarely, if ever, fails.
Ease of Use
As you'll see when we get into the ways you can create free business email addresses, some are easier and some require a bit of technical knowledge. What are your own capabilities when it comes to techy things? If you struggle to set up a new email account on your phone, you're probably going to want to find an email provider that just requires a couple of clicks to set up your business email and not one that requires you to dig into the cPanel, change DNS info, and the like.
Storage and Archives
Consider the types of emails that you send and receive. Do you send large files back and forth? Do you want to be able to keep emails sorted into folders for easy access a year—or several years—from now? If you send and receive large files or want to hang onto your emails for a while, you're going to need good bandwidth and storage. A website hosting provider that lets you allocate the space you want for email is probably going to be your best option.
Advanced Features and Applications
What do you need your email to do other than send and receive emails? Do you find yourself wishing that you could get that sent message back? What about scheduling emails? Do you need to integrate with a CRM or influencer relationship management tool? All of these things will dictate which email provider is best for you. Look for services that give you access to the advanced email features you need.
---
Choosing a Domain Name Registrar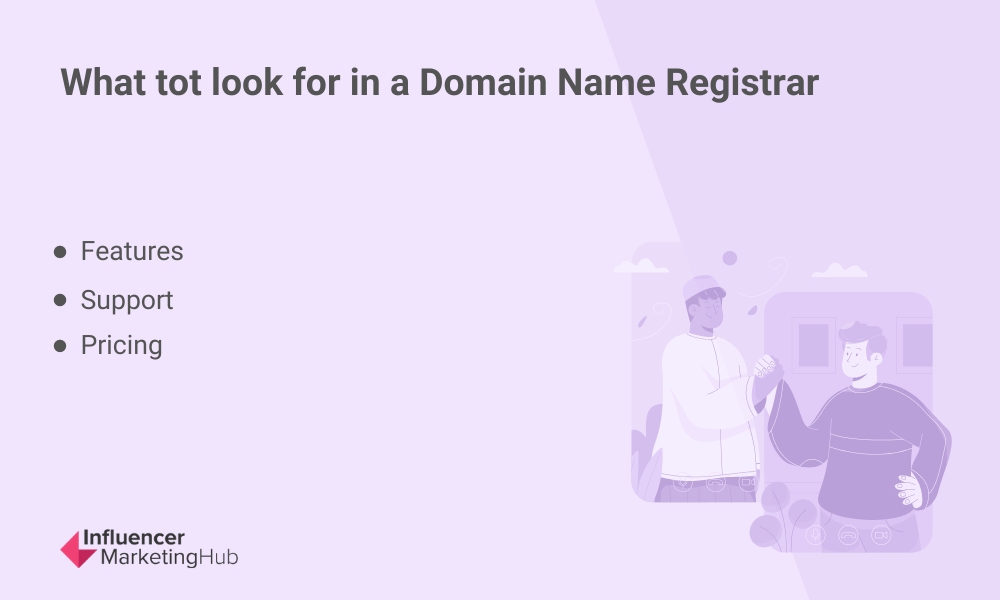 While you can absolutely get a free business email without a domain name, we find that it makes much more sense to get them together. You'll want a website, after all, to send your potential and existing customers to. Plus, you can use SEO tools to optimize your website and pull people in who might not even know you exist. And more leads is a good problem to have.
Once you think of a great domain name for your business website, don't wait on it. There are domain name brokers out there who buy up every domain name they can think up and then sell them back to people at a much greater cost than you might have paid when you thought of the name. Most domain name registrars and website hosting providers offer domain names for under $15 per year. But if a broker stumbles into that name that you passed up because you weren't sure you wanted to set up a website, you might find that you're paying a couple thousand dollars when you finally get around to buying it. Not fun. So, once you think of the domain name that makes sense for your business, buy it.
There are three key things to consider when looking for a domain name registrar:
Pricing
Pricing varies from one domain name registrar to another. Plus, you'll want to be aware of the renewal costs, not just what it will cost you upfront. You might find that your domain name costs you $15 for the first year but that cost goes up to $100 for each year after that. You'll also pay a different price depending on the domain extension you choose, too. We recommend getting a .com extension most of the time. Lastly, check into how much it costs to transfer your domain to another registrar should you decide you don't like the registrar you chose and want to move to a different one down the road.
Features
There are tons of extras to look at when it comes to registering a domain name and privacy is a big thing to think about. Anyone can use Whois to find out who owns a domain, which can mean they get your address, phone number, and email address. Yuck. We recommend opting into a Whois privacy service to keep your information protected. This might be included by the domain name registrar, but you'll likely need to pay for it. Fortunately, it doesn't usually cost much (about the same as your domain name, $15 per year). Some domain name registrars offer hosting as a feature. But if you need hosting, just go with a web hosting company (like Bluehost, Squarespace, etc.) since they can also register your domain name for you and you're likely to end up getting the first year of your domain name included.
Support
Last, make sure you have access to support if you need it. You might not, but it's important to have the help available rather than have to pay for it (or not be able to access support at all), just in case.
---
How to Create a Free Business Email
There are several ways to create a free business email address for your business. Let's take a closer look at those methods now.
---
Bluehost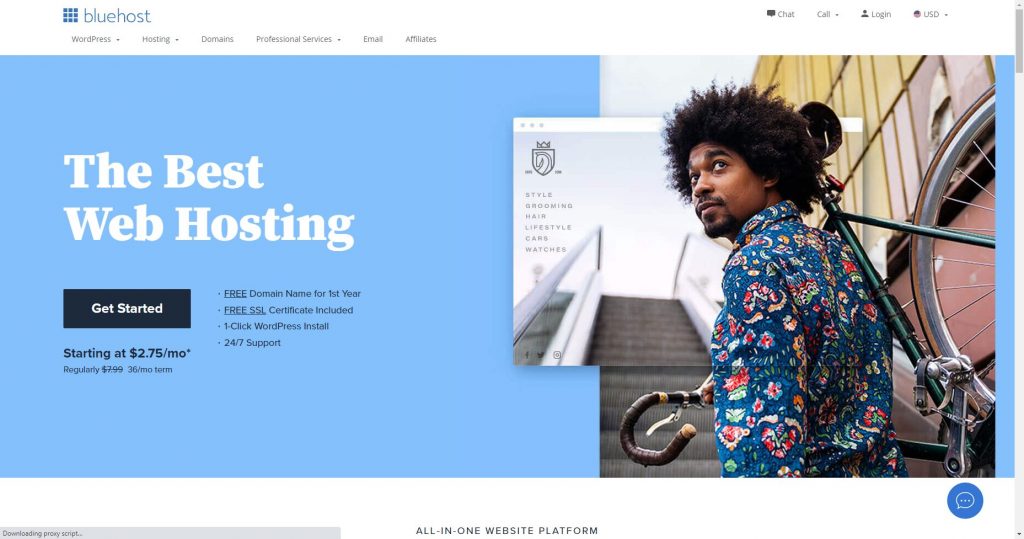 Bluehost is a web hosting software that works remarkably well for those who want to build a site using content marketing platform WordPress. With Bluehost, you'll get web hosting and a domain name. Plus, you'll be able to create up to five business emails for free. Just choose your Bluehost web hosting plan, pick your domain name, and head over to the email manager to create a free business email address. You can always check your email through Bluehost or set up your email on your favorite email client.
---
Squarespace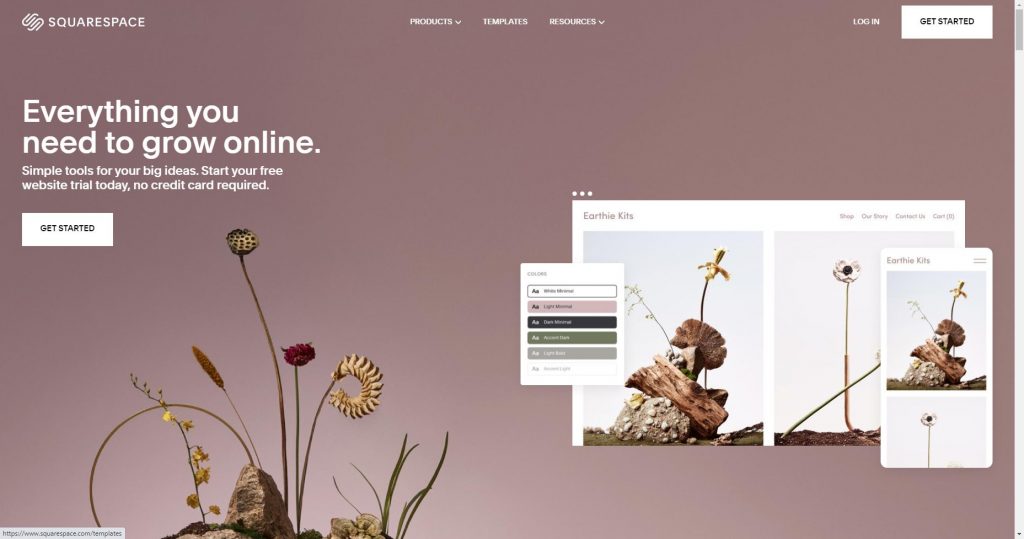 Squarespace is an easy-to-use way to create stunning websites and works well for people who want Google Workspace. Plans include a free business email address. Just go to Squarespace and sign up for an account. You'll need to choose a theme before heading into the site editor to build your website. Before publishing your website, you'll need to upgrade to a paid plan. Once you do that, you'll be able to set up a free business email address through Google Workspace.
---
HostGator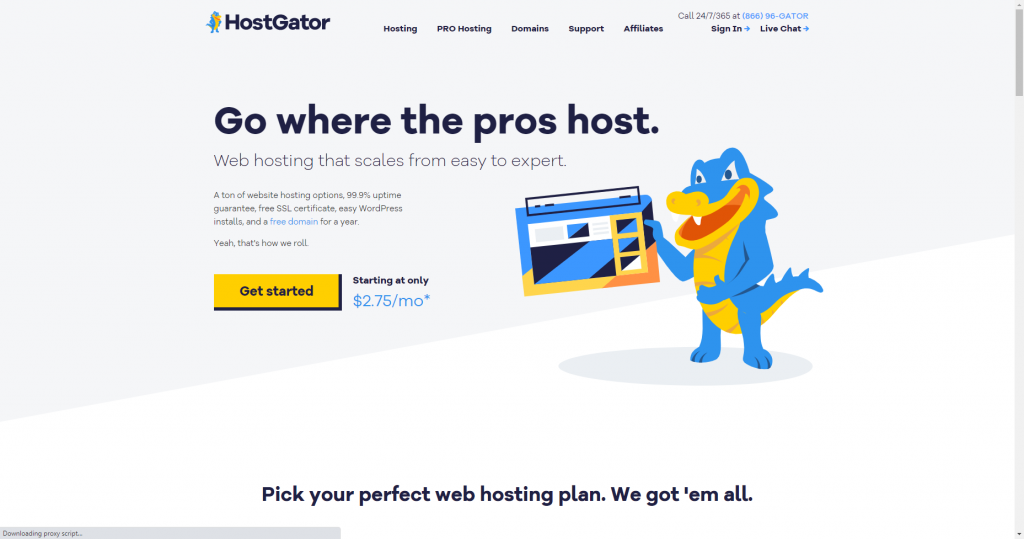 HostGator is another web hosting company that provides free business email accounts with their hosting plans. Start by heading over to HostGator and choosing a hosting plan and choosing your domain. Like Bluehost, you don't actually have to set up a website (though we recommend you do) in order to create a free business email address. Once you've purchased a hosting plan from HostGator, you're free to create your email address and use it right away. You can access your email from the HostGator platform or connect it to your favorite email client.
---
Zoho Mail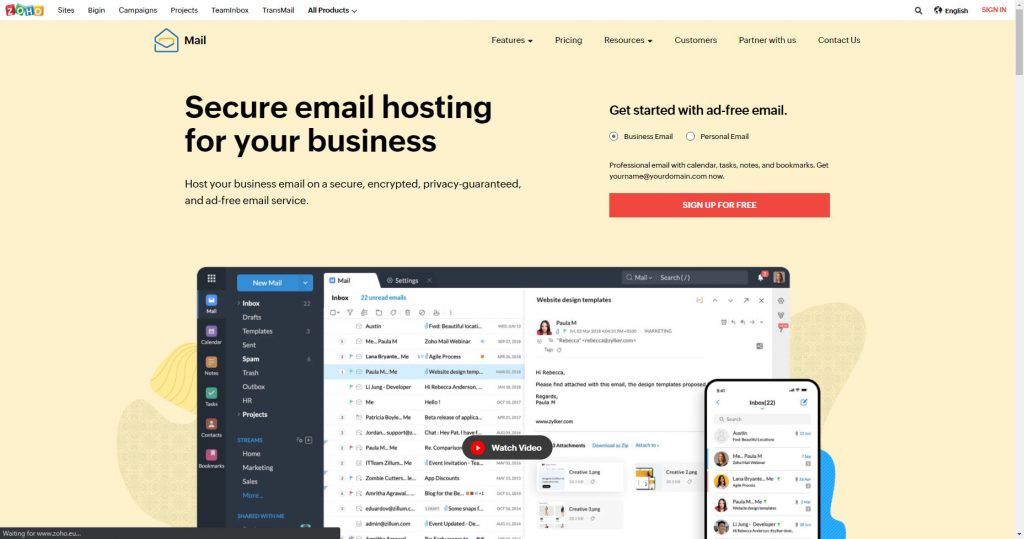 Zoho is a CRM software that comes with built-in email marketing tools. And, you can get up to five free business email addresses you can use with your own domain. Of course, that means you have to have your own domain to start with. Fortunately, you can easily snag one from a domain name registrar like GoDaddy, Google, Domain.com, and others. Once you have your domain name, just update your MX records with your domain provider and create your free business email address with Zoho Mail using their Free Forever plan. The free plan will get you web access for email hosting using a single domain as well as a 25MB attachment limit, up to five users, and 5GB of storage per user.
---
Gmail + Your Domain
If you have your own domain and a bit of tech know-how, you can connect your domain to Gmail and access your business email through the Gmail interface. It's a free option but can be a bit tricky to set up. Start by getting a domain name either through a web hosting provider that includes email forwarding. You'll also need a personal Gmail account. From there, you'll set up email forwarding from your web hosting account through cPanel and connect your domain to Gmail by adding another email address in the Settings section. Here's what it looks like, step by step:
Step 1:

Create a Gmail account.

Step 2:

Get a domain name through a web host that provides email forwarding.

Step 3:

Set up email forwarding from your web hosting account.

Step 4:

In Gmail, go to

Settings > Accounts > Add another email address > Treat as an alias > Update credentials

.
---
Google Workspace
Google Workspace, formerly G Suite, is another way to create a business email address for free. If you have a domain name and are looking for the kind of productivity tools that Google has to offer (Docs, Sheets, etc.), Google Workspace is worth a look. You'll need to purchase Google Workspace to get started, which you can do for around $6 per month, per user. If you already have a domain, you can use that domain for your business email. If you don't have one, you'll need to purchase one. To get started with Google Workspace, head over to the site and buy a plan then set up your admin console and verify your domain. Then, create your free business email address.
---
Your Website Host
If you already have a web hosting service, you likely have access to cPanel. You can use cPanel to set up a number of business email addresses. There are also usually customization options so you can set things like inbox size, email forwarding, and add your email address to your favorite email client on your computer or phone. Given the potential differences between website hosts, it's best to consult the documentation for your hosting provider to create your free business email address.
---
Mail.com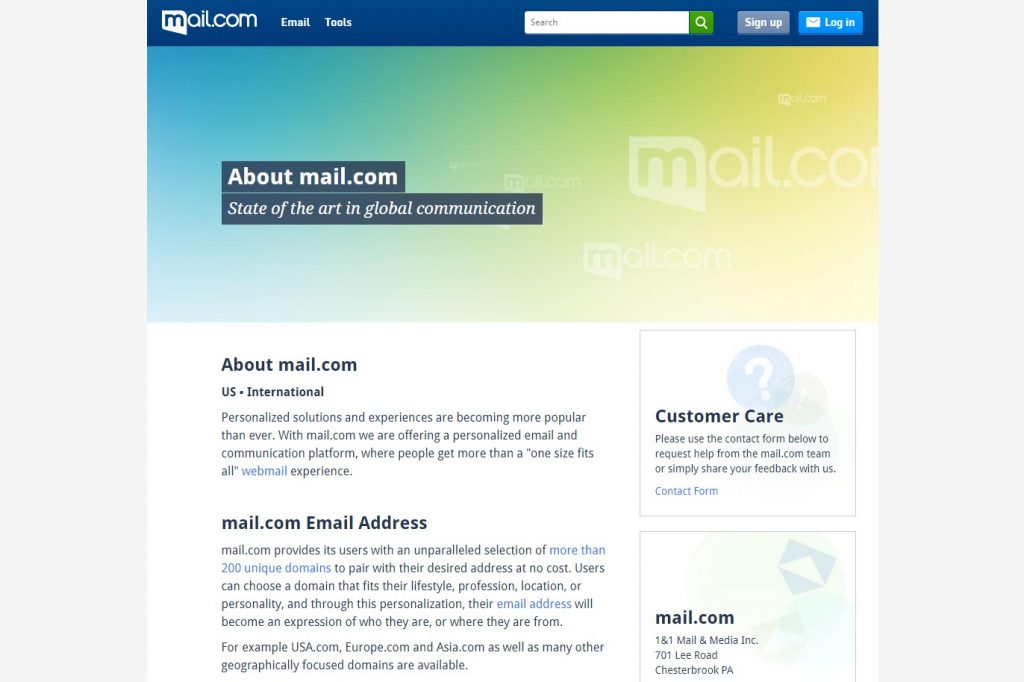 Mail.com is different from the other methods we've included on our list. With Mail.com, you won't need your own domain. Instead, you'll choose from several extensions that relate to your field. Mail.com includes extensions like @graphic-designer.com, @programmer.net, tech-center.com, and others. While having your own domain is always preferable, Mail.com can give you a more professional email address than [email protected] without the need to choose and purchase a domain.
---
Wrapping Up
As you can see, getting your own business email address doesn't have to be expensive or difficult. Any of the eight methods we've included in this article will help you create a free business email address to boost brand awareness and increase the trustworthiness of your brand.