No matter what business or industry you're in, graphic design is a skill that you're going to need. While some businesses might be able to afford to hire an in-house graphic designer, what if you can't? Or what if your graphic design needs are limited and it doesn't make sense for you to bring on a full-time graphic designer? Fortunately, there are agencies that you can bring in to meet those graphic design needs without taking on the cost of another full-time employee. In this article, we will share the top graphic design agencies we've found that are skilled and ready to take on your graphic design projects.
As you can probably guess, graphic design is a highly competitive field and the best graphic design agencies really work hard to earn that designation. The 43 top graphic design agencies we've included on our list are agencies with impeccable portfolios filled with clients that range from global, multi-billion-dollar enterprises with unlimited budgets to small businesses that are looking for a trusted partner to help them meet their graphic design needs on a budget. The agencies on this list are bleeding edge in terms of graphic design trends, so whether you're looking for edgy, minimalist, sophisticated, or traditional, you'll find the best graphic design agency for you right here.
Top Graphic Design Agencies From Around the World:
---
---
---
---
---
---
---
---
---
---
---
---
---
---
---
---
---
---
---
---
---
---
---
---
---
---
---
---
---
---
---
---
---
---
---
---
---
---
---
---
---
---
---
Industry Expert Insights: What to Look for in a Graphic Design Agency
In the United States alone, there are over 132,500 graphic design companies. This figure does not account for freelance designers and creative businesses. Among the many choices available, there are undoubtedly suitable options for your brand. The critical question is finding the one that will fit your business seamlessly. 
But before diving into your search for a graphic design agency, defining your project's specifics is essential. How much is your budget? What type of graphic design services do you need? Are you looking for a logo, banners, illustrations, or a complete brand design package? Set clear goals. What do you want to achieve with your design – increased awareness or higher sales? Take the time to document all the project details. The more precise your brief, the more effectively the agency can assist you.
To facilitate communication with the agency, gather examples of designs you admire and share them with the designers you plan to collaborate with. This can be a valuable tool in choosing the right agency. If they have experience creating designs in a style that resonates with you, they're more likely to align with your vision.
You can begin your search for a graphic design agency with a comprehensive brief. Here are some key insights on what to consider in your search.
Updated Portfolio
Start by visiting their websites and exploring their portfolios and case studies. You must pay close attention to how frequently they update their website. A regularly updated site with new portfolio projects, blog posts, or other updates indicates an engaged and active agency committed to staying current and relevant.
Look at their past and current work on their portfolio. The graphic design portfolio offers an initial look into their work, helping determine if their style aligns with your needs. Reviewing their past designs and brand partnerships is a key indicator of a reliable graphic design agency.
Take a look at The Logo Creative's Case Study Portfolio. It's a comprehensive page showcasing the agency's successful projects arranged by logo designs, brand identities, rebrands, logo redesigns, and graphic and web design work. Each category has multiple case studies that have thorough details of the challenge, the solution, and the project result.
Additionally, delve into case studies that reveal concrete results. For example, a design agency that significantly increased a client's website click-through rates through a redesign demonstrates its effectiveness.
---
Technical Skills
In today's tech-driven landscape, graphic design relies heavily on advanced software and tools. When selecting a graphic design agency, these technical skills are paramount: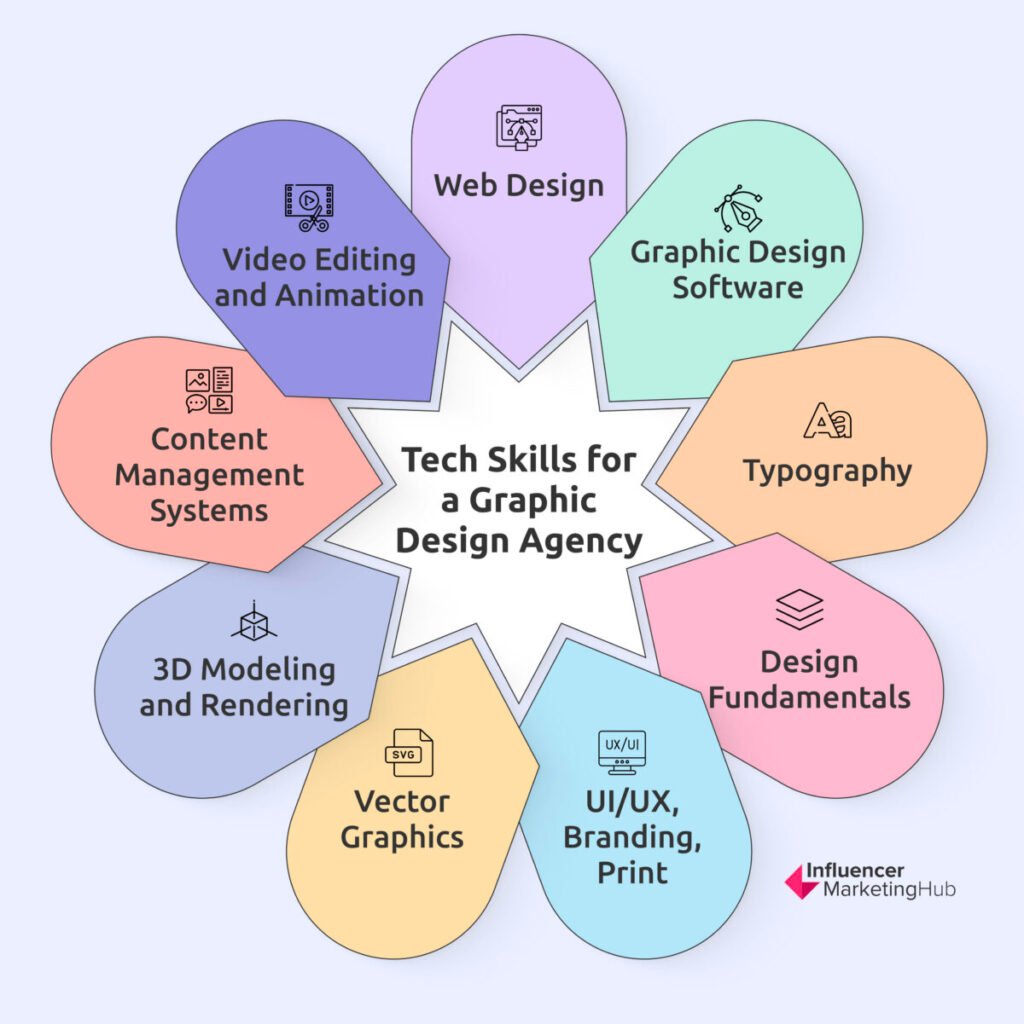 Web Design: Proficiency in CSS, HTML, and coding languages like JavaScript for effective web design.
Graphic Design Software: Mastering tools such as Adobe Illustrator, CorelDraw, and Photoshop for visual content creation.
Typography: Deep knowledge of fonts and typefaces to enhance text in design.
Design Fundamentals: Understanding color theory, composition, balance, and visual hierarchy for effective design.
UI/UX, Branding, Print: Expertise in user interface (UI) and user experience (UX) design, branding, and print design for diverse solutions.
Vector Graphics: Skill in vector graphics software like Adobe Illustrator for high-quality, scalable graphics.
3D Modeling and Rendering: Proficient in working with 3D modeling and rendering software, such as 3ds Max and Corona, for creating detailed three-dimensional digital projects. This expertise enables the execution of complex designs and realistic visualizations in various digital contexts.
Content Management Systems (CMS): Familiarity with popular CMS platforms like WordPress, Drupal, and Joomla for seamless website integration.
Video Editing and Animation: Proficiency in video editing and animation software for multimedia content creation, including Adobe Premiere and After Effects.
These technical skills collectively equip a graphic design agency to excel in various design projects.
---
Industry Experience
The more diverse and experienced the agency, the better. It's important to know which companies or businesses they've collaborated with. Sometimes, you might come across highly skilled graphic designers, but they need to gain more experience in your specific industry.
For example, if you're a startup, seek a graphic design agency tailored to startups like Digital Uncut. If you're in the B2B industry, opt for a B2B-centric agency like Moburst. A medical graphic design agency like Intrepy is a good choice in the healthcare sector. For service-oriented businesses like the legal sector, consider agencies like Pentagram, known for their work with esteemed law firms, showcasing a deep understanding of industry needs.
Choosing an agency with a proven track record in your industry ensures that their designs look visually appealing and convey a profound understanding of your niche. This enhances your brand identity and message effectiveness. It's a strategic decision that guarantees a meaningful and lasting impact in the marketplace.
---
Communication and Constructive Criticism
In graphic design, two critical elements are vital for project success: effective communication and embracing constructive criticism.
Effective communication is the cornerstone of any client and design agency project. It requires strong listening and comprehension skills on both ends. This is crucial for several reasons:
Client Collaboration: Your graphic design agency must understand your vision and brand messaging. They should actively listen and ask the right questions.
Timely Updates: Effective communication ensures you receive project updates and drafts promptly.
Feedback Integration: The agency should be receptive to your feedback.
Ideas and designs thrive through open and accessible communication channels, making agencies with these qualities the optimal choice.
In the creative process, accepting constructive criticism is equally indispensable. Graphic design often requires revisions, rework, and modifications. Only some initial designs are a hit; some ideas need fine-tuning, irrespective of the designer's skills. 
A good agency knows how to handle criticism and feedback gracefully. They accept client-requested changes and incorporate them without offense. This adaptability and responsiveness to feedback are hallmarks of top-notch designers.
---
Pricing
Cost is a crucial consideration when choosing a design agency. Budget constraints are a reality, but don't make it your sole focus. Balance cost-effectiveness with quality. Here's what to consider:
Transparency: Seek agencies with clear pricing structures and avoid those with hidden fees or vague cost breakdowns.
Value for Money: Examine the agency's past work to ensure their pricing matches the quality of their designs. For example, if a web design agency charges more but delivers high-converting designs that boost your ROI, it's a wise investment.
Scalability: Think long-term. A design agency offering scalable pricing can handle your expanding marketing needs without steep cost increases.
Package Customization: Some agencies offer flexible packages. You might start with a base fee for a logo and add extras like social media graphics or brochures as needed.
Industry Standards: Understand industry-specific pricing norms. Resources like the

Graphic Artists Guild

offer insights into standard rates for various design services.

Negotiation: Don't be afraid to negotiate; many agencies are open to discussions and may offer discounts, particularly for long-term contracts.
ROI Analysis: Remember, it's not just about upfront cost but the return on investment. A lower-priced agency may cost more if their designs don't yield results in the long run.
---
Navigating Your Decision: Questions to Ask Before Hiring a Graphic Design Agency
Savvy digital marketers, discerning marketing managers, and astute business owners understand the importance of a strategic partnership with a graphic design agency. To guide your selection process, consider the following questions: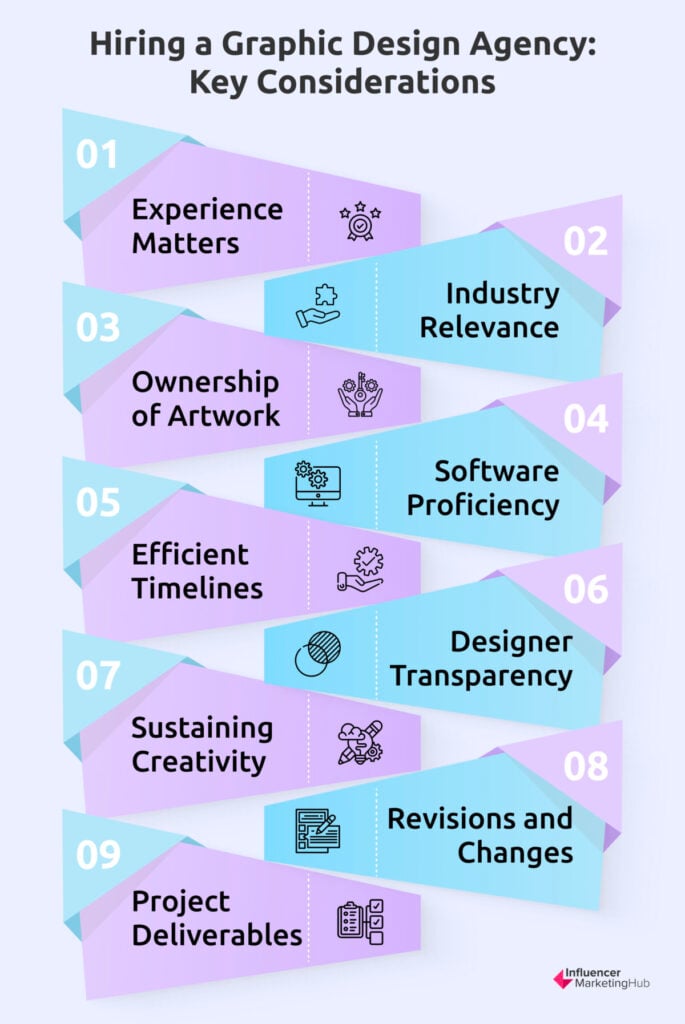 Experience Matters
How long have you been in business?

What's your level of experience in the field?

Can you provide examples of your work and portfolio to demonstrate your expertise?
Industry Relevance
Have you worked with clients in my specific industry or a similar one?

Can you show me relevant projects you've handled?
Ownership of Artwork
What is the ownership arrangement for the design work upon completion?
Software Proficiency
Which design software and tools are you proficient with?

Do you use industry-standard software for design projects?
Efficient Timelines
What is the typical timeline for completing a design project?

Can you provide a detailed proposal outlining the project's start-to-finish timeline?
Designer Transparency
Who will be working on my project?

Do you have an in-house team, or do you outsource your designers?

Can you share their portfolio and their track record with deadlines?
Sustaining Creativity
How do your designers stay creative?

How do you ensure your designs remain fresh and aligned with market demands?
Revisions and Changes
What is your policy regarding revisions and change requests?

Do you have a minimum change order or any additional charges for revisions?
Project Deliverables
What file types do you recommend for archiving and future use? 

What training or instructions will you provide regarding source files?
---
Final Thoughts
There you have it, our picks for the top graphic design agencies in the industry right now — and bonus insights on what to look for in a graphic design agency. No matter what you're looking for, these agencies have your graphic design needs covered, and most can offer you a complete marketing experience to get great results. If you're interested in building a cohesive, branded experience for your customers, the graphic design agencies on this list can make it happen.