Do you remember what social media visuals looked like a decade ago? Trends such as gradients, hand-lettering, and minimalism ruled the design space. Over time, graphic design has seen a massive shift and that explains the evolution of social media visuals too. What's more, let's not forget that social media platforms have also evolved to become more visual.
While 2022 graphic design trends will still play a role in 2023, advances in tech and software mean that a lot more is possible. For example, last year, dreamy gradients were favored and white space was combined with bright colors to grab the attention. In 2023, you can still expect to see some of these trends. However, you anticipate newer graphic design trends to emerge, such as motion graphics, utilitarian design aesthetics, and AI-generated art.
To help you create social media posts and visuals that will drive engagement in 2023, we've scoured the web for the biggest social media graphic design trends. From the resurgence of the retro-inspired art and using memes for branding, here's what you can expect in the coming year.
---
Emerging Social Media Graphic Design Trends to Keep an Eye Out on in 2023:
---
1. Motion graphics
Motion graphics is already making its way in many marketing campaigns. While video content isn't new, it has greatly altered the way marketers and designers approach graphic design for the internet. For instance, one video marketing trend that made it big in 2022 was silent videos that utilized unobtrusive captions to help enhance the visitors' viewing experience. Aside from making videos more watchable, captions also make your videos more accessible to individuals who are hard of hearing.
Video content is also going to be a major channel for motion and animated graphics in 2023. TikTok is a prime example of how dynamic content, like motion graphics and animated graphics work. Many TikToK users are incorporating dynamic captions to their videos to make their videos more appealing and entertaining to viewers. Some users also make use of captions to create more interactive posts.
From billboards to social media posts, motion and animated graphics offer a compelling alternative to traditional and static designs. They're engaging and invite visitors to stop scrolling and pay attention to your content. And, it's not just video content that's going to be making use of motion or animated graphics. It's expected that in the coming years, UX designs will also leverage this graphic design trend. We can already see websites, such as the Apple Music homepage, adding dynamic elements to make them more engaging.
Given their dynamic and engaging nature, motion and animated graphics can potentially boost your conversion rates, drive more traffic, and increase leads. Moreover, you can employ motion graphics and animation to create and define your brand identity, allowing you to stand out from the competition.
---
2. Dark mode-friendly graphics
81.9% of smartphone users are using their device's dark or night mode. One of the reasons for the popularity of dark mode among users is it can potentially help reduce eye strain. For devices, it can help reduce battery usage.
With the surging popularity of dark mode, you can expect to see graphic design elements that make use of dark mode-friendly design themes. Major tech companies, such as Apple and Facebook, are already incorporating dark modes to their interface and app, respectively. Moreover, you can expect to see brands and designers make use of dual color scheme designs to their creative assets. Dark mode or dual color schemes (light and dark mode) will also be increasingly incorporated in website and UI designs.
Aside from diversifying your creative and digital assets, using dual color schemes also makes these assets more flexible. Plus, using dark mode not only helps make your website appear easy on the eyes, it can also help you convey a particular mood to your website or design. Now, you might think that applying dark mode aesthetics to your designs means using only black—this is not necessarily the case here. The great thing about this emerging graphic design trend is it lets you use other dark colors, like midnight blue or Payne's grey, so you're free to play around with different colors and design elements.
---
3. Bold, abstract shapes
Abstract surrealism and the use of geometric patterns were two of the biggest design trends in 2022. Next year, you can see more variations of these design principles, in the form of bold abstract shapes. Abstract asymmetrical patterns and bold shapes will continue to be popular design elements in 2023.
Several reasons contribute to the popularity of this design aesthetic. One, bold and abstract shapes are eye-catching and help make your graphics more visually striking. Two, they utilize variety and contrast, allowing them to cut through the noise (through good design) without necessarily detracting from the message that your brand is trying to convey. Lastly, they're relatively easy to create. You can utilize interesting shapes, like blobs, ovals, or ellipses, and use a couple of bright colors. Some of the websites that are already using this design trend include Semrush and Slack.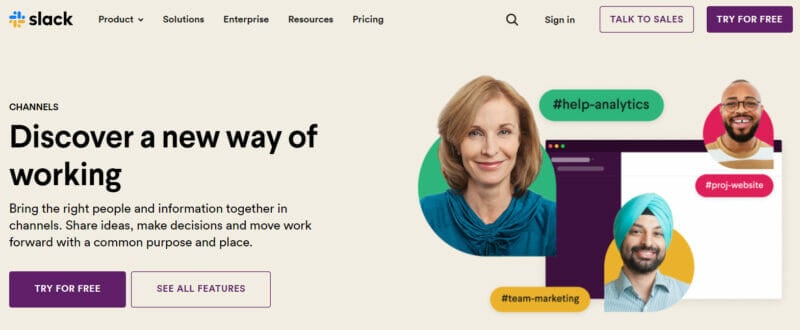 ---
4. AI-generated art
AI-generated art will become a big trend in 2023. This year, it's already starting to make waves, with the advent of online AI image generators like OpenAI's DALL-E 2. The growth of AI has played into how the technology is being used to generate new and unique images from text that you can see in various channels, like social media platforms. Aside from speeding up how designers and artists create images, AI technology also helps improve workflows and opens up new opportunities for creativity and marketing, such as AI-generated images being used to create branded assets.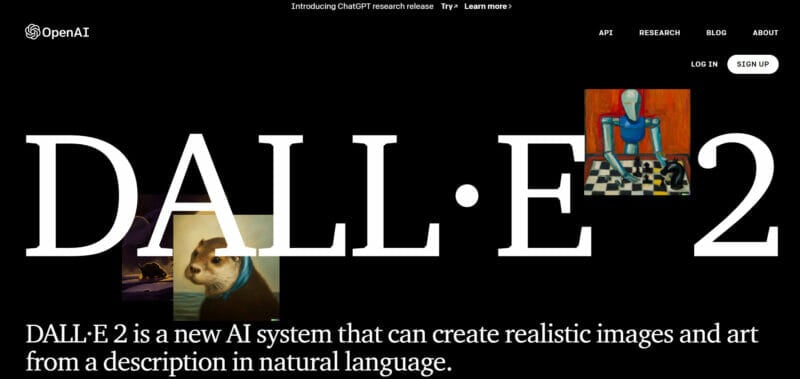 ---
5. Retro art
Retro-inspired artworks and designs will always be evergreen. In 2022, we saw the emergence of minimalist retro features. Next year, you can expect retro art to have a renaissance. From vintage palettes to themes, retro-inspired designs and nostalgic design elements will be everywhere. Aside from nostalgia, one of the factors that continue to fuel the popularity of this trend is its timelessness. Despite these design elements emerging several decades in the past, they're still appealing and applicable to today's design needs, so much so that many top brands still make use of retro-inspired artworks and designs for their websites and social media posts.
Another graphic design movement that you can expect to see in 2023 is retrofuturism, which combines retro-inspired aesthetics with graphic design elements made using AI or 3D art tools.
---
6. Folk-botanical elements
Folk-botanical graphic design makes use of whimsical patterns that are inspired by or derived from nature. They add a touch of fun and playfulness to designs owing to their "imperfect" nature, employing design elements like rough textures and shaky lines. Think casual doodles or illustrations that have an almost child-like quality. Check out some examples of folk-botanical designs from Etsy:
---
7. Mixed elements
In 2023, the line between the real world and graphic elements will become blurred. Aside from the juxtaposition of real-world elements and illustrations, we can also expect to see more instances of 2D and 3D graphics being used in tandem. By combining all these different elements, designers can add a layer of playfulness, spontaneity, and humor—aside from realism—to their designs.
---
8. Utilitarian aesthetics
Utilitarian aesthetics make use of functional design elements. One factor that is fueling the growing popularity of utilitarian design is our inevitable move toward digital spaces. In the coming years, apps and websites will increasingly adopt such aesthetics, offering convenience and ease of use to users. By applying utilitarian design principles to graphic design, brands and designers can make their websites and apps easy to navigate and understand, thus allowing them to offer more streamlined user experiences.
---
9. The rise of risoprints
Risoprints, which are typically characterized by grainy images and double exposures, will see a resurgence in 2023. However, it will be tweaked to apply primarily to digital graphics. By using risograph design elements, brands and designers can take something familiar and turn it into something new and complex. Moreover, this graphic design trend will allow them to incorporate vintage aesthetics with today's more modern digital graphic designs.
---
10. Metaverse art
The metaverse will influence how graphic design and visual media will evolve in the future, with designers referencing this futuristic virtual world in their designs. Next year, you'll most likely see the emergence of metaverse-inspired design elements, such as 3D illustrations, AI-inspired illustrations, sci-fi typography, neon palettes, and glitch-style effects.
---
11. Memes for branding
Memes have been around for ages and they're great for quick laughs. Moreover, these pop culture staples lend themselves well to marketing campaigns because they can potentially drive user engagement ad virality. They're engaging, easy to digest, and even easier to make. Plus, they can help make your brand appear more human and relatable to existing customers and potential clients.
Next year, memes just won't be used for entertainment. Brands will be leveraging the power of branded memes to increase engagement and expand their reach.
---
12. Explosive gradients
Gradients are another evergreen design element that will still remain popular in 2023. That's because they're versatile and offer a quick yet effective way to add a pop of color to your designs. In 2021, muted color palettes were a thing. In 2022, it was muted gradients.
Next year, as more brands and designers become more open to experimentation, you can expect radiant and explosive gradients coming to the forefront. Get ready to see more unconventional color combinations, gradient styles, and of course, brighter and bolder colors.
---
13. Intricate compositions
Minimalism will still be a popular graphic design trend in the coming years. However, with the popularity of the maximalist design movement last year, we can expect to see this cross over in 2023, through more intricate design compositions. This type of composition will likely incorporate elaborate designs that can be used to tell a story. Alternatively, this approach will make use of bursts of color, 2D and 3D elements, and combinations of different line weights and thicknesses.
---
2022's Biggest Social Graphic Design Trends That Are Still Relevant in 2023
1. Maximalism
In basic terms, maximalism is a response to minimalism. It features loads of textures, colors, tones, objects, and shapes. It's excessive. It's dramatic. It's loud.
In 2023, expect to see less white space and more vibrant colors, bold color combos, contrasting patterns, rich textures, quirky fonts, and layered images. There might be a lot of different elements, but everything is intentional.
---
2. Anti-design
Anti-design is similar to maximalism and brutalism. It dismisses conventional design principles by embracing asymmetry and color combos that appear unharmonious.
To some, it's simply ugly; to others, the style sets itself free from what others perceive as beautiful. You decide.
---
3. Inclusive imagery
With an increased focus on diversity, equity, and inclusion in marketing (and rightfully so), it makes sense that more digital assets will feature diversity. In 2023, we expect to see marginalized groups enjoy more representation in visuals.
---
4. 90s wistfulness
While there's virtually an emoji for everything nowadays, in the new year, simple emojis will be the go-to visuals for brands. Other blasts from the past include dripping slime, bright color blocks, elementary frames, and features of Memphis design like repetitive geometric patterns.
The longing for 90s also means that you'll be seeing a lot more of the Frasurbane style in 2023. It's a combination of the word "urbane" (meaning refined in manner) and Frasier (a popular series in the 90s). This style has mostly impacted interior design, but it can also be applied to social media graphic design. Key features include muted colors, serif fonts and beige. A lot of beige. Get it wrong and you run the risk of letting your brand appear ostentatious. Get it right and your target audience will view your brand as sophisticated.
---
5. Grunge revival
Social media posts with granular textured backgrounds, shadowed images, scribbled handwriting, and collages that you would typically find in magazines will pop up more in feeds.
It's emotive. It looks like it has been put together quickly, carelessly, and forcefully. Things that younger target audiences find attractive.
It challenges the clean lines that we typically associate with digital icons. One more reason why younger audiences are starting to associate more with grunge. Not only will this style help you to speak to younger crowds, but by including crude, hand-drawn images, your social media posts will really stand out in feeds.
---
6. Flat icons and illustrations
In 2021, flat icons and illustrations were trending. Brands used these playful graphics to communicate their messages in a visually appealing way. Not only are they great for capturing attention and storytelling, but they're also effective for highlighting the unique identity of your brand.
While icons and illustrations can be of various styles, in 2023 more designs will get their inspiration from Ukiyo-e artists of Japan's Edo Period, a style of printed artwork used on hand-carved wooden blocks. Key features include bold outlines, similar tones and hues, and exaggerated facial expressions.
So, the next time that you want to use run-of-the-mill stock photos on social media, rather consider creating flat icons or illustrations. For the best results, create them in line with your branding guidelines, thereby building a strong visual identity on social media.
---
7. 3D illustrations
While flat icons and illustrations are still expected to feature a lot in social media content in 2023, increasingly more designers are starting to play around with 3D illustrations. This new style is more detailed and adds dimension and depth. You can also include flat illustrations in your 3D designs. So, if you're a fan of flat imagery, you can still include it in your social media content. All in all, the combination can create more realistic, true-to-life visuals that pop to compel your audiences.
---
8. Expressive lettering
In 2023, typography will be a whole lot more experimental. Think incongruous styles, structureless bubbles, fun elements, new colors, and mind-bending shapes.
Adding to the 3D illustrations trend, you can also expect to see more 3D typography. It makes your text appear more lifelike. You can, for example, use shoelaces or helium balloons to create three-dimensional lettering that really stands out. So, if serif fonts (see trend #13) are simply too traditional for you, perhaps this can be an alternative to explore?
In short, in 2023, typography will become less clear and readable. That being said, this graphic design trend is not the easiest to implement correctly. If you know that your target audience doesn't care much for creative experimentation, it's best to skip this trend altogether.
---
9. Dreamy doodles and muted gradients
In 2021, muted color palettes featured boldly. While many of the trends that we've already discussed include bold and vibrant color combos, there's still a place for muted colors in your social media design strategy for 2023.
Contrary to popular belief, you don't always need vibrant, in-your-face colors to get the attention of your target audience on social media. Muted gradients use colors that have been saturated with a hint of black, white, or any other complementary color. This is why they appear to be softer and more organic while exuding calmness and evoking a sense of nostalgia.
According to Envato, one of the leading marketplaces for buying and selling creative assets, dreamy muted gradients in particular will be popular in 2023. The use of granular textures and soft pastels can help to create digital assets that are elegant and visually pleasing.
Another element that you can use to create a dreamy feel is doodles. Doodles don't have to be silly, insignificant scribbles. They might be simple, but you can include more personal doodles in your social media posts to communicate more about your brand. In fact, it's their simplicity that makes them so powerful. All in all, it can be a great way to add a unique and personal touch to your digital assets.
---
10. Escapism/abstract surrealism
Billionaires aren't the only ones who can escape to space nowadays. In 2023, get ready to see more graphic designs on social media that will transport you to settings that will excite your senses. Think playfully quaint elements and out-of-the-blue color combos. Whether it's for backgrounds or illustrations, there are many ways that you create magical worlds for your followers on social media.
---
11. Geometric patterns
In 2021, the use of geometric patterns was one of the biggest social media graphic design trends. In 2023, it's expected that it will continue. After all, patterns are central components of graphic design.
Sometimes it helps to give your social media graphics some consistency and structure and using geometric shapes and patterns in your visuals can do just that. Plus, they can help to make backgrounds more interesting by breaking up solid colors.
When you're using geometric shapes and patterns in your social media visuals, it's key that you give thought to the psychology behind every shape. For example, squares suggest stability and proportion while triangles are associated with motion and risk.
In 2023 specifically, parametric patterns will be trending. In short, it uses complex geometric structures wherein the individual lines morph depending on their positions. As these patterns are fluid, they can communicate a sense of movement too.
---
12. Bubbles
Who doesn't feel drawn to bubbles? Bubble shapes, like circles, are typically seen as fun, friendly, and lively. In 2023, you can look forward to seeing a lot more rounded graphics. Though, to make sure that these bubble shapes speak to older target audiences too, you can expect to see it combined with psychedelic colors. Also, these rounded shapes will be longer than usual to give it just the right dose of exaggeration.
---
13. Serif fonts
Considering that you have limited space to convey your point, the last thing you want is for your audience to work hard to read your social media visuals. If anything, you should make the experience as easy as possible.
While you should use minimal text on your graphics, make sure you opt for a font that's legible, readable and helps you communicate your message accurately. The classic serif fonts are a winner in this aspect. In spite of being the oldest font style, they're still widely used across platforms owing to their simplicity. Being extremely versatile, they can be used by brands across industries. Serif fonts also make brands seem more trustworthy, reliable, and authentic which make it easier for your audience to resonate with you. They help to create a sense of security – something that we can all do with more considering there's a pandemic that's changing our routines by the day.
In 2021, serif fonts started to make a comeback and in 2023, it's expected that it will continue to remain popular. If you're not such a huge fan of these traditional fonts, you can try to combine it with other fonts that are more modern.
---
14. Bold backgrounds
While you can still expect to see muted color palettes in 2023, designers are also anticipating that bold backgrounds will win favor. This means that if you rather want to use a bolder, brighter color in your digital assets, go ahead. You can, for example, include bright color blocks to create a sense of 90s nostalgia. This way, you can take advantage of another graphic design trend.
Not only are backgrounds getting more colorful, but also icons and illustrations. So, be sure to keep them inclusive by featuring men, women, senior citizens, different races, cultures, etc.
---
15. Simple, fun data visualizations
Data visualization refers to presenting complex information or data in a visual format. The different types of data visualization you can create are:
Charts and graphs

Diagrams

Maps
The idea behind using data visualizations is to communicate information clearly, making it easier for readers to understand and digest it. In your social media strategy, posting data visualizations can help you to drive more engagement. Not only do they complement your story and engage the audience, but they also have the scope to go viral. For example, infographics can receive up to three times more shares than any other type of content on social media.
When sharing data visualizations on social media, it's important to keep in mind the limited space you'll be dealing with. You can't afford to crowd your visualization with too much data because that will just end up overwhelming the reader.
So, instead focus on a single statistic or data point. This makes it easier to get your point across while improving retention and shareability. In short, it should be simple and focused.
In 2023 specifically, we're expecting to see a lot more emphasis on fun. Instead of creating an infographic or chart about a loaded topic, choose something that's entertaining like new remote work habits. At the end of the day, your goal should be to keep it relevant, but happy.
---
16. Branded memes
Another way to keep things lighthearted is to create your own branded memes. Memes have become a form of visual communication that's acknowledged and understood by consumers across the globe (in fact, they've also become some of the most expensive NFTs ever to be sold). So, rather than simply copying and pasting a meme, you can tweak it so that it fits in with the tone of your brand.
---
17. Social media screen captures
At Influencer Marketing Hub, we've been sharing screencaps of social media posts for a long time already. In 2023, you can expect to see increasingly more brands adopting this trend.
Not only are they easy to create (just capture a screenshot of a social media post on one social media platform and then share it on another platform), but it's another way to share data in a way that's straightforward and fun. All in all, it's better suited for content that's entertaining.
---
18. Quotes
If you don't necessarily like the idea of posting a screencap of a social media post on another platform, you can also convert them into a quote instead. These won't be motivational quotes (so no dolphins disappearing into the sunset), but rather entertaining quotes from a podcast episode or blog post.
Basically, the goal is to use it as a type of a short intro that will grab the attention of your audience. You can, for example, combine the quote with a relevant flat icon or illustration that's in line with your brand identity or try to incorporate another graphic design trend like a serif font, geometric pattern, or dreamy doodle.
---
19. Minimalism
While you can expect to see more maximalism in 2023, there's still a place for minimalism. Though, in 2023, there will be a lot more color. Instead of combining monochromatic color schemes with white space, designers are pairing white space with a couple of bright colors to highlight specific features.
You can also expect to see more minimalist retro features such as warm tones, organic textures, and soft shadows. Once again, you can use serif fonts here to create elegant posts that create a sense of nostalgia.
---
20. Y2K
Y2K-inspired designs that use bubblegum blues and pinks and luminous colors that look like they're changing when viewed from different angles and unrefined interfaces are expected to return in 2022. While it's similar to cyberpunk, this style is brighter and more nostalgic. The House of Van Schneider explains that it's loads of tech combined with a bit of pop, anime, and grunge. This style brings a renewed optimism and excitement in all things tech (perhaps something that's much needed after the pandemic).
---
Wrapping Things Up
If you want to resonate with audiences in 2023, you'll need to include graphic design elements in your social media posts that are entertaining. The past two years have been challenging enough, so keep it light-hearted and fun. From AI-generated art to motion graphics, there are more than enough trends that graphic designers can experiment with when creating social media content for brands in the coming year.
Frequently Asked Questions
What are the social media graphic design trends for 2022?
Social media graphic design trends for 2022 and 2023 include 3D design, pastel color palettes, gradients, experimental fonts and animations. Use social media design trends as a way to keep social content looking fresh.
What are the social media graphic design trends for 2023?
Social media graphic design trends for 2023 include:
Abstract botanical backgrounds and patterns

Retro cartoon stickers

Modern display type

Experimental fonts

Handmade illustrations

Gothic aesthetics
What are 4 current trends in graphic design?
The 4 biggest trends in graphic design right now are:
Maximalism

Experimental fonts

Handmade illustrations

Gothic aesthetics
What is the graphic design trend for 2023 Instagram?
When it comes to graphic design, rebellion is the predominant trend on Instagram in 2022 and 2023. It's a childlike expression, another way of unrestrained self-expression. Graphic design trends include doodles, color splatters, and illustrations.