Advertising Disclosure
Advertising disclosure:
Our partners compensate us. This may influence which products or services we review (also where and how those products appear on the site), this in no way affects our recommendations or the advice we offer. Our reviews are based on years of experience and countless hours of research. Our partners cannot pay us to guarantee favorable reviews of their products or services.
Humans are visual beings. We retain more information when we see photos or videos about a topic than when we simply read about it. That's significant in the context of marketing in general, particularly with the growth of social media marketing. Visual communication answers the audience's growing demand to quickly receive vital and easily digestible information. Static designs, motion graphics, interactive content, visual reporting, and other forms of visual communication can now speak louder than written words.
Social media is fundamentally a visual medium. From global giants like Netflix to your favorite local bakery, practically every business now has a social media presence. And any business that decides to engage in social media marketing needs social media design. With users scrolling through feeds multiple times a day, captivating visuals are an excellent way to leave a solid first impression and keep existing clients up to date on what's going on with your business.
---
Top 10 Social Media Design Service Providers
Though there are several handy AI graphic design tools available that can help you create eye-catching posts, working with an experienced marketing company with expert designers is a worthy investment.

LYFE is an award-winning social media marketing company based in Atlanta, Georgia. This agency's completely in-house design team is comprised of skilled professionals that are completely dedicated to the field of social media design. This specialization enables the agency to concentrate on fulfilling the unique requirements of each client.
LYFE's social media design package provides an assortment of graphics and visuals that help to establish a solid presence on key social platforms like Facebook, YouTube, Instagram, LinkedIn, Pinterest, Twitter, Snapchat, and Yelp. The team also offers social media graphic design services that aim to build brand identity.
Other services: social media marketing, social media advertising, PPC management, email marketing, short video management, short video advertising
Notable clients: BodiVéa, Advanced Windows and Siding, Fun Park Go
---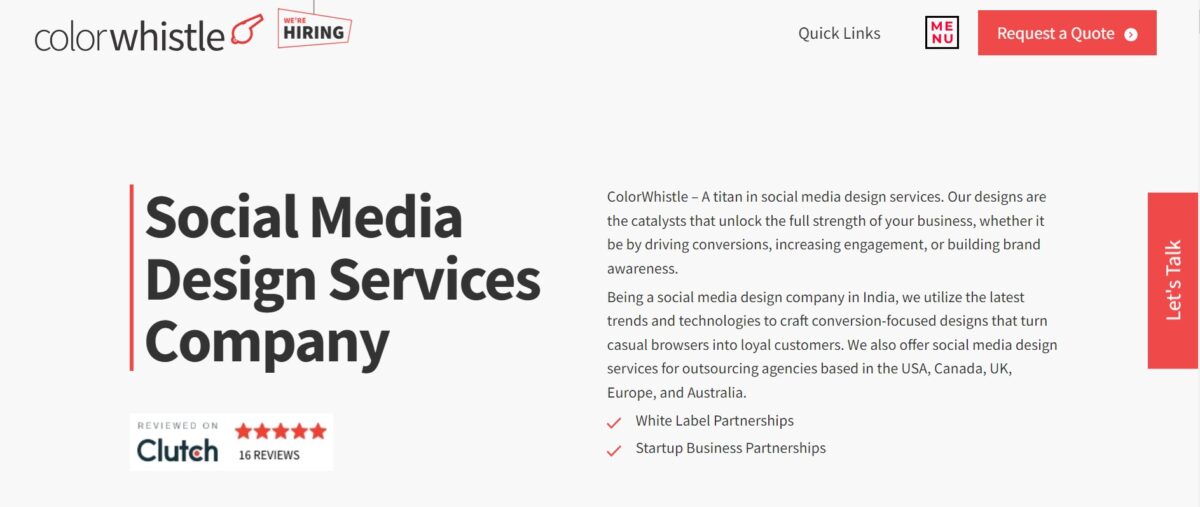 ColorWhistle is a web development company and digital agency that offers graphics, digital marketing, and industry tech solutions. They have headquarters in both India and the US. The agency is known for its expertise in providing extensive social media services, including social media design. ColorWhistle uses the latest trends and technologies to create designs that are focused on driving conversions and turning casual browsers into loyal customers.
ColorWhistle's key social media design services are:
Twitter Background and Header Design

Facebook Profile and Header Design

Creatives for Social Media

Landing Page Design

Infographics Design
ColorWhistle provides tailored social media design solutions to various industries, catering to start-ups and small businesses in sectors such as travel, hospitality, healthcare, education, and real estate. In addition to social media design, ColorWhistle also creates stunning ad graphics and HTML ads, as well as microsites, blogs, and forums. 
Other services: web design, web development, web app development, niche solutions, digital marketing
Notable clients: Hungry Bells, Aspirity, Ciao Patisserie, Elite Cardiovascular
---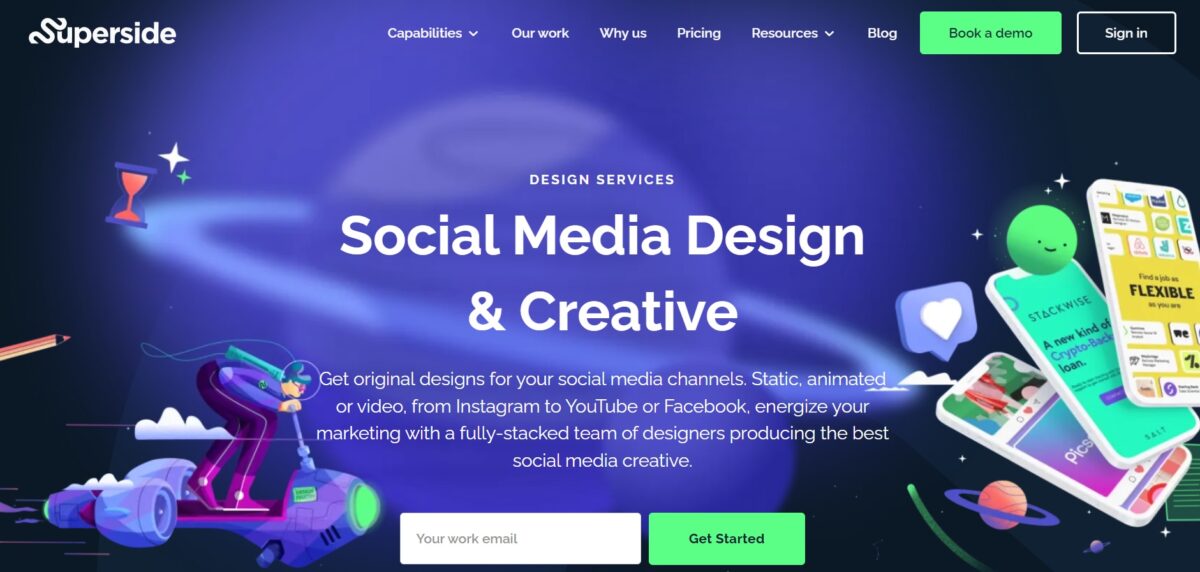 Superside is a creative agency that specializes in producing original content for different social media channels. The agency employs a skilled team of over 700 members working from different parts of the globe. They create dynamic social media content in a range of formats, including static images, animations, and videos.
Superside offers its clients the ability to expand their design output with a skilled and flexible team of designers and project managers. The agency's services also include ongoing design inspiration and brand management support. Superside's key social media design services are:
Social Media Post Design

Social Media Collateral

Social Media Concept Design

Animated Social Media Graphics
Moreover, Superside's platform is designed to facilitate the creation and management of social media design requests. Their software allows clients to easily manage their ongoing design projects, communicate with their design team, review and provide feedback on designs, and seamlessly manage all other aspects of their projects in one place.
Other services: ad creatives, social media creatives, email design, web design, presentation design, print design, motion design, illustration design, packaging, and merch design, brand identity design
Notable clients: Picsart, Otta, Get Your Guide, Puma
---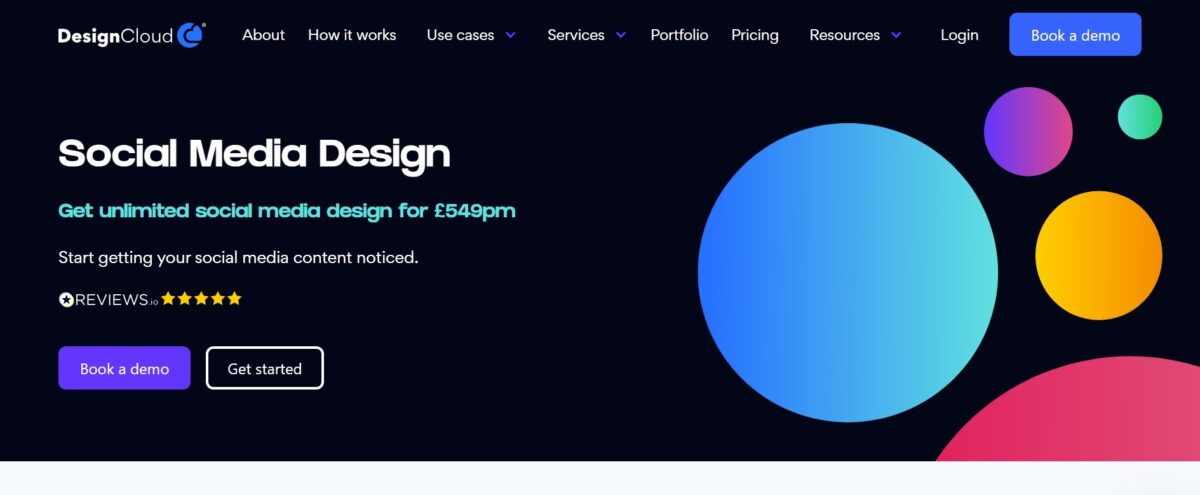 Design Cloud, a graphic design service located in Manchester, UK, is revolutionizing the accessibility of professional creative services for businesses. It provides a unique flat-rate subscription service that is supported by cloud-based software and exceptional customer service. Design Cloud's team of designers is skilled in creating exceptional social media graphics that can easily grab attention and give clients an edge over their competitors.
Design Cloud's unlimited social media design package is available at a monthly cost of £549. This subscription allows customers to work alongside a skilled graphic designer from the company's in-house team daily. This guarantees that customers can obtain graphic design assistance promptly and accurately when they need it. Furthermore, clients have the option to increase their design resources by including additional designers in their package for a supplementary monthly charge.
Other services: banner design, eBook design, infographic design, menu design, poster design, flyer design, UI design, and more
Notable clients: Saracens, Lions Prep, Ampersand, Better Nature
---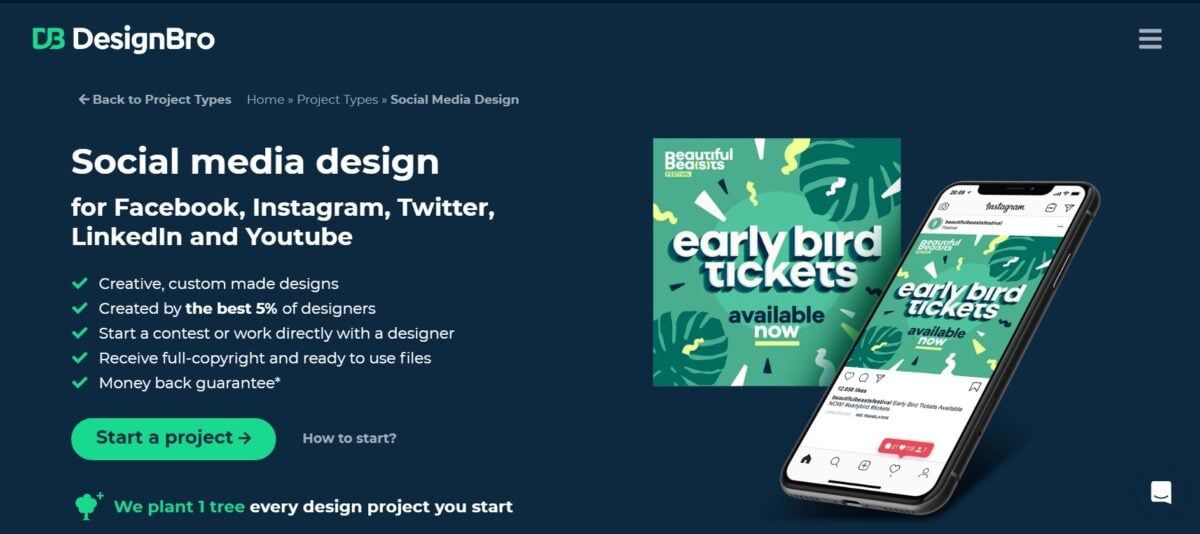 DesignBro is a design crowdsourcing platform that boasts a community of highly skilled designers. Businesses worldwide turn to the platform to get top-notch graphic designs for their social media branding, packaging, and logo needs. Designers go through a thorough screening process before being allowed to participate in design competitions, resulting in the acceptance of only the top 5% of designers who demonstrate exceptional creativity.
DesignBro specializes in providing social media design solutions for various popular platforms such as Facebook, Instagram, Twitter, LinkedIn, and YouTube. The platform offers clients the flexibility to initiate a content creation process or engage with a designer directly to acquire complete ownership of the final product. When clients choose to collaborate directly, they are asked to fill out a creative brief that includes questions about their business and brand. DesignBro's designers then engage in a competition to deliver a unique social media design that is customized to meet the client's business needs. Clients can expect to receive their initial design within 12 hours.
DesignBro's services are priced based on the selected design level, with a starting price of $110. Clients are guaranteed to receive original and professional work that is exclusively created by top-quality designers, regardless of the package they choose.
Other services: brand identity, packaging and label, online media, graphic design
Notable clients: Risk Delight, Pluck'd Drinks, Perfect Cityscape
---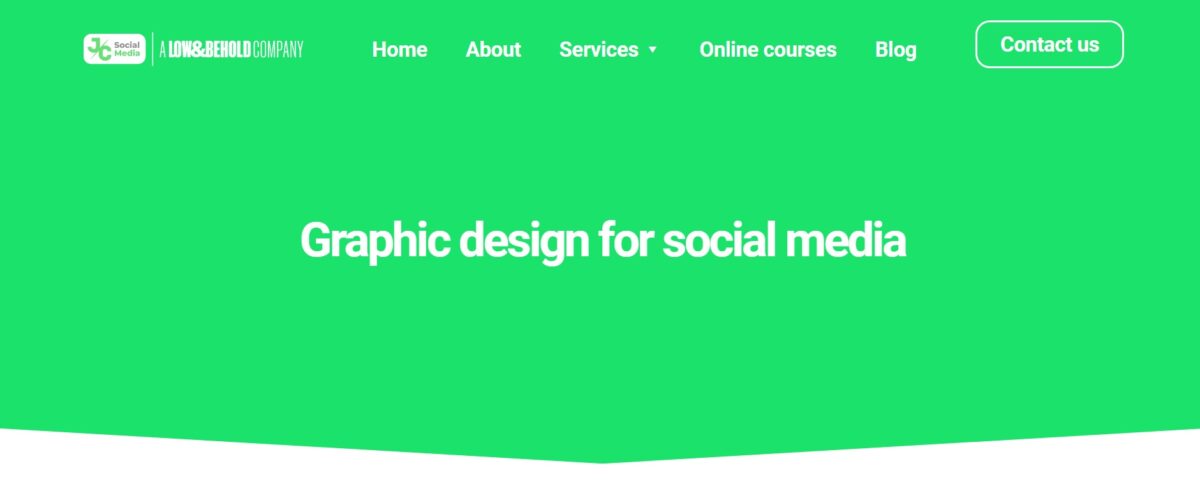 JC Social Media is a digital marketing agency based in Birmingham, UK. The agency team consists of talented graphic designers who specialize in bringing brands to life, amplifying ads, and improving online visibility.
JC Social Media offers profile graphics that maintain a uniform brand image on all social media platforms. The agency also has a team of skilled animators and videographers who specialize in producing motion graphics and films to further enhance brand visibility. Their range of skills includes graphic design for advertising purposes, allowing companies to effectively capture the interest of their desired demographic across various social media and online advertising platforms like Facebook, Instagram, YouTube, and Google's Display Network.
Other services: social media management, social media training, social media consultancy, Facebook, Google Ads
Notable clients: Deliveroo, Avon, Birmingham Airport
---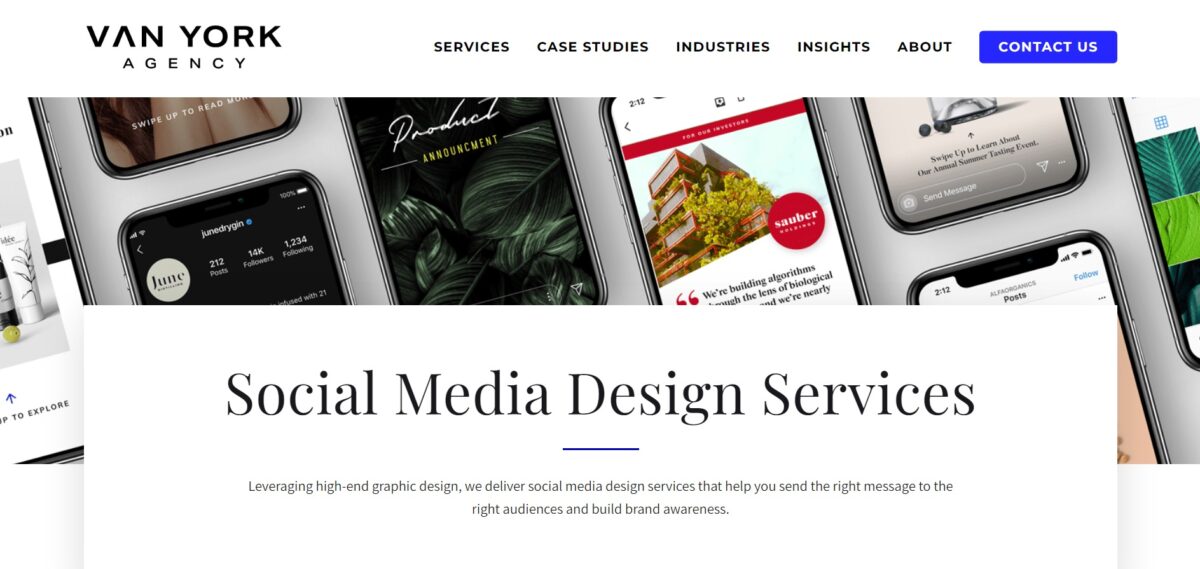 Van York Agency, located in Vancouver, Canada, is a capital markets communications firm. It specializes in connecting the disciplines of investor communications, corporate branding, and digital and design marketing to help its clients effectively communicate with their target audiences. Their social media design service is geared towards conveying targeted messages to their clients' specific audiences, with an acute focus on high-quality graphic design.
Its designers focus on telling their client's stories to their most desired viewers by integrating data-driven business development strategies, unique social media design, and decades of experience that solidify the agency's position as an industry leader. 
Other services: business plan writing, investment fact sheet design, web design and development, infographic design, SEO, email marketing, brand identity design
Notable clients: Botanique Liquid Lavender, Hydra Susbtainbly Fresh, Alfa Organic Lentils
---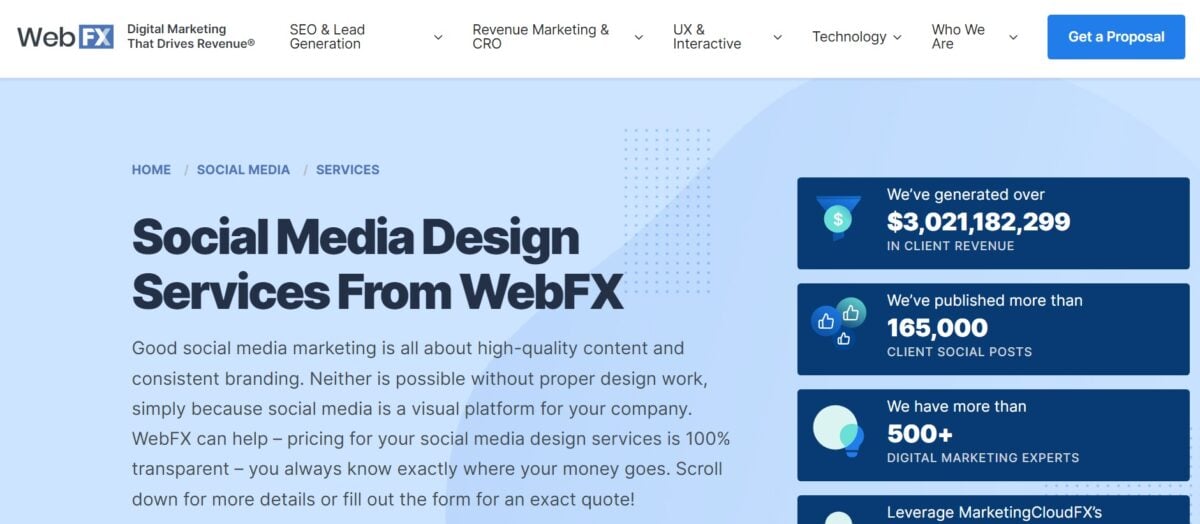 WebFX is a digital marketing firm in Harrisburg, Pennsylvania, that provides a variety of services and solutions with tools backed by proprietary technology. WebFX's social media design services are available as an additional feature to their social media management or advertising plans. They ensure consistency in the visual identity of their clients' websites by replicating it across all their social media profiles. WebFX also offers personalized design packages that cater to businesses looking to enhance their online presence across multiple platforms, including Facebook, Instagram, Twitter, LinkedIn, Pinterest, and others.
Partnering with WebFX provides clients with revenue-generating social media ad campaigns backed by the support of an award-winning team of social media specialists who manage and optimize all aspects of each campaign.
Other services: SEO, competitor geofencing, web design, social media, digital advertising, content marketing
Notable clients: Subway, Auntie Anne's, Fujifilm
---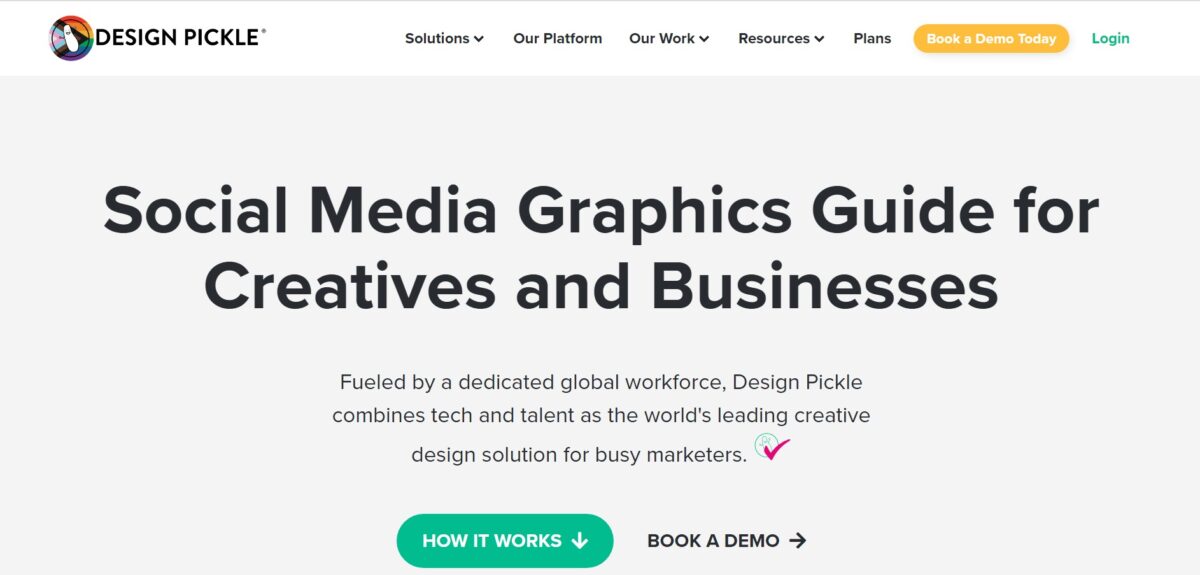 The Design Pickle platform offers subscription-based creative services, allowing brands to produce graphics in large quantities with ease. Headquartered in Arizona, the company maintains a global presence with branches in the US, Great Britain, and Australia. Its team consists of more than 500 creatives from around the world, providing the agency with a wealth of experience in managing a wide range of graphic design projects.
Design Pickle's comprehensive creative solution integrates various services into one package, enabling customers to streamline and enhance their design requirements. The social media visuals created by its designers encompass several elements, such as logos, landing page design, infographics, and podcast graphics.
Clients submit a request using a guided form that automatically suggests recommended design specifications, helping initiate the design process smoothly. Clients are then provided with unlimited graphic design revisions at no extra cost in all plans in case the design does not meet their expectations.
Other services: graphic design, custom illustrations, presentation design, motion graphics
Notable clients:  The Blogsmith, Cox Enterprises, Special Olympics AZ
---

Singapore-based ManyPixels is a creative service provider that offers fast and affordable design solutions to businesses worldwide. The company has served more than 3,000 clients and completed over 150,000 designs since its launch in 2018.
ManyPixels offers a streamlined social media design service that simplifies the design process from start to finish. The platform allows clients to conveniently submit their design requests, furnish essential details, share relevant references, and upload brand assets. ManyPixels has also implemented advanced technology to facilitate a seamless matching process, which instantly connects clients with the most suitable designers for their projects. The platform then offers direct communication with the designated designer and the option to invite team members for further collaboration.
ManyPixel's social media design services include:
Facebook Ads

Carousel Ads

Pinterest Posts

Instagram Stories

Google Display Ads

LinkedIn Ads

YouTube Thumbnails
Other services: web design, illustration design, presentation design
Notable clients: QuickLiquidty, Chango, Car Lite
---
---
Decoding Social Media Design
In simple terms, social media design focuses on the graphic design aspect of social media content. More specifically, it refers to the development, creation, and distribution of visual content across multiple social media platforms. Social media design encompasses all types of visuals on a social platform. These include posts, profile images, stories, ads, infographics, videos, GIFs, animations, landing pages, and other visuals that enhance the brand's content strategy.
Social media graphics, templates, cover images, highlight covers, and header images are the most common types of content within the social media design umbrella.
You can use these social media designs to inform customers about your new product, give industry insights, display customer feedback, and even survey your followers.
The social media landscape is highly valuable for marketing, but it's also extremely competitive. When you post content, it immediately gets swamped by an infinite stream of other posts where it will have to contend with the platform's algorithm. With this in mind, your social media content must be either groundbreaking or visually striking to hit the spotlight. A social media design agency can provide valuable assistance in this area.
---
Final Thoughts
To optimize social media, you need to invest in resources that can help you stand out from a very crowded digital space. Choosing a reputable marketing agency that specializes in social media design is an excellent way of ensuring your social media visuals can do just that. The agencies listed above provide exceptional social media design services and a variety of solutions. Check them out to see which agency or platform fits your brand, goals, and budget.
Frequently Asked Questions
What is social media design?
Social media design is the process of creating and assembling visual features that work well on social media sites. These features include graphic design, fonts, colors, images, videos, animations, and other visual elements in an organized manner to convey a brand's message and connect with its target audience on social media.
Why is social media design important?
Social media design is important because it helps businesses and brands build a consistent and visually appealing online presence that draws in their target audience while optimizing what each online platform has to offer.
Is social media design different from social media content?
Yes, social media design and social media content are different. Social media design focuses on the visual elements, whereas social media content encompasses the overall message, including text, captions, and narrative on top of visual design. Design enhances content with visually captivating and engaging assets to further augment an existing social media strategy.