A global pandemic can really stir things up in the marketing world. In 2020, we've seen some big changes in digital marketing and 2022 is likely to bring even more changes. As a digital marketer, it's important to pay attention to trends so you can stay on top of changing best practices without disrupting your entire marketing strategy. That's why we're sharing seven email marketing predictions for 2022. With these predictions, you'll have the tools you need to keep your brand ahead of the curve—and ahead of your competitors—in 2022.
Email marketing may be 40 years old but it's as strong as ever. Perhaps even stronger as brands have made the shift to digital marketing channels as we navigate the ever-changing marketing landscape brought about by COVID-19.
If you're new to email marketing, now is a great time to start. Check out our guide to email marketing for all you need to know about this top marketing strategy.
---
8 Email Marketing Predictions for 2022 to Boost Engagement and Revenue:
---
1. Hyper-Personalization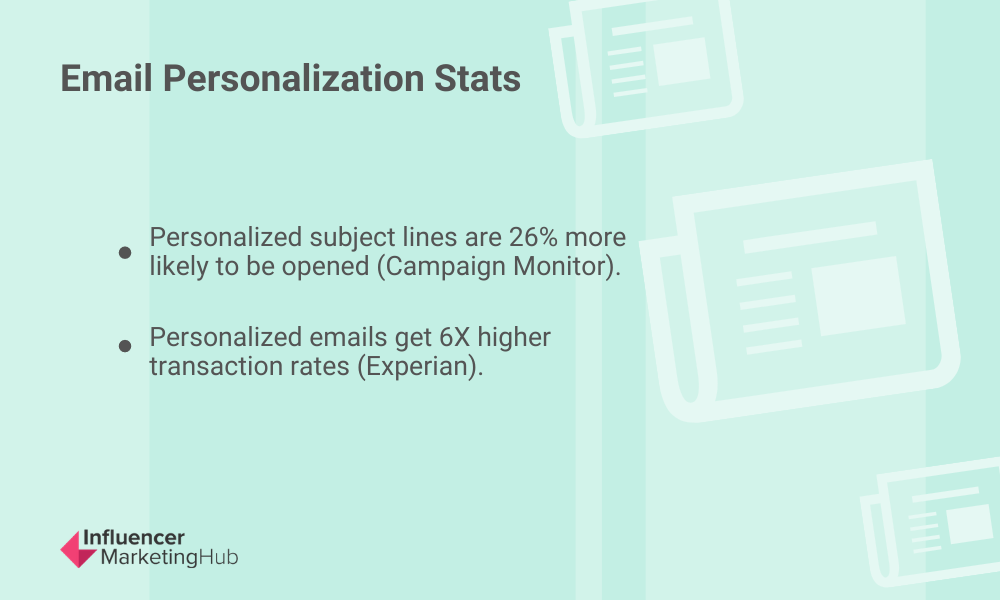 If you're familiar with email marketing, you already know that personalization matters. According to Campaign Monitor, emails with personalized subject lines are 26% more likely to be opened. And, Experian found that personalized emails get 6X higher transaction rates.
That's huge. But just adding your recipient's name in your email subject line and email copy won't be enough to sway most consumers in 2021. Consumers are now looking for hyper-personalized content that gives them information relevant to them, and that feels like it was meant only for them. In fact, according to Lucid, roughly 20% of people will unsubscribe from a newsletter if the content or promotions don't match their interests.
Can you afford to lose 20% of your email marketing list?
Fortunately, you can start sending hyper-personalized content by using segmentation and dynamic content.
Email list segmentation is the process of grouping email subscribers into smaller segments based on certain criteria. This could be anything from location, purchase history, interests, behavior, and a lot more. Using these segments, email marketers can create content that is specifically for each segment instead of sending the same message to everyone.
This process is made a lot easier if you have an email marketing service that allows for the use of dynamic content. Dynamic email content is any personalized part of a marketing email that changes depending on your email list segments. You can create hyper-personalized emails by adding variables to your mailing list and segmenting your list.
For more ways to create personalized emails that get opened, check out our email personalization best practices.
---
2. Text-Only Emails
Clocking in at number two on our list of email marketing predictions for 2021, you can expect to see a lot more text-only emails.
This doesn't mean that you can't send emails with GIFs and eye-catching images, of course. It just means that you don't have to. In fact, continuing with the hyper-personalization trend, it's likely that this newfound love for text-only emails is because they feel more personal, like an email you'd send a friend (because let's be real, most people don't send image-heavy emails to their friends and family).
Sending users a text-only email can be a nice change of pace for your subscribers. You can mix your text-only emails in with your other designed and templated emails for maximum effect. To get the most from your less-flashy emails, use them when you're looking to get a little personal or trying to connect with your subscribers on a deeper, more personal level.
Here's an example of a text-only email from Movable Ink:
As you can see, the use of text in this email makes the email feel much more personal and important than it would if it were filled with GIFs and images.
---
3. Interactive Emails
AMP (Accelerated Mobile Pages) will mean great things for interactive emails. Using AMP, you can add interactive content directly into your marketing emails. So, if you want to show off a few different products, you can add a carousel and shopping options right in the email instead of linking out to a landing page.
This means that your subscribers will be able to view products, shop, and more straight from your email. No clicking, clicking, clicking to get to the right page only to click more to complete a purchase. Every time you reduce friction, making it easier for subscribers or shoppers to complete an action, you increase the likelihood that they'll actually complete that action.
Here's an example of an email using interactive content from Google:
You'll notice that you can choose the color of your Google Pixel Buds and add your choice to your cart right from the email. This makes it a lot easier for users to complete their purchases right away.
Unfortunately, not all email marketing service providers support AMP. Put pressure on your provider or find a new one to take advantage of this awesome marketing strategy.
---
4. Bright Colors
Okay, this is one of our email marketing predictions for 2021 that might seem contradictory to another on the list (namely, our recommendation for sending text-only emails). However, we didn't say all of your emails should be text-only. So, if you're going to be sending emails using email marketing templates, designs, and images, make them bold and bright.
Magic Spoon is a brand that fully embraces bold colors in their email marketing:
Color is great for evoking emotions and drive action. In the United States, for instance, the color black in marketing has a strong association with luxury, power, and status. Blue is all about trust and security. Yellow represents happiness and youthfulness. And on and on.
Beyond the psychological aspects of color, using strong and vibrant colors in your email marketing can drive both engagement and conversions. Color can increase brand awareness, sell your products, and even increase your click-through rates. According to Kissmetrics, 93% of consumers find color most important when making a purchase, and 85% of shoppers say color is the primary reason they buy a product.
---
5. Increased Investment in Email Marketing
As companies continue to navigate COVID-19 and what that means to their businesses, marketers will be looking for less expensive marketing options that have a higher ROI. At 4200%, or $42 return for every $1 spent, email marketing has the highest ROI of any marketing strategy, so it should come as no surprise that email marketing investment will increase.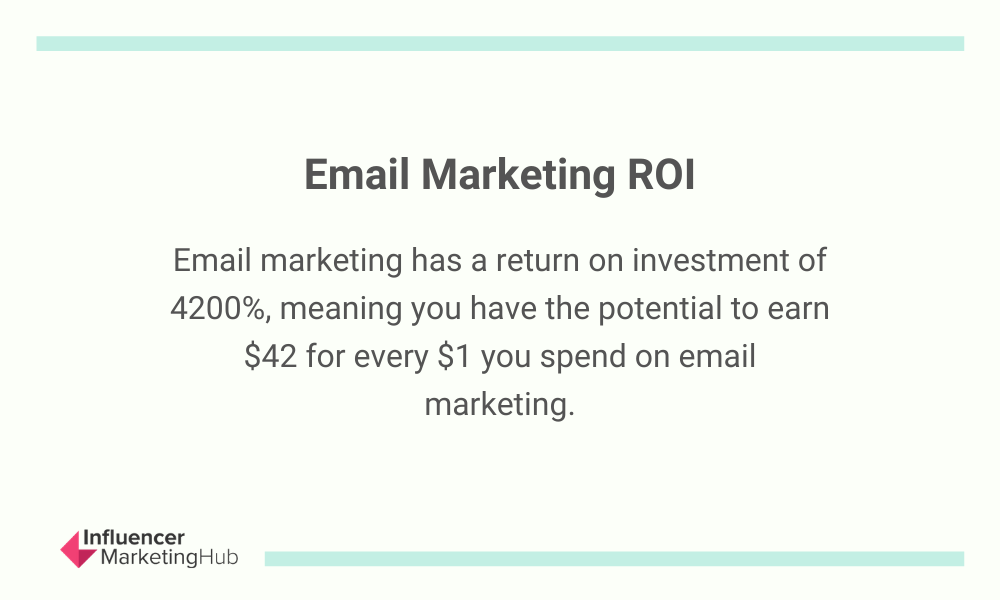 But, email marketing is a pretty broad marketing strategy. Where should you focus your email marketing dollars?
Dynamic Segmentation
Dynamic segmentation is one of the most important things you can do to increase engagement from your email marketing. We've already talked about personalization, so we won't labor the point, but segmenting your subscribers and then sending content that they're truly interested in will net you the biggest return.
Re-engagement
Another great place to invest your email marketing dollars is re-engagement campaigns. This includes things like sending abandoned cart emails to encourage shoppers to complete their purchase, sending personalized product recommendations to previous customers, sending exclusive promotions to inactive subscribers, and more.
---
6. Automation
As you can probably tell, personalization can be pretty labor-intensive. And that brings us to number six on our list of email marketing predictions for 2021: automation.
When you combine analytics with email marketing, you can trigger hyper-personalized email marketing campaigns that are based on user behavior. This might look like allowing your subscribers to choose the information they want to receive from you and how often or sending personalized shopping recommendations based on purchase history.
Here are some email marketing automation tactics we recommend: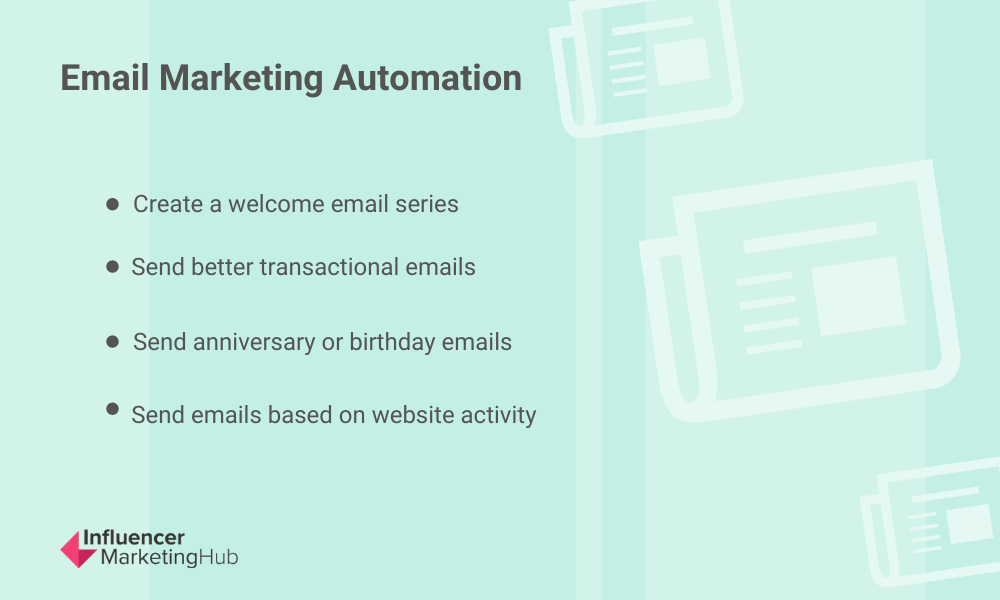 Create a welcome email series.

You can send just a single email if you want, but we've found that a short

welcome email series

is a great way to onboard your new subscribers, set expectations, and increase engagement.

Send better transactional emails.

Transactional emails are confirmation messages you send to users after they've taken action on your site. They have open rates up to 8X higher than any other email and can generate up to 6X more revenue (Campaign Monitor). You can use them to sell, upsell, and boost engagement.

Send anniversary or birthday emails.

Anniversary and birthday emails let your customers know that you're thinking about them. Add a special discount and you'll boost your revenue.

Send emails based on website activity.

There are several

email marketing automation tools

that can integrate with your website to trigger email campaigns depending on the actions visitors take on your website.
These are just a few of the ways you can automate your email marketing. There are literally limitless options.
---
7. Omnichannel Marketing for Lead Nurturing
Lead nurturing doesn't just happen through email. That's why omnichannel marketing is so important. Omnichannel marketing is the process of using digital and traditional marketing channels to send relevant marketing messages to your customers regardless of the marketing channels you use to engage.
Omnichannel marketing works because it meets consumers where they are. Shoppers aren't just going to visit a site and make a purchase. These days, shoppers are visiting several different sources before committing to a purchase. Omnichannel marketing helps brands engage with shoppers and potential customers across different marketing channels and platforms. Through this cross-channel engagement, brands can ensure that questions are answered and needs are met, eliminating barriers to a purchase.
Building an omnichannel marketing strategy for lead nurturing is no small feat. Omnichannel marketing includes: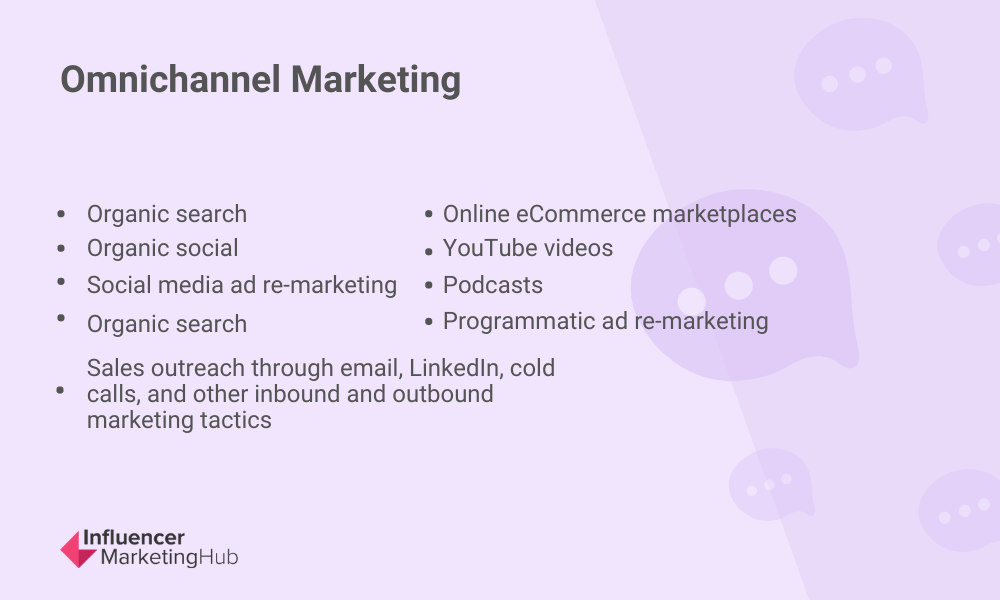 Organic social

Social media

ad re-marketing

Programmatic ad re-marketing

Online

eCommerce

marketplaces

Podcasts

Sales outreach through email, LinkedIn, cold calls, and other inbound and outbound marketing tactics

Reviews

...and more
---
8. Privacy
With GDPR privacy has become even more important than it was. Some email marketers are concerned that tighter privacy laws mean that their email marketing efforts won't be as effective, or that they won't be able to continue email marketing at all.
That's not the case.
Anti-spam regulations have been around for a long time and the result is that brands have been forced to streamline email marketing best practices. This hasn't reduced the effectiveness of email marketing so much as it's created a better email marketing experience for both marketers and consumers. In fact, 56% of marketers feel positive about the impact GDPR is having on their email marketing (UK DMA Email Marketer Tracker).
Here are just a few of the benefits GDPR and increased privacy have realized: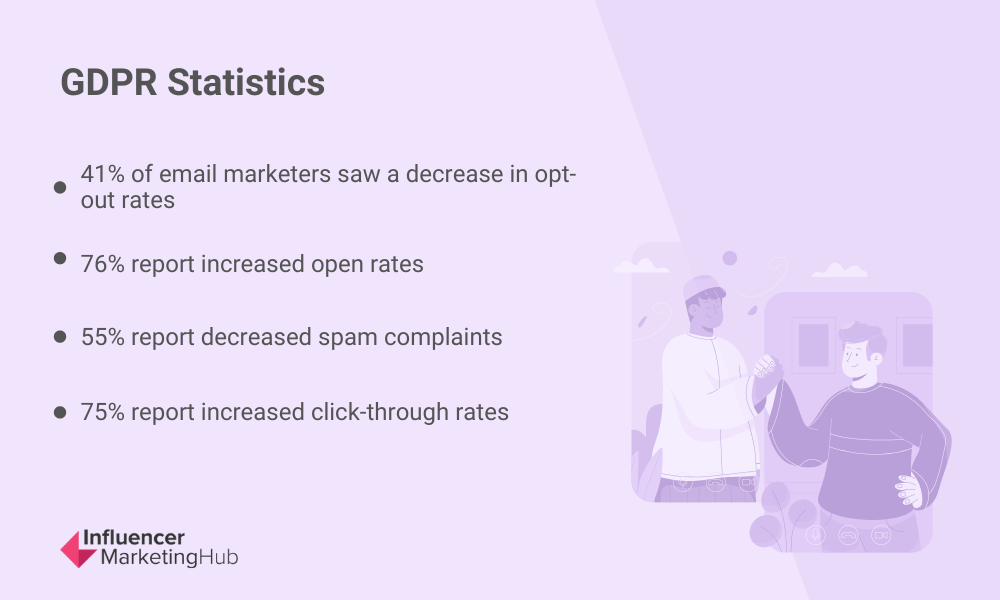 41% of email marketers saw a decrease in opt-out rates

76% report increased open rates

55% report decreased spam complaints

75% report increased click-through rates
Here are some of the GDPR guidelines related to email marketing:
Get consent.

There are tons of opt-in tools on the market that can help you get more subscribers while staying compliant with GDPR. The important thing is to get consent before adding users to your email list.

Create a privacy policy.

GDPR requires that you have a comprehensive privacy policy providing detailed information about the data you collect from users and how you'll use it. Add your privacy policy to your website and link to it from your opt-in form.

Keep your consent records.

GDPR requires that you store a record of consent including the identity of the user, the date consent was given, and what was consented to.

Provide access without requiring opt-in.

If you use lead magnets to

grow your email marketing list

, pay attention. You can't deny access to content if a user doesn't want to subscribe to your newsletter. You have to make it clear that a user can still get the lead magnet or other gated content without signing up for your newsletter.

Allow users to revoke permission easily.

GDPR guidelines require that users are able to revoke consent easily. A visible unsubscribe link in your newsletter will do the trick.

Avoid false or deceptive messaging.

GDPR includes guidelines around content to protect users. Basically, you have to clearly show your identity, include a physical address, honestly identify the content, and essentially keep things honest.
---
Wrapping Up
It's no secret that COVID-19 has wreaked havoc on businesses around the world. But it's also presented brands an opportunity to try out new marketing strategies and even new business models. Moving into 2021, we're going to see these new strategies play out with a focus on "people first." Brands will become more empathetic which will lead to stronger customer-brand relationships. And email marketing is the perfect marketing channel for relationship-building.
2020 has been a strange year. COVID-19 has upset the economy and everyone is at least a little bit anxious about what's to come. From what we've already seen, marketers are up to the challenge. In 2021, expect to see brands pay even more attention to customers' voices and needs, and reimaging their brands and business models to an empathetic, human-centered approach.
With the email marketing predictions for 2021 that we've shared here, you're ready to take on whatever 2021 throws at you.