The email marketing landscape has changed quite significantly in the last few years. Not all this change can be attributed to the global pandemic, though. Changes to data and privacy laws have also forced marketing teams to make changes to their email marketing strategies.
While staying up to speed with changes is key from a legal point of view, you'll also want to pay attention to marketing trends to ensure that you're incorporating email best practices and using the software solutions available effectively.
That's why we're sharing nine email marketing predictions for 2024. With these predictions, you'll have the tools you need to keep your brand ahead of the curve — and ahead of your competitors — in 2024.
Email marketing may be 40 years old, but it's as strong as ever. In fact, perhaps it's even stronger as COVID-19 forced brands to shift to digital marketing channels
---
Email Marketing Trends Predicted for 2024:
---
1. Hyper-personalization
If you're familiar with email marketing, you already know that personalization matters.
But just adding your recipient's name in your email subject line and email copy won't be enough to sway most consumers in 2024. Consumers are now looking for hyper-personalized content that gives them information relevant to them, and that feels like it was meant only for them.
Fortunately, you can start sending hyper-personalized content by using segmentation and dynamic content.
Email list segmentation is the process of grouping email subscribers into smaller segments based on certain criteria. This could be anything from location, purchase history, interests, behavior, and a lot more. Using these segments, email marketers can create content that is specific for each segment instead of sending the same message to everyone.
This process is made a lot easier if you have an email marketing service that allows for the use of dynamic content. Dynamic email content is any personalized part of a marketing email that changes depending on your email list segments. You can create hyper-personalized emails by adding variables to your mailing list and segmenting your list.
For more ways to create personalized emails that get opened, check out our email personalization best practices.
---
2. Dark Mode Compatible Emails
Increasingly more people are joining the dark side and opting for Dark Mode. In fact, according to a stat shared by EarthWeb, more than 80% of smartphone users prefer Dark Mode. The impact this has on email marketing is that designers will need to ensure that the templates they create will also display great when the Dark Mode setting has been activated.

Not only is this "extra step" necessary to keep your human readers happy, but also the spam filters. If emails do not render properly in Dark Mode, it could be marked as spam instead and your email deliverability rate will suffer in response.
---
3. Interactive Emails
AMP (Accelerated Mobile Pages) will mean great things for interactive emails. Using AMP, you can add interactive content directly into your marketing emails. So, if you want to show off a few different products, you can add a carousel and shopping options right in the email instead of linking out to a landing page.
This means that your subscribers will be able to view products, shop, and more straight from your email. No clicking, clicking, clicking to get to the right page only to click more to complete a purchase. Every time you reduce friction, making it easier for subscribers or shoppers to complete an action, you increase the likelihood that they'll actually complete that action.
Here's an example of an email using interactive content from Google:
You'll notice that you can choose the color of your Google Pixel Buds and add your choice to your cart right from the email. This makes it a lot easier for users to complete their purchases right away.
Unfortunately, not all email marketing service providers support AMP. Put pressure on your provider or find a new one to take advantage of this awesome marketing strategy.
All in all, integrating a touch of interactivity to your marketing emails will be one of the biggest email marketing trends in 2024. While interactive emails aren't brand new, it will only become more important moving forward. According to data shared by Dyspatch, more than half of email recipients will likely engage with an interactive email. What's more, it can increase conversions by as much as 300%. These stats make it clear — if you want your brand to become static, stick to sending static emails.
---
4. Artificial Intelligence
While many marketers are still not as keen on including AI into their email marketing strategies, in 2024, increasingly more marketers will start to embrace this tech. Instead of viewing AI as a threat, focus on the many ways in which it can help you to streamline your workload and free up human resources, making it easier to grow your efforts. You can, for example, use it to:
Gather more data faster and help to analyze it

Write email subject lines

Improve the flow and structure of your campaigns

Clean up email subscriber lists
All in all, by incorporating AI into your strategy, you'll be able to create a better experience for your email subscribers. Isn't that the most important goal, after all?
---
5. Metrics
In 2024, tracking open rates will be less important. Instead, email marketers will start to pay more attention to other factors like unsubscribe rate and clicks. According to some names in the industry, click-through rate (CTR) will be the most important KPI with nearly half of marketers listing this as the KPI that they will measure most, followed by return on investment (ROI).
The reason for this is the updates that Apple has made to its operating system. Without getting too technical, basically what it means for marketing teams is that they will no longer be able to tell when an email was opened on an Apple device. As a result, open rates will no longer be accurate and other metrics will give a better indication of engagement.
This will also have an impact on A/B testing. As open rates will no longer be accurate, marketing teams will focus less on testing subject lines. That said, email marketing trends for 2024 predict that A/B testing will still remain important, if not even more critical than before.
---
6. Automation
It is certain that email marketing automation will be one of the biggest trends in 2024. However, like Mailmunch, we believe that it should rather be described as an email marketing best practice instead of a trend. Trends come and go, but once you've incorporated automation into your strategy, it will be hard to change your new ways, even more so if you operate in the eCommerce space.
Here are some email marketing automation tactics we recommend: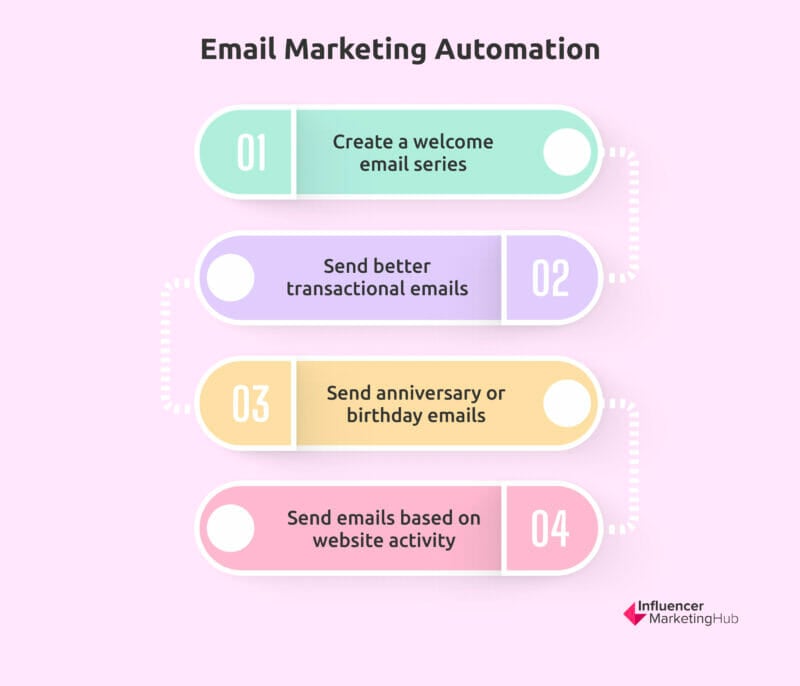 Create a welcome email series.

You can send just a single email if you want, but we've found that a short

welcome email series

is a great way to onboard your new subscribers, set expectations, and increase engagement.

Send better transactional emails.

Transactional emails are confirmation messages you send to users after they've taken action on your site.

Send anniversary or birthday emails.

Anniversary and birthday emails let your customers know that you're thinking about them. Add a special discount and you'll boost your revenue.

Send emails based on website activity.

There are several

email marketing automation tools

that can integrate with your website to trigger email campaigns depending on the actions visitors take on your website.
These are just a few of the ways you can automate your email marketing. Your options are virtually infinite.
---
7. Omnichannel Marketing for Lead Nurturing
Lead nurturing doesn't just happen through email. That's why omnichannel marketing is so important. Omnichannel marketing is the process of using digital and traditional marketing channels to send relevant marketing messages to your customers regardless of the marketing channels you use to engage.
Omnichannel marketing works because it meets consumers where they are. Shoppers aren't just going to visit a site and make a purchase. These days, shoppers are visiting several different sources before committing to a purchase. Omnichannel marketing helps brands engage with shoppers and potential customers across different marketing channels and platforms. Through this cross-channel engagement, brands can ensure that questions are answered and needs are met, eliminating barriers to a purchase.
Where does this fit in with email marketing?
Lee Munroe, the head of design at OneSignal, a customer engagement solution for email, push notifications, and SMS, explains that in the coming years more email marketing teams will be entrusted with other channels. This is because their experience places them in the perfect position to own and adopt other emerging channels.
That said, keep in mind that building an omnichannel marketing strategy for lead nurturing is no small feat. Omnichannel marketing includes various strategies like:
Building an omnichannel marketing strategy for lead nurturing is no small feat. Omnichannel marketing includes: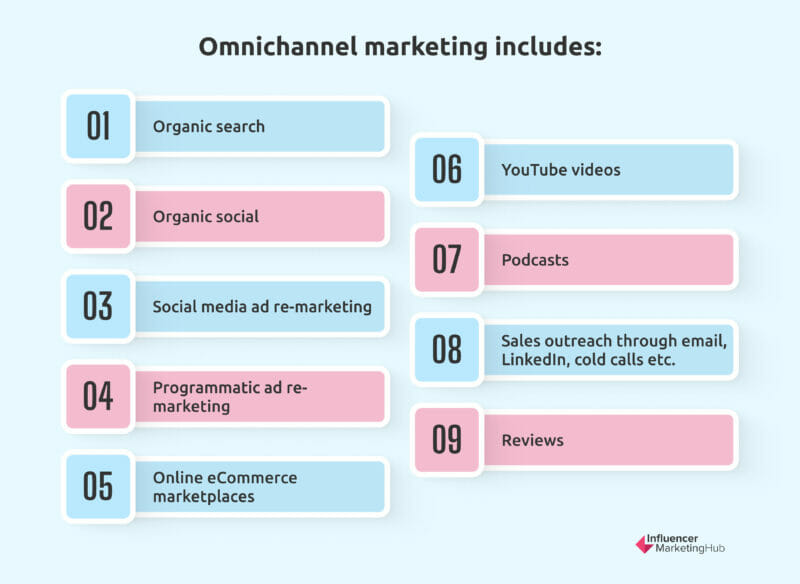 Organic social

Social media

ad re-marketing

Programmatic ad re-marketing

Online

eCommerce

marketplaces

Podcasts

Sales outreach through email, LinkedIn, cold calls, and other inbound and outbound marketing tactics

Reviews
---
8. Privacy
The General Data Protection Regulation (GDPR) is becoming even more important which has email marketers worried. Some worry that tighter privacy laws will make their efforts less effective; others are concerned that they will have to give email marketing up altogether.
That's not the case.
Anti-spam regulations have been around for a long time and the result is that brands have been forced to streamline email marketing best practices. This hasn't reduced the effectiveness of email marketing so much as it's created a better email marketing experience for both marketers and consumers.
Here are some of the GDPR guidelines related to email marketingthat marketers will need to continue keeping in mind in 2024:
Get consent.

There are tons of opt-in tools on the market that can help you get more subscribers while staying compliant with GDPR. The important thing is to get consent before adding users to your email list.

Create a privacy policy.

GDPR requires that you have a comprehensive privacy policy providing detailed information about the data you collect from users and how you'll use it. Add your privacy policy to your website and link to it from your opt-in form.

Keep your consent records.

GDPR requires that you store a record of consent including the identity of the user, the date consent was given, and what was consented to.

Provide access without requiring opt-in.

If you use lead magnets to

grow your email marketing list

, pay attention. You can't deny access to content if a user doesn't want to subscribe to your newsletter. You have to make it clear that a user can still get the lead magnet or other gated content without signing up for your newsletter.

Allow users to revoke permission easily.

GDPR guidelines require that users are able to revoke consent easily. A visible unsubscribe link in your newsletter will do the trick.

Avoid false or deceptive messaging.

GDPR includes guidelines around content to protect users. Basically, you have to clearly show your identity, include a physical address, honestly identify the content, and essentially keep things honest.
Basically, you need to make it easy for subscribers to change their email preferences or unsubscribe altogether (if you're not doing so already). In fact, if you do it cleverly, you could end up with more data that you can use for future campaigns. By, for instance, sending them a short questionnaire about their email preferences, you'll gather valuable, accurate information about their preferred mailing frequency and the topics that they want to find more about. Alternatively, you can also add a sliding scale at the the bottom of newsletters where they can rate the relevance of the content.
Hank Hoffmeier, a senior marketing manager at iContact, an intuitive email marketing software solution, adds data rules will also force marketing teams to integrate their social media and email marketing efforts. By what he refers to as "cross-pollinating their audiences", the chances that email campaigns go viral are much higher.
---
9. Mobile-friendliness
In 2024, ensuring your emails are optimized for mobile devices will become even more critical. According to data shared by WebFX, the vast majority of users (66%) use their mobile devices to open their emails.
This means that if you're not doing so yet you'll need to use responsive design for your emails so that all the messages that you send will function and appear as they should irrespective of the device being used. In addition to using responsive design, limit the amount of text used and stick to a clean look, moving forward.
---
Wrapping Up
It's no secret that COVID-19 has wreaked havoc on businesses around the world. But it's also presented brands an opportunity to try out new marketing strategies and even new business models. Moving into 2024, we're going to see these new strategies play out with a focus on "people first." Brands will become more empathetic which will lead to stronger customer-brand relationships. And email marketing is the perfect marketing channel for relationship-building.
In 2024, expect to see brands pay even more attention to customers' voices and needs, and reimaging their brands and business models to an empathetic, human-centered approach.
With the email marketing predictions for 2024 that we've shared here, you're ready to take on whatever 2024 throws at you.
Frequently Asked Questions
Is email marketing still effective in 2024?
Email marketing remains a powerful and effective tool for businesses of all sizes. Email marketing revenue should reach an estimated $12 billion worldwide by 2024. The rise of social media and digital marketing channels may be tempting, but email marketing is still important.
What is the future of email marketing?
The future of email marketing will include email service entrants as demand increases. In the next 2 years, the number of worldwide email accounts will continue to grow at a faster pace – and the number of worldwide email users will reach 3% per year, or 4.4 billion worldwide users by the end of 2024.
Why email marketing is important in 2024?
Email marketing is key in 2024 and AI will become a more common element in email marketing. Email marketers will be required to grow their skills to include AI. Learning how to use and train AI to serve your email marketer's strategic goals will be more important than crafting the right subject lines or picking ideal times to email.