Advertising Disclosure
Advertising disclosure:
Our partners compensate us. This may influence which products or services we review (also where and how those products appear on the site), this in no way affects our recommendations or the advice we offer. Our reviews are based on years of experience and countless hours of research. Our partners cannot pay us to guarantee favorable reviews of their products or services.
Each generation has its own reasons for embracing a specific brand or product. In terms of millennials and generation Z, technology has a significant influence on their purchasing habits. As these demographics spend more time on devices each day, marketing to them has evolved into more tech-driven campaigns and strategies.
---
Top 9 Marketing Agencies for Millennials and Gen Z Consumers:
---
Top Marketing Agencies that Target Millennials and Zoomers
More and more marketing firms target these demographics due to their spending prowess and digital proficiency. Below are the ten best marketing agencies that cater to millennials and Gen Z consumers.
Top
gen z marketing agencies
2024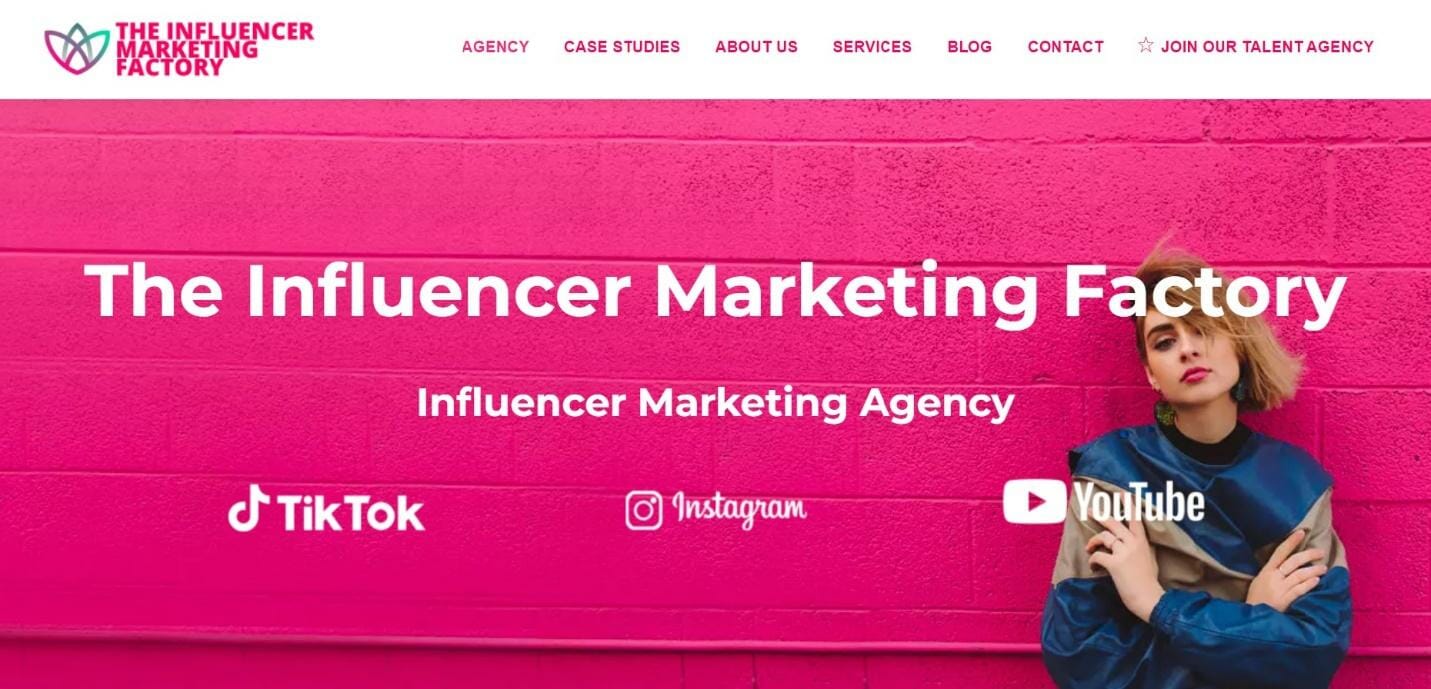 The Influencer Marketing Factory is a full-service international influencer marketing organization headquartered in Miami and New York. The agency helps Fortune 500 and small and medium-sized businesses deliver marketing campaigns aimed at younger generations. It primarily assists brands engage millennials and zoomers on social media platforms such as TikTok, YouTube, Instagram, IG Reels, Triller, and Twitch.
The agency provides exceptional digital marketing services from influencer marketing campaign creation to talent management, social media, and native ad management. The team creates a customized and optimal strategy for the company based on their client's goals and targets. These include influencer identification, (key performance indicator) KPI setting, native storytelling, outsourcing, and comprehensive reporting and metrics analysis.
The agency's key clients include Google, Facebook, Universal Music Group, Unilever, Amazon, Warner Music Group, Snapchat, Dunkin' Donuts, Post-It, and Discovery +.
---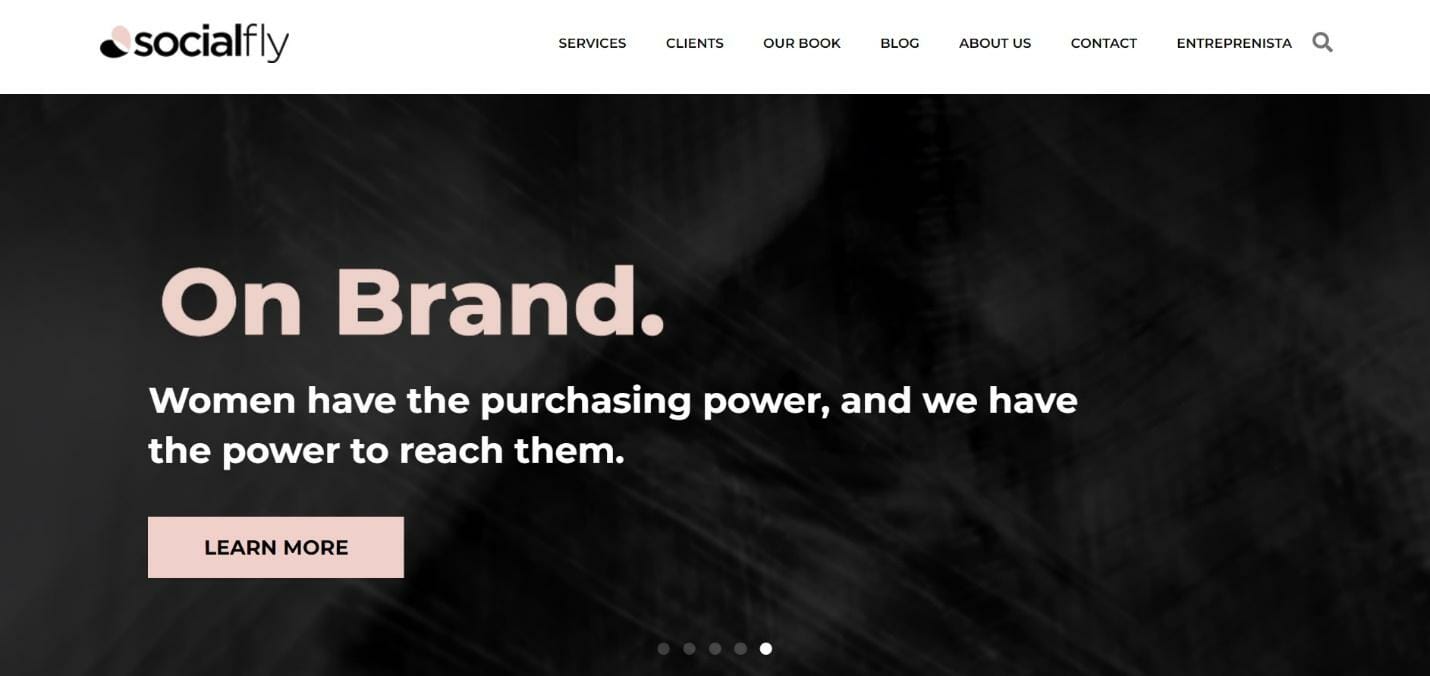 Socialfly is a marketing agency for millennials and zoomers founded and run by women. The agency has set a new standard for reaching, engaging, and converting female audiences on social media. Socialfly's team comprises strategists, photographers, storytellers, graphic designers, and social media specialists passionate about creatively and tactically conveying their clients' brand messages. The agency is a non-traditional marketing agent, offering brands social strategy, content creation, paid media, and influencer marketing services.
Socialfly offers a wide range of services, but its primary focus is on social media marketing and influencer marketing. Services for social media include Instagram, TikTok, Facebook, Pinterest, Snapchat, LinkedIn, Twitter, and YouTube. The team promotes its customers' brands through personalized imagery and videos, maximizes resources through cost-efficient ad campaigns, and retains target audiences through effective community management strategies. Socialfly creates and executes influencer marketing campaigns that align with the brand's vision and goals while also considering the buying habits of its target groups, including millennials and zoomers.
Socialfly's clients include HGTV, Nest Fragrances New York, Pvolve, Univision, The Little Beet, SlimFast, Hudson Yards, Goody, and AIDS Walk.
---

TOP Agency is a global marketing firm that emphasizes testing and merging systematic procedures with innovative concepts. TOP optimizes by creating constant feedback loops that allow the team to progress at a quick rate. The agency offers digital marketing, public relations, creative marketing, market research, TOP B2B, TOP Tech, TOP Education, TOP Finance, and TOP Health services. Branding, communications, creative, digital, and content are the agency's areas of expertise.
TOP is a millennial marketing agency that assists brands and businesses trying to engage with millennials worldwide. The agency believes that millennials are looking for authenticity. As such, every part of TOP's millennial marketing campaigns is informed and inspired by authenticity.
TOP's noteworthy clients include Microsoft, Budweiser, Jif, UCLA, Intel, Smucker's, Mercedes-Benz, Del Monte, Postmates, and Harmless Harvest.
---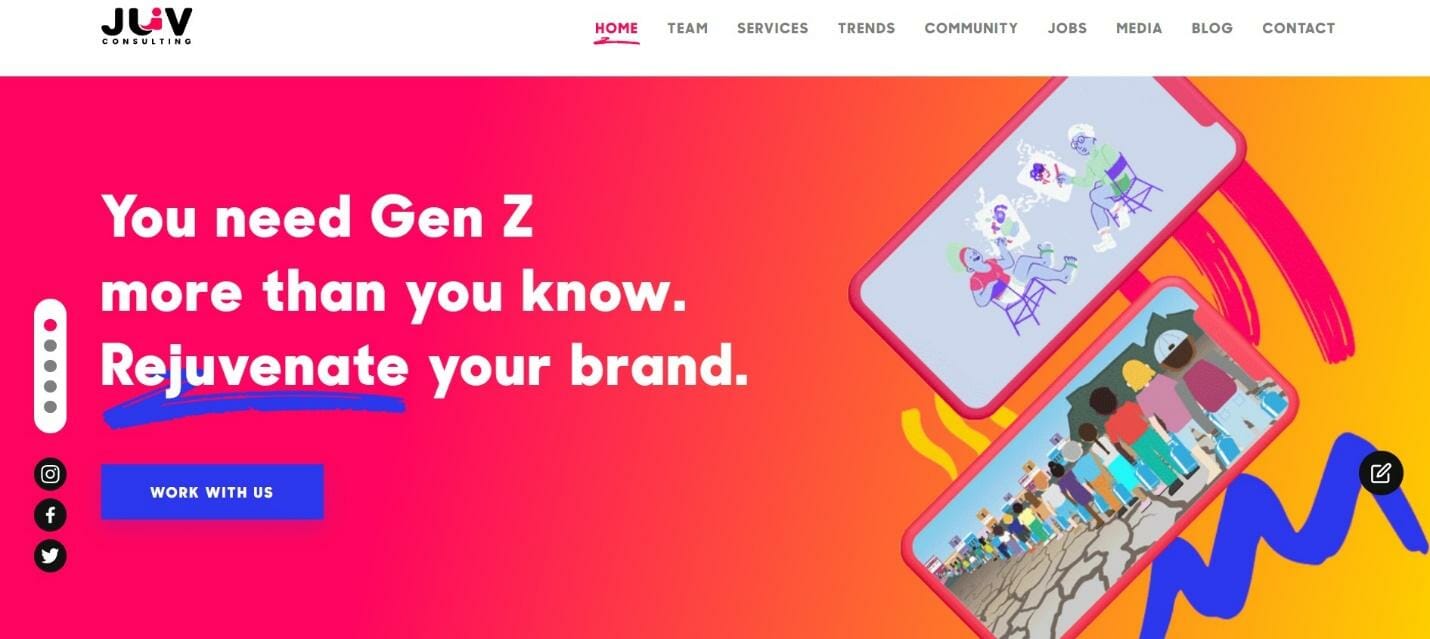 JUV Consulting is a Gen Z digital marketing agency that works with businesses to connect young audiences organically. JUV, founded in 2016, sees itself as the voice of a misrepresented youth. It is a diversified group of roughly 100 strategic advisors and creative freelancers aged 14 to 23. From the initial sparks through the big show, the JUV team assists clients in bringing their big ideas to life and guaranteeing their intended audience is a part of the journey.
JUV focuses on three primary services: research, consulting and marketing, and implementation. The team conducts quantitative surveys with receipts, field research, and qualitative interviews for research. The agency polls its 5,000 Gen Z community networks to learn what young people genuinely think about brands. JUV also offers brand positioning, social media audits, campaign planning, advisory councils, and retainer services in consulting and marketing. The agency also provides creative execution, social media campaigns, experiential marketing, presentation, and workshops as implementation services.
JUV Consulting's top clients include Unilever, BET, Vans, JanSport, The North Face, VSCO, Boys & Girls Clubs of Greater Washington, and Okayso.
---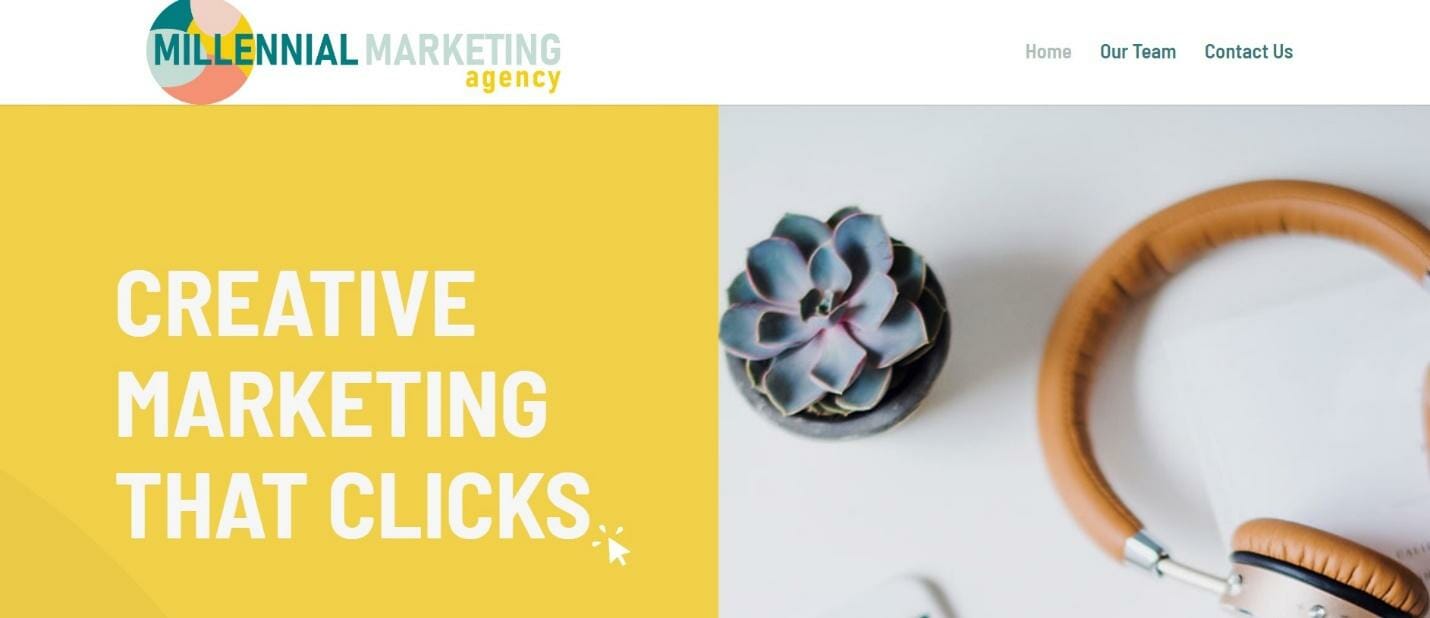 Millennial Marketing Agency is an award-winning millennial-run firm. The team consists of driven, energetic, and collaborative professionals with diverse skills and knowledge to help their clients achieve their goals. The one-stop shop agency offers style and substance, emotions and experience, and clicks and outcomes.
Millennial Marketing Agency offers various services, emphasizing six categories: brand identity, social media, web development, marketing strategy, user experience (UX) research, and photography. The agency aids its clients in creating, renewing, and refining their brands to highlight how their best attributes meet the most pressing needs of millennials. In addition, the team creates, designs, and executes social content that fosters relations and increases engagement. Furthermore, the agency develops a clear, cohesive strategy to build brand identity and drive results.
Millennial Marketing Agency top clients include WordPress, US Department of Defense, Swooft, LifeStyles Inc., Green Juju, The Washington Post Express, Mausen Homes, and Creative Lab.
---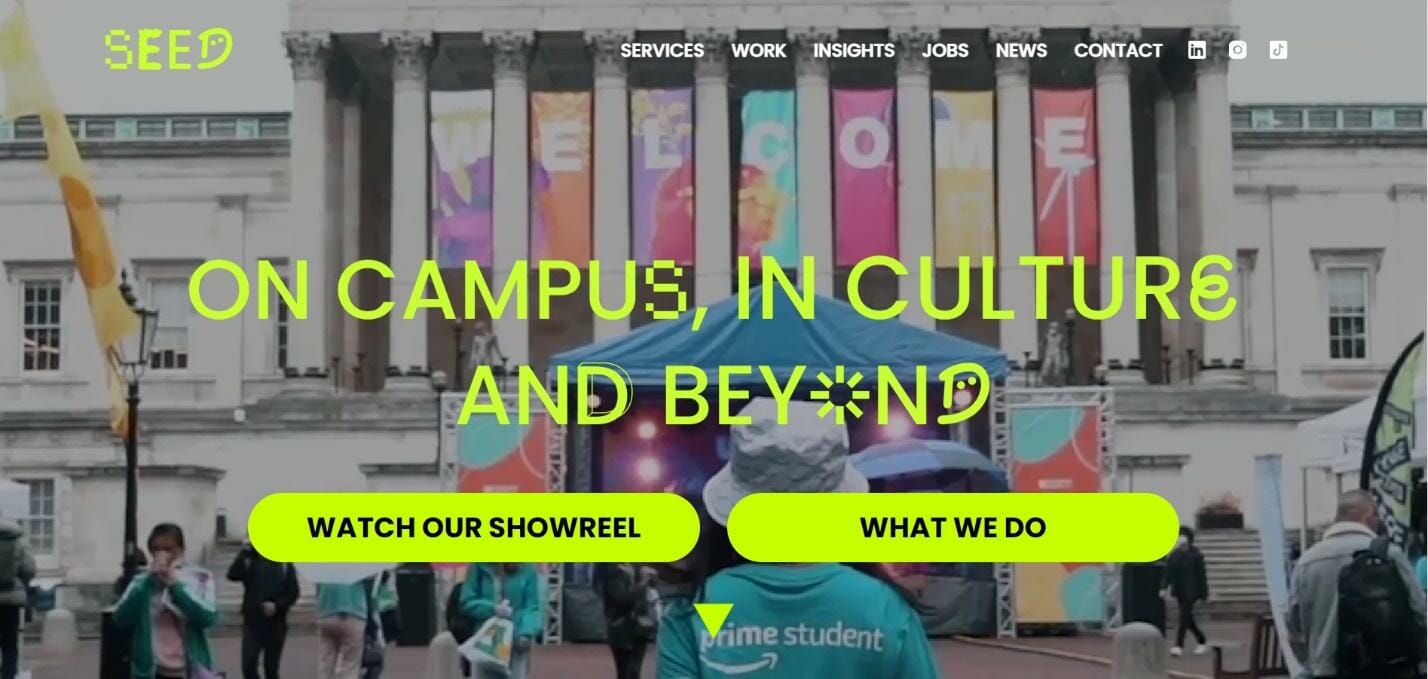 Seed Marketing Agency is a new generation consultancy that assists brands in understanding, influencing, and connecting with students and zoomers. Seed helps brands connect on campus, in culture, and beyond, whether it's organizing a music festival, developing a TikTok buzz campaign, or boosting sign-ups via paid ads. Seed works with a network of influential young collaborators and creators to give unlimited access and to ground the agency's work in terms of audience and cultural impact.
The agency focuses on making a tangible and quantifiable impact, creating demand, driving conversions, and kindling long-term brand relationships. Seed also integrates a global view with local expertise. The firm specializes in strategy and implementation in the UK, the US, Europe, and Australia. Seed is a multi-award-winning Gen Z agency that focuses on creative, Gen Z, and student-led campaigns for some of the world's largest brands. It targets student marketing with 50% of the influential and difficult-to-reach Gen Z audience attending school.
Seed notable clients include Spotify, NHS, YouTube, Prime Video, Bumble, Jack Daniel's, Zapp, Levi's, ASOS, Victoria's Secret, Converse, and Ted Baker London.
---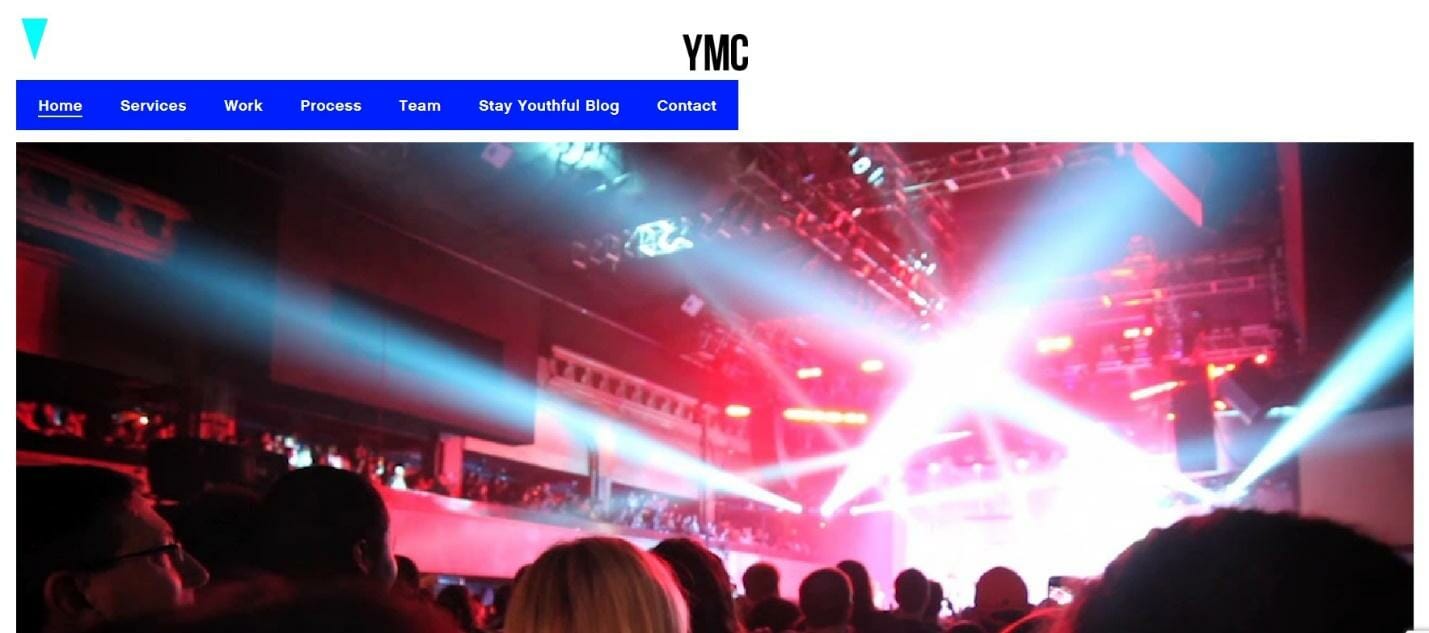 Youth Marketing Connection (YMC) is a millennial and generation Z-focused agency that amplifies and propels today's most relevant and exciting brands. For more than 20 years, the agency has been creating brand experiences for the next generation. YMC has decades of experience, know-how, and proprietary with driven research and market information geared toward millennials and Gen Z consumers. YMC is also connected to a diverse and active student and young adult influencers network. In addition, the agency has relationships with over 1,000 colleges and universities in the US, the UK, and Canada.
YMC services include works with influencers and ambassadors, mobile tours and pop-ups, campus events, retail store support, social media, creative and branding, spring break campaigns, digital, research and insights, and employer and talent. They provide brands with authentic consumer connections that help shape the conversation.
YMC has a diverse customer base that spans many industries both locally and globally. Google, Waze, Madewell, Sephora, Maybelline, Kate Spade New York, Depop, ASOS, Under Armour, Tinder, Bleacher Report, Pentel, and Adidas are just a few examples.
---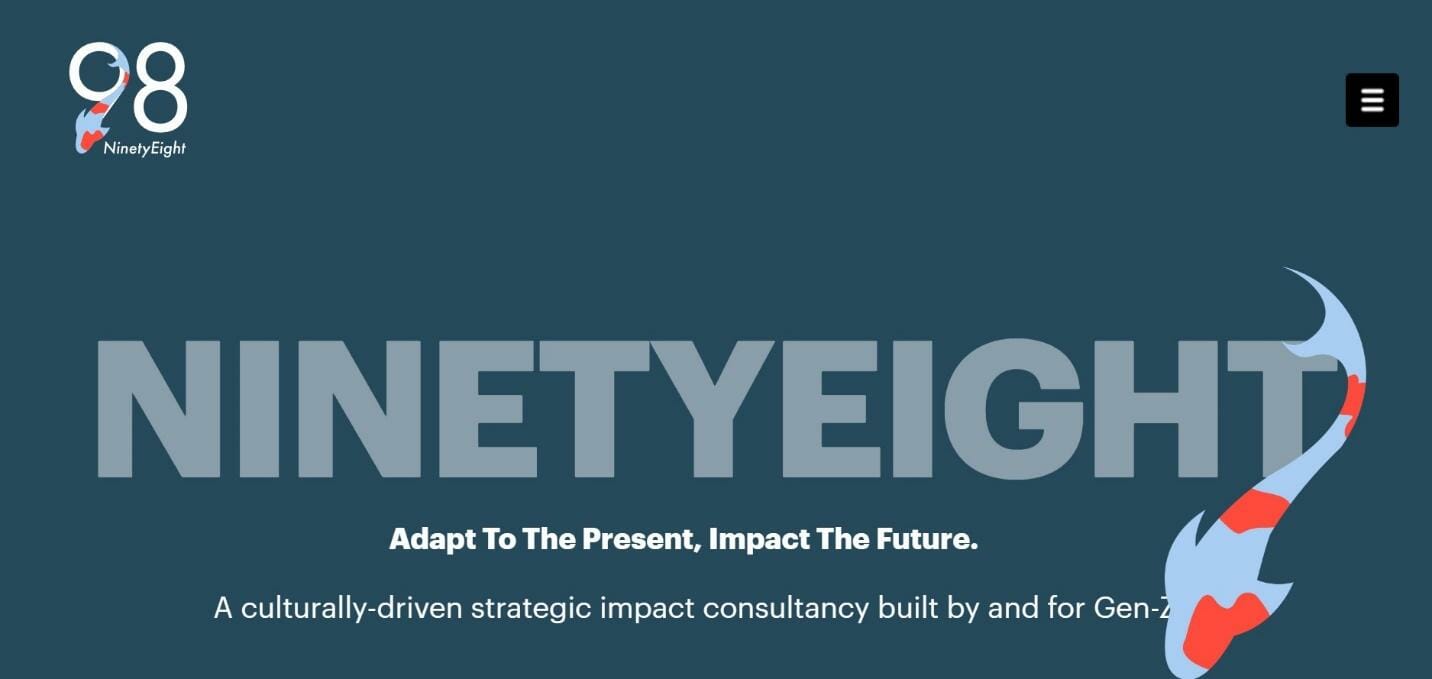 Winner of the 2022 Web Excellence Award, NinetyEight's influencer work on TikTok and other social media platforms has led to countless views, impressions, and engagements for its clients. NinetyEight was established during the pandemic by a small group of individuals, all born in 1998. The young agency is a nexus for pitch hitters, clutch shooters, and zoomers who work hard to turn their visions into reality. As digital natives, the NintetyEight team is well-versed in social media, including platforms, trends, content creation, and more. The agency combines first-hand knowledge with a strategic approach to get real insights into the Gen Z market.
NinetyEight provides four core services for the Gen Z crowd: branding, social media, Gen Z consulting, and influencer marketing. Through brand guidelines, rebranding strategy, and visual and logo design, the agency assists clients in establishing or revamping their brand identity. The team also helps companies use social media to grow their business and authentically connect with their target audience.
In addition, NinetyEight streamlines and magnifies Gen Z demands so businesses can better understand their target demographic. Focus groups, social listening, qualitative and quantitative research, and trend reporting are part of the Gen Z consultation. In terms of influencer marketing, the agency connects clients with a network of influencers to gain the confidence of their intended audience and turn them from consumers to loyal brand advocates.
NinetyEight's roster of clients include Paul Frank, Pepsico, Fabletics, The Legacy Lab, The Steady Studio, Hardy Capital, Soul of Life, Wanderlust Creamery, Loyola Marymount University, New Horizons, and Cheese.
---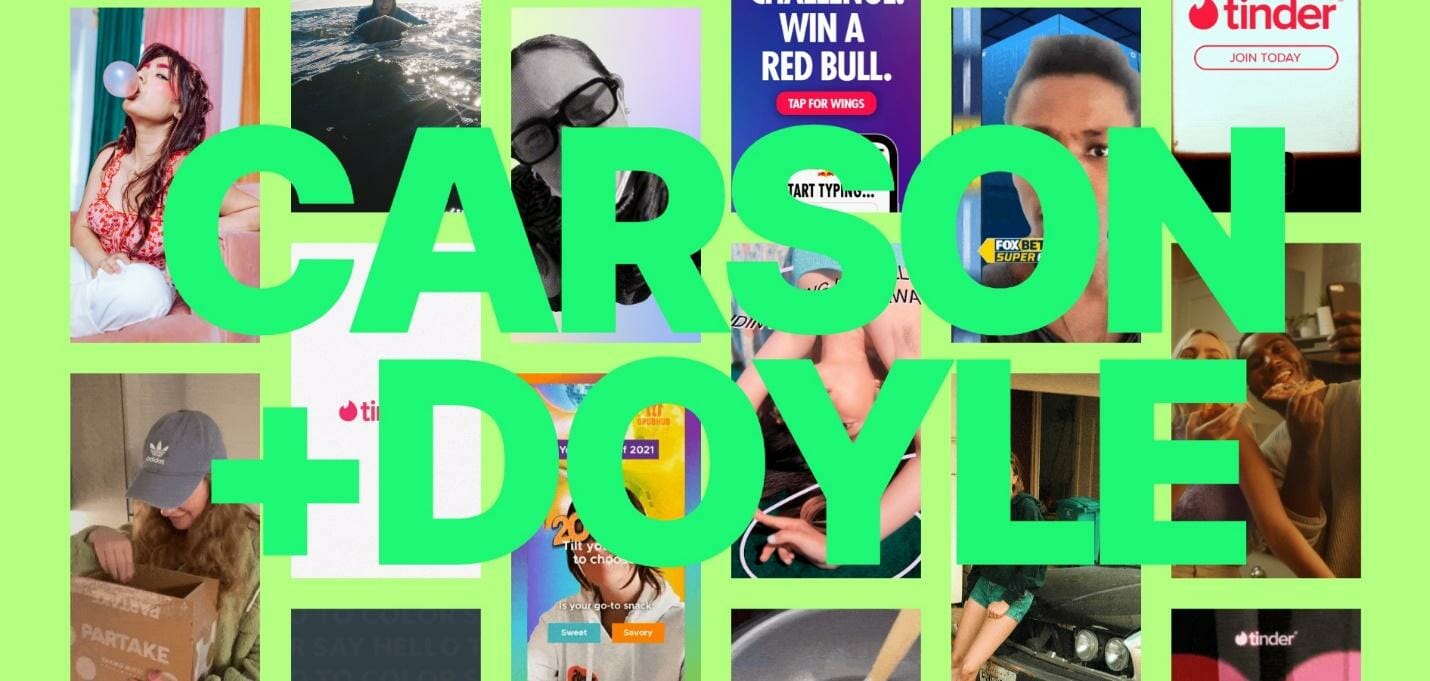 Carson+Doyle is run by and for Generation Z. Founded in 2017, the company is a creative firm that bridges the gap between brands and the next generation of consumers with unmatched insights and authentic creativity. Carson+Doyle comprises digital artists, trailblazers, composers, strategists, 3D renderers, meme makers, AR inventors, designers, vloggers, trend seekers, TikTok gurus, and adventure junkies from all over the world.
Platform-native content, Snapchat AR, TikTok production and strategy, brand strategy, video production, Gen Z-tailored insights and campaigns, design, copywriting, and branding are just some of the services offered by the global, independent brand marketing agency.
Some of Carson+Doyle's clients include Red Bull, Merrick Bank, Spotify, Boost, Tinder, Snapchat, and Partake.
---
---
Millennials vs. Gen Z
Based on the Pew Research Center report, a millennial is anyone born between 1981 and 1996. They grew up in a digitally divided society and swiftly adapted to the rise of the internet. Since they were the first to comprehend the digital world fully, they are known for their respect for privacy, autonomy, and curiosity. They are also more comfortable using social media than prior generations are, and they can keep up with emerging trends.
On the other hand, anyone born after 1997 belongs to Generation Z or zoomers. They are genuine digital natives. Wi-Fi and social media have been of gen Z's vocabulary since they were born. This demographic is generally more progressive than its millennial peers in the digital realm since technology has always been a part of their lives. Zoomers regularly set the tone for emerging trends like TikTok marketing and Instagram tools.
Millennials and Generation Z have similar perspectives on many significant issues. They are more diversified in terms of ethnicity and race than prior generations. They are also digital natives and are much more tech-savvy. They heavily rely on social media to find new brands and products. As a result, Gen Z and millennial marketing strategies vary from previous generations.
---
Ad strategies for millennials and zoomers
When it comes to ads, millennials and zoomers need more than just selling a product. Both generations, particularly zoomers, value authenticity and are drawn to brands that "keep it real."
Millennials tend to trust brands more, though they still want the brand's principles to be transparent and genuine. Millennials also expect social media content to be of high quality. Zoomers prefer brands that feature actual people in their ads over celebrities. As the most diverse generation to date, Gen Z values inclusion and diversity. They expect to see themselves represented by brands and companies that they support.
---
Choose the right marketing agency for you
When looking for a millennial and Gen Z-focused agency to work with, ensure that the company knows the similarities and differences between the two generations. While there are parallels between the two demographics, significant variances must be considered to create a successful marketing campaign.
Frequently Asked Questions
What is Gen Z Marketing?
Gen Z marketing is all about a new approach to strategy. To market to Gen Z, you need to understand their habits and the things they do. Understand your audience to best market to them.
Which brands are targeting Gen Z?
Brands like Square, Whirlpool, Urban Decay, and Old Spice are among the brands targeting Gen Z consumers. This is based on quarterly polls asking the brands how much their equity has changed with Gen Z.
Which online platforms are best for marketing to Gen Z?
Gen Z uses YouTube the most (85%), more than any other social media site, according to the Pew Research Institute. The second most-used platform is Instagram, with 72% saying they use this platform.
How do consumers market to Gen Z?
To market to Gen Z, you need to market through social media content, social media engagement, social media strategy, and all social media platforms.