Advertising Disclosure
Advertising disclosure:
Our partners compensate us. This may influence which products or services we review (also where and how those products appear on the site), this in no way affects our recommendations or the advice we offer. Our reviews are based on years of experience and countless hours of research. Our partners cannot pay us to guarantee favorable reviews of their products or services.
As digital marketing continues to evolve and reach new heights, businesses must find ways to keep up with the evolution and hone previously-proven strategies to reach their target audience. In this realm of constant adaptation, data-driven insights can pave the way for effective engagement. To add more depth to this trend, consider that a staggering 64.6% of consumers click on Google ads when shopping online, according to WordStream. The statistic underscores the undeniable potency of well-crafted advertising campaigns as a proven method to reach digital heights.
In that regard, the significance of selecting the right Google AdWords agency cannot be overstated. These agencies hold the keys to the kingdom, offering bespoke solutions that can catapult a brand's online visibility, driving tangible results and measurable ROI. But with a plethora of options available, how do businesses sift through to identify the crème de la crème?
We've done the heavy lifting, rigorously evaluating and ranking the top 10 Google AdWords agencies to bring you an unfiltered view into the masters of the trade. So, let's begin.
---
Top Google AdWords Agency Choices
Top
google adwords agencies
2024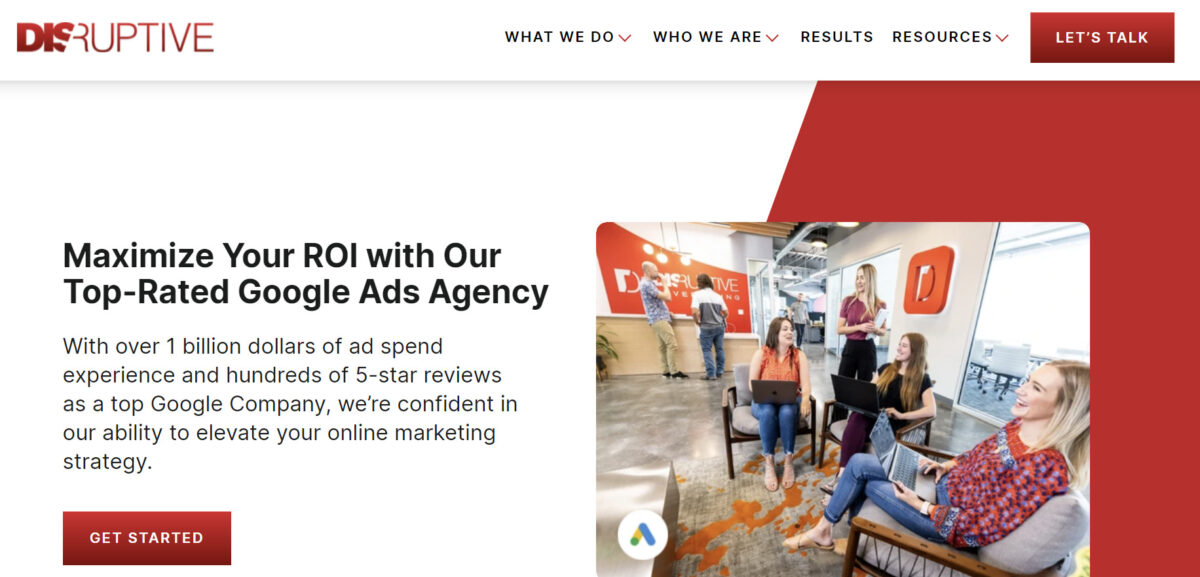 Best for: Mastering ROI and Efficiency
Boasting over 1 billion dollars of ad spend experience and a multitude of 5-star reviews as a top Google Company, Disruptive Advertising stands as a trusted partner to elevate your online marketing strategy. What sets them apart is their profound expertise in creating Google Ad campaigns that work. With an average waste identification rate of 68% in ad spend, Disruptive Advertising's audits ensure your marketing budget is optimized efficiently. They combine the power of machine learning with critical thinking to deliver remarkable efficiencies and growth, embodying the perfect blend of technology and human expertise.
Disruptive Advertising takes a holistic approach to campaign management, meticulously testing and analyzing every facet from click to close. Their focus goes beyond increasing site traffic; it's about enhancing the quality of traffic to your site. With a mission to deliver results and help you achieve your business goals, Disruptive Advertising operates as a digital marketing agency that goes above and beyond. Their impressive track record includes clients experiencing significant increases in leads, sales, and ROI, making them the go-to choice for businesses striving to excel in the digital landscape.
One of Disruptive Advertising's defining characteristics is their commitment to building long-term relationships with clients. They prioritize strong communication, making you feel as though their team is an extension of your in-house team. By offering competitive rates and a dedicated approach to your success, Disruptive Advertising consistently delivers more than just advertising services; they provide dependable expertise, consistent growth, and a true partnership.
---

Best for: Strategic and Comprehensive Paid Media Management
WEBITMD stands at the pinnacle of paid media, renowned for its strategic multi-channel ad management that caters to businesses looking for customized, ROI-driven solutions. The agency's 'Growth Stack' model is a testament to its innovative approach, offering you a streamlined onboarding and buildout process. Your journey with WEBITMD begins with a thorough analysis of your business model, challenges, and opportunities, followed by a competitive analysis and the execution of tailored campaigns featuring customized landing pages and CRM integrations.
Their advertising proficiency is underlined by an agile and adaptive campaign structure. WEBITMD is not confined to a single platform; instead, they have honed their skills across search, social media, display & video, and various marketplaces, ensuring a versatile and responsive ad presence. The agency's continuous optimization and scaling procedures involve rigorous A/B testing and audience fine-tuning, ensuring your campaigns evolve with market trends and objectives. Every step of the process is characterized by strategic innovation aimed at attracting traffic and giving you the highest quality, leading to tangible conversions.
The efficacy of WEBITMD's approach is illuminated by their impressive client success stories. With case studies like Tenth Street Hats, which saw an 800% increase in ad revenue, and Mila & Rose, where online orders spiked by 700%, WEBITMD's expertise in amplifying both online visibility and profitability is evident. Their adeptness in transitioning businesses from traditional retail frameworks to dynamic direct-to-consumer models underscores their versatility and strategic depth.
---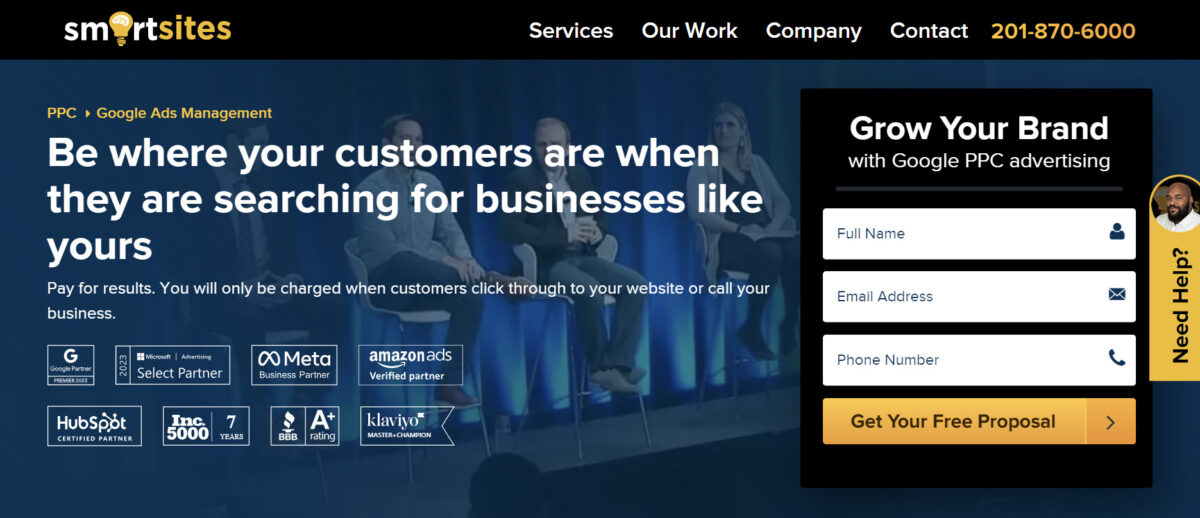 Best for: Elevating Google Ads Management to Perfection
SmartSites, a Google Premier Partner, embodies excellence in PPC and Google Ads management. As a full-service digital marketing agency, they go beyond conventional practices, aiming to put your brand in front of your target audience precisely when actively seeking your products or services. What sets SmartSites apart is its impeccable track record and the trust it has garnered from clients.
SmartSites excels in hyper-targeting the most valuable customers for your business, using Google Ads' advanced demographic targeting features. Their certified experts optimize every aspect of your advertising account through actionable insights, ensuring peak performance. They meticulously manage campaigns, run A/B tests, and provide comprehensive reports on account performance. SmartSites doesn't just aim to increase traffic; they focus on the quality of traffic that results in conversions, calls, and, ultimately, sales for your business. According to their estimates, 66% of buyer-intent keywords are paid clicks. SmartSites ensures you're where your potential customers are, at the right time, and with the right messaging.
If you're new to PPC advertising or running existing campaigns, SmartSites has the expertise to assist you. Whether it's running the numbers to demonstrate how pay-per-click can grow your business or providing a complimentary audit to uncover cost-saving opportunities, their commitment to transparent and data-driven decision-making is a hallmark of their service. SmartSites' client success stories reflect the agency's proficiency in achieving tangible results. Whether it's lowering click costs dramatically, driving more calls, or achieving a 500% increase in leads, SmartSites has consistently exceeded client expectations.
---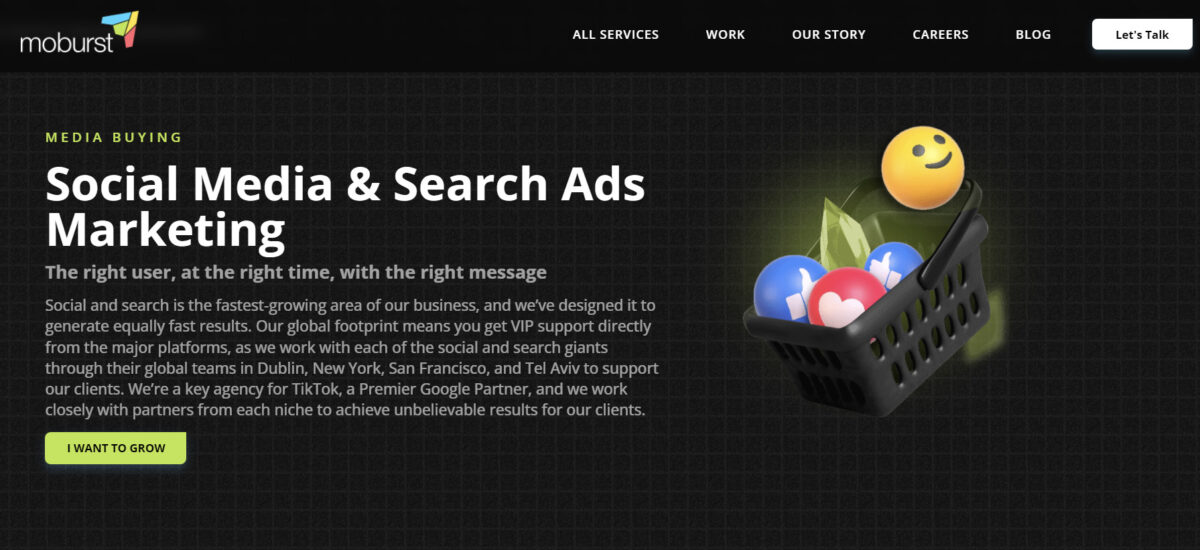 Best for: Elevating Google Ads with Cutting-Edge Analytics and BI Solutions
Moburst, a standout Google AdWords agency, offers an array of services, with their Analytics and BI solutions taking center stage. In a digital landscape where data-driven decisions are paramount, Moburst empowers you with a comprehensive and visually appealing analytics platform. Their proprietary solutions provide a unified view of all marketing activities, eliminating the hassle of scattered data across platforms and channels. This one-stop solution enables you to measure progress, unearth untapped opportunities, boost ROI, and regain control over your campaigns.
What truly sets Moburst apart is its ability to provide a single source of truth for iOS, Android, and web activities. Their dashboards offer a quick overview of essential metrics and deep, granular insights for supercharged decision-making. Whether you're a seasoned expert or just need an overview, Moburst's Analytics and BI solutions equip you with the insights and control you need to thrive in today's competitive digital landscape.
With their post-IDFA solutions, Moburst adapts to the evolving privacy landscape, making them a top choice for anyone looking to maximize their advertising investments. Offering advanced metrics, invaluable analytics, and an impressive track record of driving results, Moburst is a frontrunner in the world of Google Ads management.
---

Best for: Unleashing the Power of Google Shopping Ads for Exceptional Growth
Lyfe Marketing is a Google AdWords agency that stands out with its remarkable Google Shopping Ads services. Specializing in driving eCommerce revenue and boosting website conversions, Lyfe Marketing leverages the potential of the platform to provide businesses with a competitive edge. With 81% of purchases beginning with an online search, these ads have become a pivotal tool for showcasing products directly to users actively searching for similar offerings.
Lyfe Marketing both drives purchases and enhances your brand strength and online presence. Through their ads, you generate higher click-through rates and better leads by presenting high-quality product images to your customers. Furthermore,  Lyfe Marketing's team ensures the effective placement of your ads, targeting local or global audiences and optimizing keyword searches for maximum visibility. Their comprehensive approach results in increased website clicks, improved conversions, reduced cost per conversion, and heightened overall brand awareness.
Lyfe Marketing's success stories, such as helping Indique Hair generate over $189,000, illustrate their prowess in optimizing campaigns for substantial revenue growth. The agency's services follow a meticulous process, including campaign development, budget optimization, and data-driven reporting. They continuously monitor and fine-tune campaigns to deliver exceptional results.
---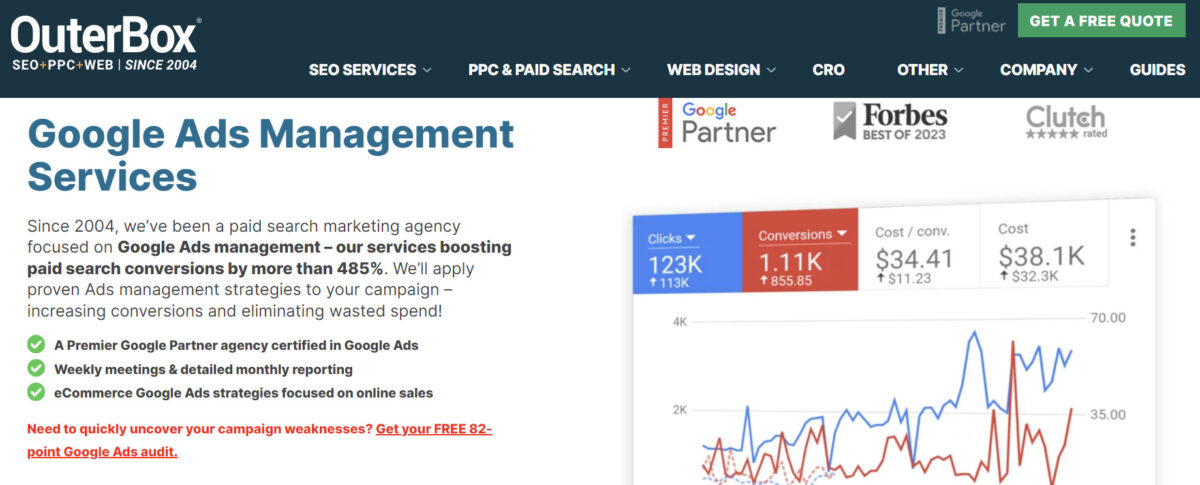 Best for: Elevating Google Ads Management to New Heights
Outer Box Design has achieved the prestigious title of "Best SEO Services" of 2023 by Forbes Advisor, setting the stage for excellence in the realm of Google Ads management. As a Google Partner, this agency offers a comprehensive suite of services, with a primary focus on Google Ads management. Their expertise in the field is evident as they have consistently delivered results, boasting a track record of increasing paid search conversions by an impressive 485%. But what sets Outer Box Design apart is their unwavering commitment to increasing conversions and eliminating wasted spending through proven ads management strategies.
This premier Google Partner agency offers a range of standout features that make them your top choice. Weekly meetings and detailed monthly reporting ensure you're always in the loop about campaign performance. Their eCommerce Google Ads strategies are finely tuned to drive online sales, making them a go-to choice for boosting revenue. They also offer a complimentary 82-point Google Ads audit to quickly identify your campaign weaknesses, making it evident that client success is their top priority.
OuterBox's commitment to driving client success is exemplified by their impressive client relationships, boasting over 400 successful partnerships. With more than 20 years of experience as a PPC agency and managing over $45 million in Google Ads spend, Outer Box Design proves itself as a leading agency dedicated to achieving outstanding results.
---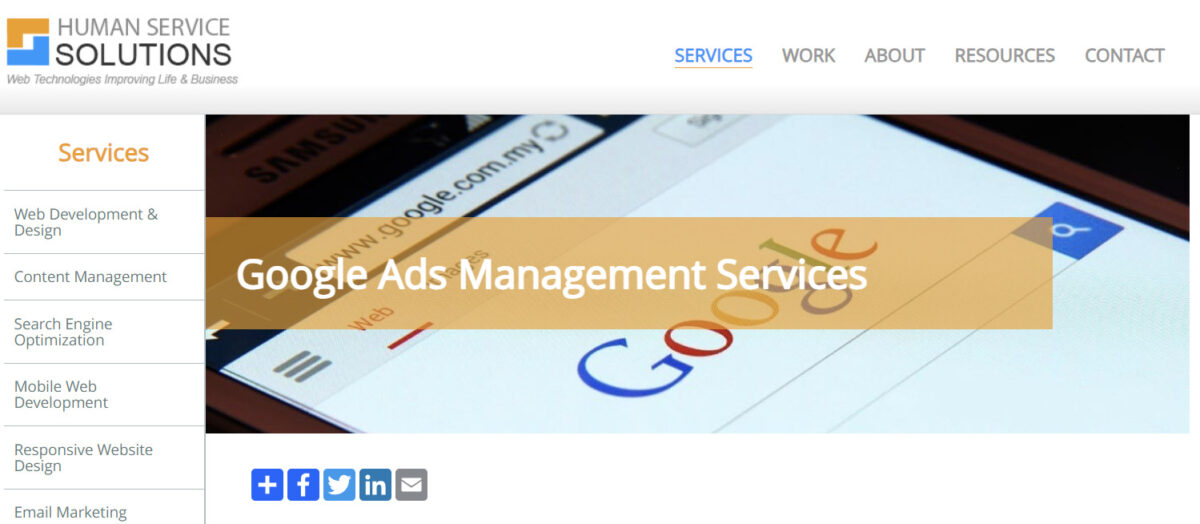 Best for: Maximizing ROI with Expert Google Ads Management
HSW Solutions is a notable Google AdWords agency dedicated to delivering exceptional results. Google Ads is renowned for its potential to drive qualified pay-per-click (PPC) leads and foster continuous business growth, but navigating its intricacies can be daunting. HSW Solutions rises to this challenge, offering Google Ads management services that help you set a new standard in the industry.
What sets HSW Solutions apart is their unwavering commitment to maximizing your ROI while minimizing waste. They understand that a successful PPC campaign requires meticulous ongoing management, and they excel at pinpointing your target customers. Their process begins with meticulous keyword research, identifying opportunities that align with your desired search query volume, competition, budget, and visibility. Ad groups are then created with compelling titles and descriptions, while budgets and bidding strategies are set to account settings for optimal display and efficiency. Geographic targeting is fine-tuned for each of your advertising campaigns, negative keyword lists are developed to filter out unqualified leads, and conversion tracking is meticulously set up to measure your performance goals.
HSW solutions don't stop at the setup phase; they even offer ongoing campaign management, including continuous monitoring and bid adjustments. They assess conversion performance, allocating your budget to the most promising ads and terms over time.
---
Best for: Empowering Small Businesses with Google Ads Expertise
Pronto Marketing specializes in providing affordable, results-driven Google AdWords services tailored to the needs of small and growing businesses. What sets Pronto Marketing apart is its dedication to delivering impactful results without tying clients into long-term contracts, making them an ideal choice for businesses seeking to leverage advertising campaigns on a budget.
Pronto Marketing's Google Ads management services come with the promise of immediate benefits, designed to help you attract potential customers daily. Their team of Google Ads Certified specialists takes charge of setting up and maintaining your campaigns and performance, ensuring you stay visible to your target audience without breaking the bank. With flexible advertising budgets that vary based on industry and location, Pronto Marketing adapts to your unique needs, making them an accessible choice for businesses of all sizes.
But what truly distinguishes Pronto Marketing is their comprehensive approach to Google Ads Campaign Management. They handle every aspect, from campaign setup to optimization and maintenance. This includes creating landing pages for ads, ensuring seamless integration with your website, monitoring performance, and directing leads to the right place. With transparent monthly reporting, bid and position monitoring, A/B ad variation testing, and keyword-level call tracking analytics, they keep you informed every step of the way.
---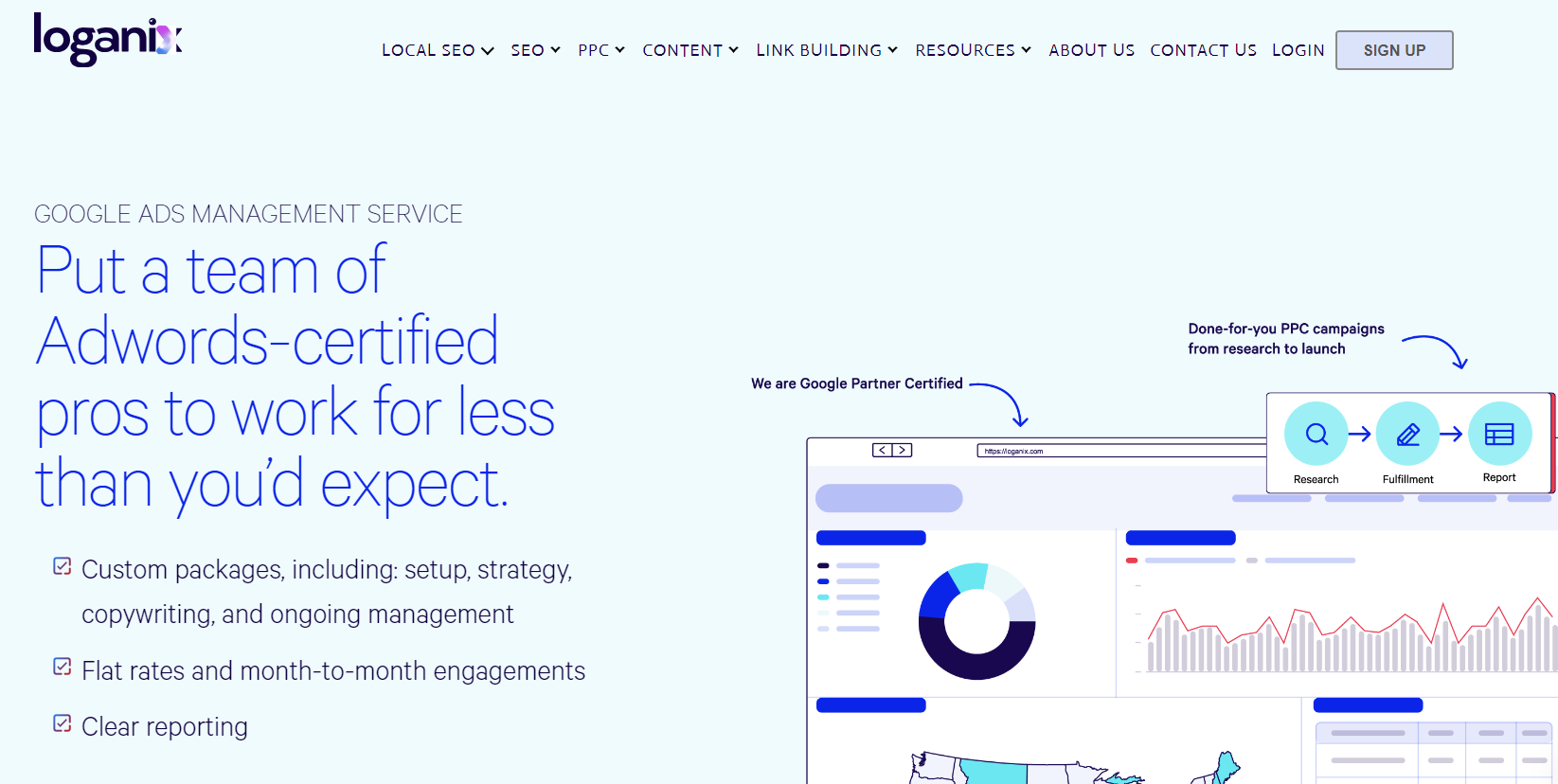 Best for: Google Ads Game Changing Strategies
Loganix delivers remarkable services that promise to transform your online advertising campaigns. What sets Loganix apart is its commitment to providing comprehensive, result-oriented Google Ads solutions tailored to businesses of all sizes. Whether you're a small enterprise or a larger corporation, Loganix offers custom packages designed to meet your unique needs and budget constraints.
At the heart of Loganix's offering is its team of Adwords-certified professionals who specialize in crafting conversation-focused services. From initial keyword research to continuous optimization, they work tirelessly to ensure your ads deliver more leads, sales, and a superior return on investment, all while reducing costs per click. Loganix takes a holistic approach, managing everything from account creation to ad copy, day-to-day campaign management, and even optimizing landing pages to maximize conversions. Their dedication to driving down costs and enhancing ROI through continuous optimization sets them apart in the competitive landscape of Google Ads management.
Loganix is committed to accountability and transparency. They eschew vanity metrics, providing easy-to-interpret visual reports delivered monthly, ensuring you're always in the know about the real impact on your bottom line.
---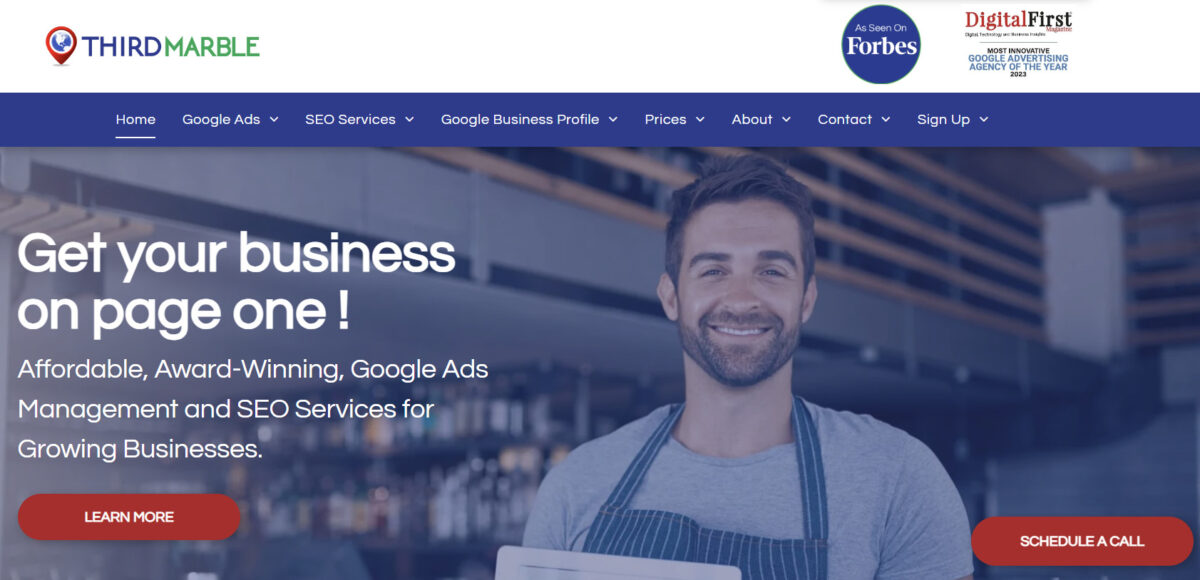 Best for: Elevating Google Ads and SEO Game
In the dynamic realm of Google Ads and SEO services, Third Marble Marketing emerges as a game-changer, offering affordable and effective solutions tailored to the needs of your growing business. This agency specializes in empowering small businesses with budget-friendly services, making it a standout choice in a competitive landscape.
What sets Third Marble Marketing apart is its commitment to transparency, affordability, and quality. With three service-level plans, businesses of all sizes can access their expertise. From managing various ad types, including Search Ads, Remarketing Ads, Display Ads, Shopping Ads, and YouTube Video Ads, to nationwide service availability, Third Marble Marketing ensures that all your work is completed in the USA without long-term contracts or confusing jargon. With over 14 years of experience and a 5-star rating on Google, they have earned the status of a certified Google Partner, showcasing their expertise and dedication.
Third Marble Marketing caters to a diverse clientele, including small and local businesses, website design and digital marketing agencies, and nonprofit organizations. Their approach to Google Ads is results-driven, focusing on converting clicks into leads or sales. With complete budget control and easy campaign adjustments, Third Marble Marketing ensures that your Ads account aligns with your evolving business needs.
---
Analyzing the ROI of Google AdWords
Analyzing the ROI of Google AdWords is pivotal for businesses seeking to understand the effectiveness of their online advertising campaigns. By measuring the return against the ad spend, companies can determine the true value of their campaigns and refine strategies for maximum profitability. Here are several statistics that help paint a fuller picture:
---
How Top Agencies are Navigating the Evolving Digital Landscape
In the ephemeral realm of digital advertising, stagnation is synonymous with obsolescence. The top Google AdWords agencies are characterized by their innate ability to not just adapt but lead the evolution of market trends. These agencies are the vanguards of innovation, perpetually enhancing their strategies to align with the ever-shifting digital landscape.
Consumer behavior is as dynamic as the technologies that power digital advertising. An analysis of the top agencies reveals a commonality – a relentless commitment to understanding and anticipating these shifts. Armed with cutting-edge technologies and analytics, these agencies decipher patterns and trends, ensuring that businesses are always a step ahead in the competitive landscape.
For instance, the surge in mobile commerce has prompted a paradigm shift in ad creation and targeting. Agencies that have discerned this trend are focusing on optimizing ads for mobile interfaces for higher engagement and conversion. The incorporation of artificial intelligence and machine learning has further enhanced the precision of ad targeting, ensuring that messages reach the most receptive audience.
But beyond technology and analytics, the human touch remains pivotal. Top agencies are distinguished by their ability to humanize data, translating numbers into insights that drive empathetic and engaging ad campaigns. The balance of technology and human intuition ensures that ads resonate, inspire, and convert.
---
Conclusion
Choosing the right Google AdWords agency in 2024 is pivotal. With 64% of consumers engaging with Google ads during online shopping, selecting the ideal agency is a strategic imperative. This review has unveiled the top 10 agencies, each offering unique strengths. These agencies guarantee ad spend optimization and adept navigation of the evolving digital landscape in 2024.
Frequently Asked Questions
How do these agencies ensure that every dollar spent on ad campaigns brings optimal returns?
They utilize advanced analytics, machine learning, and AI to tailor campaigns, optimizing keyword selection, ad placement, and audience targeting to enhance the efficiency of ad spend.
How do top Google AdWords agencies determine the most effective keywords for my specific business needs?
Agencies conduct extensive market research and competitor analysis and utilize SEO tools to identify high-volume, low-competition keywords that align with your business goals and target audience.
What metrics do agencies focus on to evaluate the effectiveness of Google AdWords campaigns?
Key performance indicators like click-through rates, conversion rates, and ROI are pivotal. Agencies also consider customer engagement, lead generation, and sales metrics to measure overall campaign success.
Are the campaigns flexible enough to be tailored according to different objectives, such as increasing brand awareness or driving online sales?
Absolutely, top agencies collaborate closely with businesses to understand their unique objectives and challenges. Campaigns are custom-designed to align with specific goals, ensuring targeted and effective strategies.
What is the typical timeframe to observe tangible results from the campaigns managed by these top agencies?
While initial results can often be seen within weeks, optimal performance is typically observed over a few months as campaigns are refined and optimized for the targeted audience and business objectives. The timeframe can vary based on the complexity and scale of the campaigns.