Advertising Disclosure
Advertising disclosure:
Our partners compensate us. This may influence which products or services we review (also where and how those products appear on the site), this in no way affects our recommendations or the advice we offer. Our reviews are based on years of experience and countless hours of research. Our partners cannot pay us to guarantee favorable reviews of their products or services.
The Litmus 2020 State of Email Report reveals that 80% of marketers would rather give up social media than email marketing. This statistic alone says more than enough about the value of email marketing. The report also shares that 78% of marketers feel that email is crucial to the overall success of a company (up by 7% from the previous year).
Though, email marketing should be more than merely a convenient channel for pushing sales. It's about educating your audience about your brand and keeping them engaged. In other words, not every email that you send has to be about a sale, discount, or new product.
Enter email newsletters.
From how-to guides to gift guides to occasional notes from the CEO, there are numerous ideas for email newsletters that you can use to nurture your leads. Here's everything you need to know about how to create email newsletters and which tools to use.
---
Free Email Signature Generator Tool
The tool below has been developed to allow you to create a great-looking email signature easily. Now you can create an original signature for your emails with our generator in just a few easy steps.

---
Read All About It! How to Create Email Newsletters in Six Simple Steps:
---
What Are Email Newsletters?
In its most simplest terms, an email newsletter is a type of email that a business sends to its email subscriber list. This means that the recipients should have given the business consent to send them email communication.
Whether you use it to send company or industry news, product announcements or valuable content such as a roundup of your latest blog posts, it should form a key pillar of your email marketing strategy. There's no set rule regarding how often you must send your newsletter, but it should be sent regularly (we recommend that you try to send it on a weekly basis).
---
What Are the Advantages of Sending Email Newsletters?
Not only are email newsletters great for nurturing leads, but as they're typically sent out more frequently than other types of emails, it can help to drive website traffic continuously. Also, with ad blockers on the increase, it can be a good alternative for ensuring your brand stays top of mind even when your ads aren't seen at the top of websites anymore.
This brings us to the next advantage – independence. The chances that other third parties like influencers, Google, and Facebook will start charging more for ads are higher. Though, it's still simple to combine email newsletters with other channels like social media.
Lastly, it's convenient for both email marketers and their email list. Your target audience can be reached wherever they are and they can read it on their own time. Plus, marketers can easily measure how their email campaigns perform. You simply need to refer to your email statistics to find out about key metrics like unsubscribe rates, open rates, and click-through rates.
---
6 Steps to Creating Email Newsletters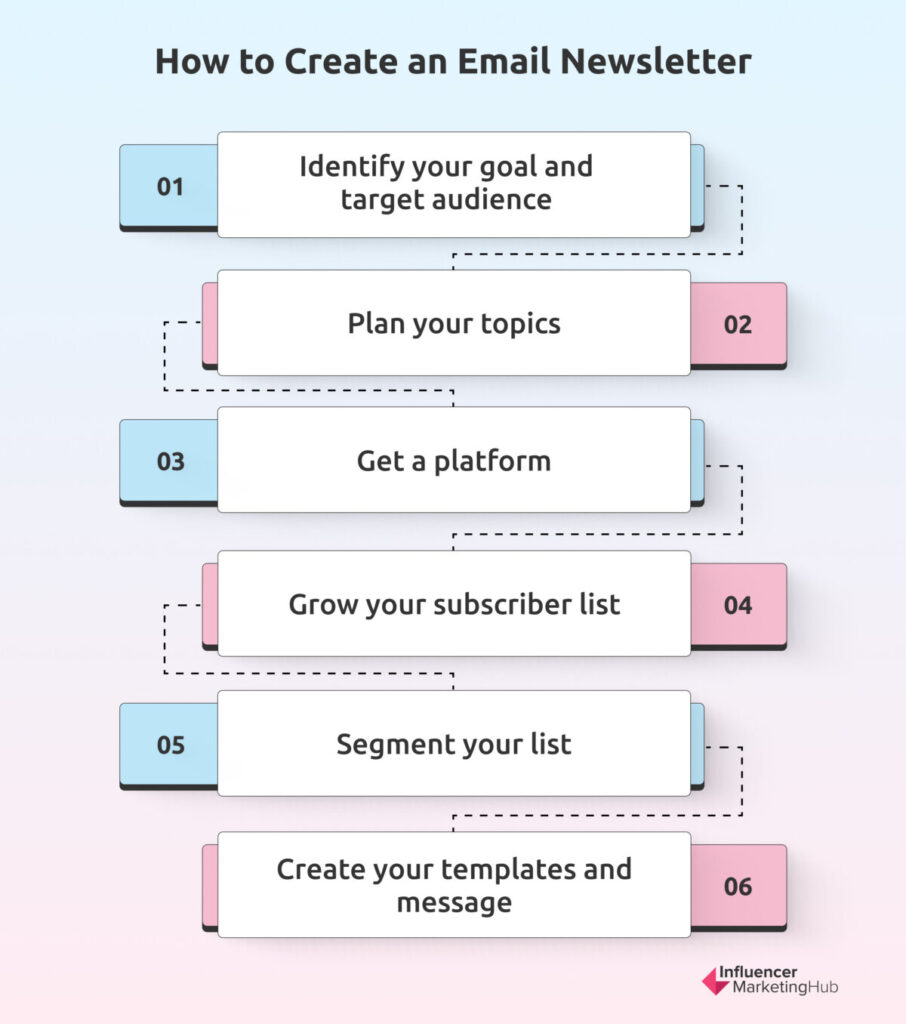 1. Identify your goal and target audience
You first need to know what you want to achieve and to whom you want to send it before you can design any templates. Does your target audience have any specific needs? What type of content will they find valuable? If you don't answer these questions first, you'll only end up crafting an email newsletter that won't appeal to anyone.
Also, it's better to segment your audience (more about this later). This way your emails will be more relevant. So, get ready to get specific.
While your email newsletter should be more about your subscribers and less about your business, knowing your own objectives is equally important. Do you want to generate more traffic for your company website? Perhaps it's simply to boost sales? These goals will help you to measure if your email newsletter campaign is successful.
---
2. Plan your topics
Now you can start to align your own goals with the interests of your subscribers. When you're new to this, it can be challenging to identify topics to write about. So, don't do it alone. Turn to your contacts and your competitors to find out what will be relevant content.
Unlike your competitors, you can contact your contacts directly by, for example, sending a survey. Needless to say, your competitors won't respond that kindly to this approach. So, take a look at what they're including in their newsletters (yes, this means that you'll probably have to subscribe to their newsletter).
If both come up short, here are some email newsletter ideas to help you get started:
Industry-related news

How-to guides

Behind-the-scenes content

Customer success stories

Gift guides
---
3. Get a platform
Sending an email newsletter is a task that's best automated. Not only will an email platform help you to send the email messages, but many of them offer editors and template galleries that make it much easier to create catchy newsletters that align with your brand.
Also, it can also be useful for analyzing how your campaigns perform (remember those goals that you identified earlier). So, ideally, you're searching for a platform that has a drag-and-drop editor, decent number of newsletter templates, A/B testing, and detailed statistics. As email personalization can deliver better results, it's also better to get a platform that offers segmentation features.
---
4. Grow your subscriber list
It takes a lot of effort to create email newsletters and we've not even got to the part of designing the actual layout and content. So, you'll want to grow your list of email subscribers actively to ensure that all the work is worth it.
If you're thinking that you can just buy email addresses, don't do it. As mentioned, for it to be effective and help you to reach your goals, the content that you include needs to be relevant. The people on such a list never signed up to hear from you. Plus, now you'll most likely be bombarding them with information that they don't care about. It's the fastest way to get people to unsubscribe, or, worse, flag your emails as spam.
There are a few ways that you can grow your email marketing lists like hosting events, using lead magnets, or starting a rewards program. Basically, you want to give people an incentive for sharing their email address with you.
In addition to finding types of incentives that you can offer in exchange for their email addresses, you can also create a dedicated landing page and add a subscription widget to your home page, blog, and footer where your other contact details appear. While these approaches won't offer your target audience something of value per se, their value is that it will remove any friction making it easier for them to sign up. When selecting a widget, make sure that it has a double opt-in feature. This is to make sure that you don't get any fake email addresses that can hurt deliverability. Otherwise, you could be listed as a spammer by ISPs.
Whichever approach you take, remember to make sure you get their consent. There are data protection laws that prevent you from sending marketing emails left, right, and center.
As getting a sizable contact list doesn't happen overnight, you'll want to start with this process early. Hence, why it's one of the first steps.
---
5. Segment your list
From gender to age to location to interests, there are different ways that you can segment your list. Depending on your type of business, some approaches will make more sense than others. In short, you'll begin by segmenting your list into smaller groups of similar people. This will enable you to send more targeted emails that match the interests of recipients better. Using these segments, you'll then personalize your emails further.
To make it easier for you, it can be a good idea to gather as much details about your email contacts during the previous step. Though, you don't want to ask too many questions. It's a fine balance between making it as painless for potential customers to sign up to your mailing list as possible and using it for getting extra details about them. Alternatively, if you don't want to use your sign-up form for this, you can let the lead magnets that they've chosen to download or their purchase history guide you.
---
6. Create your templates and message
Armed with knowledge about your subscribers, an email marketing platform, and a substantial number of subscribers that you've segmented, you're finally ready to get to the actual newsletter. To help you eliminate unnecessary work and ensure consistency, you'll want to design a template. As mentioned, most email marketing tools offer a wide range of customizable templates. Alternatively, you can also use HTML email templates if you find one that captures the essence of your brand better.
The most important is that your template should match your branding and be responsive. According to Litmus, mobile users account for over 40% of email opens. So, it's crucial that you offer mobile users the same seamless user experience. To help ensure your emails look equally great on mobile devices, it's best to use one-column templates and images that don't take forever and a day to load.
With regards to your content, depending on your segments, you can now, for example, create content around gender-specific products, local events, etc. You can also let their past behavior guide your message. For instance, if a customer hasn't bought a product recently, you can offer a special offer as an incentive. Or, if a customer made a big purchase, you can show your appreciation by sending a discount that can be used for their next purchase.
---
Top Email Platforms for Email Newsletters
Top
how to create email newsletters
2024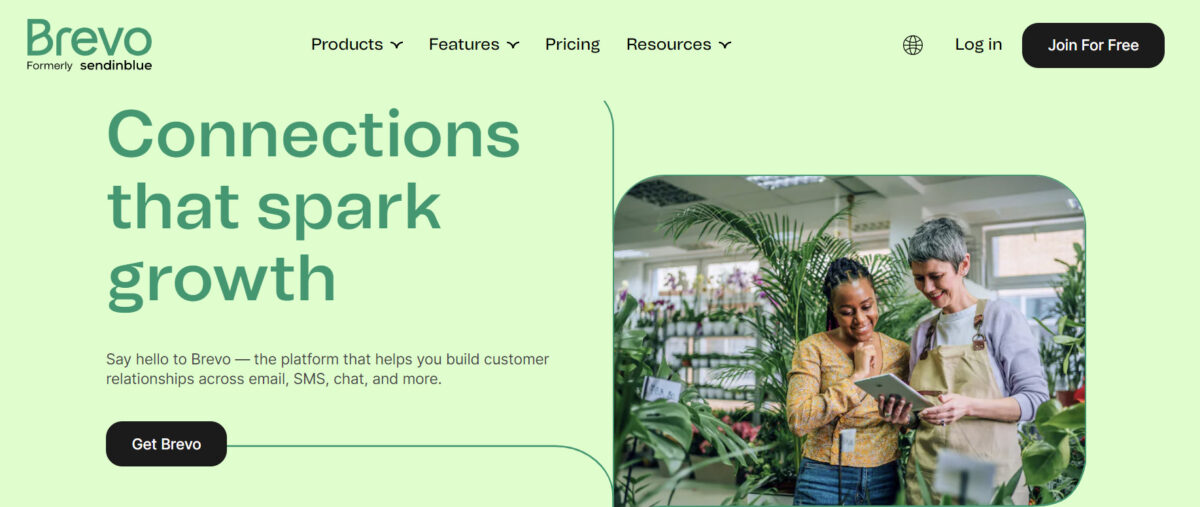 Brevo is one incredibly powerful email tool. It offers a lot more than just email newsletters like SMS marketing, live chat, Facebook Ads, sign-up forms, and landing pages.
If you're going to be using it for newsletters specifically, a feature that deserves a special mention is the ability to share your newsletter on social networks. Plus, if you'll only be using it for this functionality (which we highly doubt), you'll be able to use it free of charge. The only real drawback of the Free plan is that you won't have access to advanced email stats and A/B testing. However, you'll have access to other useful tools like advanced segmentation, customizable sign-up forms, and a template library to make up for it.
---

EmailOctopus is an affordable solution (that includes a Free plan) if you're planning to send loads of email newsletters. It also offers customizable opt-in forms that you can use on your website to grow your subscriber list or you can use its landing page feature to collect new leads. With regards to templates, you can customize their templates, create your own with the help of their drag-and-drop editor, or import your own HTML email templates.
---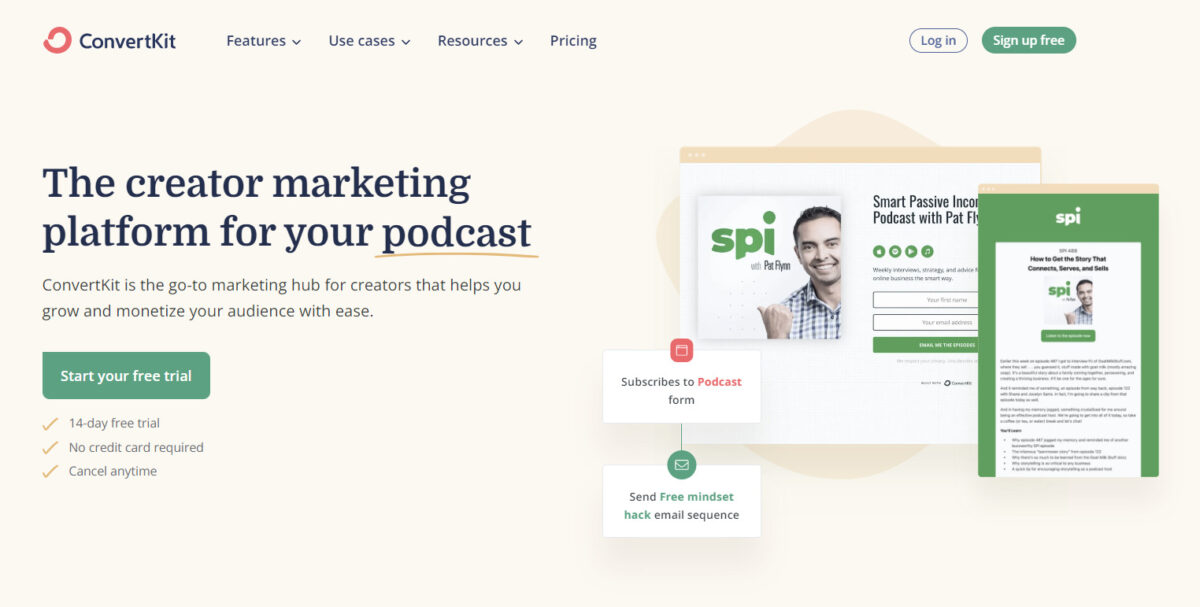 If you're considering creating a paid newsletter, you can check out ConvertKit. In three easy steps, you can turn your newsletter into a money-generating digital asset. To give you an idea of the earning potential, you can use their calculator on their website. Let's say you have 1,000 subscribers, you charge them only $10 per month and you have a conversion rate of 5%, you can earn almost $500 per month.
Another useful feature that deserves special mention is its newsletter referral system. If you sign up for its Creator Pro plan, you'll get access to SparkLoop, a referral tool for newsletter growth. This way, you'll be able to reward your audience for sharing your paid newsletter. It's a great alternative to landing pages and sign-up forms for getting more subscribers.
Other useful features include landing pages, email sign-up forms, and advanced reporting. They're also planning to include color palettes in landing pages, A/B testing, extra templates and a redesigned template library soon.
---
With GetResponse, you can either use its drag-and-drop editor to customize the predesigned template or start with a blank template. Or, if you have some coding skills, you can use its HTML editor. While it does have a Free plan, it's rather limited. It includes one landing page and sign-up forms, but for other useful features like perfect timing, drip campaigns, A/B testing, scheduling, autoresponders, and dynamic segmentation, you'll need to sign up for one of its paid plans starting at €16 per month.
---
---
Wrapping Things Up
Every marketing campaign should include email newsletters. True, your contact list can simply delete it and even if they read it the lifespan is shorter than a tangible marketing asset like a brochure or flyer.
However, a successful newsletter can help to drive traffic to your website continuously much more effectively than a brochure. This is invaluable.
It's also one of the best ways to nurture leads. Remember, your subscribers chose to receive your newsletters. It's not unsolicited like that annoying flyer left on your windshield or left in your mailbox (if you still have one of those antique objects).
As a matter of fact, it can even be a paid newsletter. If you take this approach not only will it drive traffic, but it can also generate a steady stream of income.
Frequently Asked Questions
Should you include emojis in the subject line of your email newsletter?
Using emojis can grab the attention of recipients and help to add more context, but these types of special characters can also trigger spam filters. That being said, online data reveals that it can boost your newsletter open rate by a significant percentage – over 40% in some cases. The best emojis are recognizable (like a star, heart or sun) and relevant to the content of the newsletter. Though, don't use more than two and don't force it.
How can you use your newsletter to make money?
You can, for example, sell space in your newsletter as a way to make additional income. If you're considering selling unused space, it's best to consider carefully which advertisers will reap the most rewards. Ideally, you want to insert only ads that your audience will find relevant or interesting and which will reflect good on your brand. Another way in which you can use your email newsletter to generate an income is to start subscription newsletters with a tool like ConvertKit.
How can you increase the open rate of your email newsletter?
One of the most effective ways to increase the open rate of email newsletters is to hint at a surprise included in the newsletter in the subject line. Including bonus material like checklists, infographics, how-to guides, or templates, subscribers will find your newsletter more valuable. That being said, your primary goal should be to offer high-quality, interesting content. If you struggle with open rates, it might just be that subscribers have grown bored with your content and no longer find it relevant.
What are some tips for creating a name for your email newsletter?
To help you find a name for your newsletter, start by listing words that summarize your unique selling proposition and niche. If you run out of words, you can use an online dictionary to search alternative phrases and possible synonyms. Once you have a list of words, you can, for example, use alliteration, puns, a reference to time, or even just your own brand name to come up with a creative name that will capture subscribers' attention.
How can you get more email subscribers?
There are a few ways that you can grow your list of email subscribers. Some of the most popular ideas include hosting events, using lead magnets, or starting a rewards program. You can, for example, use ConvertKit's newsletter referral system so that you can reward your audience for sharing your newsletter. Alternatively, you can stick to a dedicated landing page or sign-up forms on strategic places like your homepage and blog.