Just about a month ago, and to much fanfare, Viral Nation launched its own influencer marketing software platform, Influsoft. Yes, the Influencer Marketing Agency—the one that represents top talent, and can handle marketing from strategy to creative to measurement—just launched a self-service software platform to handle every aspect of what they do. And that begs an important question: Really?
Yes, really.
The platform started as their own in-house solution. It's the software they used to plan, manage, and measure their own campaigns. They were using it when they landed on the Chief Marketer 200 list as a top marketing agency in 2019. It's been powering Viral Nation through to its many awards and recognitions, including several Ava Digital awards and an Influencer Marketing Award for Best Large Agency in 2019. Why would they do this? Why share the secret sauce?
To understand that, you have to go back a couple of years, to the last time we profiled Viral Nation on this site. Back then, they were merely one of the most highly regarded influencer marketing agencies around the world, recognized for their innovation as a data-driven creative marketing house. Their motto has always been Talent First, which has the implied message that technology lags somewhere behind talent on the list of priorities (spoiler alert: it's a close second). For them, technology is a tool that's best wielded in support of creative efforts, and isn't an end to itself. Simply put: if you weren't creating successful influencer campaigns without software, you won't do much better with it—even if that software is getting rave reviews from the most trusted source on such things.
---
Quick Jump:
---
Self Service, or Self Defeating?
If you went back to that last profile we ran, you'd be able to find a pretty cool quote from VN co-founder Mat Micheli that, on its surface, seems like one of those things people say that don't age well.
You can have the best software in the world with everything you'd need to find influencers and run a campaign. But if you don't know how to market in the first place, what's that even worth?
This was said as part of Micheli explaining why he's not a big fan of marketing by SaaS, where anyone can buy into a platform and think they've got a handle on it. He explained why an agency like Viral Nation is so vital to marketing success. They have their hands in every aspect of marketing—repping the talent, designing campaigns, creating and pushing out content—and none of that can be done with software. A business that signs on to a platform without first having (or having access to) those skill sets is generally in for a rude awakening. Software isn't the answer to influencer marketing, said the guy who's now selling software as a solution to influencer marketers.
The truth is, though, that original attitude hasn't changed: Micheli and his co-founder Joe Gagliese still believe that agencies are at the heart of great marketing. And they also believe their software is the only tool that will satisfy the needs of great marketers. Competing software is often the result of someone's idea of what marketers need. Influsoft, which incubated as Viral Nation's in-house software, is the result of actual needs that marketers had.
---
A Three-pronged Approach
Influsoft's target customers are established marketing shops, agencies, and large multinational brands, all of whom likely have their own established ways of doing things—and the design of the platform was meant not to interfere with them. There's no workflow that's dictated. Instead, the software is divided into three core modules: Plan, Measure, and Listen. At all points here, the object is to facilitate the activities of the marketers who are using it with data at the middle of it all.
When users Plan: They're organizing lists of influencers and using their data to drive decision-making; they're able to manage negotiations, contracts, and content; they're collaborating and communicating with influencers and other team members. In short, they're building a database of all their actions and players, with everything readily available for review and accountability.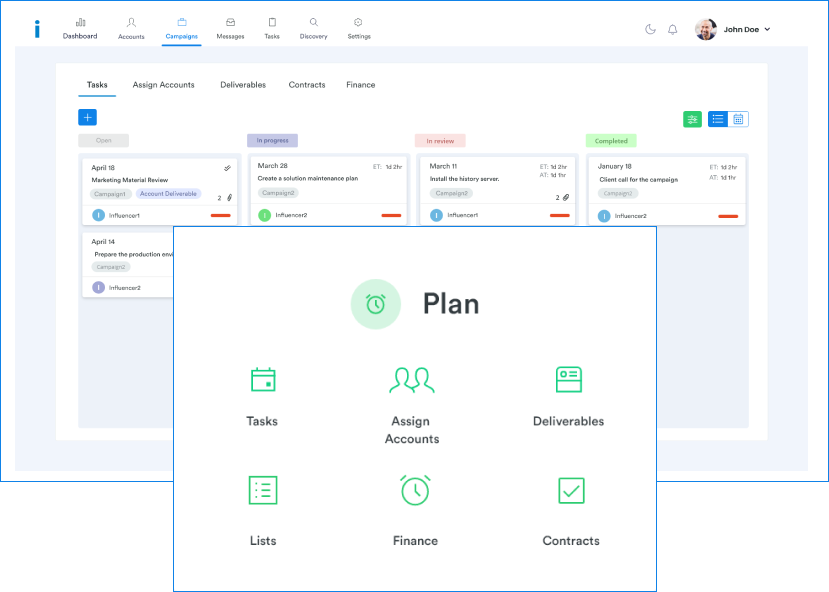 When users Measure: They're getting some of the most granular performance metrics of any platform; they're amassing a stockpile of all the content their influencers have created; they're learning what works and what doesn't.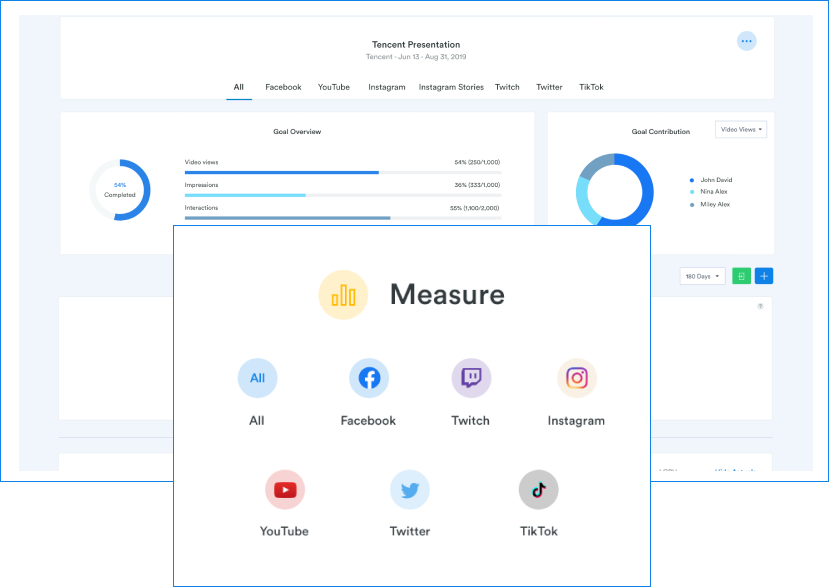 When users Listen: They're learning about their audiences, and their competitors; they're learning what people are saying; they're learning the audience sentiment, down to actual specific emotions.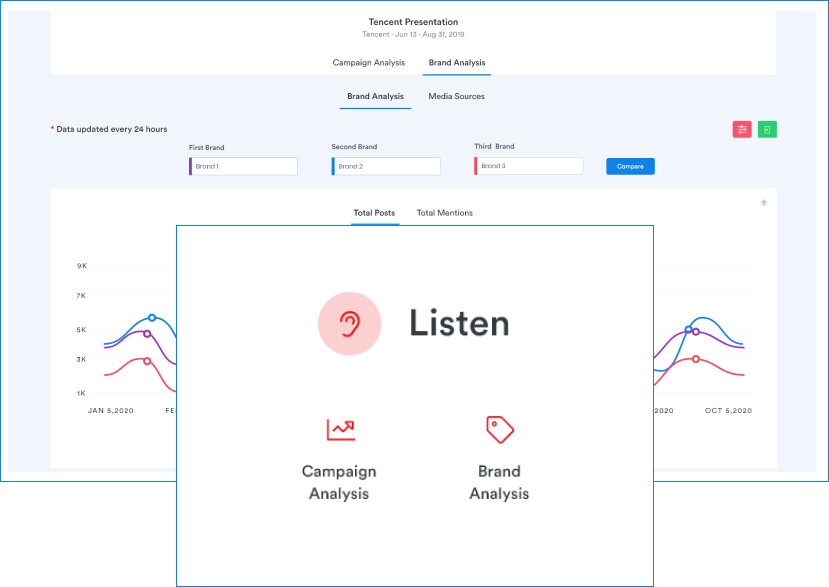 You might notice that Discovery isn't a part of that approach to influencer marketing management. Again, this is because the kinds of customers Influsoft is courting already know what they're doing, which means they already have influencers they're working with. But also: there is a Discovery tool. But it's viewed more than a nice-to-have feature. Jonathan Chanti, Influsoft's Chief Revenue Officer, who's referred to their software as "the Tesla of influencer marketing platforms," likens Discovery to the Bluetooth connection in your car: it's cool that you have it, you wouldn't care so much if you didn't.
It's another way in which Viral Nation is pushing the influencer industry in a different direction, or at least can anticipate which way it's going. Four years ago, platforms entirely dedicated to discovery were all the rage. A company like HYPR and its purpose-built influencer search engine was rated highly here. This year, they were acquired by another company, with the search function just a feature absorbed into another platform.
Also, four years ago: Viral Nation was doing just fine without Influencer Discovery software.
---
What Comes Next?
For existing customers worried that Viral Nation's attention will be turned toward their new software venture, rest easy. Influsoft was spun off into its own separate company, with VN becoming a customer along with other brands like Twitch, Tencent Games, Anheuser-Busch, and Petco. Meanwhile, Viral Nation will press on with its own impressive roster of customers, including Aston Martin, Match.com, Viewsonic, and Victoria's Secret. There's no reason to think their track record of success is going to fade any time soon.
The question now is: what happens when more and more competing agencies start using Influsoft? If you think we're going to predict that they'll all suddenly start getting bigger and better, think again. Really, only time can tell. What Mat Micheli said to us two years ago still holds true today: the best software in the world can't show you how to market. Agencies may sign up to use Influsoft, but if they didn't have the goods before, they won't have it after. One thing's for sure, though: Viral Nation will still be around, and so will Influsoft.