As the COVID-19 pandemic continues to unfold, our grocery shopping habits are continuously being altered. We're seeing trends like the growing popularity of online grocery shopping and delivery apps, the rising number of seniors using Instacart to buy groceries, and the shifting of grocery shopping schedules from weekends to weekdays. These trends indicate the consumer's need to stay home and adapt to avoid the risk of being exposed to disease or having to wait for too long in lines.
What seemed like a passing trend and luxury quickly became a necessity and, consequently, a habit. Despite many businesses closing down last year, we're seeing a surge in online grocery delivery.
In 2019, 97% of consumers shopped for groceries in person, while 81% of Americans had never bought or ordered groceries online. While the shift to online shopping isn't a new phenomenon, the number of people who bought groceries online increased to more than 20% in 2020 compared to 2019. Since the start of the COVID-19 outbreak, almost 80% of US consumers have turned online to shop for groceries. This contributed to the immense growth of US online grocery sales, bringing it to a total of $7.2 billion in June 2020.
For millions of Americans, Instacart became an essential service. The Canadian-founded grocery delivery service experienced its highest consumer demand in its nine-year history. In 2020, it amassed 300,000 new shoppers, bringing the customer order volume to over 500% year-over-year. The transaction value on Instacart has grown four times since last year, and it's expected that it will make up about 30% of grocery sales in the years to follow.
As restrictions continue to be relaxed or lifted, online grocery delivery services like Instacart still remain popular. This is due in part to the convenience that such services bring. Other factors that are likely to contribute to the continued rise of online grocery shopping and delivery services include the new normal of working from home and how this has brought about new habits and the opportunity to save money on things like gas and parking fees.
Let's take a closer look at Instacart, one of the key players in the rise of online grocery shopping, its revenue, usage, and other key statistics.
---
Instacart Statistics, Revenue, Growth & Usage:
---
What Is Instacart?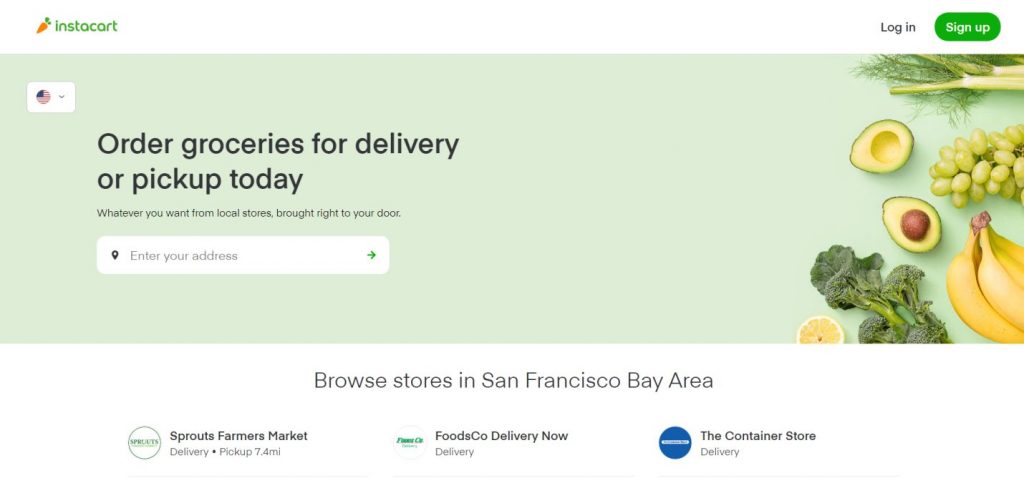 Founded in 2012 by Apoorva Mehta, a graduate of the University of Waterloo, Instacart is a grocery delivery and pick-up service that operates in the US and Canada. Its services can be accessed by users via its website or mobile app. Instacart stemmed from the potential of grocery delivery as "the largest market in plain sight," shares Mehta.
While the concept of grocery delivery itself isn't novel, in the years before the COVID-19 pandemic, it wasn't such a popular idea. Despite shoppers flocking online for other purchases, grocery shopping was left behind primarily because service providers struggled to evolve and adapt their services to the Internet age.
However, many companies are still trying to make online grocery delivery work. For example, Amazon bought Whole Foods in 2017 for nearly $14 billion. It has since provided grocery delivery for Prime members across the country. Other retail giants followed suit, with Walmart acquiring Parcel, a same-day, last-mile delivery company that specializes in delivering perishable and non-perishable items, and Target buying Shipt to provide customers with same-day delivery for groceries and essentials.
Many companies, such as ALDI and Publix have partnered with Instacart to deliver groceries from their physical stores to their customers' homes.
Despite its growth and popularity, Instacart has its fair share of controversies. One issue is the mishandling of customer tips through "tip-baiting,," where customers promise generous tips for Instacart Shoppers, only to revoke it after an order is completed, and tip stealing. Instacart has since amended its tipping policy to ensure a more transparent tip allocation.
Another issue revolves around Instacart's Shoppers, many of whom belong to the gig economy, who are urging users to delete the Instacart app because of labor issues like falling pay rates and unsafe working conditions. While Instacart has taken steps to address these issues, many Instacart shoppers still feel that the change has had a minimal effect on their welfare.
Despite these challenges, Instacart continues to grow both in usage and in its workforce volume. Instacart has created approximately 186,000 additional jobs with the country's grocery industry during the COVID-19 outbreak. This led to an increased total grocery revenue of more than $6 billion between 2013 and the second quarter of 2020. Prior to the outbreak, from 2013 to 2019, Instacart accounted for 70% of net grocery job creation.
Dubbed the "Instacart Effect," this term describes the relationship between the grocery delivery platform's growth and the grocery industry's growth, which has benefitted the various stakeholders within the industry, including retailers, workers, and consumers.
In an attempt to expand its reach, Instacart is focusing on building partnerships with small and independent grocers, or businesses that don't yet have the means to create their own online shopping platform. In 2018, it partnered with Supervalu, a group of more than 3,000 independent retail stores in the US. In 2020, it teamed up with C&S Wholesale to offer e-commerce solutions to the more than 3,000 independent groceries under C&S.
Instacart has also been a valuable tool for growth, enabling brick-and-mortar establishments across the country to expand their reach and gain a competitive edge by providing their products online.
---
How to Use Instacart
Instacart operates on the premise of connecting you with Instacart Shoppers in your area. These Shoppers shop from your favorite stores and deliver the items to you within a span of one hour.
You shop online for the grocery items you want and Instacart sends a Shopper to fulfill and deliver your order. What makes Instacart different is it doesn't hold all grocery items like fresh produce in a warehouse. Instead, it sends Shoppers to local grocers or retail chains in your area.
To use Instacart, you need to create a free account. Once your account is live, you can start searching for stores and the items you want to purchase. For example, you select Target from Instacart's partner stores. You'll then be able to browse through the available items from Target.
On the page, you'll see the product prices as well as other relevant information about the products. Click the plus (+) button next to each item so you can start adding products to your cart. Once you're done selecting items, you can proceed to the checkout page where you can also view the available delivery times for your preferred store so you can choose the delivery schedule that works for you. The checkout page also has a space for delivery instructions if you happen to have specific instructions for your Shopper.
Once you've placed an order, an Instacart Shopper will be deployed to fulfill and deliver your order. Similar to other delivery services, you can track your order's progress and communicate with your Instacart Shopper.
---
What Are Instacart Shoppers?
Instacart Shoppers are independent contractors or part-time workers who fulfill and deliver Instacart orders.
To become an Instacart Shopper and earn money, you need to sign up for an account at shoppers.instacart.com. After signing up, you need to download the Instacart Shopper app to complete the signup process and start your background check. Once you're cleared and approved to shop, you can start shopping for clients and earn money.
How much you can potentially earn from being an Instacart Shopper depends on your role type (full-service or in-store shopper) and other factors.
As a full-service shopper or an independent contractor, you get paid for every batch you complete. How much you earn will depend on factors like the number or type of items and driving distance. Full-service shoppers can make at least $5 for delivery-only batches, while full-service batches can get you between $7 and $10. You also get to keep all of the customer tips.
If you're an in-store Instacart Shopper, you're a part-time Instacart employee. You earn an hourly wage and work on shifts, which are based on your personal availability. You won't need to handle deliveries if you're only required to do in-store shopping.
Where Is It Available?
Instacart is available in more than 5,500 cities in the US (50 US states) and Canada. Its platform is accessible to 85% and 80%, accounting for the majority of US and Canadian households, respectively.
---
Instacart and Senior Customers
The pandemic has pushed seniors to embrace new technology and services, including online shopping. According to the National Retail Federation report, 45% of seniors have been shopping online since the COVID-19 outbreak started.
This is significant because, prior to the pandemic, 82% of seniors make less than half of their shopping online. Moreover, there's a growing surge of seniors who are resorting to the buy online, pick up in store (BOPIS) scheme. More than six in 10 seniors know of BOPIS, while two-thirds have tried BOPIS, either through in-store pickup or curbside pickup.
Furthermore, the report points out that 27% of seniors have used delivery services like Instacart and Shipt, while 24% haven't used such services yet but express interest in using them. Meanwhile, the pandemic has pushed 61% of seniors to use these delivery services more.
To make it easier for senior customers to shop for their groceries online, Instacart has launched its Senior Support Service for shoppers over the age of 60. This aims to help seniors adopt online grocery delivery services and stay safe especially during the cold and flu seasons.
The Senior Support Service has a team of dedicated agents who assist seniors in activities like setting up their Instacart accounts or placing orders. In the first few months since its launch, the program has helped more than 60,000 seniors.
This service is available daily from 8 a.m. to 11 p.m.
---
Instacart Key Statistics and Revenue for 2021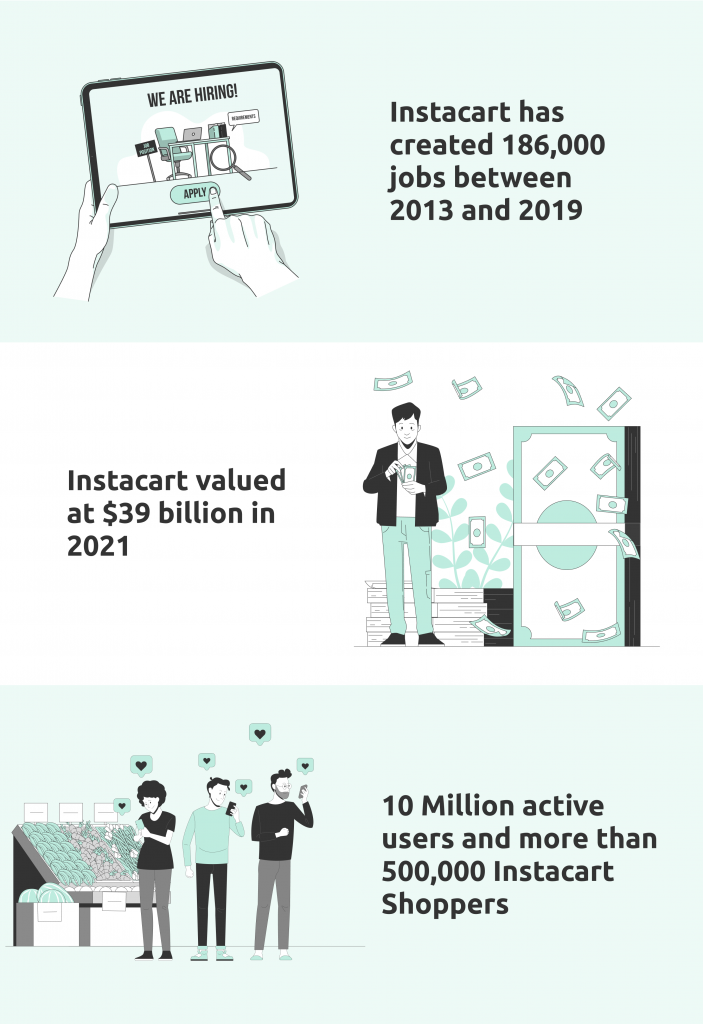 Instacart has created more than 186,000 jobs in the grocery industry between 2013 and 2019. During the early months of the pandemic, it created 70,000 grocery jobs.

In 2020, Instacart was valued at

$13.7 billion

. In March 2021, this jumped to

$39 billion

, just behind Elon Musk's SpaceX, which is valued at $74 billion.

Instacart has nearly

10 million active users

and more than 500,000 Instacart Shoppers.
Instacart Revenue
Instacart's road to success has taken nearly a decade, but what started out as a million-dollar company managed to become a billion-dollar success within the span of a few years. It is worth noting that since Instacart is not a publicly traded company, it is not required to share its revenue statistics. The following figures have been gleaned from information found in third-party reports and news articles.
Instacart started with a revenue of $10 million in 2013, which quickly grew to $100 million by the following year. Between August 2017 and January 2019, an 18-month period, Instacart experienced a rapid revenue growth, pushing its revenue to grow to an impressive 179% since August 2017 and 75% since January 2018.
---
Instacart Profit
As previously discussed, Instacart has been around for almost a decade. However, its profit generation was driven primarily by the COVID-19 pandemic. During the early stages of the pandemic, it sold approximately $700 million worth of groceries and saw its sales increase to 450% in December. These had an effect of reversing Instacart's $300 million loss in 2019.
While these may be impressive figures, it's estimated that Instacart's total profit is between $10 million and $50 million. The figures below are estimates based on the more than $3 per order that Instacart was grossing by mid-2020, compared to 2019's $2 per order. However, prior to this growth, Instacart was experiencing losses of up to $15 per order even in 2015.
---
Instacart Users
In 2020, customer demand grew significantly primarily because of the pandemic, which made staying at home a top priority for consumers. Delivery services like Instacart enjoyed an equally significant growth in the number of users. With lower fees and changes to how it handles a 500% increase in order volume, Instacart has remained a competitive force in a sea of similar services. In 2020 alone, Instacart experienced an impressive 20% day-over-day growth trajectory, which spurred it to scale out the infrastructure that supports its app and other components.
---
Instacart Shoppers
It's estimated that in 2020, Instacart had over 200,000 Shoppers. This is a far cry from 2015's 4,000 independent contractors and 2019's approximately 70,000 independent contractors.
These figures aren't absolute as demands change. However, in 2020, Instacart hired additional shoppers to meet rising customer demand, which grew to 300%. Within the span of a few weeks, Instacart Shopper numbers rose from 200,000 to around 350,000.
---
Instacart Valuation
Instacart's valuation increases annually. In 2020, it was reported that it was valued at $13.7 billion, a huge leap from 2018's $4.2 billion valuation. In 2021, it's estimated that Instacart is valued at $39 billion, thanks to another round of funding, from which the company received an additional $265 million.
---
Most Popular Instacart Categories
As of 2020, the most popular category on Instacart was frozen meat, with sales amounting to $112 million, followed closely by luncheon meats, which generated $95 million. Frozen and refrigerated poultry came in third with $87 million in sales. Other categories include vegetables, snack nuts, and pet food.
---
Instacart: Changing the Way We Shop
Despite easing restrictions, it looks like online grocery shopping and delivery services are here to stay. This is primarily because consumers have seen the immense value and convenience they bring. While the advent of such services may make you think that physical grocery stores will be a thing of the past, the outcome will largely depend on whether these physical stores are able to evolve and adapt to new trends. For now, Instacart and its contemporaries remain a staple figure in millions of Americans' lives, helping them access essentials and other needs, while giving consumers the opportunity to stay safe at home.
Frequently Asked Questions
How many products are on Instacart?
Instacart offers 500 million products that are available to shop across its catalog. You can filter retailers by categories, including groceries, alcohol, beauty, pharmacy, and pets.
How much does Instacart cost?
While creating an account on Instacart is free, you need to pay a delivery fee. Same-day delivery for orders over $35 have fees that start at $3.99, while fees vary for services like one-hour deliveries, club store deliveries, and deliveries that don't meet the $35 standard threshold. Other fees include pickup fees and service fees. Note that the service fee covers various operating costs, including Shopper operations, insurance, and background checks.
If you have an Instacart Express membership, which costs $9.99 per month or $99 per year, you can have orders over $35 delivered for free and pay reduced service fees.
What stores are included in Instacart?
Instacart has 40,000 partner stores, ranging from local grocers to retail chains, in over 5,500 cities in the US and Canada. Stores include Costco, Safeway, Target, Sephora, Best Buy, CVS Pharmacy, H Mart, Indian Market and Liquor, and La Fromagerie Cheese Shop.
Does Instacart have the same product prices as its in-store counterparts?
Prices may vary on Instacart as it is their retail partners that set the prices on the Instacart marketplace. You can check the pricing policies of each retailer on Instacart's app or website.
Is Instacart worth it?
The answer ultimately depends on you. If the service is available in your area and you regularly shop at Instacart's partner shops, then it's worth a try. However, if you're an occasional shopper, wary of paying fees, or living in a rural area where Instacart is unavailable, then you might want to reconsider using Instacart.