Advertising Disclosure
Advertising disclosure:
Our partners compensate us. This may influence which products or services we review (also where and how those products appear on the site), this in no way affects our recommendations or the advice we offer. Our reviews are based on years of experience and countless hours of research. Our partners cannot pay us to guarantee favorable reviews of their products or services.
Business owners in the grocery industry understand the challenges of increasing revenue and reaching more customers while maintaining profitability. Fortunately, Instacart offers a comprehensive solution that can help businesses achieve these goals and more. By leveraging Instacart's online ordering and delivery services, businesses can expand their customer base and improve their return on investment.
The growth is largely contributed by the platform's advertising solutions provided to businesses to help them reach a wider audience and drive sales on the Instacart platform. Advertisers can choose from various advertising formats, including sponsored products, banner ads, and search ads, to promote their products and increase visibility.
However, while Instacart is a powerful tool for businesses looking to increase their ROI, navigating the digital landscape can be daunting. That's where an Instacart advertising agency comes in. By partnering with a trusted agency, businesses can take advantage of Instacart's advertising features, such as sponsored product listings and targeted ad campaigns, to reach even more potential customers.
An experienced agency can help businesses optimize their Instacart presence and drive conversions, leading to increased revenue and a stronger bottom line. With the right strategy and execution, an Instacart advertising agency can help businesses achieve their goals and take their online grocery sales to the next level. So why not partner with the best and let an Instacart advertising agency help you achieve the success you deserve?
---
9 Leading Instacart Advertising Agencies to Dominate the Platform:
---
Why Do Businesses Need an Instacart Advertising Agency?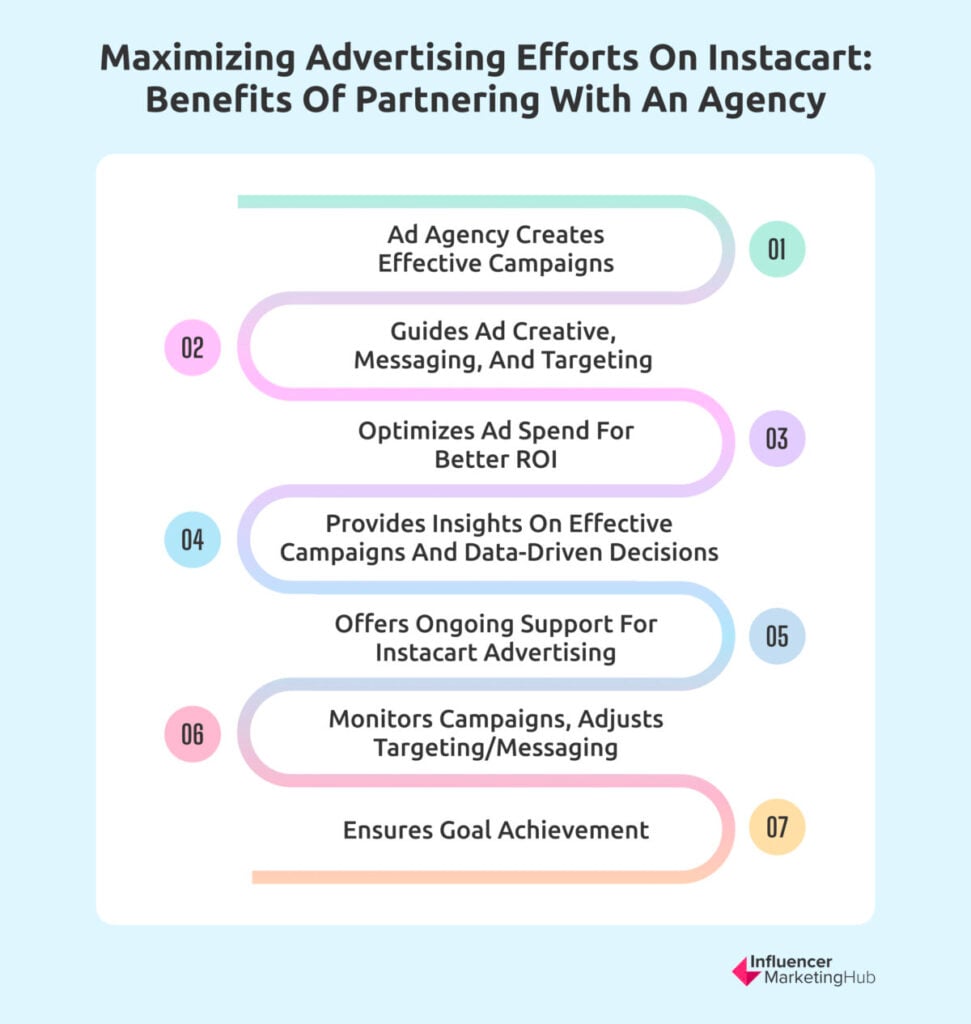 An advertising agency can provide a range of services to help businesses with their Instacart advertising efforts.
The popularity of digital grocery shopping is surging faster than in-store grocery shopping, and it is becoming a larger component of total grocery sales in the US. By 2023, it is projected that digital sales will make up 11.2% of the $1.3 trillion in US grocery sales. Although this percentage is lower than other retail categories that are digitally advanced, it still represents a significant increase in absolute terms, given the massive size of the grocery market.
These numbers highlight the importance of utilizing advertising on Instacart, and the potential benefits of partnering with an agency to maximize your advertising efforts on the platform.
Here are a few examples of how an agency can help:
Firstly, an advertising agency can help businesses create effective ad campaigns that resonate with their target audience. They can provide guidance on ad creative, messaging, and targeting to help businesses maximize their reach and engagement.
Secondly, an agency can help businesses optimize their ad spend and achieve better ROI. They can provide insights into which campaigns and strategies are most effective, allowing businesses to make data-driven decisions and get the most out of their advertising budget.
Thirdly, an agency can provide ongoing support and optimization for businesses' Instacart advertising efforts. They can monitor campaigns, adjust targeting and messaging as needed, and provide regular reporting and analysis to ensure that businesses are achieving their goals.
The benefits of partnering with an advertising agency for Instacart advertising include improved visibility, increased sales and revenue, better ROI, and a streamlined process for managing advertising efforts on the platform. Additionally, working with an agency can free up time and resources for businesses, allowing them to focus on other important aspects of their operations.
Now let's see the ten best agencies for Instacart advertising.
---
---
---
---
---
---
---
---
---
Frequently Asked Questions
What is Instacart advertising?
Instacart advertising is a digital advertising platform that allows CPG (consumer packaged goods) brands to reach Instacart customers with targeted ads at the point of sale. As the second e-commerce website with highest online traffic growth in the US in 2022, Instacart gives brands access to high-value shelf space in the digital aisles of major grocery chains across North America with advertising opportunities.
Why should I use an Instacart advertising agency?
An Instacart advertising agency can help you maximize the ROI of your advertising campaigns on the platform. With expertise in the nuances of the Instacart marketplace, an agency can develop a Featured Product strategy that will help you capture sales and achieve your goals, even when competition is stiff. Additionally, an agency can provide you with access to best-in-class software powered by Kenshoo to make data-driven decisions about which keywords to bid on and how much to bid based on your goals.
What services does an Instacart advertising agency provide?
An Instacart advertising agency provides a range of services to help CPG brands succeed on the platform, including:
Featured Product Ads
Marketplace Ads
Delivery Promotions
Coupons
Banner Ads
Keyword research and analysis
Campaign management and optimization
Performance measurement and reporting
How much does it cost to use an Instacart advertising agency?
The cost of using an Instacart advertising agency will depend on a variety of factors, including the scope of your campaign, the level of expertise required, and the agency's pricing model. Some agencies charge a percentage of your ad spend, while others charge a flat fee or hourly rate.
For example, some agencies may charge $250/month with up to $5,000 in monthly ad spend. As the ad spend goes up, the pricing for agency would go up as well. It's important to discuss pricing with the agency upfront and to clarify any potential hidden costs.
What are the benefits of using an Instacart advertising agency?
The benefits of using an Instacart advertising agency include access to expertise in the platform, data-driven decision making, and the ability to optimize campaigns for maximum ROI. Working with an agency can also help businesses establish themselves early on the platform and gain a first-mover advantage, as well as deliver incremental revenue and capture sales in a highly competitive environment. Additionally, agencies can help businesses navigate the quickly evolving Instacart marketplace, and tailor advertising strategies to meet specific business goals and KPIs.