Advertising Disclosure
Advertising disclosure:
Our partners compensate us. This may influence which products or services we review (also where and how those products appear on the site), this in no way affects our recommendations or the advice we offer. Our reviews are based on years of experience and countless hours of research. Our partners cannot pay us to guarantee favorable reviews of their products or services.
eCommerce businesses come across an array of tools to streamline operations, automate tasks, process payments, and track and manage orders, among other tasks. But with the sheer array of available solutions, how do you know which one fits your needs best?
These eCommerce tools can help you effectively and efficiently manage your online store. Depending on the type of tool you use, you can create and host your own online store, gain access to analytics, optimize marketing, and streamline daily operations. In this article, we'll be taking a closer look at marketplace management software tools and how these can help fuel your business's growth.
---
Top eCommerce Marketplace Management Software + Tips on Finding the Best Solution:
---
Why Use eCommerce Marketplace Management Tools?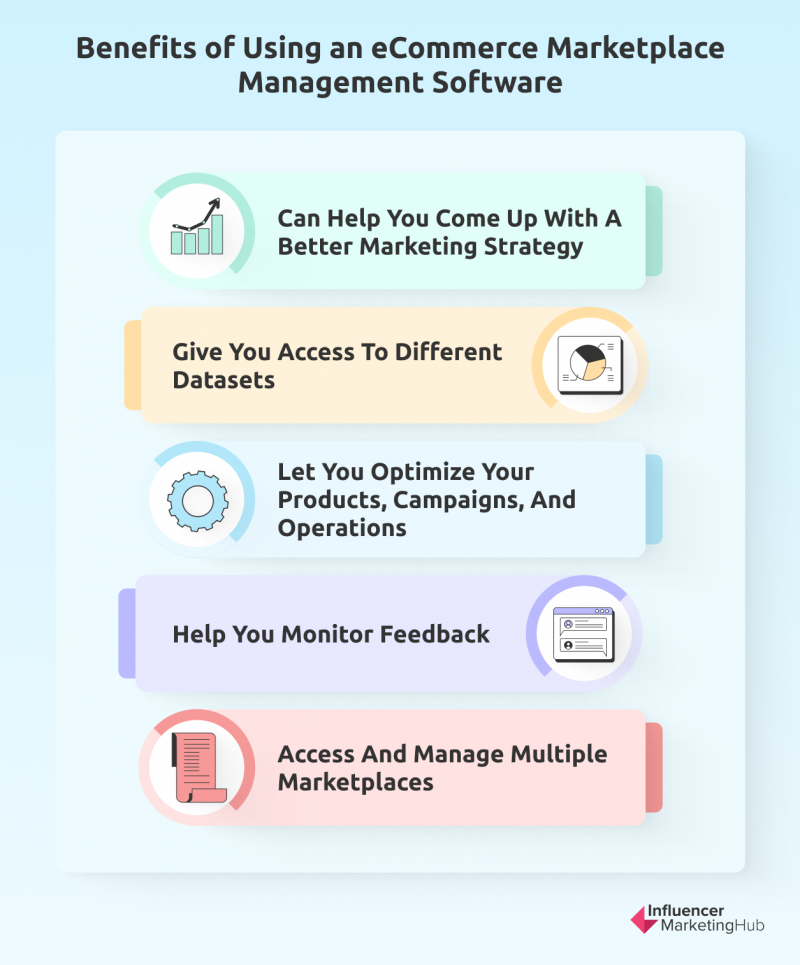 The eCommerce marketplace industry has experienced unprecedented growth over the last few years. In fact, marketplaces are being considered "the future of eCommerce." Think of it as a shopping mall that carries multiple brands and hundreds, if not thousands, of goods and services. It's convenient for shoppers because they only have to go to one marketplace to find all their different needs, whether it's home décor or baby food—meaning, no need to hop from one website to another.
Marketplace eCommerce sales are expected to reach close to $360 billion this year—and that's in the US alone. Some of the key players in the industry include Amazon, eBay, Etsy, and Walmart.
For entrepreneurs who want to scale their business, diving into the marketplace industry can open up more opportunities. It puts their business on a more global platform and lets them stay ahead of the competition. If done correctly, this move can result in increased sales, enhanced marketing, and better credibility. Plus, a marketplace acts as a separate sales channel, which can help improve brand awareness. A marketplace also has a review feature where customers can leave reviews of your goods or services, helping inform other prospective customers and possibly encouraging them to make a purchase. Lastly, a marketplace offers transparency because customers can see all the relevant information, such as product details, availability, and prices, on one page.
However, moving to or expanding to a marketplace can be a daunting process. You need to consider factors such as expanding your supply chain, improving customer service to accommodate a more global clientele, and identifying growth opportunities in this new market. With more than half (53%) of US adults starting their online shopping journey by doing product searches on marketplaces like Amazon, these hubs present plenty of opportunity for growth.
Using an eCommerce marketplace management software can help you stay on top of things. Below are some of the benefits of using such tools:
Can help you come up with a

better marketing strategy

Give you access to different datasets

Let you optimize your products, campaigns, and operations

Help you monitor feedback

Access and manage multiple marketplaces
---
Top eCommerce Marketplace Management Software
Top
ecommerce marketplace management software
2024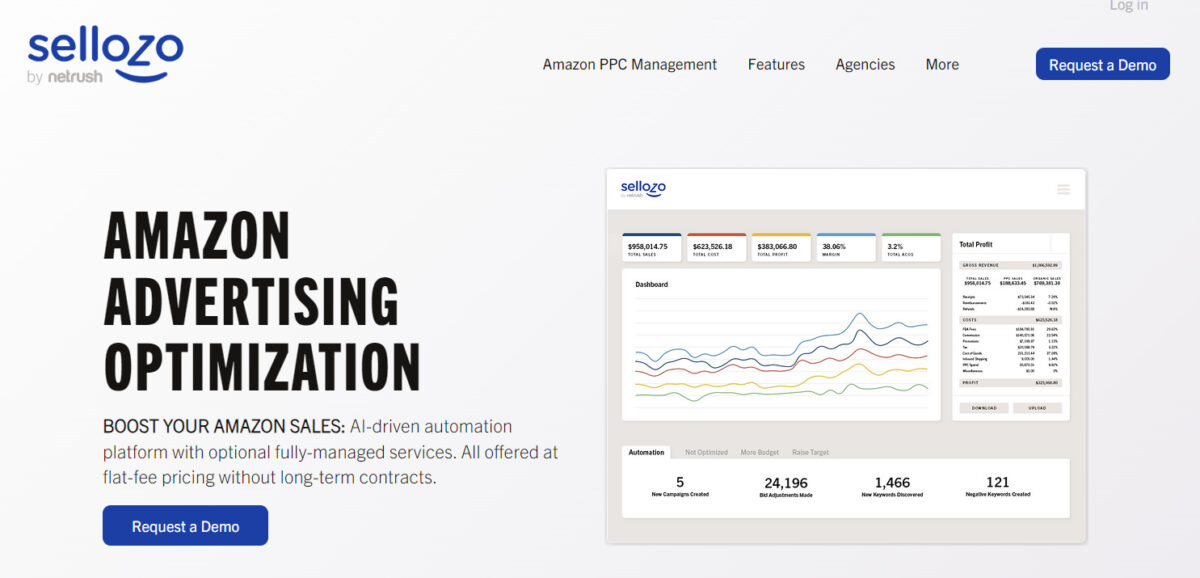 Sellozo is a leading example of advanced technology in e-commerce, especially for businesses aiming to improve their Amazon advertising efforts. The platform is anchored on an AI-driven automation suite designed to augment Amazon sales, a proposition substantiated by an impressive statistic of a 70% average increase in ad profit for Sellozo customers. This is not a fleeting claim; it's corroborated by an 8-week comparative analysis, accentuating the software's efficacy in elevating advertising profitability.
Diving deeper into its features, the Campaign Studio emerges as a cornerstone for strategy formulation and execution. Equipped with a user-friendly drag-and-drop interface and automated keyword harvesting, you will find a tool that encapsulates simplicity and efficiency. Every campaign carved is a testament to the seamless integration of user intent and AI precision, ensuring keywords are not just abundant but meticulously aligned with your advertising objectives.
Moreover, Sellozo distinguishes itself by offering full PPC management services, a boon for delegating your Amazon advertising. This feature is a composite of skilled US-based Amazon experts and the relentless accuracy of AI. Together, they drive advertising strategy and growth, carving out a space to redirect your focus on core business functionalities. The management is comprehensive, transcending the perfunctory to deliver nuanced, strategic advertising solutions that resonate with your business goals and audience expectations.
A cursory glance at the statistics speaks volumes of Sellozo's pervasive influence – powered by billions of transactions and boasting over $2B in annual sales and 12M automated ads. These aren't just numbers but a narrative of a software that has honed its craft, offering not just services but a partnership in advertising optimization.
---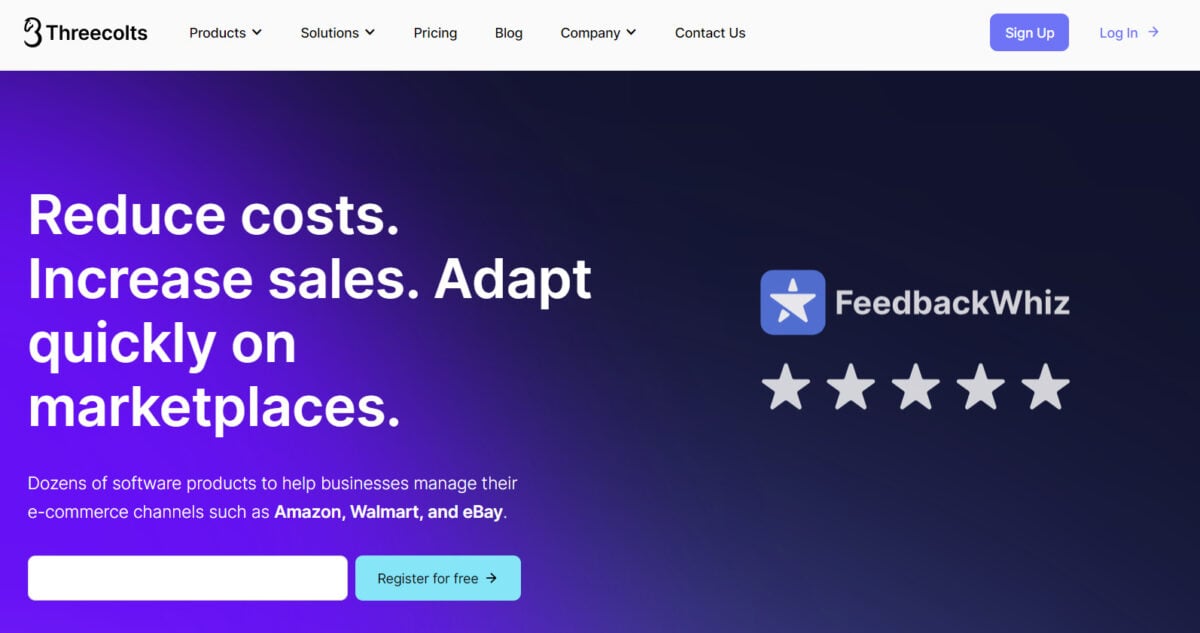 Threecolts lets you effortlessly navigate the intricate e-commerce world across platforms like Amazon, Walmart, and eBay. It perfectly tailors a customizable suite that meets your unique business needs, ensuring no two ventures look the same. Threecolts dives deep into profitability insights with modules like DimeTyd and SellerBench. It helps transform your inventory management, unveiling a clear path from stock to increased sales and business growth.
It offers the FeedbackWhiz feature, which lets you move beyond just collecting reviews. It boosts Amazon conversion rates by enhancing feedback scores, making every review count. With another feature called ChannelReply, Threecolts lets you consolidate and streamline e-commerce customer responses, ensuring that support is not just provided but is exceptionally efficient.
Financial clarity is within reach with Threecolts. The FW Profit Analytics tool lets you have meticulous insight into profit and loss, a feature invaluable for Amazon FBA and FBM sellers. And in the dynamic world of pricing, SmartRepricer emerges as your ally. Threecolts helps automate and optimize pricing strategies to ensure your profits and market presence are always at their peak.
Inclusivity is not just a word but a practice with Threecolts. It lets you find support whether you are on Vendor Central (VC), Fulfillment by Amazon (FBA), or Fulfilled by Merchant (FBM) platforms. And if you are thinking global, Threecolts helps erase geographical barriers, ensuring that managing e-commerce is seamless, regardless of where you or your customers are located. Threecolts is not just software; it's your partner in carving out a niche in the bustling e-commerce landscape.
---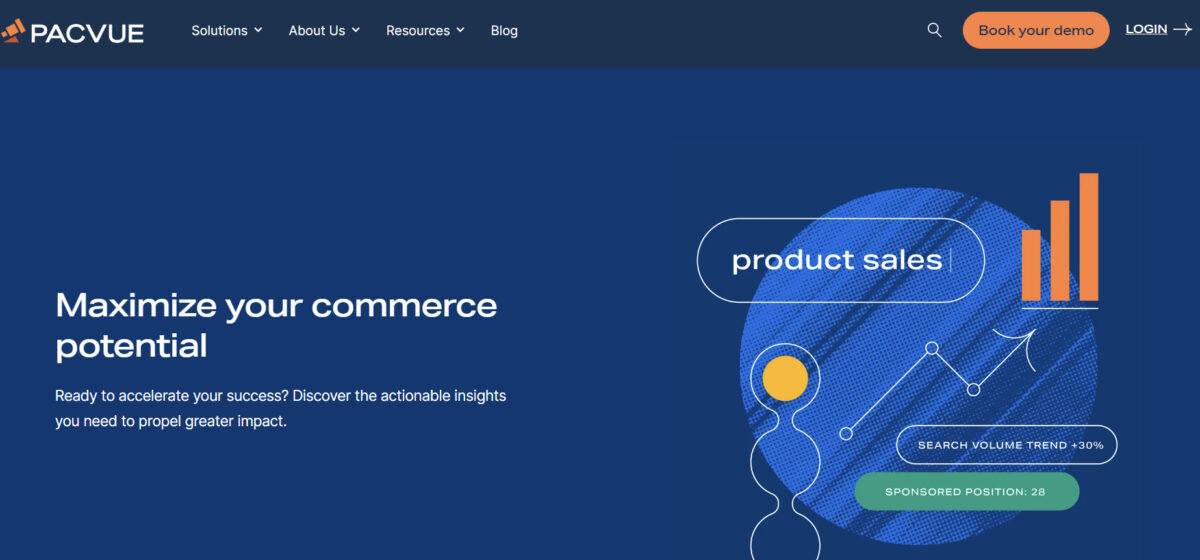 Pacvue Commerce empowers brands and sellers to have better control over their growth through algorithmic management and AI automation. It's an enterprise platform that integrates advertising, sales, and intelligence functionalities.
With Pacvue, you get a holistic solution for eCommerce management, from tracking inventory to monitoring your ranking. It also lets you optimize advertising and have access to share of voice analytics, as well as end-to-end marketplace management for your online business.
Business opportunities are everywhere, but they can sometimes be challenging to identify. Pacvue Commerce simplifies how businesses tap into growth opportunities. It's designed to let you implement retail media campaign management across marketplaces. Plus, it leverages advanced retail analytics, so you can make more informed and strategic decisions.
It also comes with features that help prevent revenue leakage, such as speedy ticketing resolution times and Buy Box monitoring.
Below are Pacvue Commerce's other notable features:
Run retail media on major eCommerce marketplaces like Amazon and Walmart
Automate daily actions
Integrate with other marketplaces for expanded reach
Monitor channel performance using a single dashboard
Insight into omnichannel trends
Industry-first Excel integration for bulk editing and reporting
Competitive intelligence and benchmarking
---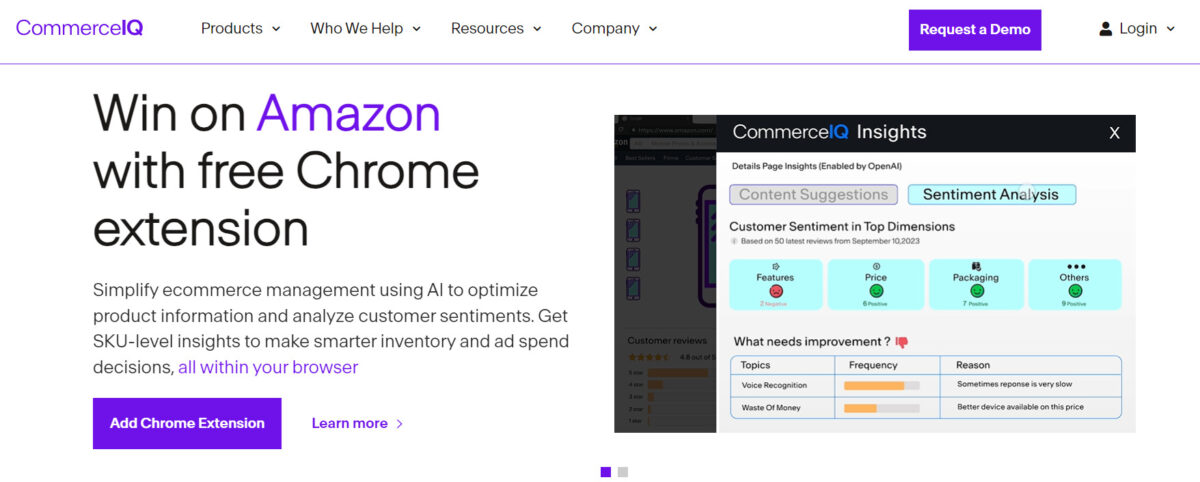 eCommerce businesses need to make a lot of decisions fast. How do you choose the ones that will fuel your growth? CommerceIQ harnesses the power of artificial intelligence to maximize performance, scale automations, and help you make better decisions faster. This opens up opportunities for more sales and higher profits as well as share of voice.
CommerceIQ is a platform that lets you take control of and meet your different business goals, whether it's market share or profitability. It's an all-in-one platform that lets you manage and connect different aspects of an eCommerce business, including sales operations, retail media, digital shelf analytics, and supply chain. Furthermore, brands can use CommerceIQ to prevent revenue leakage, anticipate issues in the supply chain like delayed shipments and invoicing issues, and run retail-aware full-funnel ad campaigns. One of CommerceIQ's best features is it helps you protect your brand equity from dishonest third-party sellers and 3P duplicates.
In 2021, the platform executed 250 million automations that helped drive profitable market share for its clients. As of writing, 2,200 brands use CommerceIQ to power their retail eCommerce channels.
The platform operates across more than 450 online retailers—including Walmart, Amazon, Best Buy, Target, and Instacart—in over 40 countries.
---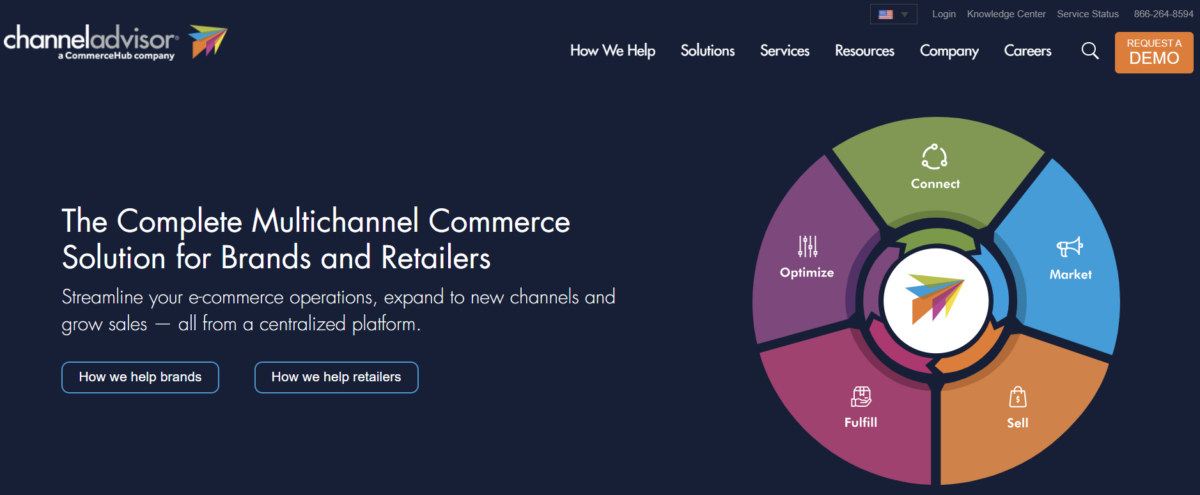 Brands and retailers that want to streamline their operations and expand their business to new channels can use ChannelAdvisor to fuel growth. It's a multichannel retail software solution that also lets you optimize your marketing strategies to drive sales growth, connect products to multiple channels through integrations, optimize ad campaigns, and create shoppable digital campaigns.
It supports a wide array of channels across the world, including:
Aldi
Amazon
Amazon Advertising
Amazon Vendor Central
BigCommerce
Microsoft Bing
Costco
eBay
Facebook Marketplace
Google
Nordstrom
Rakuten
Check the full list of supported channels here.
Its ChannelAdvisor Marketplace Management Platform lets you expand your sales and optimize your business for greater profitability. It does this through integrations, automation, and performance optimization. Moreover, it's designed to help you build connections with your target audience across different marketplaces as well as build better buying experiences for them. Through the integrations feature, for example, you can access more than 300 global marketplaces and retail channels, consolidate orders from different marketplaces and sources of traffic, and spot growth opportunities.
The automation feature can help you improve team efficiency through more streamlined product data and inventory management. Need to reprice your products? No problem. ChannelAdvisor lets you meet your profitability goals and allows you to automatically adjust prices through its advanced algorithmic repricing capabilities.
ChannelAdvisor also offers Managed Services for brands and retailers that want to have a more hands-off approach. Through Managed Services, you get access to a team of marketplace experts who will work on creating strategies and their execution.
---

Leverage data, insights, and retail forecasting to start selling better. Edge by Ascential offers a selection of solutions for growth and scalability. It offers the following solutions:
Market Share. Lets you monitor the competition and build streamlined workflows. It also gives you access to accurate analytics for sales, share, traffic, conversion, and shelf performance in different Amazon markets.
Digital Shelf. Lets you track, manage, and optimize your online performance using essential KPIs, such as Share of Search, Content Accuracy, and Availability and Assortment, that are designed to increase sales and prevent revenue leakage.
Price + Promo. Stay competitive and get access to key insights. Know your price positioning and price indexing.
Retail Insight. This feature is designed to help eCommerce business capture future growth using data and proprietary research. Aside from using data and analytics to identify growth opportunities, Edge lets you create your own 3-5-year strategic business plan using the latest industry insights and best-in-class case studies.
Professional Services. Every eCommerce business runs into a unique set of hurdles. With Edge's Professional Services, you get access to bespoke insights, consultancy services, and training.
Alternative Data. This feature allows you to access and track factors that may affect the performance of your investments or products. It also lets you utilize Edge's data on pricing, sales, and customer perception.
SEA Market Share. For brands looking to expand to the Southeast Asian market, this feature helps you identify key trends in this market, discover growth opportunities, and monitor potential competitors.
---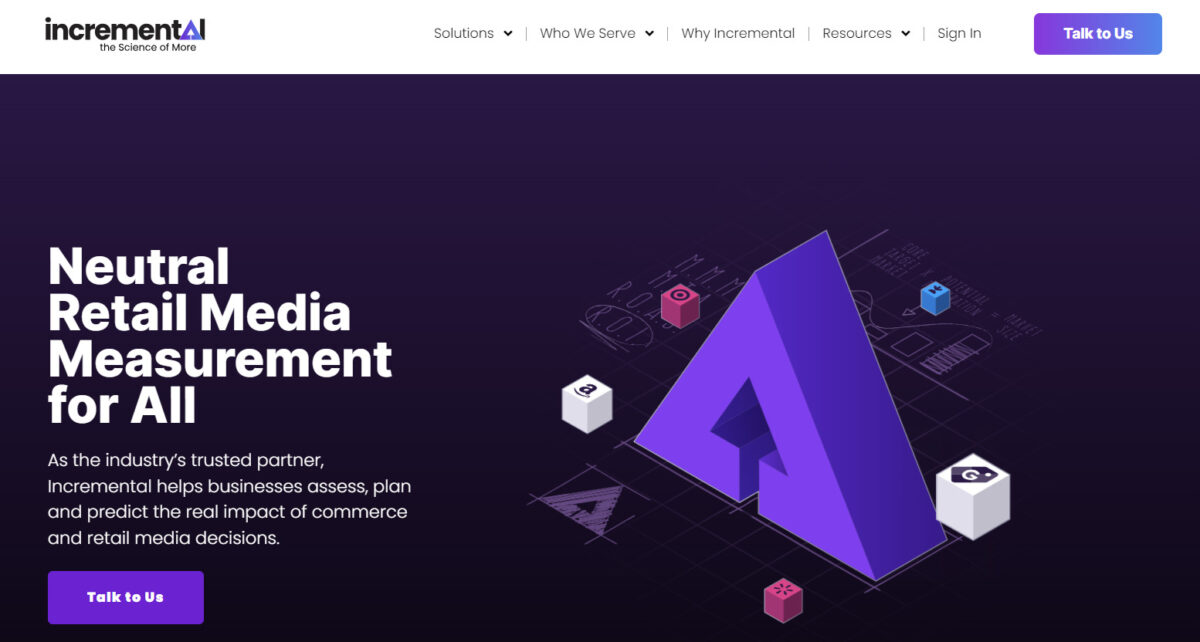 Tradeswell equips eCommerce businesses for growth by letting them access insights and utilize data to make better business decisions and marketing strategies.
It works by letting you bring your own data from different sources and processing that in 1-2 days, so you have a single source of truth for components like SKU and marketing data. Tradeswell then uses its proprietary commerce AI to collect, clean, and normalize disparate data around the clock. It also lets you access your data using your preferred reporting or visualization tools. Best of all, it makes it easier for teams to spot and work on actionable insights and data.
It automates collecting and cleaning data, uses artificial intelligence to convert disparate data into actionable insights, and facilitates better collaboration among teams. Some of the brands that have used Tradeswell to leverage data include Unilever, McCormick, Bayer, and Johnson & Johnson.
---

Uncover insights and get access to better data to facilitate your growth. Stackline lets you access data from more than 300 billion consumer eCommerce searches, so you can grow up to 47% faster than the competition.
This full-funnel connected commerce platform offers a variety of solutions, including Atlas for viewing retail market share and competitive intelligence, Drive for automating advertising for campaigns, and Trends, which lets you analyze different search trends. Aside from letting you access trends and insights, Stackline also lets you sell your products across different commerce platforms, access powerful advertising solutions to create highly targeted campaigns, fuel customer engagement for higher conversions, and take better control of your business.
For example, Stackline's Atlas utilizes market data to help users track sales and monitor price trends. Check out weekly trends across different retail channels, and create your own custom segments. It lets you measure traffic and conversion rates and uncover data on how consumers are interacting with your brand as well as how external factors are influencing brand awareness. Atlas also gives you access to comprehensive advertising analytics, so you can create better campaign strategies based on factors like keyword targets and budget.
Some of the brands that have worked with Stackline include Mondelez and Purell.
---
---
Finding the Best eCommerce Marketplace Management Software for Your Business
Here are some tips that can help you find the best eCommerce marketplace management software for your business:
Prior to going with a solution, you first need to determine your business goals and assess your needs. Can you use it to automate listing on multiple channels?

Does it offer a central or unified dashboard where you can view and monitor all your channels? Does it offer comprehensive

analytics

? What about reporting?

Look for a solution that offers round-the-clock support. You may encounter some challenges or issues when using a tool or software, which is why it's important to look for a provider that offers 24/7 support. Make sure that they also provide clients with resources like guides, an FAQ page, or a community page.

Make sure that the software is easy to use and compatible with all the software you're using.

Don't forget to have training sessions for your staff. Make sure that everyone who's going to use the new software will be onboard and able to use it properly.

Consider your budget. Most, if not all, of the solutions featured on this list don't reflect their prices. Make sure that you request a demo first or ask for a free consultation to gauge whether or not a particular solution is right for you. Let other team members try it out to see if it's easy to use, scalable, or facilitates better collaboration among teams.
Frequently Asked Questions
What are the best marketplace management tools for eCommerce?
Our top 8 marketplace management tools for eCommerce are as follows:
Sellozo
Pacvue Commerce
CommerceIQ
ChannelAdvisor
Edge by Ascential
Tradeswell
Stackline
Threecolts
Each solution is equipped with powerful features and capabilities designed to help eCommerce businesses optimize operations, leverage data and automation, improve collaboration, and monitor performance.
Why should I consider using an eCommerce marketplace management software?
eCommerce businesses looking to scale should consider using an eCommerce marketplace management software, especially if you're planning to expand in multiple global marketplaces. These solutions or tools can help get your business on a larger scale, manage your orders more efficiently, and offer better experiences to your customers.
How much do such solutions usually cost?
The eCommerce marketplace management solutions we mentioned don't reflect their pricing or plans on their respective websites. However, they do encourage prospects or interested parties to request a demo. Edge by Ascential, for example, offers a free consultation.