Searching for a tool to schedule posts on Instagram isn't a tough challenge. Picking a tool, however, isn't so simple. Beyond creating and scheduling posts, you may want a little more for your spend.
But what should you be on the lookout for? In this blog post, we'll share 9 tools for you to consider. Some include basic functionality and other more advanced features.
9 Tools to Schedule Posts on Instagram:
---
Loomly was developed for social media managers. In fact, it's the brainchild of two former social media managers who couldn't bear the inefficiencies of the tools they used. So, they set out to create something that would get the job done.
And we think Loomly's worth trying out. Some of the most attractive features we've seen in the tool include:
A media library for storing assets like photos, videos, notes, links and post templates

RSS feeds based on trends, dates and events for content inspiration

Integrations with tools like Slack and email
One other feature we found useful was the ability to fine-tune posts for a specific social platform. If you've created content for more than one platforms, you know that variables like text character counts and image dimensions tend to make the process a little more time-consuming.
Loomly's fine-tuning solution allows you to create posts and tweak them for each platform you'll post to.
The result? Tailored social posts that look perfect every time.
Features list:
Unlimited calendars, content exports, live analysis, automated publishing, advanced analytics, post preview, post ideas and unlimited file uploads.
Plans:
Base, $25/mo
Standard, $57/mo
Advanced, $119/mo
Premium, $249/mo
Enterprise, Contact for pricing
Read our complete review of Loomly.
---
Social Oomph
Looking for a no-frills tool to schedule posts on Instagram? Try SocialOomph. It debuted in 2008 and comes packed with many of the features you'd expect from a social media management tool, and others that will make you raise your eyebrows.
For example, post queues are common, but have you heard of self-destruct posts? These posts can be created in SocialOomph and set to disappear after a certain period of time.
The rationale? Outdated information confuses followers, but if they no longer exist, you don't have to worry about incorrect or misleading information about your brand, products or services.
In addition to scheduling, bulk uploads and the ability to send social posts to Discord, Mastodon, Pinterest, Twitter and more, you can also create post tags. Post tags help group post together, making it easier to locate them later.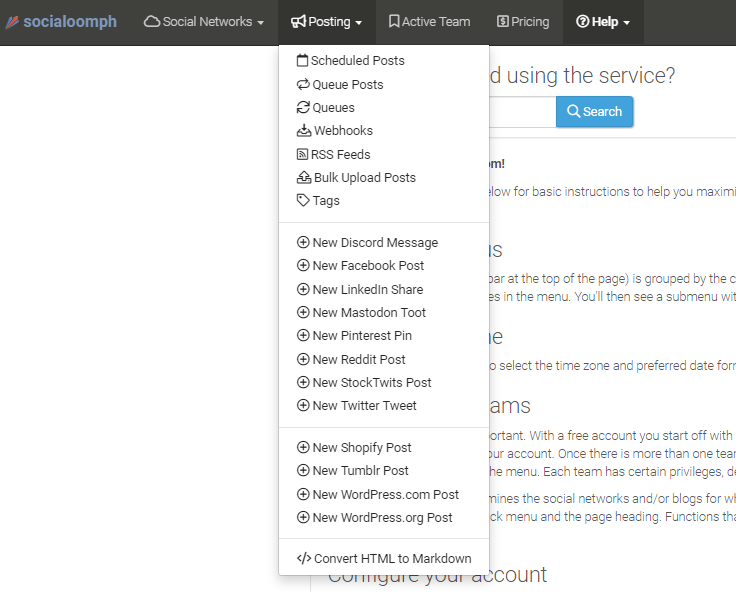 Features list:
Multiple social profiles, blogs, RSS feeds, queues, webhooks, scheduled posts, can add additional associate and additional team.
Plans:
Personal Suite, $0/mo
Advanced Suite, $15/mo
Professional Suite, $25/mo
Business Suite, $55/mo
Read our complete review of Social Oomph.
---
Sendible
Sendible was founded back in 2008, and they're still going stronger than ever. Clients include Pan Macmillan, PWC and the Queensland Government.
Sendible has also evolved its solution over time. Today, they offer 23 integrations to help streamline social media management. Integrations include Google Analytics, Google Drive, Canva, Dropbox and Slack.
When it comes to tools to schedule posts on Instagram, Sendible makes for a good choice. You can plan and collaborate around content, making it a dream for busy social media teams.
Sendible's model for social media management is slightly different from all others. In fact, we haven't come across anything quite like as yet. They see the ability to publish and receive social content as two unique actions that are called services. You, therefore, require one service to publish a post on Instagram and another to read an Instagram direct message.
Beyond services, everything else about Sendible makes it an easy tool to use. They offer a well-structured and useful education hub for clients. It includes all you'll need to know how to use Sendible like a pro in no time.
Features list:
Content publishing & workflows and engagement & monitoring.
Plans:
Micro, $24/mo
Small, $84/mo
Medium, $169/mo
Large, $254/mo
Read our complete review of Sendible.
---
Promo Republic
Promo Republic is one of the more visually appealing platform designs we've ever seen. And while beautiful to look at, it doesn't fall short of the functionality you'll need in a tool to schedule posts on Instagram.
You'll have access to smart posting which is Promo Republic's scheduling and post automation feature. All posts are displayed on a content calendar for easy viewing.
Something that caught our eye was their range of editable templates. These are the perfect solution for busy designers or copywriters. They can easily be edited and scheduled to help keep your social profiles alive and filled with great content. And yes, that means you can edit these templates or build your own post from within the tool.
Besides its heavy design focus, you'll still be able to get specific through their reporting feature and export your data in easy-to-read PDFs.
Features list:
Add team members for collaboration, workflows and approvals, content reporting, post scheduling, content calendar, post ideas library, graphics editor, time slots, basic post statistics.
Plans:
Solo, $9/mo
Standard, $49/mo
Professional, $99/mo
Advanced, from $182/mo
Read our complete review of Promo Republic.
---
Later
Imagine being able to plan a week worth Instagram posts in just 20 minutes. Sound like a dream, right? Well, that's exactly what Later helps you do. It's a social media management platform geared towards Instagram.
In fact, the process of creating a social post mirrors Instagram's. You start with an image, then add text. And while that may seem a little weird and almost counter-intuitive, it's something you'll quickly get used to.
Later features a visual content calendar with drag and drop functionality (very helpful for anyone trying to shave time off their post scheduling process). You're also able to source post content from Dropbox, your desktop and Google Drive.
Something we think makes Later special is its ability to collect user content and repost it. This a feature less than a handful of other platforms offer.
It's smart and makes sense.
Building a strong community means interacting and shining a spotlight on followers. Being able to do so with a social media management tool as intuitive as Later makes the process a breeze.
Features list:
Analyse content performance, engage with Facebook fans, plan and schedule content, work with team contributors, collect and share content from any URL on the web.
Plans:
Free, $0/mo
Plus, $9/mo
Premium Business, $19/mo
Starter Business, $29/mo
Brand Business, $49/mo
Read our complete review of Later.
---
Buffer
Team collaboration, workflows, content scheduling and a content calendar are all features you'd come to expect from a social media management platform. And Buffer has it all.
It also comes with the ability to tailor posts for each social platform (like Loomly) and packs a strong performance data tool called Analyze (sold separately) to help you track how effective your social efforts are.
If the idea of data analysis being sold separately makes you feel uncomfortable, there's more you should know. Buffer offers its solution as three products. These include:
Publish

: plan, collaborate and publish Instagram posts.

Reply

: reply to social media conversations using a shared team inbox

Analyze

: gives performance data on your social activity
Three products may seem like too much, and possibly even a little unconventional. Competitors offer all of the above as one solution, and for bargain finders, Buffer may be a hard sell.
Features list:
Directly Schedule Posts, create a posting schedule, calendar view, custom video thumbnails and create, manage draft posts and invite additional users.
Plans:
Free, $0/mo
Pro, $15/mo
Small Business, $99/mo
Medium Business, $199/mo
Large Business, $399/mo
Enterprise, $Custom/mo
Read our complete review of Buffer.
---
Sprout Social
Beyond being one of the more intuitive and easy-to-use tools around, Sprout Social also comes with a set of valuable features. For example, you get a media library, tagging functionality to quickly locate assets, and the ability to collaborate with team members.
But that's not all.
Sprout Social also comes with analytics and listening capabilities. These help you measure the performance of your Instagram account(s) and derive meaningful insights through quantitative, qualitative and contextual analysis. You can track hashtags, keywords and topics and use your findings to strengthen your social presence.
Features list:
Post scheduling tools, tasking and CRM tools, competitive reports for Facebook, incoming outgoing message content tagging, scheduling for optimal content send times, Spike Alerts for specific mentions or keywords, digital asset and content library, and chatbots with automation tools.
Plans:
Standard, $99/user/mo
Professional, $149/user/mo
Advanced, $249/user/mo
Read our complete review of Sprout Social.
---
Agora Pulse
Agora Pulse's clean design is likely the first thing you'll notice. It makes it look and feel like an easy platform to use, especially if you're looking for a less complex alternative.
And easy it is. Running social media on more than one platform is a challenge and Agora Pulse, like many other platforms, know this. They offer the ability to post to all your accounts at once. And while that seems very convenient, we can't help but wonder when the ability to tailor posts for each platform will become a feature.
Wish lists aside, Agora Pulse allows you to schedule posts and also choose those to be recycled (think evergreen content). You also get an inbox that shows all incoming posts, comments and direct messages, making it easier to handle engagement across more than your Instagram account.
Features list:
Team members collaboration, social inbox, listening, publishing, reporting, user profiling, competitor analysis, ads per profile and team workflow.
Plans:
Medium, $99/mo
Large, $199/mo
X-Large, $299/mo
Enterprise, $499/mo
Read our complete review of Agora Pulse.
---
Hootsuite
Hootsuite's been around for a while. And in their time, they've built one of the most competitive social media management tools around. Beyond a tool to schedule posts on Instagram, Hootsuite also offers monitoring to help you gauge what people are saying about your brand and products.
Why is monitoring a big deal?
Well, we've spent time reviewing many social tools and we've spotted a trend in the way platforms have begun to think about analytics and data. Concepts like sentiment analysis are no longer only within the sphere monitoring tool. Hootsuite proves that you can get them as additional features with some social media management platforms.
We're all for the idea of monitoring. It enables brands to gain more intelligence and use it to build better social marketing campaigns.
Because of Hootsuite's age and ingenuity, they've pretty much found the perfect mix of features and functionality. Automated post scheduling is a given, so are analytics, team collaboration and content curation.
Features list:
Automated post scheduling, key performance metrics, team message assignments, analytics, exportable reports, flexible approval workflows, onboarding and ad spend to boost posts.
Plans:
Free, $0/mo
Professional, $29/mo
Team, $129/mo
Business, $599/mo
Enterprise, $custom/mo
Hootsuite Insights, $custom/mo
Read our complete review of Hootsuite.
---
Conclusion
If you're searching for a tool to schedule posts on Instagram, you'll find that many offer similar functionality. With the exception of extras like graphics design capability and social media monitoring, most tools will help you get the job done.
If you're looking for more than just the ability to automate posts, then gauging social media sentiment and in-depth reporting should be items on your list. Together, these advanced features will help your brand find new ways to strengthen your message in a loud and often distracting social media world.