Advertising Disclosure
Advertising disclosure:
Our partners compensate us. This may influence which products or services we review (also where and how those products appear on the site), this in no way affects our recommendations or the advice we offer. Our reviews are based on years of experience and countless hours of research. Our partners cannot pay us to guarantee favorable reviews of their products or services.
Influencer marketing is now an international activity. There are many high profile Latin American-based influencers covering a wide range of niches. It is surprising, therefore, that we don't see more Latin American-based influencer marketing agencies.
While there are numerous Latin American marketing agencies offering social media and content marketing services, few appear to have taken on board the success of influencer marketing as yet.
Of course, online marketing is becoming more of a global industry. There are quite a few influencer marketing agencies who operate from their website. They call themselves global influencer marketing agencies and are happy to take on clients from anywhere in the world. Many of these have excellent relationships with Latin American customers and are delighted to take on new clients from Brazil, Mexico, Colombia, Argentina, or anywhere else in the Latin American region.
We have found some local influencer marketing agencies, however, and have also included some international firms who highlight their Latin American influencer marketing activities on their websites and in their online marketing.
Get a Quote on your next Campaign from a leading Influencer Agency
---
7 Leading Latin American Based Influencer Marketing Agencies: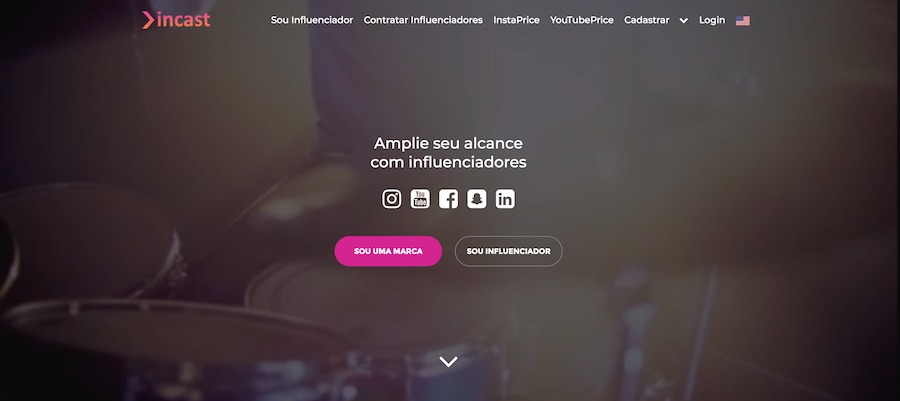 InCast aims to connect brands with the best digital influencers in Brazil and USA. It has clients in Brazil, China, USA, and Europe. It works with both side of the influencer process and targets both brands and influencers as clients.
Influencers who register with InCast have a better opportunity of being recommended to contracting partner brands. Their profile functions as a media kit. InCast works with profiles with more than 5,000 followers in the Instagram, YouTube, Facebook, Twitter, and LinkedIn networks. Influencers who meet that 5,000-follower threshold can register on the site, create their profile with the data from their social networks, and go to the Jobs page in the site's top bar. They can then choose any campaign that suits them and click "Join," and their profile moves to the contractor's inbox for approval.
InCast is willing to act as an exclusive agent influencers with over 1 million followers on Instagram and /or YouTube.
InCast offers to launch Instagram campaigns for businesses in minutes, costing as little as $250. They make it a three-step process:
Set your budget and campaign

Invite influencers

Launch your campaign
The contracting brands/companies make their choice of influencers. Companies generally pick relevant influencers that have good content and engagement.
InCast provides simple campaign reports featuring data relating to engagement, comments, likes, and reach.
InCast uses a proprietary algorithm, InstaPrice, to suggest suitable prices for each influencer on Instagram based on reach and engagement. They also provide YouTubePrice, to find an appropriate rate for working with any selected YouTube channel.
---

FLUVIP describes themselves as the leading Influencer Marketing company in Latin America and the multicultural market in the United States. They certainly have mastered their SEO well, and dominate Google searches for Latin American influencer marketing.
FLUVIP has offices in both the United States and in various Latin American countries. These include Mexico, Colombia, Peru, Venezuela, Brazil, and Argentina.
The company was founded in Columbia and focuses on the multicultural market. They connect brands with top content creators to deliver results.
They have many recognizable names amongst their clients. These include Adidas, National Geographic, Microsoft, Avianca, and Falabella.
FLUVIP also specializes in developing technology platforms so that marketing professionals can analyze information and make the best decisions for the companies they work for.
As well as their influencer marketing, via their FLUVIP platform, the company also operates Advocates Pro, which allows firms to create campaigns through social media using their company's employees.
---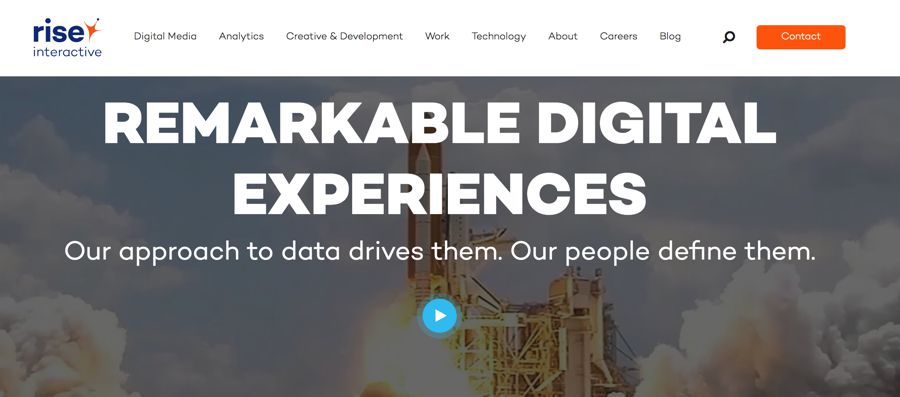 Rise Interactive offers a wide range of digital marketing solutions. Rise helps marketing leaders make smarter investment decisions, grounded in data insights. Their digital marketing services span digital media, creative & development, and analytics.
Although Rise originates from Chicago, it has expanded into Latin America, and now has an office in Buenos Aires, Argentina.
Influencer marketing services are an integral part of Rise Interactive's offerings. Their approach to influencer marketing management is driven by data and results, with a continual focus on optimization.
They recognize that word-of-mouth is historically one of the most valuable forms of marketing, influencing as many as half of all purchasing decisions. They use this knowledge to leverage social media influencers to share authentic and relevant information about a brand or its products with consumers.
Rise has access to an expansive global network of influencers – from bloggers to celebrities – who can promote clients' products, services, content and more across any social media network. They look to quality influencers who can impact sales.
They then work hand-in-hand with their content marketing and creative teams to develop infographics, blog posts, videos, and more that will resonate with clients' target audiences. They syndicate content among selected influencers to increase exposure for their clients.
Rise places emphasis on reporting, and are able to optimize clients' influencer programs to increase ROI continually. They evaluate the impact of current programs based on awareness, reach, engagement, and any other relevant goals.
---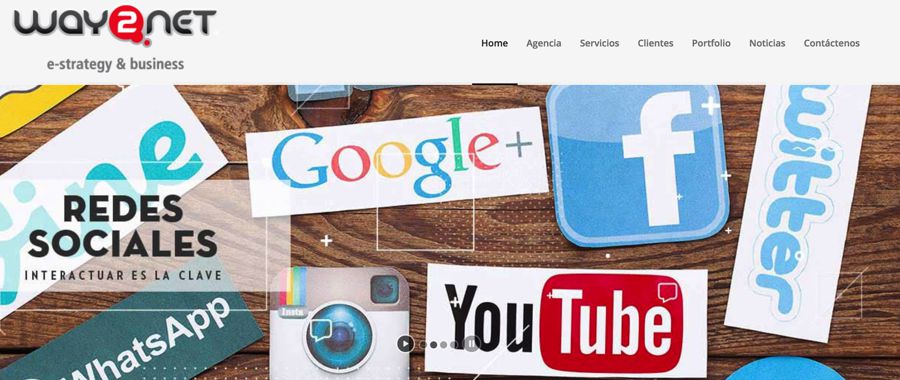 Way2net is a Digital Marketing Agency that knows how to adapt to all the options that the Internet offers to generate results in a client's business. They specialize in Digital Strategy, Web Positioning, and Business Development. They include influencer marketing amongst their advertised services.
Way2net is based in Buenos Aires, Argentina. You can access their website in Spanish, Portuguese, or English.
They have noticed a considerable increase in interest in influencer marketing over recent years. They describe influencer marketing as being, "the selection of those personalities that can show the benefits of a brand, product or action as a referent to users of the same, and as its name indicates, influence the target market to launch a product."
They believe that a good influencer marketing strategy contains macro-influencers, media influencers, common and micro-influencers, brand ambassadors, brand lovers, employees, celebrities.
As an influencer agency, Way2net works in the development, production, and measurement of influencer campaigns and in the greater use of the marketing content that is generated in them.
Way2net splits influencer marketing into eight steps:
Definition of strategy and objectives for action

Contact with influencers

Development of the deliverable material to the influencers and the conditions

Delivery of material that will be photographed or recordable

Briefing of details of the action and activation

Monitoring and enhancement in customer networks and channels

Marketing and advertising campaigns to enhance reach

Results report
---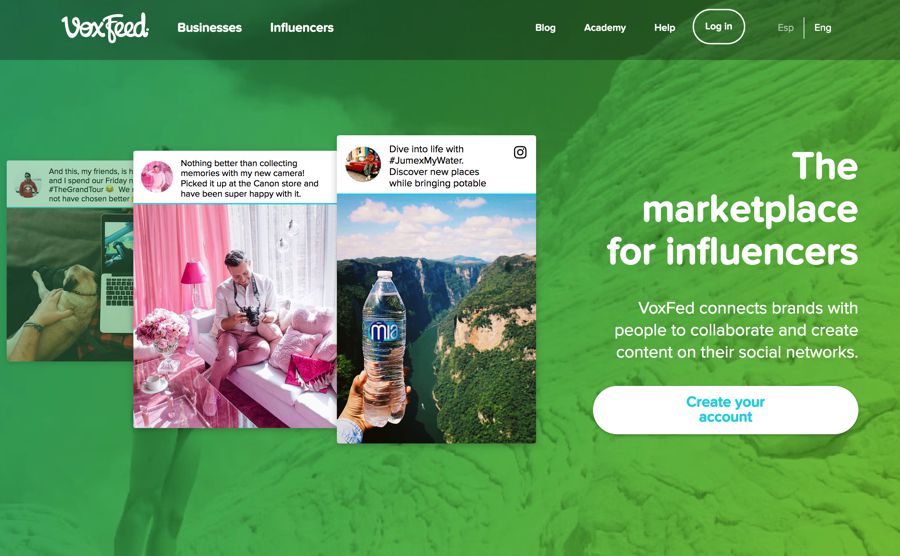 VoxFeed calls itself the marketplace for influencers. VoxFeed connects brands with people to collaborate and create content on their social networks. VoxFeed also connects all types of influencers with their favorite brands. They appear to be a cross between an influencer marketing agency and a platform.
Their offices are in Guadalajara and Mexico City.
They help brands collaborate with all kinds of influencers, from the smallest to the largest. Brands can search by audience, demographics, relationships and more. Brands plan and approve the content created by the influencers. Brands have direct contact with influencers throughout the entire process.
VoxFeed's mission is to create a space of simple and transparent collaboration between brands and influencers.
---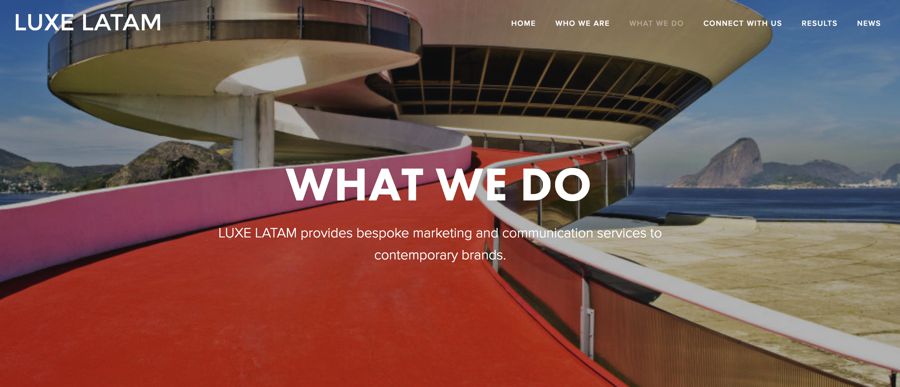 Luxe Latam provides bespoke marketing and communication services to contemporary brands. A crucial part of this is influencer and relationship marketing. They split their services in this area into:
Blogger Campaigns

Celebrity Endorsements

Influencer Campaign Development

Influencer Mapping

Non-paid Influencer Negotiation

Paid-Influencer Negotiation

Influencer Co-Creation

Brand Partnerships

Commercial Sponsorship
Luxe Latam considers themselves experts in multicultural marketing and they specialize in bridging the cultural gap between Portuguese-speaking Brazil, Spanish-speaking Latin America and the US and European audiences. Their goal is to understand their clients thoroughly – their strategy, objectives, markets, competition, culture – to anticipate their clients' needs and exceed their expectations.
Luxe Latam provides peer-to-peer service with marketing and public relations executives committed to driving client's brand and marketing campaigns in Brazil.
---

MercaBuzz Marketing Latin America offers a wide range of digital marketing services, all aimed a maximizing your return on investment.
Their services include influencer marketing. They identify the pivotal brand or product influencers, create a marketing campaign directed at those influencers and track key metrics relating to reach, sales and brand awareness.
They operate from Panama City and have in-depth experience in marketing in the Latin American region. MercaBuzz is a team of passionate designers, marketers, and engineers with strong business knowledge to get the job done. They have successfully implemented projects in B2B and B2C industries such as chemical, hotel, legal, financial, banking, real estate, luxury and much more.
The company also operates out of San Francisco.
---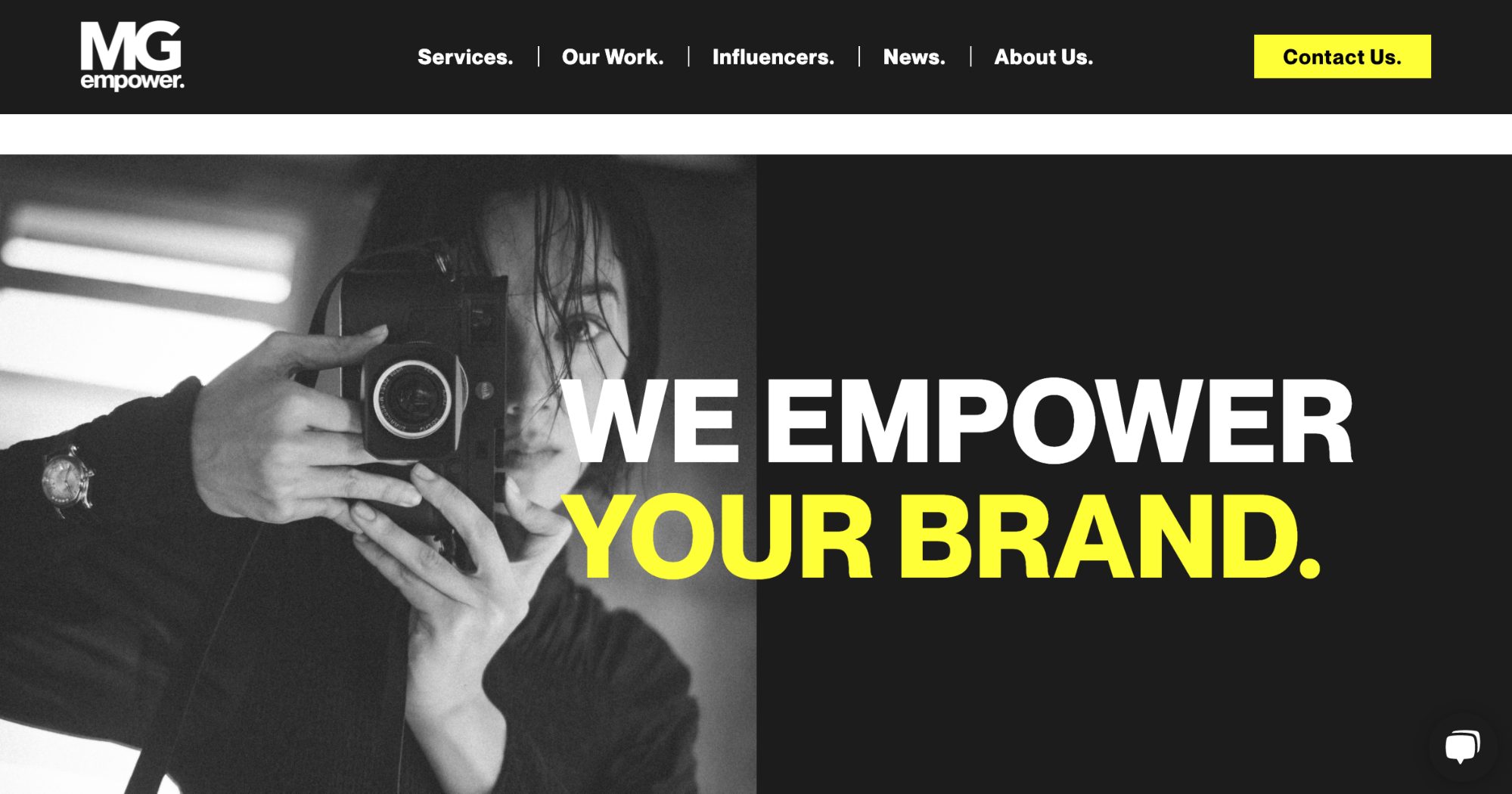 MG Empower is a global influencer marketing agency that empowers brands to go #AboveAndBeyond.
We help brands grow their businesses, reach new audiences and make an impact with digital and influencer marketing.
We believe in the power of people to drive business value through social, experiential and innovation. Our 360* approach to brand storytelling and co-creation overcomes the initial brief and encourages greater ROI.
MG Empower is present in five global markets: Europe, LATAM, USA, SEA, India and Russia. It allows us to offer a diverse team – strategic, innovative and results-driven with a personal human touch on every project.
---