Advertising Disclosure
Advertising disclosure:
Our partners compensate us. This may influence which products or services we review (also where and how those products appear on the site), this in no way affects our recommendations or the advice we offer. Our reviews are based on years of experience and countless hours of research. Our partners cannot pay us to guarantee favorable reviews of their products or services.
Are you one of the many local business owners wondering how to amplify your reach and convert more customers? You're not alone. In a world overflowing with marketing agencies, each promising to propel your business to new heights, it's crucial to identify those that truly deliver. 
We understand local businesses are the backbone of the economy. So, how do you sift through the noise and identify the agencies that can tailor their digital marketing services to fit the unique needs and constraints of your local business? This article aims to answer that pivotal question. We have meticulously reviewed and ranked the top 10 agencies in the realm of local business marketing services, offering insights to inform your decision, fortify your marketing strategy, and ensure your business isn't just a statistic but a success story.
---
Top 10 Local Business Marketing Services Agencies
Top
local business marketing services
2024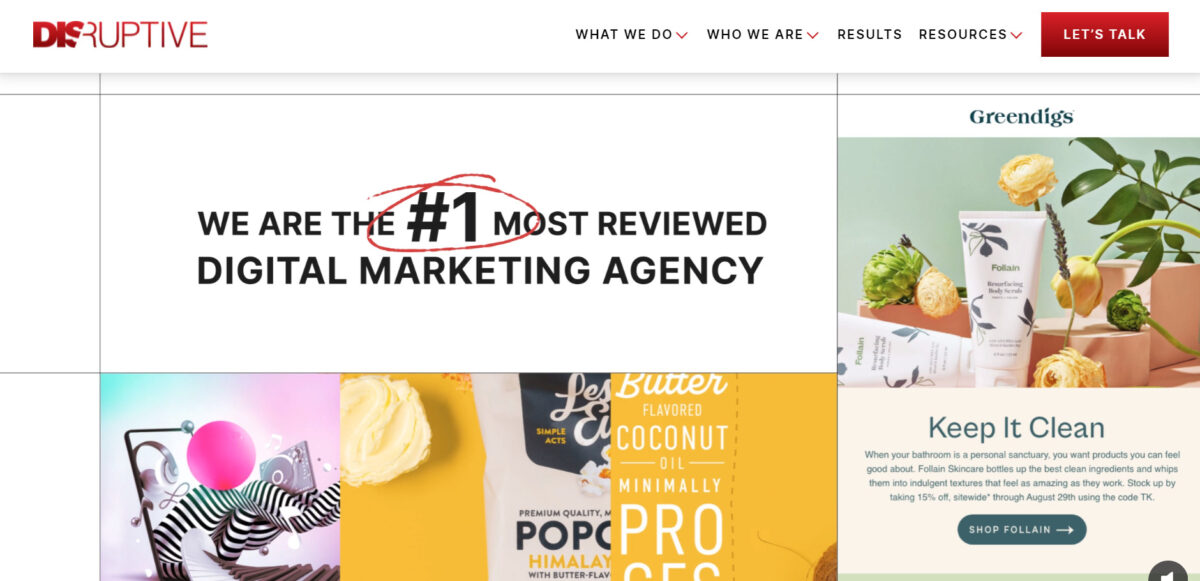 Geographical Markets Serving: Utah
​​Disruptive stands out as a haven for brands ready to elevate their impact and reach, offering magnetic marketing for companies poised for scale. The agency champions a full-funnel marketing strategy by boasting a comprehensive suite of services, including SEO, Google Ads, and various social media advertising platforms. Every campaign is meticulously crafted to manage ad accounts, address core business challenges, and drive towards defined objectives. Their expertise is widely acknowledged and celebrated for consistency in delivering exceptional results.
A distinctive feature of Disruptive is its focus on fostering long-term growth partnerships. Rooted in an understanding of each company's "why," the agency is dedicated to building meaningful connections between businesses and their target markets. This approach is backed by a proven process that includes a discovery call, solutions consultation, marketing level-set, strategy optimization, and growth strategy development, ensuring a tailored, results-driven approach for every client. The agency's pragmatic yet innovative strategies, underscored by a team of over 160 experts, ensure that clients not only witness visible growth but also experience an enhanced ROI, substantiating the value proposition offered by Disruptive.
---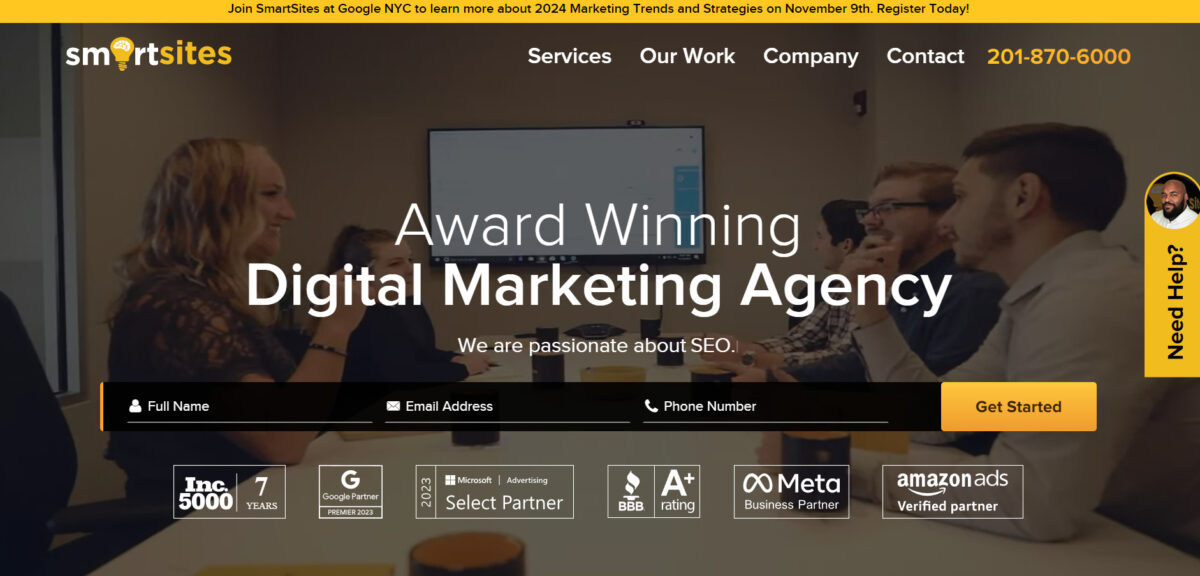 Geographical Markets Serving: New Jersey
SmartSites is renowned for its precision in crafting SEO strategies that firmly anchor Jersey's businesses on the digital map. As a Google Premier Partner and with a stellar A+ BBB rating, SmartSites has carved a niche in delivering tailored SEO solutions uniquely designed to dominate local markets. The agency's prowess is underscored by a robust suite of services, including organic SEO enhancements, content that mirrors local search habits, and an omnipresence on major map listings. Their approach is holistic, ensuring that local businesses not only resonate with but also captivate the local audience.
A distinctive characteristic of SmartSites is the integration of customized local SEO advertising with tangible business results. With 325+ perfect client reviews on Google, the agency's capacity to attract the right local audience and significantly boost traffic is demonstrable. Their strategies revolve around content creation, reflective of prospective clients' search habits, thus optimizing local search positions. The agency is committed to enhancing local community engagement and strengthening brand loyalty while ensuring businesses achieve the online visibility they rightfully deserve. Every campaign is a harmonious blend of expertise and innovation, underscoring SmartSites' position as a leading local SEO agency.
---

Geographical Markets Serving: Georgia, Texas, Maryland, Illinois, Ohio, Colorado, Florida, Missouri, Nevada, California, Kentucky, New York, Minnesota, South Carolina, Louisiana, Pennsylvania, Oregon, Washington, UK
Thrive Internet Marketing Agency excels in bolstering the online visibility of local businesses throughout the United States and the UK. They do this through their meticulously crafted local SEO services. At the core of their offerings is a focus on enhancing local search engine rankings, ensuring businesses are not just visible but prominent in "near me" and geo-specific search queries. The Texas-based agency anchors its reputation on a tailored approach, evaluating each business's unique needs and operational landscape. With a comprehensive local SEO checklist and strategies encompassing Google Business Profile optimization, local search citations, and online reputation management, Thrive ensures that each client's brand resonates profoundly within their specific locales.
A distinct feature that sets Thrive apart is their adeptness in a variety of industries, affirming their versatility and mastery of local SEO dynamics. The agency's team is adept at explaining complex SEO paradigms, ensuring clients not only receive a service but are also empowered with knowledge about the intricacies of local SEO. The breadth of their service encompasses businesses with a single location to multi-location enterprises, underlining their capacity to scale their offerings in line with the client's size and needs. Each service is knitted with precision, ensuring that local businesses are not just seen but can convert high-intent customers efficiently, translating online visibility to tangible growth in revenue and customer base.
---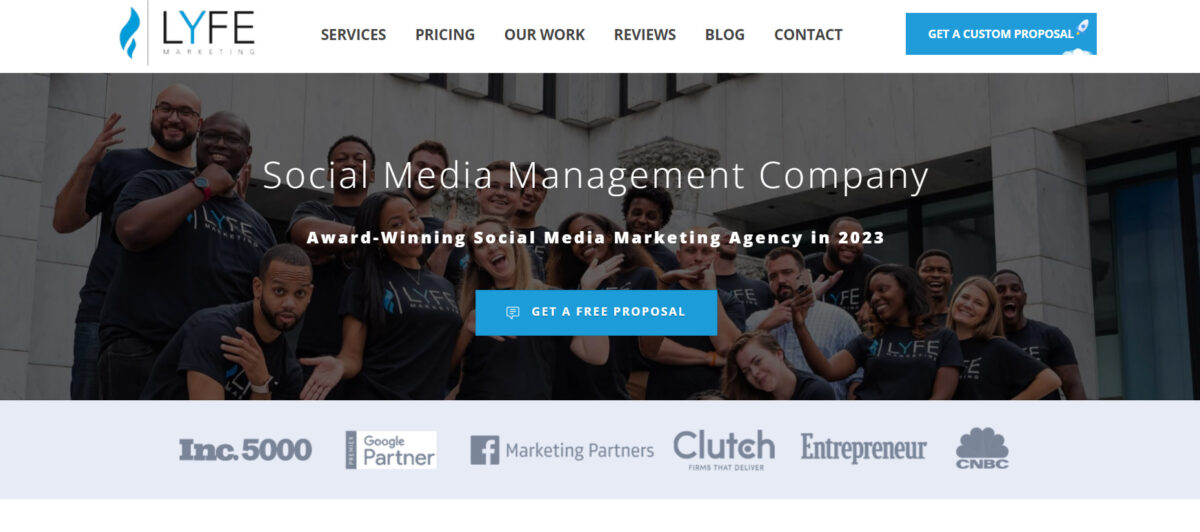 Geographical Markets Serving: Georgia
Lyfe Marketing distinguishes itself with a tailored approach to local business advertising, capitalizing on innovative digital marketing strategies to connect businesses with their local audience. The agency's mastery of localized ads and search engine result page (SERP) features is evident, ensuring brands not only gain visibility but also establish credibility within their locality. The integration of Google My Business is a pivotal aspect of their offerings, turning a basic listing into a potent tool for brand exposure. At the same time, referral programs are meticulously crafted to tap into the organic growth potential within the local community.
Lyfe's prowess extends to targeted email marketing and drip sequences, where personalization and precision converge to deliver compelling messages to the local audience. Their adeptness in crafting localized content is backed by extensive research and analytics, ensuring every campaign is grounded in data and resonates with the specific needs and preferences of the local clientele. The agency's process, from studying and researching the business community to creating and tracking ad performance, is meticulously executed, positioning local businesses for optimum visibility and engagement. Every strategy is customized, echoing the uniqueness of each business and addressing the distinct characteristics of the local market. 
---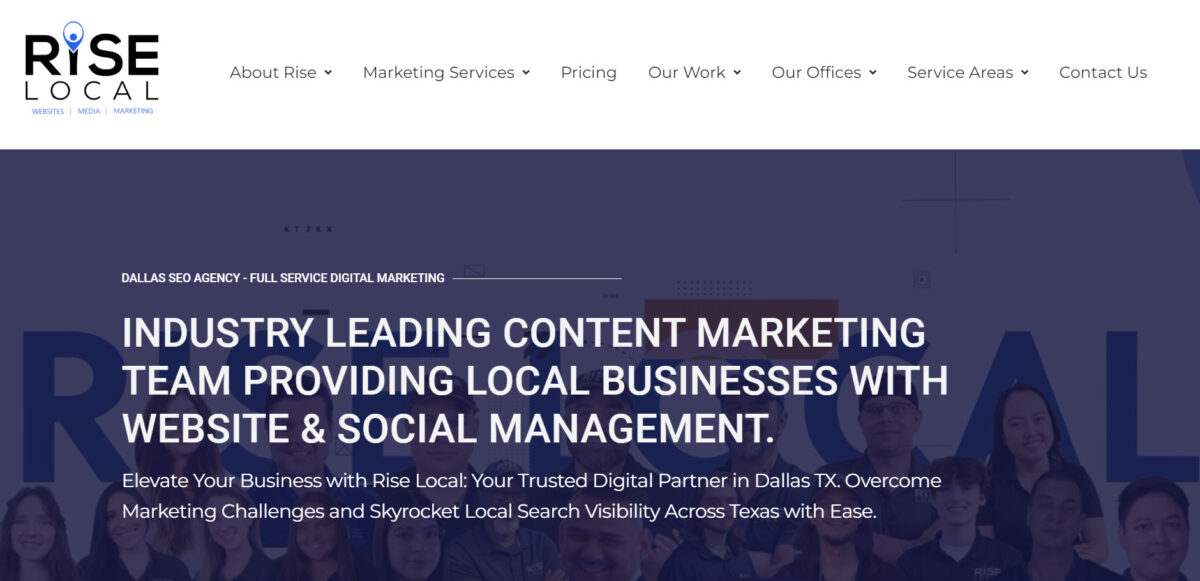 Geographical Markets Serving: Texas
Rise Local offers an expansive array of specialized services tailored to amplify brand visibility and engagement. A notable strength lies in their adeptness in local TV and streaming TV advertising. In a world rapidly shifting towards digital consumption, Rise Local ingeniously integrates traditional and modern media, ensuring clients' messages resonate across diverse audiences. Their methodical approach encompasses a thorough discovery of business goals, meticulous planning and design of marketing strategies, and the implementation and optimization of ad campaigns. The agency's capability to refine TV ad delivery, targeting high-propensity audiences, underscores its commitment to cost-effectiveness and ROI enhancement.
The agency's prowess extends to local search optimization, a cornerstone in the digital visibility of businesses. Rise Local enhances online presences through strategic SEO practices, ensuring businesses are not just seen but are also highly ranked in search engine results for location-specific queries. Their comprehensive services encompass Google Business Profile optimization, local keyword targeting, and the creation of quality citations to build trust and authority. Furthermore, the agency offers meticulous GBP audits, ensuring consistent and accurate presentation of business information, category optimization, and compelling business descriptions infused with relevant keywords. Continuous monitoring, reporting, and ongoing optimization are integral aspects of their offerings, signifying Rise Local's commitment to adaptive and dynamic strategies that respond to the evolving digital landscape.
---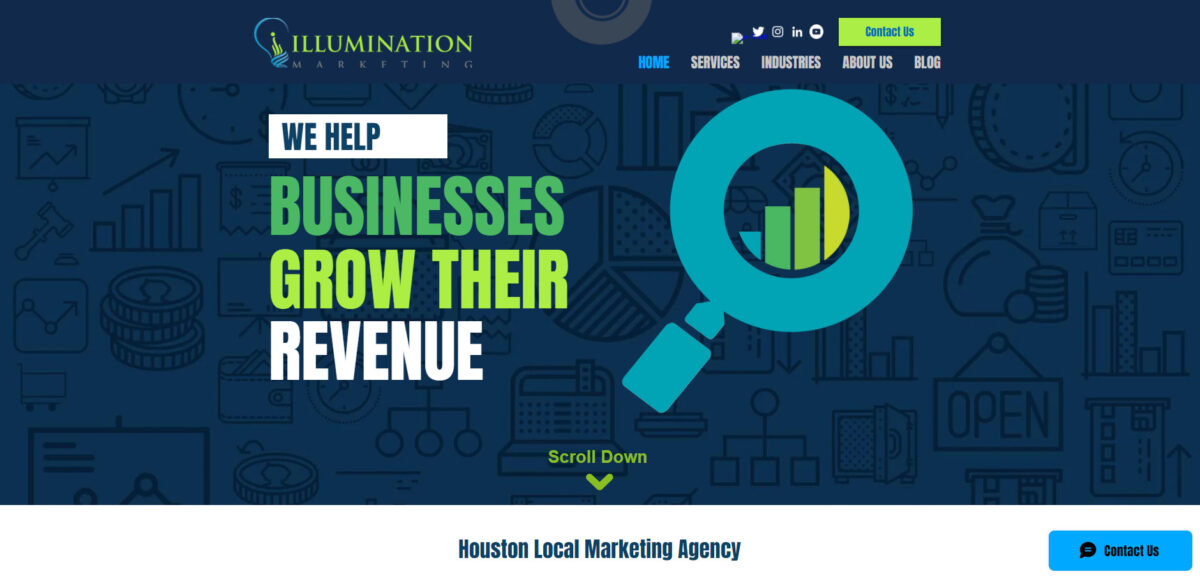 Geographical Markets Serving: Texas
Marketing Illumination emerges as a distinguished entity in the realm of local business marketing, attributed to its multifaceted approach to crafting tailored solutions designed to escalate brand prominence and revenue. This Houston-based agency excels in an array of services, including Search Engine Optimization, where the meticulous integration of link building and meta tags optimization elevates online visibility. Their prowess in social media marketing amalgamates influence, branding, and strategic posting, offering businesses a contemporary avenue to drive revenue.
The agency is renowned for its holistic offerings, epitomized by its expertise in website development, corporate videography, and Pay-Per-Click management, underscoring its versatility. Drone videography and logo design further embellish their repertoire, affirming their commitment to innovation and quality. With over three decades of combined experience, Marketing Illumination not only delivers comprehensive, high-quality services but ensures each solution is infused with innovation, guaranteeing an appreciable return on investment for a diverse clientele. Responsive, results-driven, and hands-on, the agency substantiates its position as a one-stop shop for all marketing needs.
---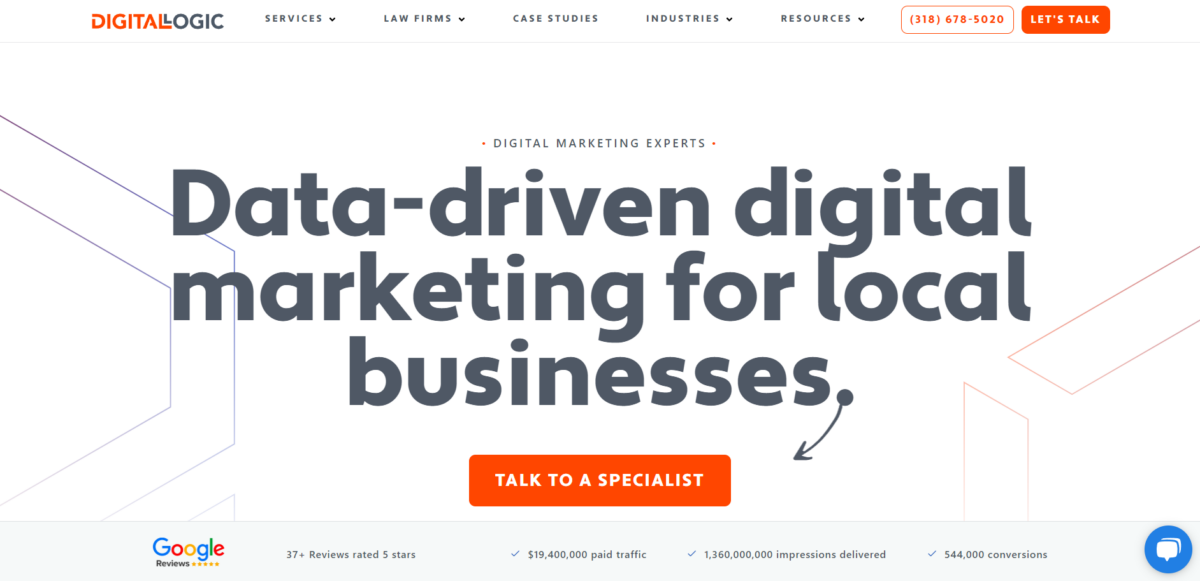 Digital Logic, a comprehensive full-service marketing agency, is committed to sculpting bespoke online marketing strategies that transcend conventional paradigms. Rooted in strategic and interactive methodologies, the agency is adept at addressing the unique challenges local businesses encounter, ensuring a tailored approach that resonates with individual brand objectives. Google's endorsement enhances their esteemed proficiency in local PPC, marking them as a trusted partner capable of amplifying local online visibility through meticulous ad placements, ensuring that businesses connect authentically with their target audience.
Local SEO and website design form another integral component of Digital Logic's service suite. The agency thrives on its ability to optimize Google Business profiles and websites, enhancing local search visibility. Equipped with a team of seasoned SEO strategists, the agency crafts local content creation and SEO packages that align with varied budget allocations. Brand authority and recognition are further bolstered through personalized website content and design, ensuring a cohesive brand narrative that resonates with local and mobile searchers, thus accentuating the digital footprint of local businesses in the community.
---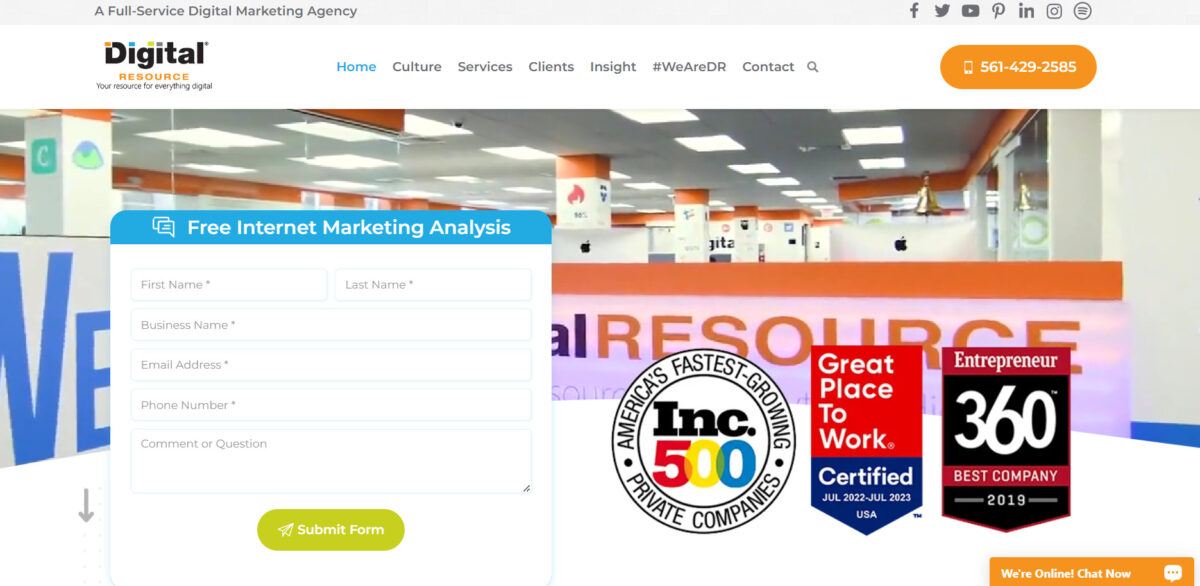 Geographical Markets Serving: Florida, Tennessee
Your Digital Resource is a well-versed digital marketing agency with a specialized focus on creating impactful Local Service Ads. The agency recognizes the pivotal role of online visibility in connecting service-based local businesses to their target audience, particularly in a digital landscape where a significant majority of consumers rely on internet searches for local services. Utilizing a pay-per-lead model, businesses benefit from cost-effective advertising, paying exclusively for clicks that transition into genuine leads. The agency excels in curating personalized ads, echoing the unique selling propositions and specific attributes of each business, ensuring relevance and engagement with the target audience.
An inherent emphasis on responsiveness and customer engagement underscores the agency's commitment to converting leads into tangible business outcomes. The incorporation of critical business details in the ads, timely response to inquiries, and consistent updating of business information exemplify the meticulous approach adopted to optimize the client's online presence. A holistic methodology, including encouraging customer reviews to enhance online reputation and bolster ad rankings, epitomizes the agency's comprehensive strategy. Coupled with the assurance of the Google Guarantee, clients are not only assured of enhanced visibility but also credibility, fostering trust among potential customers.
---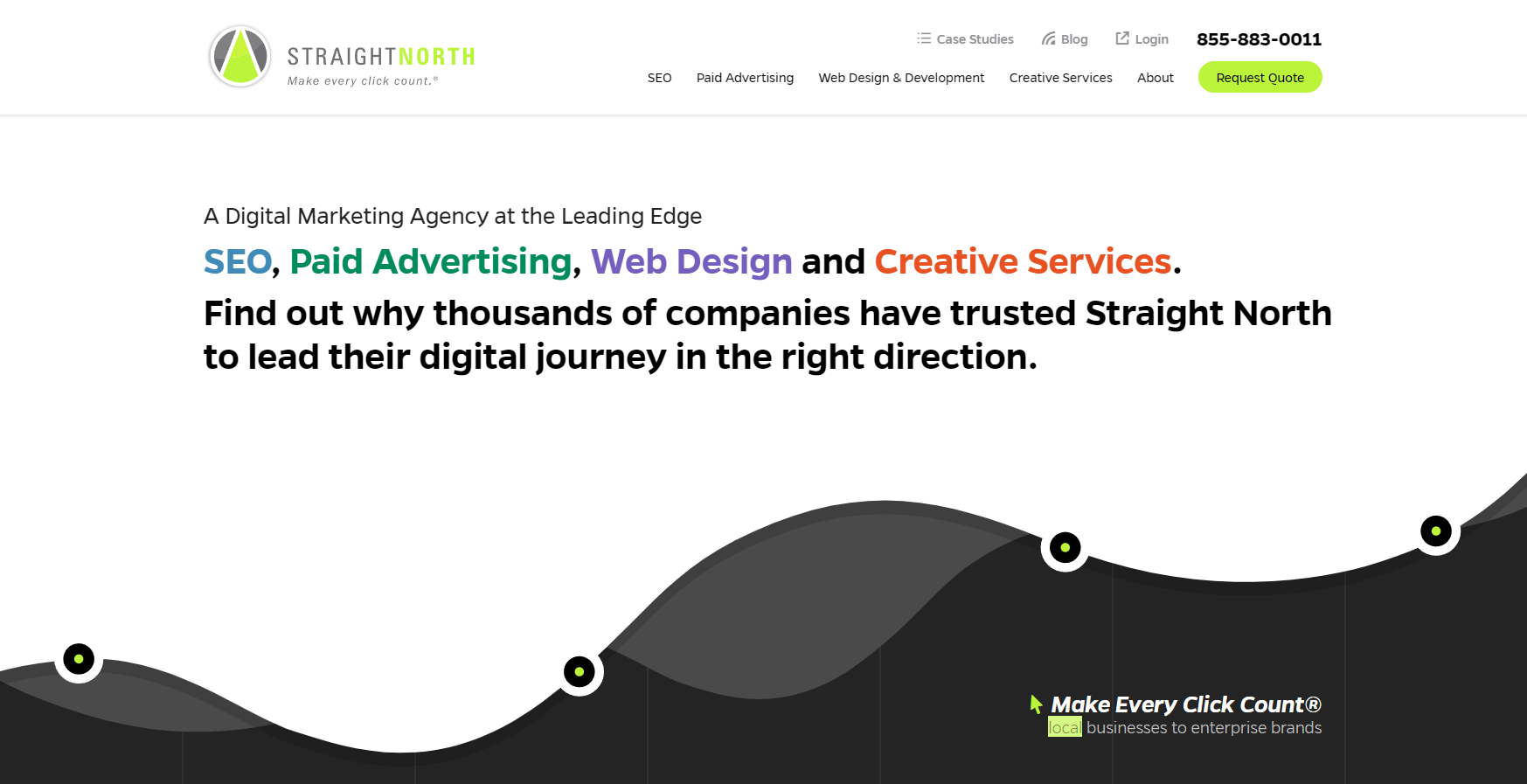 Geographical Markets Serving: Illinois
Straight North, known for its local SEO services, crafts meticulously to amplify the online prominence of local businesses. This esteemed agency is rooted in a sophisticated understanding of the intricacies of local SEO, ensuring tailored solutions that resonate with every client's unique requirements. Their mastery is encapsulated in their ability to optimize the local presence of a myriad of businesses, ranging from quaint neighborhood stores to expansive multi-location franchises. The holistic approach encompasses an intricate blend of keyword strategy, quality content, technical SEO, and Google Business Profile optimization, augmented by the acquisition of local citations and links.
The efficacy of Straight North is underscored by tangible outcomes, primarily an enhancement in local search rankings, a surge in targeted website traffic, and a boost in online credibility. The agency's adeptness in geo-targeted keyword strategies and content elevates local reach, effectively capturing and engaging the intended audience. Each campaign is a testament to the agency's unwavering commitment to driving sales leads and eCommerce revenue, underpinned by an intricate understanding of the factors influencing local SEO rankings. The incorporation of analytics and tracking ensures an objective assessment of campaign efficacy, epitomizing Straight North's commitment to transparency and result-oriented strategies.
---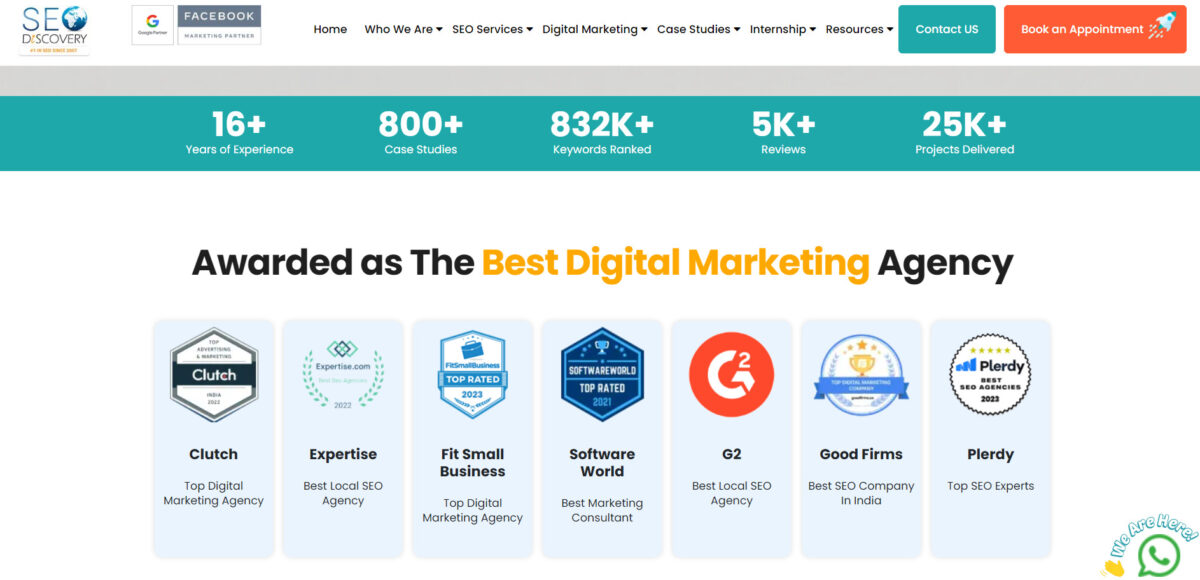 Geographical Markets Serving: Australia, UK, India, USA, Canada, New Zealand
SEO Discovery is a premier local business marketing agency with a suite of offerings tailored to enhance online visibility and customer engagement. Recognized and awarded by esteemed platforms such as Clutch, Expertise, and Forbes, the agency excels in local SEO services that ensure businesses not only appear in local searches but dominate them. Utilizing an in-depth approach, they specialize in Google My Business Optimization, connecting local businesses to their community effectively. In an age where over 86% of customers rely on Google My Business for searching local information, SEO Discovery's meticulous strategies ensure that businesses are not just seen but are also the preferred choice.
Their comprehensive suite of services is backed by tangible results and data-driven methodologies. SEO Discovery manages local business listings meticulously, ensuring optimized and accurate listings that significantly increase searches and website visits. They also excel in Google Map optimization, a critical service given that 93% of consumers utilize Google Maps for business searches. The agency also boasts proficiency in enhancing web presence and traffic through Bing and Apple Maps listing optimization. Moreover, the meticulous approach to customer reviews and rating management underscores their commitment to building trust and enhancing online reputation, while their in-depth website and competitor analysis pave the way for tailored and effective SEO campaigns. 
---
What Technology and Tools Leverage Local Business Growth?
The role of technology, particularly AI, machine learning, and analytics, is undeniably transformative. Top marketing agencies are adept at harnessing these technologies to catapult local businesses into the realm of unparalleled growth and visibility.
Artificial Intelligence (AI) is no longer a futuristic concept but a present-day reality shaping customer interactions and experiences. According to HubSpot, 80% of marketing experts utilize some form of AI in their services, paving the way for hyper-personalized marketing strategies. Machine learning algorithms process vast datasets, unearthing insights that empower local businesses to tailor their offerings, ensuring they are aligned with customer expectations.
Analytics play a quintessential role in deciphering the complex labyrinth of customer data. Unfortunately, only 21% of businesses believe it gives them a competitive edge. However, with real-time analytics, local businesses are not just reactive but proactive, anticipating customer needs and delivering solutions even before they are explicitly expressed. These data-driven insights fuel strategic decision-making, ensuring that marketing campaigns are not based on assumptions but concrete data, making them more targeted and effective.
Digital tools and platforms have democratized marketing, offering local businesses access to sophisticated technologies that were once the preserve of multinational corporations. Social media analytics, SEO tools, content marketing platforms, and automated email marketing solutions are facilitating local businesses to create, manage, and optimize their marketing campaigns with precision and efficiency.
So, how does this technological influx translate to tangible business benefits? Enhanced customer experiences, for starters. With AI and machine learning, marketing messages are not generic but tailored, resonating with the specific needs and preferences of different customer segments. This customization fosters customer loyalty and drives engagement.
The integration of cutting-edge technologies and tools by top marketing agencies is not a trend but a necessity. Local businesses seeking to carve a niche, amplify their reach, and optimize customer experiences must leverage these advancements. In an era where customer expectations are skyrocketing, technology is the linchpin that anchors effective, efficient, and exemplary local business marketing.
---
Conclusion
Navigating the complex landscape of local business marketing can be overwhelming. However, with the right partnership, local entrepreneurs can effectively boost their online presence, driving traffic and increasing conversions. The comprehensive analysis provided in this article, from detailed agency reviews to the integration of advanced technologies in marketing, serves as a valuable resource for local businesses in search of effective marketing solutions. 
Ultimately, the right marketing agency isn't a luxury but a necessity for local businesses aspiring to transcend the ordinary, harness the power of digital innovation, and carve a niche in today's competitive marketplace. Make an informed choice and let your local business story be one of triumphant success.
Frequently Asked Questions
How Do Local Business Marketing Services Adapt to Industry Trends?
Agencies stay updated with the latest trends through constant research, attending workshops, and using advanced analytics. They adapt strategies to align with evolving market dynamics, ensuring clients' businesses remain relevant and competitive.
What Role Does Social Media Play in Local Business Marketing?
Social media enhances visibility, engagement, and customer loyalty. Agencies use platforms like Facebook, Instagram, and Twitter to target specific demographics, share engaging content, and foster direct communication between local businesses and their customers.
How Can Small Businesses Measure the Effectiveness of Their Marketing Campaigns?
Effectiveness can be measured using various metrics like website traffic, social media engagement, conversion rates, and customer feedback. Agencies often provide detailed reports and analytics to demonstrate campaign performance and ROI.
How Do Agencies Ensure That Marketing Strategies Comply with Legal and Ethical Standards?
Agencies adhere to industry regulations and ethical guidelines, ensuring campaigns are lawful and ethical. This includes respecting customer privacy, transparent advertising, and avoiding deceptive practices to build trust and credibility.
What Customization Options Are Available for Businesses with Limited Budgets?
Marketing agencies offer scalable and customized solutions tailored to fit varying budgets. They prioritize essential services, focusing on strategies that yield maximum ROI, and can adjust the plan as the business grows and evolves.