NFT collectors are always racing ahead to get the latest NFT out on the marketplace. In fact, NFT sales range between $10 million and $20 million on a weekly basis. The rarity and demand for a single NFT or a collection encourage collectors to keep up with the ever-bustling community.
Trendsetting and highly-anticipated NFT drops aren't the only announcements a wise NFT collector should watch out for. As it is with any market, there are several factors in play to consider. Auction dates, minting deals, and trade offers can offer valuable insights into the overall activity of the NFT market.
NFT analytics tools are an NFT enthusiast's best friend. Used daily, these tools give you leverage with data-backed NFT purchases and other decisions.
---
The 15 Best NFT Analytics Tools to Boost Your NFT Portfolio:

---
How Rare is an NFT?
There is no universal standard for determining the value of a non-fungible token (NFT). Brand awareness, project advocacy, and marketing contribute to the success of an NFT project launch. However, the most important factor is rarity.
The rarity of an NFT adds significant value and therefore raises the demand. NFT rarity can raise the price to sky-rocketing values or allow the community to be in possession of several duplicates. Supply for NFTs is not dictated by the growing demand; rather, NFT creators have full authority in determining the quantity and base price of a particular NFT.
Calculating NFT Rarity
The limited availability of an NFT from a given collection makes collecting all the more exciting. However, it is a misconception that quantity is the sole determinant for rarity. An NFT comprises several characteristics shared across the collection.
The famous Bored Ape Yacht Club collection, for instance, features over 10,000 items with different NFT attributes and corresponding availability. These snazzy apes come with varying characteristics, like headwear, eyewear, facial expressions, and designer clothing. The Bored Unshaven Pizza Mouth only shows up 26 times in the rather vast collection, making its rarity at 0.26%.
The scarcer an NFT is, the greater its market value. Prices are pushed high, and the demand becomes more competitive. Fortunately, many NFTs are obtainable. They don't share the same value as their highly coveted counterparts from the same collection, but they make for a great addition to your portfolio at a lower price.
Checking NFT Rarity
If you are looking into investing in an NFT collection, consider analyzing the rarity and pricing of every available NFT. Checking rarity by manual assessment of the NFT's attributes is close to impossible, but don't fret. Analytics tools are available and equipped with functions to assist you in estimating market value, availability, and pricing.
---
The 15 Best NFT Analytics Tools to Use this 2022
Understanding how the market performs on a day-to-day basis is crucial to the decision-making process of an NFT collector. NFT analytics tools keep you updated on auctions, project launches, and market insights. Here are our 15 picks of the best NFT analytics tools out on the market.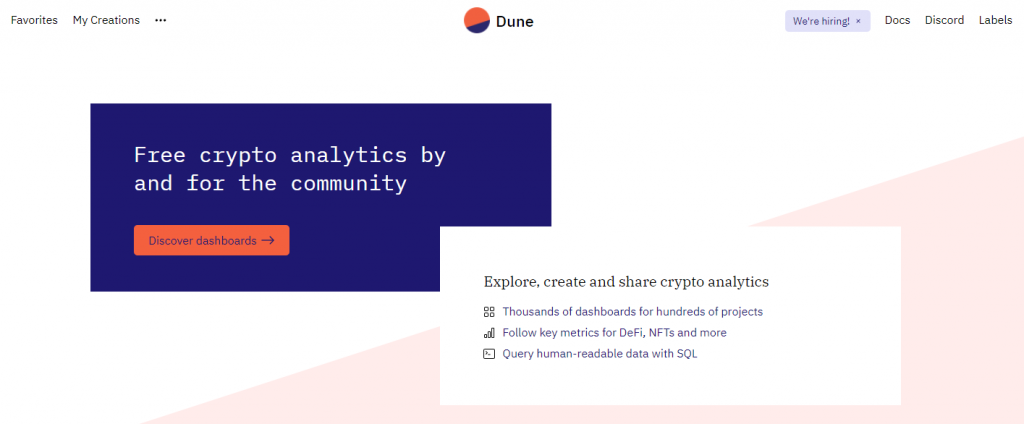 Features:
Analysis and support for multiple blockchain platforms (Ethereum, Polygon Gnosis Chain, etc)

Key metric analysis for decentralized finance (DeFi), NFTs, etc.

Smart contract data support

Instant data visualization
Dune is a great analytics tool to deliver you data from the convenience of a dashboard. Customize the dashboard with data from blockchains you use and transform data into beautiful graphs.
Dune is a crowd favorite because its functionality is not locked behind a paywall. It is a free tool for anyone to utilize in monitoring floor prices, availability, and the like. Countless dashboards are available for anyone to use in Dune, but if you aren't keen on setting up your own dashboard, you can simply scroll through the broad collection. Chances are the NFT project you're investing in already has a userbase on Dune.
---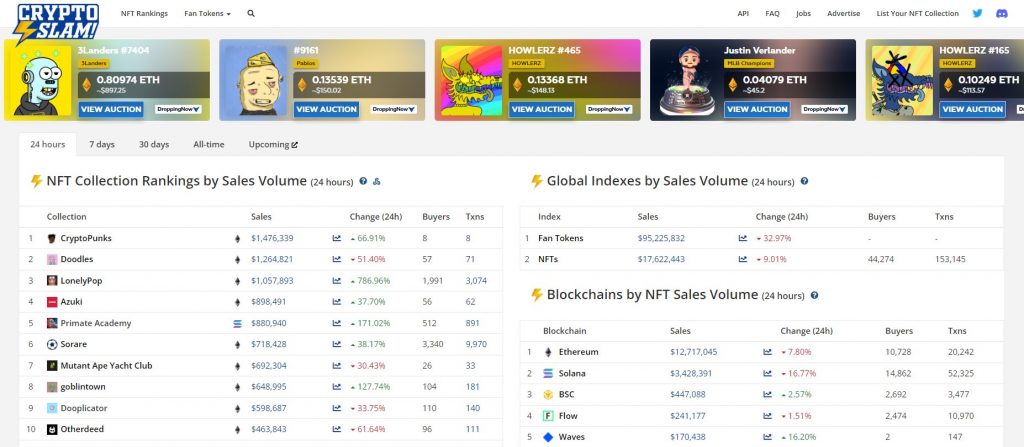 Features:
Daily statistics on blockchains by NFT sales

NFT collections ranking

NFT sales ranking
CryptoSlam is an established data aggregator for all things NFT. Recognized by business tycoon Mark Cuban, CryptoSlam provides NFT collectors and traders transparent information on the activity of the market.
If you're looking for efficiency in comparing NFT collections, CryptoSlam is the tool for you. Their project database is updated on a regular basis, so you can simply refer to CryptoSlam to track and compare floor prices. As the marketplace is constantly evolving, this tool also allows you to track changes in sales and prices within 24 hours, over 7 days, for the month, and since the beginning of time.
If you would rather monitor upcoming NFT releases, CryptoSlam also has you covered. A list of collections dropping in the near future is available for viewing. Interested collectors can set their timers in advance as every anticipated collection is detailed with its respective release date and time.
---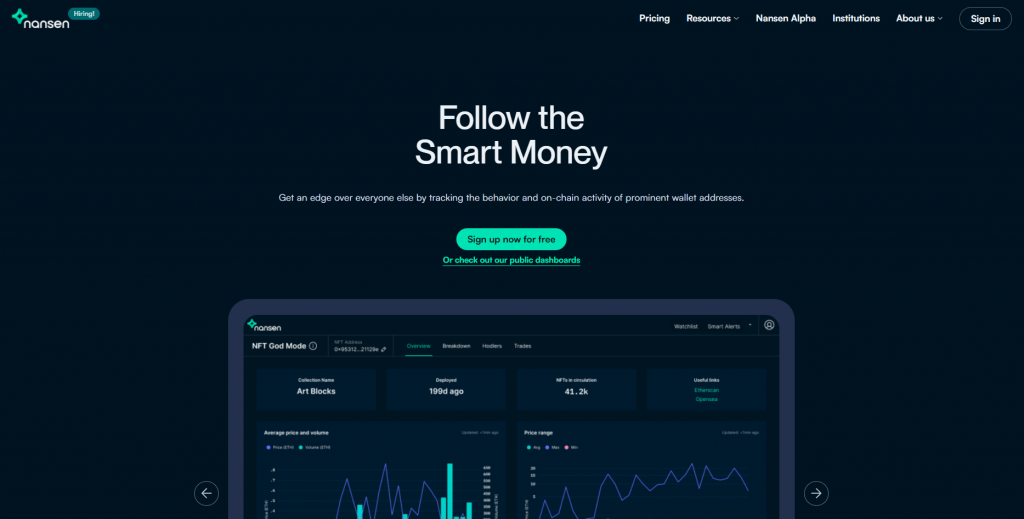 Features:
Premium market analytics

NFT rarity rankings

Smart transaction history

Key metrics on wallet addresses
Nansen is just about the best value you can get for your money. This data analytics platform offers insights into the activity and direction of the market. Aside from general market analysis, Nansen also ranks NFT rarity across multiple collections. This helps collectors decide which NFT to watch out for.
Nansen also provides insightful metrics on active wallet addresses. Every transaction and other activities you performed with a specific crypto wallet is reported and ranked in ascending order. Never lose track of your token balances with daily and weekly reports from Nansen.
As mentioned before, Nansen is a paid platform. You can try and explore its functionality with the limited free trial. Subscription plans available include Standard ($399/quarterly), VIP ($3,990/quarterly), and Alpha ($9,000/quarterly).
---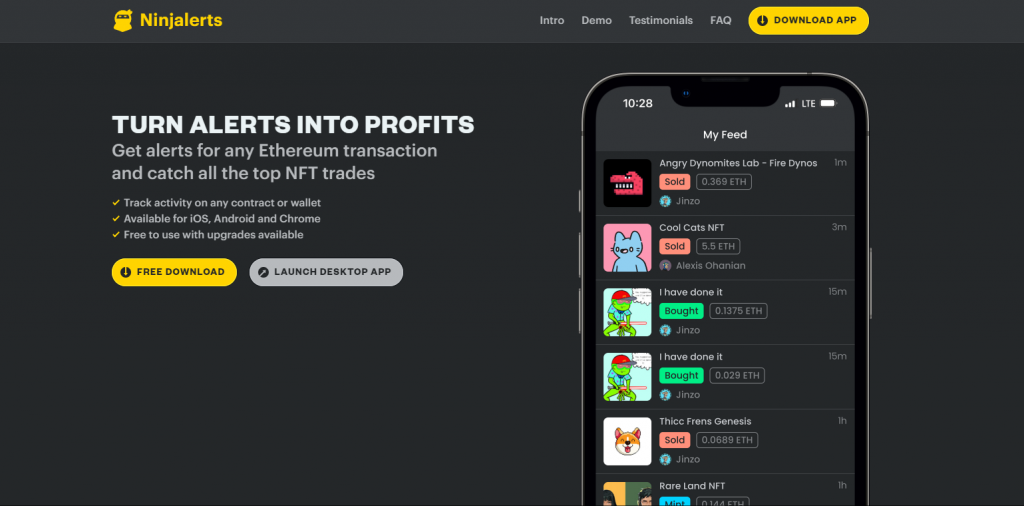 Features:
Real-time NFT trade alerts

Wallet activity tracking

NFT project previews
Ninjalerts is showing promise as a game-changer in NFT collecting and trading. This handy tool sends real-time notifications to users on the latest NFT drops, minting deals, and ongoing auctions. Receive the latest activity or investments of key players or stay a few steps ahead by staking your claim on a highly anticipated collectible.
Ninjalerts also keeps track of token balance and wallet activity. Whenever a transaction is completed, users are notified of the recent changes in their wallets. Notifications are sent through phone or web browser, as the app is available for download on iOS, Chrome, and Android. As a smartphone app, Ninjalerts is ideal for NFT enthusiasts that are too busy to standby their computers or laptops.
To enjoy lifetime access to its features, Ninjalerts offers a single-purchase license up for sale as an NFT. Interested buyers can proceed to the Ninjalerts Official OpenSea account to acquire the license.
---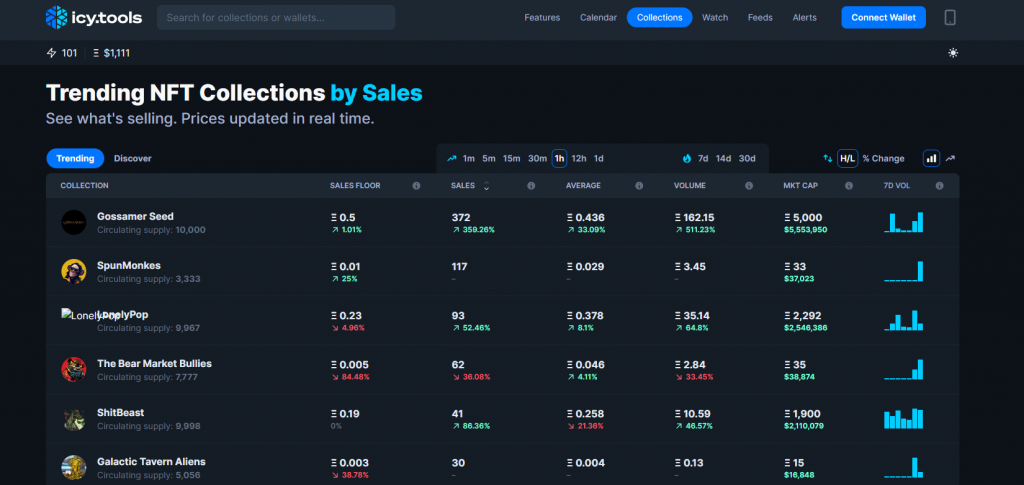 Features:
Real-time sale analysis

Wallet transaction history

NFT rarity sniping

Visual data transformation

Notification alerts
Icy Tools boasts a robust platform in the discovery and analysis of data on the hottest NFTs out on the marketplace. It has one of the fastest data analytics interfaces, reporting real-time changes in floor price, sales, and volume data.
Icy Tools is a recommended alternative for collectors and traders who simply don't have the budget to afford Nansen. Icy Tools also offers cheaper weekly passes; if the platform proves to be beneficial in your NFT investments, you can also purchase an ICY Founders Club NFT for lifetime access.
Icy Tools is easy to navigate for both beginners and veterans in NFT minting. Trending NFT collections are ranked in ascending order, giving you an overview of significant figures such as floor price and volume. You can switch rankings by the hour, day, or month to review historical records.
Perhaps you are on the lookout for the best contract to invest in and diversify your portfolio. Icy Tools performs well in giving you an overview of the performance of projects in their database. The platform also reports an in-depth transaction history of your wallet. Simply link your wallet and you're good to go.
---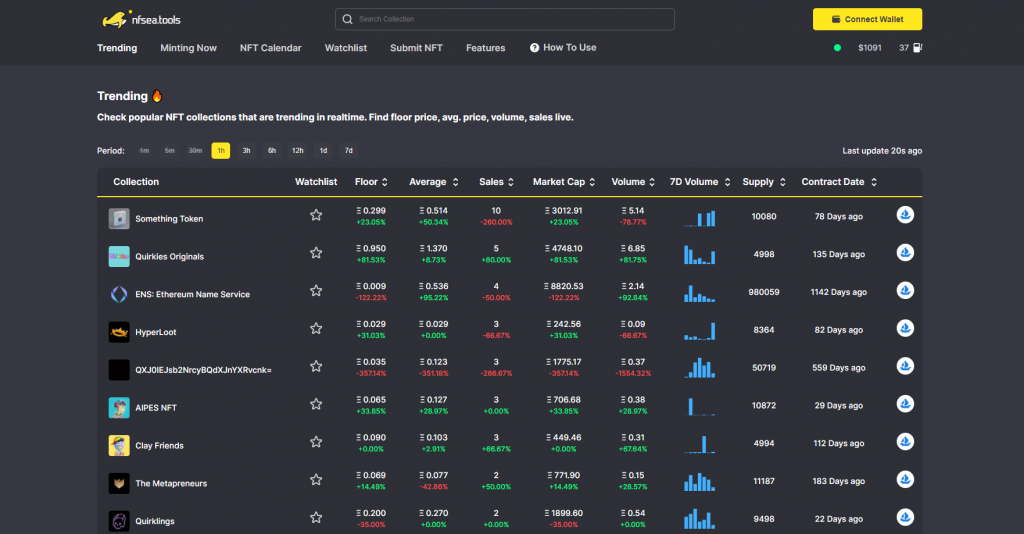 Features:
NFT watchlist

NFT collection previews

NFT rarity rankings

Custom notification alerts

Real-time floor prices
NFSea is a strong contender as an all-around NFT tracker, analysis, and sniping tool. It features a strong suit of functions to help NFT enthusiasts support profitable projects, keep a close watch for price drops, and join in the excitement for up-and-coming NFT collections.
NFT trading and minting is not child's play; to beat costly gas prices and other charges, you have to pay close attention to the changes in sales volume, supply, and floor price. NFSea allows you to stay ahead of the game and land profitable wins. Assessing the value and rarity of an NFT is also possible with rarity ranking; the rarer a collectible is, the higher its price goes.
---

Features:
AI-powered NFT market analysis

Portfolio management

NFT rarity ranking and scoring

Underpriced NFT listing for bargain contracts

Key metric analysis for NFT collection value and brand exposure
Artificial intelligence shines through with NFT OnChained. This revolutionary analysis tool uses AI to analyze, review, and report on the statistical figures of the NFT marketplace. Whereas other tools report rankings on the best-performing collections, NFT OnChained is focused on monitoring the market for the best bargains. It ranks underpriced NFTs from a variety of collections, all of which are awaiting ownership.
For a beginner, this unique feature of NFT OnChained is helpful in cutting down expenses without sacrificing NFT rarity. The platform supports NFT rarity ranking and scores to help collectors and traders make wise decisions before making a purchase.
Additionally, you can further weigh your choices by evaluating key performance metrics. How well did the marketplace receive the collection? Is there discussion about this collection on social channels? How many collectors are bidding on this collection? These questions can help you reach a solid, well-informed conclusion.
---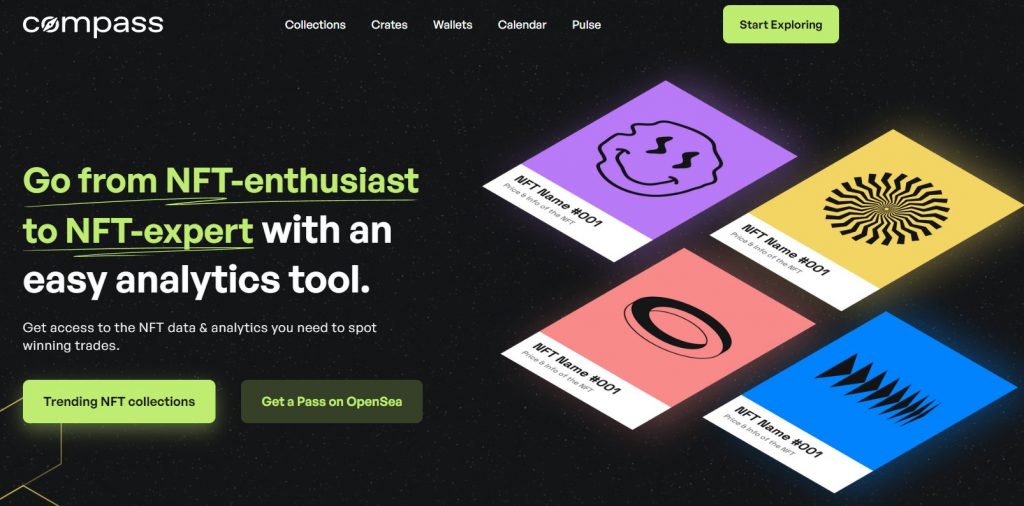 Features:
Collection discovery and early access to upcoming NFT collection

NFT rare sniping

Portfolio tracking

Insightful sales and trading reports

Real-time notifications
Compass is a wonderful tool to transform NFT enthusiasts into NFT experts with wiser decisions and profitable investments. NFTs are beyond one-of-a-kind digital collectibles, equating to precious valuables that can build your investment portfolio. Thus, it is important to invest in successful project launches and anticipate the arrival of more valuable collections.
Compass allows users to keep track of their portfolios and most importantly, get live access to wallets and minted tokens. Bear witness to how the top NFT investors are planning their next move according to the real-time fluctuations of the market. This way, you pick up some valuable techniques in investing in the most ideal project.
---
Features:
Analysis of the top NFT collections

Tracking over 350 NFT collections

Key metrics analysis to evaluate market value and profitability of an NFT

Portfolio tracking
BitDegree is the world' first educational platform hosted on blockchain technology. With BitDegree, students can enroll in online courses and apply for scholarships based off the blockchain. This means incentives are in the form of cryptocurrency.
Today, BitDegree is also enriching the lives of NFT collectors and traders with its comprehensive analysis and tracker tool. BitDegree boasts a directory of 352 NFT collections from 3 different protocols. Users can be guaranteed that there is at least one successful project they can take interest in.
That being said, key metrics analysis is also available to help you cross-check a project's success. A wise NFT collector does not only look at the aesthetic quality of an NFT; other factors like frequency of minting, sales, and the percentage of tokens minted for an NFT must be considered.
---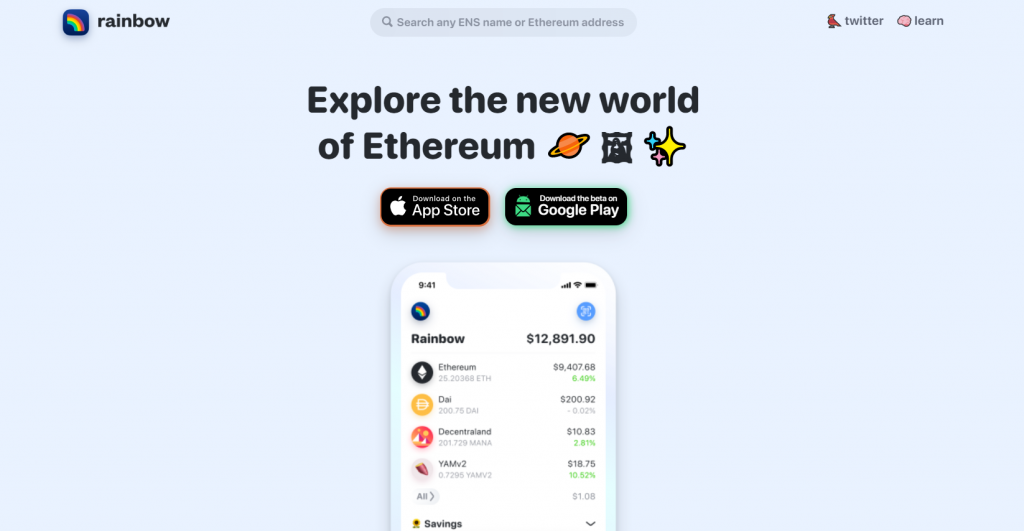 Features:
Ethereum wallet

Portfolio management
An established Ethereum wallet, Rainbow works double-time as your NFT portfolio tracker. This tool is the best choice for collectors and traders who mint NFTs hosted on the Ethereum blockchain for the convenience of managing both their wallets and NFT portfolios from one app.
Rainbow Wallet also offers users to stay alert with whales. Understanding how the best NFT collectors manage their way across the market is beneficial to diversifying your portfolio.
---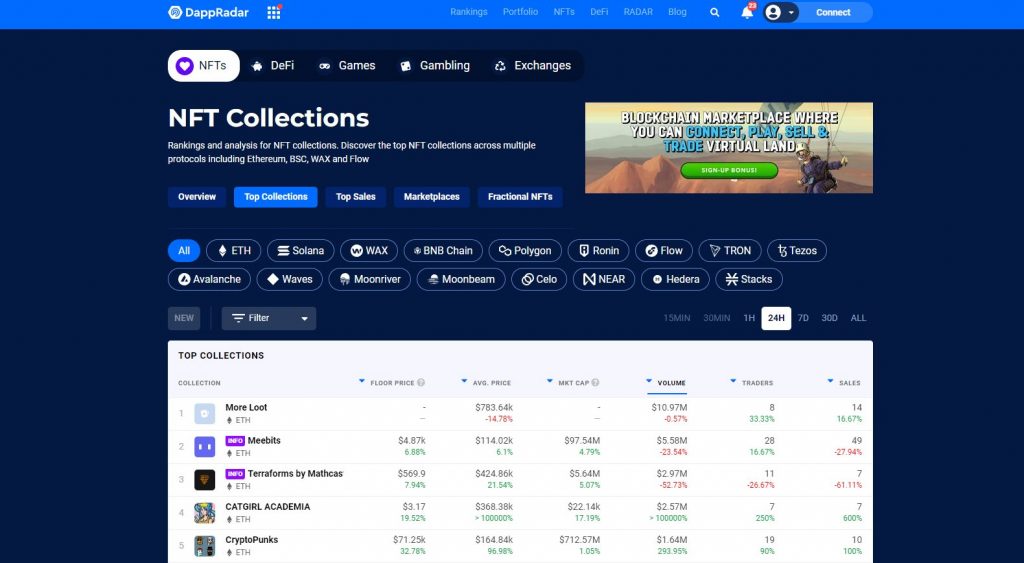 Features:
Portfolio tracking

Real-time market insights and sales figures
DappRadar has long been in the industry of cryptocurrency and DeFi. While it has established a reputation for hosting decentralized applications, DappRadar is also exploring the NFT marketplace. Users with linked Ethereum wallets allow the platform to send them regular updates on completed transactions and token balance.
Staying alert for the next best NFT investment is crucial as a collector or trader. DappRadar makes discovering collections easy with its detailed ranking and analysis of NFT collections hosted across different blockchain platforms. Toggle around the ranking filters to see which collection has the most sales, lowest floor price, and the like.
---
Features:
Visual data representation of NFT sales

Easy-to-read insights on rankings and latest releases

NFT rarity scoring
NFT Stats is perhaps the most straightforward analysis tool on this list. With a friendly user interface, the platform simply provides the data and insights you are looking for. NFT Stats is a great tool to help beginner collectors decide on which project they'd like to invest in.
Want to see the sales history of a particular collection? NFT Stats can provide visuals for easier reading and analysis of trends such as floor price average per month. The NFT marketplace is fluid, and if you're looking to invest long-term, you will want to recognize certain market trends for a more profitable minting experience.
---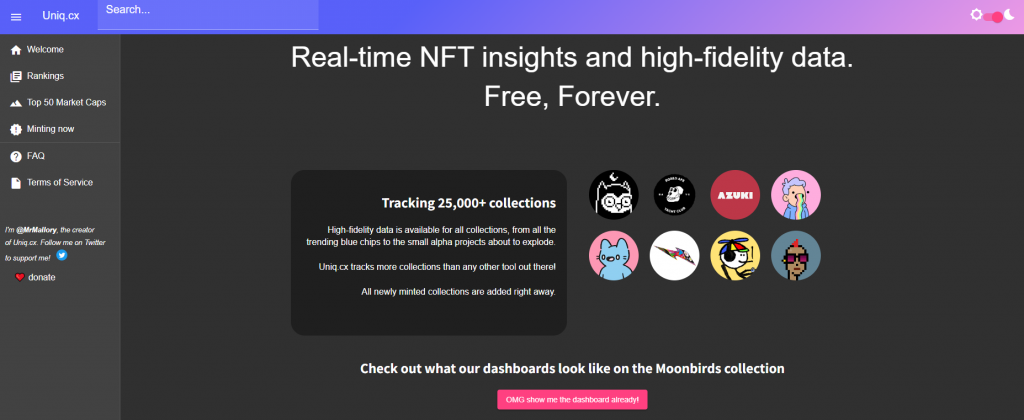 Features:
High-fidelity data pool of more than 25,000 NFT collections

Real-time market insights

Data reports gathered from key metrics

Historical data analysis

NFT collection tracking and discovery
Uniq is a free NFT analysis tool focused on delivering actionable data about the sales and whale activity in the NFT marketplace. Data is a prime resource when it comes to Uniq, and with this knowledge, collectors can invest in best-selling projects.
The platform highlights unique metrics aside from volume data and floor price, such as assets never sold since first minting and unique owners. These contextualize usual figures such as sales and users currently minting, further aiding you in your decision of investing in a given project.
If you are quite a frugal collector, you may want to take a look at the historical records of past sales. The fluctuations in prices may bring you to a conclusion on your next move: to save for future sales or to go all-out now and invest.
Finally, Uniq features a ranking page updated regularly to reflect collections with the highest transactions. With over 25,000 projects in its database, you're certain to locate a new project to add to your portfolio.
---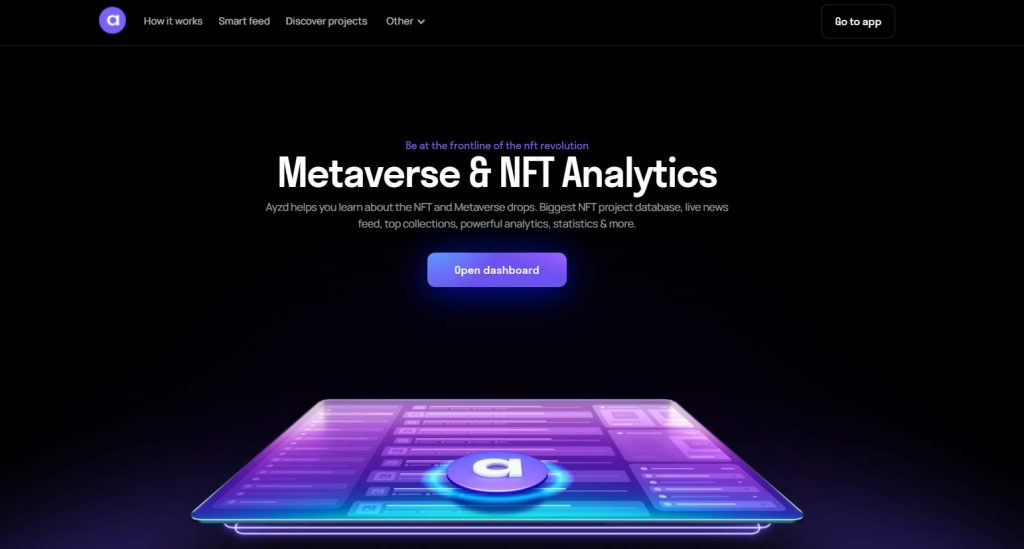 Features:
Comprehensive NFT collection analysis

Aggregates breaking news, trends, and events in the NFT community

Metaverse support

NFT drop calendar support

All-in-one dashboard
Ayzd is an all-around analysis tool and dashboard catering to everything NFT. It features a free-to-use dashboard, where users can navigate news, collection rankings, and sales figures with ease.
Aside from the multifunctional dashboard, Ayzd also provides access to a drop calendar. Anticipated project launches are marked on the calendar so you don't have to miss another profitable opportunity.
While waiting for future releases, you can also visit successful collections with the rankings provided by Ayzd. It has the biggest NFT project database among NFT analytics and trading tools, so make sure to check out the rankings and the collections' market values.
---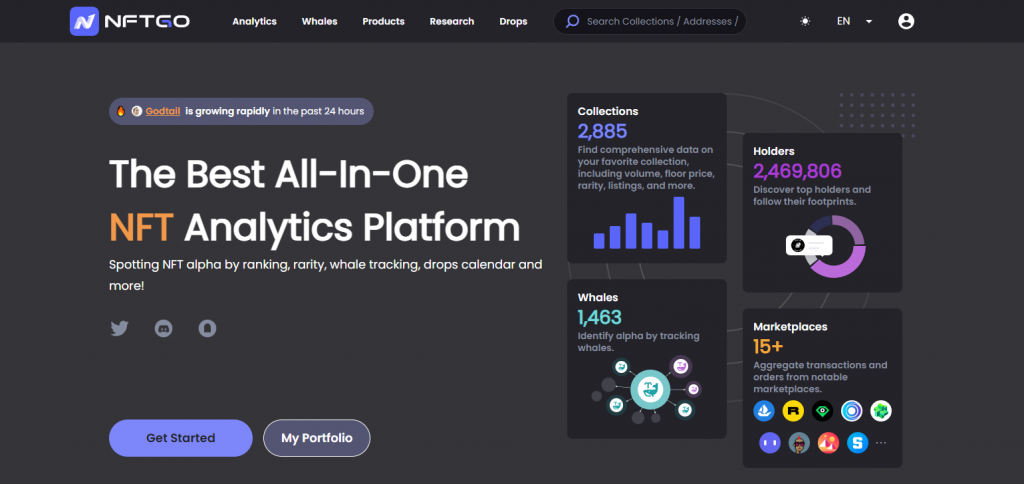 Features:
Real-time data on NFT project listings, floor price, and volume

NFT collection ranking

NFT rarity discovery and ranking

Whale tracking

Transaction tracking from over 15 marketplaces
Get an overview of NFT sales and market activity with just a few clicks on NFTGo. This analysis tool shines in discovering and tracking promising NFT projects, upcoming releases, and whale influence over the market.
Competition is tight in the NFT community, but NFTGo can boost your portfolio by showing you the ideal collections to invest in. Sometimes, the best projects are the rarest and at the same time difficult to locate. NFTGO runs a unique rarity model to aid users in evaluating the rarity score and profitability of a particular NFT.
---
Final Thoughts
The NFT industry only continues to expand by the minute. It is challenging for either beginners or experts to keep up with the changes in the market without the right tools on hand. NFT analytics tools lend valuable insight and functions for any NFT collector, trader, or investor to gain leverage over the market's unpredictability with data-backed decisions.
As an NFT enthusiast, growing your portfolio increases your wallet's net worth and boost your reputation in the NFT industry. Keep up with the fast-paced developments and never miss an opportunity to discover or invest in rare, popular, and the latest NFT drops with NFT analytics tools.