Music NFTs, or non-fungible tokens related to music, is a fast-growing ecosystem in the NFT industry that offers potential for lucrative growth for stakeholders. However, the industry is still in its infancy and investments are considered risky. Before you decide to dive into it, better exercise due diligence by delving deeper into what NFT music is, the current market trends, and its projected outlook.
Here, we discuss all you need to know about music NFTs, so you can make well-informed decisions should you decide to place stakes on these digital assets.
---
NFT Music Market Trends & Projected Outlook
---
What Is NFT Music?
You have probably heard of top artists like Snoop Dogg and The Weeknd making waves in the NFT world. But NFT music goes beyond musicians staking claims on crypto and NFT platforms. Music NFT is a burgeoning niche within the NFT industry where creators and their audience interact in new ways.
Basically, a music NFT is an immutable ownership of a unique musical work. The NFT holder has the exclusive right to determine how the music is to be used or how rights are conferred when it is sold to another party.
To be clear, buying a music NFT is not the same as buying a track or record. Since an NFT is, in essence, a transaction record on a blockchain, owning a music NFT has more to do with your relationship as an NFT holder with the creator of the music. So its value could be a closer and more direct relationship with the artist or a financial exposure to an artist with great potential for success.
Some of the use cases of NFT music today include media NFT, royalty-oriented NFT, splits protocols, community-building tokens, crypto-native music rollouts, IRL-virtual connectors, and philanthropic vessels.
---
Music NFT Market Trends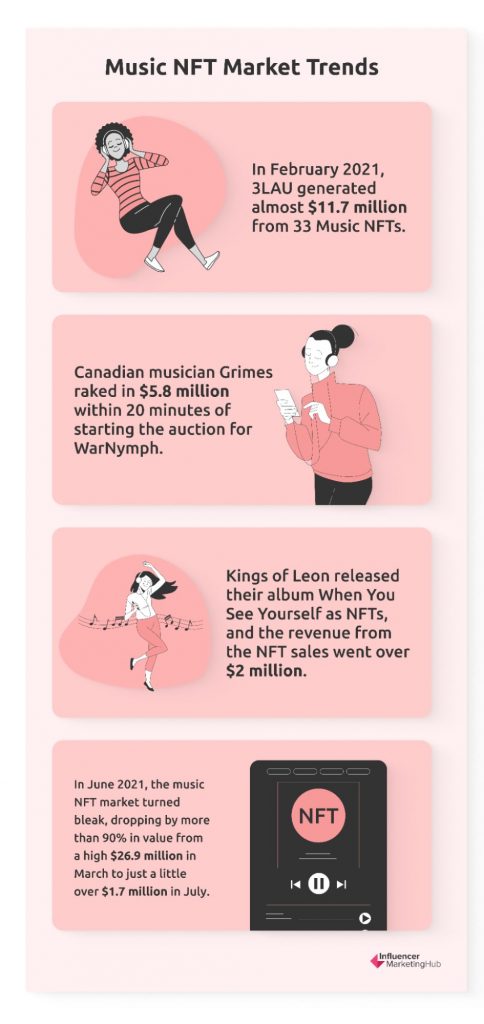 Music NFTs were thrust into the spotlight in February 2021 when 3LAU generated almost $11.7 million from 33 NFTs. To commemorate the third year anniversary of his Ultraviolet album, the American DJ and music producer auctioned off music NFTs which were collectible versions of the album. Just a day after 3LAU sold out his NFTs, Canadian musician Grimes raked in $5.8 million within 20 minutes of starting the auction for WarNymph, a collection of digitally created art and videos set to her own music.
In March of the same year, American rock band Kings of Leon released their eight studio album When You See Yourself as NFTs. The digital copies, which came with digital art and collectible vinyl records, were offered in limited edition. They also came with other perks such as front-row tickets to live shows. The revenue from the NFT sales went over $2 million.
After these surprising multi-million dollar NFT sales, several artists launched their own versions of music NFTs. The roster included Shawn Mendes and The Weeknd. By summer, however, the music NFT market turned bleak, dropping by more than 90% in value from a high $26.9 million in March to just a little over $1.7 million in July. By September, the total sales from music NFTs were at an all-time low of less than $500,000.
Skeptics saw this crash as an indication that music NFTs were inherently worthless and that the market was unsalvageable. On the other hand, more optimistic speculators saw the dip as an impetus for more interesting use cases for music NFTs to address the diminishing interest for existing models.
True enough, when music NFTs were taken beyond scarce digital collectibles to robust digital assets that brought wider experiences, music NFT sales began to flourish anew. Although the music NFT market has yet to surge to the peak level it reached in March 2021, it is performing steadily today.
This year, more prominent artists are expected to release singles and albums as NFTs. In February 2022, Snoop Dogg acquired Death Row Records and announced that it will be relaunched as an NFT label. We see more artists following suit as more NFT marketplaces enable them to offer their own NFTs without having to develop their own pages or platforms.
NFT platforms with music creation tools are also enabling new artists to compose music and create their own NFTs without massive capital investments on equipment and software. As more creators join the market, we're bound to see more of their supporters in it as well.
---
A Promising Year for Music NFT
This year, we will see more interaction between the music industry and the crypto world. Music NFTs will not be mere one-off digital collectibles. They will become a means of access to richer user experiences and lucrative ventures for artists and fans alike.
Just this April, MGM Resorts International and YellowHeart collaborated to introduce the first NFT ticketed performance in Las Vegas. Jabbawockeez fans were issued NFT tickets to Timeless and received food and beverage credit along with their NFTs. NFT holders were able to receive curated content directly from their favorite artist.
Binance and OneOf, serving as main sponsors at the 2022 Grammys, also appear to herald stronger ties between the blockchain-cryptocurrency space and the music industry. With music NFTs being adopted into decentralized autonomous organizations (DAOs), we see them enabling access to shared wealth and curation.
MusicFund distributes memberships through NFTs and allows NFT holders to vote for three musicians. The chosen artists receive a portion of an ETH from the community fund, which they can use to create music and mind their NFTs. There's also NoiseDAO which incubates budding NFT artists and invests in music NFTs. Through DAOs like these, music NFTs become potential lucrative investments for all stakeholders.
As the use cases of music NFTs become more varied and interesting, we can expect the NFT music market to thrive and flourish in the coming years along with the entire NFT industry.
---
How to Invest in NFT Music
Investing in NFT music is still highly speculative in nature. The blockchain industry is still in its infancy, so related markets including cryptocurrencies and NFTs are quite volatile. If you dare to take the risk, there are two primary ways to invest in music NFTs.
---
Mint Music NFTs
If you are a musician, monetize your talent by minting your own NFTs. Aside from offering unique digital copies of your music, you also get to develop a more direct relationship with your fans.
To mint an NFT, you must have a wallet with cryptocurrencies in it. You will need the cryptos for transaction fees, service fees, and marketplace fees. Choose a blockchain where you want to launch your NFT. After minting, choose an NFT marketplace. Most marketplaces will ask you to set the rarity of your NFT, list the buying price, and customize your settings. Once your NFTs are listed, promote them to gain more revenue.
---
Buy Music NFTs
You do not have to be an artist to gain benefits from music NFTs. You can purchase royalty-bearing NFTs to derive revenue from a portion of the royalties whenever the music is used. You can also resell music NFTs when their value has increased.
To maximize your potential revenue from reselling music NFTs, consider not just the quality or creativity of the music but also its rarity. For instance, a limited edition NFT that comes with a vintage vinyl record will likely increase in value over time due to its limited supply.
An unknown yet promising artist also offers potential for substantial returns in the future. Be one of the first to purchase their music NFTs and wait for them to grow in value as the artist gains popularity and clout.
---
Music NFT Platforms and Marketplaces
There are dozens of marketplaces that make creating, buying, trading, and selling music NFTs quite easy. There are also platforms dedicated to music NFTs that provide artists with the tools they need to create digital copies of their music and turn them into NFTs.
If you're not entirely new to NFTs, you'd most probably already have an account at OpenSea, the largest NFT marketplace today. Explore its dedicated catalogue for music NFTs to find the latest collections from top-rated artists and promising musicians.
---
With more payment options and no ETH gas fees, Nifty Gateway is one of the most preferred marketplaces for creators and collectors. The custodial marketplace has a vast collection of music NFTs. You can purchase Curated Drops sold directly by music artists or Verified Drops that have been validated by the Nifty Gateway team.
---
For one-of-one or single-edition music NFTs, one of the best marketplaces to go to is Catalog. Since the site was launched, artists have generated over $2.6 million worth of music NFTs through their Catalog records. It's a good site to support your favorite artists or invest in those who you feel have great potential.
---
Invest in talented artists and receive a percentage in streaming royalty rights. Royal not only helps music artists mint royalty-bearing music NFTs but also enables NFT holders to share revenue from the royalties. This way, both artists and fans gain profit.
---
Retain a share in the copyright when you purchase a music NFT through Opulous. The platform integrates royalties into the tokens, so artists and token holders benefit from them. When you invest in an artist, you become an owner of a piece of their music.
---
Earn 50 percent of the revenue from royalties in the form of BSTAGE governance tokens when you hold BR-NFTs. Band Royalty, a marketplace dedicated to NFT music, lets musicians and fans alike gain revenue from music. The platform enables artists to release their music in NFT form and earn royalties whenever their song is played.
---
Sound.xyz is a platform that fosters collaboration among artists and fans. You can support upcoming artists and stake your claim on their music NFTs before everyone else does. Musicians can release limited track editions with up to 10 NFTs tied together. Traders and collectors can also mint special editions and resell the music NFTs on other marketplaces.
---
This app opens a new world filled with boundless opportunities for the music industry. It enables artists to mint their own 1/1s. The single edition NFTs can then be sold directly on the platform. Aside from creating NFTs, users can also collect and sell music NFTs.
---
Arpeggi is the first blockchain music creation platform that has a full suite of tools for composing music. It has an integrated digital audio workstation that enables artists to collaborate and create unique music. They can then mint their songs on fully on-chain NFTs and sell their music in the marketplace.
---
Support an emerging music genre by holding music NFTs from Beat Foundry. This platform lets music artists mint generative music and offer them for sale.
---
YellowHeart is known as the first-ever NFT ticketing platform that transforms how artists and fans connect. It fosters a more direct engagement between artists and fans by using NFT airdrops before, during, and after live events. It also has its own NFT marketplace where you can support both popular and new artists.
---
This NFT platform aims to restore the rights artists deserve. It empowers musicians to own full rights for their work and not be subject to unfair systems implemented by traditional streaming platforms. When purchasing music NFTs at Decent, you fund talented artists and share their successes.
---
An In-Depth Look at the NFT Industry
Blockchain technology offers promising developments in the world of music. However, the NFT industry is still very young and remains an emerging concept even for experts. Before participating and investing in music NFT, one must take an in-depth look at the NFT industry to understand its ins and outs.
Monitor trends and evaluate projections. Check out various marketplaces to further understand how music NFTs are performing. Just like any other investment, exercise due diligence and make well-informed decisions when investing in NFT music.