If you're looking for a new way to invest in real estate, you might want to consider non-fungible token (NFT) real estate companies.
These platforms use blockchain technology to allow investors to buy and sell property tokens. Each token is unique, making it a more secure investment than traditional real estate.
In this article, we'll cover the top 12 NFT real estate companies and share guidelines that can give you a better understanding of this new investment opportunity.
---
The Top 12 NFT Real Estate Companies:
---
What are Non-Fungible Tokens or NFTs?
Non-Fungible Tokens, commonly known as NFTs, are digital assets with unique ownership that can only be proven through recorded history on the Ethereum blockchain. They're also typically used for tracking and authenticating physical assets, such as art or game items.
NFTs have been gaining popularity, as they offer a more secure way to invest in digital assets in the metaverse. While traditional investments, such as stocks and bonds, are easy to counterfeit, NFT art, music, or other pieces cannot be duplicated, therefore making them more collectible and much safer investments.
---
Top 12 NFT Real Estate Companies
NFT real estate companies have only been around for a few years, but they are already making waves in the real estate industry. Here are the top 12 of the best NFT real estate companies to watch out for:
1. Decentraland
Decentraland is a virtual world that was created in 2015. The focus of the game is on building and owning an NFT virtual space called "land," which can be divided into parcels. These parcels of land are bought with Mana, the cryptocurrency token for this new digital world order.
Once you sign up, create your digital wallet, and purchase your parcel, you'll permanently own the land. Since you have full control of your digital environment, you are free to do whatever you want with it. This includes building structures, developing games, or creating art. If you don't want to use it yourself, you can sell or lease your land to other players.
---
2. Polka City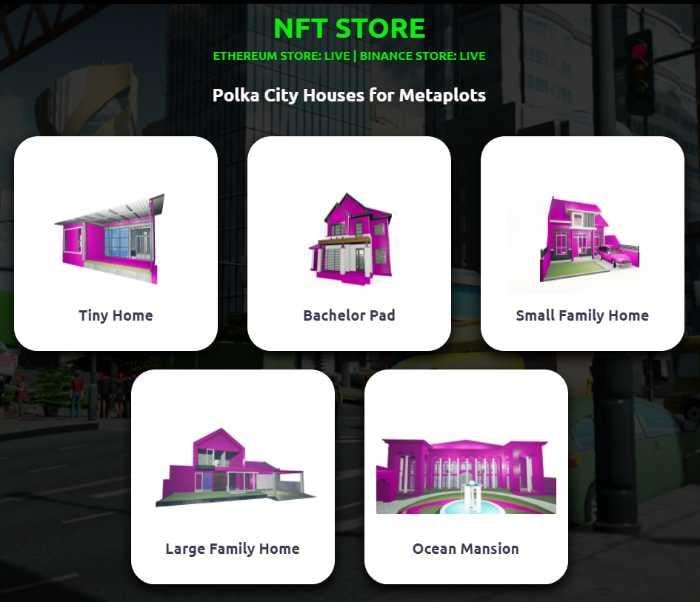 Polka City is a revolutionary platform that allows users to own virtual real estate and generates income. These NFT assets are contract-based, making it easy for you to generate income paid in the native POLC token.
The process to get started with Polka City is fairly easy. When you sign up for this real estate marketplace, you can choose which type of investments suit your preference. In addition, there is no need for a new blockchain wallet. You can start earning at Polka City with your existing Ethereum wallet.
---
3. SuperWorld

SuperWorld is a digital asset marketplace that allows you to create your own world and sell it for profit. Its Real Estate Platform allows you to trade, buy, and sell different NFT pieces of land, which measure around 100m x 100m of space in the real world. That's the size of a stadium where fans could watch a live concert in your world.
SuperWorld makes it easy for you to get started. You won't need to have any coding skills or experience with blockchain technology; all you need is an idea for your world. Here, you'll have the opportunity to monetize your property through analytics, gaming, digital commerce, and e-commerce, to name a few.
---
4. Cryptovoxels
Entering the Cryptovoxels virtual world and metaverse is like stepping into an entirely new reality. Founded in 2018, the NFT platform is a virtual place where you can buy land and build your own little world however you want. That means you can transform your blocks of land, called voxels, and build a game, create art, or even start your own business. If you get tired of your land, you can also sell it to other players in the marketplace.
What is interesting about Cryptovoxels is that you do not need an Ethereum wallet to explore the platform. You can get a realistic user experience of day and night cycles, weather, and avatar customizations. When you are ready to purchase, you can go ahead and buy land on the NFT marketplace, OpenSea.
---
5. Upland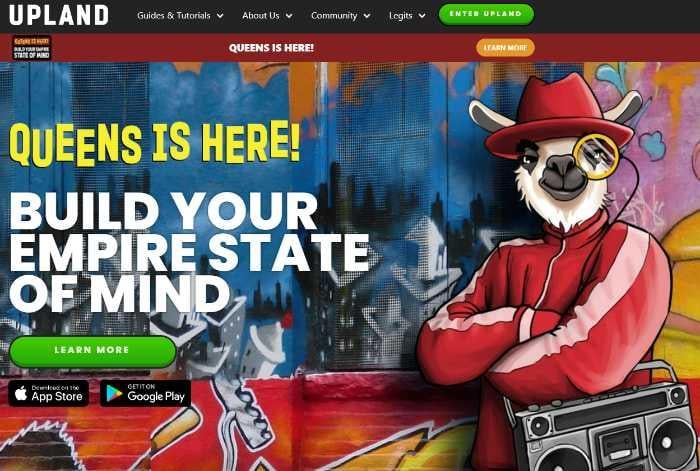 Upland is a virtual land marketplace that uses real-world addresses to map the property market. This allows users to trade their earned lands for real US dollars. Upland also allows players to collaborate with other members of the gaming community by earning profit and making new friends through its in-game businesses.
You can become a real estate entrepreneur in this new virtual economy by earning returns on your properties, collecting fees when you have visitors, or flipping your land to generate profit. At Upland, you can also earn income when you become a business owner.
---
6. Somnium Space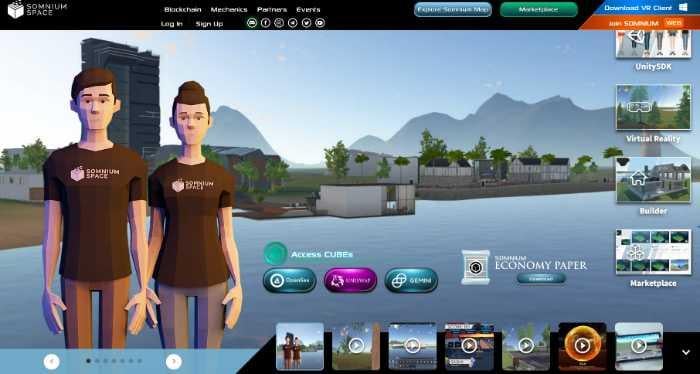 Founded in 2017 and launched in 2018, Somnium Space is a revolutionary new platform that will change the world of gaming and virtual reality (VR). The company created an open-source tech product built on the Ethereum Blockchain, which lets you buy and customize virtual properties such as bare land, parks, and buildings.
With the integration of blockchain into VR, users of Somnium Space can own digital goods, avatars, and other items. This creates a new economy where creators can monetize quickly through their programmatic advertising plugin that tracks engagement rates as well as conversion rates that are integrated into the VR games.
---
7. The Sandbox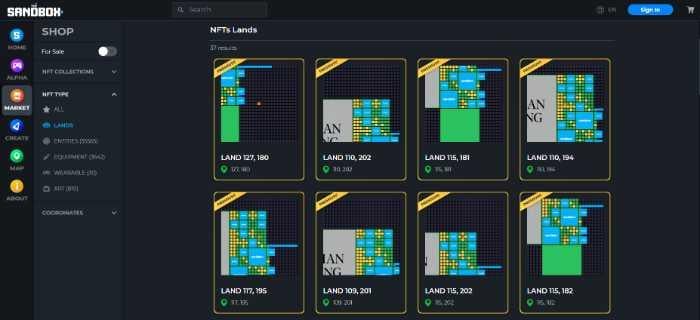 The Sandbox is another revolutionary virtual world powered by Ethereum blockchain technology where players can build their own gaming experiences from scratch using readily available or pre built building blocks. Here, you will be required to use $SAND, the utility token and currency of the platform to buy land and assets from their marketplace.
Investing in the land on Sandbox allows a lot of flexibility because you can build virtual experiences, like dioramas and games, and put assets, such as buildings, vehicles, or furniture. Owning land on this platform also gives you the option to combine them to make Estates.
---
8. Omni-PSI

Omni-PSI, a cutting-edge, revolutionary new platform that launched last year was created in partnership with the OMNI Real Estate Group and Passive Income. Said to be the world's first fractional real estate NFT marketplace, it enables buyers and sellers of tokenized property to purchase fractionalized assets, which are portions instead of whole properties.
Through Omni-PSI's sales process, they gather money through their NFT marketplace. Once they reach a hard cap amount specific to that property, they then purchase the lot and rent it out. The rent paid by these tenants gets divided among the fractional NFT owners of the property according to the number of shares they have.
---
9. Fraction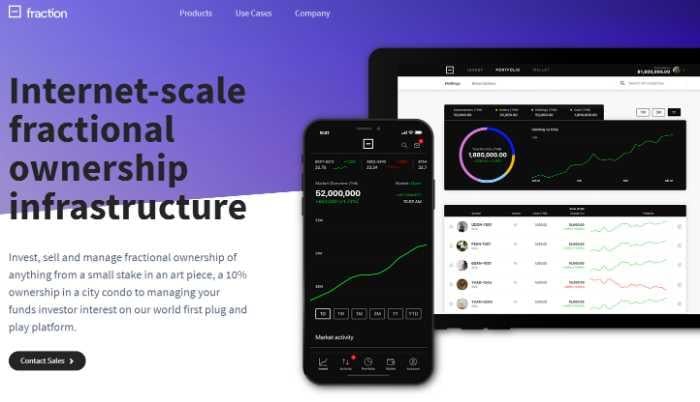 Fraction is a new real estate firm on the Ethereum blockchain that has been properly licensed by Thailand's SEC. The company aims to make investing in property more accessible for everyone, with its $150 minimum purchase requirement to own even a part of a premium real estate project.
With Fraction's plug-and-play platform, you can invest in a variety of assets, from small stakes to private funds. This is an advantage because it means that the platform has been designed with your needs and goals in mind.
---
10. Propy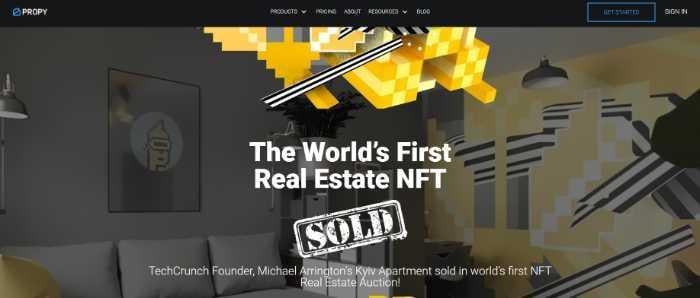 Powered by Web3 Technology, Propy is a one-stop shop for all your real estate needs. From finding homes on their comprehensive list to owning them and even negotiating deals with sellers - they have got it covered.
Last January 2022, Propy launched its NFT platform in the United States, which allows real-world properties to be bought and sold as an NFT. By recording the real estate transactions on the blockchain, the buyer gets access to the property's legal documents that signify ownership within a span of minutes. It is good to note that ownership of a real-world property is not fractional. They will not only get a property in Florida but also own a US-based entity that owns the very same land.
---
11. RealT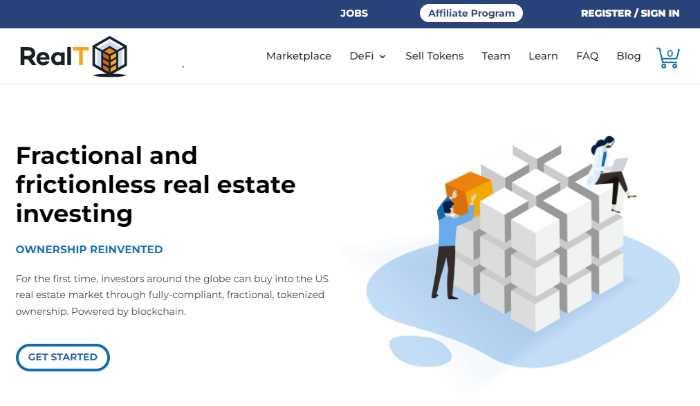 RealT is a real estate firm that has properties located in the United States such as Chicago, Detroit, and East Cleveland. It offers cost-effective and simplified investments by eliminating the need for paper deeds.
With the use of the Ethereum blockchain, you can fractionally invest in real-world properties through their NFTs called RealTokens. Owning property on this platform allows you to collect rental payments on a weekly basis. Alternatively, you can also cash out your investment anytime you want through their online portal.
---
12. Vesta Equity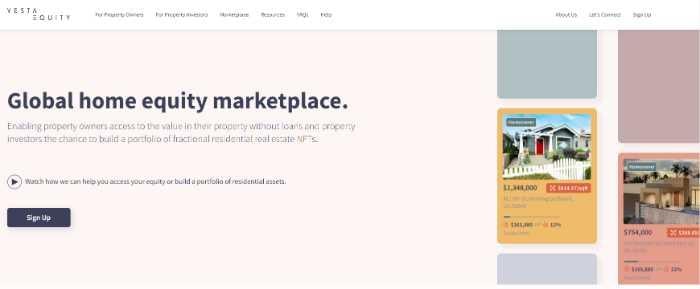 Vesta Equity is a new project Real Estate NFT that was launched in February 2022 on Algorand, one of the decentralized blockchain infrastructures around.
This is unique because both property owners and investors can have the chance to directly connect with each other through the company's tools and marketplace. When a property is tokenized and negotiations and agreements are finalized on the percentage of the property, the investor gets full residential rights fully retained through the platform. Aside from not having any monthly payments, the investor also partakes in the property's appreciation.
---
Fractional NFTs Versus Traditional NFTs in Real Estate
NFTs, in general, can be broadly classified into two types: fractional NFTs and traditional NFTs. Fractional NFTs—sometimes called F-NFTs—are those that represent a fraction of an underlying asset, while traditional NFTs represent the whole asset.
The process of NFT fractionalization can be reversed, which means F-NFTs can be turned back into a whole traditional NFT. Typically, there is a buyout option in the smart contract where an F-NFT owner can purchase all of the fractions, thereby unlocking the original NFT.
---
Advantages of Investing in Real Estate NFTs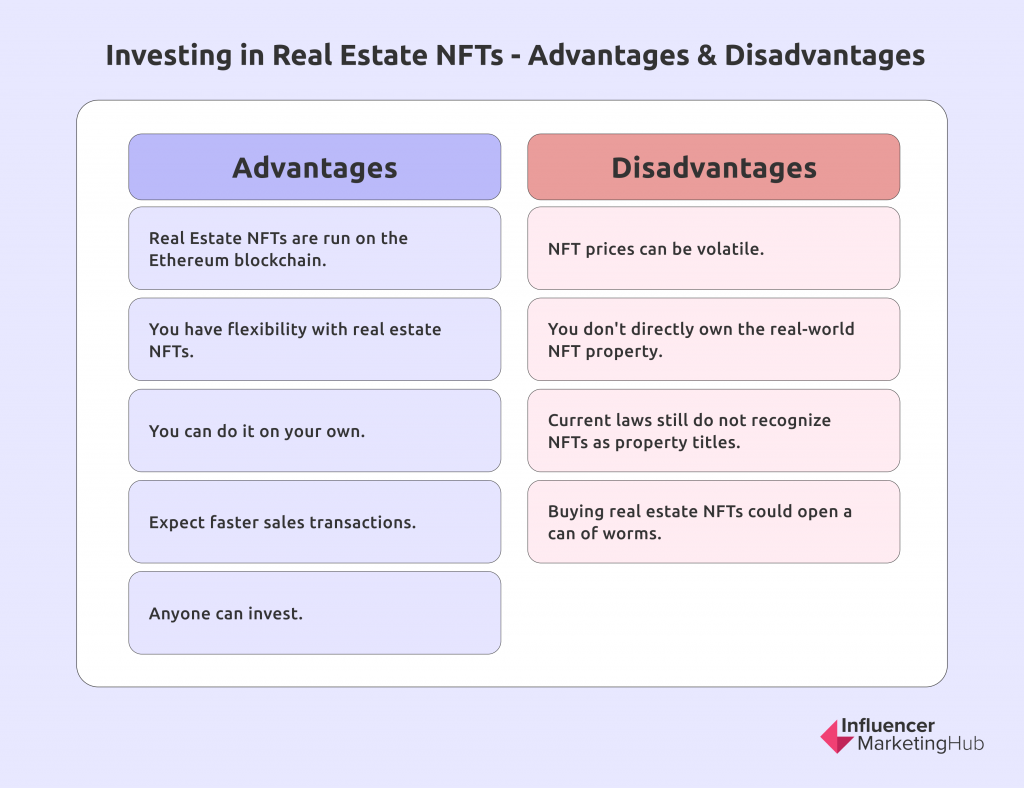 There are several advantages to investing in real estate NFTs. Here are a few of them:
Real Estate NFTs are run on the Ethereum blockchain.
Transactions and real estate investments as NFTs are unique and are less likely to be the same as other NFTs.
You have flexibility with real estate NFTs.
With the option of an F-NFT or traditional whole NFT, you have the freedom to put your eggs in your preferred baskets. You also have the freedom to buy, sell, or trade your property anytime you want. This also makes it possible for anyone to invest in property, regardless of their wealth or location.
You can do it on your own.
You do not need to go through a real estate broker. You can buy, sell, and trade your real estate NFTs directly with other investors.
Expect faster sales transactions.
Purchasing NFT properties takes a shorter time to process with the minimal waiting time. That's because smart contracts that are used for real estate NFTs automate many of the processes, making it a very efficient way to buy and sell a property.
The advantage of real estate NFTs is that anyone from around the world can purchase an NFT property. This goes against the traditional real estate market that can be quite exclusive to those who can afford a certain property.
---
Disadvantages of Investing in Real Estate NFTs
Investing in either physical or virtual real estate properties as NFTs can be very promising, but there are also a few disadvantages to keep in mind before you make the big purchase. Here are a few of them:
NFT prices can be volatile.
You may not be able to sell your property for as much as you paid to own a property. In the event of a dip in the property value, you may not see the same return on your investment that you were hoping for.
You don't directly own the real-world NFT property.
Unfortunately, current laws do not recognize NFTs as property titles. Since physical real estate cannot be directly tokenized, the workaround is for the investor to own the property through a legal entity.
Current laws still do not recognize NFTs as property titles.
Since NFTs in real estate are quite new, many countries still do not have the proper education when it comes to real estate tokenization. Your digital purchase of a property as an NFT may still have gray areas in terms of legal ownership, and institutions still need to find a way to catch up on this new technology to change how deeds are recorded.
Buying real estate NFTs could open a can of worms.
Virtual real estate NFTs may not be at risk in this respect as compared to real-world NFTs. There are undeclared mortgages and unpaid real estate taxes that you may have to deal with after paying for the property. If you do away with performing the standard due diligence when it comes to buying real estate, you could end up with more problems than you expect.
---
Owning a Physical vs a Virtual Real Estate NFT
A physical real estate NFT, such as a townhouse in New York, can be made an NFT through tokenization. A virtual real estate NFT, on the other hand, is a piece of land within the digital realm often referred to as the metaverse.
The main difference between a physical and a virtual real estate NFT is that virtual lands are commonly built and developed with a lot of freedom, flexibility, and creativity. You will need a lot of time to create an estate that is customized to your own liking. For example, you can add trees or a river running through your land. You also have the power to decide how big or small your land will be.
When it comes to physical real estate NFTs, you are more limited in what you can do with the property. You can make changes and renovations, but nothing too drastic, as this may lead to legal trouble if ever local government regulations when it comes to renovations and construction aren't observed.
---
Can You Use Real Estate NFTs for a Loan?
The world of real estate and the concept of NFTs are still quite new, but it is possible to use your real estate NFT as collateral if you want to take out a loan. In fact, lending company, Helio, has partnered with Propy in this venture. With your NFT property, you can borrow between 20% to 70% of its cash value.
---
Final Thoughts
As Ethereum blockchain technology continues to evolve, so too will the ways in which we can use NFTs to invest in the physical world or virtual real estate. While its use in this industry is still quite new and experimental, companies and investors who believe in the vision are already beginning to see the potential of NFTs as the future of real estate investments.
Institutions and individuals who want to get involved in this burgeoning field should keep an eye on its development and be prepared to jump in when the time is right. With more time, education, and insight into what NFTs are, how they really work, and the risks and regulations around both physical and virtual properties, this can become a global phenomenon just waiting to happen.