Research Methodology
The data presented in this report was collected from the top 25 Ethereum-based NFT launches of all time, sourced from OpenSea. We pulled the volume, floor price, and number of owners for each of the collections before utilizing our own data to pull further information about the launches, including affiliated brands and notable followers.
Using their metrics, we were able to compare the top NFT launches to each other and gather key takeaways on the state of the metaverse and crypto industry. This report gives a comprehensive overview of key terms and the chronology of the metaverse, cryptocurrency, and NFTs. Our analysis of the top NFT launches offers a deep dive into the industry, providing insight into what it takes to successfully launch an NFT collection. Ultimately, this report should generate a better understanding of the industry and how the metaverse, NFTs, and cryptocurrencies work together.
---
Understanding NFTs and The Metaverse:
---
What is the Metaverse?
The metaverse is a three-dimensional virtual world in which consumers immerse themselves in the buying and selling of goods online. The metaverse aims to seamlessly transition the connection between physical and digital lives. It is a combination of virtual worlds and augmented reality.
The term "metaverse" was first coined by Neal Stephenson in his 1992 novel Snow Crash. He used it to describe a virtual world that humans could inhabit. While virtual reality has continued to grow throughout the 21st century, the term "metaverse" only recently became mainstream due to the influence of Facebook.
Cryptocurrency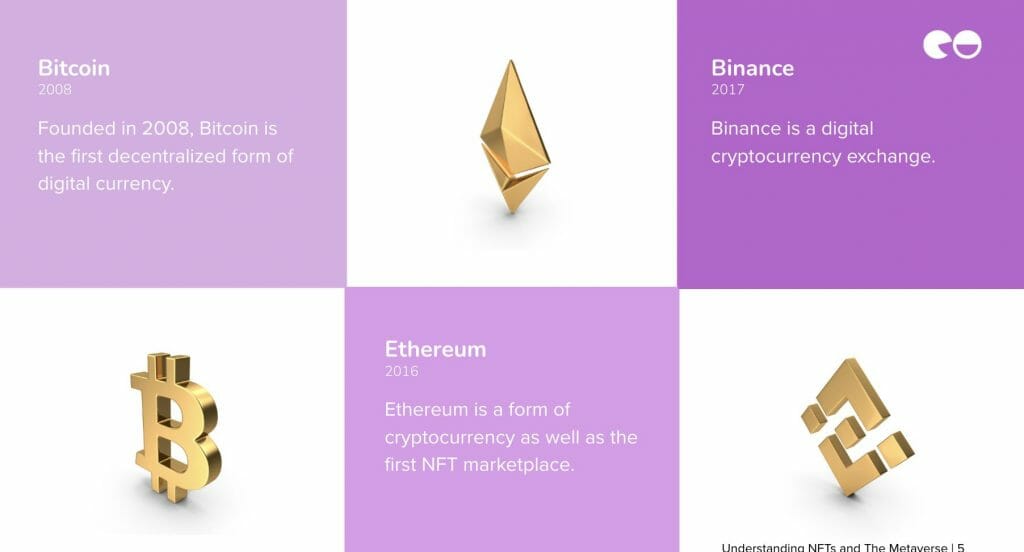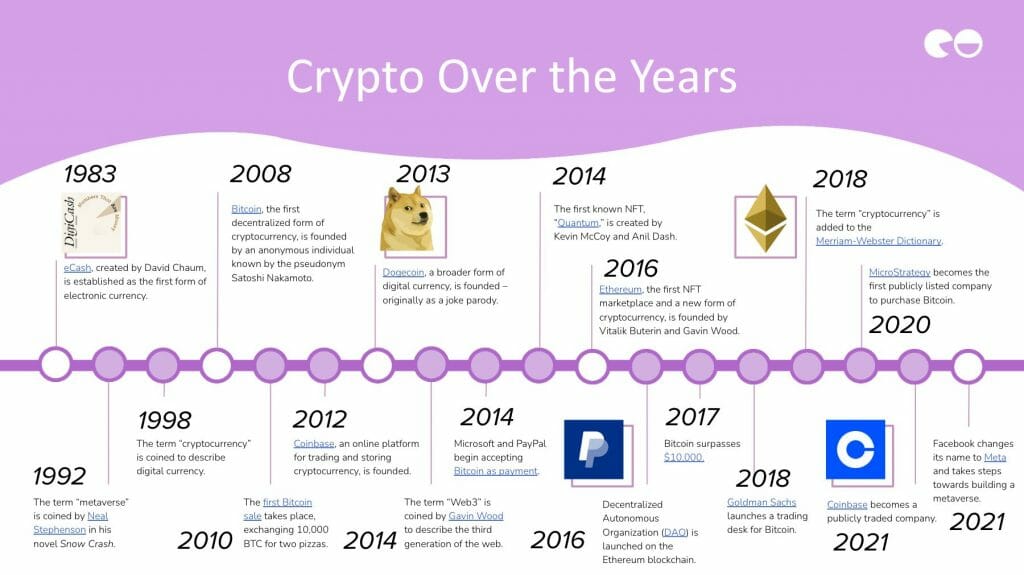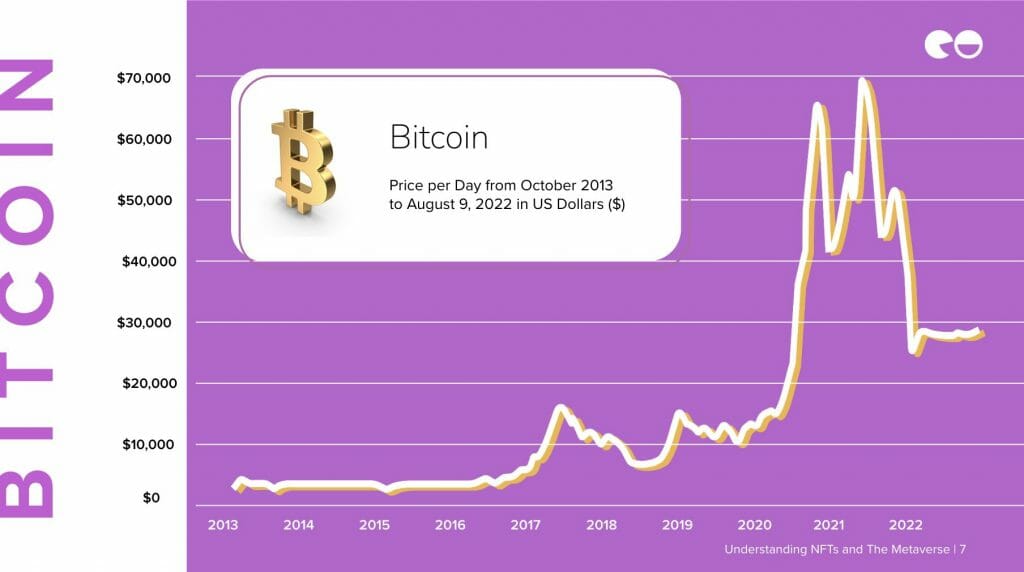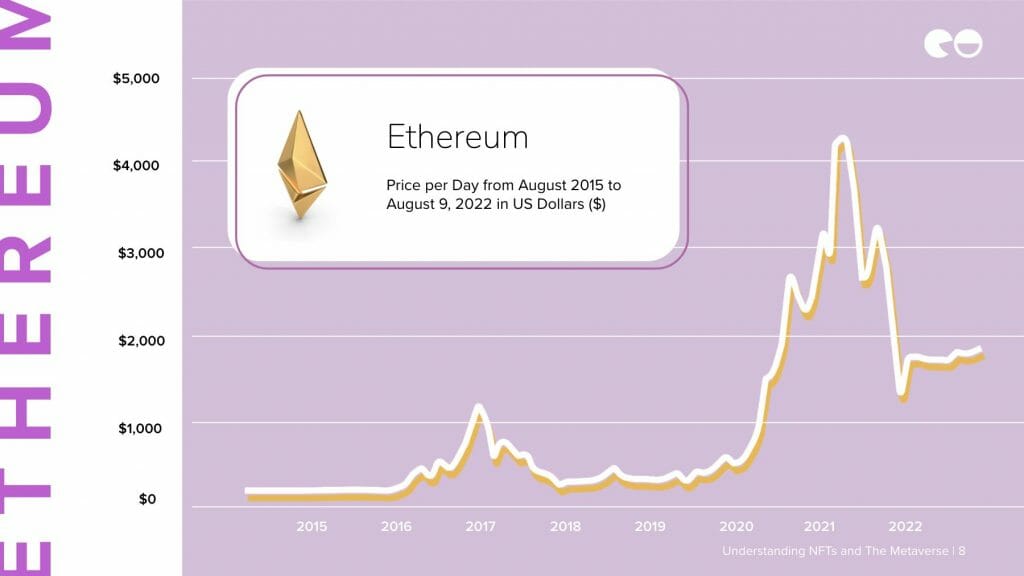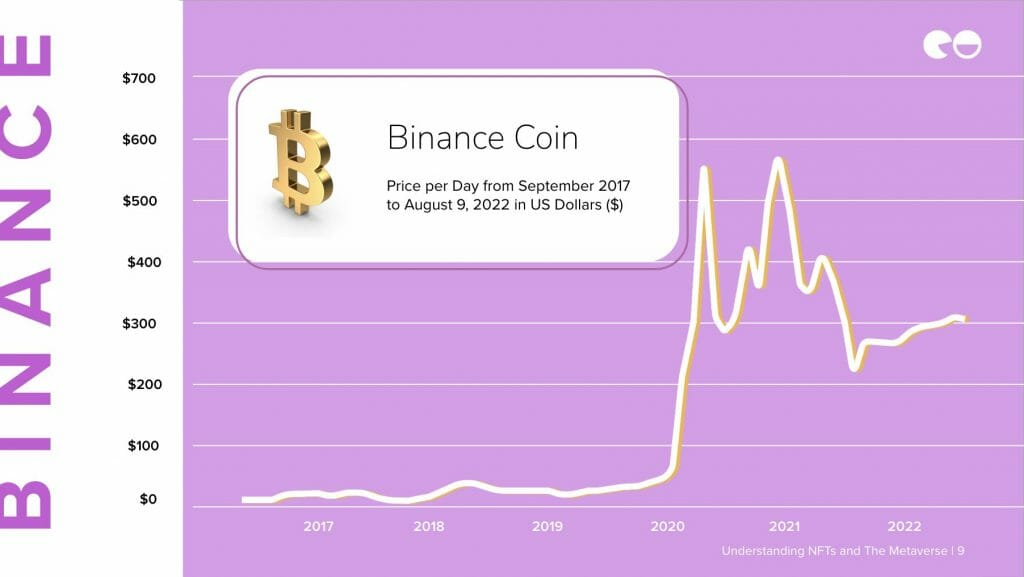 ---
What are NFTs?
NFT is an abbreviation for the phrase Non-Fungible Token - a form of cryptocurrency where data is digitally stored in a blockchain. They can be sold and traded, switching ownership from individual to individual upon buying and selling.
NFTs started gaining traction with niche audiences in the mid 2010s, with the first NFT, Quantum, created in 2014. In 2021, the increased presence of crypto and conversations surrounding the Metaverse in the mainstream media led to the exponential growth in the popularity of NFTs present today.
How are the two connected?
Blockchains are the heart of the metaverse, and NFTs are stored and tracked within blockchains.
---
Top NFT Collections
Why do people buy NFTs?
If you're trying to get a better understanding of NFTs, cryptocurrency, and the metaverse, you may be wondering why people buy NFTs. To answer this question, let's look at NFTs as digital assets. These assets represent tangible objects like art, music, collectibles, etc. Therefore, owning an NFT constitutes ownership of whatever item it represents. In turn, any benefits associated with owning a physical piece of art, for example, would also be associated with owning that piece as an NFT.
Some individuals buy NFTs because they enjoy an artists' work and want to support them. Additionally, they may just enjoy a certain piece and want to own it for their own sake. Many others buy NFTs as a short or long-term investment, reselling them to turn a profit or holding onto them as they increase in value over time.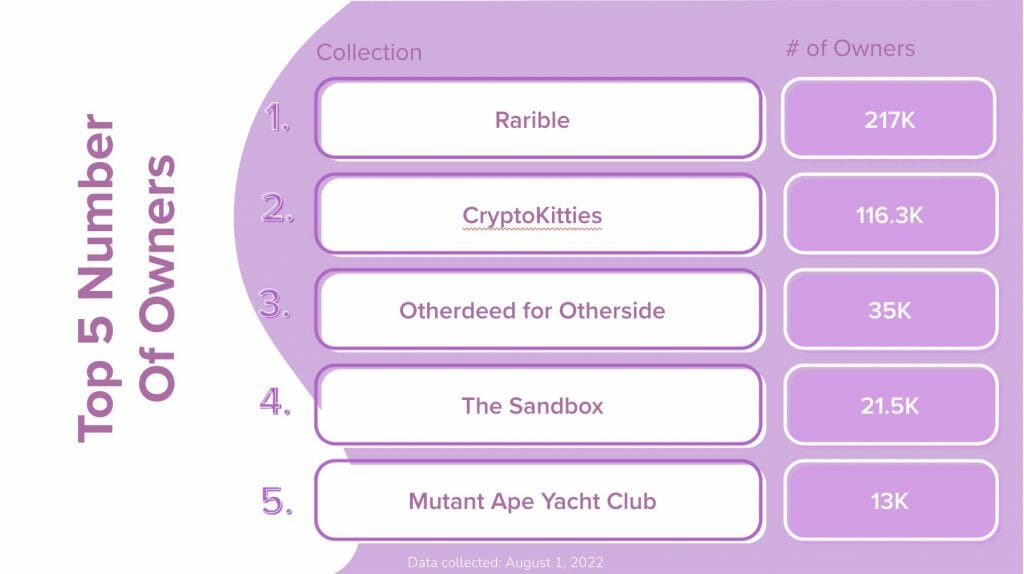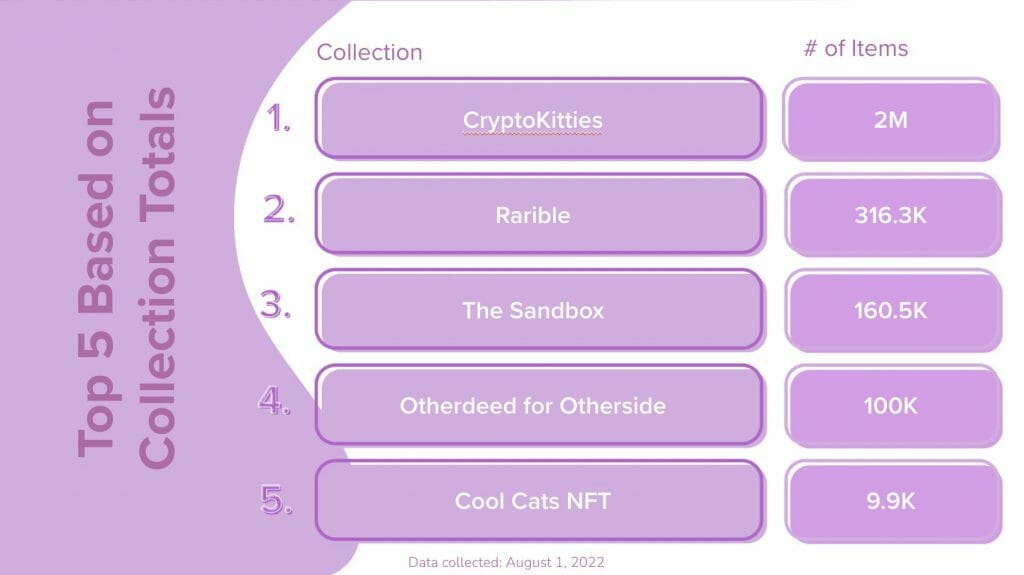 ---
CryptoPunks
CryptoPunks is an NFT collection that was developed by Larva Labs in 2017. It consists of 10,000 unique characters designed by John Watkinson and Matt Hall. In March of 2022, Yuga Labs acquired CryptoPunks.
---
Bored Ape Yacht Club
Created by Yuga Labs, the Bored Ape Yacht Club is an NFT collection that features 10,000 unique bored apes. The NFT project, launched in 2021, features images designed by Greg Solano and Wylie Aronow.
---
Mutant Ape Yacht Club
The Mutant Ape Yacht Club is a spin-off of the Bored Ape Yacht Club. The collection was launched in August 2021 and features the same apes from the original collection. Except these apes have been exposed to a mutant serum and transformed. These can only be purchased by individuals who also purchased an NFT from the Bored Ape Yacht Club collection.
---
Otherdeed by Otherside
Otherdeed is a collection that was released for metaverse game Otherside, both developed by Yuga Labs. The collection features diverse land plots for buyers to own within the game.
---
Art Blocks Curated
Art Blocks is a platform founded by Snowfro, also known as Erick Calderon. The platform launched in 2020 and displays curated collections of NFT projects by a variety of artists and creators.
---
Azuki
The Azuki NFT collection includes 10,000 unique avatars. Once purchased, buyers gain access to Azuki's digital world and community, The Garden.
---
Decentraland
Decentraland is a virtual world developed by its users, and the Decentraland NFT collection consists of land within the game. Buyers can collect these parcels of land, then buy and sell them as they help develop the world.
---
CLONE X – TAKASHI MURAKAMI
CLONE X – X TAKASHI MURAKAMI launched in 2021. The collection consisted of nearly 20,000 3D avatars designed by virtual brand, RTFKT, and Japanese artist, Takashi Murakami. Clone X has worked on many brand collaborations, including Nike and Supreme.
---
The Sandbox
The Sandbox is a metaverse gaming platform where users can participate in a virtual world and community. The land and assets from the NFT collection are then monetized within the game.
---
Moonbirds
Founded by Kevin Rose, Moonbirds consists of 10,000 unique pixel-art owl avatars. Buying one of these NFTs gives the owner membership to an exclusive club run by the Proof Collective.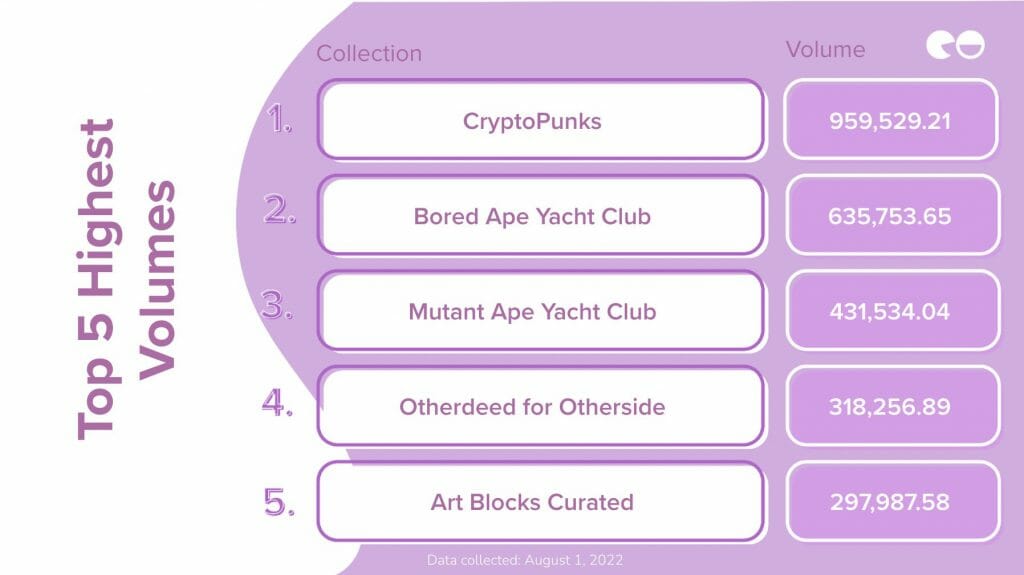 ---
NFT Trends
As NFTs become more mainstream, new trends emerge in the marketing sphere.
Just this year, we have seen NFTs implemented in a variety of different industries. For example, while promoting season four of their show Stranger Things, Netflix launched collectible NFTs. Additionally, Coachella created an NFT marketplace on Solana that allows consumers to purchase lifetime festival passes. We have also seen a rise in the number of play-to-earn NFT games, as well as watch-to-earn advertisements.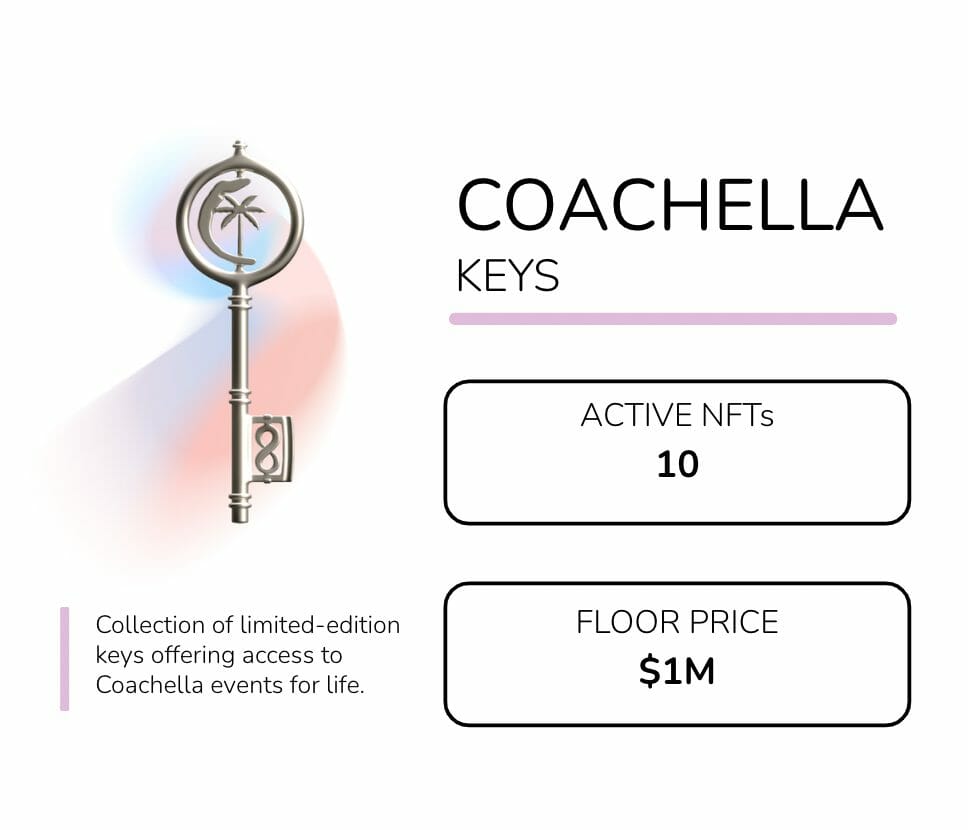 ---
Top NFT Trading Platforms
By total lifetime volume traded
OpenSea
OpenSea is the largest decentralized NFT marketplace that allows traders to buy, sell, and upload NFTs. The platform uses an auction system for sales and provides metrics about collection size, volume, and number of owners. Learn more about OpenSea here.
Rarible
Rarible is a creator-focused NFT marketplace built on Ethereum. The platform allows creators and artists to sell their NFTs while also having complete ownership over their tokens and the trading process. Like any marketplace, users are able to buy and trade NFTs on the platform.
NBA Top Shot
NBA Top Shot is an open, basketball-centric NFT marketplace that was launched by the NBA and Dapper Labs in 2020. Through the platform, users are able to buy, sell, and trade collectible basketball highlight clips.
NFT Flywheel
This NFT flywheel demonstrates the momentum and growth of the NFT industry.
The chart shows platforms, blockchains, and brands at its core. As the industry gains more momentum and more consumers buy into it, more platforms, blockchains, and brands are emerging. An increasing number of existing brands are being drawn to the industry for this same reason. This flywheel is a visual representation of how industry leading brands like Nike and Samsung have also become significant players in the NFT industry.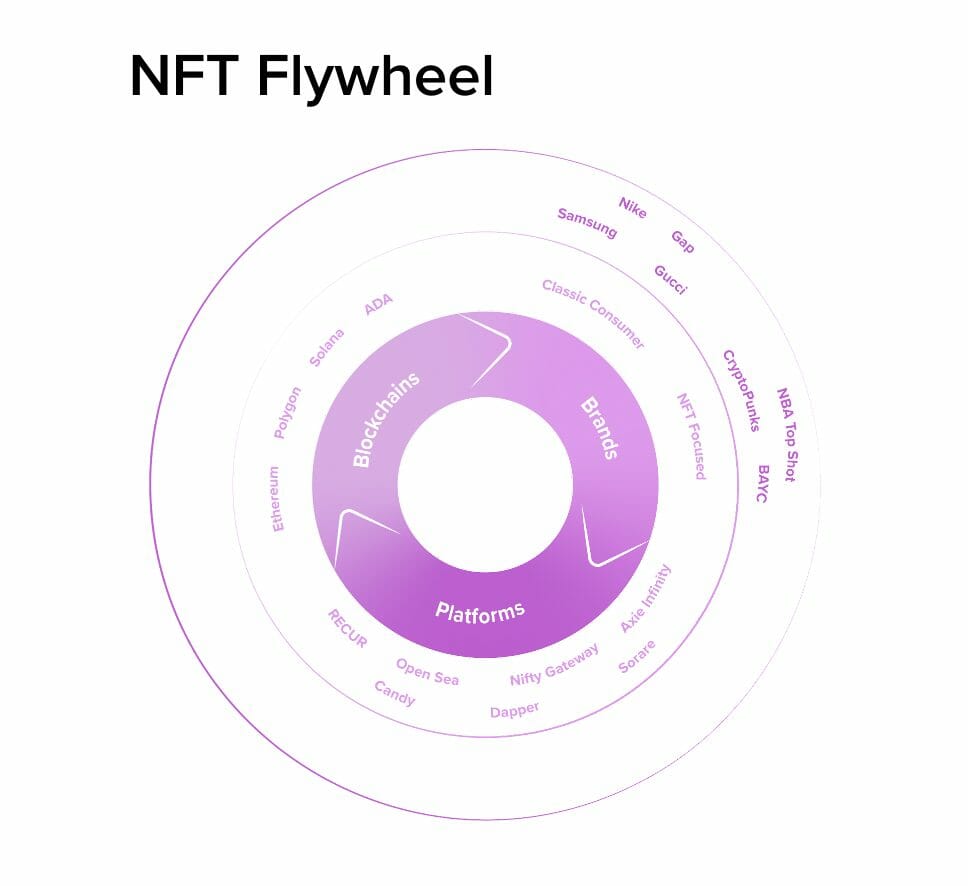 ---
Discord
What are NFT Discord Channels?
Discord is a messaging platform that allows users to communicate with each other using a particular server or channel. Discord channels serve as communities where users connect to discuss shared interests.
The platform is often utilized by NFT project developers. For example, a developer may establish a Discord channel in which they share announcements and give updates about their project. NFT Discord channels also allow members to discuss the project and share their thoughts and critiques with one another. Not only is this a good way for developers to gauge audience sentiment, it also serves as a powerful community for individuals with similar interests. There are also a number of existing NFT Discord communities that solely provide a space for individuals to discuss NFTs and the crypto industry in general.
People consider joining an NFT Discord channel for a number of reasons. Whether they are interested in the launch of a particular NFT project or are looking for a platform to discuss industry updates, NFT Discord communities provide the perfect opportunity to get involved in the space.
---
OpenSea NFT Community
The NFT marketplace OpenSea has its own Discord server that features a number of NFT channels for industry trends and updates. From artists sharing information about an upcoming project to a user giving insight on projected trends, this server features a diverse range of industry participants.
---
CryptoPunks Discord
The CryptoPunks Discord server was established by Larva Labs, the developer of the CryptoPunks NFT project. It serves as a platform to discuss CryptoPunks, as well related NFTs and the industry as a whole. Although only owners of a CryptoPunk NFT are able to contribute to the conversation, non-owners can view threads, receive updates from the developers, and learn more about the industry.
---
Brain Vomit's Garden
Brain Vomit's Garden is an NFT project that features 4,444 unique flower images. NFT owners receive access to exclusive drops and experiences. Brain Vomit, the company who developed this project, started a discord channel to provide updates on upcoming projects and initiatives.
---
Clone X
The Clone X discord community was established by Nike's RTFKT, the developer behind the Clone X NFT collections. This community serves as a space for NFT owners and other curious minds to discuss industry topics and upcoming projects headed by RTFKT.
---
Vee Friends
The Vee Friends Discord server was established by the developers of the Vee Friends NFT project as a hub for information and NFT education. It has grown to support hundreds of thousands of users, becoming a community where members share ideas and discuss the industry.
---
Crypto Baristas
Crypto Baristas is an NFT collection that features a number of coffee-pouring characters. Purchasing an NFT from either of the two seasons of the project supports coffee initiatives in the physical world. The Crypto Baristas Discord server was established to inform members about the project, as well as serving as a space for discussion and education.
---
Beeple
Mike Winkelmann, also known as Beeple, is a seasoned digital artist notorious in the NFT space.
Noted in the timeline, MetaKovan bought one of Beeple's NFT pieces for $69 million. This piece, "Everydays: The First 5000 Days," was the culmination of a 14-year-long project during which Beeple created one piece of digital artwork every day. The collage of all of these images was highly anticipated in the NFT industry, with the ultimate sale breaking records.
---
Erick Calderon
Erick Calderon, also known as Snowfro, is the CEO and founder of Art Blocks, a generative art platform that features curated collections of NFT projects created by a variety of artists. He launched the platform in 2020 and it has been a monumental success.
In addition to Art Blocks, Snowfro is also known for his successful NFT collection, Chromie Squiggle.
---
Kevin Rose
Kevin Rose is an entrepreneur, podcaster, and thought leader in the crypto space. He is currently a partner at True Ventures and has founded multiple companies and apps such as Digg, Zero, and Oak.
He is well-known for being the founder of the Moonbirds NFT collection, which we earlier recognized as one of the top successful NFT launches.
---
Crypto & NFT Marketing Strategies
How do brands market within the Metaverse?
Top brands like Netflix and Samsung have expanded their marketing techniques within the metaverse and crypto-sphere. Over the past few years, we have seen more and more brands explore the metaverse and NFTs through their marketing strategies.
Nike is a prime example. The brand acquired RTFKT, launched a line of digital sneakers or "Cryptokicks" with Clone X, and established a metaverse-like world, NIKELAND, in Roblox. Their "Cryptokicks" launch was a massive financial success, with single NFTs selling for up to $134,000.
Some other examples include Gucci, Tiffany, Adidas, and Dolce & Gabbana. By placing themselves at the forefront of the emerging NFT marketing space, these brands established themselves as thought leaders in both the marketing and NFT industries. By embracing the transition into the digital world, they enhance their brand identity, relevancy, and set themselves apart from their competitors.
---
Most Popular NFT Social Platforms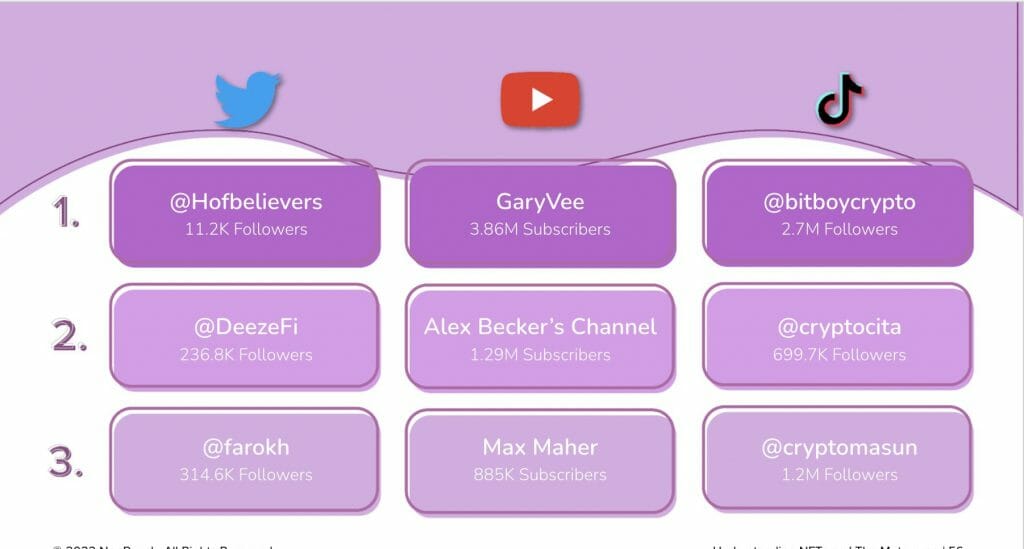 Twitter
@Hofbelievers: House of Believers NFT collection features 4,444 bear avatars. Their Twitter account is one of the most popular in the Web3 community.

@DeezeFi: DeeZe, an industry thought leader, is the Director of Vibes at Tessera, a company that allows creators to sell portions of their NFTs.

@Farokh: Farokh is another one of the most popular NFT creators on Twitter. They co-founded Rug Radio, a decentralized Web3 media brand.
---
YouTube
GaryVee: Gary Vaynerchuk is an entrepreneur and informational content creator. He is the founder of Vayner Media and creator of Vee Friends

Alex Becker's Channel: Alex Becker creates content on industry topics and gives financial advice on his platform. He has also created and worked on a number of NFT projects.

Max Maher: Max Maher creates content about NFTs and the crypto industry on his YouTube channel. Through this work, he has established himself as one of the most popular NFT creators on the platform.
---
TikTok
@bitboycrypto: Ben Armstrong is a content creator and cryptocurrency enthusiast. He is the founder of BitBoy Crypto, an educational resource that aims to educate the crypto community.

@cryptocita: Alina Pak is a TikTok creator who posts content about all topics surrounding the crypto industry. Her high quality content has established @cryptocita as one of the most popular and credible TikTok accounts in the industry.

@cryptomasun: Mason Versluis uses his platform to post informative content on the crypto industry. He has also established a crypto discord community Gold Squad.
---
Afterparty
Afterparty is a platform that hosts a digital community of creators and artists. On the platform, creators are able to collaborate with one another and engage with their audience.
Afterparty is paving the way for creator-focused NFT platforms, allowing creators and fans to engage through a variety of different events and experiences. The platform celebrates musicians, artists, and creators of all types, providing them with a space to interact with their audiences.
For example, the platform hosts an annual NFT Art + Music Festival, featuring artists from a variety of genres. The headliners of the 2022 festival included The Chainsmokers and The Kid Laroi.
---
Future Predictions
Metaverse Trends
In addition to NFTs, we have also seen a number of emerging trends corresponding with increased popularity and knowledge of the metaverse.
As for the metaverse, we have seen brands like Samsung leverage the space by creating virtual, interactive experiences for consumers. We have also seen the emergence of more metaverse games, following in the footsteps of games like Second Life and Roblox. Tech giants like Microsoft and Meta are even creating their own metaverses, like Microsoft's Horizon Worlds. Virtual live performances emerged as a recent trend in the metaverse, including ABBA's Abba-tars and Travis Scott's Fortnite concert.
---
Based on our Research
After reviewing the state of the metaverse and crypto industry, we must ask: what's next for the industry? Ultimately, we expect the overarching community to continue to strengthen and grow.
We project that long-term success will circle back into the creation of an engaged and authentic Web3 community. Purpose, value, and relevance will be the driving factors behind these communities, and connecting them will create bridges between new and old members.
---
Editor's Note
This report presented a comprehensive overview of the state of the Metaverse, touching on it's growing position in the marketing industry. By looking at and comparing the top NFT launches, we came to a better understanding of this position. As we continue to transition into the digital world, new forms of digital marketing will emerge.
That being said, NFT marketing is on the rise – and we have seen more and more industry power players begin to utilize it in their strategy. From Nike to Meta, a number of brands already established themselves as thought leaders in the industry. Therefore, brands and marketers alike may look to these brands when analyzing and predicting future trends in the space.
In the next couple of years, we expect to see the Metaverse and the crypto industry grow to new heights. Since these topics entered the mainstream media, brands, marketers, and celebrities entered into the crypto-sphere to make their mark on the industry. We expect the trend to continue in the coming years. The metaverse is constantly growing and gaining momentum – and it's not slowing down anytime soon.
Frequently Asked Questions
How will NFTs impact the metaverse?
NFT technology lets individuals have ownership of digital assets like images, videos, and audio within the metaverse. NFTs allow individuals to sell or buy items and transfer them through the metaverse.
What is the relation between NFTs and metaverse?
NFTs ar part of the metaverse's virtual real estate. These NFTs serve as a legal agreement of ownership and help build land and buildings in the metaverse. To purchase, trade or build land in the metaverse, you will need to mint an NFT for the property.
Is there a metaverse NFT?
NFTs allow you to own own interoperable digital goods in a virtual metaverse. These NFTs help empower your crypto wallet and use cryptocurrencies with metaverse-only digital goods. That includes avatar clothing, avatar animations, virtual decorations, and weapons.
Can you buy NFTs in metaverse?
If you use a Coinbase Wallet on your mobile phone, you can absolutely buy Metaverse NFT Index in the app. You can find the purchasing area under the assets tab and then click on trading.