Advertising Disclosure
Advertising disclosure:
Our partners compensate us. This may influence which products or services we review (also where and how those products appear on the site), this in no way affects our recommendations or the advice we offer. Our reviews are based on years of experience and countless hours of research. Our partners cannot pay us to guarantee favorable reviews of their products or services.
eBay is a superb platform to showcase and sell products. However, with 1.7 billion live listings as of 2022, competition can be tight and it can be challenging to find profitable niches. 
Using a product research tool is essential for eBay sellers who want to stand out in an increasingly competitive market. These tools eliminate guesswork by identifying niche categories where a seller has the best chance of success. They also provide valuable insights into customer behavior, giving you a competitive advantage against other sellers in your category or niche. 
Here are some of the best eBay product research tools to help you decide which one to invest in.
---
7 Best eBay Product Research Tools in 2023
---
---
---
---
---
---
---
Pros and Cons of eBay Product Research Tools
Product research eliminates guesswork and helps analyze customer behavior and demand, ensuring that your product ideas will make a profit.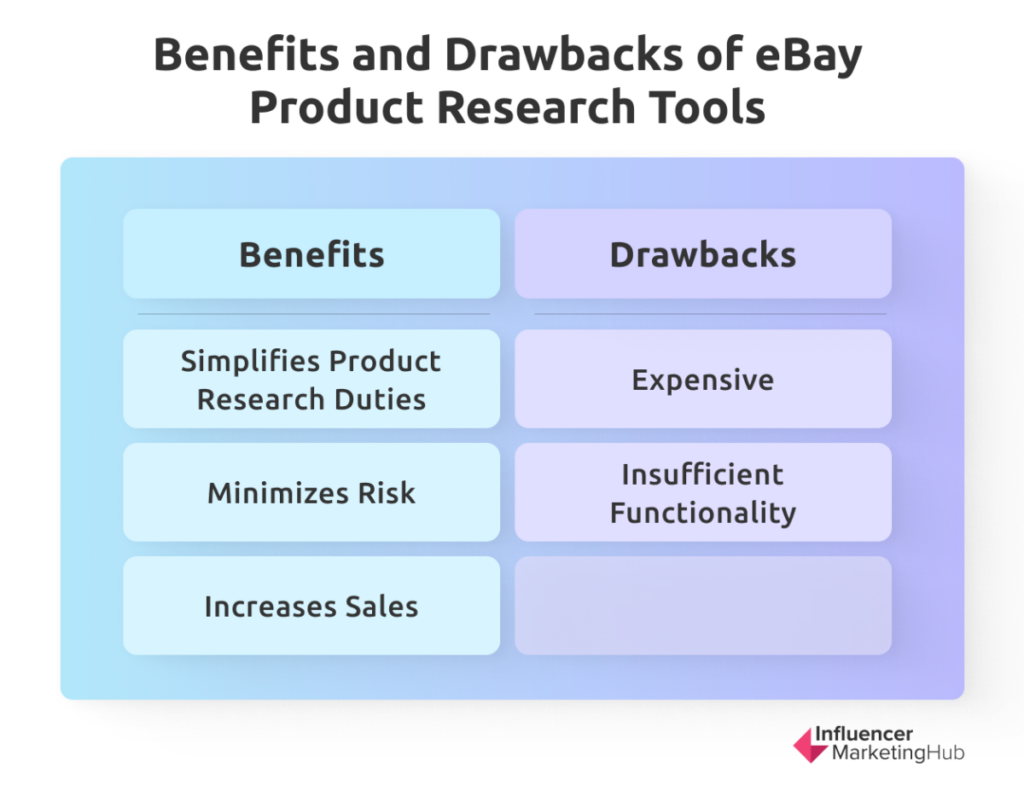 But like most eCommerce software, eBay product research tools have their fair share of pros and cons. It's best to know them before investing in any particular tool.
Pros
Streamlines Product Research Tasks
With an eBay product research tool, you don't have to spend hours combing through eBay listings. All you need to do is enter a keyword or product name, and all the relevant information you need will be displayed on your screen. Some tools even give you supplier options to help source your products without additional research.
Although running a business always involves risks, product research can minimize them. You can turn any market situation to your advantage when you know which product to sell and when. If you want to expand your catalog, rebrand, or tap into a new market, product research will ensure that the benefits outweigh the risks, maximizing your chances of success.
eBay product research tools can tell you what your target audience needs and wants. You can also stay updated on trends and tailor your product ideas and marketing strategies based on these. 
Some tools even show customer feedback, giving you opportunities to improve a trending product based on the weaknesses you identify. As a result, you can sell a product with greater value and draw more revenue.
---
Cons
An eBay product research tool can be expensive, especially if you've just begun your business. But you can find a tool that doesn't break the bank by focusing on options with flexible pricing plans. Several tools have scalable features, so you only have to pay more when your business grows.
With numerous eBay product research tools in the market, comparing options and eventually choosing one can take some time. However, rushing the process can result in selecting a tool that does not have the features your business needs. It's crucial to take the time to research and compare different tools based on their features, pricing, and compatibility with your business model before making a final decision.
Now that we've explained the pros and cons of eBay product research tools, let's discuss the features you should look for to ensure that you'll end up with the tool best suited for your business. 
---
Features to Look For in an eBay Product Research Tool
The features you should look for in an eBay product research tool depend on different factors, such as the size of your business, model, and budget.
As a new eBay seller, you may benefit most from simplified reports and analytics, competitor analysis, keyword research tools, listing builders, and a user-friendly dashboard. In that case, Terapeak could be the best eBay product research tool for you. It's free for Basic, Premium, Anchor, and Enterprise eBay Store subscribers. If you want to use Terapeak Sourcing Insights, it only costs $12 a month for Starter Store subscribers.
ZIK Analytics and ShelfTrend may also suit new eBay sellers and medium-sized businesses. ZIK Analytics has affordable paid plans for businesses of any size, while ShelfTrend has scalable plans for every type of eBay seller.
If you're an eBay dropshipper, AutoDS and SaleHoo are specifically designed for your business model. Their features aid in supplier selection, product category search, store configurations, and trend monitoring, helping your dropshipping business take off successfully.
Lastly, advanced features such as competitor analysis, profit and ROI estimation, forecasting, and Business Intelligence reports may greatly benefit large businesses. Although these eBay product research tools can be expensive, their capabilities extend beyond product research and play a crucial role in business success. 
---
Wrapping Up
Selling on eBay has significant advantages, such as low startup costs and access to a wide audience. However, you'll also be competing against billions of listings, so standing out can take considerable effort. 
By using the right eBay product research tool, you can focus on profitable product ideas, tap into opportunity-rich niches, keep up with trends, and stay ahead of the competition. These tools can also grow with your business, providing scalable features and enabling you to achieve consistent and long-term success on eBay. 
Frequently Asked Questions
What are the best eBay product research tools?
The best eBay product research tool depends on the size of your business, model, and budget. We've rounded up the tools that can accommodate each of these factors. These tools include Terapeak, ZIK Analytics, AutoDS, ShelfTrend, Sellerhook, Putler, and SaleHoo.
What is the best eBay product research tool for new sellers?
Terapeak, ZIK Analytics, and ShelfTrend offer beginner-friendly reports and dashboards. They also have free and budget-friendly plans.
Terapeak is eBay's dedicated product research tool, so it can be easily integrated into your account. If you also need to research suppliers, Terapeak offers a complementary research tool called Terapeak Sourcing Insights which is free for Starter Store subscribers.
ZIK Analytics' Pro plan only costs $14.99/month or $209.91/year. This tool monitors your competitors' performance and marketing activities, helping you find gaps in their strategies and outperform them. It also helps optimize your listings to rank them high on search results.
ShelfTrend's New Seller plan is free, and it provides real-time clear and concise data, key metrics, and analytical tools. 
What is the best eBay product research tool for dropshippers?
AutoDS and SaleHoo are designed for eBay dropshippers. Their features aid in supplier and market research and determine how competitive a dropshipping product idea is.
Which eBay product research tool should mid to large-sized businesses choose?
Mid to large-sized businesses will benefit the most from sophisticated eBay product research tools like Sellerhook and Putler. These tools provide advanced reports using Business Intelligence, estimate profit and ROI, and forecast sales, among others.