Best for:
YouTube videographers, webcomic artists, writers, podcasters, musicians, adult content creators
What is it, exactly?
Patreon's tagline/slogan, "Changing the way art is valued," is a pretty optimistic statement—at least in the United States where, let's be honest, art isn't valued much at all. At least not new art. Being dead may or may not increase the value of an artist's work, but that's a moot point. Being dead always has a negative effect on earnings potential. For artists who are well-known, though, there's a reason why their deaths might contribute to a rise in value: their body of work becomes a limited edition set. With no future works to ever be created, FOMO kicks in. Demand rises in proportion to exclusivity.
And that right there is the premise behind Patreon: exclusivity. Creators of all stripes, those with a demand for their work, and can trade exclusive access for money. Artists don't need to die to create FOMO, they just need to make sure they can create a demand for exclusive access. In this regard, Patreon is the perfect tool for two groups of people:
Already famous and/or otherwise inaccessible creatives with fan bases

who'll pay, no questions asked, to fund more personal projects.

Issa Rae

, creator of the show Insecure, and

Philip DeFranco

, a YouTuber with millions of subscribers and billions of views, both use Patreon to continue creating for their fans without pressure from networks or advertisers.

Social media influencers and creators with fan bases

who haven't yet had to pay for the content and/or personalities they love. 
For the second group, Patreon would be a godsend, if gods were in the business of forming tech startups. Influencers achieve their status by being talented, yes, but also by being human and accessible and authentic. When they start taking money from brands, even ones they genuinely love, it may sully some of their fans' perceptions. But even the ones who remain faithful may mourn the loss of a more intimate experience. Patreon can help correct that, for as little as a few dollars a month.
---
What's the Cost?
There's no out-of-pocket cost for creators joining Patreon. Instead, the service takes a percentage of your earnings, as you earn them. You can do this at three different levels.
Lite, 5% of earnings —

With the Lite level, you can create your own Patreon page, use their communication tools (for sending out mailers, as well as receiving messages from patrons), and get access to Patreon workshops designed to help you get the most out of your account.



Pro, 8% of earnings —

All of the above, plus membership tiers, analytics, promotional tools (special offers, etc.), creator-led workshops, app integrations, and priority support. With pro, you also have the option of creating merch for your memberships. Merch can be t-shirts, totes, hoodies, all with your own custom designs (like cafe press), and these can be used as incentives for people to join and/select higher tiers of membership. If you enable this, it adds another 3% to Patreon's cut of your earnings.



Premium, 12% of earnings —

All of the above, plus dedicated partner manager, merch for membership features are included, and team accounts. Not everybody can become a Premium creator—there are certain requirements, like having a social presence with at least 100k followers, among other things.
At all levels, there are also a couple fees to be aware of, some of which aren't mentioned till you get deep into the help files.
 

Processing Fees —

Patreon passes the industry standard fees of credit card processing to creators. Charges of $3 or less costs you 5% of the transaction plus 10 cents. Anything higher than $3 gets charged at 2.9% plus 30 cents.



Withdrawal Fees —

You have two options for transferring money out of Patreon, and both of them incur another fee which, for real, is nonsense. Direct deposit to your bank account is 25 cents per transaction, which is ludicrous because that is a fee-free way to transfer money. If you're transferring money to PayPal, it's 1% of the total, not to exceed $20, another way in which Patreon charges you for something that doesn't cost them anything. It doesn't sound like a lot of money on an individual level, but when you consider there are 200,000+ creators on the site, Patreon is pulling in free money off the backs of the people it's already making lots of money from. That's shady.
These fees differ outside of the US, and you can check here for the charges in other currencies and countries.
---
Is It Easy to Setup and Use?
The Patreon service has a lot of little details to attend to during set up, but that doesn't mean it's difficult. It's very easy to run through the setup.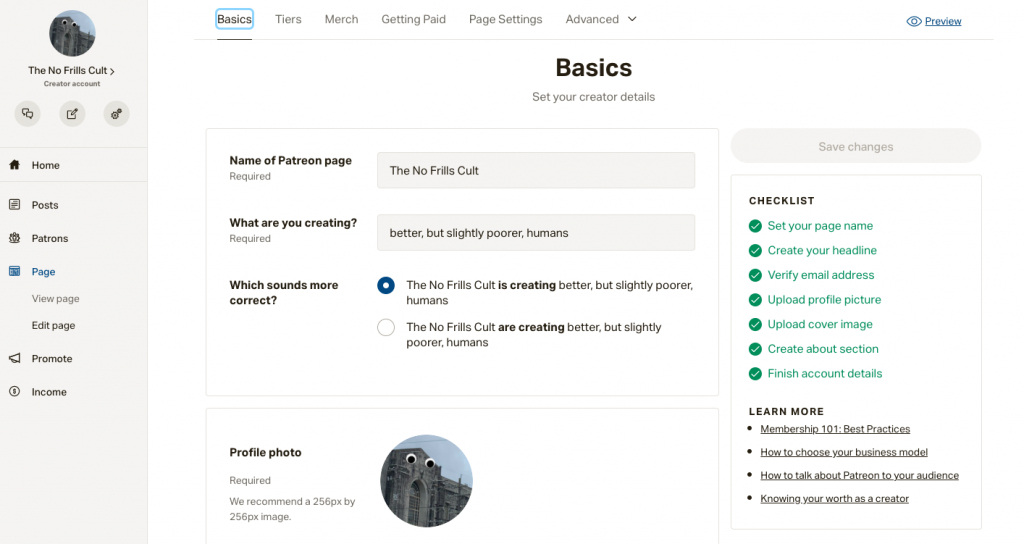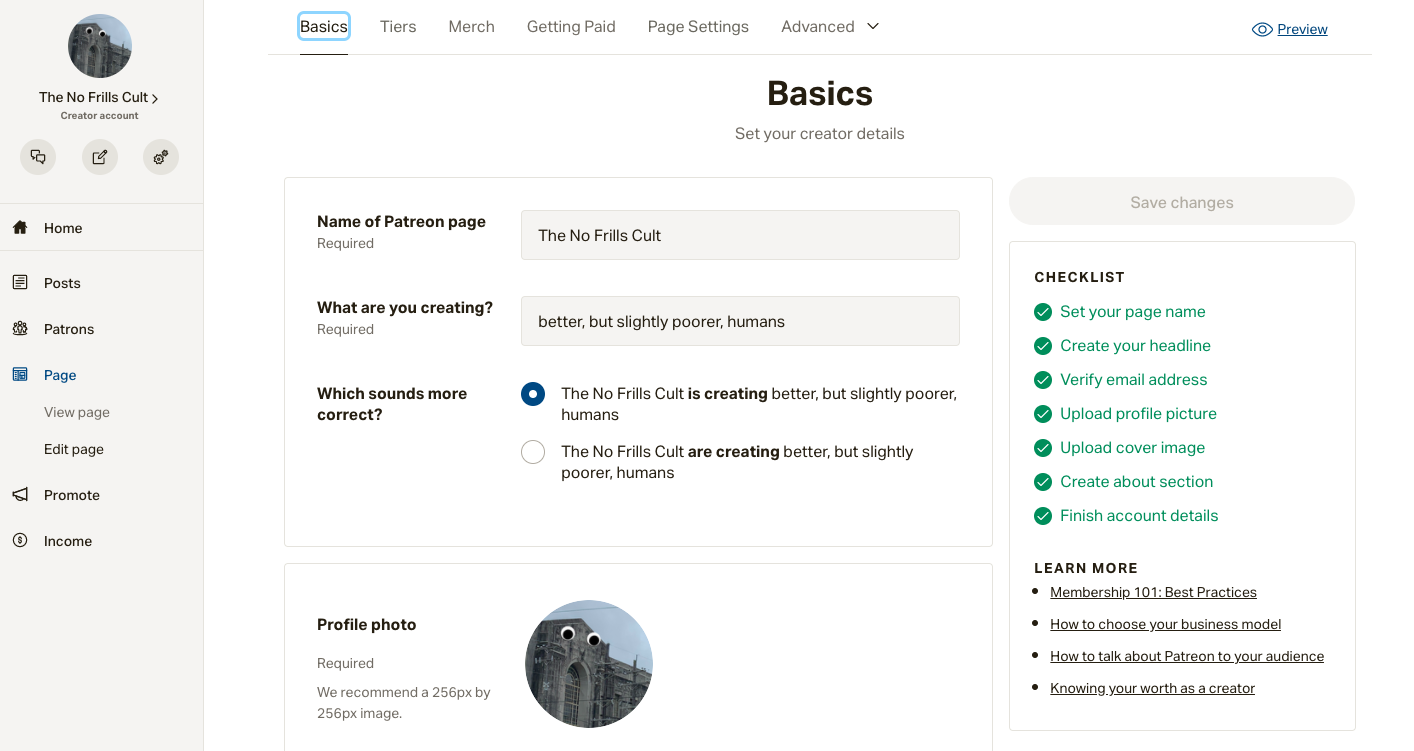 From basic stuff like your name and a quick bio, to more advanced things like setting up your membership tiers, the interface is dead simple to work with. It takes more effort to think about how you want your membership tiers to be set up, and what benefits each one has, than it does to actually set them up.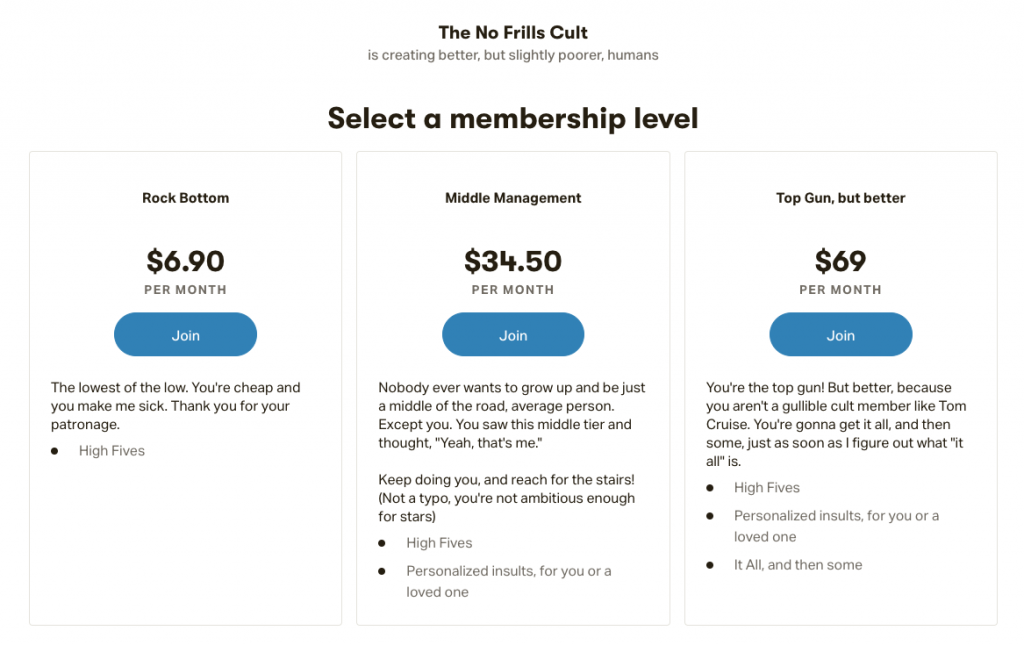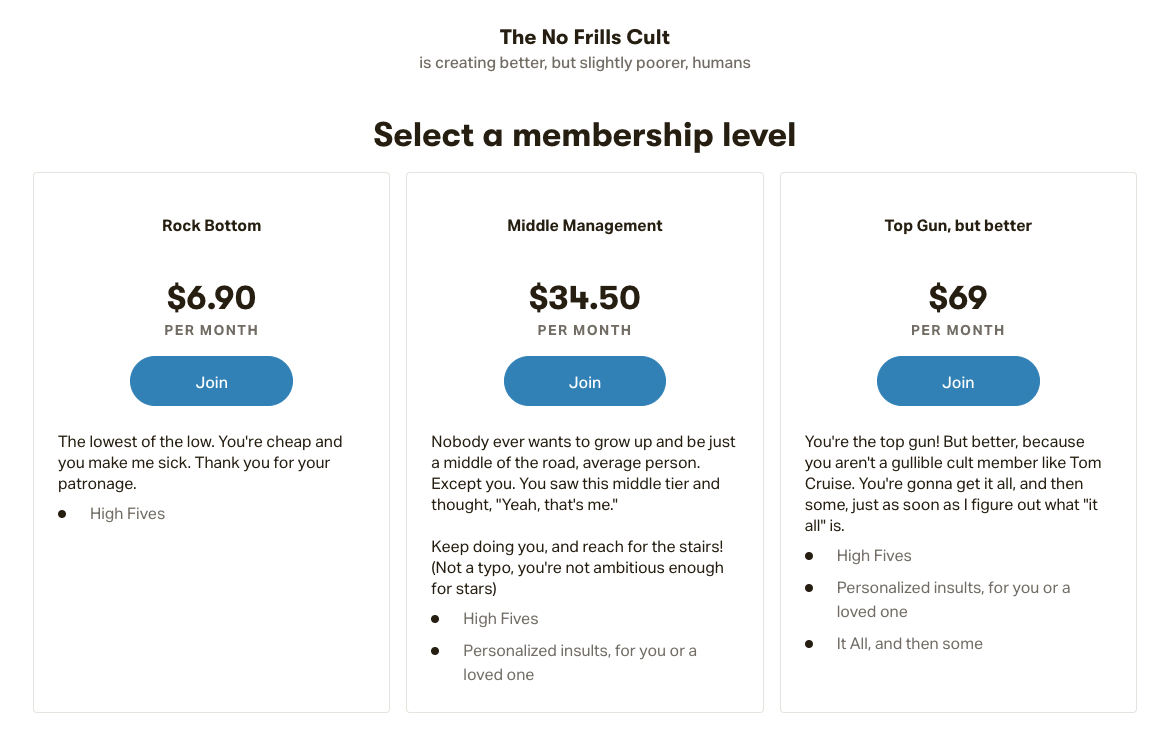 Nestled within all that simplicity, though, are pretty robust tools aimed at making your Patreon presence as complex or as simple as you want it to be. You can have clearly defined levels of membership, each with its own special perks and benefits, or you can just keep it simple with a custom pledge option. With a custom pledge, patrons can give what they want without the expectation of receiving anything in return apart from the satisfaction of knowing they're supporting an artist they like. A custom pledge can exist on its own (i.e. that's the only way you take in money), or alongside established tiers.
The backend interface also gives creators easy tools for managing their memberships. There's a relationship manager that lets you see all your members, their member level, and their lifetime spend with you. The Special Offers tools allow you to extend limited time offers as a way of driving membership. If you offer specific perks that require you to follow up, the Benefits Tracker allows you to see who is owed what. There are also a number of integrations you can use to keep you active and engaged with your community. For influencers, who rely on that kind of intimate and authentic experience to maintain their brand, there is no shortage of ways in Patreon to make sure no one gets or feels left out.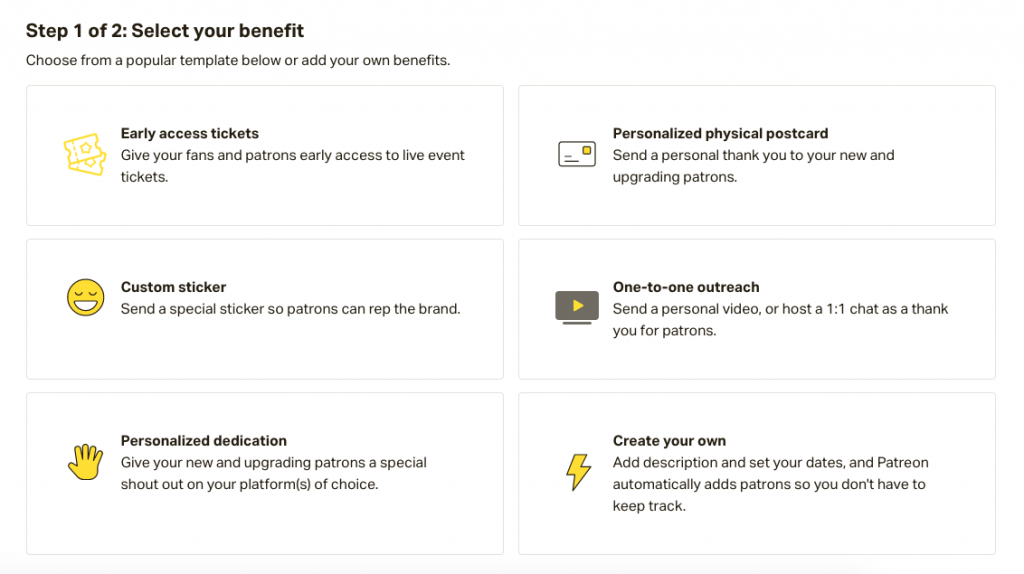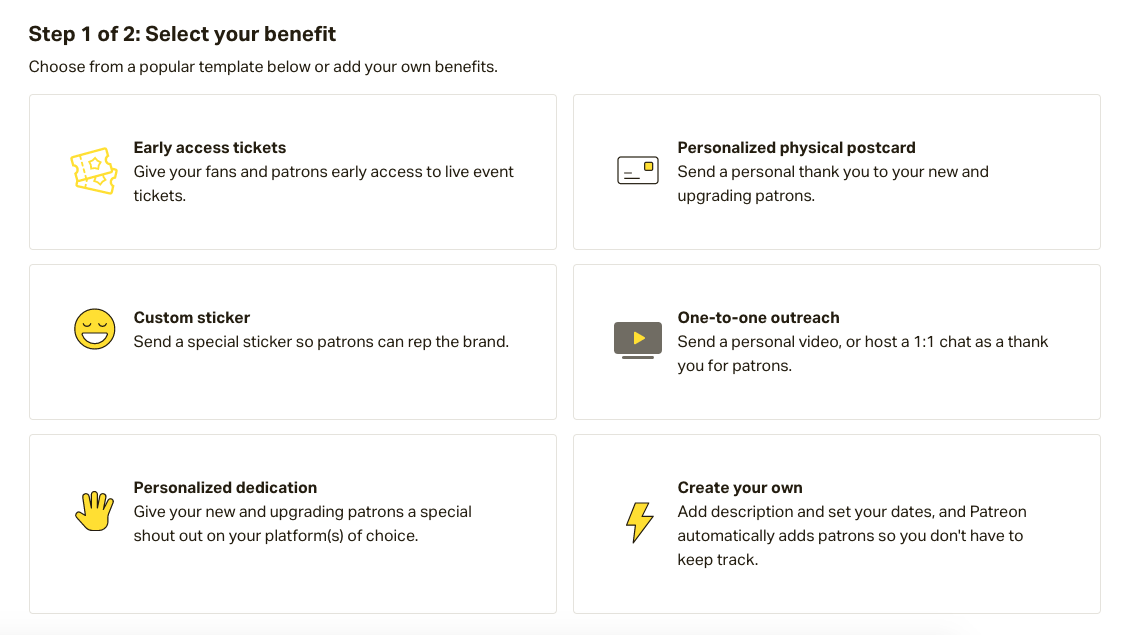 ---
Show Me the Money
There are plenty of Patreon success stories out there, and it's not hard to find them if you go looking. Their own website lists many of them, of course, but they aren't fringe cases. There are tons of examples out there of people making serious bank with their Patreon accounts. It doesn't come easy, though, but that shouldn't be a problem for social influencers and creators looking to make the jump. They're already used to putting most of their energy into their crafts.
Be aware, though, it's only in extreme cases that people are actually making a living off their earnings. Even for creators earning in the tens or hundreds of thousands of dollars every month: a lot of that money goes right back into making a better more professional product. That's the motivation behind the most successful Patreon accounts: the desire to do bigger and better things, on your own terms.
---
The Bottom Line
Despite some of the shenanigans played by Patreon with their payout fees, it's still a top-notch service that can facilitate a creator to grow her brand beyond anything they could do with social media alone. The sheer breadth of tools and integrations empowers people to take their creativity to levels that were perhaps previously unimaginable to them. Influencers who are at the whim of a more competitive market in terms of brand collaborations can look to Patreon to help supplement their incomes. YouTubers, often subject to algorithmic changes that negatively impact their bottom lines, can find a more predictable revenue stream with the service. Creators who've got large fanbases but no desire to create sponsored content on their social profiles have another way to monetise their success. To say that Patreon makes that easy for them is a comment on how well thought-out the tools, services, and educational workshops are. Having a recurring revenue stream means you can breathe a little easier, but you can't just sit back and expect money to roll in by existing. It takes a lot of work and dedication, for sure. As long as you bring that to the table, Patreon has you covered with the rest.
Rating
Features

Ease of Use

Support

Best for:
YouTube videographers, webcomic artists, writers, podcasters, musicians, adult content creators