Best for:
Small and Medium e-commerce brands, especially those selling subscriptions and memberships and other recurring revenue products.
Overview
Generally, affiliate marketing software is its own thing, designed to integrate with some other e-commerce or shopping cart solution. PayKickstart has different origins, in that it was borne out of the frustration that can come from this approach. As co-founder Mark Thompson explained:
We were selling our own software products and services online, but found ourselves having to 'duct tape' various solutions together in order to give us the functionality needed to maximize each new and existing customer we generated.
Leaving aside the fact that duct tape lasts longer than most startups, Thompson's frustration is understandable. If you can solve a problem with one product, why monkey around trying to make several different ones work together? They needed a shopping cart to take payments, and—as a startup—they relied on affiliate marketing as a low-cost way to spread the gospel. Since there was no one product available, Thompson and his partner Matt Callen decided to make one.
For this reason, PayKickstart is both a shopping cart and affiliate marketing platform. And a payment gateway. And a service for managing/charging for memberships and subscriptions. Also: it's a landing page builder. PayKickstart is all the things that Thompson and Callen were looking for to support their own business. They used it in-house, but a funny thing happened as they began to talk about it with their peers and colleagues. They were all interested in trying it for themselves.
PayKickstart soon took on a life of its own. The features list grew, the front end became something attractive and sellable. The list of beta testers became a list of customers. Today, nearly 4,000 businesses rely on PayKickstart—and are really happy about it. Click that link and be prepared to keep scrolling, as testimonial after testimonial sings the praises of this software. Having looked at it ourselves, we can safely say that we understand why.
---
Summary:
---
Pricing
PayKickstart has three levels of subscription for small and medium sized businesses, and they'll tailor a custom plan to larger brands that are doing more than $200k per month in revenue. The plan breakdown is like this:
Starter, $99/mo ($79/mo, if paid annually) —

The entry level plan does not include any of the affiliate marketing features—this is all payments, conversion tools, and reporting—so we're going to skip right past this one.



Growth, $199/mo ($159/mo, if paid annually) —

Everything that's included in Starter, for up to $50k/mo revenue and .7% of revenue beyond that. Includes all the Affiliate Marketing features, customer retention tools, and API access and webhooks for custom integrations



Scale, $299/mo ($239/mo and discounted gateway fees, if paid annually) —

Everything that's included in Growth, but for unlimited users and up to $200k/mo revenue (.5% of revenue beyond that). Also: priority support, and advanced customer insights.



Note that PayKickstart has many more features than what are listed here. We'll get into all the affiliate marketing capabilities in The Details; if you want to know more about all the other things it can do, check out their pricing page.
---
The Details
Because there's so much that PayKickstart can do, there's a lot you'll be setting up before you even get to the affiliate marketing features. For a speedy walkthrough of all the platform can do, you can watch this six minute overview:
For our purposes here, we're going to focus solely on the affiliate marketing aspect of the platform. We'll let PayKickstart's popularity and long list of happy customers speak to the quality of the rest of the platform. Bear in mind that if you're already in business and using some other payments platform, you could integrate via API access—and there's also a pre-made integration with Shopify that has PayKickstart handling the payments and then kicking shipping fulfillment over to Shopify to complete the order. But all of this defeats the purpose of having an all-in-one tool.
In any event, we'll assume you have everything else set up and you're not just looking to get your affiliate program going. Recruiting affiliates happens as you'd expect: there's a sign up link that you send to potential partners, which has them create an account on PayKickstart and request to join in order to signal their interest. The platform gives you a few different options for accepting them, though: you can approve their request to either work on just this one campaign, for every campaign you've got going. And for each of these options, you can specify whether they'll get paid commissions instantly, or if you want to delay payments til you've had a chance to review. This kind of upfront control mitigates the risk in taking on an unknown affiliate. If they work out well you can expand their access. If they don't, you'll have limited your exposure to them (and you can block them so they can't reapply in the future).

Managing affiliates is very straightforward, but also incredibly flexible. For each campaign you create, PayKickstart has you create a sales funnel for it. This isn't like the sales funnel you normally see as a way to visualize customer acquisition. Instead this is a way to try and upsell customers with related products and services—this all happens at check out, according to a scripted workflow you define, and you can specify affiliate commissions for each product along the way. The way you define it applies to all affiliates in the campaign, but you can override these settings on an individual basis—you can even define different landing pages this way for different people in the same campaign.
As with most affiliate marketing platforms, you have the option to create a stockpile of marketing resources that your affiliates can access. This, too, is very straightforward, though maybe not as flexible. Email swipes can be easily created with templates, inserting shortcode that customizes the message for each affiliate using their own personal tracking link. Banner ads are here, of course, and also a contest that you can use to gamify your affiliate marketing. The contests are pretty limited. Affiliates can strive to have the most sales or the most revenue—and that's about it. What is cool is the leaderboard function, which provides you code that can be embedded anywhere you can embed code, so your affiliates can see the real-time leaderboard.
For all the ease of use and all-in-one-edness of the platform, managing payouts is surprisingly unimpressive. It's easy enough to go through who's owed what and when they're due to be paid, as well as drilling down into the particulars of each affiliate's commissions. Payouts, on the other hand, aren't as easy as they could be. Instant payouts are the easiest, but will also be the rarest occurrence. Apart from having to have authorized your affiliate to receive the instant payouts, a number of other criteria need to be met: the customer must have purchased with PayPal, and the affiliate elected to receive payments with PayPal are just two of them. Which, OK: that's fine. But for automatic payouts, those two criteria remain. And automatic payouts aren't exactly automatic, because you need to approve them first. So, the bulk of your payouts will be manual.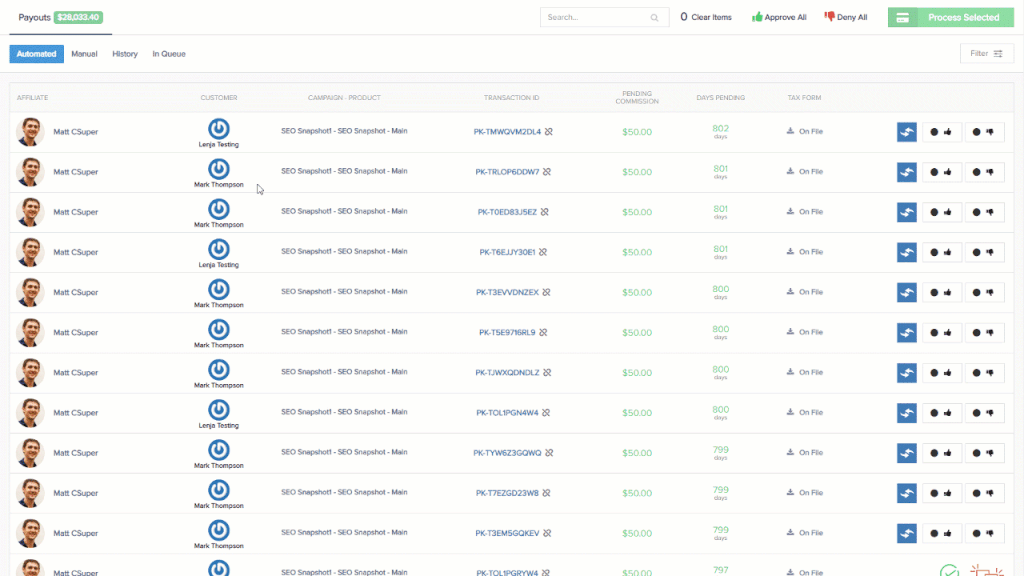 Another downside is that you have to choose between lifetime and per campaign commissions as an account-wide choice. You can't single out affiliates, or make certain campaigns that offer lifetime commissions. It's one or the other, though you can sort of work around that by creating revenue sharing agreements with some of your partners.
---
Integrations
For a platform that aims to be all in one, PayKickstart has a ton of integrations. This isn't said as a criticism, just that it's unexpected given what inspired its creation in the first place. The number of integrations is actually excellent, and further cements the platform's usefulness. There are 66 different integrations listed on their website—in addition to any custom integrations your developers can pull off through the API. Here are some of the highlights:
There are several email marketing solutions, much more than any of us have ever heard of. Constant Contact, Hubspot, Mailchimp, and Kalviyo are the bigger names in a list that includes a dozen others.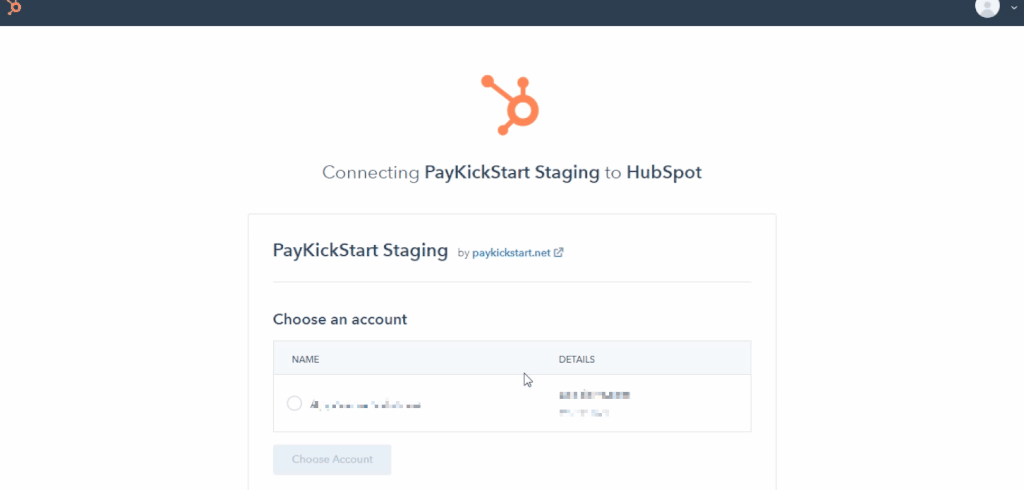 On the flipside of the email marketing abundance is the very limited number of CRM integrations: Freshworks and Pipedrive. The API access means you should be able to integrate anything but it is a little weird that Salesforce isn't on this list.
For shipping services, in addition to integrating with Shopify (as mentioned earlier), you can also tie into ShipStation and ShipOffers.
If you want to use another payment gateway you have plenty of options. Old favorites like Authorize.net, PayPal, and Stripe are available, as are both Apple and Google Pay for mobile payments.
You can integrate any number of webinar services, including Zoom. Your teams can receive real time notifications through the Slack integration. Export your data over to Google Analytics, and process memberships through Memberful. This is all only the tip of the iceberg of functionality that PayKickstart offers.
---
Conclusion
Back when PayKickstart was developed, it was designed as a way to handle the payment and marketing requirements of subscription based products and services. For this reason, it's a no-brainer for any business that fits that description to check the platform out. This isn't the only platform to cater to that market, but it's definitely one of the better ones.
But its usefulness isn't relegated to just this segment of the market. It really doesn't matter if you're selling access to weekly education webinars or coffee mugs with cute sayings on them. The features are all there for any kind of business to implement a quick and effective affiliate program—and to handle taking the payments at the same time it's calculating commissions. Whether or not you need all of that might determine if this platform is the right choice for you. But the truth is even if you're just looking to integrate into your existing tech stack, PayKickstart is worth a look. The way it works in so many features to drive conversions might be enough to convert you.
PayKickstart
Features

Ease of Use

Reporting

Integrations

Best for:
Small and Medium e-commerce brands, especially those selling subscriptions and memberships and other recurring revenue products.