Advertising Disclosure
Advertising disclosure:
Our partners compensate us. This may influence which products or services we review (also where and how those products appear on the site), this in no way affects our recommendations or the advice we offer. Our reviews are based on years of experience and countless hours of research. Our partners cannot pay us to guarantee favorable reviews of their products or services.
The digital domain's ever-changing nature makes a high SERP ranking vital for business visibility. With the rise of online platforms and business digitalization, the need for skilled search engine ranking services has soared.
Data shows that 68% of online experiences begin with a simple online search, indicating a necessity to rank as high as possible on SERPs. Most importantly, the statistic shows the crucial role of adept SEO agencies. Amid this, choosing the right agency can be daunting. This article reviews the top 10 search engine ranking services, aiding businesses in making an informed choice and gaining a digital competitive edge.
---
Top Search Engine Ranking Services
Top
search engine ranking services
2024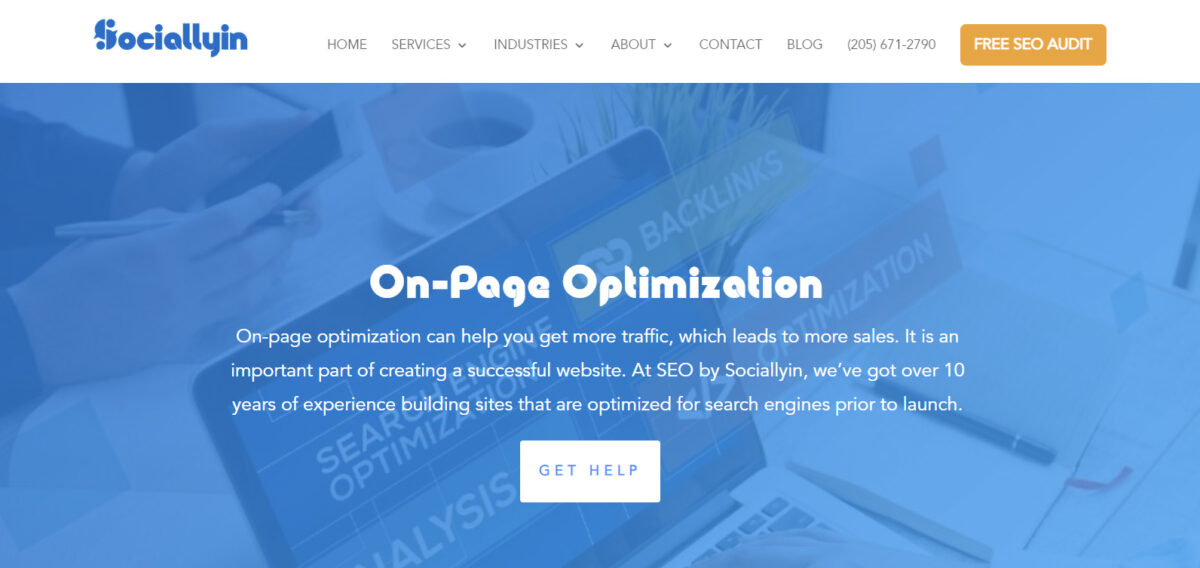 Best for: Businesses and brands of all sizes.
Services available: Search Engine Optimization (SEO), Full-service SEO solutions, eCommerce SEO, Comprehensive Strategy Plan, Content Creation, On-Page Tuning, Link Building, Technical Website Optimization.
Min Project Size: SociallyIn's minimum project size begins at $5,000.
Sociallyin provides a robust suite of SEO services grounded in data science and AI for businesses looking to bolster their organic online presence. Their offerings are particularly beneficial for eCommerce platforms, aiding in improving site rankings and organic revenue. The agency's approach is characterized by the development of custom SEO strategies, all underpinned by scientific testing and a wealth of data accrued over time.
This bespoke and data-driven approach enables Sociallyin to meet the unique needs of each client, thereby facilitating enhanced online visibility and business growth. Their comprehensive service portfolio also extends to technical SEO and Google Ads Management, providing a holistic solution for businesses' online marketing needs.
---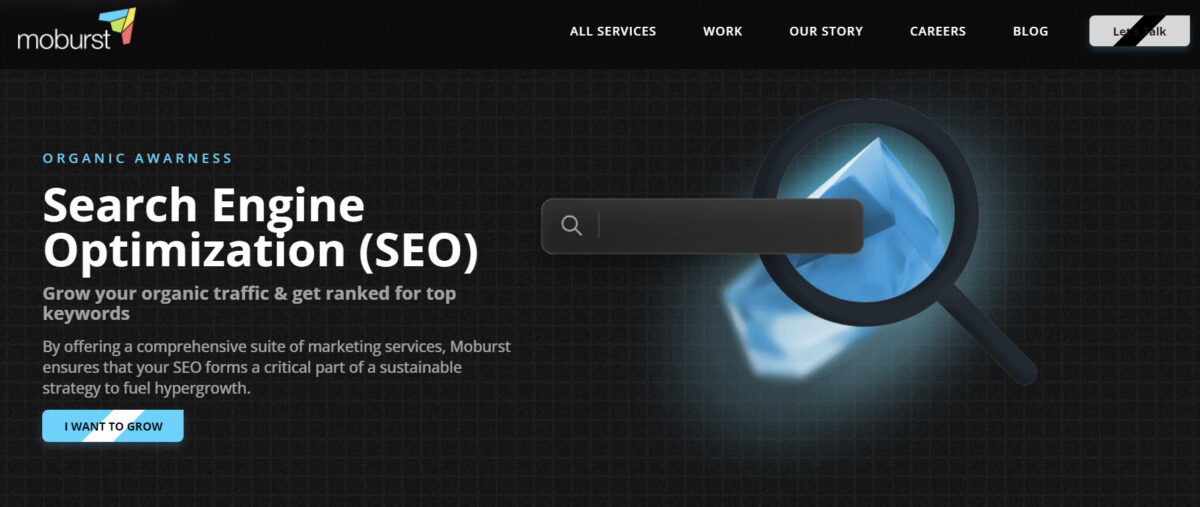 Best for: Enterprises, midmarket agencies, and small businesses.
Services available: Search Engine Optimization (SEO), App Store Optimization (ASO), Conversion Rate Optimization (CRO), Media Buying, Creative and Video Production, Influencer Marketing, Digital Transformation, Web Development, Product Consulting, and more.
Min Project Size: Moburst's minimum project size begins at $5,000.
Moburst positions itself as a mobile-first marketing agency engineered for SERP hypergrowth. With a comprehensive suite of digital marketing services, Moburst creates tailored SEO strategies that form a crucial part of a sustainable approach to fuel hypergrowth for its clients. The agency's SEO services are grounded in a three-phase approach: Research, Optimization, and Tracking.
What sets Moburst apart is its innovative and creative approach to tackling digital challenges, driven by advanced technology and data. Notable clients include industry giants like Google, Samsung, and Uber, showcasing the agency's capability to serve both startups and established brands with high-impact mobile and digital strategies to help them rank highly on strategically picked keywords.
---

Best for: Small businesses and midmarket agencies.
Services available: Pay-Per-Click (PPC) Advertising and Management, Website Design and Development, Mobile SEO, Link Building, SEO Copywriting, Digital PR, Technical SEO Audit, SEO Consulting, Blogging Services, and Website Migration.
Minimum Project Size: SmartSites requires a minimum project size of $1,000.
SmartSites is a formidable digital marketing agency that has been recognized as the best overall SEO service provider for small businesses in 2023 by Forbes Advisor. The agency's commitment to ensuring superior organic visibility for small businesses, particularly in sustainable business growth, sets it apart in the SEO realm. What makes SmartSites a stand-out entity in the industry is not just its extensive range of services but its proven effectiveness in boosting organic and paid traffic for clients.
Testimonials from reputable businesses like Mercedes Benz of Huntington describe SmartSites as the best SEO/SEM provider in the industry, underscoring their ability to grow businesses through dedicated efforts in SEO campaigns. Furthermore, SmartSites has been voted as the #1 Best SEO Company in NY and NJ, showcasing its expertise in SEO analysis and strategies aimed at improving search rankings and outperforming competition. This accolade reflects the agency's deep understanding of the SEO landscape and its capability to tailor growth strategies that not only enhance online visibility but also contribute to the overall business success of its clients.
---

Best for: Enterprises and medium-sized businesses.
Services available: Social Media Management, Web Design and Development, PPC, eCommerce SEO, Shopify SEO, Amazon SEO, Link Building, CRO, and SEO.
Minimum Project Size: Thrive's minimum project size is $1,000.
Thrive Internet Marketing Agency is a full-service digital marketing agency headquartered in Arlington, Texas, with a notable emphasis on providing white-hat SEO solutions to enhance organic search rankings and brand visibility. The agency's comprehensive services also encompass PPC marketing, aimed at positioning brands prominently across various platforms at opportune times. What sets Thrive Agency apart is its robust suite of services tailored to meet the diverse needs of its clientele, ranging from small to medium enterprises across different sectors.
With a strong commitment to driving client growth, Thrive Agency devises strategies that not only enhance online visibility but also foster brand recognition, ultimately contributing to increased leads and revenue generation. The agency's professional expertise, coupled with its versatile service offerings, makes it a viable choice for businesses looking to significantly elevate their online presence and achieve prominent search ranking.
---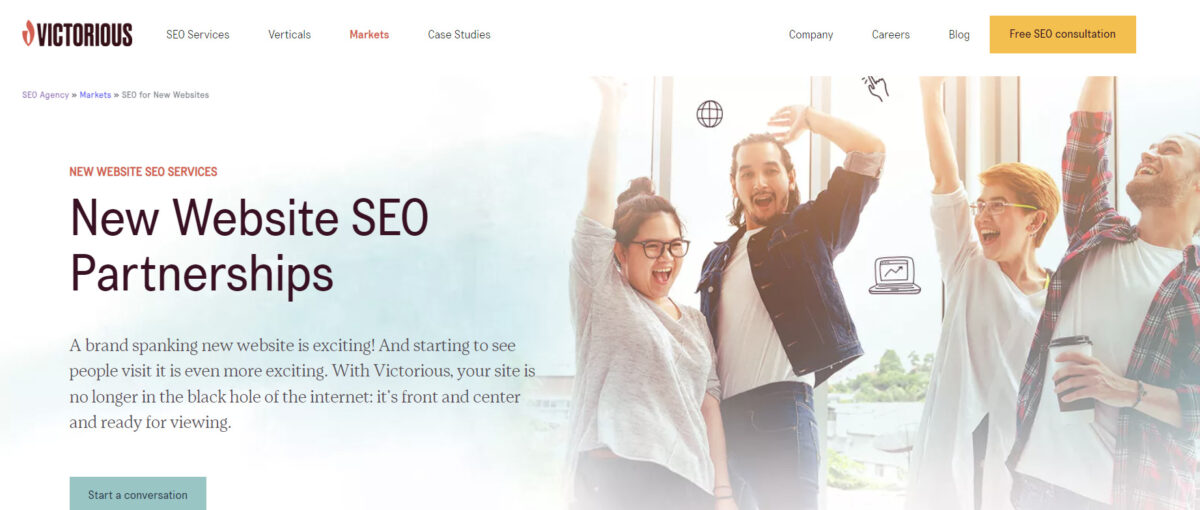 Best for: Small businesses, agencies, and brands.
Services available: SEO Audit, On-Page SEO, Off-Page SEO, SEO Content.
Min Project Size: Victorious SEO sets a minimum project size of $1,000.
Victorious SEO agency, based in San Francisco, is distinguished for its unique approach toward SEO as a potent marketing channel rather than a supporting tactic. The agency prides itself on employing a scientifically-driven strategy, built upon a wealth of performance data and market research, to optimize organic traffic and convert it into a strategic pipeline of potential customers​​.
Notably, Victorious is recognized as an ideal partner for new businesses and eCommerce platforms aiming to supercharge search ranking positions. The agency's meticulous process in SEO strategy formulation, paired with its expertise in technical SEO, positions it as a reliable choice for businesses of all sizes, especially those looking to thrive in the digital realm​. The agency's recognition in the industry is further exemplified by its numerous awards and a high customer rating, which is reflective of its ability to deliver impactful search ranking results. Furthermore, Victorious SEO's transparency in goal-oriented strategies, combined with a blend of technology and human expertise, provides its clients with a competitive advantage in achieving their SEO goals​​.
---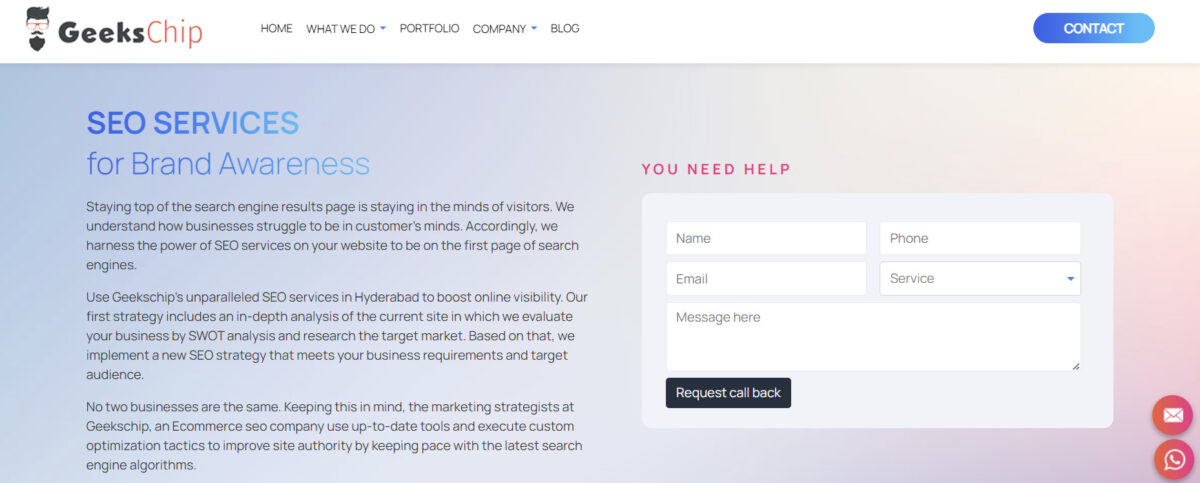 Best for: Businesses of all sizes, with an emphasis on small businesses.
Services available: Social Media Management, PPC, Facebook Marketing Services, Growth Hacking, App Marketing Services, Video Marketing Services, and Video Marketing Services.
Minimum Project Size: Geekchip's minimum project size is $1,000.
Geekschip is a dynamic digital marketing agency with a strong emphasis on SEO and ORM services. This agency prides itself on delivering 100% results within the client's specified timeline, showcasing a goal-oriented approach to digital marketing strategies. They are known for their customer-centric service model, providing customizable solutions that align with the client's marketing objectives. Geekschip's proficiency lies in its data-centric approach to SEO, as reported by clients who have witnessed significant SERP growth and increased sales.
One of the key differentiators for Geekschip is its dedicated support and commitment to nurturing client relationships. Their digital marketing team works closely with the sales team to not only drive traffic and improve online visibility but also to convert leads into business opportunities. Moreover, Geekschip's excellent track record of delivering accurate results and its in-depth understanding of current market trends make it a reliable choice for businesses looking to enhance their online presence and achieve their SEO goals.
---

Best for: Enterprises and mid-sized businesses, brands, and agencies.
Services available: SEO, Content Marketing, Paid Ads, Social Media Management, and Marketing Automation.
Minimum Project Size: Big Leap sets a minimum project size of $1,000.
Big Leap Agency, established in 2008, is a forward-thinking digital marketing agency that emphasizes delivering sustainable organic growth for its clientele. With a workforce of over 90 seasoned professionals, Big Leap furnishes comprehensive services covering a wide range of white-hat SEO services, including link building, keyword research, keyword optimization, and more. They particularly excel in crafting customized growth strategies stemming from an exhaustive research and analysis phase, which is underscored by a meticulous 180-point site audit to ensure a solid foundation for the SEO initiatives.
A distinguishing feature of Big Leap is its adeptness in eCommerce SEO, especially for Shopify platforms, where its proficient team ensures that businesses reach their full potential by optimizing online visibility and user engagement. The agency also shines in enterprise SEO, offering tailored solutions for growing businesses necessitating large-scale SEO strategies. Additionally, Big Leap's commitment to transparency, communication, and results sets a high bar in the industry, ensuring clients are always in the loop regarding the progress and impact of their SEO campaigns.
---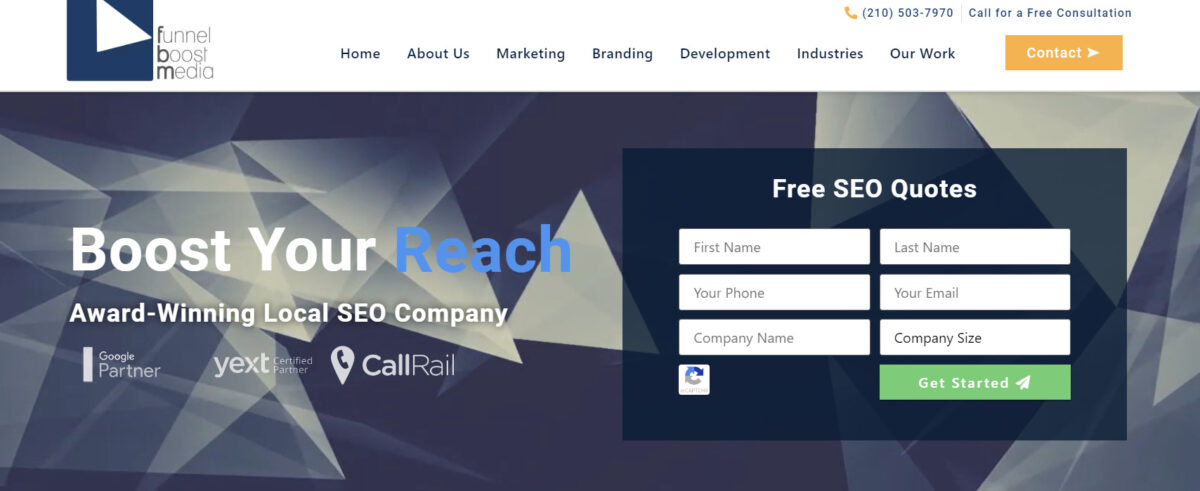 Best for: Small to medium-sized businesses and some enterprise brands.
Services available: Local SEO, National SEO, Social Media Advertising, Branding, Website Design and more.
Minimum Project Size: Funnel Boost Media has a minimum project size of $1,000.
Funnel Boost Media is a reputable digital marketing agency based in San Antonio, Texas, with a demonstrated track record since 2012. They offer a broad spectrum of services tailored to boosting the online presence and lead generation for small to medium-sized businesses. Their holistic approach encompasses both search engine optimization (SEO) at a local and national level, along with pay-per-click (PPC) management to drive immediate traffic and leads. Funnel Boost Media provides web hosting and mobile app development, ensuring businesses have a robust and aesthetically pleasing online platform to interact with their customers and showcase their offerings.
What distinguishes Funnel Boost Media is its commitment to white-hat SEO practices and transparent pricing. They prioritize client education, ensuring businesses understand the value and the process of SEO, thus helping them make informed decisions. Their comprehensive search engine ranking services are designed to cater to the modern needs of businesses, ensuring prominent SERP success and, ultimately, a higher return on investment.
---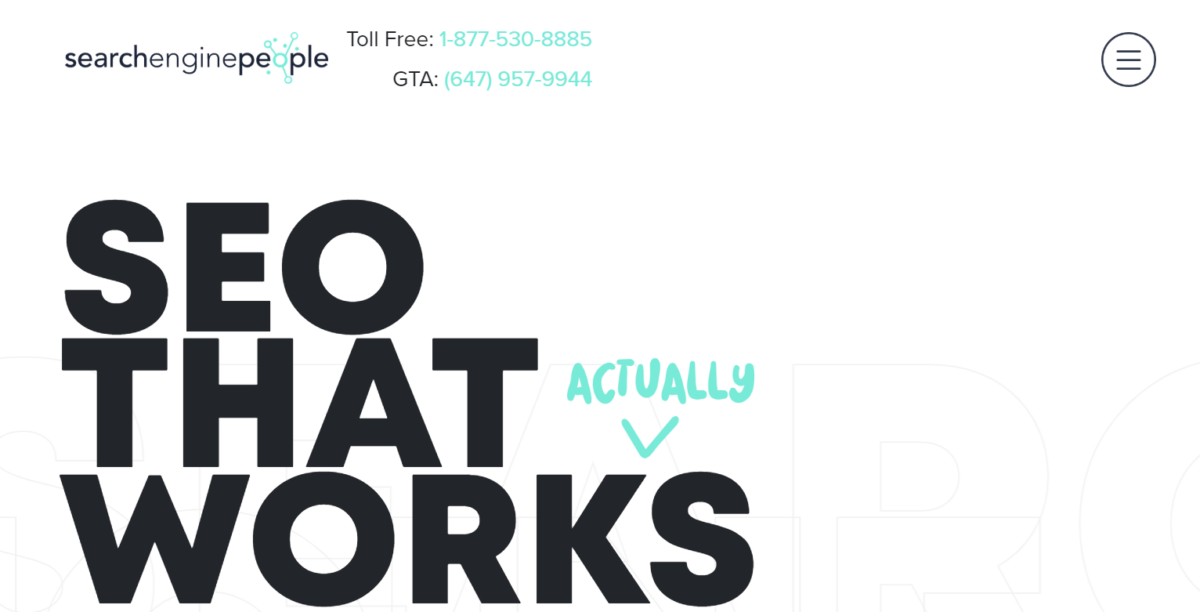 Best for: Small to medium-sized businesses and some enterprise agencies.
Services available: SEO, SEM, Display, Inbound Marketing, Web Development, and Conversion Optimization.
Minimum Project Size: Search Engine People sets a minimum project size of $1,000.
Search Engine People, headquartered in Ontario, Canada, is a well-regarded SEO and SEM company known for its wide array of digital marketing services. They have crafted a niche in not only improving search engine rankings but also in offering a holistic approach to digital marketing. Their expertise spans social media campaigns, email marketing strategies, mobile marketing, and web design, ensuring a well-rounded digital presence for their clients.
This multi-faceted approach positions Search Engine People as a viable choice for businesses keen on a robust digital strategy beyond mere search engine rankings.  Their services are particularly beneficial for businesses aiming to establish a strong digital footprint and engage with their audience effectively across various online platforms. By leveraging the latest industry tools and techniques, Search Engine People aims to deliver measurable results that contribute to the bottom line of their clients.
---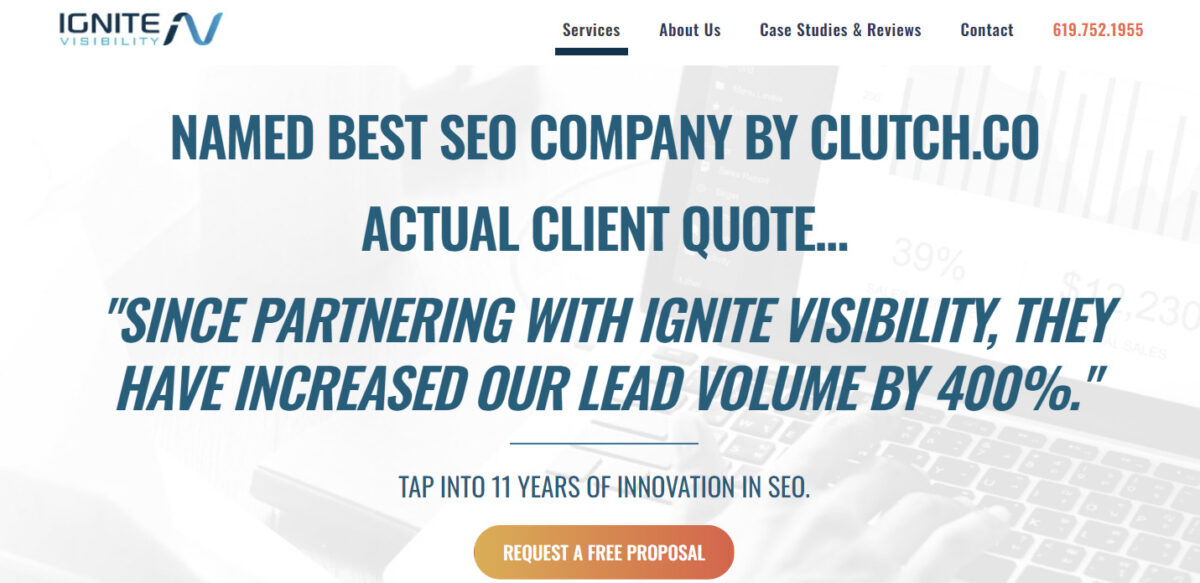 Best for: Businesses, agencies, and brands of all sizes.
Services available: SEO, Earned Media, Paid Media, Email Marketing, Amazon Marketing, Conversion Rate Optimization (CRO), Offline Conversion Tracking, Media Buying.
Minimum Project Size: Ignite Visibility's minimum project size is $1,000.
Ignite Visibility, based in San Diego, is a highly regarded digital marketing agency that has made a significant impact in the industry by adopting effective strategies for its clients, which also contributed to its recognition as a six-time Inc. 5,000 company. The comprehensive range of services offered by Ignite Visibility makes it a viable choice for businesses seeking to enhance their search engine presence, drive traffic, and improve conversion rates through a holistic digital marketing approach.
Ignite Visibility showcases a profound understanding of various digital marketing channels, ensuring a tailored strategy to meet the unique needs of each business. Through SEO, social media marketing, digital PR, and an array of other services, Ignite Visibility aims to provide a robust foundation for businesses to thrive with every Google search.
---
How Long Does It Typically Take To See Improvements in Search Engine Rankings?
Search engine rankings are a cornerstone of digital visibility and business credibility. However, attaining a desirable rank on search engine result pages (SERPs) is a process that requires time, effort, and a well-strategized SEO approach. The time it takes to see improvements in search engine rankings can vary significantly based on several factors, including the website's current status, competition, and the effectiveness of the SEO strategies employed. For instance, Ahrefs found that the average ranking page is two years old. Conversely, only 5.7% of pages achieve a top 10 search position within one year of publication.
Initially, a thorough analysis of the website is crucial to identify existing issues and opportunities for optimization. This includes checking for technical errors, evaluating on-page and off-page SEO, and analyzing backlink profiles, among other factors. The rectification of technical issues and the implementation of on-page SEO optimizations are usually the first steps in the SEO process and can often yield quick improvements in rankings, sometimes within a few weeks to a few months.
Moreover, content creation and optimization are ongoing processes that contribute significantly to SEO success. In fact, websites with a blog tend to have 434% more indexed pages, which can significantly improve search visibility. High-quality, relevant content that satisfies user intent can substantially improve a website's standing on SERPs. However, content marketing efforts are generally long-term strategies that might take several months to reflect substantial improvements in rankings.
Building a robust backlink profile is another long-term strategy essential for SEO success. A comprehensive analysis by Backlinko found that the number of referring domains is strongly correlated with Google rankings. Acquiring high-quality, relevant backlinks from authoritative sources can significantly bolster a website's authority and rankings. However, building a solid backlink profile is a time-consuming process that might take anywhere from a few months to several years.
Furthermore, the competitive landscape of the keywords targeted also plays a pivotal role in the time it takes to see ranking improvements. Highly competitive keywords require a more intensive and prolonged SEO effort compared to less competitive ones.
Lastly, search engine algorithms are continually evolving, which means SEO is an ongoing endeavor. Recent examples include Google's core algorithm updates in 2023, such as the October 2023 Core Update, which was the third core update of the year, following the ones in March and August​.  Regular monitoring, analysis, and optimization are required to maintain and improve search engine rankings over time.
---
Conclusion
The evolution of the digital landscape underscores the pivotal role of SEO in enhancing online visibility. As businesses increasingly migrate online, attaining a prominent SERP position becomes essential. The market's expansion is a testament to SEO's indispensable role in digital strategy.
The proliferation of SEO service providers offers businesses diverse options yet presents the selection challenge. Each business, unique in its needs and objectives, requires an SEO partner that aligns with its goals, offering bespoke strategies rooted in data and innovation, and tailored to the specific industry and audience nuances.
Frequently Asked Questions
What are the key factors that influence search engine rankings?
Key factors include on-page SEO elements like meta tags, keyword usage, and content quality. Off-page SEO factors like backlinks and social signals also play a part. Additionally, technical SEO aspects like site speed, mobile-friendliness, and secure connections are crucial. Search engine algorithms consider these and other factors to determine rankings.
What is the difference between organic rankings and paid rankings?
Organic rankings are earned through SEO practices that improve a site's visibility in search engine results, while paid rankings are positions purchased through advertising platforms like Google Ads. Organic rankings are long-term and build trust, whereas paid rankings provide immediate visibility but may cost more over time.
What role does content quality play in search engine ranking services?
Content quality is pivotal as it enhances user experience, keeps visitors engaged, and encourages backlinks. High-quality, relevant content is favored by search engine algorithms, leading to better rankings. It also positions a website as an authority in its field, improving its organic search rankings over time. SEO agencies often emphasize content creation and optimization as part of their services to improve rankings.