Pinterest has a stronger focus on "things" than any other social platform. You will find pictures of things you could buy, or at least aspire to purchase in the case of luxury items, throughout the site. In addition, Pinterest users frequently create boards for food and drink, DIY and crafts, home décor, women's fashion, and hair and beauty. These boards typically contain images of beautiful "things" that have grabbed a pinner's attention with sufficient clout that they chose to keep a permanent record. Pinterest recognizes the power of this and has entered the world of social commerce. It is now a relatively straightforward process to sell on Pinterest, linking to the products in your eCommerce store.
Because 76.7% of the Pinterest audience is female, you will generally have more success promoting products that appeal to women. That's one of the reasons why you're far more likely to find people selling lingerie and scented candles on Pinterest than you are sellers of car parts and bowling balls.
---
How to Sell on Pinterest:
---
Should You Sell on Pinterest?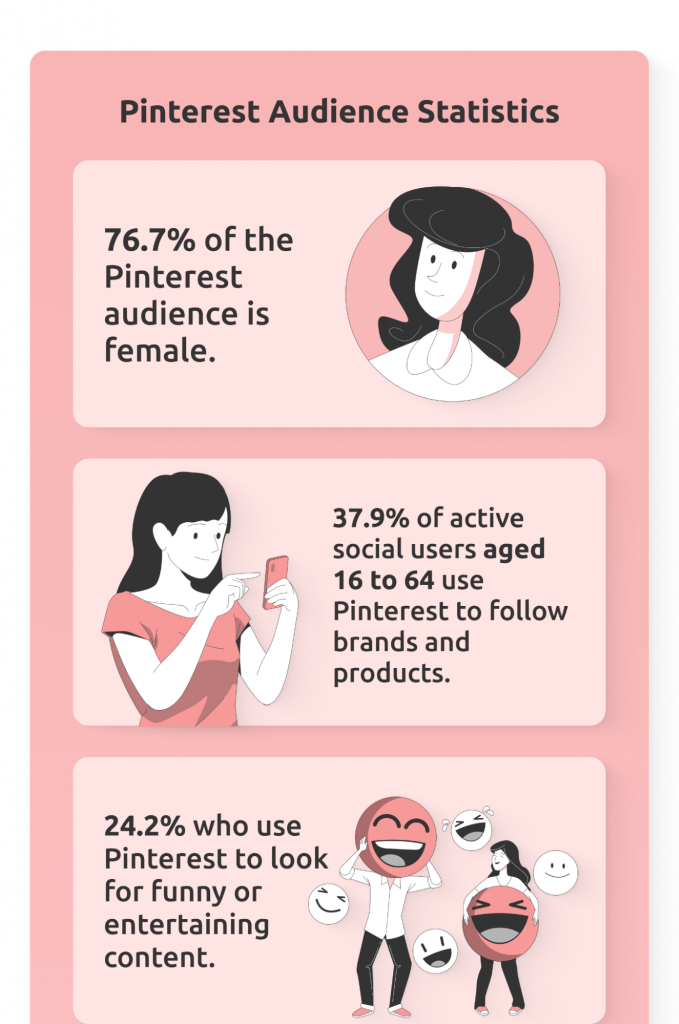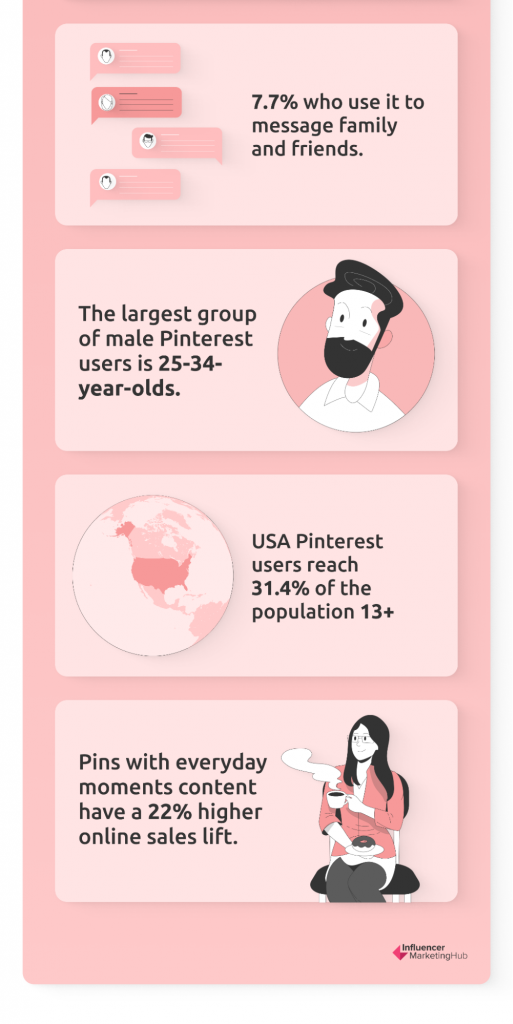 Pinterest may not be the largest social media platform globally (it's 15th), but 37.9% of active social users aged 16 to 64 say they use it to follow or research brands and products. Indeed, that is the most common reason people give for being on the platform, much larger than the 24.2% who use Pinterest to look for funny or entertaining content or the mere 7.7% who use it to message family and friends.
It is particularly popular with 25-34-year-old females, with 30% claiming to use the platform. Other demographics with sizable Pinterest interest are 18-24-year-old females and 35-44-year-old females. So, if these groups make up your target audience, it makes sense that you sell on Pinterest. On the other hand, the largest group of male Pinterest users is 25-34-year-olds, although only 6.4% of that demographic.
The USA has the highest Pinterest usage, reaching 31.4% of the population 13+. Although the Netherlands only has the 11th highest number of Pinterest users, they almost match the USA in terms of reach, as does Malta.
But you have to be organized if you intend to sell on Pinterest. For example, people start searching for "Christmas gift ideas" as early as April each year. Pinterest has noticed that pins with content specific to a seasonal life or everyday moment have a 22% higher online sales lift.
---
Shopping-Friendly Features of Pinterest
Pinterest is primarily about discovery. Pinners come to Pinterest to discover new products, ideas, and inspiration. They often go there to look for things without knowing what they desire. They will be browsing images on Pinterest and suddenly go, "that's what I want!" when they see the "right idea." You want your Pins and product images to depict that "right idea."
To help brands make sales, Pinterest includes features like:
Catalogs – a Shop tab on your profile containing images and details for all your products

The Pinterest Tag – a piece of code you can add to your website to measure conversions from Pinterest visitors

Connection to Shopify – you can connect your Pinterest business account to your Shopify website, making your catalog of products browsable on Pinterest

Pinterest's Verified Merchant Program gives merchants a "verified" badge you can place on their profile and eligibility for enhanced distribution

Adding merchant details on your profile, including your brand values and the communities you identify with

Various ad formats, including shopping ads, collections ads, and dynamic retargeting
---
Preparing to Sell on Pinterest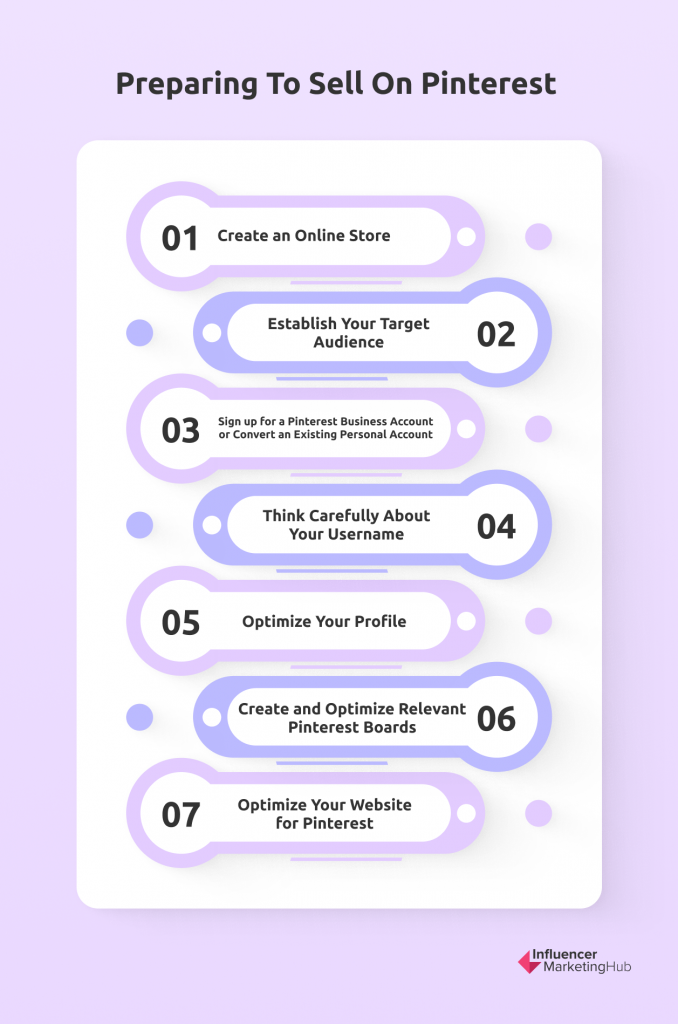 1. Create an Online Store
If you haven't already done so, you should set up an online store. Many of Pinterest's best features involve connecting the products in your store to the Pins that you make. In addition, you need an online database to record your inventory, product information, and sales. We have written many articles providing information about eCommerce that can assist you, including our 10-step Guide to Starting an Online Store. The ten steps we recommend for creating your online store are:
Identify your target audience

Research possible products

Decide on a business structure

Find an eCommerce platform

Get a domain and name your store

Start designing your website

Decide on your shipping policy

Set up taxes

Link a payment gateway

Write a marketing strategy
If you're at the point of wanting to sell on Pinterest (which is part of Step 10), you are hopefully already well through the process of setting up your online shop. If not, it is probably time to go back to your current stage and move forward from there.
---
2. Establish Your Target Audience
As with all sales campaigns, you first need to establish your target audience if you intend to sell on Pinterest. You hopefully did this when setting up your online store, and your Pinterest target audience will be relatively similar. It is much easier to focus your marketing activities if you know to whom you're trying to sell goods. The better you understand your potential customer, the easier it is to create Pins that will attract their attention and push them further through the purchasing funnel.
One common way of doing this is to create buyer personas, which are effectively in-depth descriptions of your ideal customers. Indeed, you could also consider creating negative buyer personas that represent consumers who aren't compatible with your products or services to help you avoid pinning images that would attract them.
Depending on whether you merely look at Pinterest as an additional selling and marketing channel or whether you want to take an overview of your product lines, you may wish to draw up a customer journey map to understand your target customers better.
---
3. Sign up for a Pinterest Business Account or Convert an Existing Personal Account
Like Instagram, Pinterest gives a very different user experience depending on the type of user account for which you sign up. If you initially joined Pinterest on a personal account, you will need to change to a business account to gain access to many essential features required to sell on Pinterest. For example, you need a business account to gain access to analytics or run ads on the platform for a start.
You can easily convert a personal account to a business account without any visual change to your account. Your existing pins and followers remain unchanged to those looking at your page.
If you haven't yet signed up to Pinterest, you should make your account a business account from the beginning, however.
---
4. Think Carefully About Your Username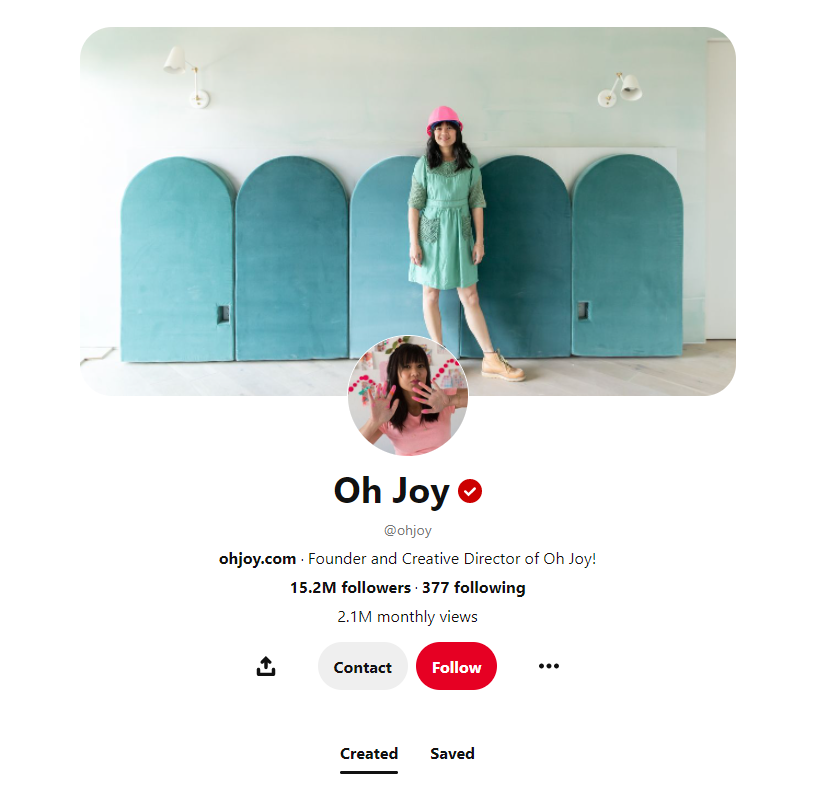 One helpful feature of Pinterest is that it includes your username in your profile URL. So make sure that you use an obvious username that people will remember and can easily search for.
---
5. Optimize Your Profile
In our Ultimate Guide for Pinterest SEO, we stressed the importance of having a complete profile optimized for SEO that will attract your target audience's attention. Make sure you flesh out your About section and make it sound interesting to a reader. Sure, people mainly use Pinterest for the visuals, but your text copy must be engaging, relevant, and error-free.
Use your logo as your profile picture (unless you are a solopreneur and are the face of your business). Make sure you have an attractive but relevant picture as your cover image.
You will want your Pinterest account to match the rest of your social accounts. Make sure you are consistent with the colors you use, your wording, fonts, logos, and the style of the images you share/pin. Any member of your target audience should be able to instantly recognize your business by looking at any of your social profiles and your website.
You will need to link and verify your website as part of organizing your profile. You will need to do this to gain access to the analytics for the Pins that you or anybody else makes of images from your website. While you can do this easily in your Pinterest account settings, you will need to download a snippet of code to include in your website's header, although if you use a CRM like WordPress, you may find a plug-in that simplifies this process for you. If you verify your website, Pinterest adds a ticked globe icon next to your website URL on your profile. If you're a merchant, you will have a blue checkmark; otherwise, verified accounts/creators receive a red checkmark.
---
6. Create and Optimize Relevant Pinterest Boards
People need to understand the purpose of your Pinterest account. They're unlikely to feel inclined to buy from somebody who shares an eclectic collection of images, some of which interest them, but many don't. Instead, people search Pinterest for inspiration. If one of your Pins catches their eye, you are far more likely to keep their interest if they can find a board dedicated to a subject that interests them.
Don't get too niche in your board creation, however. It is better to have a few relatively broad board topics rather than hundreds of highly specific boards, each with only a few images. Even large firms follow this principle. IKEA, for example, has more than 20 boards. But they have clear divisions, making it easy for people to find IKEA products easily. They have organized their boards by room and occasion. They have further subdivided boards for a more specific purpose in some cases. For example, IKEA has a Kitchens section, which, in turn, has areas for Kitchen Products & Appliances, Kitchen Design Inspiration, Cooking & Eating, and Kitchen Storage & Organization.
---
7. Optimize Your Website for Pinterest
If you intend to sell on Pinterest, there are a few things you have to do to your website to make it eligible. All firms (even those not planning to sell on Pinterest) should add Pinterest sharing buttons to their website. These make it easy for anyone who likes an image on your site to Pin it to one of their boards.
---
Steps to Help You Sell on Pinterest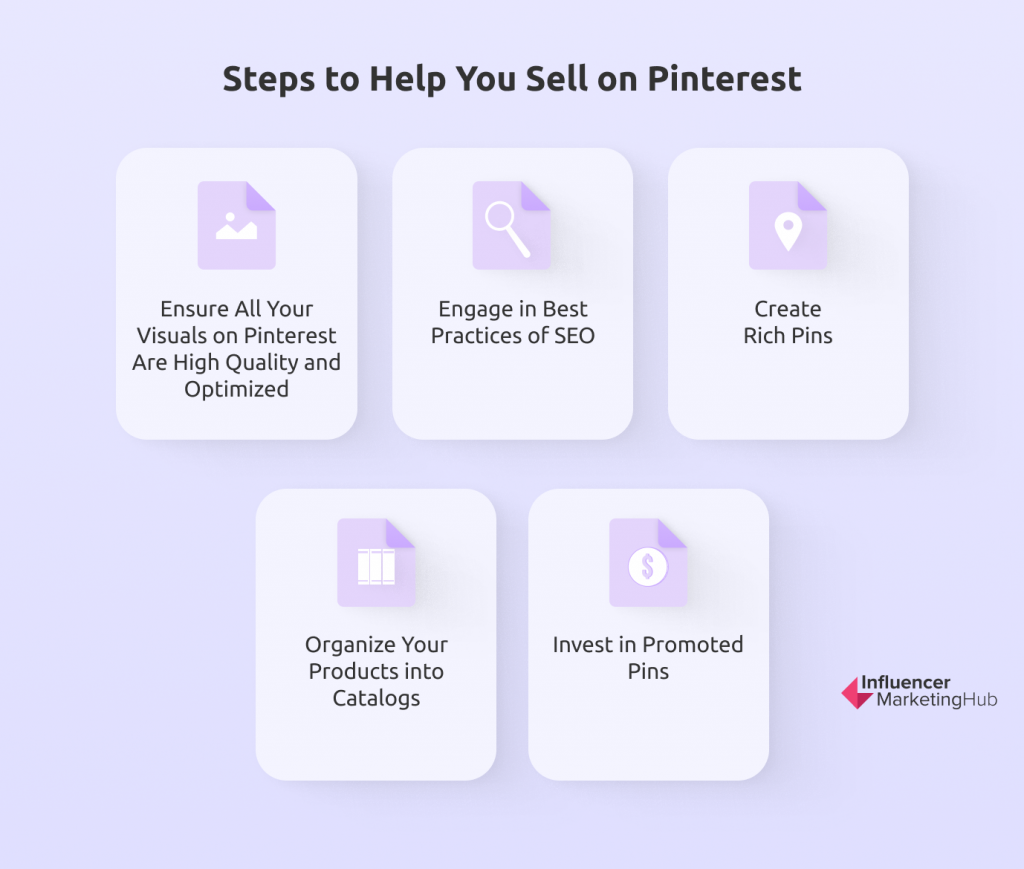 1. Ensure All Your Visuals on Pinterest Are High Quality and Optimized
Don't forget that Pinterest is primarily a visual social platform. Therefore, it's vital that you only Pin high-quality images and videos. Think carefully about the Pins you make. Don't make a random Pin because you believe you need to Pin something in a hurry. Restrict your Pinning to images relevant to the niche in which you operate and will appeal to your target audience. However, you don't have to be too focused on your specific niche. Make sure that you place your Pins on the correct Board to present a coherent and consistent story there.
Many brands strategically Pin images that are consistent with their branding colors. Benefit Cosmetics does this exceptionally well. You will notice how nearly all their Pins feature cosmetic products on a pink background, occasionally counterbalanced by their secondary color of teal. In addition, every Pin has Benefit's logo in the top center and a SHOP Now button (on a pink background) at the bottom center.
If you're planning to sell on Pinterest, your product photos are more important than ever. Consider having professionals photograph your main product lines, particularly if you can make them stand out in their setting.
Take a look at trending searches. Can you genuinely contribute images that will wow people? For example, at the time of writing, "green aesthetic" was shown as Popular on Pinterest whenever you searched. Could you Pin relevant images that would fit into that category?
---
2. Engage in Best Practices of SEO
As we wrote in our Ultimate Guide for Pinterest SEO, you need to conduct good SEO practices to give your Pins the widest audience. Much of what we wrote above about good practices for setting up your Pinterest account will help your SEO and mean that people should find your profile. However, you also need to keep up the practice with every image you Pin. Some things you should keep in mind when pinning include:
Research the best keywords to use in your Pins – examine trends on Pinterest, and if they apply to your niche, look for related long-tail keywords you can use in your Pins

Optimize your boards to match your preferred keywords

Ensure every Pin you make will be of value to your target audience

Include detailed descriptions with your pins

Use hashtags to make it easier for people to find your Pins when searching for images

Engage with people. Repin other people's Pins
---
3. Create Rich Pins
Rich Pins are perfect for delivering your message on Pinterest. They use code to pull metadata from your website pages and can include helpful information about your products. You can select different types of rich Pin, depending on the data you wish to display:
Recipe rich Pins

add a title, serving size, cook time, ratings, diet preference, and a list of ingredients to recipes that you Pin from your site.

Article rich Pins

add the headline or title, the description, and the author of the article or blog post from your site.

Product rich Pins

include the most up-to-date pricing, availability, and product information right on your Pin.
If something changes on the original website, recipe or article rich Pins update to reflect that change. Product rich Pins will, too, as long as you meet Pinterest's merchant guidelines and have the product in stock.
Product rich Pins on mobile include a Shop button that will direct customers to your product to purchase if you have stock on hand.
---
4. Organize Your Products into Catalogs
If you meet the following criteria, you can set up catalogs of your products on Pinterest:
A Pinterest business account

A claimed website

A website that meets the Pinterest Merchant guidelines

A data source or a file that contains a list of your products and their corresponding attributes

Data source hosting or a way to consistently host and store a data source of your products that you can send to Pinterest daily
Pinterest has integrations to simplify this process with Shopify, WooCommerce, Lengow, ChannelAdvisor, GoDataFeed, Feedonomics, and Productsup.
Once you have everything set up, every time you add a product to your website, Pinterest will automatically generate a product rich Pin.
Product rich Pins tag your products in images, in much the same way as you can tag people in Facebook posts.
---
5. Invest in Promoted Pins
For a relatively small investment, you can use Promoted Pins to improve your visibility with your target audience and direct them to your website. These are Pinterest's version of ads. You can target particular locations, demographics, and devices and reach customers searching for what you offer. Don't target all your Pins. Instead, be selective and promote those Pins most likely to meet your goals. If you are trying to sell on Pinterest, restrict your Promoted Pins to those most likely to convert to sales.