Advertising Disclosure
Advertising disclosure:
Our partners compensate us. This may influence which products or services we review (also where and how those products appear on the site), this in no way affects our recommendations or the advice we offer. Our reviews are based on years of experience and countless hours of research. Our partners cannot pay us to guarantee favorable reviews of their products or services.
Navigating the digital landscape can be complex, but choosing the right SEO content writing service shouldn't be. For your brand to stand out, you need content that's both engaging and optimized for search engines. To streamline your search, we've curated a list of the top 9 SEO content writing services. Each of these providers excels in crafting content that not only resonates with readers but also ranks higher in search results. Dive in and discover the perfect match for your brand's needs.
---
Top SEO Content Writing Services
Top
seo content writing services
2024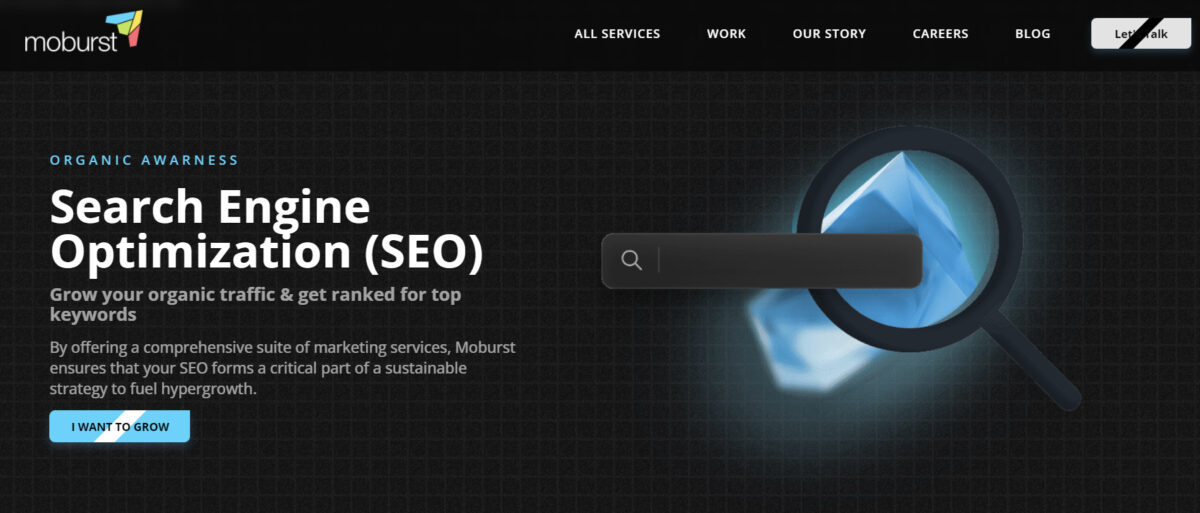 Best for: Enterprises and medium-sized businesses, with some small agencies
Pricing: Minimum project size is $5,000+, average hourly rate is $150 – $199
Moburst stands out as a digital marketing maven, particularly if your business focus is mobile optimization. With its roots in mobile-first marketing, this New York City-based agency has a global footprint, boasting offices in San Francisco, Tel Aviv, and London. Moburst excels in connecting you with your ideal target audience, a vital aspect of effective SEO content writing services. Their emphasis on App Store Optimization (ASO) and Conversion Rate Optimization (CRO) underlines their commitment to enhancing organic growth and visibility.
Their approach to SEO begins with establishing a strong foundation, ensuring content is search-engine friendly. They then make sure the content aligns with client KPIs. Moburst's diverse portfolio, including giants like Samsung and Reddit, speaks to their capability to handle a broad spectrum of SEO content needs. This, combined with their numerous accolades, positions them as a top-tier agency for brands looking to dominate in a mobile-first world.
---

Best for: Medium-sized agencies and enterprises
Pricing: Minimum project size is $5,000+, average hour rate is $100 – $149
Disruptive Advertising, a dynamic player in the digital marketing landscape, emphasizes the role of Search Engine Optimization in long-term business growth. Their approach to SEO content writing services centers on data-driven strategies spearheaded by seasoned experts. What sets them apart is their commitment to helping you claim the top spot in SERPs through tailored solutions rather than one-size-fits-all methods. Their comprehensive strategy includes on-page, off-page, and technical SEO, with an added focus on Conversion Rate Optimization (CRO) to enhance your sales numbers.
Disruptive Advertising's ability to manage significant ad spending signals their prowess in handling large-scale, effective campaigns. Their client testimonials across various industries, including healthcare and B2C businesses, reflect their versatile and result-oriented approach. With a focus on creating a significant impact in the digital space, Disruptive Advertising is an ideal choice for businesses seeking a custom, data-centric approach to SEO and digital marketing.
---

Best for: Small businesses and agencies
Pricing: Minimum project size is $1,000+, average hourly rate is $100 – $149
At the heart of SmartSites' offering is an extensive array of SEO services. These encompass local SEO, eCommerce SEO, national and franchise SEO, technical audits, SEO analysis, consulting, digital PR, and, crucially, SEO copywriting and blogging. Their approach is tailored to increase your brand's visibility, improve keyword rankings, and double traffic within six months. The key to their success lies in their ability to craft content that influences all variables affecting Search Engine Results Pages (SERPs).
In addition to SEO, SmartSites offers diverse expertise to ensure campaigns are seamlessly integrated with broader digital marketing efforts, providing a cohesive and effective online presence.
---
Best for: Medium-sized agencies and enterprises
Pricing: Minimum project size is $1,000+, average hourly rate is $100 – $149
Thrive Internet Marketing Agency, with its widespread presence across major U.S. cities, brings over 15 years of expertise in SEO solutions. Their diverse range of SEO services, from keyword research and link building to specialized Shopify and Amazon SEO, makes them a versatile choice for your business. Thrive distinguishes itself with its Agile SEO methodology, ensuring a dynamic and effective campaign structure. Their commitment to ethical SEO practices and transparent client reporting further cement their reliability in the industry.
What makes Thrive's SEO content writing services compelling is their focus on creating content that not only ranks but also resonates with and converts your target audience. Their ability to generate impressive organic traffic and lead increases, as showcased in their case studies, highlights their proficiency in delivering tangible results, making them an excellent choice if you're aiming for long-term online success.
---

Best for: Small to medium-sized businesses
Pricing: Minimum project size is $5,000+, average hourly rate is $100 – $149
Located in Tucson, Arizona, A Fresh Approach Media sets itself apart in the realm of SEO content writing services with its distinctive blend of advertising, branding, and digital strategy. Specializing in search engine optimization and web design, their service suite is a perfect blend of innovation and practicality.
This agency focuses on crafting strategies that not only increase your online presence but ensure that they resonate with your target audience. Their approach is fresh and tailored, moving away from one-size-fits-all solutions. By focusing on unique, SEO-driven content strategies, A Fresh Approach Media positions your brand for substantial online growth and heightened digital visibility, making them an ideal choice for businesses aiming for a significant digital footprint.
---

Best for: Small to medium-sized businesses and agencies
Pricing: Minimum project size is $5,000+, average hourly rate is $100-$149
A Hundred Monkeys, based in Berkeley, California, offers an invigorating take on SEO content writing services. Their digital marketing services, focusing on advertising, branding, and digital strategy, are underpinned by a strong commitment to search engine optimization and web design. What sets them apart is their commitment to not just elevating your online presence but doing so with a creative flair that ensures your brand's unique voice is heard loud and clear.
Their SEO content writing is geared towards creating impactful and engaging strategies, perfect for businesses seeking to carve a distinct niche online. A Hundred Monkeys is a go-to agency if you value creativity and effectiveness in your digital marketing endeavors.
---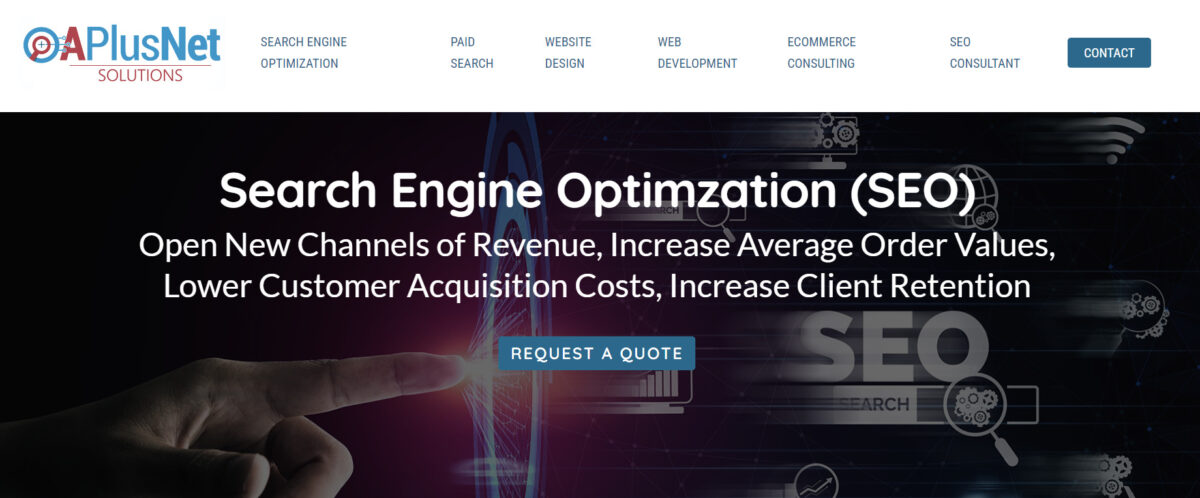 Best for: Small businesses and medium-sized agencies
Pricing: Minimum project size is $5,000+, average hourly rate is $50-$99
APlus Net Solutions is a noteworthy contender in the SEO content writing services domain, particularly for its affordability and expertise. Their proficiency in email marketing, paired with their exceptional skills in search engine optimization, makes them a versatile and effective partner for businesses aiming to bolster their online presence. This agency expertly blends technical know-how with creative strategies, ensuring not just visibility but also engagement for your brand.
Their suite of SEO writing services, including keyword research, optimized copywriting, and content development, is tailored to enhance your digital strategy, drive traffic, and improve sales. If you're looking for a comprehensive yet affordable partner in SEO content writing, APlus Net Solutions stands out as an excellent choice.
---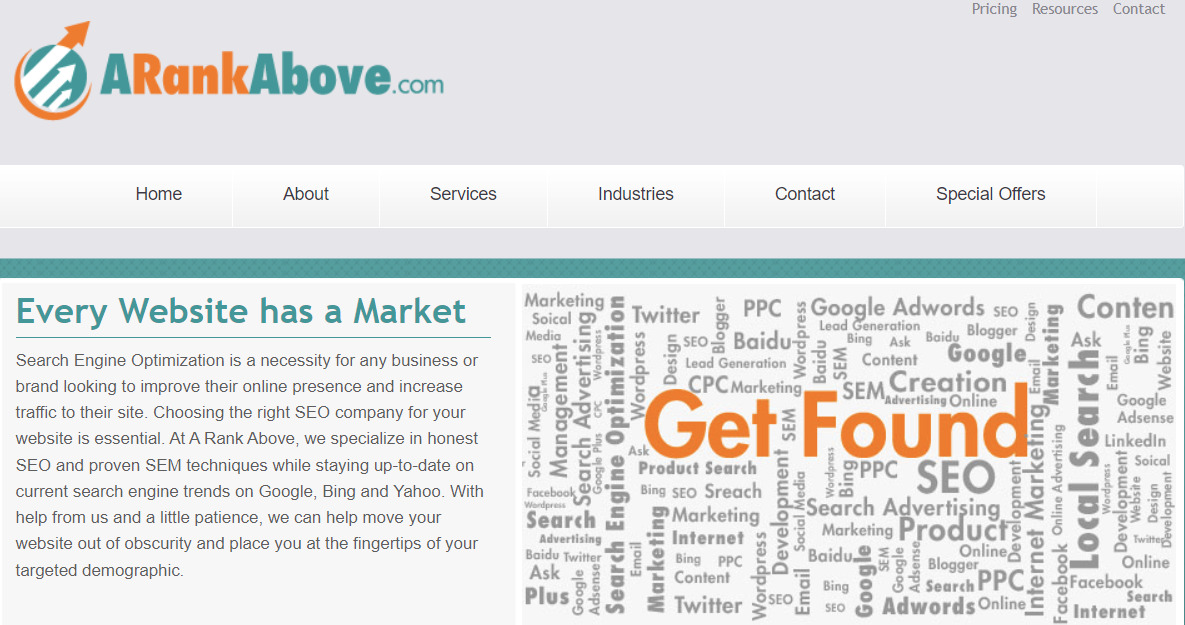 Best for: Businesses of all sizes
Pricing: Minimum project size is $5,000+, average hourly rate is $100-$149
A Rank Above distinguishes itself in the realm of SEO content writing services through its seasoned team of digital marketing professionals. Their specialization in digital strategy and search engine optimization is complemented by expertise in relevant content development, text-based linking, and keyword ranking.
They excel in weaving comprehensive digital marketing plans that not only boost your online presence but ensure your brand's narrative is consistently compelling across various platforms. A Rank Above focuses on crafting SEO-rich content that resonates with your audience across platforms, from social media to email. This agency is ideal for businesses seeking an integrated and strategic approach to dominate the digital landscape.
---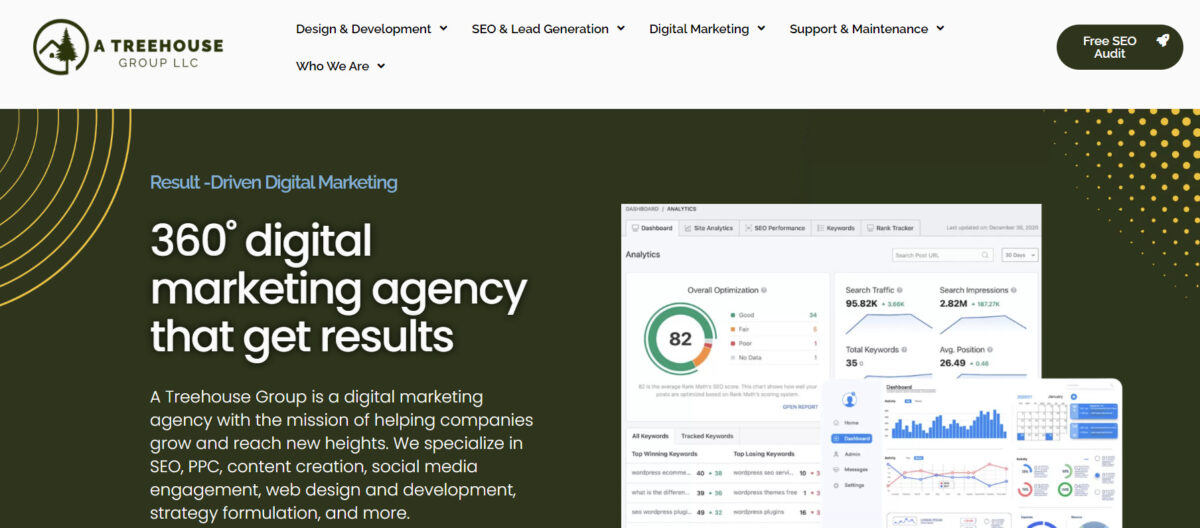 Best for: Small businesses and medium-sized agencies
Pricing: Minimum project size is $1,000+, average hourly rate is $150-$199
A Treehouse Group from Los Angeles, California, makes a significant mark in the field of SEO content writing services with its innovative and strategic prowess. They stand out in areas like search engine optimization, social media marketing, content marketing, and optimizing on and off-page elements for search visibility. Known for their creative and strategic approach, Treehouse Group doesn't just build your digital presence; they elevate it to new heights.
Leveraging the latest trends and technologies, Treehouse Group ensures your digital content is not just optimized for search engines but also resonates with your target audience. This agency is the perfect partner for businesses aiming for impactful results and a robust digital strategy.
---
Analyzing the Optimal Word Count for SEO
Navigating the vast landscape of SEO can be daunting, especially when it comes to determining the perfect word count for your content. Luckily, there's substantial data to guide you.
For 2023, based on a wealth of information accumulated over a decade and various comprehensive studies, Hook Agency recommends a word count range of 1,760 to 2,400 words. This recommendation stems from data revealing Google's algorithm's inclination towards longer content. It suggests that these in-depth articles are often perceived as more valuable than their shorter counterparts. However, while length is an advantage, it doesn't mean brevity is penalized. The consensus is that a post should never fall below 300 words to be deemed SEO-friendly, according to the same source.
Diving deeper, a study by Backlinko pinpointed the most optimal word count for SEO to be 1,447 words. This number isn't just a random figure; the average word count of pages gracing Google's first page was also 1,447 words. Furthermore, Backlinko also found that search algorithms don't just favor long-form content; it also tends to be more appealing to readers and fellow content creators. Evidence suggests that meatier content generates more backlinks compared to shorter blog entries, thus boosting its SEO potential.
And speaking of traffic, if organic reach is what you're after, consider this: data suggests that blogs within the word count bracket of 2,250 to 2,500 words tend to witness the highest average organic traffic. This is more than just eyeballs on your page; the in-depth nature of long-form content means it's also adept at conversion. In fact, the same data points out that long articles can churn out 9 times more leads than their short-form counterparts.
A specialized SEO content writing service knows all this. With their expertise, they craft content that aligns perfectly with proven SEO strategies and current data insights. By partnering with them, you're not only ensuring high-quality content but also maximizing your chances of achieving top rankings and greater online visibility.
---
What Services Do SEO Content Writing Agencies Offer?
Navigating the world of SEO can be intricate, but specialized SEO content writing agencies are here to guide and assist you. Here's a concise list of the myriad services they offer to elevate your brand's online presence:
This pivotal step involves a meticulous process of identifying high-value keywords that are not only relevant to your niche but also have the potential to drive significant traffic. By understanding the search terms your target audience uses, you ensure your content effectively addresses their queries and stands out in search engine results.
SEO content writing agencies specialize in producing high-quality, SEO-optimized articles, blog posts, and other web content. These pieces are tailored to engage your readers, answer their pressing questions, and adhere to the best practices of SEO, ensuring visibility and relevance.
Beyond the written content, on-page SEO encompasses the technical elements of a webpage. This involves meticulously implementing meta tags to describe your content to search engines, alt tags for images to enhance accessibility, structuring headers for readability, and ensuring optimal keyword density. All these elements work in tandem to enhance your page's SEO potential.
Content Strategy Development
Developing a content strategy involves mapping out content needs based on your business objectives, pinpointing the most impactful topics, and scheduling regular updates. This ensures your website remains dynamic, fresh, and relevant to your audience's evolving needs.
Backlinks serve as endorsements in the digital realm. A focused link-building strategy aims to secure high-quality backlinks from reputable sites, enhancing the authority and credibility of your content. This not only bolsters your content's search ranking but also widens its reach.
Digital content is dynamic, and over time, some information may become obsolete or less effective. Regular content audits involve a thorough review of existing content to pinpoint areas needing updates, refinements, or even removal. This keeps your content arsenal sharp and effective.
In the digital race, understanding your competition is half the battle. Through detailed competitor analysis, agencies gauge what your rivals are doing effectively and identify gaps in their strategies. This information becomes the foundation for crafting strategies that outperform and outpace them.
For businesses catering to specific locales, optimizing content for local searches is paramount. This involves integrating geo-specific keywords, optimizing Google My Business listings, and ensuring content appeals to the local audience. Local SEO bridges the gap between your business and its local customers.
Conversion Rate Optimization (CRO)
Attracting visitors is one goal; transforming them into loyal customers or subscribers is another. CRO is an intricate process of tweaking and fine-tuning content, ensuring that it not only captures attention but also persuades visitors to take desired actions, be it signing up, purchasing, or any other conversion goal.
It's essential to measure to manage effectively. By routinely analyzing and reporting on content performance, agencies provide valuable insights on metrics like traffic flow, user engagement, bounce rates, and conversions. This data-driven approach ensures that your content strategy remains agile and result-oriented.
By availing of these services, you position your brand for online success, ensuring your content isn't just seen but also makes a significant impact.
---
Conclusion
The right SEO content writing service can be a game-changer for your online presence, driving not just traffic but also engagement and conversions. While this article has highlighted the top 9 agencies, the key takeaway is the universal benefit they offer: enhancing your digital footprint in a way that resonates with both search engines and your target audience.
Frequently Asked Questions
What is the difference between SEO content writing and regular content writing?
SEO content writing is specifically tailored to improve a website's visibility on search engines. It involves using targeted keywords, optimizing headings and meta tags, and ensuring content quality to meet search engine algorithms. Regular content writing, while still focused on quality and audience engagement, doesn't necessarily incorporate SEO techniques and may not be optimized for search engine rankings.
How long does it typically take to see results from professional SEO content writing?
Results from professional SEO content writing can typically be seen within 3 to 6 months. SEO is a long-term strategy, and it takes time for search engines to index and rank new content. The timeframe can vary depending on the competitiveness of the industry, the current state of the website, and the effectiveness of the SEO strategy implemented.
Can SEO content writing services adapt to different industry-specific needs?
Yes, SEO content writing services are highly adaptable to different industry-specific needs. Professional SEO writers conduct thorough research to understand industry jargon, audience preferences, and unique market challenges. This enables them to create content that is not only SEO-friendly but also resonates with the target audience of that particular industry.
What are the key factors to consider when choosing an SEO content writing service?
When choosing an SEO content writing service, consider factors like the agency's experience and track record in your industry, their understanding of the latest SEO trends and algorithms, the quality and originality of their content, and their ability to align content strategy with your business goals. Also, look for transparency in their methods and clear communication about expectations and results.