If you've been reading up on Amazon marketing, you've most likely heard many technical terms and confusing acronyms like AMS (Amazon Marketing Services), Amazon DSP, and A9. Amazon Marketing Services is basically the collective term for a number of Amazon services for sellers such as Amazon Display Ads, Amazon Sponsored Brands, and Sponsored Products. In 2018, many of these features were rebranded to Amazon Advertising, while Amazon Marketing Services are now simply called Advertising Console.
Why should you care about any of this? According to reports of Sellics (one of the tools that we will discuss later), some marketers are reallocating as much as 60% of their budgets from Google to Amazon. What's more, a report by Feedvisor has revealed that 69% of brands find advertising on Amazon very valuable. In fact, some brands spend over $100,000 per month just on Amazon advertising.
As Amazon dedicates a lot of screen space to ads, it's key that sellers take advantage of marketing on Amazon. So, to help you get the best ROI, here are some of the top agencies and software solutions that offer Amazon marketing services.
---
Top 21 Amazon Marketing Services:
---
21 of the Best Amazon Marketing Services


For customized solutions, Thrive is one of the top agencies to use for Amazon SEO and PPC campaigns. Their efforts have been recognized by the likes of Clutch, UpCity, and Neil Patel who have listed them as one of the Top 3 Amazon marketing agencies in 2020. Also, most recently, they've been recognized by PromotionWorld and FindBestSEO in September 2021 as one of the best SEO companies.
With offices all over the United States, their award-winning online marketing agency offers a long list of marketing-related services that include Amazon marketing services. Whether you need help with Amazon seller setup or need to optimize your product descriptions, their team of experts will be able to create a custom marketing strategy for you.
Their services include:
Amazon account audit

Competitor analysis

Keyword research

Optimized descriptions

Storefront and branding

PPC management

Consulting

Pricing strategy and testing

Amazon reporting and analytics
---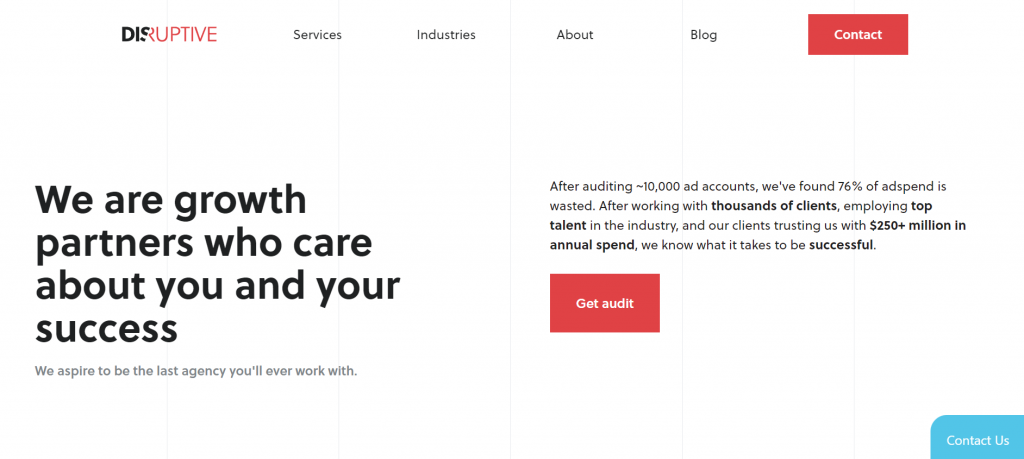 Disruptive Advertising partners with its clients to understand the why behind their businesses, the goals they aspire to, and its impact on their customers. They manage $250M+ in digital advertising budgets annually and have won 50+ local and national awards.
Their Amazon consultants are focused on increasing total sales and profitability within the Amazon platform. They leverage Amazon marketing best practices to effectively portray your brand and products in a way that resonates with your target audience.
Their marketers review both the SEO & PPC elements of your Amazon product listings. They then build and optimize your campaigns and listings based on the opportunities they identify.
Their services include:
Paid Search (Google/Microsoft/YouTube)

Paid Social (Facebook/Instagram/LinkedIn/Snapchat/TikTok/Twitter)

Amazon Advertising

Lead Nurture Marketing

Email Marketing

Creative Services

Website Optimization
---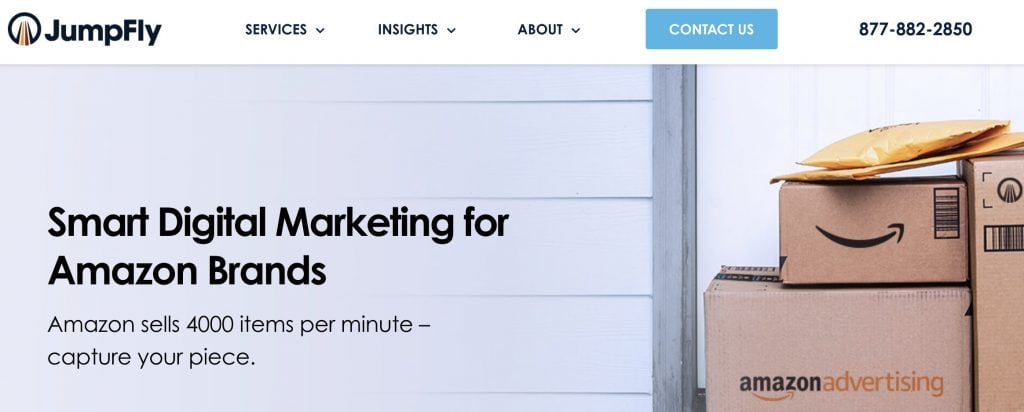 Established in 2003 by two childhood friends, JumpFly is a digital ad agency that specializes in PPC marketing and ad management for Amazon. Their first focus is to create a strategy before they jump into tactical execution. This approach has served them well and has helped them to grow their clients' Amazon revenue by as much as 1100%. It doesn't matter if you have only a couple of products or 100,000+, they can help small and enterprise clients identify smart Amazon opportunities.
Their services include:
SEO strategy

Amazon ad management

Paid search

Strategic analysis

Custom PPC audits
---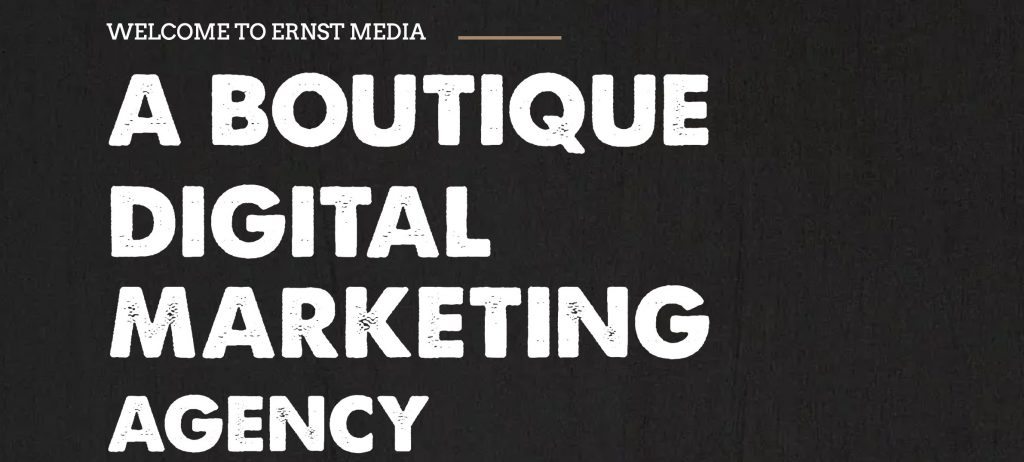 Boasting over 15 years of experience, Ernst Media is a boutique digital marketing agency that's based in Washington. With regards to Amazon marketing specifically, their team of certified experts can help with Amazon Seller PPC management and can help you to create and implement a strategy to grow your business.
Their other services include:
Google Ads

Facebook Ads

Apple Search Ads

SEO

Social media marketing
---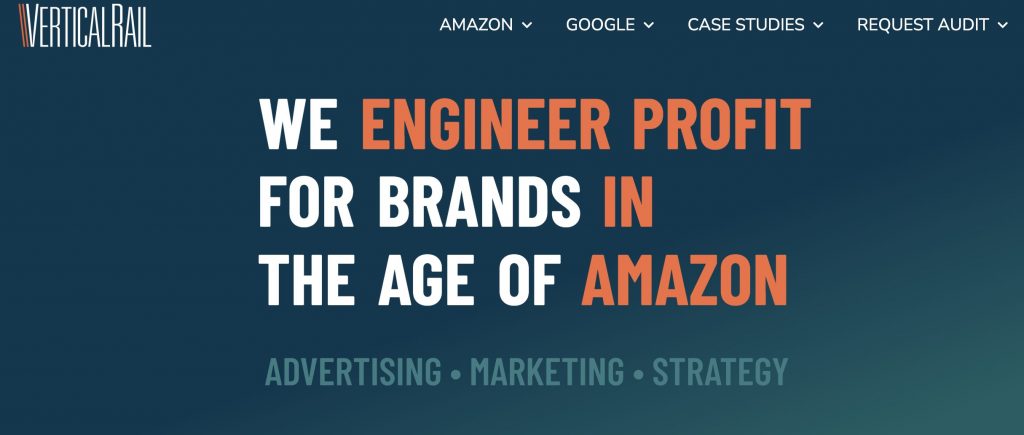 Founded in 2008, Vertical Rail offers only Amazon and Google advertising. In addition to being able to help with Amazon advertising, their focus also includes seller consulting, account management, and product optimization.
With regards to Amazon advertising specifically, they offer the right balance of Sponsored Display Ads, Sponsored Product Ads, and Sponsored Brands campaigns. In short, they will help you to become advertising-ready before your marketing campaigns launch so that you can get the best possible ROI.
Their services include:
Operational planning

Competitive intelligence

Identifying growth threats

Optimizing spend

Amazon SEO

Keyword research

Writing of product titles and descriptions

Recommendations for product images

Amazon store setup
---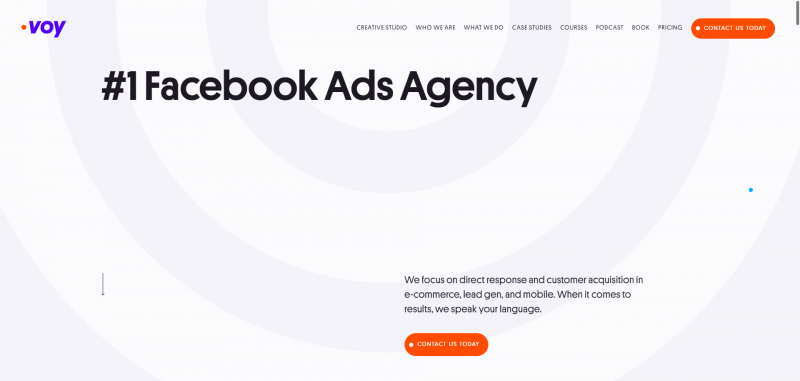 For PPC marketing specifically, you can turn to Voy Media. They're one of the top Amazon PPC management agencies and can help you to leverage social media to boost sales. For example, in just three months they managed to build 270K revenue from an ad spend of only 49K for a client selling blankets. In fact, more than 90% of their clients have doubled their revenue in their first year that they've worked with their agency.
What sets them apart from many other agencies is their level of customer support. Not only do they offer one-on-one strategy consultations, but you'll also have a dedicated account manager and lead strategist. From ads management to data analytics, their team can take care of everything needed to generate leads that convert.
Their services include:
Full-service Amazon ads

Retargeting

Real-time analytics

Ad video design

Copywriting

Product photography
---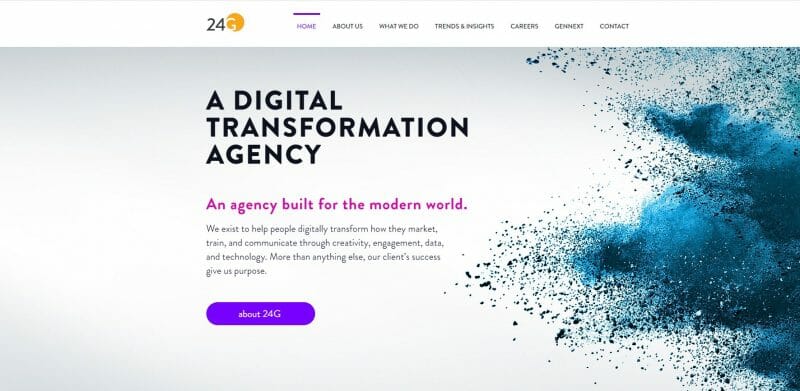 Based in Troy, Michigan, 24G is a digital transformation agency that has helped their clients enjoy a 240%+ growth in the first six months on average. Their client base spans over 100 categories and represents $2+ billion in total sales annually.
With the help of their proprietary, AI-driven Riverguide platform, you can optimize your campaigns and spark new growth. This technology offers speed and automation to your keyword workflow.
Their services include:
Advertising and campaign management

SEO and content optimization

Promotions and deal management

Inventory management

Complete management of all Amazon Advertising ad types

Data analysis

Weekly reporting
---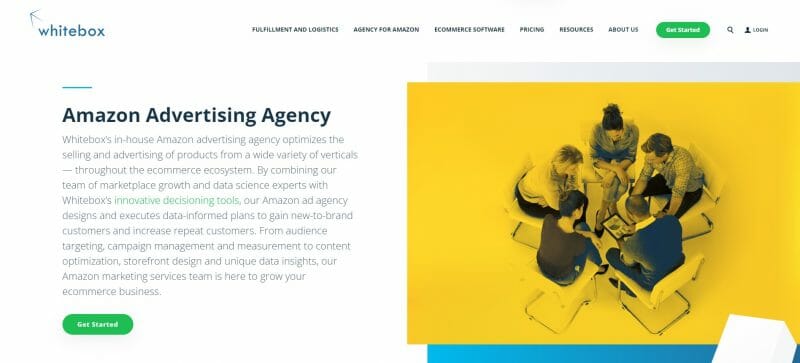 Based in Baltimore, Maryland, Whitebox is a full-service marketplace growth agency.
Their marketplace advertising services can help you to sell across various marketplaces, such as Amazon, easily by optimizing your product listings and boosting your product rankings.
Their team will also help you to understand how resellers and distributors operate and assist you in creating a detailed marketplace growth strategy. As every member of their marketplace management team is accredited via Amazon's accreditation program, you can rest assured knowing that they're truly knowledgeable about the best Amazon marketing practices.
Their services include:
Content creation for organic and paid search

Analytics for organic and paid search

Management of Sponsored Products

Promoting deals and discounts

Order forecasting

Chargeback prevention

Dispute resolution
---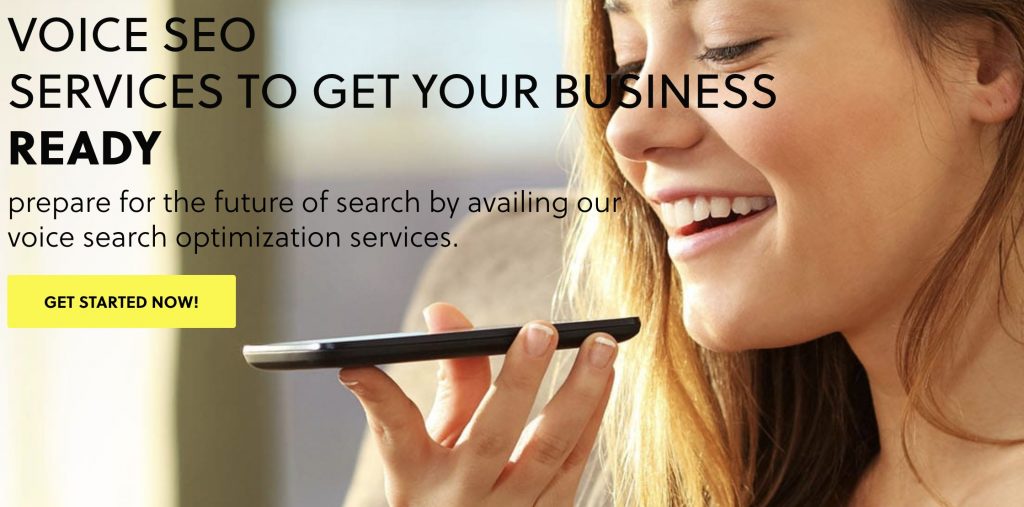 Increasingly more people are turning to voice-enabled technology for online shopping, with Amazon Echo being one of the most popular devices. In fact, according to Statista's data, it's estimated that in 2025 more or less 130 million Amazon Echo devices will be sold across the world.
So, it's crucial that you also optimize your product listings for voice search. To help you with this, you can, for example, check out Voice SEO. Their team members are experts in voice search optimization as well as SEO and have created their own system for making sure the right target audience takes note of your brand. Whether you simply want to focus on local audiences or take on major competitors in your niche, Voice SEO specializes in both local business as well as enterprises. Plans start at $3,000 per month.
---

NP Digital is one of the top eCommerce marketing agencies and has worked with a number of major brands like eBay, Facebook, NBC, Google, and Adobe XD. Boasting offices across the globe, their team will work with you to identify which approach will work best for you and your goals, whether that will be Sponsored Products, Sponsored Brands, Amazon DSP, etc. With the help of their tested SEO program, they can implement discoverable and engaging content marketing campaigns for Amazon sellers.
Their services include:
Audience research

Keyword research

Store optimization

Product descriptions

SEO-driven content marketing
---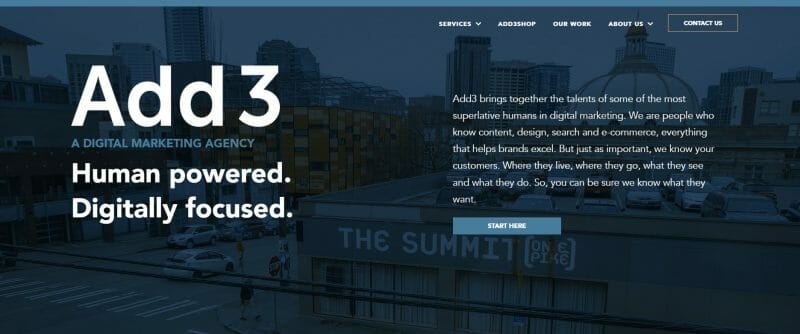 Add3 will conduct an initial audit of your products and brand to get a better idea of how Amazon consumers view them. Armed with this insight, they know which areas to concentrate on and will then turn their attention to creating your first campaign. Not only do they use a specific launch strategy, but they'll also tailor it to the specific requirements of your brand.
Their services include:
Sponsored Products

Sponsored Brands

Sponsored Display

Tailored Amazon DSP campaigns
---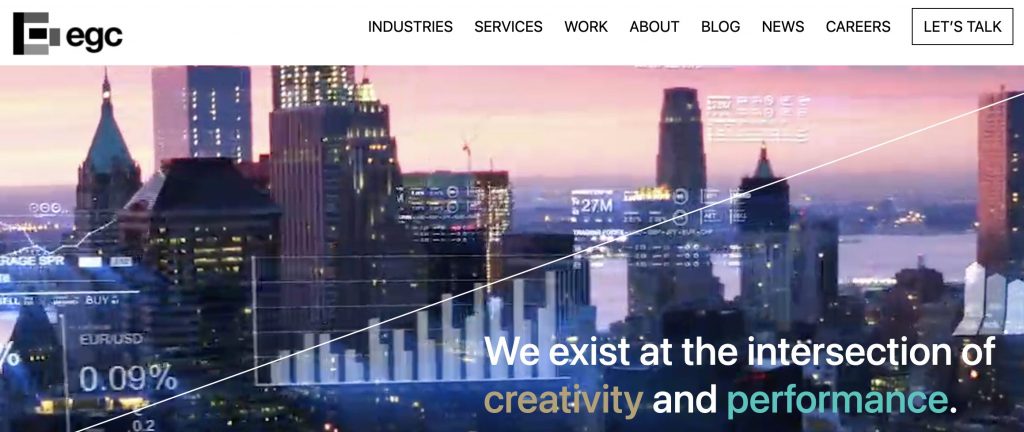 Based in New York, the EGC Group offers ROI-focused and data-driven campaigns that can help to drive demand and direct sales for your products. Their team of creative content developers, Amazon marketing experts, influencer managers, and optimization specialists will start by completing a comprehensive competitive audit before they create keyword and content strategies. After developing these strategies, they can help with ongoing campaign management and review management.
Their services include:
Amazon Seller account management

Listing optimization

Custom real-time reporting

ROI tracking

Product videos

Keyword research

Store development

Product copywriting
---

Rise Interactive has been on Amazon's Advertising directory of agencies for the past two years. Their skills in managing and optimizing Amazon ad campaigns will help you to scale your brand faster. From experienced copywriters to interaction designers, different experts will work together to create a custom store and product experiences. Their customer-centric campaigns will ensure that you get the best possible ROI.
Their services include:
Amazon DSP

Amazon Sponsored Ads

Amazon Product Description Pages (PDP) Strategy

Amazon A+ Content and Store Management
---
If you specifically need help with SEO, this is where Titan Growth's actual focus is. Their team of seasoned marketers uses their patented search technology, TitanBOT, to anticipate how search engines will react to their campaigns. From branded product keywords to complementary product keywords, they'll implement different types of keywords to help you reach more consumers who are searching for the products that you sell.
Their services include:
Amazon SEO

Demographic and location audit

Video production

Paid media management

Custom link acquisition
---

SocialSEO's team of award-winning digital marketers can help you with Amazon SEO and SEM services. Not only will they help you to create effective product descriptions, but they'll also work closely with you to develop more effective Amazon ad campaigns. In fact, in 2020, they were voted as the top digital marketing agency in America by UpCity.
Their services include:
Amazon SEO

Google Analytics

PPC

Video production

Graphic design
---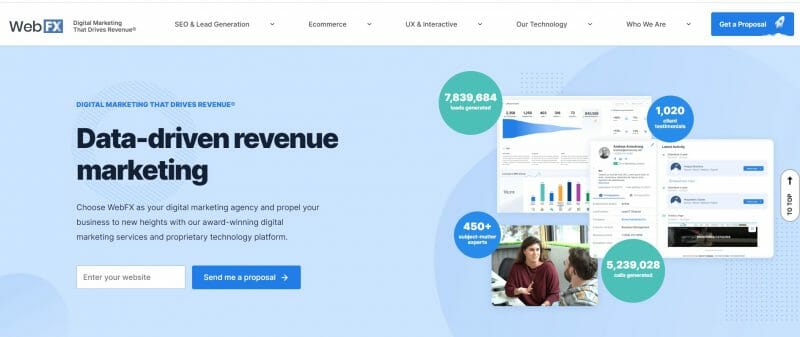 With offices in various cities across North America, WebFX is a full-service digital marketing agency that boasts a team of more than 300 in-house Amazon marketing experts. With the help of the industry's most advanced software solutions and innovative product listing optimization strategies, they can help you to improve your online visibility and drive more sales. It doesn't matter which package you pick, you'll have a dedicated Amazon marketing specialist to guide you through the process.
Their services include:
Initial product analysis

Competitive product price analysis

Product user engagement analysis

Keyword research

Product title optimization

New products consulting
---

From A+ content to product detail page optimizations, Ignite Visibility offers a suite of services to drive more Amazon sales. Based in San Diego, California, they work with businesses of all sizes and will take into account the needs of your business to create customizable contracts. Not only have they been featured in the likes of Forbes and The Huffington Post, but Clutch has also named them as the top SEM company in the USA, Canada and the UK.
Their services include:
Amazon DSP

Amazon SEO

Reporting

Seller Launch consultation

Listing updates and optimizations
---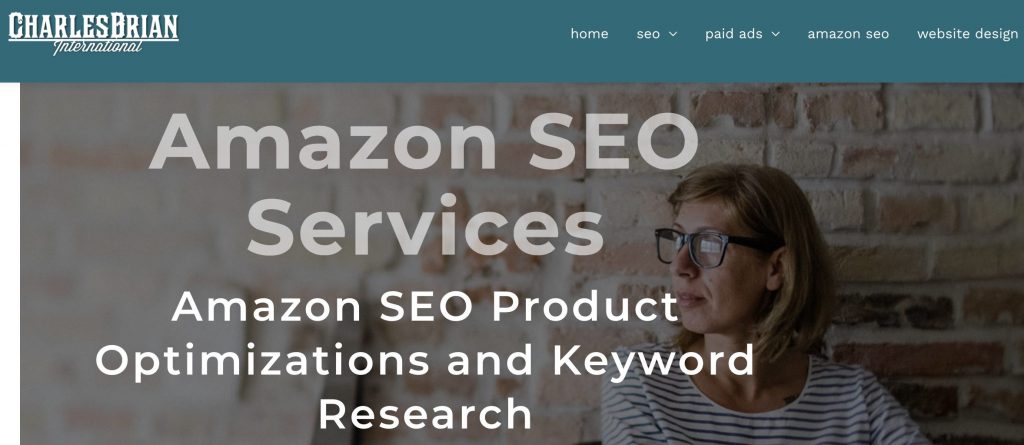 Charles Brian International is another agency that specifically focuses on Amazon SEO services. Based in New York City, they're a full-service advertising and marketing agency that mainly works with smaller businesses, helping them to craft comprehensive marketing strategies. While their team of Amazon experts are well versed in creating and optimizing product listings for the A9 algorithm, they believe in taking a comprehensive approach to boost sales and visibility by using a combination of Amazon SEO, PPC, and reviews.
Their services include:
Keyword research

Amazon SEO

Product page optimization

Competitive analysis

Professional copywriting
---

No marketing campaign will be quite complete without incorporating email marketing as well. Amazon Simple Email Service (SES) is an affordable and scalable bulk email service that lets you send emails from within any application. It's used by big brands like Reddit and Netflix to boost email deliverability and drive user engagement.
You can configure it to send a wide range of emails such as marketing emails and transactional emails. It can be slightly challenging to set up, but it offers loads of features and comprehensive reports that will help you to evaluate your performance.
---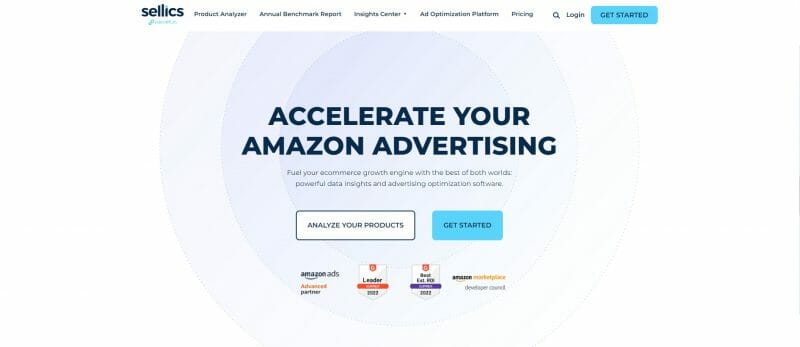 If you prefer the DIY approach instead of working with a full-service agency, you can also check out Sellics. It offers one-click automation and advisory services for Amazon PPC. With the help of advanced AI, it makes it easier and less time-consuming to scale your business. While it can automate important tasks like ongoing optimization, it also offers personal consulting for those who prefer a bit more human interaction.
---

Founded in 2010, Ad Badger is an automation tool that can help sellers improve their workflows on Amazon. With its powerful tools, you can manage and keep track of your Amazon campaigns 24/7. You can, for example, use it to oversee your keywords with the help of tools like a negative keyword finder and a positive keyword finder.
While you don't need technical expertise to use its tools, they also offer Amazon PPC coaching for those who want to get more involved. Not only will you get custom tailored coaching for your business, but they'll also include a campaign audit each month to assess the overall health of your account.