Advertising Disclosure
Advertising disclosure:
Our partners compensate us. This may influence which products or services we review (also where and how those products appear on the site), this in no way affects our recommendations or the advice we offer. Our reviews are based on years of experience and countless hours of research. Our partners cannot pay us to guarantee favorable reviews of their products or services.
Search engine optimization, or SEO, is integral to any company's marketing strategy. The demand for prime digital real estate is intense, with millions of websites competing for the top spots on SERPs. Without an effective SEO strategy, companies risk losing to competitors that rank higher on relevant searches.
SEO comprises several elements, including marketing, communication, and technical aspects. While some companies thrive with an in-house SEO team capable of managing the intricacies of a successful SEO strategy, outsourcing often yields superior results and relieves the marketing department of this burden. Due to the ever-evolving nature of digital SEO, the skills and capabilities needed to implement it effectively are constantly changing. SEO digital agencies, with years of industry experience, are the most equipped to handle the complex requirements of SEO and grow your online presence.
---
Top SEO Digital Agencies for Improving Your Rankings
These SEO digital agencies excel at delivering top-notch SEO services. Read on for our reviews on these firms that can keep your company at the top of SERPs.
Top
seo digital agencies
2024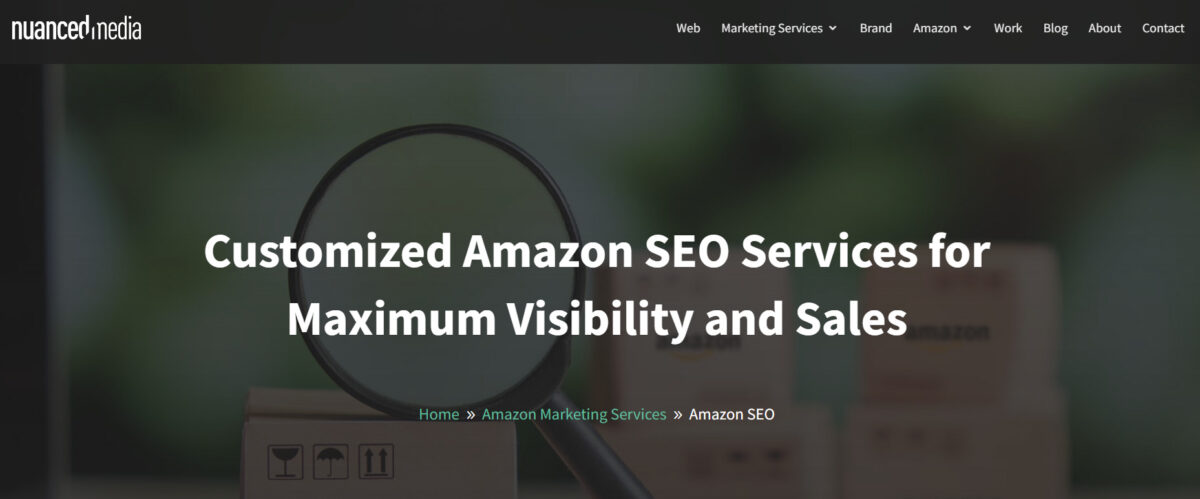 Best for: Amazon SEO
Locations: San Diego, Phoenix, Tucson, Chicago, and Philadelphia
Rate: $100-149 per hour
Nuanced Media specializes in eCommerce SEO, focusing on Amazon. Since their establishment in 2010, they have delivered exceptional marketing services, generating millions of dollars in online sales for their clients. Their Amazon SEO services include competitor analysis, advanced keyword research, content and photo optimization, pricing strategy, and account audit services.
Pros: With more than 13 years of experience, Nuanced Media has mastered the Amazon ecosystem. Sellers on Amazon will benefit significantly from their deep knowledge of the eCommerce platform that can increase sales through effective SEO marketing. 
Cons: Nuanced Media primarily specializes in Amazon SEO, so if you require other SEO services, they may not be the most suitable choice.
Key Services:
Amazon marketing

eCommerce marketing

eCommerce web design and development
---

Best for: SaaS and other tech companies
Locations: Irvine, California
Rate: $200-300 per hour
Directive Consulting specializes in providing SEO services specifically tailored for SaaS companies. They utilize a range of techniques, including AI augmentation, to optimize their clients' websites. Additionally, they adopt a customer-led SEO approach, prioritizing the needs and preferences of end users over search engine algorithms.
Pros: As a tech-focused company, their expertise in this specialized market ensures that their SEO strategies are up-to-date with the latest trends and developments in the tech industry.
Cons: They cater primarily to midsize and large enterprises. Although they offer a package for startups, their pricing may be higher for smaller businesses. Some reviews have also mentioned occasional scheduling issues.
Key Services:
Paid media

Lifecycle marketing

Customer generation
---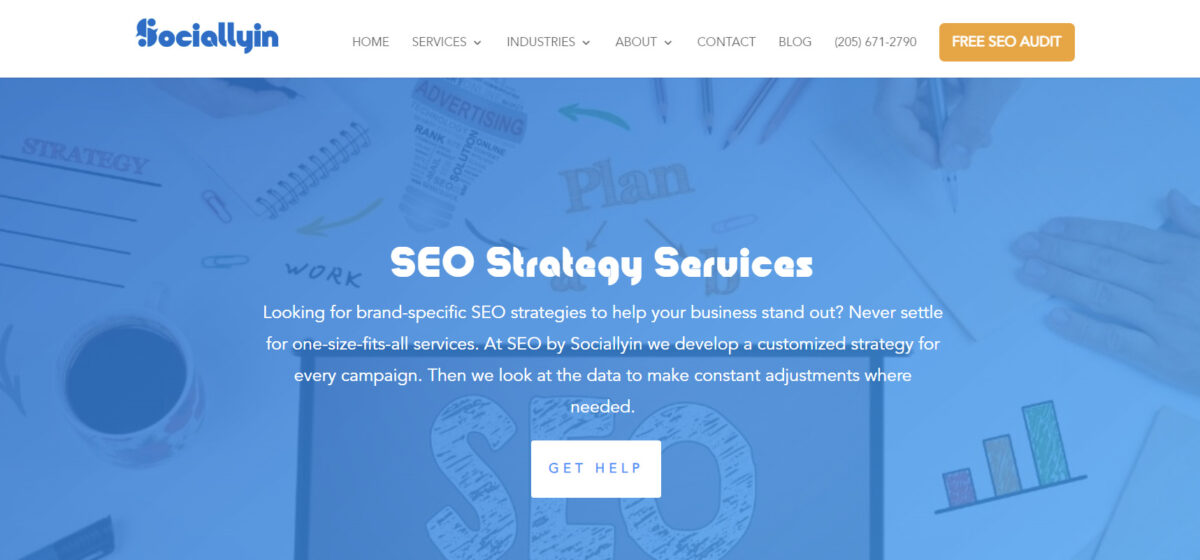 Best for: Social media SEO
Location: Atlanta, GA
Rate: $100-149 per hour
Sociallyin is a social media marketing agency that helps businesses create and grow their online presence. They even have an in-house production team to create optimized content for your social media accounts. Sociallyin is fully focused on social media marketing, so they are the ideal firm to hire when you want SEO results from TikTok, Instagram, Facebook, and other social media platforms.
Pros: Sociallyin Studios, their in-house production studio, provides complete packages to create content based on your branding and business goals. The agency can create product photos, stock photos, and short-form videos for your brand. Because they work in-house, the content they produce will match the strategy that the agency has created for your business, ensuring seamless and coherent storytelling.
Cons: As a social media agency, Sociallyin does not offer standalone SEO services, such as technical or local SEO. Instead, its strategies for social media management and content creation are already optimized for SEO.
Key Services:
Paid advertising

Influencer marketing

Video production

Social selling

Community management
---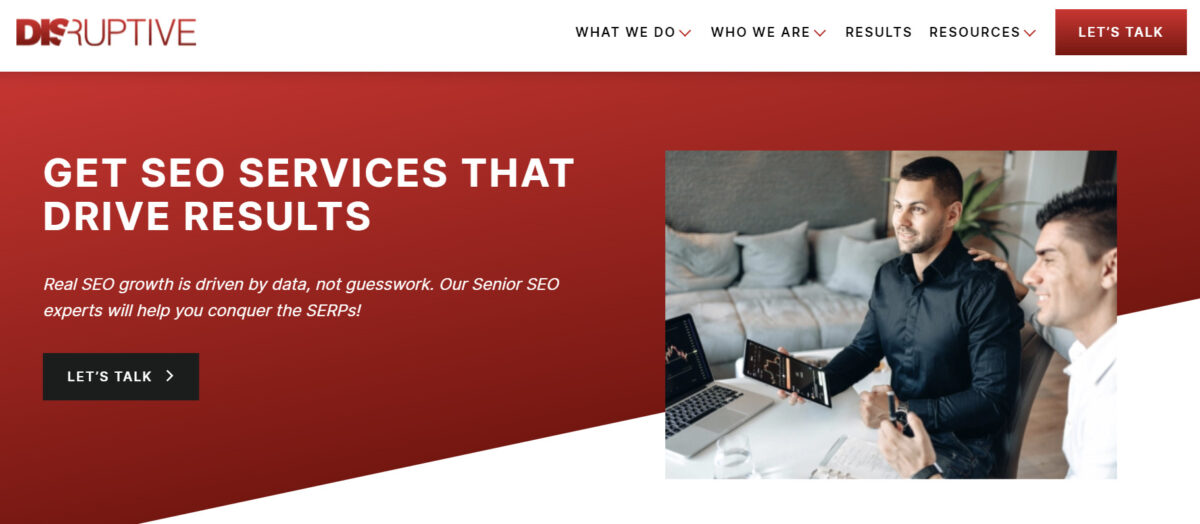 Best for: SEO strategies combined with PPC marketing
Location: Pleasant Grove, UT
Rate: $100-149 per hour
Disruptive Advertising is a PPC and digital marketing agency that challenges the norms of digital marketing. With a strong focus on a client's mission, they help brands achieve profit and long-term growth, fulfill their purpose, and become industry leaders. They take a holistic approach to SEO, emphasizing three key pillars: technical optimization, on-page optimization, and off-page optimization. Their main goal is to increase sales, drive website traffic, and build enduring customer relationships through effective search optimization and PPC strategies. 
Pros: They offer a free SEO audit to assess your company's requirements. They also have a limited number of clients, ensuring that their attention and resources are focused on delivering effective results. In addition to their SEO services, they conduct conversion rate optimization testing to ensure desired outcomes.
Cons: Being selective with clients can also be a disadvantage, as it can make it more difficult for potential clients to partner with them if they are already at maximum capacity. They're also focused on making long-term partners, so if you're looking to hire for a single SEO campaign, they might not be the ideal agency.
Key Services:
Email marketing

Social media management

Paid search

Website optimization
---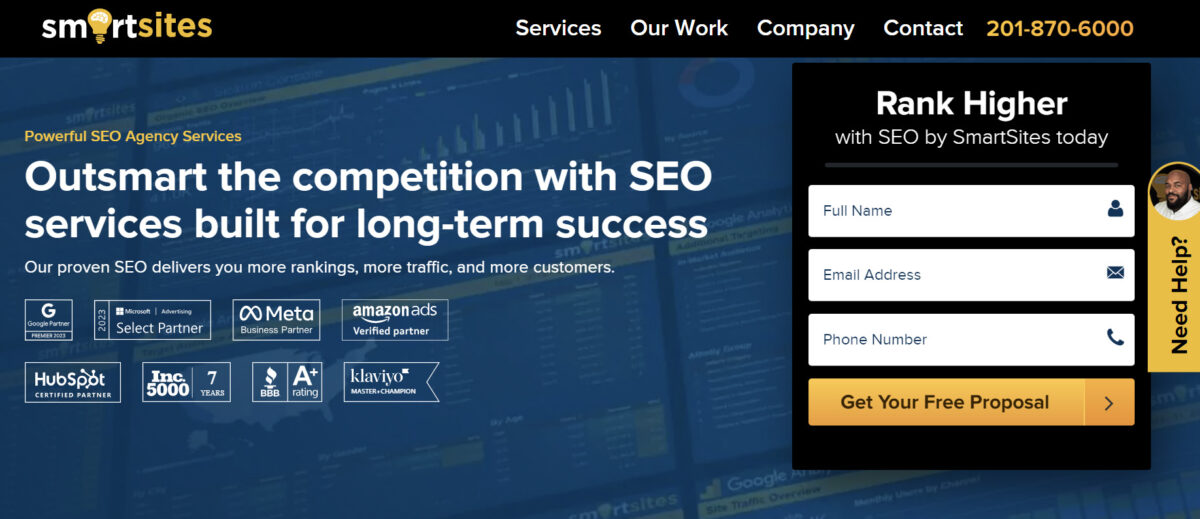 Best for: SEO with website design and development
Location: Paramus, NJ
Rate: $100-149 per hour
SmartSites is an award-winning digital marketing agency that started in 2011. According to their website, many of their SEO clients achieve a 200% increase in traffic within the first six months. They have gained recognition from websites like Clutch, G2, CrowdReviews, and UpCity, and are frequently featured on "top agency" lists. Their custom web designs are optimized for search to give your business the professional branding and credibility that can boost your ranking. Aside from web development, they also offer a comprehensive menu of SEO services, including a technical SEO audit and analysis, SEO copywriting, link building, mobile SEO, and website migration.
Pros: Their SEO services are categorized into local SEO, eCommerce SEO, national SEO, and franchise SEO, so you can pick and choose specific strategies that you need. With their diverse capabilities, they can deliver highly customized solutions to significantly enhance and elevate your SEO strategy.
Cons: Their pricing model is not readily available and may be too costly for small businesses. Some reviews have mentioned that their website templates and project prioritization could be improved.
Key Services:
PPC advertising

Social media management

Email and SMS marketing
---

Best for: Local and franchise SEO
Location: Arlington, Texas
Rate: $100-149 per hour
Thrive has positioned itself as an Internet marketing agency, offering digital marketing services from web design to eCommerce to social media. Established in 2005, they are one of the older companies on our list, so they've seen how SEO strategies have changed over the years, and they've adapted to keep up with the times. With employees and clients worldwide, Thrive demonstrates that their emphasis on "relationships and results" leads to client satisfaction. Their commitment to trust and integrity is demonstrated in their SEO Code of Ethics, a 12-point set of principles that the agency abides by in providing quality SEO services. 
Pros: Thrive offers comprehensive and customized strategies to meet the unique needs of your business. They specialize in technical SEO, local SEO, and franchise SEO, providing targeted solutions to improve your online presence. With 25 office locations across the US, Thrive makes it convenient for businesses nationwide to collaborate with them and benefit from their expertise.
Cons: A potential drawback of Thrive is their focus on serving B2B companies across various industries. While they do provide B2C marketing services, their specialization lies in supporting B2B companies in sectors like education, health and medical, and manufacturing. This specialization may limit their expertise and experience in meeting the unique needs and requirements of B2C companies.
Key Services:
Website development

Social media marketing

Reputation management

eCommerce and Amazon marketing
---
SEO vs. SEM
SEO and search engine marketing (SEM) are similar but distinct strategies for improving a website's visibility in search engine results.
SEO focuses on optimizing a website's content and structure to improve its organic ranking in search engines. This involves using relevant keywords and following the algorithms of search engines like Google to ensure the website appears on SERPs when users search for related terms.
On the other hand, SEM involves paid search advertising to drive traffic to a company's website. Companies pay search engines to display their website at the top of SERPs for specific keywords. 
Both SEO and SEM play important roles in enhancing a website's visibility and attracting relevant traffic. While SEO aims to improve organic rankings, SEM relies on paid advertising to achieve immediate visibility.
---
Types of SEO Services
When researching SEO digital agencies, you will likely come across the following SEO services they offer. Some agencies provide an all-in-one package, while others may break down these services into different packages for a more customized plan.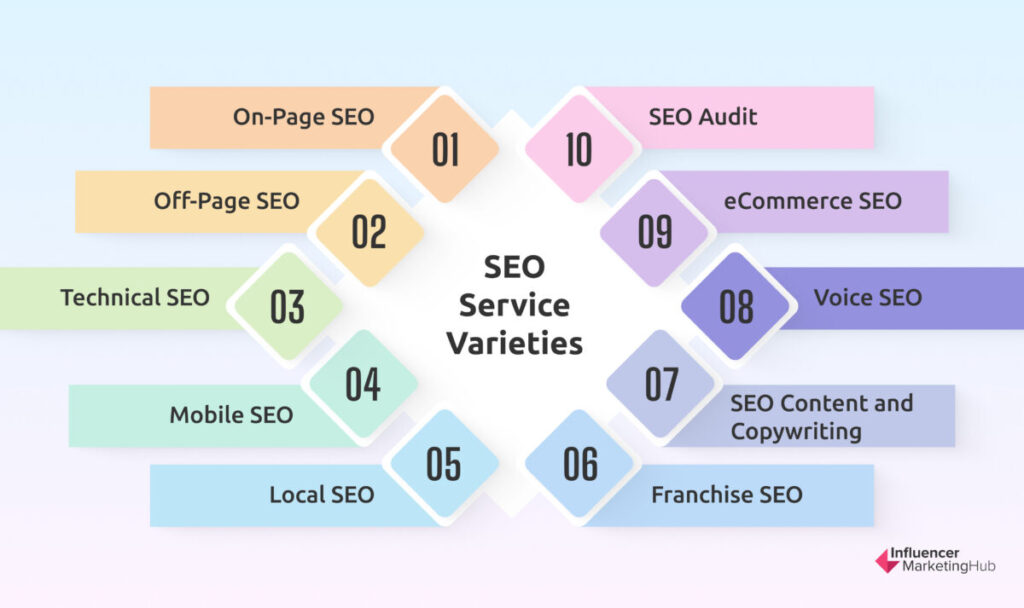 On-Page SEO
On-page SEO refers to optimizing the structure and content of the website itself. This includes enhancing keywords, title tags, page descriptions, images, URL structure, and internal links, which search engines use to analyze relevance and reliability.
Off-Page SEO
Off-page SEO refers to elements external to your website that can help search engines assess your website's overall credibility and authority. These include external links, online reviews, and brand awareness that tell search engines that your business is authentic and trustworthy and can, therefore, be ranked higher on SERPs.
Technical SEO
A significant factor in ranking is website function. Technical SEO includes improving page speeds, fixing site errors, enhancing mobile optimization, creating a site map, and more. Websites that function smoothly, load quickly and have zero or minimal errors rank higher.
Mobile SEO
Approximately 69% of users in the US prefer to search for products and services on their phones, making mobile SEO essential. If websites are not optimized for mobile, they may not appear in mobile searches, even if they are optimized for desktop searches. Implementing mobile SEO ensures that businesses will rank higher on SERPs, regardless of whether the searches are done on desktop or mobile devices. 
Local SEO
Local SEO integrates location into an SEO strategy for increased visibility. By targeting users in the vicinity of a local business, local SEO ensures that the efforts are directed towards potential customers who can be easily converted due to their proximity. This approach allows businesses to attract relevant traffic from their local community, resulting in more substantial and meaningful results. 
Franchise SEO
Franchise SEO is suitable for larger businesses with multiple locations and franchises. It ensures that the relevant branch appears on local searches to promote the business. This approach is ideal for companies that have a main branch or headquarters listed, but also want their local branches to rank within a specific area. 
SEO Content and Copywriting
Many SEO digital agencies include content creation and copywriting as part of their on-page SEO services. However, some agencies may offer these as separate services for clients who don't require full on-page SEO. These agencies can provide SEO content and copywriting for various platforms such as social media posts, web pages, landing pages, or ads. They ensure that the content has good keyword relevance without resorting to keyword stuffing, which can harm your SEO. Effective copy and content not only improve your search ranking but also have the potential to persuade customers to purchase your products or services.
Voice SEO
Voice SEO is crucial for improving your website's ranking on voice searches, which have become increasingly prevalent with the growing popularity of smart devices. In 2023, there were over 125 million users of voice assistants, highlighting the importance of voice search in SEO strategy. 
eCommerce SEO
eCommerce SEO focuses on optimizing product pages from online sellers, particularly on platforms like Amazon and eBay. The goal of eCommerce SEO is to ensure that these product pages rank at the top of SERPs when users search for relevant products or services. 
SEO Audit
Agencies may provide a website audit to identify areas that require improvement for an enhanced SEO strategy. This enables them to determine the specific SEO strategies your website needs and accurately estimate the cost of their services.
---
Essential SEO Services to Consider
These are the essential SEO services you should consider when hiring an SEO digital agency:
Custom strategy

SEO audit

On-page, off-page, and technical optimization

Link building

Online reputation management

Social media management

Regular reports

ROI tracking
---
Ethics: White Hat vs. Black Hat SEO
White hat SEO refers to an SEO approach that complies with SEO regulations. It consists of the techniques and services outlined above that aim to provide genuine evidence of a website's relevance, authority, and trustworthiness to search engines.
Black hat SEO can involve similar techniques but with the intent to deceive. It is usually employed by businesses or website developers who want to rank high despite having poor-quality content. Black hat SEO may work for a while, but it can backfire because it skirts around legal guidelines that protect consumers from scams and misinformation. If search engines discover you using black hat techniques such as keyword stuffing, hidden content, and link farming, they may remove your website from their index.
---
How much do SEO Services Cost?
Hiring a reputable SEO digital agency may entail a substantial investment, especially if you want to hire a full-service agency. However, it's important to recognize that these services offer an ROI. The top SEO digital agencies can provide an estimated ROI based on their past projects. Different agencies will also have other cost estimates depending on their rates and your requirements, but typical rates range from $100 to $300 an hour.
Frequently Asked Questions
Who are the top SEO agencies today?
Nuanced Media, Directive Consulting, SociallyIn, Disruptive Advertising, SmartSites, and Thrive are some of the top SEO agencies today. They all have different specialties and focus areas but are at the top of the list for their excellent SEO services.
Which company is the largest SEO agency?
Determining the largest SEO company is difficult. Agencies evolve and expand over time, and their sizes vary significantly. Additionally, there are multiple definitions of size: is it the number of employees, the annual revenue, or the number of clients? Many agencies do not disclose this information, so it is pretty hard to identify the largest SEO agency.
Which company is the best SEO agency in the US?
It's difficult to pinpoint any single SEO agency as the "best in the US." Most agencies perform well on one or a few SEO techniques, so make sure you know which approach can best help your business to be able to identify which SEO agency to hire.
Is it worth hiring an SEO expert?
SEO involves much more than simply incorporating relevant keywords into your content. By hiring an SEO digital agency, you can effectively grow your business, increase website traffic, and drive profits. A reputable SEO digital agency, such as the ones we have listed, can generate sales that would not be possible without a solid SEO strategy. Instead of considering the cost of hiring an SEO expert as an expense, view it as an investment due to the potential ROI they can deliver.