With users spending more than 1.5 hours a day on the app, TikTok is easily one of the most addictive social media platforms. No wonder it has a billion people actively using it every month, watching 167 million videos every internet minute. These numbers alone should be enough to convince you how important it is to market your brand on TikTok. However, getting visibility on the platform is easier said than done, which is where TikTok SEO enters the picture.
But what is TikTok SEO and why does it matter for your brand? In this post, we take a deep dive into the importance of SEO for TikTok, what factors affect your visibility on the app, and how you can use TikTok SEO to boost your reach. Let's get into it.
---
TikTok SEO Tips to Boost Your Reach:
---
What is TikTok SEO?
Just like regular search engine optimization, TikTok SEO is the process of optimizing your content to increase its visibility in search results. The same tactics will also improve your overall discoverability on the platform, helping you expand your reach and get your videos in front of more viewers.
Since the TikTok algorithm is responsible for determining visibility on the platform, TikTok SEO basically involves understanding how to make the algorithm work in your favor. The idea is to ensure that the algorithm knows exactly when to serve your content to viewers, which will allow you to get your videos in front of the right audience.
---
Why Should You Care about SEO on TikTok?
So what's the big deal about TikTok SEO? Let's break down some of the key ways in which optimizing for search on SEO can help your TikTok marketing efforts.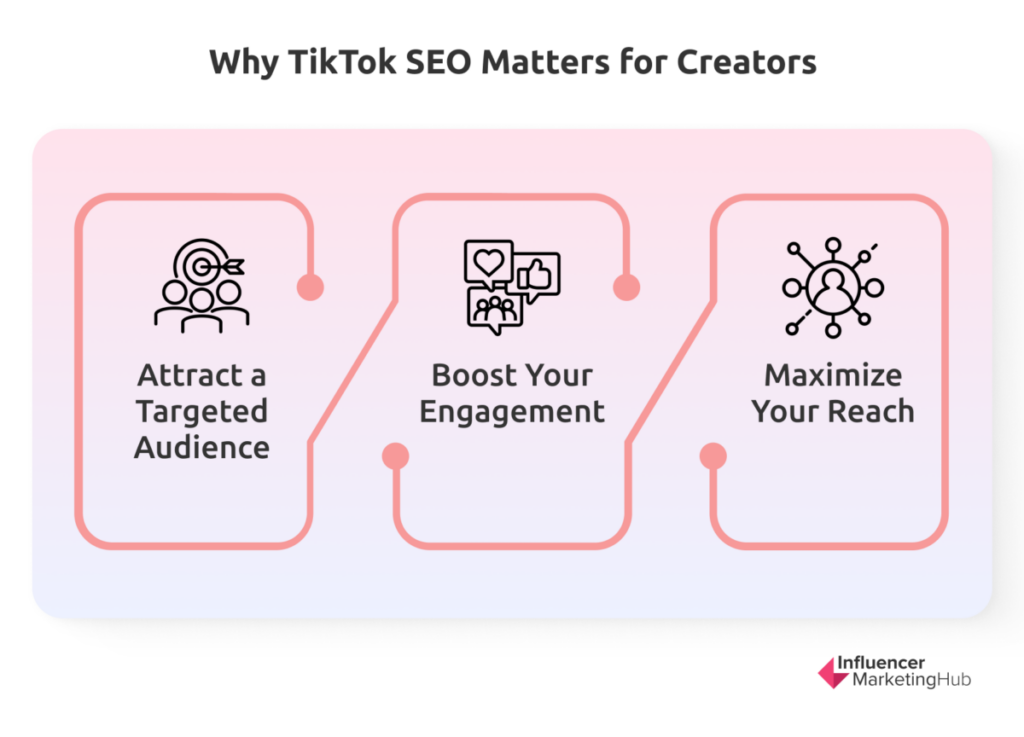 Attract a Targeted Audience
While mostly a video platform, TikTok has since made some updates to allow for lengthier descriptions. In late 2022, the platform increased its description character limit from roughly 300 to a whopping 2,200. Although you don't necessarily need to use up all 2,000+ characters to describe your videos (which TikTok viewers likely won't even pay attention to), you now have more freedom to optimize your description with keywords.
Having relevant keywords in your video descriptions is a part of TikTok SEO, and it allows you to get your video in front of an audience that's looking for content related to those keywords. That means you get to reach a highly targeted audience that will find your videos relevant to their needs and interests.
---
Boost Your Engagement
When you attract a highly targeted audience through TikTok SEO, you improve the chances of viewers engaging with your content. If the people who discover your content find it interesting and relevant, there's a good chance they'll want to engage with it in some way or the other. This may involve liking the video, commenting on it, or sharing it with their friends.
---
Maximize Your Reach
The increased engagement among a relevant audience will subsequently improve your content discoverability among other users who share similar interests. When your video garners tons of engagement, there's a good chance it will show up in the For You pages of users who have shown an interest in similar content.
That means you can reach a highly relevant audience even if those users aren't actively searching for the keywords you're using. In other words, you won't be relying on luck alone to grow your reach as TikTok SEO enables you to be more intentional with your approach.
---
Key Ranking Factors in TikTok SEO
As mentioned earlier, TikTok SEO involves having an understanding of what the platform's algorithm looks for when deciding which videos to show to users. So let's take a quick look at the key ranking factors that you need to consider.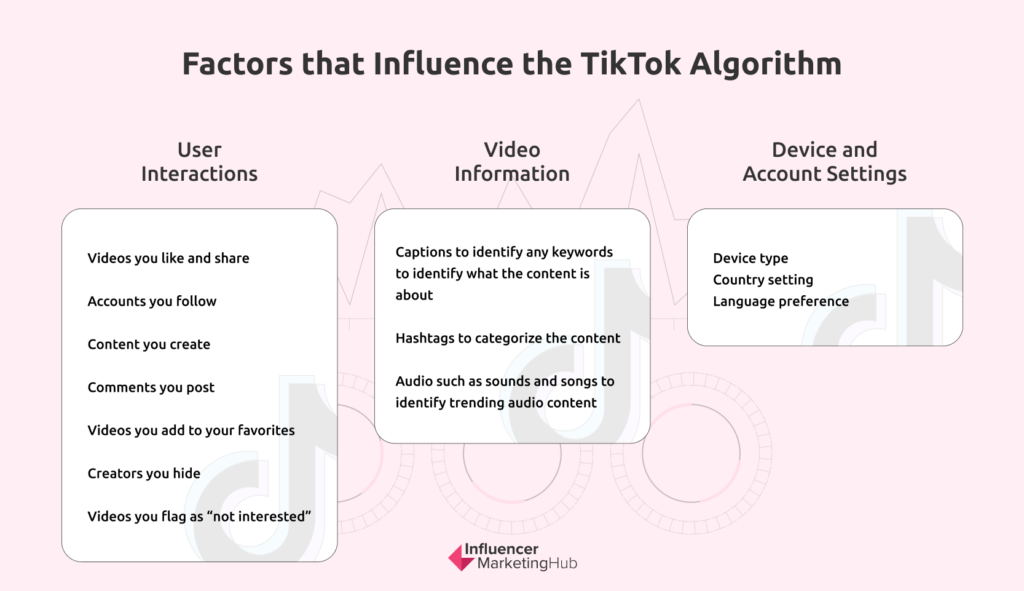 User Interactions
As you can guess, how people interact with content and accounts on the platform is a major factor that affects your TikTok visibility. The algorithm will account for things like the accounts someone follows, the videos they like and share, and the comments they post to decide which content is relevant to them. Moreover, it takes into consideration the creators they hide, the videos they add to their favorites, and the videos they mark as "not interested" to better fine-tune its recommendations.
Video Information
TikTok also factors in the information on the video to determine its relevance to certain users. The keywords and hashtags included in the caption and the sounds it uses are some of the key elements that will determine whom to show your video to. This is where you have the most control and where you can apply TikTok SEO best practices to improve your video visibility.
Device and Account Settings
A user's device type, country setting, and language preferences also play a small role in the types of videos that are shown to them. For example, TikTok is more likely to recommend your videos to people from your country.
---
5 Tips to Boost Your Reach with TikTok SEO
Now that you know what matters in TikTok SEO and why it matters, it's time to get to the practical aspects. Here are a few essential tips to help you implement SEO to boost your reach on TikTok.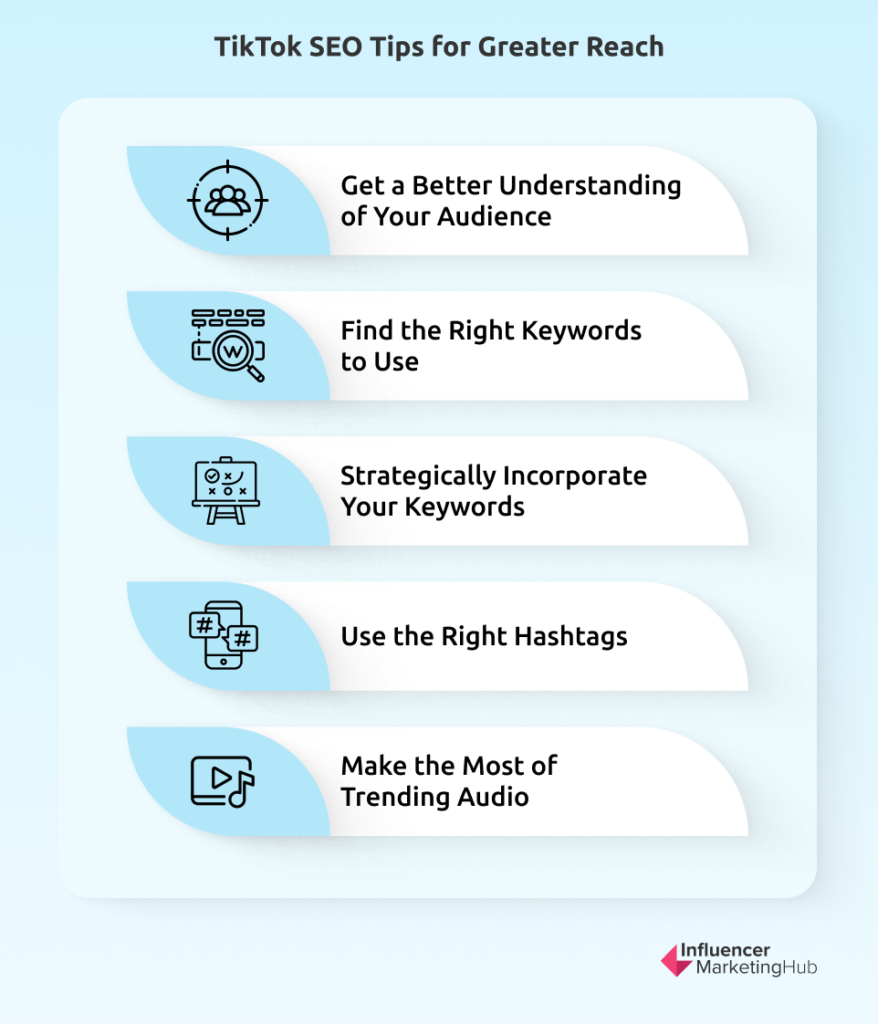 1. Get a Better Understanding of Your Audience
Based on the most important ranking factors, it's obvious that your audience's preferences and behaviors play a key role in video visibility on TikTok. This is why it's crucial to start with an in-depth understanding of your audience. Look into who your audience is, what they like, what types of content they're looking for, and how they like to engage with content on the platform.
By understanding your audience on a deeper level, you can get a better idea of how to cater to their needs and deliver content they'd want to engage with. This is an essential first step because regardless of how many keywords you use in your description, the content of the video itself will be what drives user interactions and, therefore, affect your content visibility on the platform.
Make the most of TikTok's own Audience Insights tool to perform an in-depth analysis of your TikTok audience. This tool is available within the TikTok Ads Manager and can provide you with valuable insights to inform your marketing and SEO strategy on the platform. These insights may include things like:
The top 10 hashtags your audience is interested in
Which users have engaged with a certain hashtag or video
What the demographics, interests, and behaviors of your audience are
Based on these important audience insights, you can get a sense of the types of content that will resonate with them. This will then be able to inform your TikTok content strategy as it becomes easier to brainstorm content ideas that will be of interest to your target audience. In other words, you'll be able to create content that your audience will want to view and engage with.
---
2. Find the Right Keywords to Use
Just like any other SEO strategy, your TikTok SEO should also rely heavily on keyword research. It's not enough to simply know what your audience is interested in. You also need to know which keywords they're using to look up those interests on the platform. This mainly involves understanding how people are phrasing their search so you can use those same phrases to optimize your video descriptions.
For your TikTok keyword research, you may use regular keyword research tools. However, these tools will mostly pull up data from Google and not from the TikTok app. So it's ideal that you use TikTok's internal data to research keywords for your SEO strategy.
This may be as simple as typing in some industry-related keywords into the app's search bar to see which related queries pop up in the suggestions. For example, typing in "beauty" may bring up several related queries such as "beauty routine," "beauty hacks," "beauty products," and so on. However, these results may be a little more basic than what you're looking for.
Instead, you can use TikTok's own Keyword Insights tool to dive deeper into your research and uncover keyword-level insights to inform your SEO. When you type in a keyword, it will give you a list of related keywords along with a breakdown of their popularity, popularity change, and click-through rate. You can even expand more details to see some keyword phrase examples and whether they're most used as text overlay, ad text, or voice-over.
TikTok Keywords is another tool you can use for your keyword research. This will give you a bunch of popular phrases related to the keywords you've typed in. You can also get data on the keyword volume for each phrase, so you know just how popular it is.
---
3. Strategically Incorporate Your Keywords
Now it's time to put your keyword research to good use and incorporate it strategically into your content. First, you'd need to put together a highly descriptive caption that includes the keywords naturally i.e., without stuffing it with keywords.
Now that TikTok allows up to 2,200 characters in your description, you can get as detailed as you'd like. But keep in mind that you're dealing with viewers with short attention spans so writing a lengthy "essay" isn't necessary. The main thing is that you need to get straight to the point, say what you need to say, and use the keywords wherever relevant.
Using these keywords in your automated closed captions is also a great idea. Keep in mind that you won't be adding the caption yourself as TikTok will be the one transcribing the video and automatically creating captions for it. However, you can be more strategic here by writing video scripts that incorporate the keywords you want to use.
Additionally, the keywords should be incorporated into your on-screen text as well. This will also be considered when determining what the content is about and whether to show it to relevant users. Moreover, certain keywords displayed on the screen may be able to entice viewers to click on and engage with your video. See, for instance, how the following content creator uses keywords like "viral makeup" or "viral makeup products" in her caption and text overlay.
---
4. Use the Right Hashtags
Just as keywords are critical to your TikTok SEO, so are hashtags. Hashtags play a vital role in content discovery within the TikTok app. Moreover, the algorithm also factors them in when deciding what a piece of content is all about and how to rank it in relevant searches and For You pages. As such, using the right mix of hashtags should be essential to your SEO strategy for the platform.
The challenge lies in knowing what and which types of hashtags to use. While you may want to use broad-term trending hashtags because they're highly popular, they can also be a bit competitive. At the same time, very niche hashtags may hinder discoverability because they only get searched by a handful of people. So the trick is to use a good balance of both popular or broad-term hashtags and niche hashtags.
For example, Elf Cosmetics uses branded and niche hashtags such as #elfcosmetics and #wingitlinerbrush in the following video. But they also use broader ones that are highly popular with a larger audience such as #wingedeyeliner and #eyelinerbrush.
---
5. Make the Most of Trending Audio
Finally, it's important to incorporate popular TikTok sounds that get a lot of visibility. Since the algorithm takes into account the audio you use in your video to decide when to show it to users, trending songs and sound effects are a great way to maximize your reach on the platform.
Use your For You page to discover sounds that people seem to be using a lot lately. TikTok even gives you a constantly updated list of songs that are trending on the platform. You can filter the list to view songs that are approved for business use or even expand your search to find popular songs within the last 7, 30, or 120 days.
---
Get Ready for TikTok Growth
There you have it–the ultimate guide to boosting your visibility with TikTok SEO. Make the most of the tips we've shared above to optimize your content and strategy for increased reach within the TikTok platform.
Frequently Asked Questions
Can you do SEO in TikTok?
Yes, just like any other platform, you can optimize your TikTok content for increased search visibility.
How do you get keywords on TikTok?
You can get keywords on TikTok by typing in a search term and seeing what comes up in the predictive text.
How do you find top search terms on TikTok?
The TikTok Keyword Insights tool can help you discover top search terms in your niche.
What does SEO stand for in TikTok?
The meaning of SEO remains the same for TikTok. It means search engine optimization for the TikTok app.
How do I maximize SEO on TikTok?
You can maximize SEO on TikTok by optimizing your content with the right keywords and hashtags and using trending sounds to increase visibility.