Advertising Disclosure
Advertising disclosure:
Our partners compensate us. This may influence which products or services we review (also where and how those products appear on the site), this in no way affects our recommendations or the advice we offer. Our reviews are based on years of experience and countless hours of research. Our partners cannot pay us to guarantee favorable reviews of their products or services.
Navigating through the plethora of SEO strategy agencies to find the right fit for your business can be a daunting task, given the myriad of options available. In this comprehensive review, we've meticulously evaluated, compared, and ranked the 9 standout agencies to enhance your website's rankings.
Our selection of these elite SEO strategy agencies is rooted in an assessment that encompassed an array of critical factors. We've considered not just the affordability but also the diversity in SEO services, the quality of customer service, and their proven track record of delivering significant ROI. We took an extra step to evaluate how these agencies tailor their strategies to fit distinct business needs and scenarios.
Embark on a journey with us as we unveil each agency's unique SEO strategies, successes, and how they could potentially align with your specific business objectives and budget. Let's begin.
---
Leading SEO Strategy Agency
Top
seo strategy agencies
2024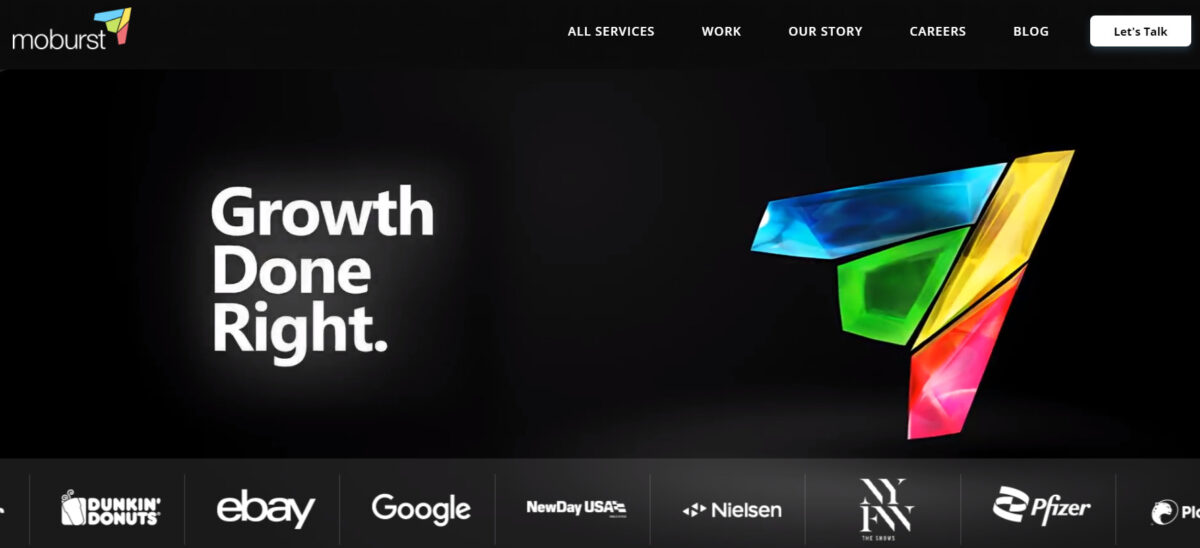 Moburst distinguishes itself in the saturated SEO landscape with a meticulous approach that unifies technical acumen and creative innovation. The agency excels in delivering bespoke SEO strategies rooted in comprehensive research and competitive analysis. Every SEO campaign is tailored, ensuring businesses enhance visibility and carve distinctive digital imprints resonating with their target audience. Each element of SEO is optimized to work synergistically, propelling websites to achieve higher rankings and increased organic traffic.
But Moburst's SEO services are not just about optimizing content and structure. Instead, they craft experiences and stories that resonate. The agency's global footprint, with offices in major cities like New York and London, attests to its versatility and capacity to navigate diverse markets and industries. Each campaign echoes the client's unique needs and the digital ecosystem's dynamic rhythms, ensuring impactful engagement.
The adeptness of Moburst is exemplified in its collaboration with Calm, a popular meditation app. In this saturated market, Moburst optimized Calm's app store presence and ranking mechanism, resulting in a 36% uplift in organic installs and a top 10 ranking in its category. The agency crafted a narrative through new creatives and strategic keywords and refined the app's 5-star review mechanism, underscoring its capacity to elevate them.
Notable Clients:
Samsung
Say
Discovery
Redefine Meat
---
SmartSites epitomizes efficiency and innovation in the competitive realm of Search Engine Optimization, garnering accolades and acknowledgments that underscore its prowess. Recognized as a Google Premier Partner and applauded by platforms like Forbes and G2, SmartSites navigates the intricacies of SEO with an adeptness that is both scientific and creative. Every strategy is infused with a precision that amplifies visibility and engenders organic traffic growth, underscoring its reputation for delivering tangible results and long-term success.
SmartSites transcends traditional SEO, offering a full-service digital marketing solution that integrates content management, outreach, and web development. This holistic approach ensures businesses aren't just visible but are also equipped with digital tools that resonate with audiences, engender trust, and outpace the competition. The agency's commitment to transparent processes allows clients an insightful gaze into the meticulous science behind SEO.
The agency's approach to SEO is both comprehensive and nuanced. Case studies exemplify its capacity to engender significant growth in organic search traffic, with clients like AGA Truck Parts witnessing a 1057% increase. SmartSites' focus on a tailored strategy ensures each client's unique business objectives are at the forefront of every SEO campaign, thereby creating pathways for customized and impactful digital footprints.
Notable Crands: 
Classic Audi
Coin Exchange
Phigora
Melroso
---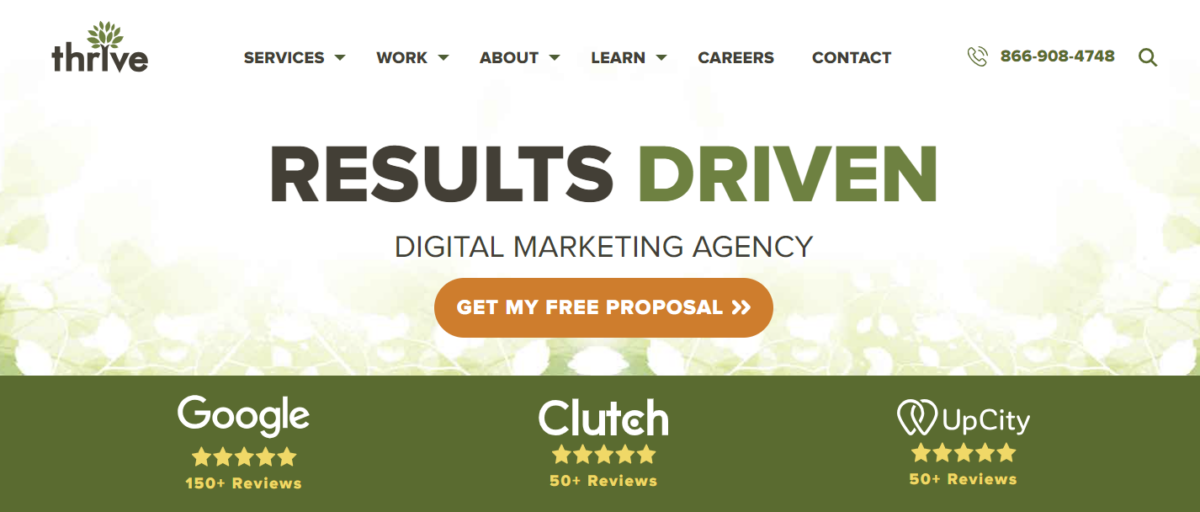 Thrive is a leading SEO agency, marrying traditional practices with innovative solutions to offer businesses a robust online footprint. Thrive's approach, honed over 15 years, is holistic, weaving in strategic keyword research, meticulous link building, and on-page SEO with technical optimizations and content strategies. The dedicated specialists at Thrive possess the adeptness to diagnose and resolve SEO pain points, transforming websites into magnets for traffic and conversions.
The agency's agile SEO methodology encapsulates a systematic process that begins with a detailed understanding of the client's business and ends with measurable results and actionable insights. Transparency, a hallmark of Thrive, ensures clients are not just spectators but informed participants in the SEO journey. Every strategy, from local SEO to content writing and conversion rate optimization, is executed with precision, monitored continuously, and refined for optimum effectiveness.
Thrive's accolades are underpinned by a slew of success stories borne from a practice that views each client's uniqueness as a canvas for tailored strategies. Real-world impacts, such as an 800% increase in online leads for a construction company and a 763% uptick in qualified leads for an HVAC service provider, are a testament to the agency's capability.
Notable Clients:
Geoforce
Nancy Anderson Fitness
Grow Strong Industries
Omega Safety Training Inc
---
Being a distinguished digital marketing agency, NinjaPromo blends ingenuity, technical proficiency, and a tailored approach to elevate clients' online visibility. Specializing in diverse industries, including FinTech and crypto, this agency has forged a reputation for transforming organic search challenges into growth opportunities, underscoring the integration of SEO not as a cost but as a strategic investment.
SEO at NinjaPromo is less about conventional practices and more about innovative "SEO hacking." Every SEO strategy commences with a profound understanding of the client's business, a meticulous analysis of goals, and a deep dive into customer personas. This level of customization ensures that SEO strategies are not just about traffic but align with targeted, quality engagements that translate to conversions. Specific services like Crypto SEO exemplify NinjaPromo's adeptness in navigating competitive digital landscapes, delivering tailored solutions that resonate with the unique dynamism and pace of such industries.
The agency's commitment to continuous evolution in SEO practice ensures clients' SEO strategies are not static but are adaptable and resilient to the ever-evolving search engine algorithms. This dedication to perpetual learning and adaptation underscores NinjaPromo's agility. A case study reflecting a 263% increase in lead volume quarter-over-quarter for a SaaS client illuminates the agency's capacity to integrate strategic SEO with targeted PPC, crafting synergized strategies that amplify visibility, engagement, and conversion.
Notable Clients:
Bitcoin.com
Affyn
Stockmusic.net
Paypolitan
---

Outer Box Design has carved a niche for itself in the spectrum of organic SEO marketing, standing as a luminary since 2004. The agency's prowess is encapsulated in its capability to augment organic traffic by over 273% on average, echoing an unparalleled mastery in driving SEO campaigns grounded in two decades of honed expertise.
A hallmark of Outer Box Design is the amalgamation of time-tested methods and innovative strategies. Their team of 90 SEO experts, all based in-house within the USA, are adept at propelling websites to the pinnacle of Google rankings, ensuring clients commandeer unrivaled visibility. Every client's SEO journey is initiated with a comprehensive 26-point audit, a meticulous process that unveils SEO weaknesses and offers informed, data-backed insights for augmenting organic search performance. Recognized as a Forbes Top SEO Services Provider and an Inc 500 SEO Services Company, Outer Box Design has consistently delivered over 2 million Page #1 Google rankings.
The agency's service suite is robust, offering specialized SEO strategies tailored for diverse platforms and industries. Their expertise spans E-commerce SEO, Lead Generation, SEO Consulting, and B2B Services.
Notable Clients:
Atlas Oil Company
Tron Air
Crayola
AON
---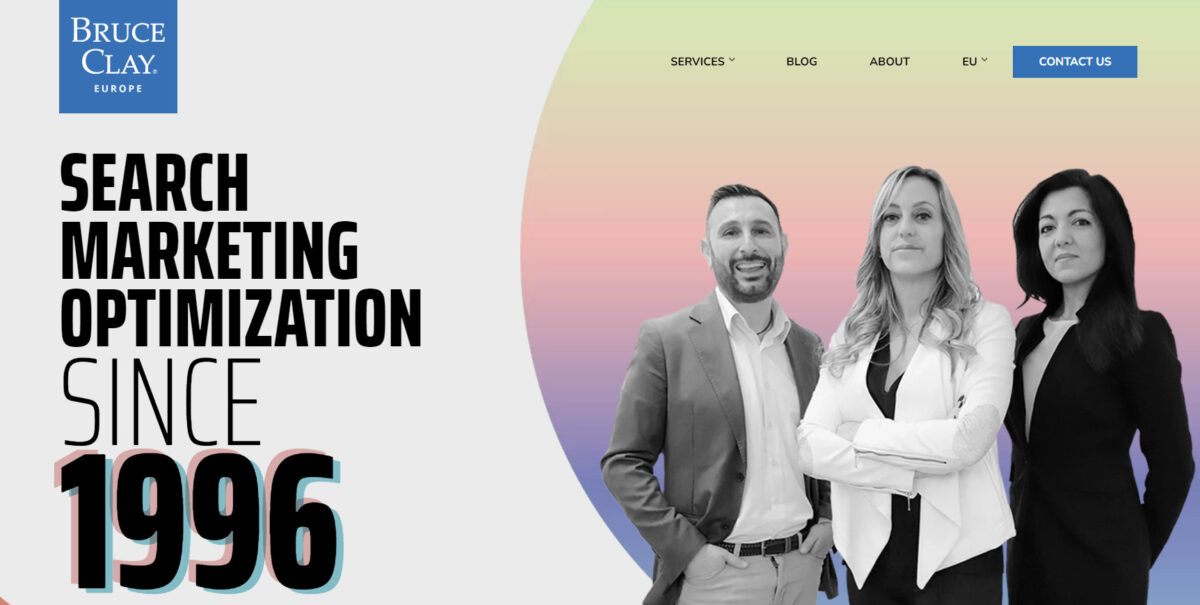 Bruce Clay, an SEO agency with a legacy since 1996, has established itself as a fortress of expert SEO services. The agency's team of seasoned SEO consultants boasts an average of over 20,000 hours of experience, attesting to their capability to manage and excel in mission-critical SEO projects. Distinctively, Bruce Clay adopts a tailored approach, meticulously customizing SEO solutions to align with the unique needs and objectives of each client, thus ensuring an organic growth trajectory that is both sustainable and impactful.
SEO Consulting Services, SEO Site Audit, and SEO Block Services are among the core offerings that epitomize Bruce Clay's commitment to fostering organic growth. The consulting services underscore a harmonious blend of expertise and flexibility, ensuring clients benefit from bespoke solutions and mentoring tailored to specific needs. The agency's site audit, acclaimed for its comprehensiveness, delves deep into unveiling intricate issues and offers prioritized, strategic solutions for implementation. A distinct offering is the SEO Block Services, which caters to specific, short-term project needs, underscoring the agency's versatility and adaptability.
Furthermore, the customized SEO services accentuate Bruce Clay's commitment to a client-centric approach. Every SEO strategy is intricately tailored, ensuring that whether it's a small enterprise or a large corporation, the SEO solutions delivered are not only effective but are also congruent with the business's specific needs and objectives.
Notable Clients:
AT&T
Toyota
MTV
eBay
Booking.com
---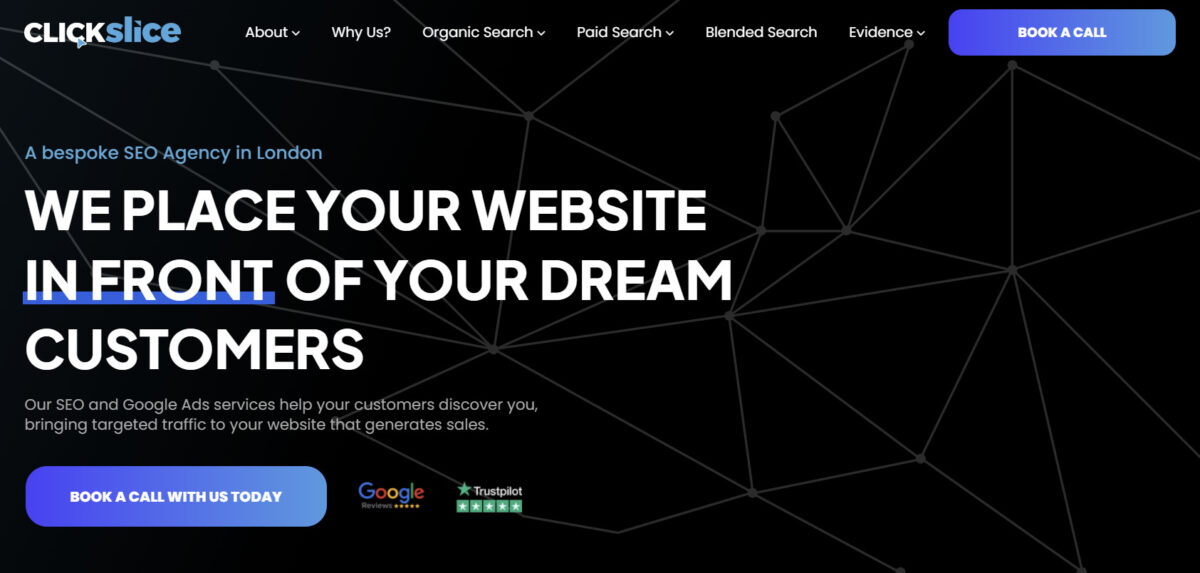 Operating from the heart of London, ClickSlice SEO and digital marketing agency is acclaimed for its tailored and dynamic strategies that transcend conventional boundaries. With a remarkable approach that harmonizes both organic and paid search, ClickSlice dedicates its expertise to placing clients' websites directly in the view of their target audience, ensuring optimal visibility and engagement. The agency's method is rooted in an intricate understanding of the digital landscape, resulting in targeted traffic that not only visits but converts, driving sales and elevating business performance.
A distinguishing feature of ClickSlice is its all-encompassing SEO campaigns, meticulously crafted to address every facet of search engine optimization. Services ranging from in-depth keyword research and competitor analysis to technical SEO and link building are delivered with precision, ensuring clients' websites are optimally positioned in search engine rankings. Their Google Ads services are lauded for immediacy and effectiveness, offering a blend of campaign audits, landing page consultancy, and daily optimizations to ensure that the client's advertisement spending translates into tangible results.
Client transparency forms the bedrock of ClickSlice's ethos. Every client is immersed in a detailed process where clarity, communication, and collaboration are paramount.
Notable Clients:
Forbes
Udemy
Humax
Project Solar
---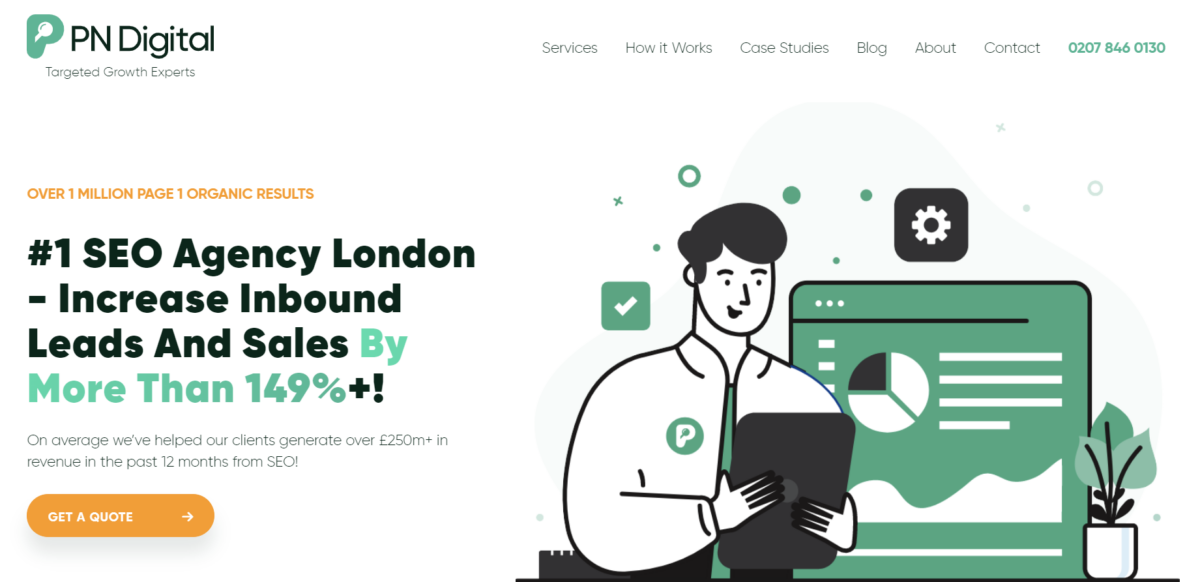 PN Digital, esteemed for its mastery of SEO and digital marketing, takes a prominent stand in the London market. With a claim of over 1 million page 1 organic results and an average increase of 149%+ in inbound leads and sales, their strategy pivots on precision and adaptability. The agency amalgamates a wealth of services, including SEO, PPC, Mobile App Development, and Website Design, placing it at the apex of digital solutions providers. Every client engagement is defined by a personalized touch, where bespoke strategies are crafted to echo the unique business objectives and market dynamics of each client.
Key to PN Digital's success is the robust combination of technical website optimization and specialist keyword research, underscored by a thorough SEO audit. Each element is intricately woven to enhance the online visibility of their clients. The agency's expertise lies in elevating websites to the coveted first page of Google, an achievement realized through a meticulous alignment of SEO techniques and client aspirations.
Confidentiality and professionalism are cornerstones of PN Digital's client engagement. A dedicated team of qualified workers employs powerful tools to deliver lasting results. Every client is treated with utmost respect, and a customized SEO service ensures that the specific needs of each business are addressed with precision and expertise.
Notable Clients:
RE/MAX
Irvine Company
Merzouga Voyage
Manaknightdigital
---

CEEK is a holistic SEO and digital marketing agency adept at maneuvering through the intricate and dynamic landscape of search engine optimization and online visibility. Specializing in both Technical SEO and competitor-driven targeting, CEEK is renowned for its innovative approach, employing content-led strategies in compliance with the fluid guidelines of search engines. The agency's adeptness at unraveling the complexities of SEO algorithms and keyword research ensures businesses not just visibility but prominence in the overcrowded digital space.
A testament to CEEK's versatility and innovation is its comprehensive service repertoire. The agency's prowess in trend research underscores its capacity to harness qualitative and quantitative insights, ensuring targeted and impactful SEO strategies. However, technical SEO takes a prime focus, with onsite changes tailored to echo both visible content and underlying source code elements. Concurrently, blogging and content creation are instrumental in addressing the emerging trend of voice searches and enhancing SEO through fresh, relevant content. Local SEO and a meticulously crafted 100-point audit further define CEEK's thoroughness, offering businesses a panoramic insight into their digital stature.
Moreover, CEEK's distinct approach to targeting and backlink analysis fortifies its position as a pioneering SEO agency.
Notable Clients:
Carte Noir
Playts
Hyde Restaurant Group
The Savoy
---
How To Choose the Best SEO Strategy Agency
With a supply of SEO services at your disposal, identifying the one that aligns with your business objectives, needs, and budget can be a challenge. Here are some pivotal factors to consider when choosing the best SEO service.
Understanding Your Business Goals
Begin by delineating your business objectives. Are you aiming to augment organic traffic, boost e-commerce sales, or enhance brand awareness? An incisive understanding of your goals is foundational to selecting an SEO service that's tailored to meet these specific objectives.
Types of SEO Services
SEO encompasses various facets, including on-page, off-page, and technical SEO. Ascertain your needs and opt for a service that offers comprehensive solutions, including keyword research, content optimization, link building, and website architecture improvement.
Industry Expertise
Evaluate the agency's industry expertise. A firm with experience in your niche will have invaluable insights, tailored strategies, and a proven track record of driving tangible results.
Transparency and Reporting
Opt for agencies that value transparency, offering regular, insightful reports that provide a clear, unambiguous account of the progress, challenges, and strategies being employed.
Customer Reviews and Testimonials
Explore customer reviews and testimonials. Authentic feedback offers insightful perspectives on the agency's proficiency, customer service, and the efficacy of their SEO strategies.
Budget
Finally, consider your budget. Aim for a balance between cost and quality of service, ensuring the selected SEO partner delivers optimal value.
---
How do SEO Strategy Agencies Charge for Their Services?
Decoding the costs associated with SEO services can be intricate, given the diverse range of options, customized packages, and specific business needs. However, understanding the fee structures and options is pivotal for businesses aiming to optimize their budget while availing quality SEO solutions.
Fixed Rate Services
Some SEO agencies offer fixed-rate services, providing specific SEO tasks at predetermined prices. These can be a suitable option for businesses with defined, limited needs.
Monthly Retainers
Others operate on a monthly retainer model where businesses pay a consistent fee for ongoing SEO services. This model promises comprehensive, continuous SEO strategy implementation and management.
Customized Packages
Customized packages are tailored to a business's specific needs, objectives, and budget. These packages are often diversified, encompassing a range of SEO strategies to optimize results.
---
Conclusion
The landscape of SEO strategy agencies in 2024 is marked by innovation, customization, and a deep-seated commitment to client success. These elite agencies, each with their unique strengths, offer a diverse range of solutions tailored to meet specific business needs, objectives, and budgetary allocations. By emphasizing holistic strategies, encompassing technical SEO, content creation, competitor analysis, and trend insights, businesses are empowered to not only enhance their online visibility but also foster meaningful engagement and sustainable growth. This compilation serves as a comprehensive guide designed to facilitate an informed decision-making process for businesses seeking a compatible SEO partner in the dynamic digital arena.
Frequently Asked Questions
What does an SEO agency do?
SEO agencies optimize your online presence, improve search rankings, increase web traffic, and enhance user experience to boost visibility and engagement.
Are SEO agencies worth it?
Yes, they offer specialized skills and strategies to improve your website's visibility, increase traffic, and boost sales and conversions effectively.
Is it worth hiring an SEO expert?
Absolutely, an SEO expert implements tailored strategies to optimize your site's visibility, attracting quality traffic and increasing conversion rates.
What does SEO cost per month?
Costs vary widely, ranging from $500 to $10,000+ per month, depending on the agency's reputation, service scope, and business's specific needs.
Is SEO still worth it in 2024?
Yes, SEO remains essential for enhancing online visibility, driving organic traffic, and increasing brand awareness and credibility in a competitive market.