Advertising Disclosure
Advertising disclosure:
Our partners compensate us. This may influence which products or services we review (also where and how those products appear on the site), this in no way affects our recommendations or the advice we offer. Our reviews are based on years of experience and countless hours of research. Our partners cannot pay us to guarantee favorable reviews of their products or services.
The power of a website to attract and retain users can mean the difference between business success and obscurity. Central to this equation is the visibility of the website on search engines. Ideally, websites want a top position on Google Search Result Pages. But with all the competition, how can businesses achieve this coveted spot? The answer lies in effective organic Search Engine Optimization (SEO) and, more specifically, in choosing the right organic SEO agency.
Achieving this level of search engine success is a complex task. It demands a deep understanding of convoluted algorithms, evolving trends, and user behavior. This is where the expertise of an organic SEO agency comes into play. A dedicated agency can offer tailored strategies, informed by extensive research and industry insights, to optimize a website for organic search. They can enhance a site's architecture, create valuable content, and build a robust backlink profile, among other tactics, to push a website higher up in the search results.
But with a plethora of agencies touting their services, it's important to make an informed choice. We will explore some of the top organic SEO agencies that have consistently demonstrated excellence in this domain. With this guide, business owners can confidently navigate the digital seascape, ensuring their websites survive and thrive in the competitive world of search.
---
Top Organic SEO Agencies
Top
organic seo agencies
2024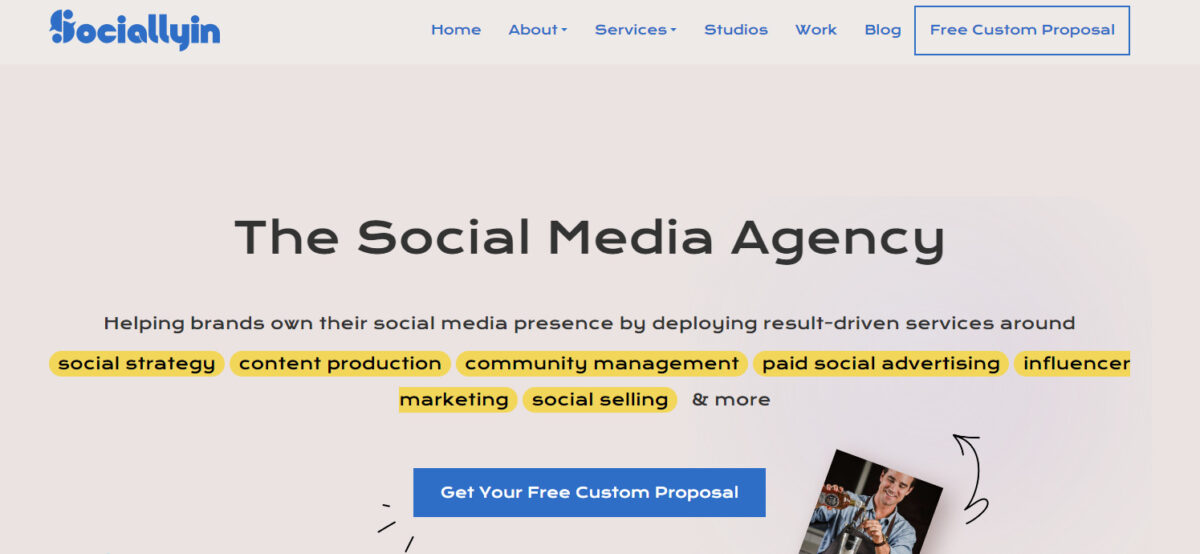 SociallyIn, with its decade-long dedication to SMM, has impeccably mastered digital marketing. Deep-rooted in 'Customer Generation' values, they delve beyond mere algorithmic understandings, choosing instead to resonate with the actual voices and needs of potential customers. Such a distinct and humane approach in an often impersonalized industry underscores their rank amongst the top social media agencies.
A glance at SociallyIn's diverse array of services reveals an impressive portfolio, from content production and community management to sophisticated influencer marketing and data analysis. What is particularly noteworthy is their strong emphasis on SEO. Led by industry veterans, the "SEO by SociallyIn" division offers an unparalleled focus on growth through organic search. They don't merely offer the service; they promise an all-encompassing strategy sharpened by rigorous testing and evidence-backed processes.
Whether it's about meticulous technical optimization, engaging content optimization, or laser-focused competitor analysis using AI, their methods guarantee sustained dominance in search rankings. This conviction in their approach instills confidence in their clientele.
---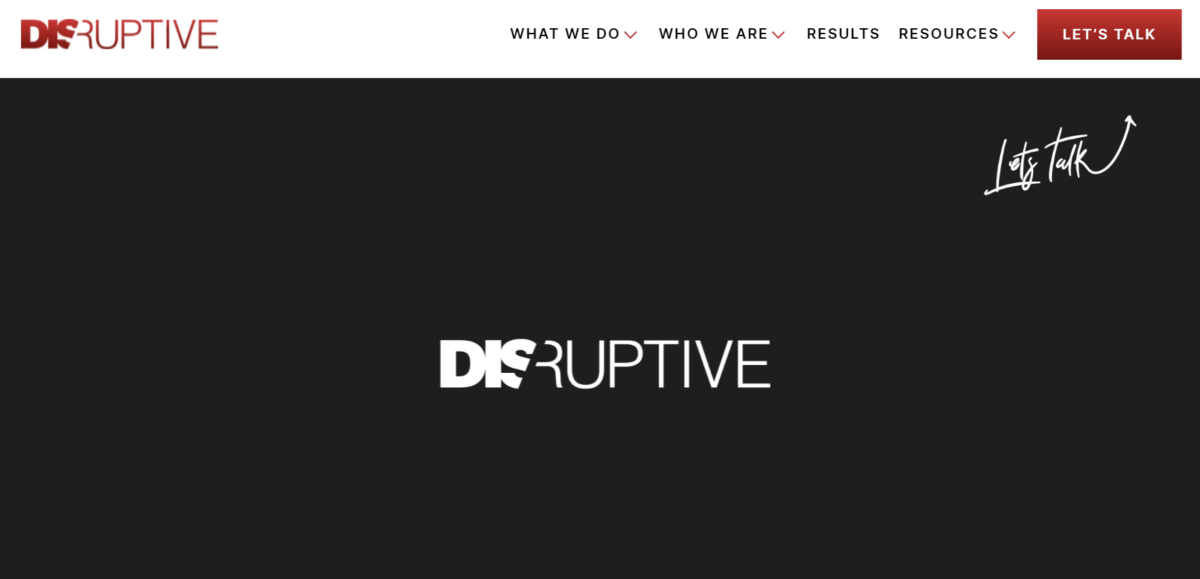 Disruptive Advertising has emerged as a paragon of precision and performance. It aligns itself not just with contemporary marketing practices but with a profound understanding of client challenges. An assertion evidenced by their startling revelation: "Over 76% of ad spend is typically wasted," driving home their mission to ensure every penny invested yields tangible results.
A deep dive into their offerings showcases a vast spectrum of services, encapsulating everything from paid search and Amazon marketing to creative services and website optimization. Central to their approach is the seamless integration of full-funnel strategies. They oversee ad accounts and architect comprehensive campaigns that resonate across platforms pivotal to today's businesses, be it Google, Amazon, Meta, or TikTok. Their strong emphasis on Search Engine Optimization merits special mention, emphasizing meticulous strategies that ensure brands don't merely appear but dominate search results.
However, what underscores Disruptive Advertising's dominance in the industry is a trifecta of commitment: to clients, to results, and to expertise. They've sculpted an unshakeable reputation by managing an impressive $450+ million annual ad spend. Their top-tier talent team serves as the bedrock of this stellar repute, ensuring every brand touchpoint is enhanced, optimized, and geared for success.
---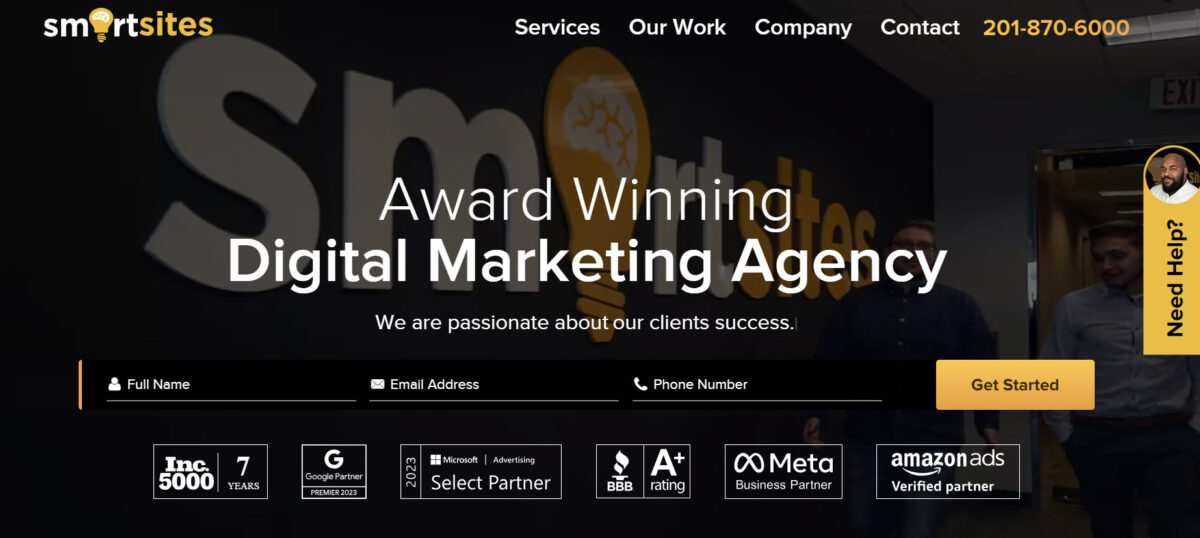 SmartSites stands as an emblem of digital excellence in organic SEO. Their forward-thinking approach doesn't just aim for temporary digital visibility but a long-term SEO strategy that aligns with contemporary search algorithms and user behaviors. When they assert, "We analyze every variable that affects SERPs, from domain authority to site speed," it is a testament to their holistic understanding of the nuanced SEO landscape.
Diving into their suite of services, one encounters a broad range that encapsulates the essence of modern SEO. Their offerings extend from local SEO to technical SEO audits that ensure websites are perfectly optimized for search engines. Their impressive client successes and accolades back this commitment.
Yet, what truly distinguishes SmartSites in this saturated market is their passion, experience, and leadership convergence. Managing over 300 dedicated team members and being featured on platforms like Forbes and Bloomberg, they are more than just an SEO agency; they're a digital partner.
---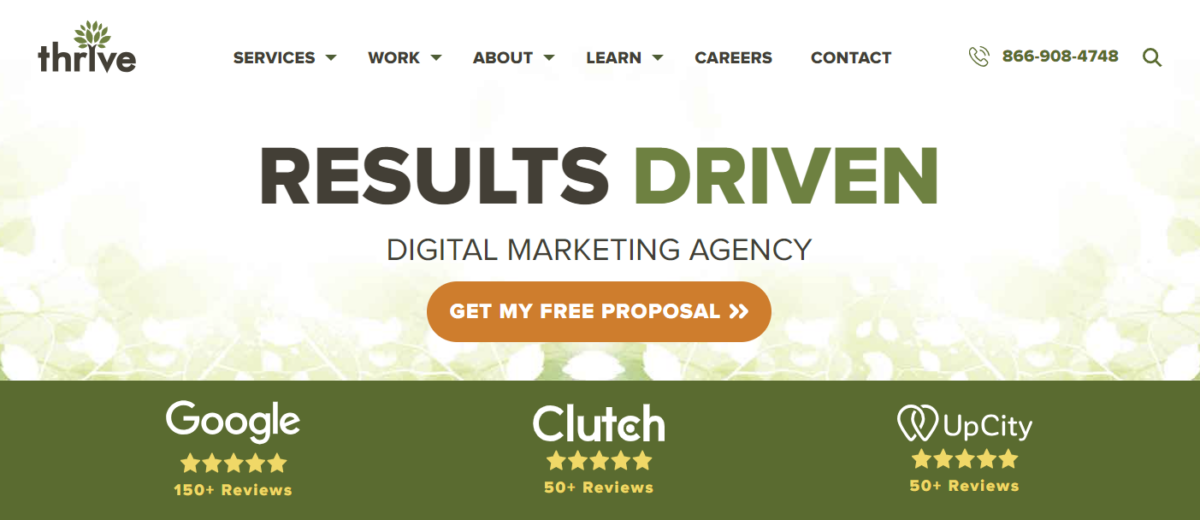 Thrive stands tall on its own impeccable search engine optimization (SEO) and marketing prowess, which not only brings clients to its own site but also promises the same efficacy for its clients. They're not constrained to specific sectors or industries, broadening their horizon to cater to various businesses, irrespective of their size or domain. While many agencies take a one-size-fits-all route, Thrive is a digital marketing agency that emphasizes the uniqueness of each business.
Thrive's commitment to crafting tailored internet marketing services stems from an approach where they emerge as an extension of the client's team. This deep integration allows them to understand market objectives at a granular level, avoiding blind strategy execution seen commonly elsewhere. Their emphasis on maintaining client relationships and consistently delivering results speaks volumes, particularly when their month-to-month contracts reflect their confidence in earning client trust.
Diving deeper into their offerings, Thrive provides an expansive suite of services. They emphasize organic visibility through white-hat SEO practices and in-depth keyword research, making them specialists in driving high-quality traffic and conversions. Their acumen doesn't end there; they cover the full spectrum of digital presence, from optimizing businesses for local searches and ensuring technical SEO robustness to building quality backlinks. Noteworthy is their emphasis on conversion rate optimization (CRO), ensuring visitors seamlessly transition into customers.
---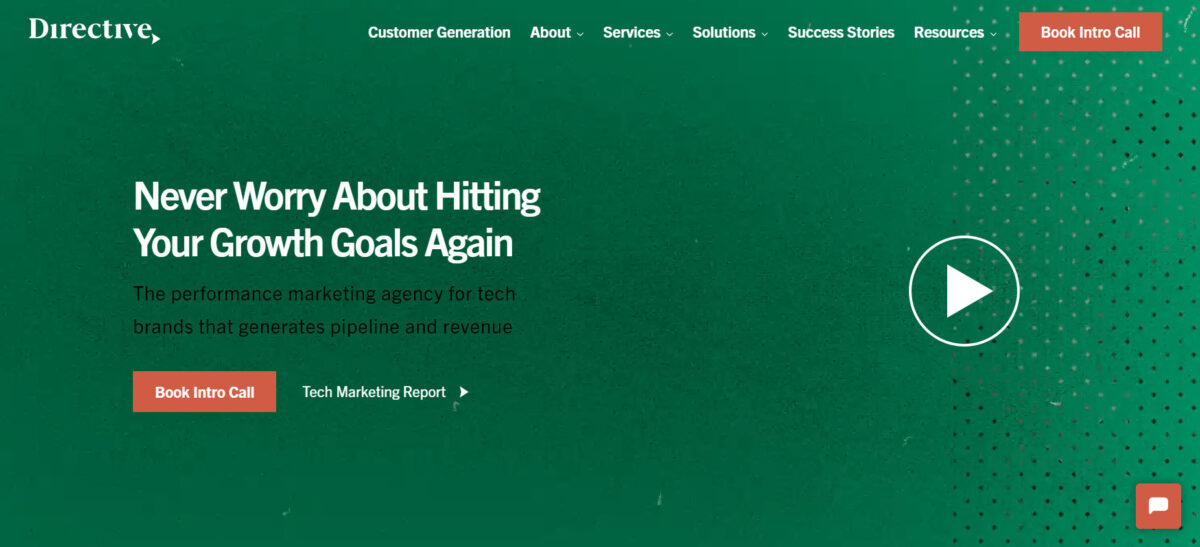 Directive Consulting has consistently demonstrated innovation and proficiency in organic SEO. With a unique approach underpinned by its 'Customer Generation' philosophy, Directive doesn't merely target search engines but places real potential customers at the heart of its strategies.
At its core, Directive offers an SEO service that promises long-term growth in organic traffic, qualified leads, and pipeline through performance content. Their approach is unique; by deeply understanding the motivations of ideal buyers, Directive crafts a cohesive content strategy that delivers measurable ROI. This focus extends to several specialized services, including core page SEO, where they enhance on-page copy, improve messaging around vital products/services, and even indulge in areas like legacy blog optimization and keyword gap analysis.
Furthermore, their expertise in technical SEO, addressing crucial elements like website discoverability, site speed, mobile optimization, and schema optimization, ensures that a website is in prime health for search engine algorithms. Directive also uniquely leverages AI, a testament to their forward-thinking approach, for content production at scale, ensuring brands stay ahead of the curve.
But beyond the suite of services, what truly makes Directive a standout agency is their dedication to results. Through a blend of strategic touchpoints, performance insights, and continuous optimization, Directive Consulting ensures that businesses don't just drive traffic but achieve meaningful, sustainable growth.
---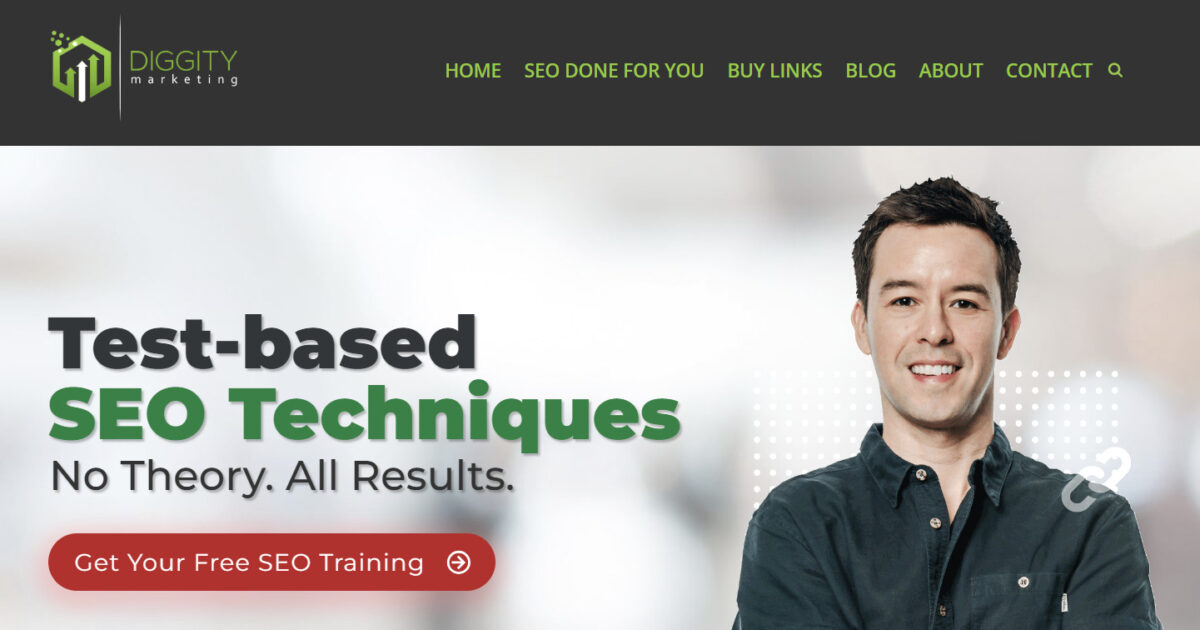 Diggity Marketing, an industry-leading SEO agency, is a beacon of excellence in the digital marketing realm. What sets Diggity Marketing apart is its relentless commitment to data-driven results and innovative strategies. At the core of Diggity Marketing's services is a dedication to test-based SEO techniques. They eschew the realm of theory and focus on tangible outcomes. Their expertise lies in the relentless pursuit of search engine mastery, and this expertise is evident in their success stories.
Diggity Marketing's services encompass a wide range of offerings, from comprehensive SEO campaign management to penalty removal and reputation management. Their meticulous approach is underscored by the belief that an audit should identify issues and provide solutions. With Diggity Marketing, clients can expect their websites to be in the hands of SEO scientists, continually testing and optimizing strategies for maximum impact.
Diggity Marketing's commitment to delivering results and its hands-on project management approach have earned them accolades from professionals across various industries. They are the unequivocal choice for businesses seeking a digital marketing partner with a proven track record and an unwavering commitment to excellence.
---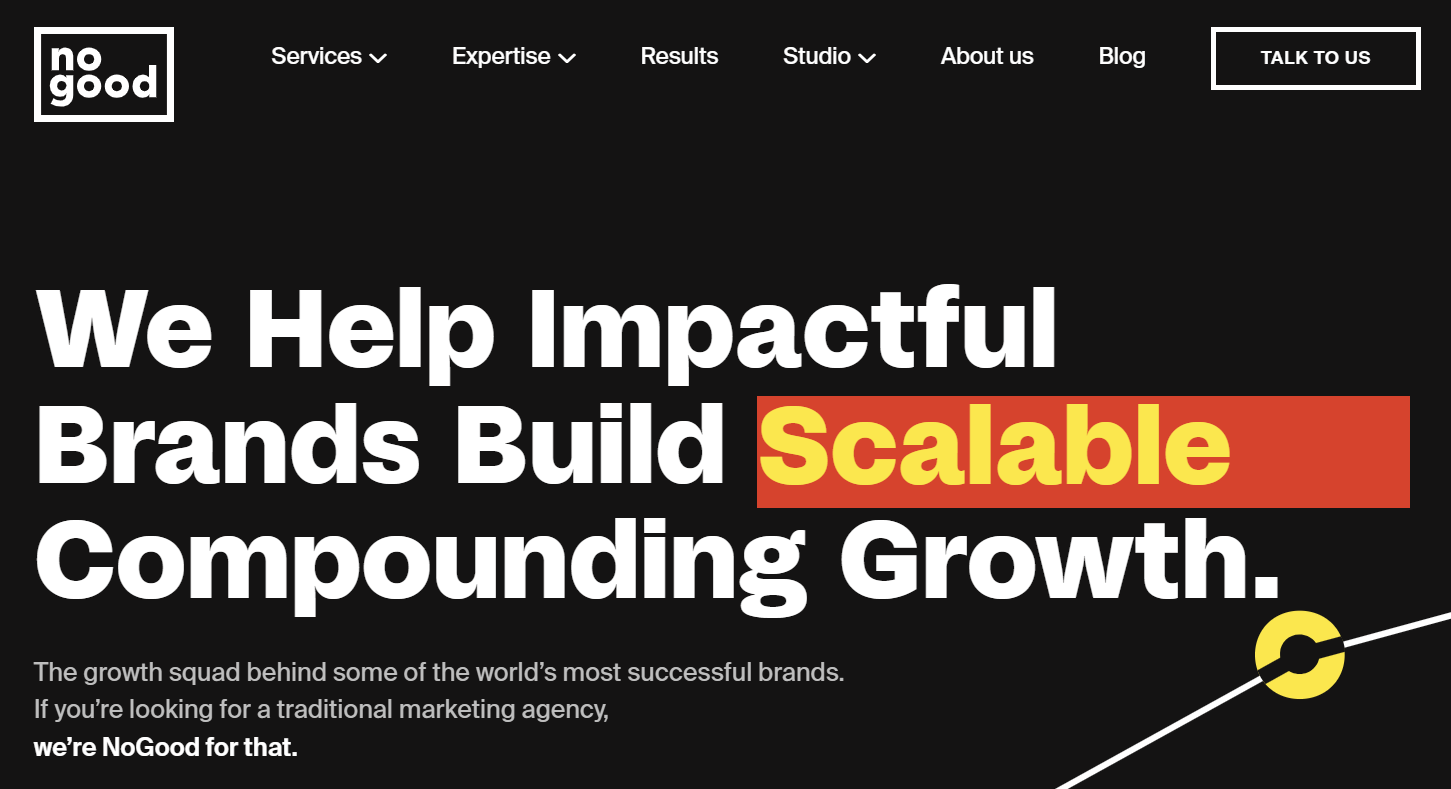 NoGood™ is a distinguished organic and technical SEO agency known for its prowess in driving qualified traffic and optimizing digital presence. With a deep understanding of proven techniques and strategies, NoGood™ has consistently helped numerous brands secure top positions on competitive search engine results pages for high-volume industry keywords. Their track record speaks for itself – they deliver results that matter, all while ensuring your Customer Acquisition Cost (CAC) remains low in the long run.
What sets NoGood™ apart is their commitment to breaking through the digital noise. Leveraging AI SEO tools, they spotlight brands and attract high-value customers through organic traffic. Their process begins with a thorough audit and competitive analysis, leading to a tailored strategy that seamlessly aligns business objectives with content. This optimization strategy extends across every stage of the sales funnel.
NoGood™ has solidified its position as an SEO partner for startups and Fortune 500 brands. They understand that the job goes beyond mere keyword counts and backlinks. Furthermore, their commitment to creating a strong foundation ensures brands consistently dominate leads over time, making organic SEO the most cost-effective and efficient route to sustainable growth.
---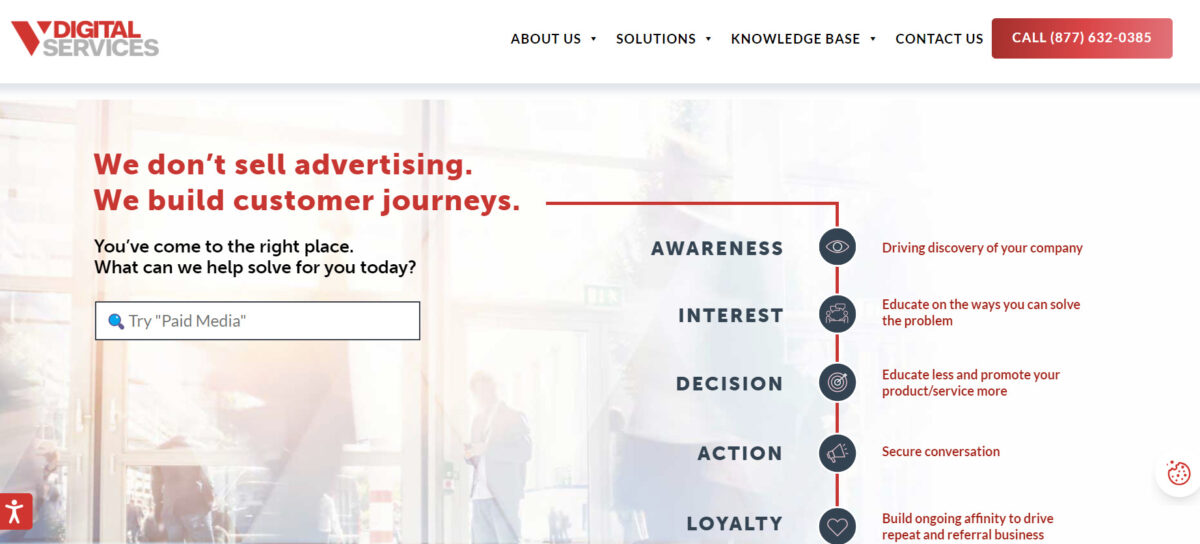 Vdigital Services stands out with its exceptional on-site review and content creation abilities. Their approach combines in-depth audience research and industry trend analysis to deliver relevant and optimized content. Vdigital Services focuses on effective storytelling and reporting, blending human touch with execution for consistently impressive results.
Vdigital Services excels in strategic keyword research, going beyond the basics to analyze markets, competitors, and a website's current performance. This thorough approach leads to identifying high-value keywords that enhance a brand's online visibility. These keywords seamlessly integrate into content, ensuring pages outperform the competition and attract relevant traffic.
Vdigital Services boasts a track record of delivering impressive results. Their transparent reporting keeps brands informed about their SEO progress. But what truly distinguishes them is their customized approach. They understand the uniqueness of each business and tailor their strategies to meet specific needs and goals. Beyond SEO, Vdigital Services offers comprehensive content marketing solutions, making them a one-stop shop for your digital marketing needs.
---
Why is Organic SEO Important for Businesses?
Among the various strategies to enhance online visibility, organic Search Engine Optimization (SEO) stands out as a fundamental and indispensable tool. Organic SEO refers to the process of optimizing a website's content and structure to improve its ranking in search engine results pages (SERPs) naturally, without relying on paid advertising. Here, we will explain why organic SEO is so crucial for businesses of all sizes and industries.
Increased Visibility and Web Traffic
One of the primary reasons businesses invest in organic SEO is to improve their website's visibility in search engines like Google, Bing, and Yahoo. When potential customers search for products or services related to your industry, you want your website to appear at the top of the results. Research shows that the majority of users click on one of the top three search results. By optimizing your website organically, you increase the likelihood of ranking higher, driving more organic traffic to your site. This increased visibility can translate into more leads, conversions, and revenue for your business.
Credibility and Trust
Websites that rank well in organic search results are often perceived as more credible and trustworthy by users. That's because internet users tend to trust search engines and believe that the top-ranking websites are more reliable and relevant to their search queries. When your website ranks high organically, it establishes your business as an authority in your industry. Users are more likely to click on your link and explore your offerings, leading to higher trust levels and a better chance of converting them into customers.
Cost-Effective Marketing
Compared to paid advertising methods like pay-per-click (PPC) advertising, organic SEO is a cost-effective marketing strategy. While PPC can yield quick results, it requires continuous spending to maintain visibility. Organic SEO, on the other hand, provides long-term benefits without the ongoing costs associated with paid advertising. Once your website ranks well for relevant keywords, you can enjoy a steady stream of organic traffic without having to pay for every click. Over time, this can lead to substantial savings and a higher return on investment (ROI).
Improved User Experience
Organic SEO isn't just about keyword optimization; it also involves enhancing the overall user experience on your website. When determining rankings, search engines consider factors like page load speed, mobile-friendliness, and site structure. By optimizing these elements, you not only improve your SEO but also create a more user-friendly website. When visitors have a positive experience on your site, they are more likely to stay longer, explore more pages, and engage with your content.
---
Identifying the Perfect Organic SEO Agency
Picking the right organic SEO agency is no small task. But fear not, as we'll guide you through the essential steps to ensure you choose the agency that perfectly aligns with your business goals and values:
Before you begin your search, it's vital to have a clear understanding of your SEO objectives. Determine whether you're aiming to boost website traffic, increase conversions, improve online visibility, or all of the above. Having well-defined goals will help you find an agency with the right expertise in your specific areas of focus.
Start by researching organic SEO agencies with a proven track record, client testimonials, and case studies showcasing their successes. Make a list of potential candidates and compare their services, pricing models, and the industries they specialize in. This step will help you narrow down your options.
Schedule consultations with your shortlisted agencies to gain insights into their SEO approach. Ask about their strategies for keyword research, on-page optimization, link building, and content creation. Evaluate their transparency, communication skills, and their willingness to tailor their services to your unique needs.
Don't hesitate to ask for references from past or current clients. Contact these references to gather firsthand feedback on their experiences with the agency. This step will provide you with valuable insights into the agency's reliability and the results they've achieved for others.
Consider Long-Term Partnerships
Organic SEO is a long-term investment. Look for an agency that is dedicated to building a lasting partnership with your business. They should be adaptable to evolving search engine algorithms and industry trends, ensuring your online presence continues to grow.
---
Conclusion
Partnering with the right organic SEO agency can be a game-changer for your business. With their expertise, tailored strategies, and commitment to boosting your online visibility, these agencies empower you to reach your target audience effectively. SEO is a long-term investment, and patience is key to seeing lasting results. So, whether you're a small local business or a global enterprise, take the time to choose the agency that aligns with your goals and watch your online presence flourish.
Frequently Asked Questions
What is Organic SEO, and Why Do I Need It?
Organic SEO (Search Engine Optimization) enhances your website's visibility on search engines like Google, Bing, and Yahoo without paid advertising. It's vital because it drives free, high-quality traffic to your site, boosts your online presence, and leads to more customers finding your business.
How Do I Know if My Business Needs an Organic SEO Agency?
If you aim to increase online visibility, attract more visitors, and convert them into customers, then your business can benefit from an organic SEO agency. Whether you're a small local business or a large enterprise, SEO can help you reach your target audience effectively.
What Should I Look for in an Organic SEO Agency?
When choosing an agency, consider factors like their experience, proven track record, transparency, and customized strategies. Look for agencies that align with your specific business goals and can adapt to the ever-changing SEO landscape.
How Long Does it Take to See Results with Organic SEO?
SEO is a long-term strategy, and results typically start to show in a few months. However, significant improvements may take six months to a year, depending on your industry, competition, and the aggressiveness of your SEO campaign.
What's the Difference Between Organic SEO and Paid Advertising (PPC)?
Organic SEO focuses on improving your website's ranking in unpaid (organic) search results, while PPC (Pay-Per-Click) involves paying for ads to appear at the top of search results. Organic SEO provides sustained, cost-effective visibility, while PPC offers immediate but paid visibility.