Advertising Disclosure
Advertising disclosure:
Our partners compensate us. This may influence which products or services we review (also where and how those products appear on the site), this in no way affects our recommendations or the advice we offer. Our reviews are based on years of experience and countless hours of research. Our partners cannot pay us to guarantee favorable reviews of their products or services.
Choosing the right SEO agency in the USA can be pivotal in catapulting your online presence to new heights. While the size of a company might not be your initial consideration, it can indeed mirror the success, resourcefulness, and organizational structure of an agency. We've found that US-based agencies boasting a substantial team not only signify their prosperity but also their capability to execute comprehensive, effective campaigns.
There exists a plethora of "SEO agencies" often comprised of small teams, and while they are adept at offering technical insights and backend optimizations, they might be ill-equipped to orchestrate extensive, multifaceted campaigns. Therefore, exploring agencies that are renowned for their size and stature in the US can be a surefire way to partner with a firm boasting a demonstrated history of success.
As we dive into the dynamic realm of SEO, it's apparent that specialization is king. An agency's focus on specific niches within SEO has become increasingly pivotal. Our curated list of the top 8 SEO services in the USA unveils firms that have not only mastered the art of SEO but have also honed their skills in their respective niches, ensuring tailored, effective strategies for your business's unique needs and objectives.
---
Top SEO Services in the USA
Top
seo services usa
2024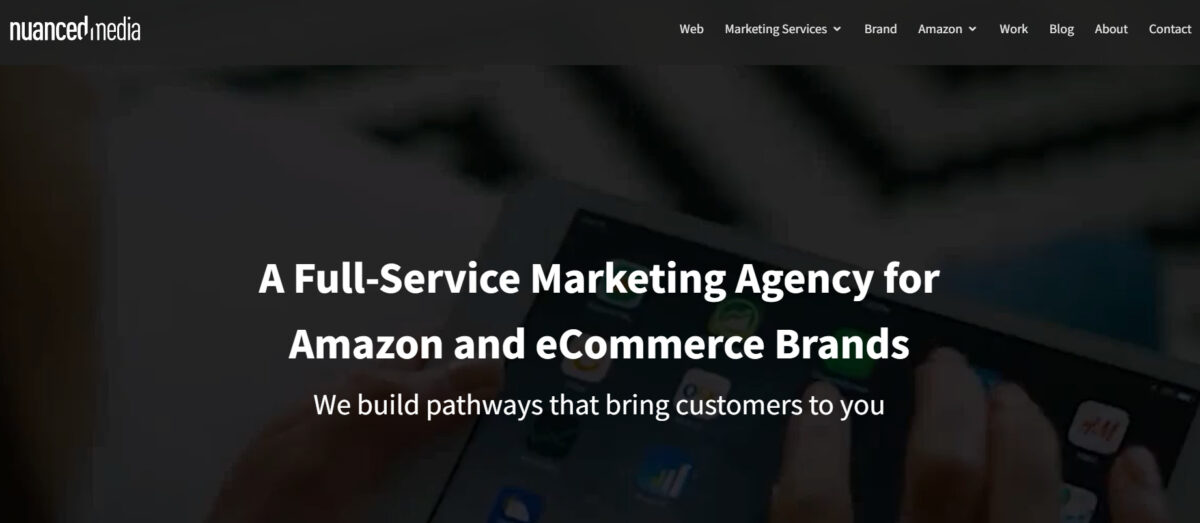 Year Founded: 2010
Location: Tucson, Arizona
Nuanced Media, esteemed for its mastery in SEO practices, is at the forefront of delivering tailored strategies that propel online businesses into visibility and profitability, particularly on platforms like Amazon. Their methodology in unearthing high-performing keywords is anchored in a mix of technology and expertise, ensuring businesses resonate with their target audience. Each keyword is a product of meticulous research, so content does not only rank but also engages and converts.
Content optimization, another of Nuanced Media's forte, is delivered with a blend of precision and creativity. The agency understands the dynamism of SEO and modifies each piece of content for the current algorithms and future trends, a strategy that has proven to yield sustainable growth for businesses. Moreover, the competitive analysis provided by Nuanced Media offers businesses insights into the competitive landscape. This service is designed to give clients an edge, ensuring their SEO strategies are not just effective but also ahead of the curve.
Nuanced Media stands as a testament to the convergence of innovation, expertise, and consistent client satisfaction.
---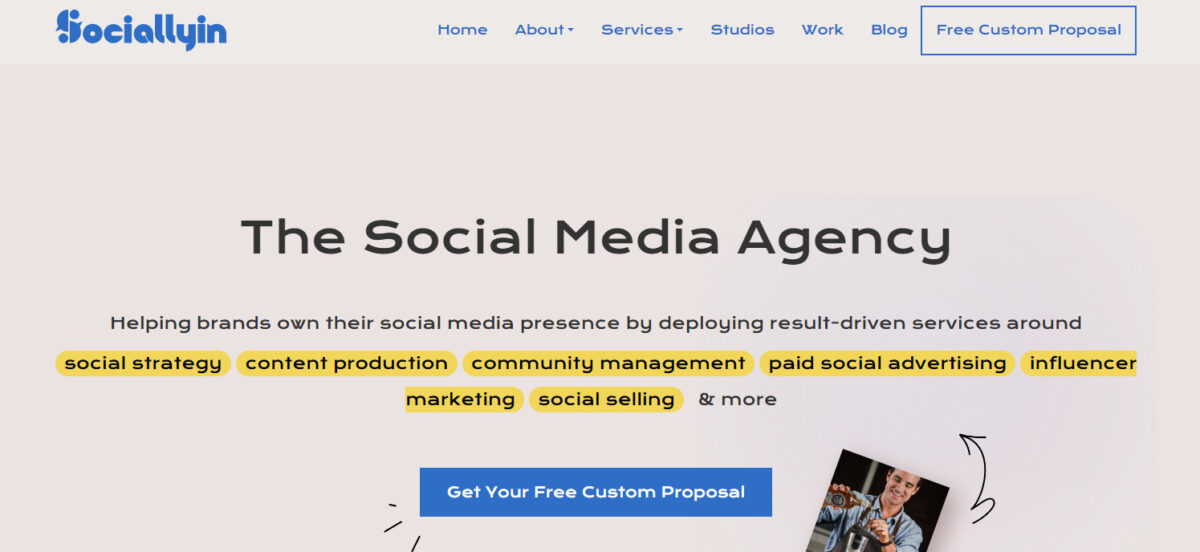 Year Founded: 2011
Location:  Atlanta, Georgia
SociallyIn, a distinguished SEO powerhouse, focuses entirely on effective search engine optimization strategies. Operated under the expertise of industry stalwarts with a track record of successful SEO campaigns, SociallyIn's approach is deeply rooted in custom-tailored strategies to ensure dominant visibility in search engine rankings. Every SEO campaign is crafted with an intricate understanding of the client's unique industry, and they craft them to be influential, scalable, and sustainable.
The agency excels in an array of SEO facets, including technical, content, and on-page optimization. Beginning with a comprehensive audit, SociallyIn lays the groundwork for organic traffic and revenue enhancement. Their content optimization transcends mere keyword incorporation; it is centered on enhancing reader engagement. On-page optimization, backed by meticulous strategy, ensures rapid ranking even in the absence of link building – a testament to the agency's expertise in content and technical excellence.
SociallyIn's approach to SEO is also grounded in thorough competitor analysis and custom analytics. Utilizing data science and AI, the agency rapidly reverse-engineers the perfect, niche-specific SEO formula so clients are always a step ahead of their competitors.
---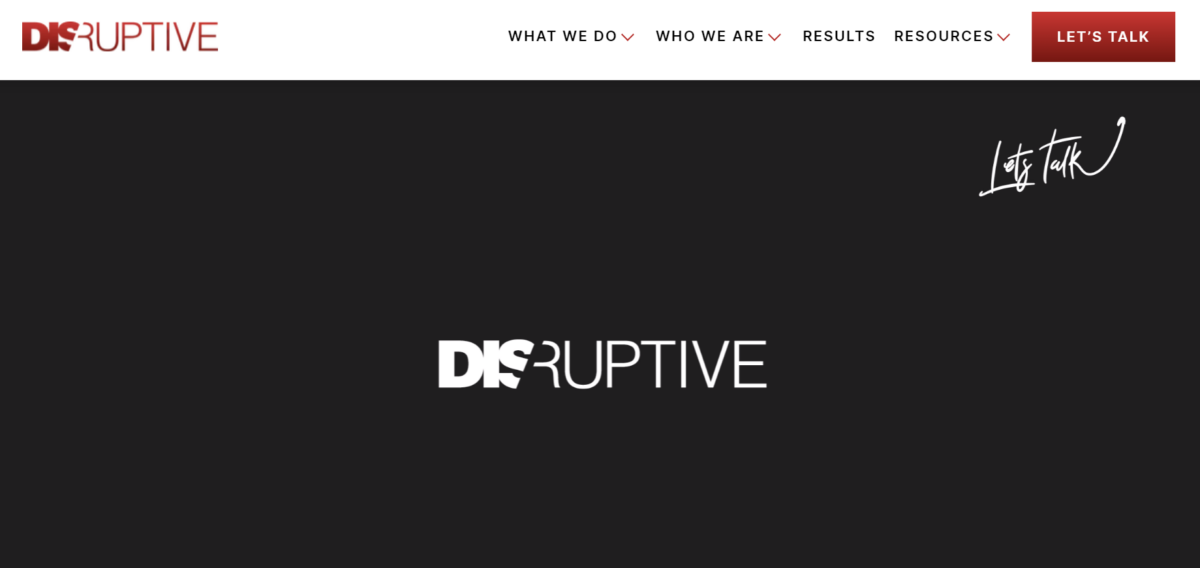 Year Founded: 2011
Location: Pleasant Grove, Utah
Being a prominent player in the SEO landscape, Disruptive Advertising is characterized by its data-driven approach and tailor-made strategies that transcend guesswork. Nestled at the core of their expertise is a robust focus on driving real, tangible results that are both measurable and sustainable. With senior SEO experts at the helm, clients are endowed with the tools and strategies to maintain that pinnacle position, effectively transforming them into the first choice for prospective customers in the organic search landscape.
Starting with an in-depth audit, Disruptive Advertising meticulously evaluates and enhances every aspect of a website, ensuring it's not only visible but also optimized for maximum engagement and conversion. The real magic unfolds in the customization of every campaign. Each client is perceived as a unique entity, with strategies meticulously tailored to resonate with their specific industry, audience, and business objectives.
Client testimonials sing praises of Disruptive Advertising's impactful interventions, heralding significant ROI and a consistent influx of new clients attributable to the agency's SEO mastery. The inclusion of conversion rate optimization (CRO) in their SEO packages underscores a holistic approach aimed at transforming traffic into sales, a testament to their focus on not just attracting visitors but converting them into loyal customers.
---
Year Founded: 2011
Location: Paramus, New Jersey
SmartSites is an SEO efficacy and innovation powerhouse, weaving a tapestry of precision, agility, and adaptability into every client's digital journey. With accolades including Google Premier Partner and an A+ rating from BBB, SmartSites' reputation precedes it, further substantiated by a harmonious blend of client testimonials and industry recognitions such as being ranked as the #3 SEO Services by G2 and achieving a top position in SEO realms by Forbes.
SEO at SmartSites is a holistic endeavor characterized by a bespoke touch. Every campaign is meticulously tailored, pivoting on an exhaustive analysis of variables influencing Search Engine Results Pages (SERPs). They weave a seamless narrative of technical acumen, content excellence, and on-page optimization, ensuring clients not only ascend the SERPs but resonate profoundly with their audience.
Transparency is the cornerstone of SmartSites' ethos. This transparency, paired with a comprehensive suite of services including SEO consulting, digital PR, and link building, epitomizes a full-spectrum approach to search engine optimization. The agency's foray into realms beyond SEO, including content, outreach, and web development, underpins a multifaceted strategy.
---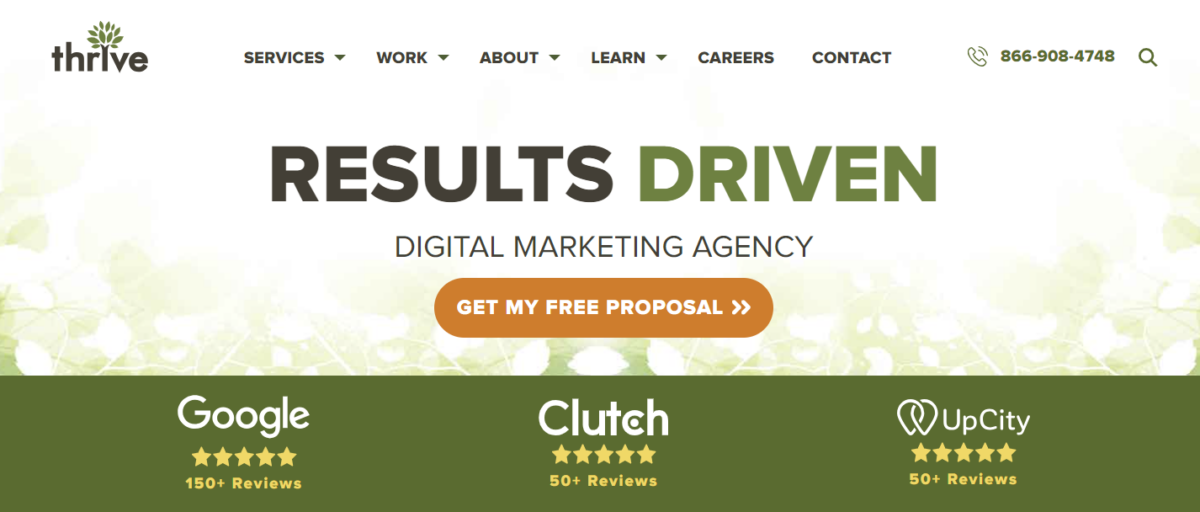 Year Founded: 2005
Location: Dallas, Texas
Thrive Internet Marketing Agency exemplifies a mix of tradition and innovation, offering meticulously crafted SEO solutions rooted in a 15-year heritage of excellence and modernized by adaptive strategies. As a customer-centric entity, Thrive transcends the conventional, addressing individual client pain points such as diminished web traffic or visibility with bespoke SEO strategies engineered for precision and efficacy.
The agency's SEO services are an amalgamation of technical mastery and creative ingenuity. From local to e-commerce SEO, Thrive demonstrates an uncanny aptitude to elevate online visibility, driving not just traffic but quality engagements tailored to convert. Backed by a team of dedicated SEO professionals, each client is endowed with a personalized SEO strategy anchored in comprehensive keyword research and market analysis. This personalized touch is epitomized by Thrive's Agile SEO methodology, a robust framework designed to ensure that SEO strategies are not just implemented but optimized for maximum ROI.
Transparency and collaboration underscore Thrive's operational ethos. Each SEO campaign is accentuated by detailed analytics and reporting, offering clients an insightful lens into their SEO journey, from the intricate processes to the overarching impacts. The agency's commitment to ethical SEO practices ensures not just visibility but sustainability, positioning clients on a trajectory of growth that transcends the temporal and situational.
---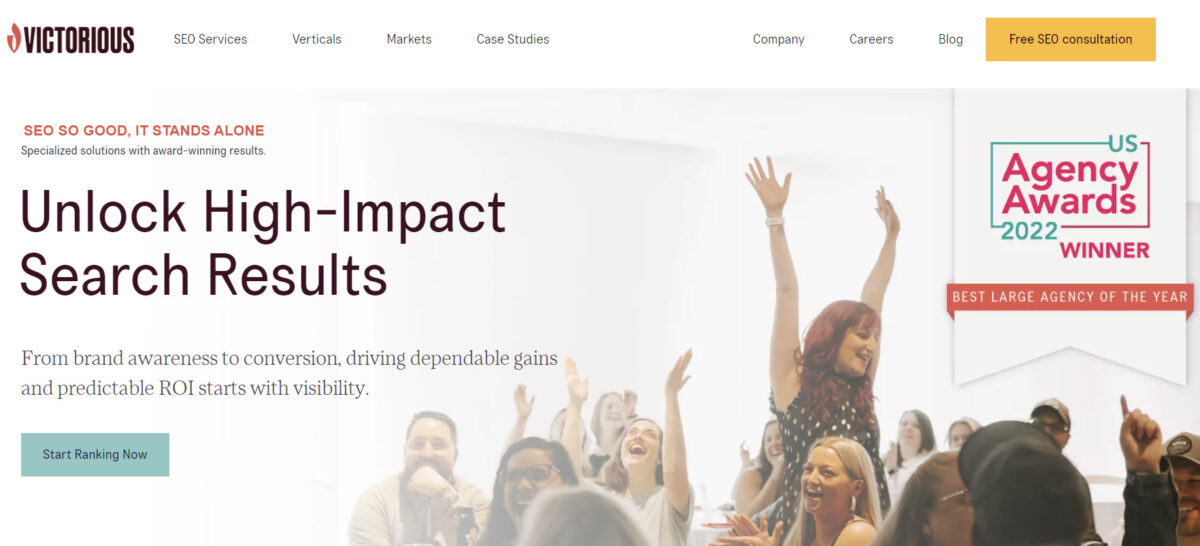 Year Founded: 2014
Location: San Francisco, California
Victorious SEO offers an array of SEO services engineered to propel businesses into the limelight of online visibility. Recognized for their tailored approach, Victorious SEO crafts custom-fit solutions that embody adaptability, addressing the unique needs of diverse markets and audiences. With an award-winning pedigree, including accolades such as the "2022 Best Large Agency" at the US Agency Awards, this agency's SEO-only focus substantiates its mastery in delivering seismic results and long-term ROI.
Their offerings encompass a spectrum of services, including on-page and off-page SEO, link building, SEO audit, and an expansive suite of vertical-specific SEO solutions. The agency's ethos is underscored by its "Master of One" principle, assuring clients of a dedicated focus on SEO. High-impact keyword research initiates their SEO campaigns, ensuring an immediate lift in search results performance. Victorious SEO is adept at transforming organic search into a potent conduit for business visibility, engagement, and conversion. Comprehensive SEO audit services lay a solid foundation, eliminating barriers and augmenting the pathway to sustainable growth and robust online prominence.
Victorious SEO ensures clear, metric-based campaign goals complemented by monthly progress reports. Clients enjoy 24/7 access to personalized dashboards with real-time insights and campaign progression.
---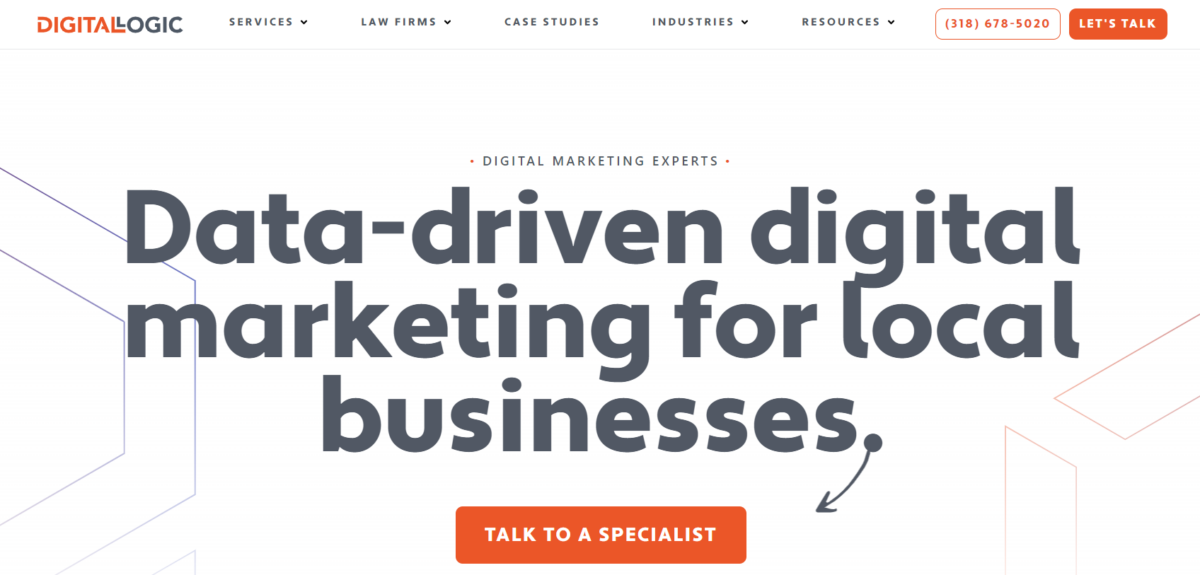 Year Founded: 2016
Location: Shreveport, Louisiana
Digital Logic bolsters businesses with strategies created to optimize online visibility and conversion. Renowned for employing a detailed, customized approach, Digital Logic transcends the conventional, offering comprehensive solutions that encapsulate both on and off-page SEO, local SEO, and technical SEO services. The agency's adeptness in steering SEO campaigns to success is underscored by its strategic incorporation of data-driven insights, ensuring each campaign resonates with the targeted audience and market dynamics.
The agency's strength is highlighted by its holistic approach to search engine optimization, amalgamating a rich array of strategies to elevate businesses' online rankings. Digital Logic's commitment to content is profound, utilizing content marketing to guide potential customers through the buying funnel. With keyword-driven topic suggestions and professional writing services, the agency accentuates online visibility, driving enhanced rankings and business growth. Additionally, the agency underscores the significance of quality backlinks, ensuring businesses are not only visible but are perceived as authoritative entities in their respective domains.
Digital Logic is further distinguished by its transparent deliverables and commitment to long-term results. The agency's adeptness in managing SEO is complemented by a no-monthly contract policy, dedicated account management, and scalable pricing plans, allowing for customized solutions that align with diverse business needs and budgets.
---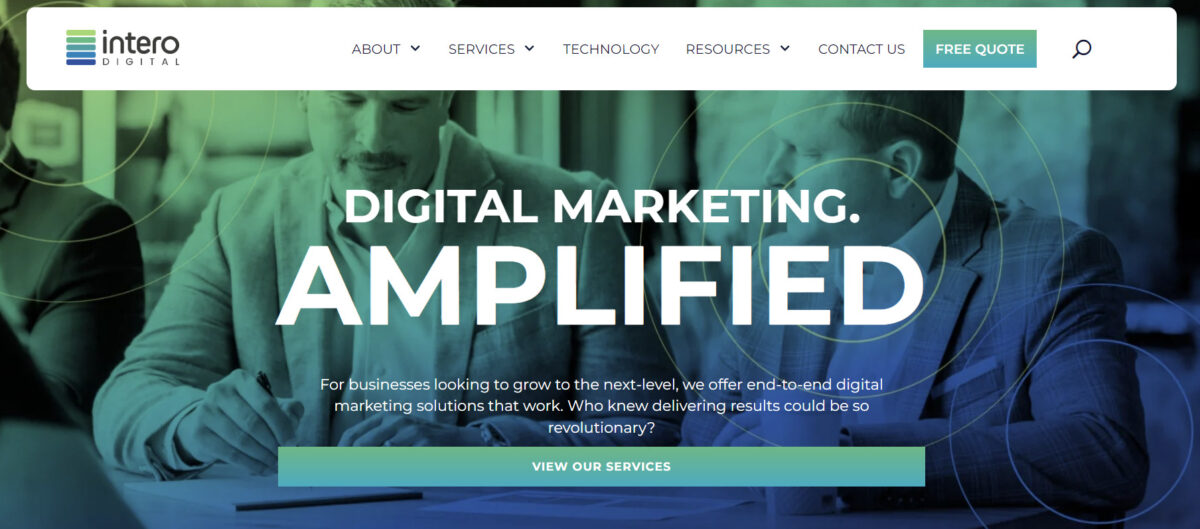 Year Founded: 1996
Location: Colorado Springs, Colorado
Intero Digital, a US-based SEO agency with over two decades of experience, stands out as a powerhouse in the world of digital marketing. Their core services encompass a comprehensive suite of solutions designed to take online a brand's presence to new heights. With a strong focus on SEO, they excel in helping clients achieve organic growth through meticulous keyword research and optimization. They go a step further by offering specialized services like E-commerce SEO, National SEO, and Local SEO to cater to diverse business needs.
One of Intero Digital's standout features is their commitment to technical SEO, ensuring that a website's technical aspects are optimized for top search engine rankings. Their team also offers Amazon SEO services, leveraging their expertise to increase product visibility and drive conversions. In an era where video content is king, Intero Digital shines with its video search optimization strategy, designed to make content stand out in a crowded digital landscape.
They leverage cutting-edge technology to give clients a competitive edge, and their diverse team of digital experts becomes an extension of a brand's marketing team. With offices nationwide and a global reach, Intero Digital is well-equipped to meet anyone's digital marketing needs.
---
Tips for Choosing the Right SEO Services in the USA
We can use several key factors to help businesses understand the requirements for choosing the right SEO service. Those are:
Identify Your Goals
Begin by delineating your specific objectives. Are you focused on increasing organic traffic, enhancing e-commerce conversions, or boosting the visibility of certain content? By establishing clear, measurable goals, you'll effectively narrow down SEO agencies that align with your needs.
Experience and Expertise
Not all SEO services are created equal. The agency's experience is pivotal. Seek out firms with a proven track record of success in your industry. Examine case studies, client testimonials, and online reviews to gauge their competency.
Services Offered
Diversity in SEO strategies is crucial. Opt for agencies that provide a comprehensive suite of services – from content optimization and link building to mobile SEO and analytics tracking.
Communication and Transparency
A collaborative partnership augments SEO effectiveness. Ensure the agency is communicative and transparent. Regular updates, open channels of communication, and detailed reports are indicators of a reliable service.
Budget and Pricing
Finally, balance quality and cost. While budget is a critical consideration, beware of services with low prices and lofty promises. Evaluate the cost against the proposed value to ascertain if it aligns with your financial allocation.
By adhering to these steps, selecting the best SEO service becomes a streamlined, informed process that mitigates the risk of investment and promises substantive returns.
---
SEO Service Essentials
While the world of SEO is vast and ever-expanding, businesses must familiarize themselves with several services deemed essential for search engine optimization. Those include:
Keyword Research
At the genesis of SEO lies meticulous keyword research. Identifying terms and phrases your target audience employs in their search queries is foundational. It informs content creation, meta tags, and overall SEO strategy.
On-Page Optimization
This facet involves refining individual webpage elements to augment their search engine visibility. It encompasses optimizing titles, headers, content, and HTML tags to bolster the page's SEO efficacy.
Quality Content
Content remains king in the digital domain. SEO services should focus on creating informative, engaging, and value-laden content. It not only attracts organic traffic but fosters customer engagement and retention.
Link Building
Backlinks, or inbound links, are a critical SEO asset. They enhance your website's authority and search engine rankings. An effective SEO service constructs a robust network of quality, relevant backlinks.
Analytics and Reporting
Monitoring, analysis, and adaptation are the cornerstones of SEO success. Comprehensive analytics and detailed reports provide insights into the SEO strategy's performance, facilitating informed adjustments to optimize outcomes.
Adaptability
SEO is a dynamic field. Algorithm updates, emerging trends, and technological innovations perpetually shape the landscape. An essential SEO service is characterized by adaptable and evolving strategies to align with these shifts.
Arming yourself with knowledge of these SEO essentials empowers you to navigate the digital ecosystem with informed discernment, optimizing your investment and amplifying your online presence.
---
Conclusion
Selecting a proficient SEO agency in the USA  is pivotal for enhancing your online presence and driving organic traffic. The right partner combines custom, data-driven strategies with comprehensive on and off-page SEO, content marketing, and technical expertise to optimize visibility and conversions. Transparency, adaptability, and a focus on long-term ROI are essential qualities to look for.
By meticulously evaluating your specific business needs and objectives and aligning them with the competencies of potential SEO partners, you can ensure a collaboration that not only amplifies your online visibility but significantly bolsters your conversion rates and business growth. Our guide detailing the eight SEO services will hopefully illuminate some of America's best and brightest.
Frequently Asked Questions
How many SEO agencies are there in the US?
There isn't a specific number, as new SEO agencies emerge regularly. There are thousands of agencies across the US, ranging from freelancers to large professional firms, each offering a variety of SEO services.
How much are SEO fees in the USA?
SEO fees can vary widely, typically ranging from $500 to $10,000+ per month, depending on the agency's reputation, the complexity, and the scope of your project. If we look at hourly averages, USA SEO services charge between $100 and $250 per hour.
How much should a beginner SEO cost?
For beginners, basic SEO services can start as low as $500 per month. The cost can be influenced by factors like geographical location, the agency's expertise, and specific client needs.
Is it worth paying for SEO?
Yes, investing in SEO is crucial for enhancing online visibility, driving organic traffic, and boosting sales. It's a long-term strategy that can yield significant ROI when done correctly.
Can I do SEO on my own?
Yes, with the right knowledge and tools, you can perform basic SEO on your own. However, for more complex strategies and optimizations, hiring a professional may be beneficial.