Have you tried the IGTV videos feature yet? And, if you did, did you struggle with getting as many views on the videos posted there as you get on your regular video posts and Stories?
If you did, don't worry, that's very common and a lot of people struggle with this problem. And, this is because most people just check their Stories and Instagram feed and leave from there without even checking the IGTV tab.
That is why it was necessary to introduce a way to promote IGTV videos on the main Instagram feed. And that is exactly what the recent IGTV previews feature does.
In this post, we will explain what IGTV previews are and how to best create and share these to get the maximum views of your IGTV videos.
How to Share IGTV Previews to Your Feed - 5 Tips
---
What are IGTV Previews?
IGTV previews are 1-minute sneak-peeks of your IGTV videos that you can share on your Instagram feed. After one minute, there will be an option for viewers to click on "watch the full video on IGTV." This means you can engage your viewers with a teaser and then encourage them to go watch the full video on your IGTV channel.
As you know, to watch IGTV videos, users need to leave their Instagram feeds and go to the IGTV tab on Instagram. But not a lot of people do that on their own and need motivation to do so. IGTV videos provide just that, they act as a hook and are meant to promote your IGTV videos so that more people go and view them.
This is especially helpful when you set up a new IGTV channel as previews make it easier for your followers to find you on the IGTV channel. They can be easily directed to your IGTV channel just by clicking on the "watch more" option that comes at the 1-minute mark.
---
How to Share IGTV Previews
Sharing IGTV previews to an Instagram feed is a simple process. First, you need to create an IGTV video as usual. Then, before you publish it, you will see an option to "post preview" with a slider (right above the "share to Facebook" option).
All you have to do is click on the "post preview" option and a one-minute preview will be shared to your followers' feeds. You get the option to select a cover picture, title, description, etc. before you post it.
The posted preview will appear on your followers' Instagram feeds and on your profile as well.
Note that previews can only be shared for videos that are longer than 1 minute. And, once the preview is posted, it will have an IGTV icon on the top right, to distinguish these from other videos.
---
Tips to Share IGTV Previews on Your Instagram Feed
IGTV previews is a fairly new feature on Instagram and not many people are aware of how to best use it. That is why we have curated this list of 5 tips to optimise your IGTV previews to make the most of this feature.
1. Choose Your Cover Picture wisely
It is crucial that you select a good cover picture of your IGTV preview as it also appears on your profile and not just on your followers' feeds. So, your cover picture should be attractive enough to get your followers' attention and it should go well with your profile's aesthetics. Moreover, it should also have the right dimensions and size.
Here is a good example of a brand that selects IGTV cover pictures in a way that they integrate well in their Instagram profile, along with other posts.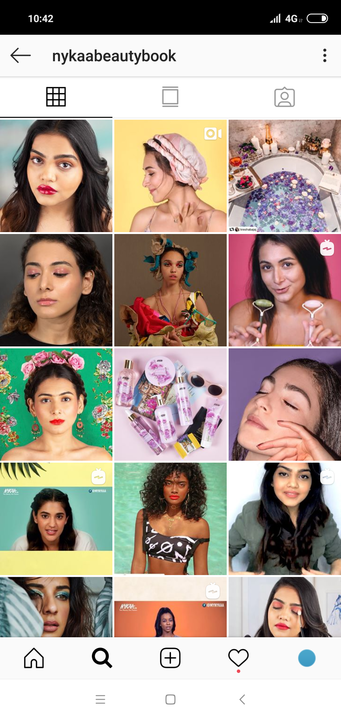 Except for the IGTVicon, there is no way of distinguishing an IGTV cover picture from the other posts. So, select a cover picture that looks like it belongs on your Instagram feed and does not stand out.
Now, let's discuss the size and dimension aspects of your IGTV preview cover pictures and how to best optimise them.
Instagram now allows both vertical and horizontal videos for IGTV with their respective aspect ratios being 9:16 and 16:9. For IGTV cover photos, Instagram recommends a size of 420 pixels by 654 pixels and an aspect ratio of 1:1.55.
The problem arises when this cover image is shown at different places with different size and aspect ratios. When shown on your followers' feed it is cropped to the portrait size with the aspect ratio of 4:5. And, on your Instagram profile grid, it appears in a square shape with an aspect ratio of 1:1.
So, the hard part is to select a picture that works in all of these sizes without getting distorted or getting cropped the wrong way. The trick to making work for all sizes is to ensure that whatever your picture's focus is should be right in the centre. This way, even if it is cropped from the top and bottom, it would still show your key focus object.
There are several Instagram image creator tools, like Canva, that show the different Instagram image sizes and templates. You can use these to see how your image looks in different formats.
2. Write Good Captions
When you post an IGTV preview, your IGTV video's title becomes the caption of that preview. So, you need to select a title that describes what the video is about and that works both as a title and a caption.
However, if you do want to change your caption or make it more descriptive, you can always go back and edit it after you have posted it.
Earlier, Instagram did not allow you to change or edit the caption after posting, but now they have provided that option. So, if you don't want your IGTV video title as your caption, you can go back and edit it.
3. Edit Your IGTV Previews Strategically
The whole purpose of IGTV previews is to hook your viewers with something engaging and then encourage them to watch the full video on your IGTV channel. This helps promote your videos and directs your followers to your channel.
So, it is important that you select the content of your 1-minute previews strategically to ensure that it engages the viewers enough for them to want to see the entire thing.
This means you need to get the viewers invested in the video and create suspense or allude to something exciting around the one-minute mark. Adding a cliffhanger around the 1-minute mark is a brilliant way to get people to watch the entire video.
So, plan your IGTV content in a way that it creates curiosity and excitement in the beginning and has a cliffhanger around the 1-minute mark.
4. Post at the Right Times
Another good strategy to get the best results from your IGTV previews is to post at the right times. Times when you can get the maximum engagement.
You might already know the best times for posting regular Instagram posts as there have been several studies done about this. According to this study, the following are the best times to post on Instagram.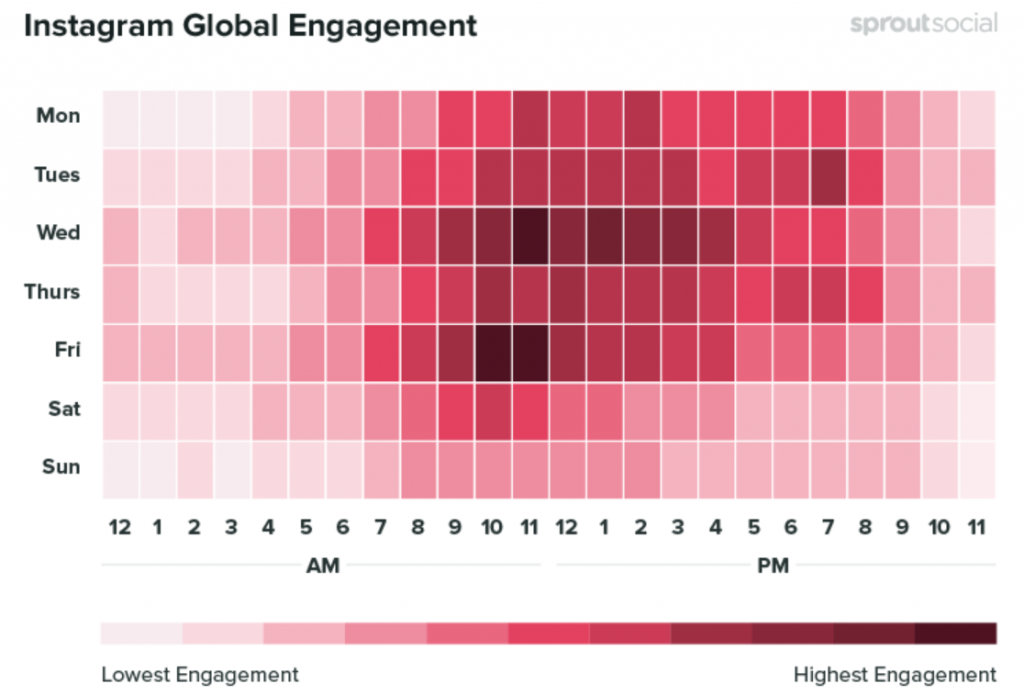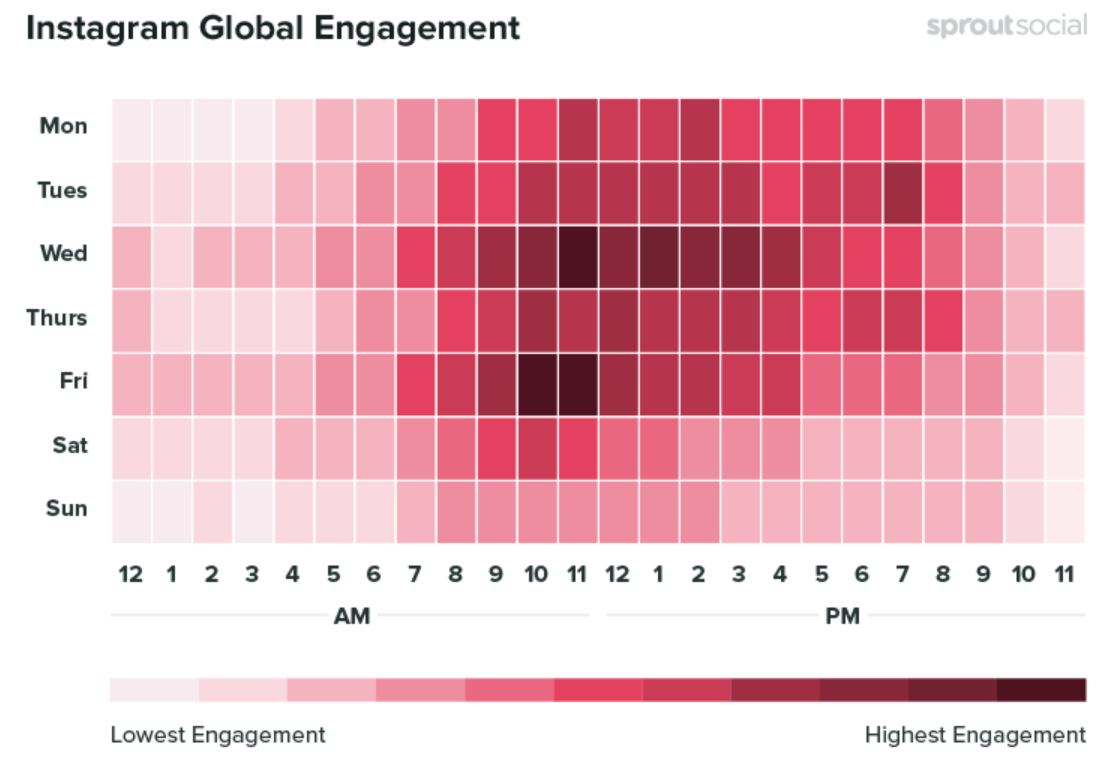 As you can see, Wednesdays and Fridays are the days when you can get the maximum engagement. And, in general, the best times to post are between 9 am and 1 pm.
You can use these as your baseline and then finetune it based on your audience insights. Use your Instagram Insights to see when your audience is online the most. Select those times to post your IGTV videos and previews.
5. Use Subtitles
This is a good strategy, not just for IGTV videos and previews, but for all of the videos that you post on Instagram. That is because most people turn the sound off for videos that they watch on Instagram.
Using subtitles for videos not only allows people to understand your video better but gets you more views as more people can watch it. A lot of times people scroll through their Instagram feed from their workplace or another setting where they can't play videos with the sound on. Using subtitles lets people watch your videos even in such situations, thus boosting your views.
So, it is a best practice that you should follow with IGTV videos, as well as the IGTV previews. This will definitely help you get more views and get more people to watch your iGTV videos.
---
Conclusion
IGTV videos don't often get as many views or as much engagement as your normal Instagram posts and Stories. This is because people don't make the effort to go to the IGTV channel and watch videos. So, you need to promote your IGTV videos and direct your followers to your IGTV channel.
One simple, yet brilliant way of doing that is by posting IGTV video previews on your Instagram feed. This will show as a 1-minute sneak-peek of your video and, after one minute, the video pauses and asks users to go to IGTV to continue watching.
So, leverage this feature the right way by using these useful tips to get more views on your IGTV videos.