Best for:
Small businesses
It's human nature to want credit for the things you create. Leaving behind some kind legacy, even if it's something like software, is a way to say "I was here." We've reviewed many dozens of software titles on this site—for influencer marketing, e-commerce, creator tools, and affiliate marketing—and in all cases doing the research on who exactly made the app was as easy as clicking on "About Us" on their website. Worst case scenario involved looking the company up on LinkedIn or Crunchbase and getting the info that way. And, in some extreme cases, when one co-founder leaves a company, the remaining one wants all the glory and has gotten pretty upset with us if we even mentioned the partner who left.
Why bring all this up? To fill space in this Overview of a company that doesn't seem to want anyone to know its business. This is the case with Simple Affiliate, an affiliate marketing app for Shopify. The idea of simplicity is taken to its logical extreme with this app. Their website makes no attempt to woo you with pictures or statistics. The home page is just a list of features, descriptions of those features, and screenshots. The design of the site itself would not be out of place in 1997. There's no About Us page, and the contact options are a form, live chat, or an email alias. They don't market themselves, nor do they have a LinkedIn profile. Crunchbase yielded nothing.
The only place a name shows up is in the help documents, which were all written by one of two people, Sebastian and Milos. Looking deeper, we found there's a response from Sebastian himself to a review a user left on the Shopify App store, and he identifies himself as the founder. We were finally getting somewhere! A Google search revealed that there are an awful lot of dudes named Sebastian who have things to say about affiliate marketing. Any one of these guys could be him. Also likely: none of them are.
In the end, we were resigned to knowing little about a company overview, and decided to just get down to business and watch an overview video they made to get a feel for the software. In the section about issuing payments, you can see the recipient names as they scroll through the list of affiliates, many of which were "Sebastian Capatina." Paydirt! We had our man to write about for the Overview. We looked him up on LinkedIn, and…
…no mention of Simple Affiliate on his profile. But he does list his role as CEO of Menos, Inc.—a web development company specializing in Shopify. And if you hop on over to menos.ca, there you'll see it, last in a list of the company's accomplishments: Simple Affiliate. But now it's too late: we've already written this Overview. If only they'd made it simpler to find this information out.
---
Overview Simple Affiliate:
---
Pricing
Simple Affiliate is stripped down affiliate marketing, and is purpose built to do essentially one thing: create and track referral links and coupon codes so users know how much money they owe their affiliates. For this reason, we were surprised that there were even two levels of subscription offered.
Basic, $14/mo —

Track unlimited referrals from an unlimited number of affiliates using referral links. You can also create different groups of affiliates to payout different commissions.

Professional, $29 —

Everything in Basic, plus: you can use discount codes for tracking, and create custom referral links that are easy to read.



It's not well thought out pricing, to be honest. $29 a month isn't a lot of money, but it doesn't feel worth it when you frame that cost as "$15 extra dollars for two features that are standard anywhere else." And $29 is still roughly on par with a few other platforms we've reviewed here. It's $5 more than Goaffpro's Premium plan, which offers many more features, plus several integrations to extend its use even further.
---
The Details
To paraphrase Forrest Gump's mother, simple is as simple does—and Simple Affiliate does things very simply. That's a lot of "simples," yes. As with any other Shopify app, installation is a non-issue—you push a button, enter credentials, you're good to go. During setup, you'll be asked if you want affiliates to be automatically activated when they sign up or whether you want to manually approve each one. You'll be given the link to the affiliate dashboard that's been installed on to your Shopify store if you want to test it out (or share it later). You'll create a default affiliate group and define all the commission parameters for that group. Then you're given a choice as to whether or not you want to enable coupon codes. Since this is one of two features you get by buying into the Professional plan, what possible reason would those who have the option have for disabling them?
With your affiliate dashboard link, you're ready to start inviting people to become affiliates. You can either manually add them from within Simple Affiliate's admin panel, or they can signup via the dashboard link. The app uses your Shopify customer accounts to grant access to the affiliate dashboard. If they've already got an account with your store, they simply need to log in and fill out some registration details. If they don't yet have an account, they'll go through the registration process, which is—you guessed it—simple.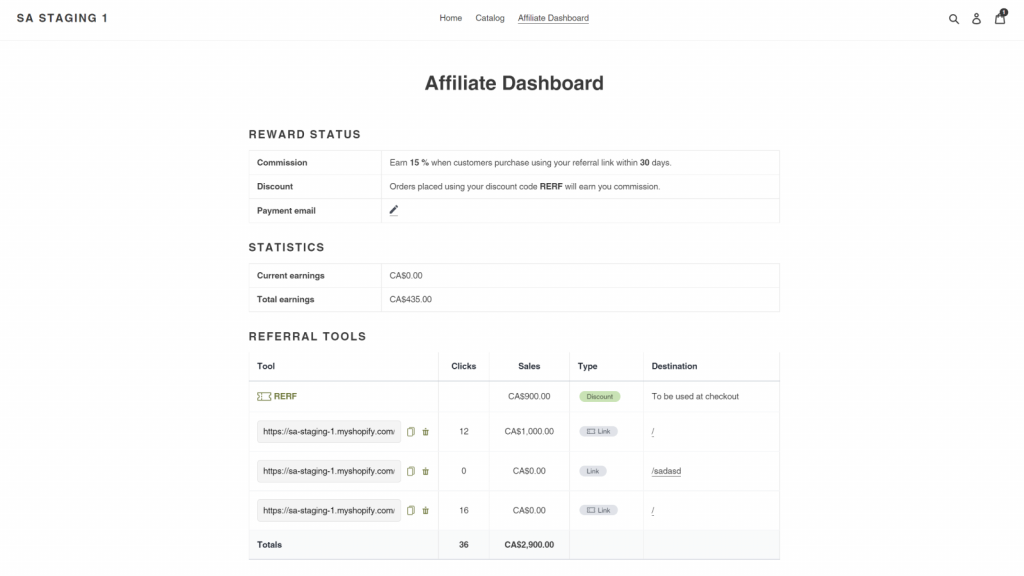 If you're on the basic plan, you've pretty much covered everything you need to in order get the affiliate program running. You can head over to the Settings section to tweak a few things here and there—like what information to ask for on the affiliate signup form, or to customize the text that your affiliates see on things like the registration page, or automated emails they receive.
For those on the Pro plan, you can also start creating custom links for your affiliates as they sign up. Customizing the link essentially means appending whatever string of text you like at the end of your store's URL, like so:
https://yourstore.domain.com/simpleaffiliatecustomtext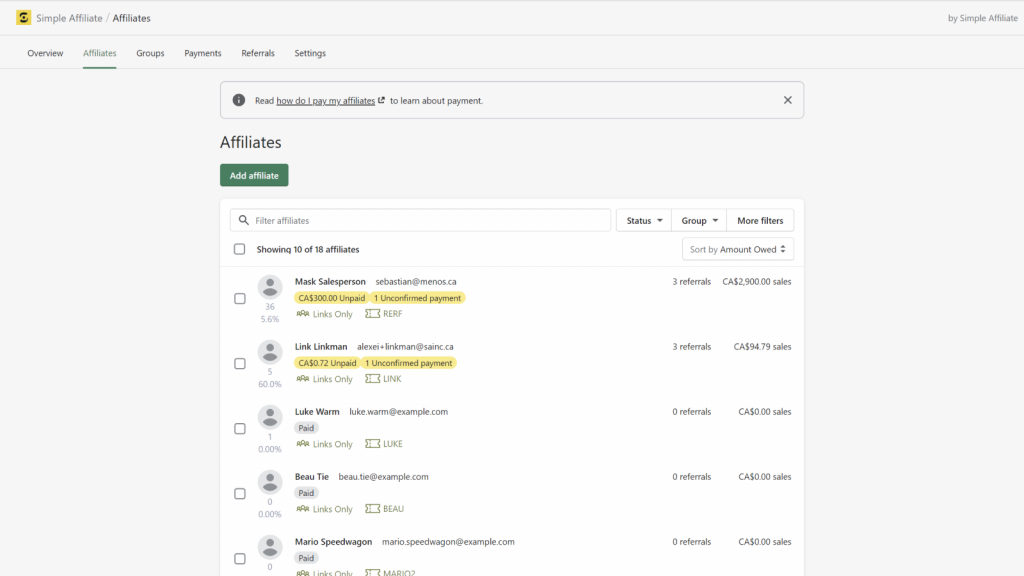 If you've also assigned a coupon code to an affiliate, you can set the link to activate that discount when it's used. So if someone clicks a link by your affiliate who has a 10% discount code, when they arrive at your store they'll see a pop up announcing to them that they were referred by that person and are eligible for the 10% discount. The discount is automatically applied at checkout, though there's nothing to tell the customer that that's going to happen.
The reporting you get out of Simple Affiliate is the very basic information you'd need: total sales, shown both as a number and a time-based graph, total commissions, and average commission. This is strictly for record-keeping only, and there's no way to export the data out to use with any other software.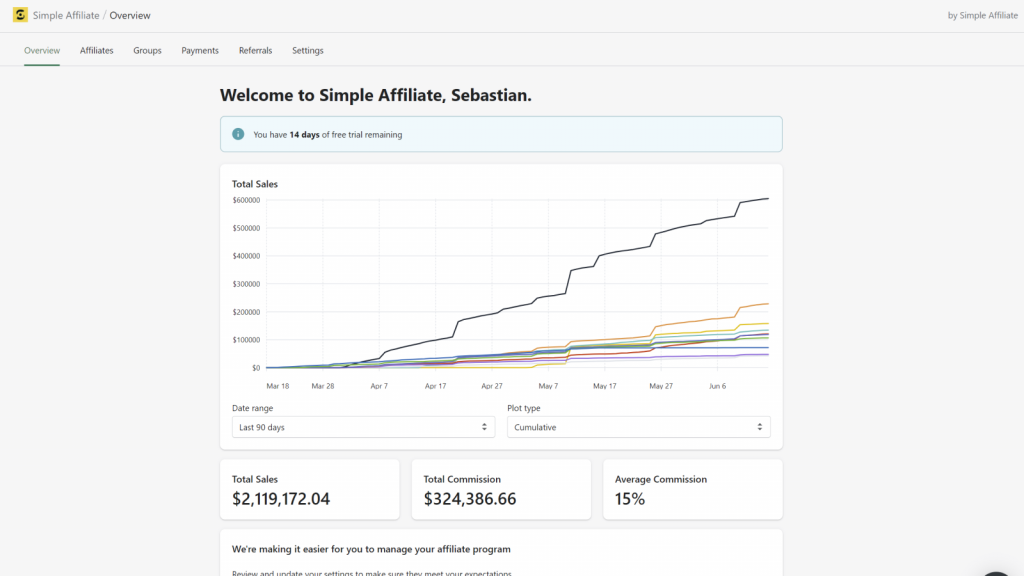 Paying affiliates is the one thing here that isn't simple, which is weird because you can't actually pay affiliates from the app. Somehow, though, they've managed to add an unnecessary step to the process; you can't just accomplish nothing by doing nothing. Here's what that looks like: You click on the Payouts link in the navigation menu of Simple Affiliate, and it shows you a list of all your affiliates and what they owe. If you want to pay them, you click "Create Payment" and the software will confirm the amount with you. Once that's confirmed the transaction is moved to another list of "unconfirmed payments." Then you go use whatever service you're using to pay—if it's Venmo, then you go make the payment on Venmo. If it's an ACH transfer, you log into your bank's bill paying function and issue the payment from there. Whichever method you choose, you have to go back to Simple Affiliate and then confirm that you made the payment.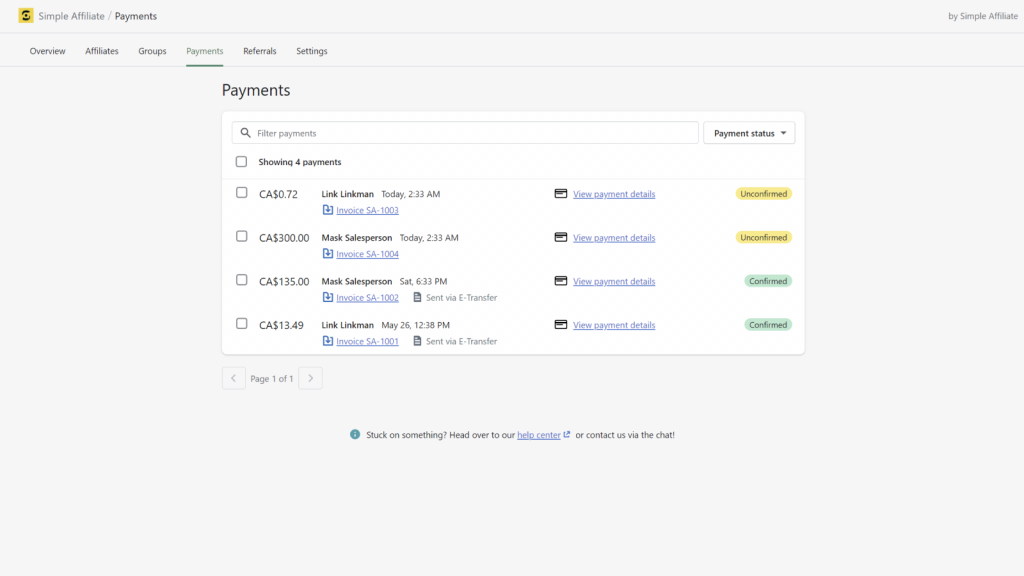 What's the purpose of creating a payment on the system if you still have to confirm it? Both the lists—of Outstanding Balances and Unconfirmed Payments—are telling you the same thing. They're lists of people you haven't paid yet. Why not just go down the initial list, make the payments based on that, and then confirm you've paid it whenever that happens?
---
Integrations
Simple Affiliate has no integrations with any other software, unless you count Shopify.
---
Conclusion
Simple Affiliate is just a little too simple for its own good. It's a shame, because it absolutely fills a niche for small e-commerce stores on the Shopify platform. And there are a lot of small e-commerce stores on the Shopify platform. For someone who's running a store as a side hustle, and wants a basic way to manage affiliates and payments, something like this—purpose built to make one task much easier through a modicum of automation—could have been the answer. Unfortunately, it's just a few features short of—and a few dollars a month more than—where it needs to be to fill that niche. What is here is actually well implemented, and if they built upon this foundation Simple Affiliate could easily fill the niche it aims to serve. As it is now, though, even the smallest of businesses have better options at a similar price point.
Simple Affiliate
Features

Ease of Use

Reporting

Integrations

Best for:
Small businesses