You're running a social media campaign, and things are looking great. You're getting likes, comments, and shares. But upper management wants to see how these results connect to business goals.
Or, more importantly, how it's impacting their bottom line.
So you need to turn data into charts and charts into insights to prove social media marketing is worth the investment. It's time to build a social media report.
What tools should you use? Does it need to be "pretty"? And what key metrics should you include?
All valid questions, and we're going to answer them. So stick around to the end.
---
How To Create a Social Media Report:
---
What should your social media report include?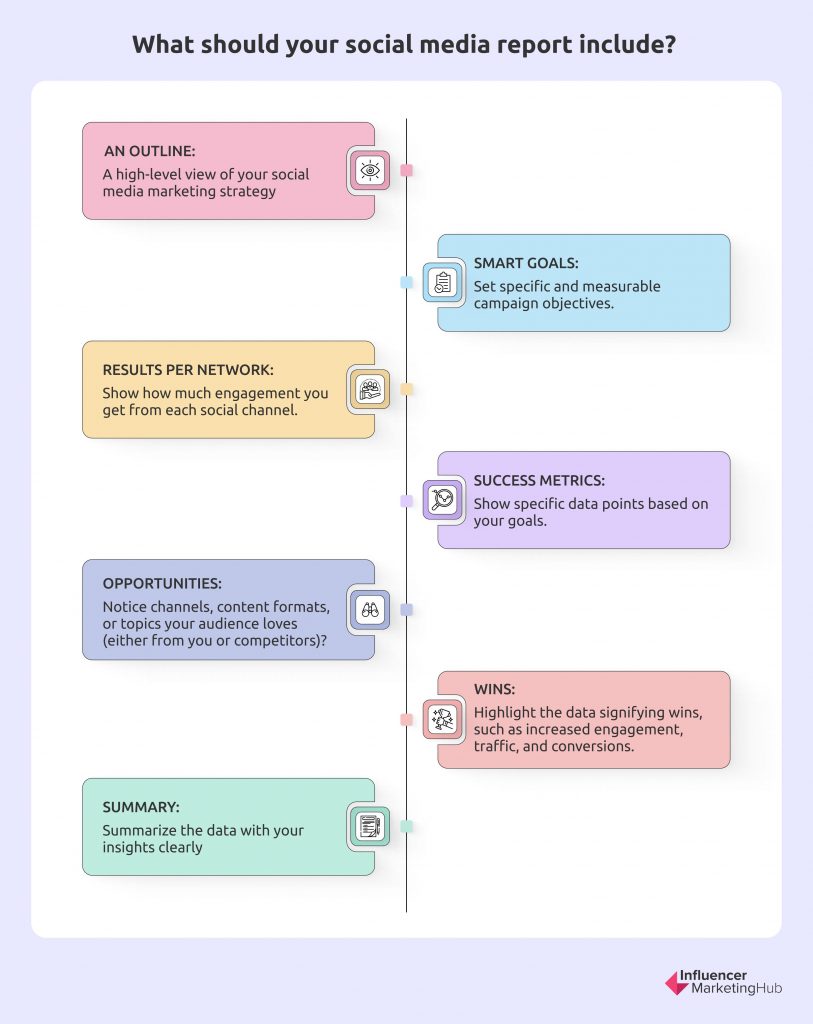 A social media report has one purpose: to show a social media campaign's performance (and value). This requires pulling data from relevant metrics directly impacting your campaign goals (which should align with company objectives).
Here are the typical data points to include in a social media report:
An outline

: A high-level view of your social media marketing strategy, what it's trying to achieve, and on which social media channels. For example, creating visual content to share on Facebook and Instagram to increase reach and brand awareness.

SMART Goals

: Set specific and measurable campaign objectives. For example, increasing website traffic from social media by 5% MoM for Q3 and Q4.

Results per network

: Show how much engagement you get from each social channel.

Success metrics

: Show specific data points based on your goals. For example, if you're building brand visibility and traffic, then tracking reach, views, brand mentions, shares, and inbound traffic are crucial metrics.

Opportunities

: Notice channels, content formats, or topics your audience loves (either from you or competitors)? These are opportunities worth noting and considering.

Wins

: Highlight the data signifying wins, such as increased engagement, traffic, and conversions. Then detail why it's an accomplishment.

Summary

: Summarize the data with your insights clearly, so your managers understand the successes and opportunities in your monthly report.
---
What metrics should you include in your social media report?
Your social media report doesn't need to track every metric. Only track the ones relevant to your social media strategy and business goals.
For instance, it's pointless to track conversions if you're focusing on brand building. While this is the end goal, it's not the aim of this mission. So focus on metrics directly connected to your immediate goals.
Here's an overview of the different metrics social media marketers use in their reports. First, let's begin with those most bosses or clients care for the most.
What your boss or client cares about
Stakeholders care about one thing—adding to their bottom line. So any chance you can tie a metric directly to revenue and growth is a bonus. Of course, that's not always possible, especially with social media marketing.
So what do you do? Consider the stakeholders you report to. What do they care about most?
To ensure your report's attractive to your boss or client, answer questions like:
What impact did the campaign have?

Were our goals met?

How much traffic did we bring in?

How much of that traffic converted into leads?

What was the engagement rate?

How much revenue did the campaign generate?

Did this campaign do better or worse than prior ones?
When building your report, keep in mind the context. For example, if you're building an influencer campaign, then focus on answering questions about engagement, conversions, and other relevant social media KPIs.
Next, let's review the metrics that answer these questions for stakeholders.
Social media metrics that answer these questions
It's time to gather data to build impressive insights for your boss. There are many to choose from, so remember: it's about context. Select the most relevant metrics so your report is lean, clear, and meaningful.
For example, you can include data about:
Follower growth

: How many new followers did your campaign generate in the past X days? This shows your content strategy is establishing trust for your brand.

Audience insights

: Who's following and engaging the most with your content? This shows whether or not you're connecting with the right audience.

Social listening data

: Are people talking about your brand? If so, identify the sentiment to ensure it's positive.

Volume of posts

: How much content are you producing each month? Is it steady and sustainable? This gives insight into how much content it takes to generate positive results.

Reach rate

: Is your content visible to a broader audience? Then your posts are gaining traction. Next, look for meaningful indicators like more comments, shares, and traffic.

Total engagement

: What's the overall engagement for your campaign? Determine if it's improving or not.

Engagement per post

: What's the average engagement per post? See if there are posts/topics/formats getting more love than others and why.

Clicks

: You're sharing links in your posts, are folks clicking on them? Identify which posts get more clicks to see if there's a pattern.

Social referral traffic

: Are you seeing more traffic from certain social media networks? Find out which platforms drive the most visits.

Funnel action

: Are people going through your funnel or dropping out midway? See if there's a consistent drop-off point to identify areas to improve.

Influencer report

: How well are your influencers performing? Here's where you'll identify the engagement and conversions they yield.

Competitive insights

: Notice your competitors getting more engagement with their social media content? Find opportunities to improve your social posting approach (e.g., topics, formats, etc.).
Don't be afraid of negative results. Use these learning moments to pinpoint opportunities to enhance your social media activities. For instance, if one social network is underperforming, then maybe your audience isn't there. Consider dropping it and focusing on the social media sites performing the best.
---
5 types of social media reports (and when to use them)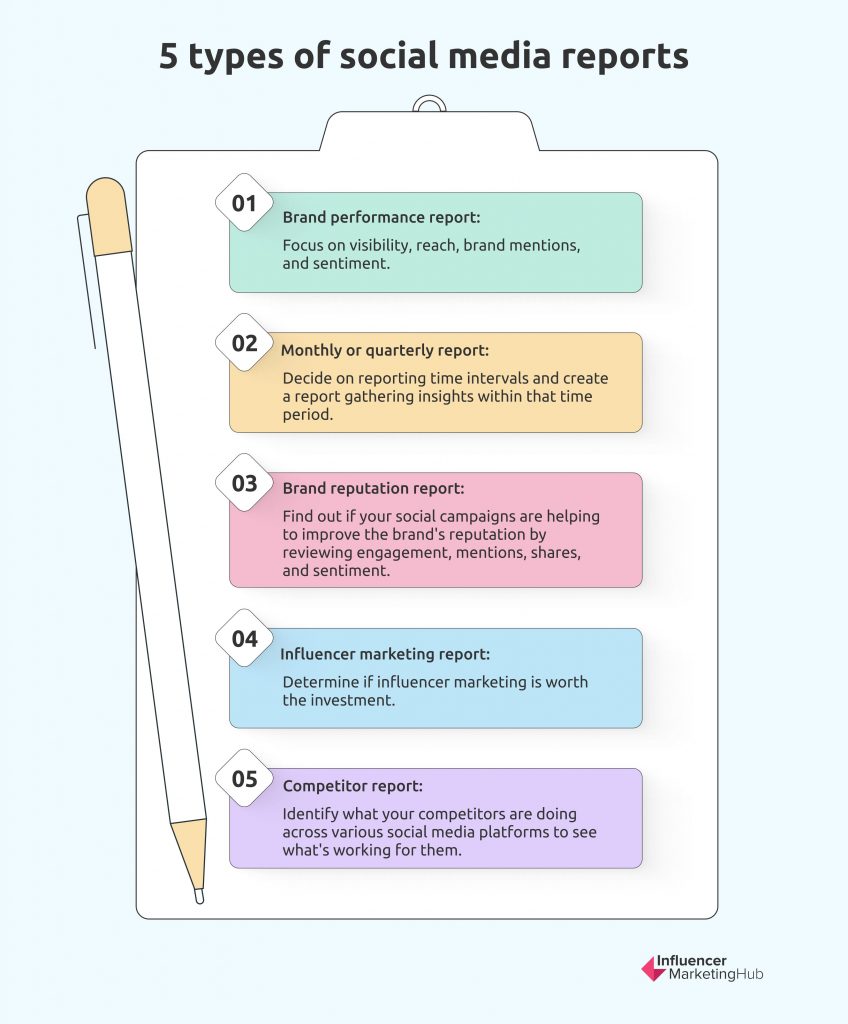 Social media reports are the window into social media performance. So the type of campaign and social media goals will determine which report you create.
Here's a peek at the different options:
Brand performance report

: Focus on visibility, reach, brand mentions, and sentiment. Showcase whether your brand is growing in popularity. It's an overview of how well your brand's doing.

Monthly or quarterly report

: Decide on reporting time intervals and create a report gathering insights within that time period. Most do monthly or quarterly, depending on the length of the campaign.

Brand reputation report

: Find out if your social campaigns are helping to improve the brand's reputation by reviewing engagement, mentions, shares, and sentiment. This is ideal for crisis management and dealing with negative brand sentiment or backlash.

Influencer marketing report

: Determine if influencer marketing is worth the investment. And which influencers perform best (macro vs. micro, industry, etc.).

Competitor report

: Identify what your competitors are doing across various social media platforms to see what's working for them. Are there opportunities to fill a gap or emulate their success?
---
How to create a social media report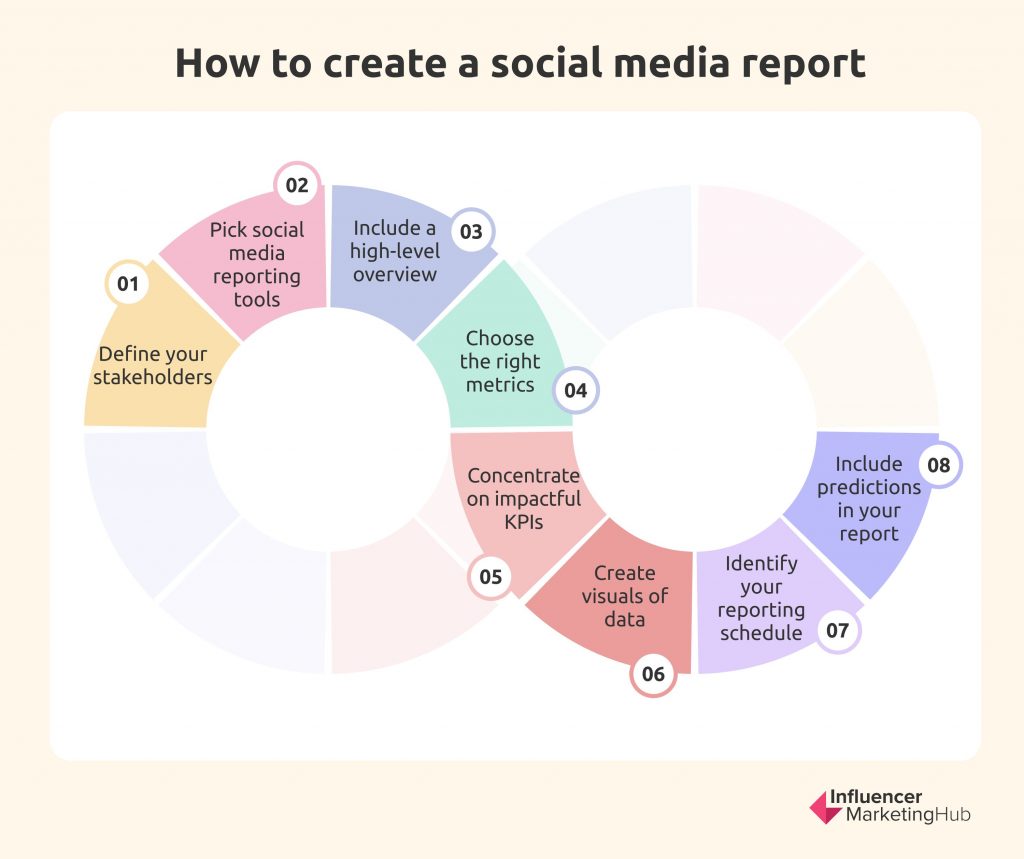 Gathering insights is one thing—turning it into a clear (and attractive) report is another. By focusing on the right metrics and using the best tools, it's easier to do. So before you draft your first social media report, follow these steps:
---
Social media report examples
Alright, so we covered the basics of what should be in a social media report. Now, it's time to see what they look like in the real world.
One option: manually gather your insights and implement them into a social media report template.
For example, Silvia Pinho, Social Media Manager & Online Educator, uses a simple Google Sheets template she created for client work. And tracks metrics based on client goals—if they're looking to increase brand awareness, then she includes reach, followers, and other metrics in her report.
Here's what she uses internally.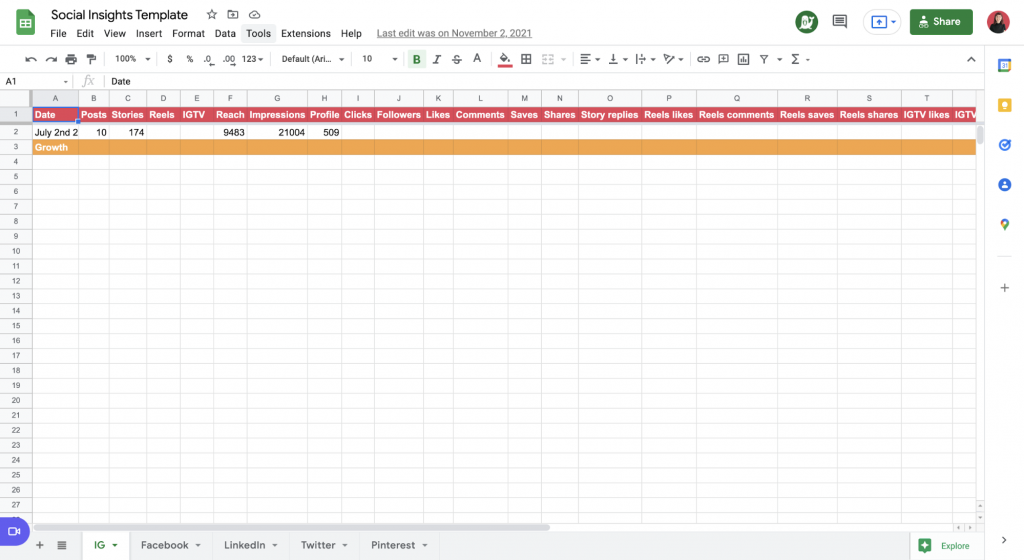 Then when it's time to present the data, she spruces it up using Canva.
"I pull the most important ones (as explained above) into a Canva template to make it look nicer and more easily understandable for the client. I also like to add things like screenshots and comments throughout."
Here's an example of one section of her reports: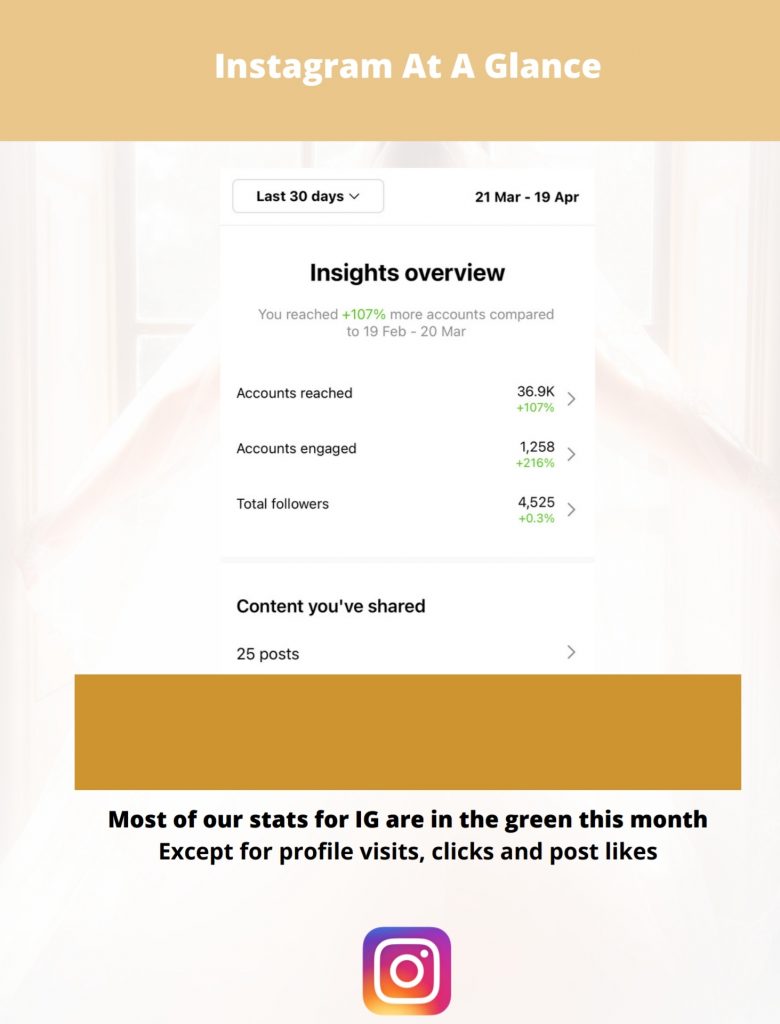 Or you can use a social media reporting tool to gather the insights and design social media marketing reports for you. This is what Hilary Thompson, Influencer Marketing Team Lead at Portent, Inc., does.
"We report on the number of views, conversions, cost per view, and cost per acquisition for both month-to-month and all-time numbers. Plus, we use Google Data Studio to create our reports automatically, since we track most campaigns using Google Analytics and Google Sheets."
Here's an example of a social media analytics report for YouTube videos.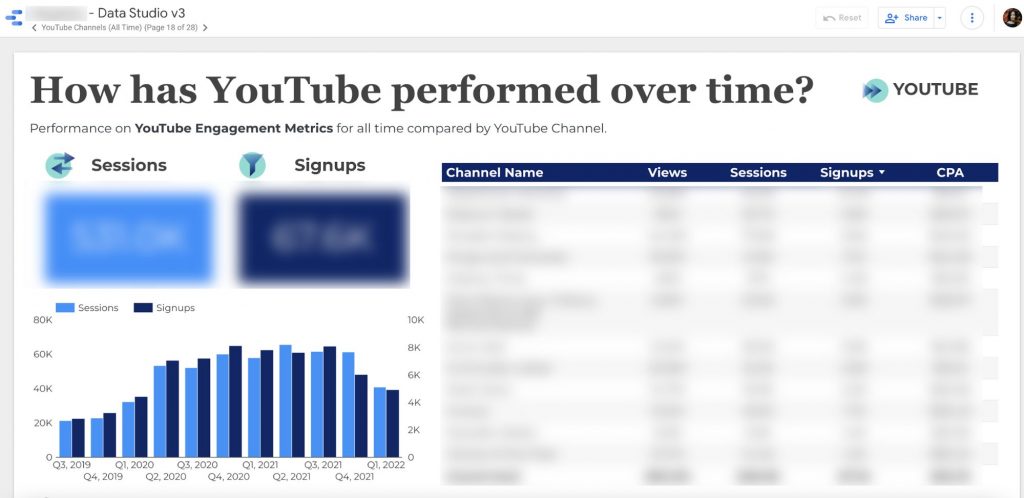 And another for social media posts on Instagram.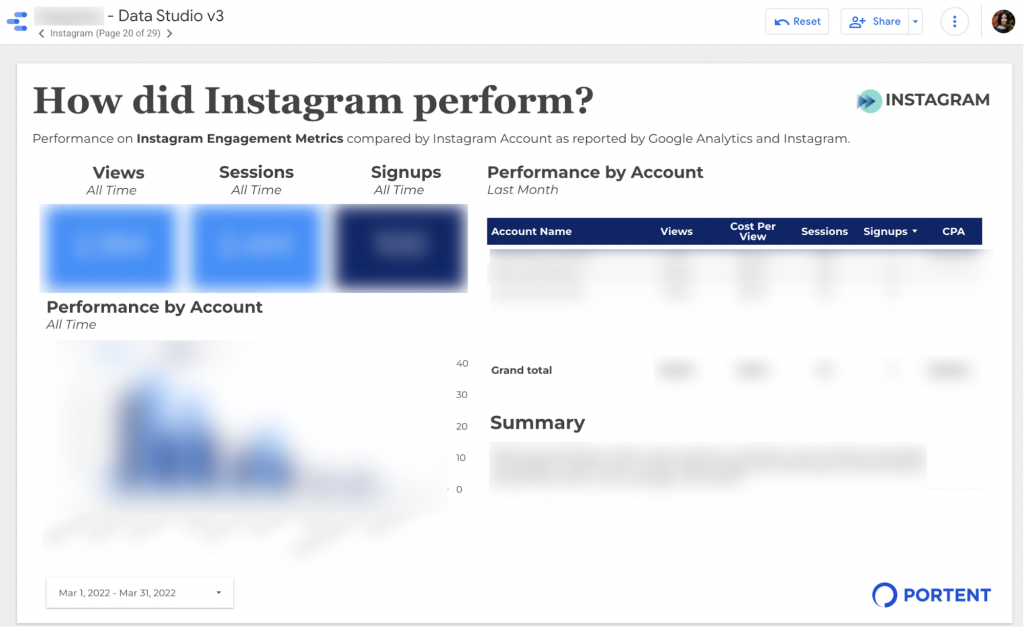 ---
The best social media reporting tools (and how to choose)
Putting together social media reports is faster when you have tools. There are plenty out there, but which should you choose? As you're shopping around, consider these things:
Where does the tool source its social data from?

Is the data high quality?

Can it connect with the social networks you use?

Can it track owned, earned, and paid social?

Does it include insights from the networks you use (views, hashtag usage, brand mentions, etc.)?

What type of customer support or account management does it provide?

What features are on its roadmap?
To help you along, we put together a list of the top social media reporting tools today:
Sign up for free trials to see which works for your social media reporting needs.
---
Create social media reports like a pro
It's easier to create social media reports when you know the goals you're pursuing. And the metrics you need to track to measure campaign results.
With the right process and tools, you can collect the data needed to deliver the answers your clients need. And design appealing reports that sum up your insights for stakeholders to make important business decisions.
Use this guide to organize the collection and presentation of your next social media report.
Recently onboarded a new client or company? Then you'll need to check the pulse of their social media campaigns. Here's a guide on the best tools to conduct a social media audit.
Frequently Asked Questions
What is a social media report?
A social media report summarizes the performance of a social media marketing campaign. It gives a snapshot of the campaign's success, including:
Social media engagement

Social media impressions

Social shares

Social media reach

Social media ROI
What is social media reporting?
Social media reporting is the practice of collecting and presenting information about a social media marketing campaign in a way that makes sense to stakeholders. The goal is to give stakeholders insight into the campaign's progress and outcomes and highlight areas where improvement may be necessary.
Why is social media reporting important?
Social media reporting helps marketers understand what worked and what didn't work during a campaign. This allows them to improve future strategies and tactics. Stakeholders also benefit by quickly accessing key data points to make informed decisions.
What do you need to create a social media report?
To create a social media report, you must first know the business's goals you're targeting. How social media will help the business achieve those goals. And the metrics you must track to determine a campaign's success.