Creating a stellar social media presence doesn't happen overnight. It takes hours or research, strategizing and planning. And when it comes to putting all of your hard work together, finding the right medium to compile your data and content isn't always easy. 
To help, we've created a collection of nine of the most important social media templates you'll need. These include everything from social media strategy and campaign templates to content calendars and influencer marketing and listening templates. You'll also find links to each template. Simply click on the link and follow the instructions to download your copy and get started.
9 of the Best Social Media Templates:
---
Strategy
Since the dawn of social media, there's been a lot said and done to find the best ways to enter markets and engage audiences. Here are three social media templates to help you develop a powerful strategy. 
1. Social Media Strategy Template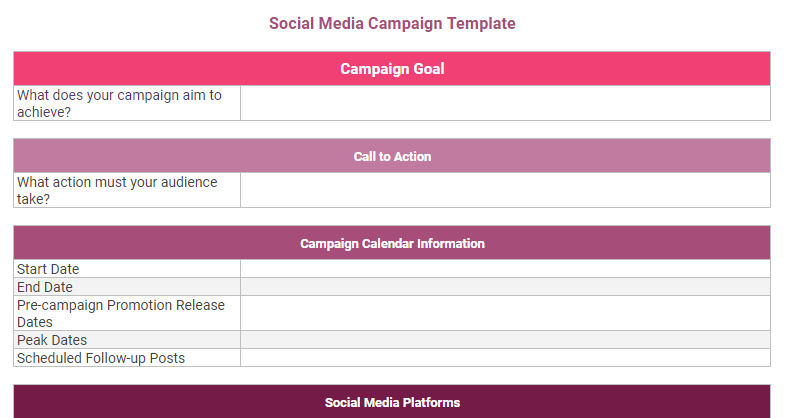 Chief among social media templates is the social media strategy template. It includes a breakdown of the strategy and action plan your brand will use and follow to generate results. 
With it you'll be able to: 
Define your brand's mission, target audience, messaging, challenges and obstacles, and goals. 

Research the competition and develop your unique value proposition for your social media presence.

Create a well-thought-out plan for how to meet your goals on each social platform

Measure and evaluate your success with the right metrics.
2. Social Media Audit Template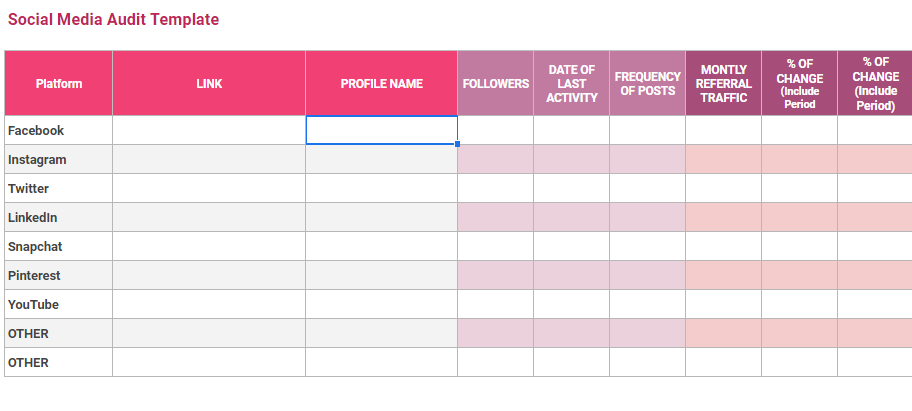 Feel as if your social media approach may not be cutting it? Thinking of going in a new direction? Before you pull the trigger, complete due diligence. Perform a social media audit on your brand to see what you've achieved and how your performance measures up to your goals. 
This social media audit template helps you identify how well you've done. It can also be used to inform strategy on a weekly, monthly, quarterly, half-year and annual basis. Using it for these timeframes ensures that you track progress consistently, and never lose track of how your assets, campaigns, and initiatives are performing. 
It includes: 
Platforms you use along with account URLs

Followers for each account

Date of last account activity

Frequency of posts

Amount of referral traffic

Changes in traffic for various period (determined by you)

Clicks per post for various periods (determined by you)

Changes in the number of clicks per post 

Reach you've achieved and any change over various periods (determined by you)

Number of followers (according to dates set by you)
3. Social Media Competitor Analysis Template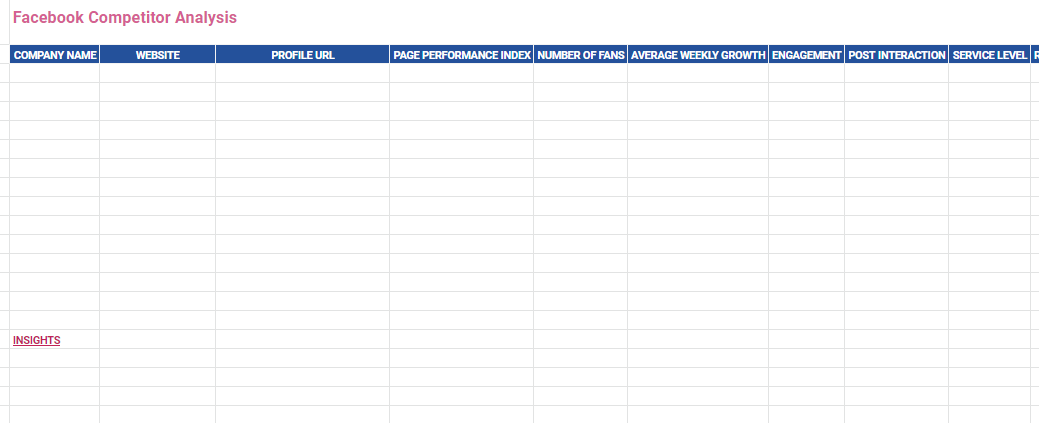 Social media competitive analysis is more than a one-time activity. It should be completed at least every quarter to help you identify what's working in your industry and what isn't. It also helps you identify who the key players are, what your audience is most interested in, and how to plan your next big move. 
Our social media competitor analysis template includes all the elements you'll need to perform a solid analysis. The template we've created has a fair amount of metrics and spans various platforms. Among other details, you'll be able to identify and gather the following competitor information: 
Account names and URLs 

Follower counts

Average growth

Post interactions and engagement stats

Reach stats
We also previously created a helpful post on how to conduct a complete social media competitive analysis. It includes signing up for a free trial of Fanpage Karma and this template is also designed to make it easy to import results from Fanpage Karm. 
Read "How to Conduct a Social Media Competitive Analysis (Free Template and Examples Included"
---
Planning
Planning social media campaigns and initiatives isn't always easy. You need to balance ideas with resources, assets and time. Here's a collection of social media templates to help you streamline your planning process.
4. Editorial Calendar Template


Editorial calendars offer a complete overview of everything happening in your world. While you can use a social media calendar (more on this below), having an overall editorial calendar for all content is a must. It gives you a view of all marketing campaigns currently running, and those you'll launch in the future. It helps you plan effectively and, when used wisely, can become an irreplaceable tool that elevates your competitive advantage. 
This editorial calendar template includes the following:
Monthly, quarterly, and annual views to help you produce a long-term social media plans.

Detailed monthly schedules to content around important events, launches, and holidays.

Fields to assign projects, schedule deadlines, include target audience info, list SEO data, and track metrics.
5. Social Media Calendar Template


Looking for a source of truth for all social media posts you'll publish each week? This social media calendar template will help. It's designed to include all social media platforms you have accounts for along with the following fields:
Posting times scheduled throughout the day

Content titles

Copy you'll use

Links to assets 

Audience engagement numbers
6. Social Media Campaign Template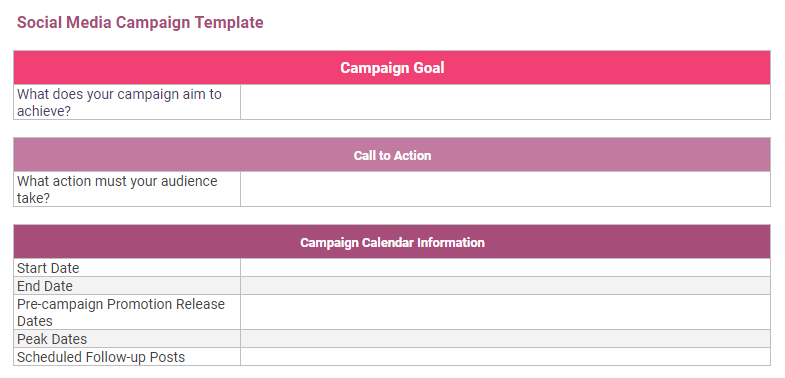 Planning social media campaigns requires a fair amount of research, but most importantly, a strong hypothesis for why you should roll-out a specific campaign. Our social media campaign template is designed to help you plot all the important details as you plan your next campaign. It includes:
A section for defining your goals

What your calls to action will be

Start and end dates for your campaign

Platforms you'll use

Assets you'll use

Metrics you'll track

Details on your promotional plan and parties you'll engage
---
Analysis and Reporting
Analysis and reporting a crucial for running effective social media accounts. You need to know how each aspect of your social media presence is performing and how to elevate your results. Here's a collection of three social media templated designed to help you listen, track your effectiveness and work with influencers.
7. Social Listening Template


Social media listening has become an important part of brand management. Today, you can't afford to sit back and let the web dictate the direction of conversations about your brand, products and services. You must participate. Participating means tracking conversations as they happen. While there are various tools available, having a sheet that you can turn to can help you spot opportunities to capitalize on. While this is a basic social media listening template, it can be enhanced by adding more data and using formulas to spot stand-out mentions. 
This social media template includes:
Platforms where mentions were made

Post titles

Dates and times when content was published

Content Types (Text, Image, Video)

Word Count (If Written)

Potential Reach

Amount of Shares

Link to Mention/Post
8. Social Effectiveness Tracker Template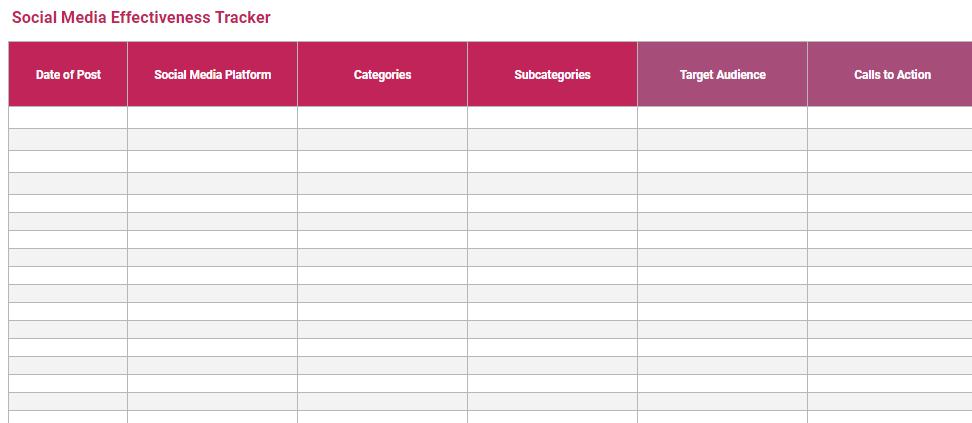 Similar to the social media audit template, the social media effectiveness template is designed to help you analyze your social media posts. Using it, you'll be able to derive more insight into how effective your content is on social media. You'll be able to populate this template by exporting data from each social media platform you use. Using your imported data, you can then filter through each heading, helping you spot opportunities to further investigate for your brand. 
This template includes: 
Date of Post

Social Media Platform

Categories

Subcategories

Target Audience

Calls to Action

Meta Tags

Posts

Impressions

Comments / Replies

Likes / Shares / Retweets

Clicks

Total Engagement
9. Influencer Marketing Tracking Template


Influencer marketing is big business. It's also not the easiest form of marketing to manage. Like all things marketing, you need to do perform due diligence. This means finding the right kinds of influencers to work with. The influencer marketing template is designed to simplify the process. It includes a collection of important fields to help you identify online assets, peer into how effective prospective influencers are, who their followers are, whether they align with your brand and brand values, and what their work looks like.
Here's a complete breakdown of what this template includes:
Blog Name

Blog URL

Blog Author

Traffic/Month

Facebook URL

Facebook Follow Count

Twitter Account

Twitter Follower Count

Instagram Account

Instagram Follow Count

Content Quality (Poor, Good, Great)

Links to Blog Posts Published

Affinity to Our Brand? (Yes/No)

Match Our Brand Values  (Yes/No)?

Sample Blog Post Links

Recommended for Our Project (Yes/No)?
These fields are based on some of the more common footprints most influencers have. Feel free to add additional fields for platforms that you're considering participating on.
---
Wrapping This Up...
Social media is a fascinating world. It offers brands that chance to engage with strangers and build strong and loyal followers. But it can also be a scary place if you don't know what you're doing or how to get started. Use these social media templates to strategize, plan and analyse your efforts. They are filled with valuable content that can help your brand find its unique voice, and plot a path to social media success