Best for:
Small e-commerce businesses
Overview
Noah Tucker, the founder and CEO of Social Snowball, is the first to admit he has no tech background. "Software developer" was not on his radar as a potential career. But, to update an old adage, necessity is the mother of investment, and Tucker needed something to automate his successful e-commerce businesses.
By the age of 20, his online stores were raking in millions of dollars, all largely behind the power of affiliate and influencer marketing—marketing that he was doing pretty much manually, no software. He'd spend all day scrolling through Instagram and Twitter, sending DMs to accounts he thought could help spread the word, offering custom coupon codes and referral bonuses. It was time consuming, to say the least.
But it also taught him about successful affiliate marketing strategies in a way that never could have happened had he been using software from the start. Knowing what worked for him, he knew what to look for in software. And he mostly couldn't find it. When he did find a platform that checked all his boxes, he found that it also checked a number of other boxes that he just didn't need. All of the extra weight in useless features made it difficult to get up to speed using these solutions. The learning curve was too steep, or the features were nestled deep in a menu somewhere, such that just accessing them was a cumbersome task.
It was at this point that Tucker did what any ambitious entrepreneur would do: he commissioned the development of a custom platform, and then became its best and most rigorous beta tester. The blueprint for his software's features was found in the routine he'd established over the previous few years. He didn't need to research other platforms for the development of features and automations he'd need. He just needed software to do what he'd already been doing, very successfully.
Because Tucker's needs were very specific, so is Snowball's feature list. It's purpose built for small businesses looking to automate the affiliate marketing for their Shopify stores. The idea is for a small amount of upfront work to provide the foundation for a marketing program that runs on its own and continues to…well, snowball and grow rapidly. And the idea itself has snowballed: the software is just about a year old and is already the engine behind over 1,000 brand affiliate programs and holds a 4.9 star rating on the Shopify app store. Customers rave about the app itself, and the service that they get from the company. And this is still only the beginning for them.
---
Summary:
---
Pricing
Snowball's pricing is a little unique, in that on top of the monthly access fee they charge a percentage of the revenue generated by referrals. Depending on the plan you choose, this could be a significant chunk. The subscription tiers are given delightful snow-related names, but it's not enough to distract from the chunk of revenue they're taking.
Dusting, $0/mo and 15% of revenue —

Includes unlimited affiliates, bulk payouts, data reports, and live chat support



Snow Day, $39 and 5% of revenue —

All of the above, plus: tracking links, Klaviyo and Postscript integrations, customized Thank You page and Sign Up form, and remove Social Snowball branding



Blizzard, $249/mo and 2.5% of revenue —

All of the above, plus: Enterprise support via Slack Connect and a dedicated account manager



While the revenue percentages for the Snow Day and Blizzard plans are within the realm of fair, the 15% for the Dusting plan is particularly high. It only takes $260 of revenue before you're paying the cost of the Snow Day plan, $39, so there's really no point to it.
But that 15% isn't the end of it, because the free plan doesn't allow for tracking links, either. The only way to work with affiliates is to use a coupon code—another mechanism by which you lower your overall revenue. And of course, when someone brings you referral traffic, you owe them a piece of the action, too. And you're taking credit card payments, which is another 2.5%-3% taken off the top. That's four different revenue-reducing mechanisms all applied to every sale you make.
Now factor in that, as an online retailer, you're in direct competition with Amazon, which has an average net profit margin of 5.73%. You'll need to at least match them on price, likely can't match them on service, and you're giving a minimum of 15% of revenue away before the credit card company even pays out to your bank. Even with the Snow Day plan, you're paying $39 for handing over an amount that's nearly equal to Amazon's profit margin. This is not a recipe for success.
---
The Details
Snowball's big feature is the way it automates affiliate recruiting by creating unique coupon codes for every customer that makes a purchase—whether they ask to be an affiliate or not. And this is a good strategy: with the coupon code and a pre-written social post all ready to go, sharing it is as simple as a click for your new affiliate.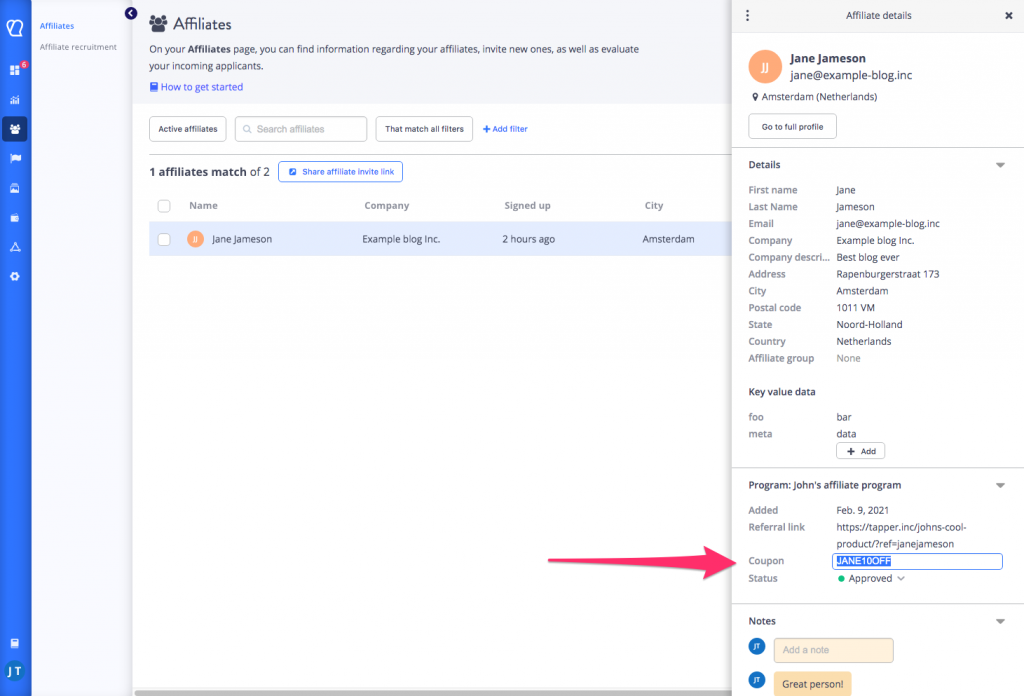 When you install the Snowball app with Shopify, setting this feature up will be the first thing you do after connecting the software to your store. And the setup is a breeze: define the discount for the coupon and the commission the affiliate gets, and every purchase after that results in a new coupon. One of the cool things about these coupons is that you can set the format for the code to include the customer's first name and some unique numbers. Apart from being easy to remember, for a certain type of consumer having a personal coupon code can feel like clout, psychologically priming them to share it wherever they might want.
The setup for all this takes under a minute, and then you're brought to your Snowball dashboard. There, you'll see a quick breakdown of stats, all of which will be at zero if you've just set it up, because that's how linear time works. As your affiliates start referring customers, and those customers convert, you'll see all the information on this activity in your dashboard. The number of affiliates, the number of link shares, the affiliate revenue—expressed both as a running total, and a time based graph—and any pending payouts are all featured at the top of the dashboard. This is also the extent of the reporting that you'll get out of Snowball.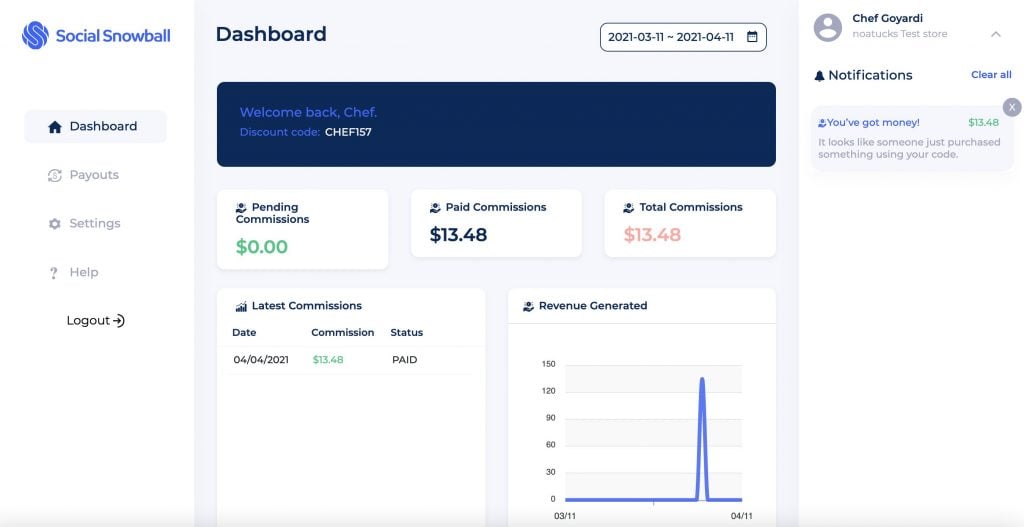 Under all that, though, you'll see a checklist for everything else you'll need to set up. One item that will be of interest is the ability to set up tracking links instead of coupon codes. The good news with this is you get more granular tracking with a link than with a code. The bad news is it's one or the other. You can either hand out links or coupons, but not both—and there's no customizing links like you can with codes (though you can tie the link to a discount, so your affiliates will still be able to incentivize their referrals that way).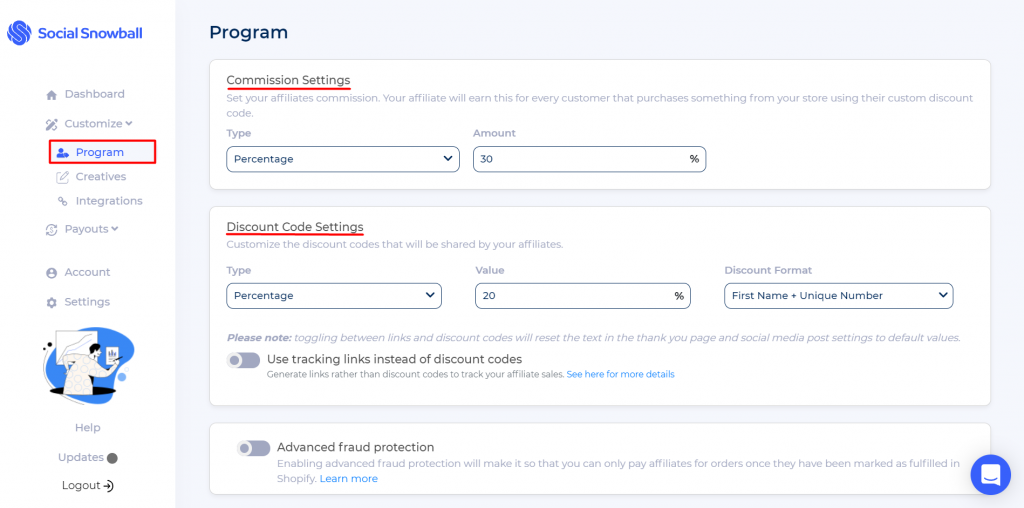 The first step there is to customize the Thank You page, which is where the coupon code/referral link is assigned. Snowball makes it easy to create a template in your brand's voice that's personalized to the customer. Using some premade shortcodes to stick in variable text like the user's name and how much their discount is, for example, is made simple by having you just select which one you want from a list by clicking on it. There's a built-in email drip function that sends four separate emails after purchase—right after, 24 hours after purchase, 48 hours after purchase, and 120 hours after purchase—with all their affiliate links and information to remind them to share and what the benefits are. There is no way to customize the timing or the content of these emails; you can only turn them on or off. If you do want to customize the content, you'll need to do that through the Klaviyo integration.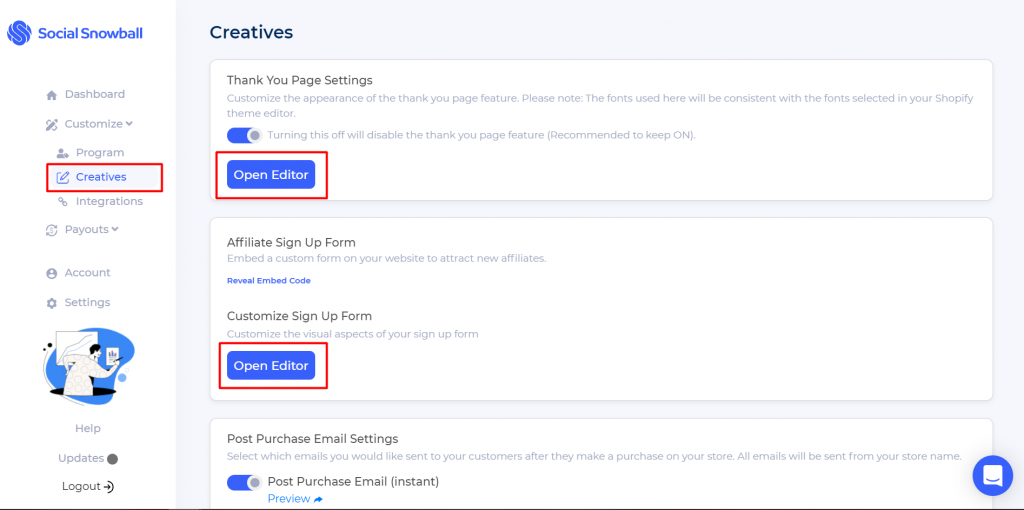 You're not just limited to post-purchase pop-ups as a method of recruiting. You can also create a signup form that will live within your Shopify store. Customize the form with your brand colors and logo, fill in the expository text, and Snowball generates some code that you can embed right in.
The final step in the process is setting up how you're going to handle payouts. Ultimately, your affiliates will choose which method works best for them, but they'll choose from the list of options that Snowball supports. For ease of use, you'll want to do what you can to nudge them into using Tremendous, which you can integrate with. Payouts are instant, and can be done in bulk—as your affiliate network grows, bulk payments becomes very important. For a quick transfer of funds, though not necessarily an automated payout, you can manually pay affiliates via PayPal. An integration with Veem makes ACH transfers much easier, too: you input your bank details, the affiliate adds hers, and Snowball takes care of the rest. The other manual options are Venmo, Zelle, and CashApp.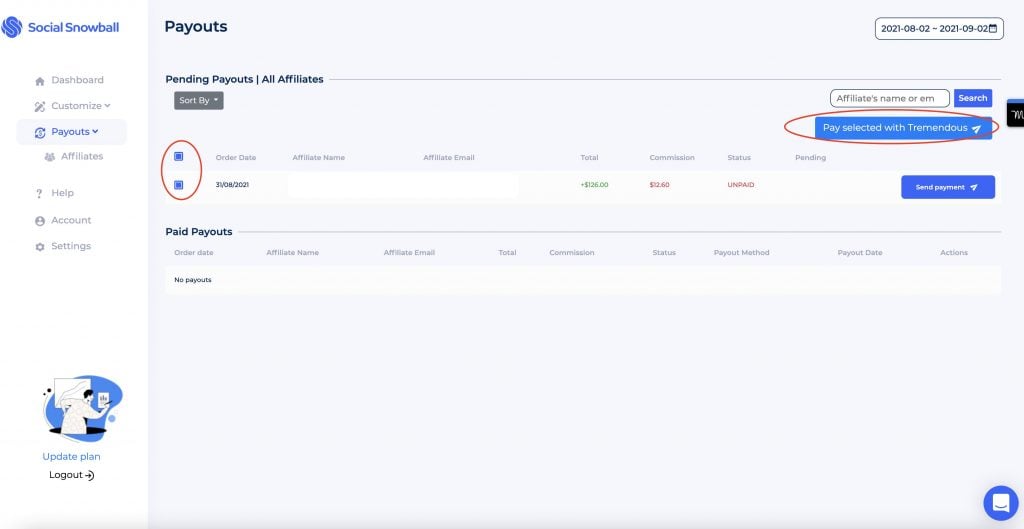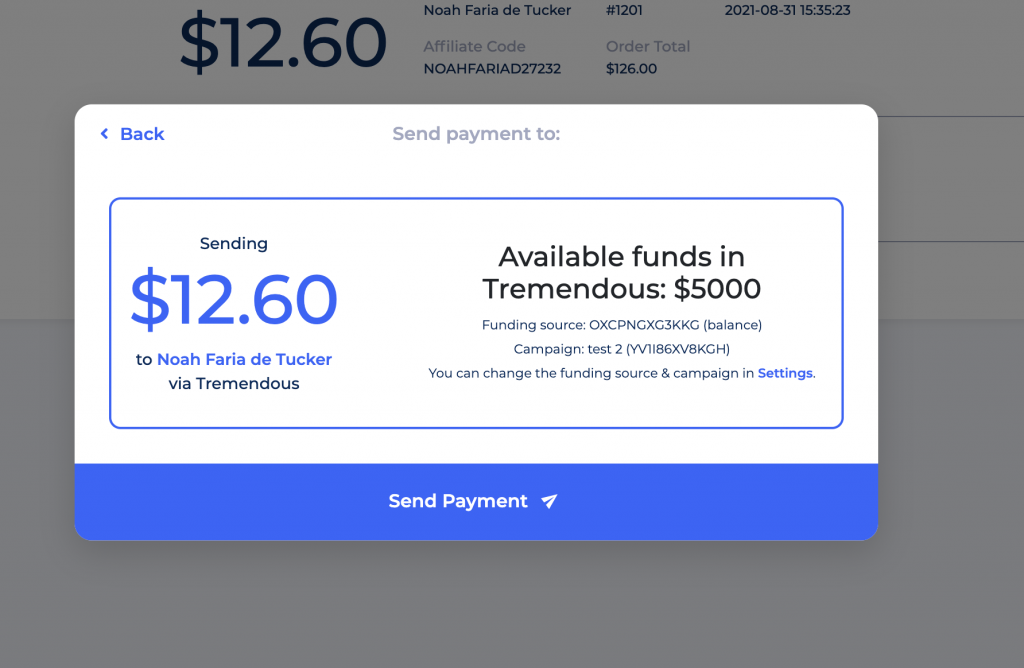 ---
Integrations
Snowball integrates with a number of other platforms to extend its use, some of them well known, some not so well known. One of the most useful ones is the integration with Klaviyo. It's not just a matter of syncing up contacts, like most integrations with Klaviyo are. Snowball shares a number of trigger events, as well as custom properties (like affiliate's names, coupon codes, etc.) and all this is passed off into the Klaviyo workflow. These same things—events and properties—can also be handed off to Postscript, an SMS marketing app.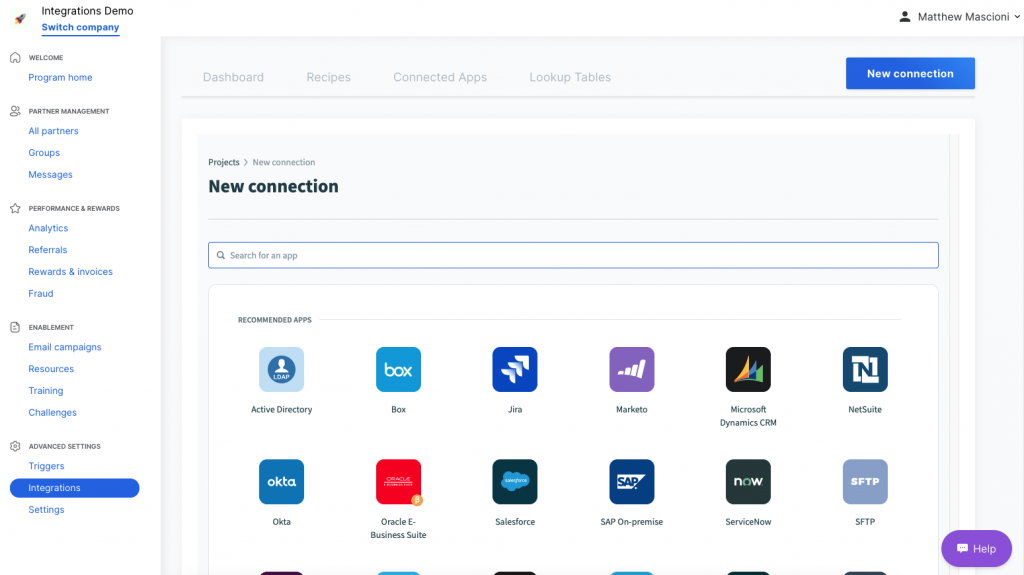 Other integrations of note: If you want deeper analytics than what Snowball offers by default, you can integrate with the marketing and analytics platform BeProfit. Or you can show off customer reviews as social proof using Okendo. For the complete list, you can look here.
---
Conclusion
Social Snowball isn't as fully featured as many of its competitors, but it doesn't really aim to be. The goal was to make something that streamlines the practice of affiliate marketing into a program that essentially runs itself. The more complex something is, the more intervention is required to run it. We wouldn't recommend this software to large brands with data-driven marketing departments running on large budgets. For the small e-commerce operator, though, Snowball is a near perfect solution. We'd love to see them address some of the more minor issues we pointed out—like the fact you can't use both links and coupons simultaneously. And it's a little light on data reporting, which isn't necessary for smaller businesses, unless they want to use data for business intelligence that helps them grow.
More importantly than that, though, is the issue of their pricing, which absolutely needs to be addressed. Noah Tucker's idea for Snowball was to create something that didn't have a bunch of extra features and complications that were of no use to smaller businesses. That's a noble goal, but why charge more than some of the competitors who offer those extra features? Until the prices change, Snowball may or may not be worth it—depending on the business. You'll have to do the math and see what your margins are because, unfortunately, the fees you pay to run this app can snowball, too.
Social Snowball
Features

Ease of Use

Reporting

Best for:
Small e-commerce businesses