Best for:
Designers, creators, and influencers of any kind who want to monetize their audience by selling custom merchandise.
Spreadshop makes it painless to upload your designs and create, sell, and ship a line of your own merchandise. Whilte this service is new, it's powered by Spreadshirt, which has very successfully been doing on demand custom printing for almost 20 years. There's one conspicuous feature missing, but the interface is one of the best we've seen, and several other features and perks round out a list of reasons for overlooking its single flaw. 
Overview
Spreadshop is a relatively new entrant into the print-on-demand/make-your-own-merch vertical. Founded in 2017, it would be tempting to view the company as something of an upstart looking to unseat veteran competitors like Teespring or Cafepress. The fact is, though, Spreadshop is powered by Spreadshirt, which began its life in Germany in 2002. Both brands are owned by Spreadgroup, which appears to name its brands in such a way as to Spreadconfusion.
The company's history is one of success and steady growth. It began inauspiciously enough—in February, 2002 the company entered the Cologne Business Plan Competition, and received the distinction of having an "unrealistic business model." That was pretty much the last time something didn't go well for them. By 2004, the company began to move into English, French, and Spanish speaking markets, as well as presences in Holland, Italy, Norway, and Sweden. While they were at it, they opened a subsidiary company in Louisville, Kentucky, USA. Seventeen years and 5.5 million products printed later, the company is available in 18 markets and 12 languages, serving more than 100,000 sellers.
With all this, though, the idea of a personalised shop isn't present until the introduction of Spreadshop. The general conceit of Spreadshirt was and is personalisation, a service where individual consumers could make their own t-shirts, with whatever (legally sourced) image or words they wanted. If anyone wanted to sell those designs, it had to be done through the Spreadshirt Marketplace. The marketplace afforded individuals the opportunity to make a little extra money, and it also carved out space for Shop Partners—designers whom they would promote. With Spreadshop, though, users can create a fully individualised shop of their own creation (and creations). Anyone can open a shop, but it's clear that the goal here is to appeal to influencers. And when you read this review and see what Spreadshop has to offer, you're going to find it very appealing.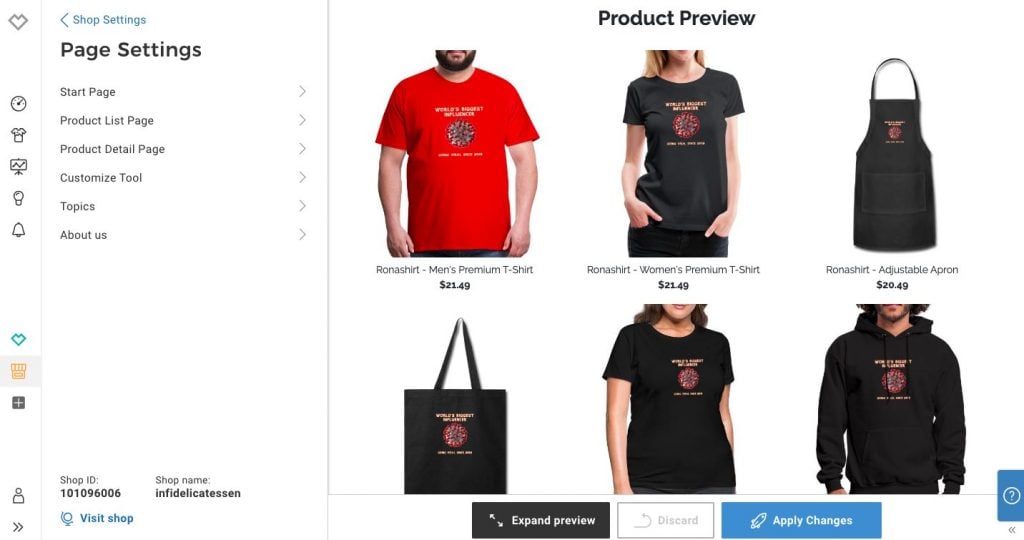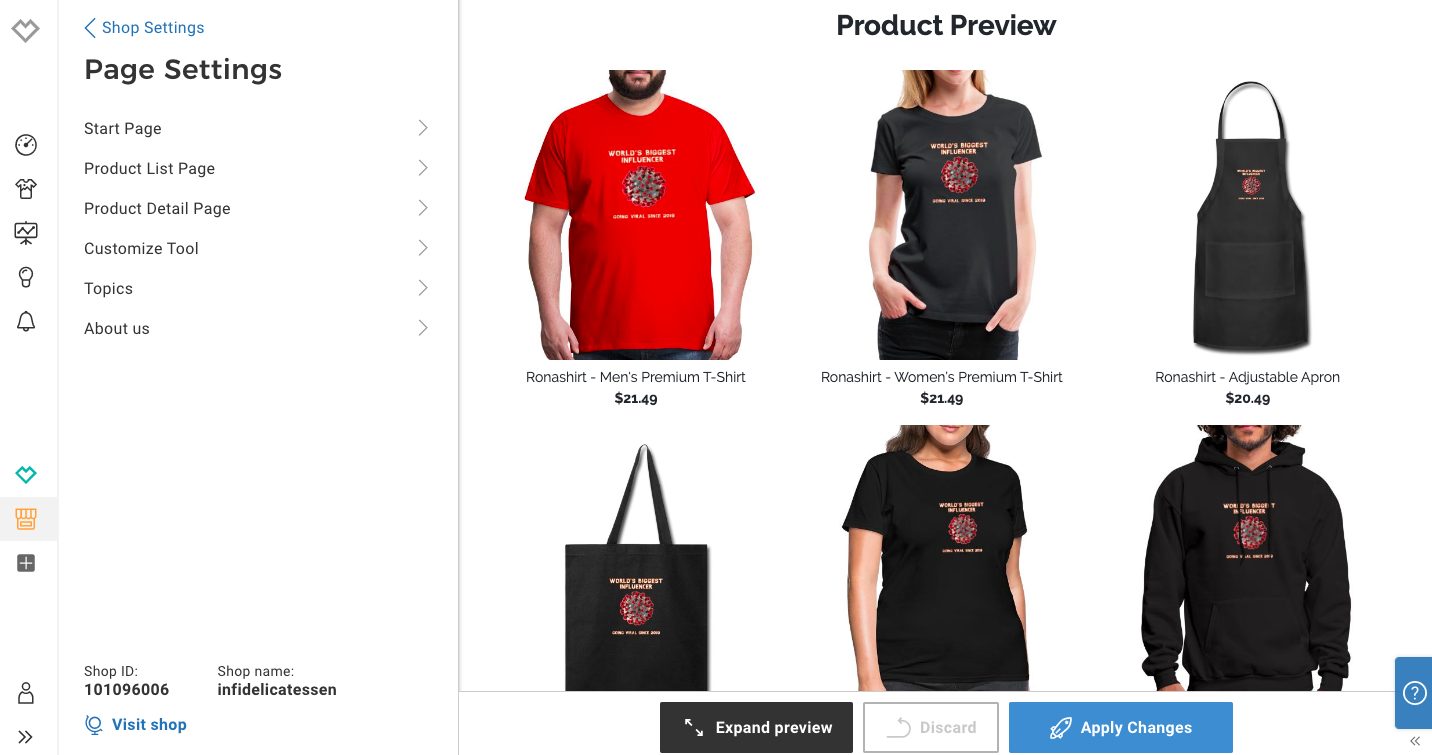 ---
Pricing
Setting up a shop is free; each item that you offer has a base price to you that's deducted from the sale price. The price to your customers is determined by you, so you're in charge of how much you can earn. Spreadshop will give you a suggested retail price, but you can raise or lower it as you see fit. But there are also performance bonuses tied to volume, so you earn higher margins the more you sell. For example, a Men's T-shirt has a base price of $13.99. Sell 50 of them in a month, and the price goes down to $12.98. Sell 250 and the price goes down $12.37. Not all products are eligible for this, but most are. And since there a lot of products, each with seven tiers of prices beyond the base price, it would take too much time to list them all out here. Especially when Spreadshop has gone through the hassle of putting together this handy pricing table:
Spreadshop also goes above and beyond the submit-your-own-design idea by actually offering low cost design services, as well. Not everyone with a great idea has the ability to turn it into a compelling image. In that case, you can enlist Spreadshop's design team to assist at one of three levels:
The Quick Fix, $19.99 —

If you have some design experience, and a knowledge of something like Photoshop or Illustrator, you can get the ball rolling and make your design yourself. But if you find yourself done and find it lacking a little something—a little something that you just can't quite peg—you can hand your design off to Spreadshop and they'll put some finishing touches on it to have it look its best.



The Designer, $49.99 —

With this service, you'll work one on one with a designer, explaining to her your concept and vision, and she'll bring it to life for you. You'll get back a digital file ready made for putting on your merch.



The EntrePROneur, $99.99 —

This level of service is a good deal, despite having a terrible Dad Joke of a name. You work with the design team to get two designs, and to have your shop styled for you to look as professional as possible.
---
Setting Up Your Store
We've tested and played with the services of several of Spreadshop's competitors, and there is no question that this one is far superior to all of them. It's not a matter of being easier or more intuitive—though it is very easy and intuitive. Instead it's a matter of efficiency.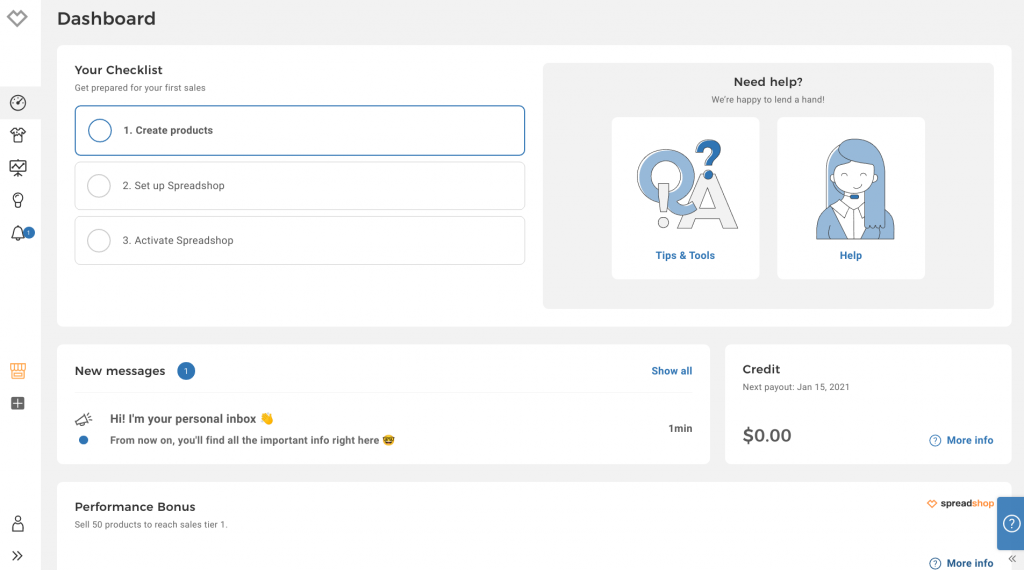 Log in for the first time, and you immediately get a taste of the ease of use. The dashboard orients you, providing you with a checklist for setup and prominent links to help you get started. You'll also see where messages will appear, and get a glimpse into the information that you can expect to see at each login. Once you've set everything up the checklist disappears, as do the support resource links (though those can be easily found from the navigation bar to the left). When you start getting into creating products, you'll start to see where Spreadshop is superior to its competitors. 
Most services operate with a linear workflow: pick a product, upload a design, lay it out on the product, select optional colors, set a price. If you want multiple products with the same design you can go ahead and repeat every step for each one (except the upload part). With so many different products to choose from, you're looking at a lot of time wasted just in selecting options, waiting for the web app to refresh with the new selection. They all need to be individually edited, even though the design is the same. Adding products for one design could easily be 30 minutes of mind-numbing clicking and waiting. And when you've finished with all that, then you can go ahead and add your next design.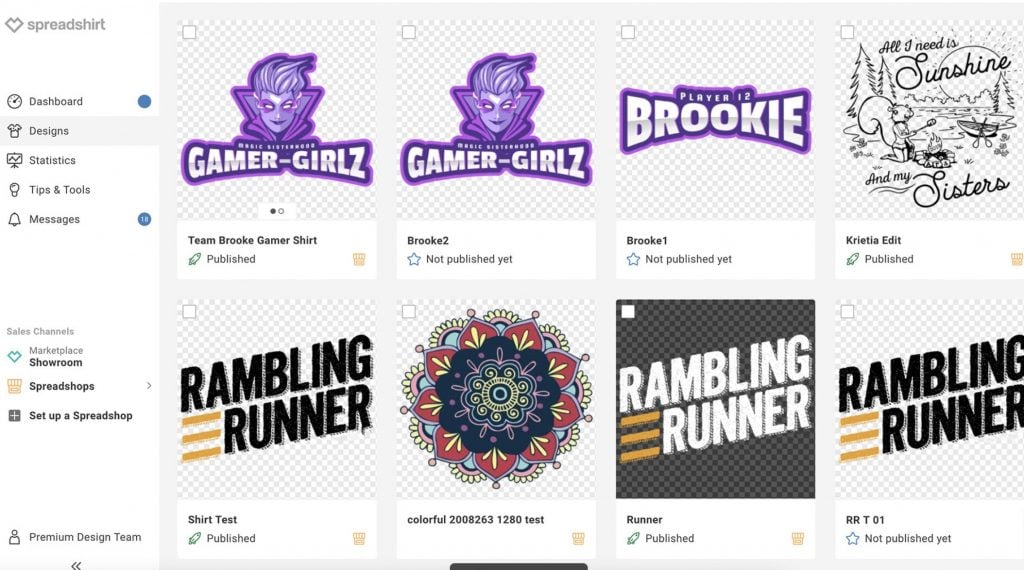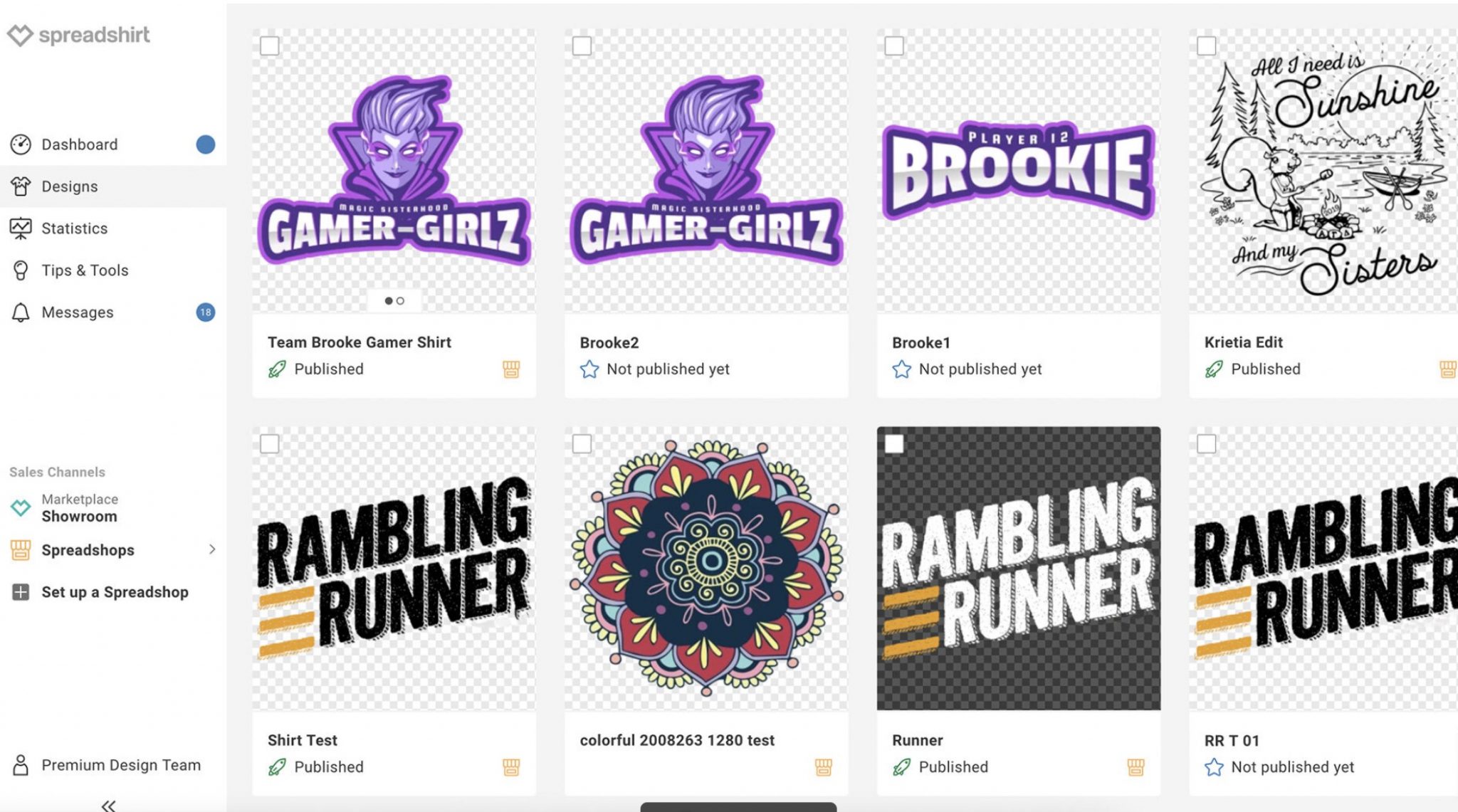 None of the above is the case with Spreadshop. You can add all your designs in one sitting, all at once. Just select all the files you want to work with on your computer, then drag them all as one to your shop. That's it. When it comes to selecting the products you want the design to appear on, you can go through and check each one, hit apply, and you're done. Additionally, you can filter all the products down by what colors they're available in. Your design may not look good on every color—white text won't show up on a white shirt, for example—so it's very handy to filter down and find the products that have the right color.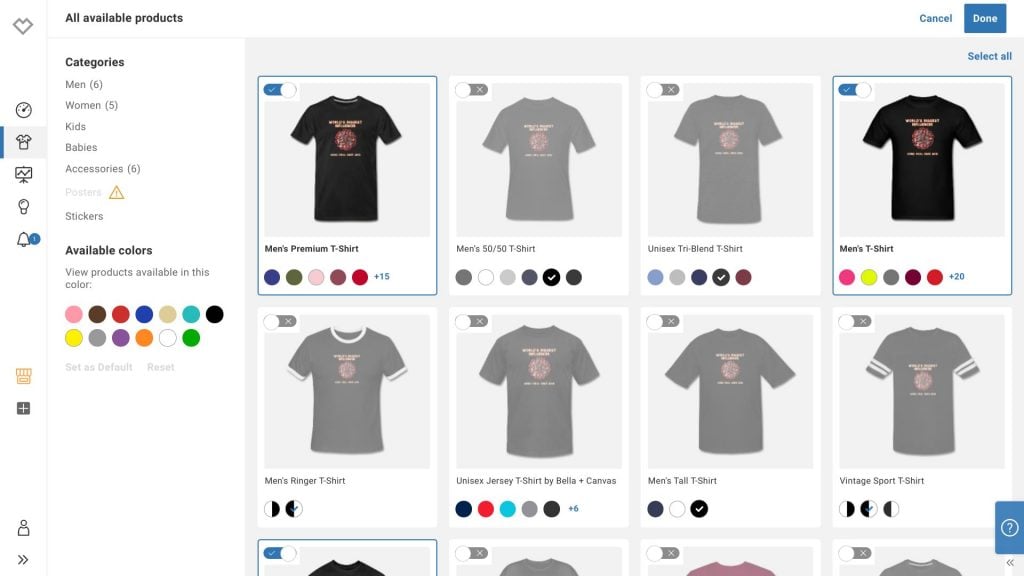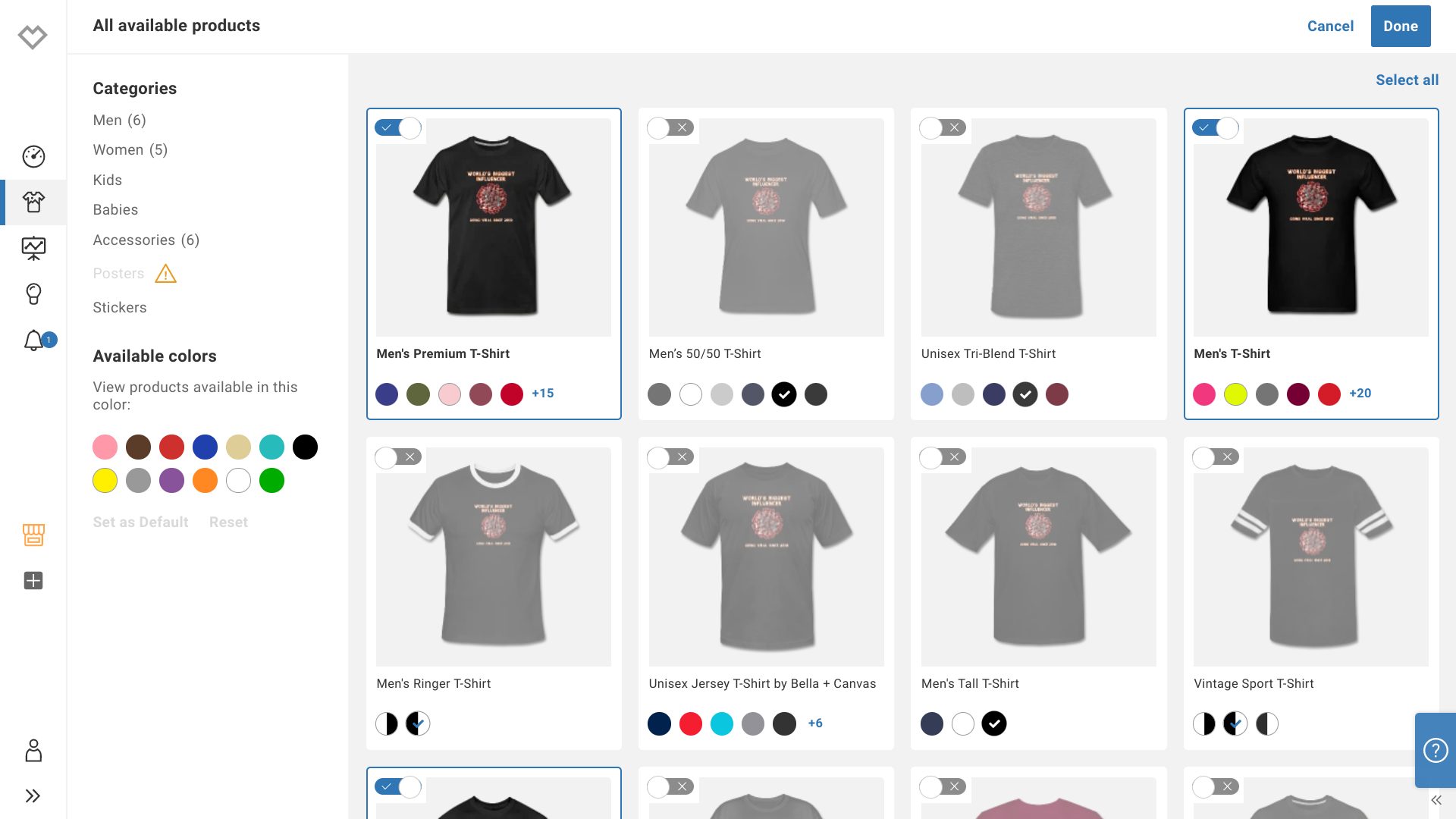 The whole experience of adding products to your store is accomplished in a fraction of the time that other services do it in. Setting up pricing and promotions works the same way. Instead of clicking into each product's properties individually to set the price, pricing can be found in your shop's settings where you're presented with a list of everything in your store. Just adjust pricing for each item in the list, then apply all the changes with one click of a button. Promos are also considered a setting of the shop, and you can select from a list of pre-made discounts or incentives. Adjust the dates they're offered and you don't have to think about it after that.
---
Content Management System
Once again, Spreadshop goes above and beyond what the competition offers in terms of customising your shop. The norm is to offer customisation of colors, a banner image, your logo, the page footer, and an About Us page. Spreadshop offers all this, but goes much further. There are a few themes to choose from, and each one can be customised to match the look/colors of your branding. The home page has a modular set up, allowing you to pick and choose what you'd like to display on the main page.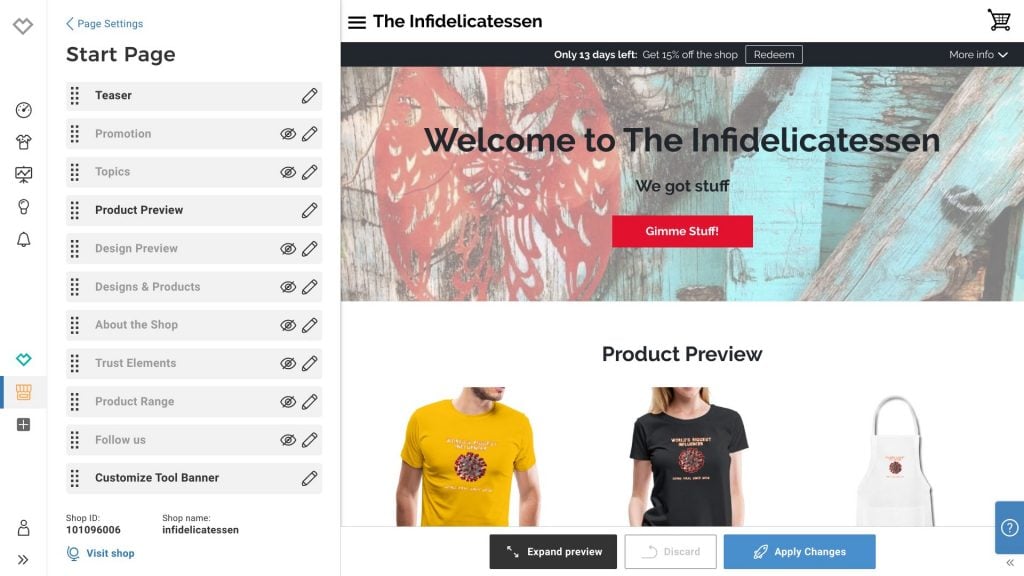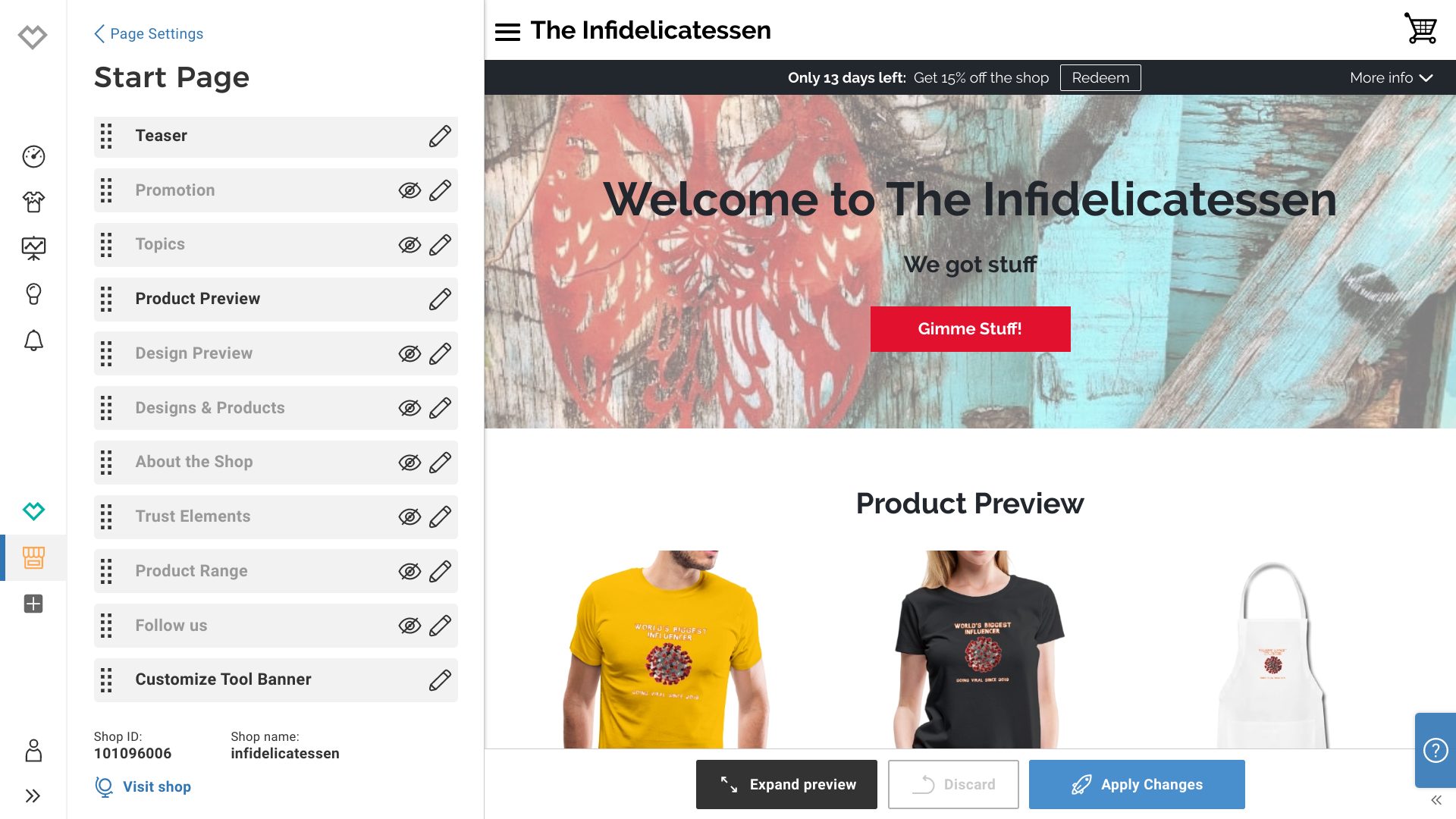 You can further customise the sub-pages of your shop—like About Us and Product Listings—with some tweaks. For sitewide changes not covered by Spreadshop's available stylings, you can add your own CSS code for an even greater degree of customisation to your shop's style. And while the templates automatically generate category driven menus for you (Men's T-Shirts or Posters, for example), you can also add your own more specific "Topics" to make it easier for customers to find specific designs. Finally, you can also enter some SEO information—it's basic but is enough to make sure your Google listing looks its best when you're found. 
Understand that this is not a full-fledged CMS: you're not going to be making a fully branded site with say, a blog, there are ways that you can seamlessly do exactly that. See Integrations below.
---
Notable Features
For the most part, Spreadshop stays within its wheelhouse. It's in the business of making customised apparel and products, and it does this very well. To assist in this effort, they do offer a few cool and unique features shop owners will appreciate.
Social Sharing Tool —

With just a few clicks, you can create a mock-up image featuring a model wearing your gear against a custom background and some text in the image. Spreadshop then presents you with images sized for different social channels: Instagram and Facebook both get ready made images for Feeds and Stories, while there are also options sized for Twitter and Pinterest. You can download all these images at once to then post to social, or you can post directly to each channel without downloading using your mobile phone and QR code.




Web Analytics —

Spreadshop's reporting is strictly focused on sales and payouts. For deeper insights into customer behaviors, you can set up a few ways of tracking your traffic. Spreadshop supports tracking via Google Analytics, Facebook Pixels, and Pinterest Tag IDs.



Models —

This one is pretty cool. Rather than just showing your designs on a product, Spreadshop has a number of models for you to choose from, each wearing a different style of apparel. It's a lot easier for someone to visualise what your merch will look like in the real world when they see it on a person. You can even choose which models you'd like to appear.




Secondary Sales Channel —

Any product in your shop can be made available on the Spreadshirt Marketplace very easily. In the Marketplace, yours will just be one of many thousands of products available for Sreadshirt customers to peruse—but it's no-cost, no-risk way of getting your merch seen by people who may otherwise never have. Spreadshirt's website receives thousands of visitors per day, so it's kind of a no-brainer.



Customer Customisation —

This is a very postmodern/meta feature: customers can have the ability to customise your custom product. Meaning they can add their own images and text to the products bearing your images and text. You have the option to disable this and just sell your stuff as you designed it, but this degree of customisation also opens up a whole new avenue of possibilities to your design ideas. Note that if you sell a product on the Spreadshirt Marketplace, people will always be able to customise. That's kinda Spreadshirt's deal.



Product Feeds —

Spreadshop provides you with a URL that you can use to load a product feed into your Google Merchant Center to help you promote your shop and its products. You used to be able to do this with Facebook Business Manager, as well, but Facebook is changing the way they do things and feeds will no longer be supported. This is why we can't have nice things.
One notable feature that Spreadshop does not offer is a customer database. No one's asking for a full fledged, integrated CRM, but some way of collecting customer data seems like a necessity for customer retention. 
---
Integrations
Spreadshop is a little lighter on Integrations than many similar services. That said, the ones it does have are a great starting point. This first one we're listing is tailor made for influencers.
YouTube Merch Shelf —

Integrate your products right into your YouTube channel by creating a shoppable feed below each of your videos. This isn't available for everyone; Spreadshop requires that you have at least 10k subscribers, and that your YouTube channel is eligible for monetisation. YouTube also has its own

requirements

for selling merch on your channel. While Spreadshop isn't the only service to appeal to influencers in this way, they've sweetened the pot with some incentives based on how many subscribers you have.
50k+ Subscribers —

You get a one year subscription to

Placeit

, the online service that helps non-designers do excellent design work. 
150k+ Subscribers —

The Placeit subscription, and a refresh of your shop by the design team
250k+ Subscribers —

All of the above, plus a free merch design
450k+ Subscribers —

All of the above, plus one more free design (two total)
Drupal


Joomla — 

All three of these plugins do essentially the same thing, so I'm just listing them together here. W

ith these plugins you can embed your Spreadshop directly into your website, if it's powered by one of those three services. The whole shop loads right inside a page on your site for a seamless experience. Plus, it looks a lot more professional when people don't have to leave your site to buy your stuff.



---
Conclusion
Spreadshirt has been around for nearly 20 years, and they've achieved quite a reputation for the quality of the products they ship. They like to boast—and who can blame them?—about their 3.5% return rate on the 5.5 million products printed in 2018. 
Spreadshop has only been around since 2017. But since their production lines are all coming from Spreadshirt, there's no question as to the quality of products that this otherwise new service can offer. The only question, then, is how well Spreadshop can satisfy the shop owners who want to satisfy their customers. And the answer, it turns out, is they can do it fairly expertly.
The tools they provide for creating products and styling your shop's web presence are some of the best I've seen. Creating products, especially, is light years easier and quicker than anything I've tried so far. And with two very important integrations—your YouTube channel and your website—Spreadshop looks like a great way for influencers and creators to get into the merch game. It's the natural next step for them, and Spreadshop is a natural way to accomplish that.
Ease-of-Use:

CMS:

Backend Managment:

Best for:
Designers, creators, and influencers of any kind who want to monetize their audience by selling custom merchandise.