Best for:
Content creators, influencers, and small businesses
What is it, Exactly?
Superset is a fitness video monetization web app. It helps trainers, coaches, and gyms create online programs, challenges, and on-demand works that can be sold. Superset joins a growing list of fitness apps and makes an entry with a strong set of features like the ability to create memberships and offer extra content like grocery lists, checklists, and meal plans.
---
What's the Cost?
Superset comes with a free 14-day credit card-free trial and 3 plans:
A Basic Package
Fee: $50/mo + 12% revenue share + 2.9% and $.30 Stripe transaction fee 
Features:
Unlimited content

Creator tools

Live classes and webinars

A branded storefront

Superset Payments

1 Coach Account

Free live-chat and support

Access to Superset's Slack channel
---
The Pro Package
Fee: $250/mo and no revenue share + 2.9% and $.30 Stripe transaction fee 
Features:
Everything on the Basic Package and the following:
A custom subdomain (

yourname

.superset.com)

Custom labels and focuses (keywords to help manage your content library)

VIP 1-on-1 customer support

Monthly reporting

Zapier support and integration (help adding zaps for automations)
---
A Custom Package
Fee: Custom pricing + 2.9% and $.30 Stripe transaction fee 
Features:
Everything on the Basic and Pro Packages and the following:
Fully custom domains (connect the app under a domain of your choice. E.g. mydomain.com)

5 Coach accounts

Removal of Superset branding

Customer favicon and app icon

Monthly consulting hours (updates on custom features, launches and more from Superset)
A Note on Revenue Share
12% may seem steep, but it's a far more competitive option to other fitness apps that come with 30% app store fees, and 20% revenue share deals. Superset has been able to keep creator fees low by building a web app, foregoing app store fees. On the flip side, Superset charges a monthly app usage fee in the form of 3 pricing plans.
---
Is It Easy to Setup and Use?
Superset is a web app, making it easy to work with and available to all smartphone users. Once signed up, you can create exercises, workouts, and add resources in the form of PDF and downloadable content that supplements your videos. 
Creating Exercises, Workouts and Resources
Superset's done a great job of creating an easy to navigate platform. Here's what it's like to create various assets:
Creating Exercises
Exercises are individual movements and created separately. Adding one includes assigning a name, selecting a focus (keyword associated with the exercise, e.g. back), uploading a video, adding a link to an extended video, and including exercise tips and alternate movements for progressions, regressions, or managing equipment or injuries.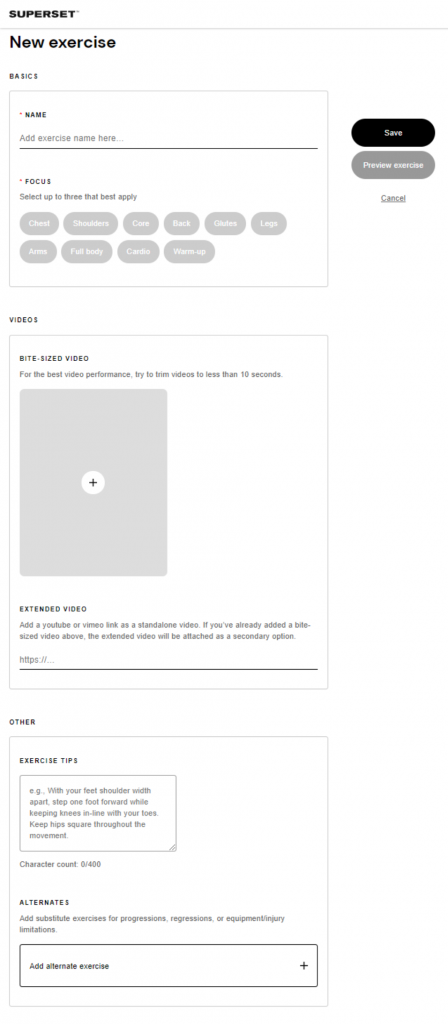 ---
Creating Workouts
Workouts are a collection of exercises. To create one, you'll need to have created exercises to select and add to your workout. Like exercises, you'll add a focus. Workouts allow you to add a thumbnail image, provide an intro, and assign a difficulty level and duration.
---
Adding Resources
Resources are a smart addition. They make using the app more enjoyable and add to a fitness program's appeal. Resources get a title, image, a space to add the contents of your resource section (including links, bullets, and numbered lists), and a video URL if you'd like to include one. Superset also offers a checklist feature where you can add list items that can be checked off in the app. Links for content can be to websites, PDFs, and images. And when creating a resource, you can mark it as a completable task or habit, adding a measure of engagement for users.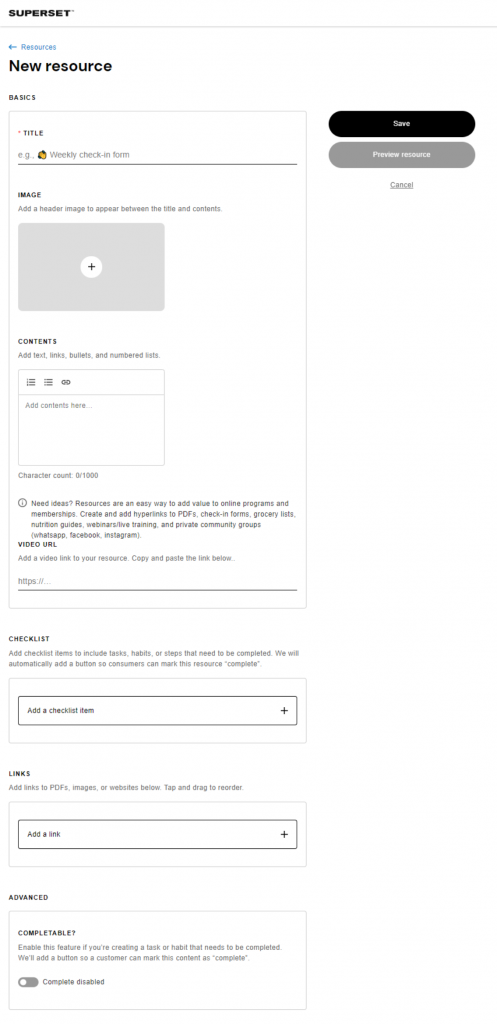 ---
Products
Products is where you'll create programs based on exercises, workout, and resources you've added to Superset. These are easy to build and can be shared publicly, unlisted (anyone with a link can see it), or only viewable privately. Programs get names, a cover image, description, and you can add a URL to a Spotify playlist which we think is smart. Next, you'll add exercise, workouts and/or resources.
Programs can be sold as one-time purchases or subscriptions and you'll set a price depending on your choice. Trials can also be offered for programs along with referrals and a discount.

---
Create a Storefront
Your Storefront is how you'll promote programs. These are product pages and include your logo, copy, images, descriptions, and links to Instagram, YouTube, and Facebook pages. Like all assets you create on Superset, building a storefront is quick and easy. Once built, you can also choose to make your storefront publicly visible or keep it hidden until ready for launch. 
---
Going Live
Live video is growing and we find platforms only allow a single integration (often Zoom). Superset's more flexible. They don't offer an integration. Instead, you can use any platform of your choice. All you need do is create a URL and share it with customers.
---
Marketing
We often find creator content and monetization apps lacking on the marketing or promotional tools front. They tend to offer limited features or none that help creators engage customers. Superset focuses more on video content as a promotional medium. It lets you create posts and stories to be shared on Instagram, and offers a generally easy-to-work-with feature for getting the job done. 
We think the feature is great but recognize that creators will want more from the app. Email marketing is a huge income generator and rolling in an integration with email marketing platforms would make promotion and audience engagement easier. 
---
Payments
Superset is integrated with Stripe for payments. Like most other creator tools, Stripe is a favorite, but we think Superset could broaden their options. Stripe is available in over 40 countries around the world, however, options like PayPal would be valuable too.
Payments are viewed on the Payments and Customers tab. It shows payments and payouts received. The Customers tab shows active, requested, inactive, and invites. You'll see names, email addresses, and status for each view. Superset also lets you export customer lists, something we're a fan of. Customer lists make it easy to import email addresses into your email tool for marketing.
---
How to Make Money With Superset
Superset can sell programs as one-time purchases or offer them under a monthly subscription. And both are great options. One-time purchases coupled with discounts make for enticing offers, while subscriptions help create a steady income stream with creators making over $10,000/mo.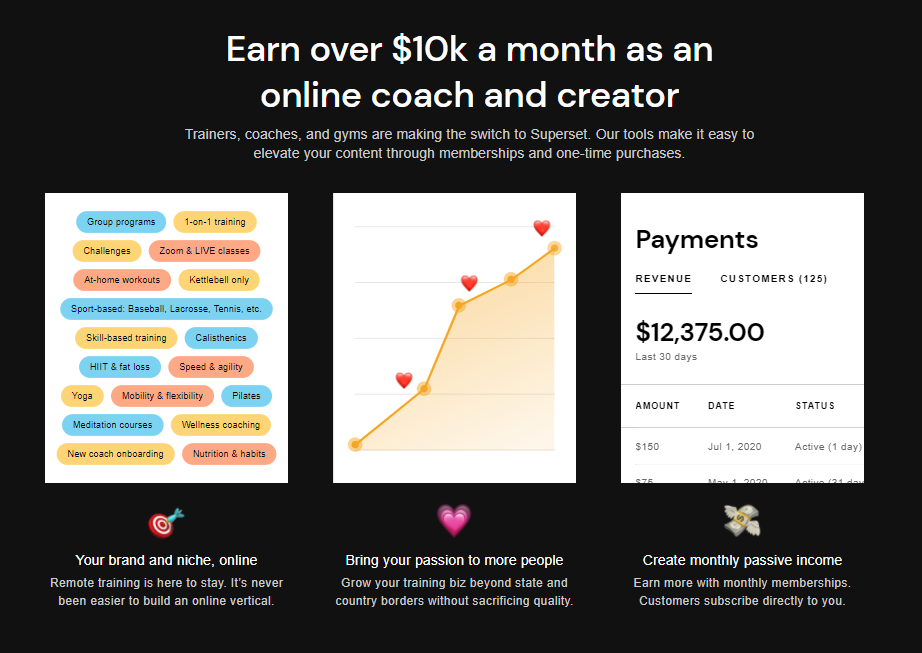 Referrals
Supersets referral program gives you 20% of the monthly subscription fee referrals pay Superset for as long as they use the platform. 
---
The Bottom Line
Superset's a smart choice for fitness creators. It's an easy-to-use app and we love the thought put into the customer experience it offers. Creating exercises, workouts, and resources is simple, and building a storefront is far from a complex undertaking. Like other apps in this sphere, we see room for improvement. Marketing tools can offer more features, and payment options can include alternatives to Stripe. Overall, it's a solid monetization platform and worth exploring.
Superset
Features

Ease of Use

Support
Best for:
Content creators, influencers, and small businesses