The world needs more visionaries. While clichéd, it rings especially true in light of the current climate. In A Life on our Planet, David Attenborough predicts that by 2100 (and it's not that far into the future), large parts of the planet will be uninhabitable. So, considering what's at stake, any company that dedicates itself to clean energy generation deserves attention.
And, it's not only environmentalists who are eagerly following Tesla's plans for the future. Simone Giertz, a popular YouTuber and creator, grew tired of waiting for Tesla. So, she partnered with fellow YouTubers and creators, like Richard Benoit and Laura Kampf, and transformed a Tesla Model 3 into a pickup truck. She even made a fake truck commercial for Truckla (yes, like all good creations, it had a name).
While Truckla didn't quite have the same futuristic look that the much anticipated Cybertruck promises to boast, her take on it will probably appeal to a bigger audience.
So, why all the excitement about and interest in Tesla? Are they merely wasting time and resources on pie-in-the-sky ideas? After all, they literally sent one of their cars into space? In this article, we explore over 26 statistics about Tesla. You'll see that there's a reason why Elon Musk is, at the time of writing this article, the richest man in the world.
---
Tesla Stats: Production Stats, Revenue & More [2023]:
---
Electrifying Tesla Stats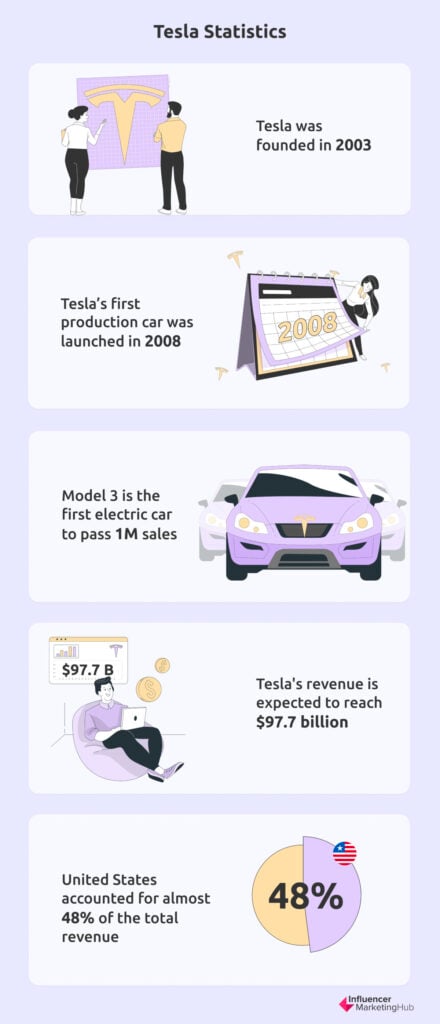 1. It Was Founded in 2003
In 2003, a group of engineers founded Tesla with the goal of proving that electric vehicles can outclass gasoline cars. During the 15+ years that they've been in business, they've expanded their focus to scalable clean energy generation and storage solutions. On an interesting side note, Elon Musk wasn't one of the initial founders. It was actually founded by two entrepreneurs – Martin Eberhard and Marc Tarpenning. Musk joined only a year later.
---
2. In 2008 It Launched Its First Production Car
The Roadster, Tesla's first production car, was launched in 2008. The 2008 Tesla Roadster was a battery-electric sports car that was based on the Lotus Elise chassis. It was also the first highway-legal serial production all-electric car that used lithium-ion battery cells.
---
3. It Designed the First Premium All-electric Sedan
After the Roadster, Tesla shifted its attention from sports cars to sedans. It designed the Model S – the world's very first premium all-electric sedan. It was a huge success and the Model S became the top car in its class in all the categories. It boasted the longest range and could accelerate from 0-60 in 2.28 seconds, another record for its class.
---
4. Model 3 Is the First Electric Car to Pass 1 Million Sales
In June 2021, the Tesla Model 3 became the first electric car to pass the 1 million mark in global sales.
---
5. Tesla's Model S Have the Longest Battery Range
Tesla's electric vehicles are known for their impressive battery range, a key factor in the company's success in the EV market. Leading the pack is the Tesla Model S, with an impressive average range of 405 miles on a single charge. This long-range model, equipped with a larger, more efficient battery, allows for extended road trips with fewer stops at charging stations. It's worth noting that with this greater range comes a higher cost, but for many, the convenience of extended range is worth the investment.
On the other end of the spectrum, the Model 3, Tesla's more affordable offering, has a smaller internal battery, resulting in a shorter average range of 267 miles. Despite this, the Model 3 still outperforms many other electric vehicles on the market and is an excellent choice for daily commuting.
---
6. 2020 Was the First Year That It Made a Net Income
Believe it or not, but 2020 was the first year that Tesla made a full-year profit. In 2020, $721 million was attributable to common shareholders and $141 million was attributable to noncontrolling interests.
---
7. Tesla's Revenue Skyrockets
In 2022, Tesla's total revenue was a staggering $81.46 billion, a figure that's hard to wrap your head around. But hold onto your hats, because the projections for 2023 are even more mind-boggling. According to Forbes, Tesla's revenue is expected to reach a whopping $97.7 billion in 2023. If you're not already impressed by the sheer scale of Tesla's operations, these numbers should do the trick.
---
8. Tesla Shares Soar and Maintain Strong Position
Tesla's shares have been on a thrilling journey, reaching dizzying heights and demonstrating the company's robust financial health. In November 2021, the shares reached their zenith at a staggering $409.972. As of July 18, 2023, they're trading at a solid $375.12.
While this represents a slight dip from the peak, it's important to remember that the stock market is a dynamic entity, with share prices fluctuating due to a myriad of factors. Given Tesla's consistent innovation, commitment to a sustainable future, and the unwavering faith of its investors, optimism about the company's long-term prospects remains high.
---
9. The US Is Its Biggest Market
The United States accounted for almost 48% of the total revenue Tesla generated in 2022. In Q3 2022, China generated $5.13 billion in revenue, accounting for nearly 24% of the total turnover.
---
10. Tesla's Vehicle Deliveries Surpass Expectations
Tesla's performance in the electric vehicle market continues to impress. In 2022, the company delivered a record-breaking 1,313,851 vehicles.
But Tesla didn't stop there. The company continued to exceed expectations into 2023. In the second quarter of the year, Tesla announced it had produced nearly 480,000 vehicles and delivered over 466,000. This impressive performance underscores Tesla's commitment to meeting the increasing demand for electric vehicles and its ability to ramp up production to match.
As we move further into 2023, it's clear that Tesla is not just keeping pace with the electric vehicle revolution - it's leading the charge.
---
11. Tesla's Market Share in the PEV Sector Continues to Grow
In 2022, Tesla made a significant impact in the Plug-in Electric Vehicle (PEV) market, selling the second most PEVs and claiming a market share of 23%.
---
12. Tesla Model Y Takes the Lead
The Tesla Model Y has proven to be a crowd favorite, earning the title of the best-selling plug-in electric vehicle in 2022. With a whopping 427,000 units sold, this model has clearly resonated with consumers, offering the perfect blend of efficiency, performance, and style that Tesla is renowned for.
---
13. It's the

Eighth

Biggest Company in the World
As of July 2023, Tesla's market cap stands at an impressive $920.35 billion! For those unfamiliar with the term, market capitalization, often referred to as market cap, is the total market value of a company's outstanding shares. It's a key indicator of a company's worth and is often used to compare the value of different companies.
This staggering figure places Tesla as the world's 8th most valuable company by market cap. This is no small feat, considering the multitude of established, multinational corporations that exist in today's global market.
As Tesla continues to push the boundaries of what's possible in the electric vehicle and renewable energy sectors, its market cap is a reflection of its success and the potential for its future growth.
---
14. Consumers Are More Satisfied With Tesla Than Mercedes-Benz
In terms of consumer satisfaction in the US, Tesla ranks sixth along with Toyota and Subaru, with an index score of 80. Based on this score, it's more popular than leading automotive brands like Mercedes-Benz, BMW, and Volkswagen.
---
15. It's the Most Valuable Car Brand
In 2022, Tesla was listed as the most valuable car brand, according to data shared by Statista. Its brand value was calculated at almost $68 billion. Toyota is in second spot, while Mercedes-Benz in third place.
In the same year, Tesla ranked fourth in the list of fastest-growing brands, trailing behind Cartier, YouTube, and Google. Despite not taking the top spot, being in the company of such established and influential brands is a significant achievement.
---
16. Tesla's First Cybertruck Rolls Off the Production Line
In a significant milestone, Tesla announced that the first Cybertruck has come off the production line in Texas. This announcement, made just ahead of the company's Q2 2023 earnings call, marks the debut of the long-awaited, futuristic-looking pickup truck. The Cybertruck, first introduced by CEO Elon Musk in 2019, has seen its production schedule adjusted several times, initially due to component sourcing issues and later due to fundamental design and engineering challenges. Despite these setbacks, Musk confirmed a new production schedule for summer 2023 and promised a delivery event for the Cybertruck toward the end of Q3.
---
17. Cybertruck Reservations and Pricing: A Glimpse into the Future
As of November 2022, the anticipation for Tesla's Cybertruck was palpable, with over 1.5 million eager customers having placed reservations. These future owners, who have been able to secure their spot with a $100 refundable deposit since 2019, are not just buying a vehicle; they're investing in a vision of the future.
As Tesla prepares to launch the Cybertruck, it's set to enter a new, profitable segment of the EV market in the U.S., going head-to-head with electric pickups like Ford's F-150 Lightning, Chevrolet's Silverado EV, and the Rivian R1T. As the company navigates the challenges of Cybertruck production, all eyes are on Tesla's Q2 earnings call for more details on production, delivery, and specs. The future of pickup trucks is electric, and it's clear that Tesla is leading the charge, as usual.
---
18. Tesla's Texas Gigafactory Hits Production Milestones
As of June 2023, Tesla's Gigafactory in Texas has hit a significant milestone, having produced 10,000 Model Y vehicles. This achievement underscores the factory's growing production capabilities and Tesla's commitment to meeting the increasing demand for its electric vehicles.
But the Texas Gigafactory isn't stopping there. Looking ahead, the factory is expected to ramp up its production significantly. By 2024, it's projected to produce a staggering 250,000 vehicles per year. This anticipated increase in production capacity is a testament to Tesla's ambitious growth plans and its ongoing efforts to accelerate the world's transition to sustainable transportation.
---
19. It has 3000+ Patents
Tesla, the world's best-selling plug-in and battery electric passenger car manufacturer, is not just leading the charge in the electric vehicle market but also in the realm of innovation. This is evidenced by the company's extensive patent portfolio.
As of 2023, Tesla holds a total of 3,304 patents globally, spanning 1,073 unique patent families. Out of these, 2,397 patents are active, underscoring Tesla's ongoing commitment to innovation and technological advancement.
Even Elon Musk, is personally involved in this innovative drive, holding 18 patents to his name. This involvement at the highest level of the company highlights the importance Tesla places on developing new technologies and solutions.
The company's patent filings cover a range of years, with a noticeable drop in recent years. However, this doesn't indicate a decrease in patent filing activity. Patent applications can take up to 18 months to get published, so applications filed during the last two years are still in the process of being published.
In 2023 alone, Tesla filed 4 new patent applications and had 20 patents granted. This ongoing activity in patent filings and grants is a clear indication of Tesla's relentless pursuit of innovation, as the company continues to shape the future of electric vehicles and sustainable energy.
---
20. It Gets Billions of Miles of Real-world Data
Every Tesla is connected which means that the company can analyze billions of miles of real-world data that they get from their international fleet to make sense of how accidents can happen. Using this information, they've created features to assist the drivers of their vehicles to avoid accidents. Thanks to the over-the-air software that they use, they can then release updated versions of existing safety features that consider this real-world data gathered by their fleet.
---
21. There's Only One Crash for Every 6.26 Million Miles Driven Using Autopilot Tech
According to Tesla Vehicle Safety Report, the number of miles driven per accident when using Autopilot technology is consistently increasing, indicating that Tesla vehicles are becoming safer to use.
In Q3 2022, Tesla reported one accident per 6.26 million miles driven with Autopilot engaged, a 13 percent increase year-over-year. This figure even surpassed the previous record set in Q1, which stood at 6.57 million miles driven per accident.
What's particularly noteworthy is that this figure is almost double what it was four years ago. Back in Q3 2018, the figure stood at 3.35 million miles driven per accident, demonstrating the significant strides Tesla has made in vehicle safety over the years.
However, without Autopilot technology engaged, Tesla vehicles statistically note more accidents. In Q3 2022, the company reported one accident per 1.71 million miles driven, an 8 percent increase from the previous year.
---
22. It Costs $15.29 to Charge a Model X
If you have a Model X with a 100 kWh battery and you pay $0.15 per kWh (the national average cost of electricity in the United States), it would cost more or less $15.29 to charge a Model X fully. Though, there are several factors like the charger type and cost of electricity in your region that will impact the cost.
---
23. It Costs $10.94 to Charge a Model 3
According to SolarReviews, to charge the battery of a 2022 standard Model 3 it will cost about $10.94. This works out to a cost per mile of about $0.04.
---
24. The Average Salary at Tesla Inc. Is About $134K
According to data shared in the H1B Salary Database, the average salary at Tesla in 2022 was $133,680. Less than 5% earned more than $200K, while 9% of the salaries were less than $100K.
The Director of Software Engineering's base salary is about $258,000. At the other end of the spectrum, a forecasting analyst takes home about $53,000.
More interestingly, though, Musk notoriously made "zero" in 2020. While records show that his salary in 2019 was $23,760, he has never accepted his salary. Instead, his compensation package is stock-based. In 2020, this worked out to about $6.7 billion according to Bloomberg. This was the highest compensation among all US chief executives.
The New York Times reports that what makes Musk's compensation plan unique is the huge amount of stock that covered pay for many years into the future. To date, he has received about $60 billion in stock. Before you get jealous, the Ts and Cs are very strict. In order to receive the stock, the value of Tesla stock should continue to increase and the company had to meet difficult targets for sales and operating profits.
---
25. The Rollercoaster of Elon Musk's Fortune
Elon Musk, the "Technoking" of Tesla, has experienced a financial journey that can only be described as a rollercoaster. In 2022, Musk made it into the Guinness World Records, but not for a reason one might expect. His fortune shrank by an unprecedented $182 billion, marking the largest loss of wealth ever recorded by an individual in a single year. This staggering drop, largely due to a 65% decrease in the value of Tesla shares, surpassed the previous record of a $58.6 billion loss by Japanese investor Masayoshi Son in 2000.
But luckily, this is not the end of the story. By the end of May 2023, Musk had made a remarkable comeback. His net worth skyrocketed to a staggering $192 billion, reclaiming his title as the world's richest person. This dramatic turnaround was largely due to a 66% rally in Tesla shares, which make up 71% of his fortune.
This financial journey underscores the volatility of Musk's wealth, which is closely tied to the performance of Tesla.
---
26. The Rapid Expansion of Tesla's Workforce
At the end of 2022, Tesla and its subsidiaries employed over 127,800 full-time employees, marking a significant increase in the company's workforce. This growth is particularly noteworthy considering the slight decline of around 1.6 percent between 2018 and 2019.
---
Wrapping Things Up
Whether you're pro-electric car or prefer the roar of a gasoline engine, there's no denying that Tesla is onto something. Though, will Tesla be able to keep up the pace? Mass adoption and use of electric cars are still pretty much uncharted territory.
That said, with Musk behind the wheel, not even the sky's the limit. Plus, these statistics want to indicate that Tesla will only go from strength to strength in the coming years. If they can sell 100,000 vehicles in one day, just imagine what their future has in store, not only for them but also our planet.
Frequently Asked Questions
Who founded Tesla?
Tesla was founded by Martin Eberhard and Marc Tarpenning in 2003 with the objective of proving that electric vehicles can outperform gasoline cars. Elon Musk, who had been interested in the potential of electric cars for a long time, joined only a year later in 2004 as one of the first significant investors and the chief executive officer of Tesla. Initially it was also named Tesla Motors and only later renamed to Tesla.
What was Tesla's first car?
The 2008 Tesla Roadster was the company's first production car. It was launched in 2008, five years after the company was founded, and was based on the Lotus Elise chassis. It was a battery-electric sports car and the first highway-legal serial production all-electric car that used lithium-ion battery cells. Since then, they've launched a number of other electric cars that include the Tesla Model 3, Model X, and Model S (the world's very first premium all-electric sedan).
What is the fastest growing brand?
Tesla has been identified as the fastest growing brand across the globe in 2021. According to data shared by Statista, it boasted a brand value growth rate of a whopping 157.6%. It was followed by Alibaba with a brand value growth rate of 108.1% and Apple (87.4%). The Interbrand's Best Global Brands 2021 list also named Tesla as the fastest-growing brand of 2021.
How much does Elon Musk make in a day?
A simple calculation dividing Musk's net worth by the number of days in a year gives us a rough estimate of his daily income. Assuming his net worth remains constant throughout the year, Musk's daily income comes to around $637 million. This means that Musk, on average, earns more in a day than most people will in their entire lives.
Are Tesla cars safe?
Yes! Tesla vehicles are designed to be the safest across the globe. By using a combination of active safety, passive safety, and automated driver assistance, they strive to keep everyone safe. In fact, Model S, Model X, and Model 3 have received the lowest overall probability of injury of any car that the US government's New Car Assessment Program has ever tested. In Q4 2022, they recorded only one crash for every 4.85 million miles driven in which drivers used Autopilot technology.