Once upon a time Facebook ruled the social media world. Indeed if you go far enough back, the leading social media platforms were MySpace and Bebo. Yet if you were to ask a Generation Z youngster about these former social media champions you would be met with a blank stare. They know of Facebook, of course, but to many of Generation Z, it's old and tired. In particular, Facebook is where their parents hang out. The social media platform that best matches the way that teenagers live their life today is Snapchat. In real life you often briefly chat to somebody, then walk away and there is only a memory of the conversation left. Snapchat works the same way. Somebody sends you a snap. You look at it and then it vanishes shortly afterwards.
According to Bloomberg Technology there are now more than 150 million people using the service every day globally, 60 million of whom are in the United States and Canada. The key thing, though, is that it is a very youthful demographic. According to polling by Cowen and Company, 71% of Snapchat users are aged between 18 and 29. These guys really don't want to be part of a social media channel that involves mom and dad, too! So, if you are a brand that targets youth, which social media channel should you be using? Where are you most likely to find influencers to help you promote your brand who are truly likely to influence the modern tech-savvy, cynical Generation Z. You may not have participated in Snapchat yourself but your potential customers certainly have!
---
Summary: Quick Jump Menu
---
The Birth of Snapchat
Snapchat is relatively new in the world of social media, having been launched in 2011 by Stanford University students Bobby Murphy, Evan Spiegel and Reggie Brown. Facebook was seven years old by this point, and was already mature enough to have had a biopic made about it - The Social Network was released in 2010.
Snapchat was originally named Picaboo before being rebadged to its current name two months later. It was launched with the basic functionality of users being able to send a "snap" to each other that would self-destruct after a time set between one and ten seconds (a bit like what happened with those old Mission Impossible tapes, although the Snapchat generation will undoubtedly consider Mission Impossible to be ancient history if they have heard of it all).
A "snap" is usually a picture or a short video clip. This gives the Snapchat user a chance to see the snap before it is permanently deleted
Critics initially decried Snapchat as simply another phone app that allowed users to trade photos they didn't want stored. However, they had no idea of the huge audiences that SnapChat would soon generate.
---
Early Users of Snapchat
Teenagers jumped platforms to Snapchat almost from Day One. They were determined to get away from their parents' gaze. This caused one of the earliest controversies of the platform, as parents eventually dawned that their offspring had caught onto a new craze - sexting. The problem was that although most people happily let the posts they received die, a few discovered that they could keep a permanent record of the posts if they screenshot them. Despite this controversy, and also infighting between the developers which ended up in court, SnapChat continued to thrive and expand.
---
The Introduction of Snapchat Stories
Snapchat Stories are a collection of posts that don't suddenly disintegrate, but can be viewed, and reviewed, for 24 hours. They are usually a collection of video snippets spliced together to some form of narrative. Most importantly, from an influencer marketing point of view, Snapchat stories are not simply sent from one person to another. Anybody on a poster's Friends list can see his or her story for the 24 hours that it is live.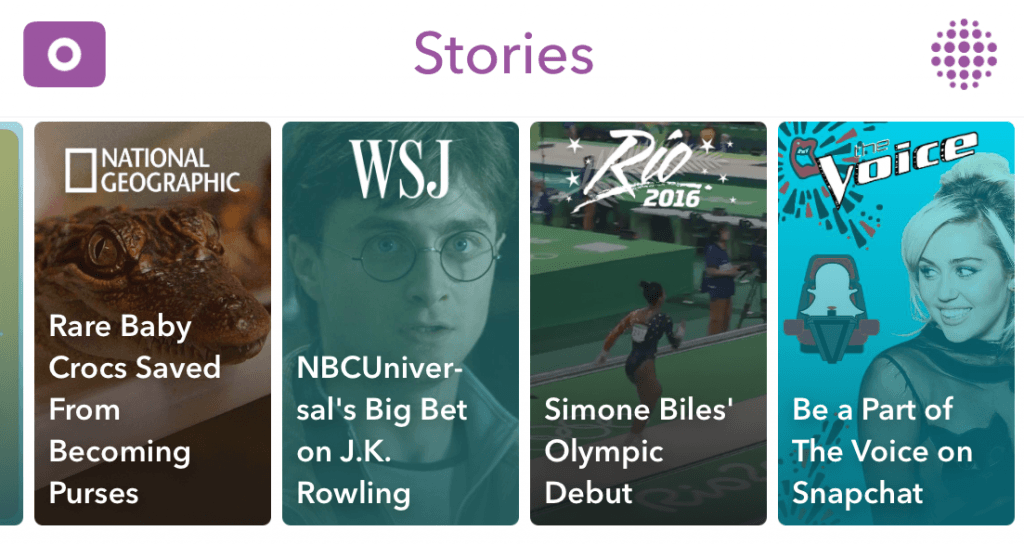 It was with the introduction of Stories that major brands began to open their eyes to SnapChat's appeal, and began to see potential opportunities for their brands. Snapchat staff often create compilations of short videos and pictures from their many users that relate to a particular topic or event. Like all Snapchat Stories, these compilations last for 24 hours before they permanently vanish. These have included compilations of clips from a particular city, or even a university campus, e.g. "a day in the life of" videogram.
---
The Launch of Snapchat Discover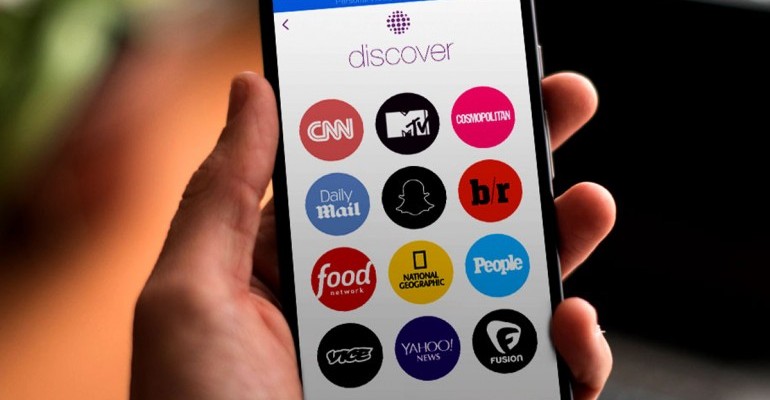 Snapchat took another leap forward with the launch of their Discover feature. This enabled major media companies like CNN and National Geographic to provide content that Snapchat users can access with the press of a button. These are usually higher quality videos than the typical Snapchat homemade amateur productions. Snapchat Discover has become a useful way to encourage young audiences to consume news and learn about the world around them.
---
Snapchat Business Opportunities
Although marketers and businesses were a little slow to appreciate the uses of SnapChat for marketing, they eventually came to realize that there are considerable opportunities for businesses focussing on a young audience. The numbers are huge and the opportunities for exposure are great.
A number of well-known brands jumped on using Snapchat Stories as part of their marketing mix. Early advertisers included Samsung, Universal Pictures and Coca Cola.
Major advertisers have created high-quality video content for use on Snapchat Discover. These include Verizon and BMW.
Marketers find SnapChat particularly useful for an event, such as the recent Coachella music festival, where fans Snapchatted 10-second video clips to an audience of 40 million - that's twice the audience a high-rating television program reaches on a major network! Of course, there is one downside to SnapChat advertising from a business point of view - the cost. Adweek has reported that Snapchat has asked some brands for $750,000 per day to advertise on the platform. That certainly puts official SnapChat ads out of the range of many businesses. So what have many businesses done instead? They have gone down the same track that they have with many of the other social media platforms. They have begun the unofficial, guerrilla marketing tactic of influencer marketing.
---
The Rise of the Snapchat Influencer
Although Snapchat users are less likely to befriend random people than are users of some other social media platforms, there is still much potential for influencer marketing. Teenager tend to follow two types of people on Snapchat - those people they personally know, and those people who are deemed to be "influencers". The only downside of this is that is is comparatively harder to become an influencer, because there is no real middle ground where you can gradually build up supporters.
Businesses have found that the easiest way to use influencers to promote their product is to encourage influencers to tell their brand story. An influencer may be prepared to take photos of him or her using your product and then share these snaps on Snapchat. These come across best if they appear organic and not at all like advertising.
Word of mouth advertising is considered to be the most trustworthy form of marketing. Influencer marketing on Snapchat is an organised form of word of mouth marketing. Brands encourage tastemakers to promote their products to their fans who believe in them. A recent trend involving particularly important influencers occurs when a brand hands over a Snapchat channel to an influencer. For instance Sour Patch Kids handed over their Snapchat account to Vine star, Logan Paul for five days of prankster activities with life-sized Sour Pitch characters. His fans followed him to the Sour Pitch channel, giving them 120.000 new SnapChat followers.
It must also be remembered that Snapchat's cynical young audience prefer simple messages that aren't anything flashy. This is one of the reasons that influencer marketing is often more successful here than a professionally produced campaign. Generation Z prefer their media rough at the edges and raw.
---
What Should Brands do to Encourage Their Influencers?
For there to be a successful relationship between a brand and an influencer there needs to be a synergy between the two. Both the brand and the influencers need to follow similar values. If a brand, for instance, emphasises the outdoors there is little point them trying to encourage a stereotypical computer nerd to promote ere product. An influencer known for their athleticism or healthy lifestyle would have a much bigger impact on promoting the product to their fans.
Over 253,000 companies get access to our exclusive influencer marketing news
Receive exclusive content that you won't find anywhere else other than our monthly subscriber mails. Not only that, but you'll be the first to access our new content, tools and offers.
Brands also need to realise that the influencers are experts on what works best for them on Snapchat. It is often best to leave the influencers to create the content. That's why firms have found simply handing their channel over to an influencer can work particularly well. Brands often also choose to complement Snapchat campaigns using other social media platforms too. This can be a particularly useful way of building an audience for a special Snapchat event such as an influencer takeover if the brand already has a strong Instagram, Twitter or Facebook presence.
Snapchat is continually adding new features. Two additional 2016 features are Memories, which allows users to permanently save some data, and On-Demand Geofilters, which enables brands and people to filter recipients of their snaps by people's locations. These changes help to create further opportunities for brands to become truly creative and original in their influencer marketing on the platform.