Once upon a time, Facebook ruled the social media world. Indeed, if you go far enough back, the leading social media platforms were Myspace and Bebo. Yet if you were to ask a Generation Z youngster about these former social media champions, you would be met with a blank stare. They know of Facebook, of course, but to many of Generation Z, it's old and tired; Facebook is where their parents hang out. The social media platform that best matches the way that teenagers live their lives today is Snapchat. In real life, you often briefly chat to somebody, then walk away, and there is only a memory of the conversation left. Snapchat works the same way. Somebody sends you a snap. You look at it, and then it vanishes shortly afterward.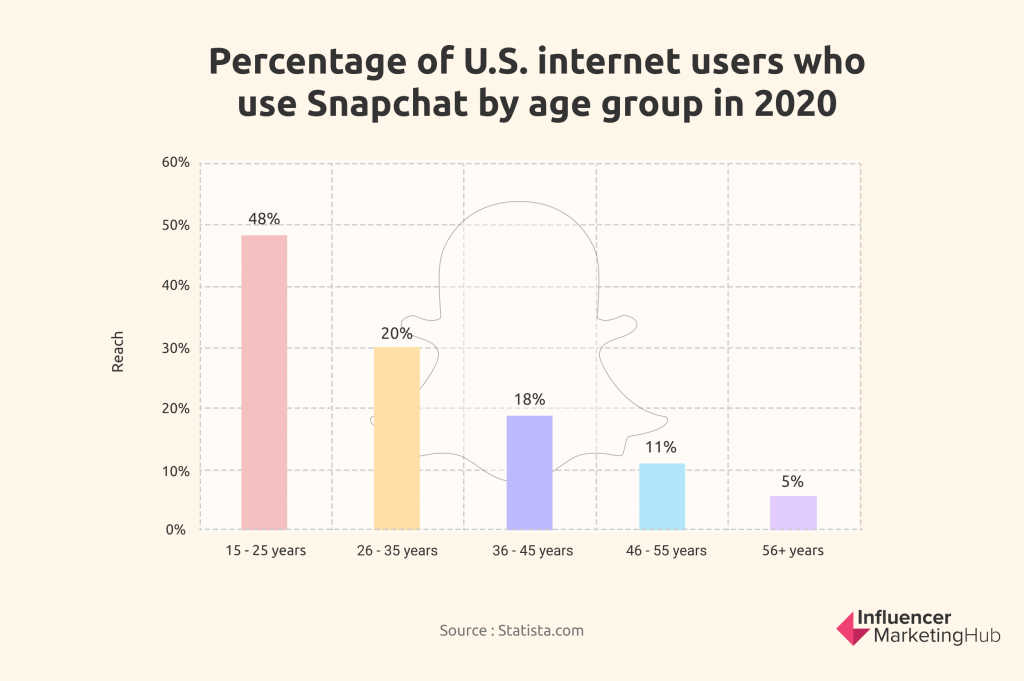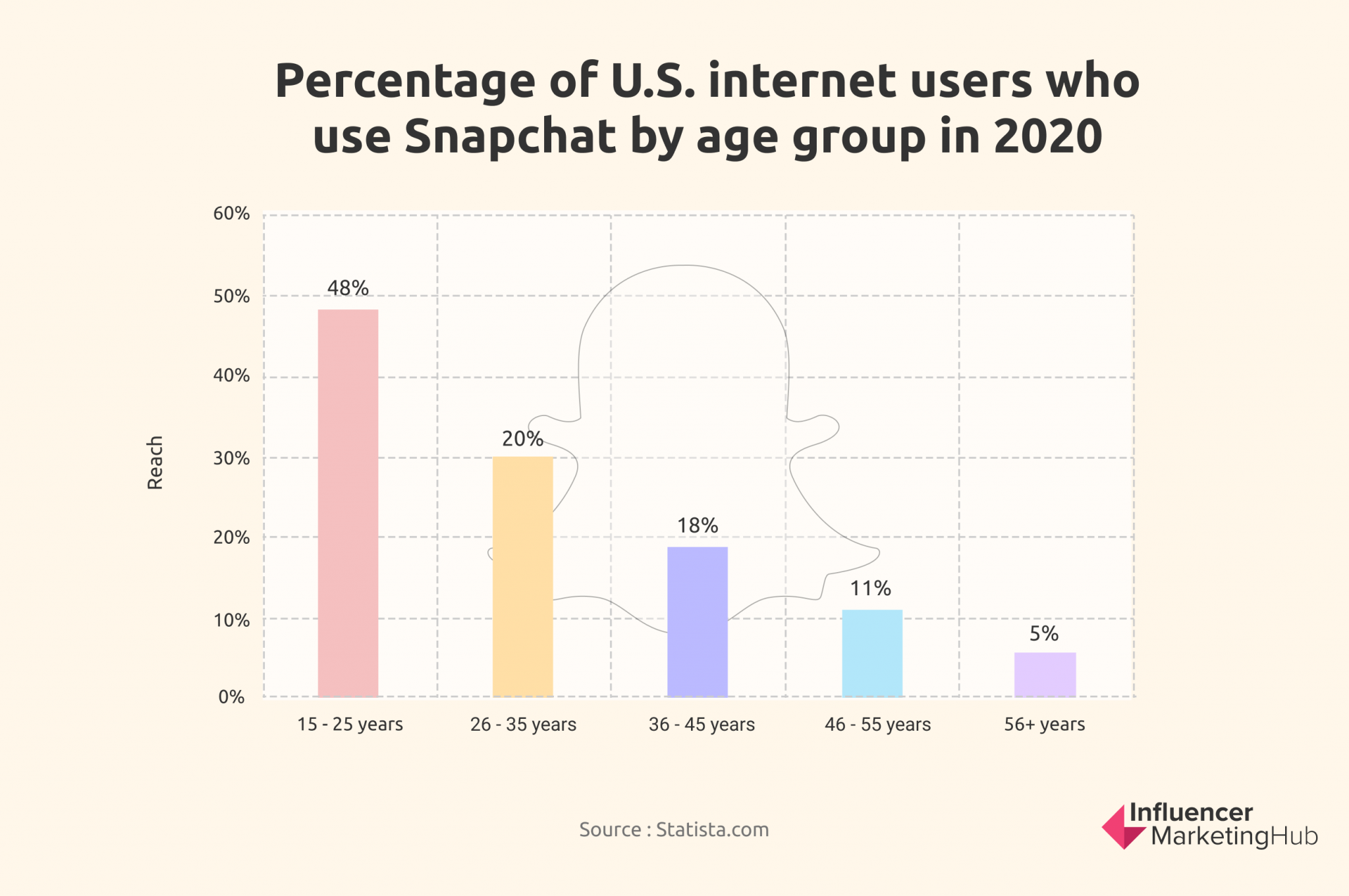 According to Statista, more than 293 million people use the service every day globally, 95 million of whom are in the United States and Canada. Snapchat claims that it can reach 513.9 million people with ads on the platform. The critical thing, though, is that it is a very youthful demographic. Statista also reports that 48% of Snapchat users are aged between 15 and 25, with a further 30% aged 26-35. Since Spring 2016, Snapchat has been the most popular network of teenagers in the United States (although TikTok made significant inroads in 2020). These guys really don't want to be part of a social media channel that involves mom and dad, too!
So, if you are a brand that targets youth, which social media channel should you be using? Where are you most likely to find influencers to help you promote your brand, those who truly influence the modern tech-savvy, cynical Generation Z? You may not participate in Snapchat yourself, but your potential customers certainly do!
---
The Rise of Influencer Marketing on Snapchat:
---
The Birth of Snapchat
Snapchat is relatively new in social media, launched in 2011 by Stanford University students Bobby Murphy, Evan Spiegel, and Reggie Brown. Facebook was seven years old by this point and was already mature enough to have had a biopic made about it - The Social Network premiered in 2010.
Snapchat was initially named Picaboo before being rebadged to its current name two months later. It was launched with the basic functionality of users being able to send a "snap" to each other that would self-destruct after a time set between one and ten seconds (a bit like those old Mission Impossible tapes, although the Snapchat generation will undoubtedly only know of the more recent Tom Cruise Mission Impossible movies).
A "snap" is usually a picture or a short video clip. This gives the Snapchat user a chance to see the snap before it permanently deletes itself
Critics initially decried Snapchat as another phone app that allowed users to trade photos they didn't want people to keep. However, they had no idea of the vast audiences that Snapchat would soon generate.
---
Early Users of Snapchat
Teenagers jumped platforms to Snapchat almost from Day One. They were determined to get away from their parents' gaze. This caused one of the earliest controversies of the platform, as parents eventually dawned that their offspring had caught onto a new craze - sexting. The problem was that although most people happily let the posts they received die, a few discovered that they could keep a permanent record of the posts if they screenshotted them. Despite this controversy and infighting between the developers, which ended up in court, Snapchat continued to thrive and expand.
---
The Introduction of Snapchat Stories
Snapchat Stories are a collection of posts that don't suddenly disintegrate but which you can view and review for 24 hours. They are often a selection of video snippets spliced together to some form of narrative. Most importantly, from an influencer marketing point of view, Snapchat stories are not simply sent from one person to another. Instead, anybody on a poster's Friends list can see their story for the 24 hours that it is live.
With the introduction of Stories, major brands began to open their eyes to Snapchat's appeal and began to see potential opportunities for their businesses. Snapchat staff often create compilations of short videos and pictures from their many users related to a particular topic or event. Like all Snapchat Stories, these compilations last for 24 hours before they permanently vanish. These have included clips from a specific city, or even a university campus, e.g., "a day in the life of" videogram.
---
The Launch of Snapchat Discover
Snapchat took another leap forward with the launch of its Discover feature. This enabled major media companies like CNN and National Geographic to provide content that Snapchat users can access with the press of a button. These are usually higher quality videos than the typical Snapchat homemade amateur productions. Snapchat Discover has become a valuable way to encourage young audiences to consume news and learn about the world around them.
---
Snapchat Business Opportunities
Although marketers and businesses were a little slow to appreciate the uses of Snapchat for marketing, they eventually came to realize that there are considerable opportunities for businesses focussing on a young audience. The numbers are huge, and the opportunities for exposure are great.
Several well-known brands jumped on using Snapchat Stories as part of their marketing mix. Early advertisers included Samsung, Universal Pictures, and Coca-Cola.
Major advertisers have created high-quality video content for use on Snapchat Discover. These include Verizon and BMW.
Marketers find Snapchat particularly useful for events, such as the Coachella music festival, where fans Snapchatted 10-second video clips to an audience of 40 million - that's twice the audience a high-rating television program reaches on a major network!
---
Snapchat Advertising
Initially, Snapchat advertising was out of the reach of most businesses. Adweek reported that Snapchat had asked some brands for $750,000 per day to advertise on the platform. That certainly put official Snapchat ads out of the range of many businesses.
However, Snapchat is now more in line with other social platforms for official social advertising rates. Indeed, the average cost per impression on Snapchat is lower than on Facebook ($5.12) and Instagram ($4.20). Snap Ads typically start at around $3,000 per month in ad spend.
Sponsored lenses are still beyond the budgets of most small firms, however. According to Strikesocial, the cost of Sponsored Lenses varies depending on the day: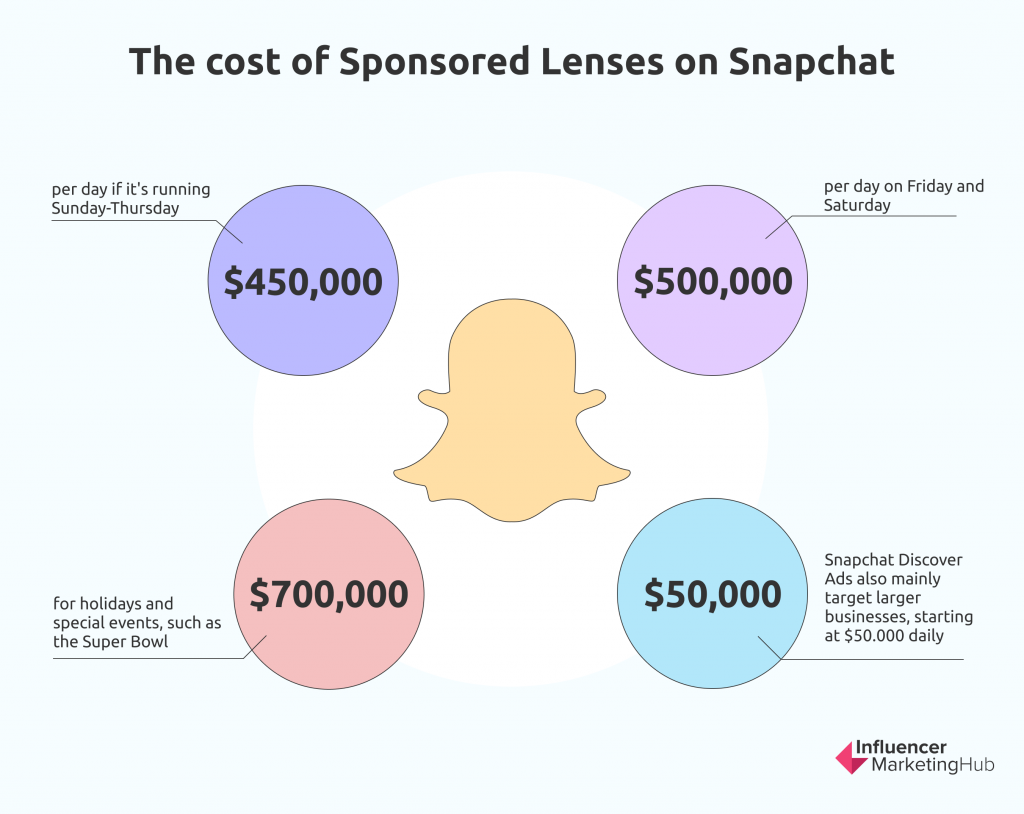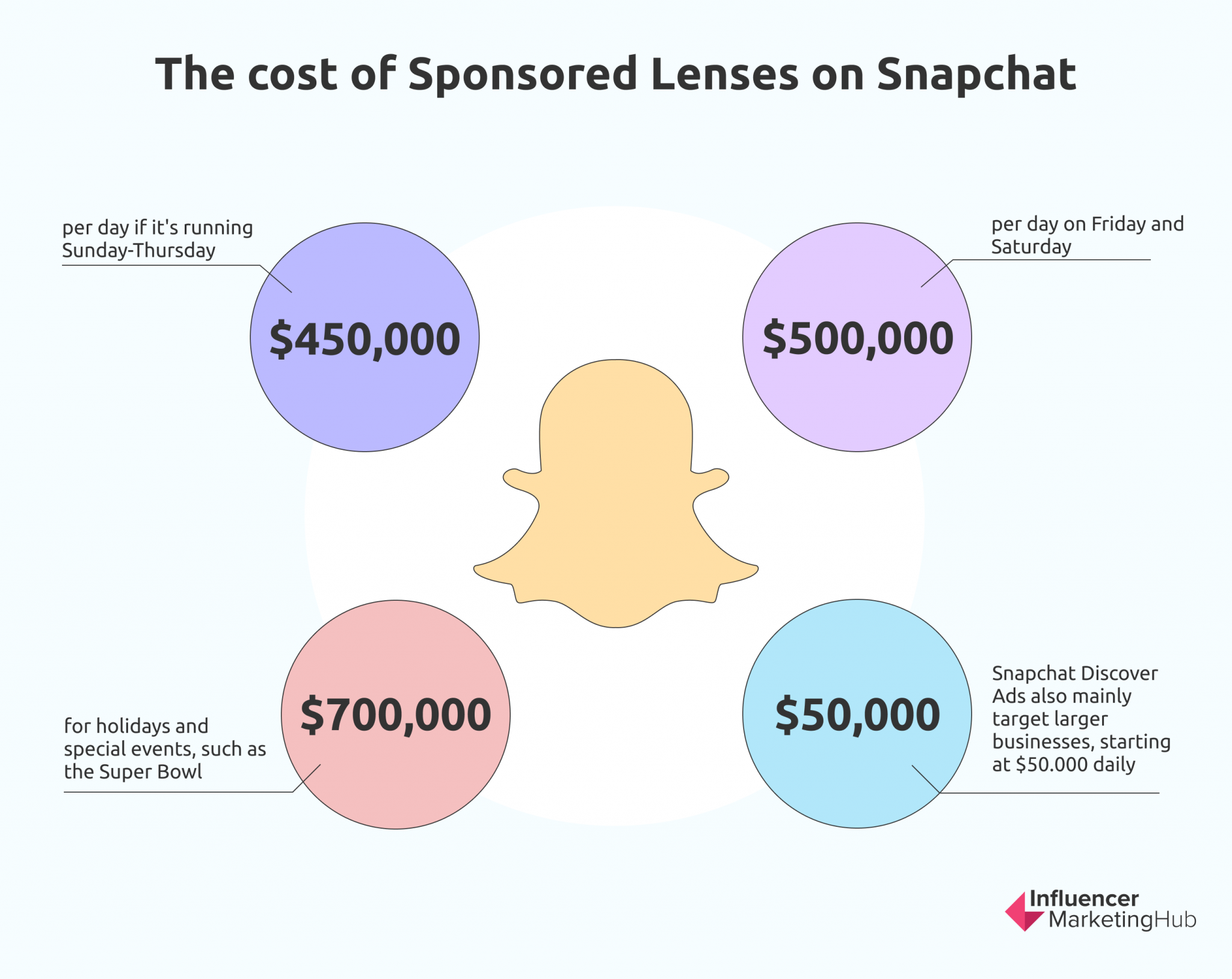 $450,000 per day if it's running Sunday-Thursday

$500,000 per day on Friday and Saturday

$700,000 for holidays and special events, such as the Super Bowl
Snapchat Discover Ads also mainly target larger businesses, starting at $50,000 daily.
---
The Rise of the Snapchat Influencer
Although Snapchat users are less likely to befriend random people than are users of some other social media platforms, there is still much potential for influencer marketing. Teenagers tend to follow two types of people on Snapchat - those people they personally know and those people who have developed reputations as "influencers." The only downside of this is that it is comparatively harder to become an influencer because there is no real middle ground where you can gradually build up supporters.
Businesses have found that the easiest way to use influencers to promote their product is to encourage influencers to tell their brand story. For example, an influencer may be prepared to take photos of him or herself using your product and then share these snaps on Snapchat. These come across best if they appear organic and not at all like advertising.
Word of mouth advertising is viewed as the most trustworthy form of marketing. Influencer marketing on Snapchat is an organized form of word-of-mouth marketing. Brands encourage tastemakers to promote their products to their fans who believe in them.
It must also be remembered that Snapchat's cynical young audience prefers simple messages that aren't anything flashy. This is one of the reasons that influencer marketing is often more successful here than a professionally produced campaign. Generation Z prefers their media rough at the edges and raw.
---
What Should Brands Do to Encourage Influencers?
To be a successful relationship between a brand and an influencer, there needs to be a synergy between the two. Both the brand and the influencer need to possess similar values. If a brand, for instance, emphasizes the outdoors, there is little point in them trying to encourage a stereotypical computer nerd to promote their product. An influencer known for their athleticism or healthy lifestyle would have a much more significant impact on promoting the product to their fans.
Brands also need to realize that influencers are experts on what works best for them on Snapchat. Therefore, it is often best to leave the influencers to create the content. That's why firms have found simply handing their channel over to an influencer works so well.
Brands often also choose to complement Snapchat campaigns using other social media platforms. This can be a handy way of building an audience for a special Snapchat event, such as an influencer takeover if the brand already has a strong Instagram, Twitter, or Facebook presence. This is technically an example of omnichannel marketing, and businesses that adopt omnichannel strategies achieve 91% greater year-over-year customer retention rates than businesses that don't.
---
Snapchat Influencer Marketing Tactics to Consider
Here are some tactics that you and your influencers can consider for your Snapchat influencer campaigns:
1. Pay an Influencer to do a Social Takeover
A recent trend is the social media takeover. This occurs when a brand hands over a social channel to a well-known influencer. For example, Sour Patch Kids handed over their Snapchat account to social star Logan Paul for five days of prankster activities with life-sized Sour Pitch characters. As a result, his fans followed him to the Sour Pitch channel, resulting in the company receiving 120.000 new Snapchat followers.
2. Use a Vanity URL for Your Snapchat Campaigns
Like Instagram, Snapchat doesn't allow you to include a clickable link in your (or your influencers') posts. One way to make up for this is to create an easy-to-remember vanity URL. That way, you and your influencers can create snaps promoting your products and asking people to go to your vanity URL. Sure, they can't just click on a link, but you are providing them with an easy-to-remember site to type into their browser.
For example, beauty subscription box brand Birchbox created a vanity URL "birch.ly/steals" for a Black Friday and Cyber Monday Snapchat marketing campaign.
3. Use Memories for Content You Want to Stick Around
Snapchat Memories allows users to permanently save some data, unlike most messages on the platform that are only short-lived. Users can save photos and videos for later instead of allowing them to disappear when the designated time is up. You can use Memories to compile similar videos and pictures to reuse on your brand's account or those of your influencers.
This feature lets users search their memories using keywords like "food" or "Thanksgiving." Snapchat combines all the saved memories relevant to your search and packages them into a new, unique Snapchat story.
4. Create and Share Custom Filters
Snapchat lets you create "On-Demand Geofilters." These are Geofilters you have designed for personal and business use. Businesses can now develop an On-Demand Geofilter to incorporate into their campaigns, and you can easily include them in your influencer marketing campaigns.
More recently, Snapchat has given access to community-built augmented reality (AR) filters. Brands can work with AR Snapchat influencers to create branded campaigns.
One firm that did this was the mobile gaming company Plato. They used Snapchat influencers to promote a new game, Werewolf. Plato created a custom Snapchat lens, where a lifelike 3D werewolf attacked you as you got closer to a creaky, haunted cabin. The company made a series of countdown Snapchats with the mysterious wolf growling. On the game's launch day, they launched their lenses (the werewolf and the haunted cabin) and distributed them to sections of the audience, encouraging people to create their own Stories.
5. Take Your Fans Behind the Scenes
Several larger firms have worked with their influencers to take them behind the scenes and encourage them to share what they see. For example, Disney used this effectively with influencer Mike Platco, who toured a Disney theme park and showed its magic as seen through an influencer's eyes.