Snapchat is a messaging app that solely relies on visual communication formats i.e. images and videos. Since it was developed in 2011 by students at the Stanford University, it has undergone significant improvements and experienced notable growth. A lot of the features in the original version have been improved and added upon, and the app has seen a massive increase in its user base.
For instance, it started out by offering only a photo-sharing functionality but then later introduced videos. It also introduced 24-hour Stories in 2013, which inspired Instagram to develop their own Stories feature. More recently, Snapchat introduced a new feature to let users store some of their favourite Stories as Memories.
There have been tons of new features and developments over the years and the platform has experienced some changes in usage and revenue generation as well. It is also becoming a popular platform in influencer marketing.
In this post, we're going to take a closer look at some of the most important Snapchat statistics to better understand where it stands today. Let's get started.
---
Snapchat Statistics, Revenue, and More:
---
Snapchat User Statistics
First, let's take a look at just how popular this app is, based on the number of users. As of Q4 2020, the app had approximately 265 million daily active users. This is a noticeable increase from the Q3 numbers as there were 249 million daily active users then. Indeed, numbers have increased every quarter since Q4 2018, when there were 186 million daily active Snapchat users. As with most other social networks, Snapchat's use accelerated with the arrival of COVID19.
Snapchat first became popular in 2014, growing consistently until it received a noticeable boost in support in 2016. Growth continued, although at a slower rate over 2017. There was a slight drop in user count during 2018, although Q3 and Q4 numbers remained the same before growing again.
---
Demographics of U.S. Snapchat Users
Snapchat seems to be more popular among a younger crowd, according to the Pew Research Center. 73% of American internet users between the ages of 18 and 24 used Snapchat in 2019. Among Americans aged between 25 and 29, 47% of them were Snapchat users. The usage rate faces a massive drop among those aged between 50 and 64 at only 9%, with only 3% of those aged over 65 admitting to using Snapchat.
As you can see from the chart above, Snapchat is slightly less popular than Instagram among teen internet users in the U.S. Teen preferences for Snapchat versus Instagram have see-sawed over the last five years, with each app spending time as the teen app of choice.
According to the latest Piper Sandler survey reported by MarketingCharts, 36% of teens in their survey chose Snapchat as their favorite social platform in early 2020. Instagram came in next, with 31% of teens citing it as their favorite platform. However, the most noticeable change in the 2020 survey was the emergence of TikTok, making a first appearance in the survey as the third most popular social platform for 13% of those surveyed. Twitter and Facebook each got a mere 4% of the votes.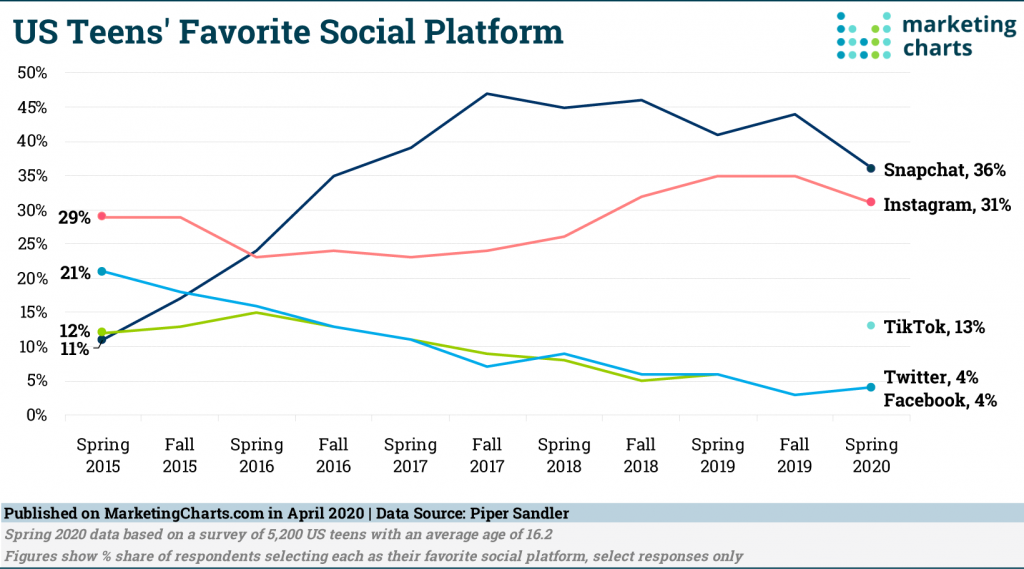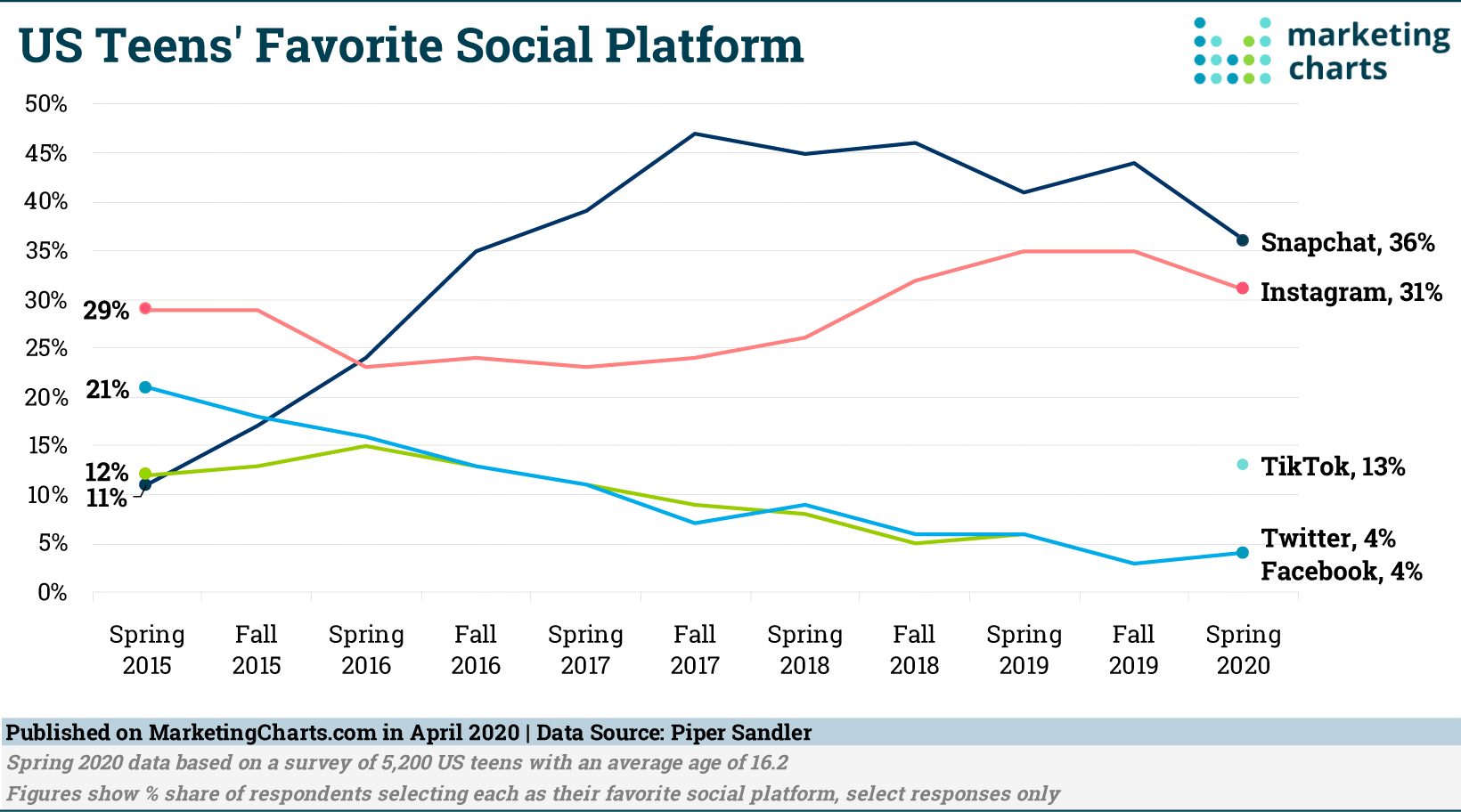 ---
Demographics of U.K. Snapchat Users
The trend continues, even in the U.K., with Snapchat being most popular among teens and young adults. Statista reports that 77% of Snapchat users in the U.K. are aged between 18 and 24. It is also somewhat popular among people aged between 35 and 44, who contribute to 38% of the user base. 8% of users are 55 to 64 years of age and only 2% are aged above 75. The trend continues, even in the U.K., with Snapchat being most popular among teens and young adults. Bear in mind that there are fewer publicly available U.K. figures compared to the U.S., so these statistics date from 2018, before Snapchat began its current meteoric rise and before TikTok became as popular as it is now.
The popularity of Snapchat among teens clearly transcends around the globe. According to a study by eMarketer, more than 90% of U.K. social network users aged between 18 and 24 use Snapchat. This makes it the most used social platform among British teens and young adults, surpassing platforms like Facebook and Instagram.
---
Snapchat Users by Gender
There is some difference in the distribution of Snapchat users by gender. It seems that the platform is more popular among women. Statista reports that, as of January 2021, 57.4% of users were female, and 40.9% were male. This is slightly more balanced than we reported on in a previous version of this post, which showed that in January 2019, 60% of users on the platform were female, and 38% were male.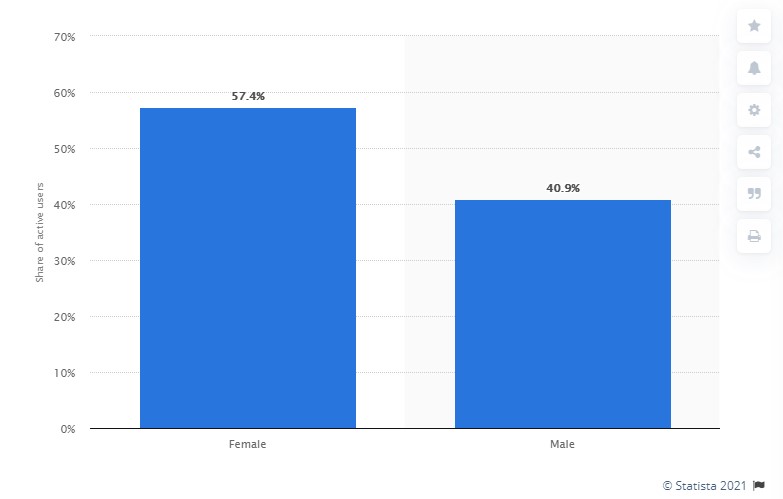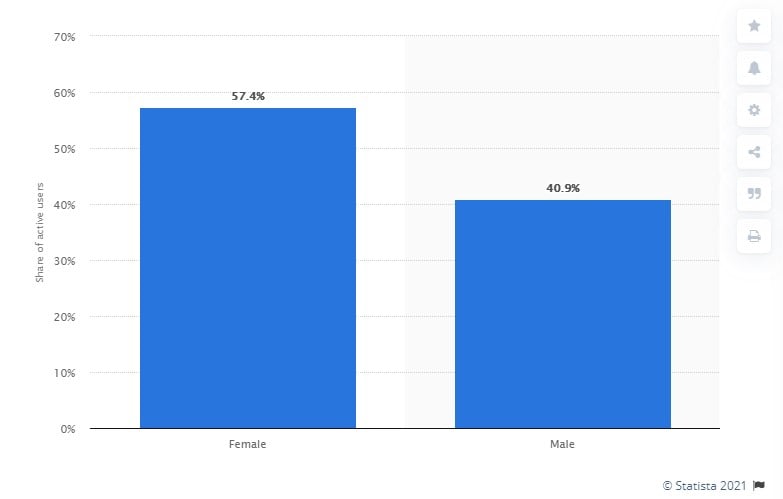 ---
Snapchat Usage Statistics: How People Use the Platform
When it comes to usage, Snapchat gets almost as much attention as Instagram, although less than Facebook. 61% of Snapchat users in the Pew Research Center study cited above stated that they use the app daily. The same is true for 74% of Facebook users and 63% of Instagram users. Among all Snapchat users, 46% use the app several times a day, and 15% use it about once a day.
According to Snapchat, users open their app more than 20 times a day on average. They spend an average of 30 minutes using the app and create 3 billion Snaps on a daily basis. Based on data obtained by The Daily Beast, Snapchat users sent out an average of 87 million Snaps on a daily basis in 2017. These are impressive numbers showcasing just how engaged the user base is.
Snapchat used to be ahead of Instagram in terms of user engagement, but there has been a slight change in those numbers. Android users in the U.S. spend the most time on Facebook compared to any other social networking app. They spend an average of 55 minutes on the app and 53 minutes on Instagram. Snapchat comes in third with the average user spending 49 minutes per day on the app.
In a study conducted by Murphy Research for Snapchat, the platform is mostly used for conversations between close friends. Users also share photos and videos as well as stories about their day on the platform. Playing with lenses and filters is also a common activity among Snapchat users.
Further, the research also showed that people love using Snapchat while they're on the move. 32% of respondents said that they use the app while on-the-go, 29% use it while commuting, and 24% use it while travelling. If you look at the chart below, you can see how no other platform surpasses it in all of these areas.
Snapchat also seems to be a favourite social platform among social media users while they're socialising or shopping. 34% said that they use the app while hanging out with friends, 19% use it while shopping, and 14% use it while attending social events.
Since Snapchat is mostly used for passing time and socializing, people hardly ever use it as a news source. According to a Pew Research Center study, only 4% of U.S. adults get news through Snapchat. This is drastically different from the numbers of other platforms like Facebook, which was used as a news source by 36% of U.S. adults.
When you look at the data regarding the percentage of each social media network's users who regularly get news there, 19% of Snapchat's users do so. This compares with 59% of Twitter's users and 54% of Facebook users.
---
Snapchat Revenue Statistics
Along with the rise in user count during 2020, Snapchat saw a marked increase in revenue generation. It experienced a doubling of revenue between Q3 2019 and Q4 2020, from $446.2 million to $911 million. It closed 2020 earning a healthy $560.89 million, followed with a couple of lower quarters ($462.47 million Q1 2020 and $454.16 million Q2 2020), before having an excellent second half-year, with $678.67 million revenue Q3 2020, followed by $911 million Q4 2020).
So naturally, their global average revenue per user also increased along with this revenue growth. Back in Q1 2016 average revenue per user (ARPU) was just $0.32. This grew steadily for most of that year, reaching $1.05 per user in Q4 2016. ARPU has fluctuated each quarter since then (recognizing some seasonality of revenue generation), but the overall trend has been upward. It first broke the $2.00 mark in Q4 2018, with an ARPU of $2.09. However, it took until Q4 2020 for ARPU to exceed $3, reaching $3.44.
The increase in revenue is particularly evident in North America and, to a lesser extent, Europe. In the case of North America, ARPU rose from $4.42 in Q4 2019 to $7.19 in Q4 2020. The increase in Europe was from $1.09 to $1.91. Surprisingly ARPU fell in the rest of the world, from $1.35 to $1.11.
---
Snapchat Marketing and Advertising Statistics
As you may already know, Snapchat is much less popular for marketing than other platforms like Instagram and Facebook. But it is experiencing some improvement in this aspect with more marketers leveraging the platform for their marketing campaigns. It does offer some interesting advertising features such as sponsored lenses.
Hootsuite and We Are Social's Digital 2021 report examines the advertising audience of each social network, including Snapchat, as of Q4 2020. They observe that the potential audience that can be reached with adverts on Snapchat is 498.2 million, which is 8.2% of the total population aged 13+. There was a notable increase in potential advertising audience for all age groups (and both genders) (reflecting the actual rise in Snapchat users).
The top countries with the highest Snapchat reach, giving the most significant opportunity for marketers, are the U.S (108 million), India (74.35 million), France (24.5 million), U.K. (21.1 million), and Saudi Arabia (19.6 million). In the case of Saudi Arabia, this gives an Eligible Audience Reach Rate of 71.4%. The equivalent figure for the U.S. is 38.6%.
Wallaroo last updated its breakdown of Snapchat advertising costs in April 2020, so they may be a little outdated now, but it gives a good idea of the costs a potential Snapchat advertiser will face. Snap Ads is the newest available offering from Snapchat. The swipe-up rate for Snap Ads is 5X higher than the average click-through rate for similar social platforms. The cost for Snap Ads varies by campaign but starts at $3,000/month in ad spend. Snapchat Sponsored Lenses cost $450,000 per day between Sunday and Thursday, $500,000 for Fridays and Saturdays, and $700,000 plus for holidays or special events like Super Bowl. Snapchat Discover ads, which receive premium placement at the top of the app, start at $50,000 per day. At one point, Snapchat Discover ads cost $750,000 for one day. Snap Ads to A.R. cost a more affordable $50 for a 10-second ad between Snapchat Discover videos.
When it comes to working with influencers on Snapchat, brands are doing it, but not as much as they do on other platforms. According to Linqia, only 22% of marketers say that Snapchat is the most important platform for their influencer marketing campaigns.
What this means for brands is that Snapchat is less saturated than other social media channels, so it'll be easier for them to stand out. They could take advantage of something their competitors are missing, and leverage influencer marketing on Snapchat.
---
Final Thoughts
As you can see from the stats highlighted above, Snapchat has undergone considerable growth over the years. It is still beloved by the young. Despite competition from both Instagram and TikTok, it remains the social platform of choice for Generation Z. It has seen notable growth since COVID19 arrived, particularly in the United States and Europe. And if it continues to adapt to its users' needs, we should expect to see continued growth for the platform. Now you have a clearer idea of where Snapchat stands and how profitable it could be for your business.