Snapchat doesn't get as much media coverage as TikTok nowadays, but it is still beloved by Generations Z and Alpha. We showed in our Snapchat Statistics and Revenue post that as of Q4 2020, the app had approximately 265 million daily active users. By Q1 2022, this had risen to 332 million daily active users worldwide. Piper Sandler's 43rd semi-annual Generation Z survey of 7,100 U.S. teens in Spring 2022 would have sent some alarm bells to Snap headquarters, however. It announced that TikTok was now the favorite social media platform (33% share), surpassing Snapchat for the first time (31%), with Instagram third (22%). Nevertheless, Snapchat recognizes it must innovate to survive, and perhaps Snapchat Plus might be the way forward.
---
What is Snapchat Plus, and How Does it Work?:

---
What is Snapchat Plus?
As its name indicates, Snapchat Plus (aka Snapchat+) is a paid, enhanced version of the social messaging app. Snapchat is gradually rolling out Snapchat Plus to iPhone and Android users in the United States, Canada, the United Kingdom, France, Germany, Australia, New Zealand, Saudi Arabia, and the United Arab Emirates (at launch). Snapchat promises to expand to more countries over time.
"They believe that Snapchat+ will allow them to deliver new Snapchat features to some of the most passionate members of their community and will enable them to provide prioritized support. Jacob Andreou, Snapchat's SVP of product, said that Snapchat's new premium account targets users who "spend most of their time communicating with their closest friends on Snap."
---
Snapchat Plus Exceeded One Million Users in Just Six Weeks
As an early Christmas gift for its early adopter fans, Snapchat decided to update their subscription package with new features. Rather than a major change in its function, the update includes some interesting add-on elements, such as increased visibility to subscribers' responses in Snap Stars (creators with verified Snapchat status) and priority Story Reply. Snapchat describes the enhancement as "Snapchat+, a collection of exclusive, experimental, and pre-release features available in Snapchat for $3.99/month.
---
Additional Features of Snapchat Plus
The extra features offered by Snapchat Plus are more evolutionary than revolutionary. They are designed to make it easier for Snapchat's most avid users. The current "exclusive features" are: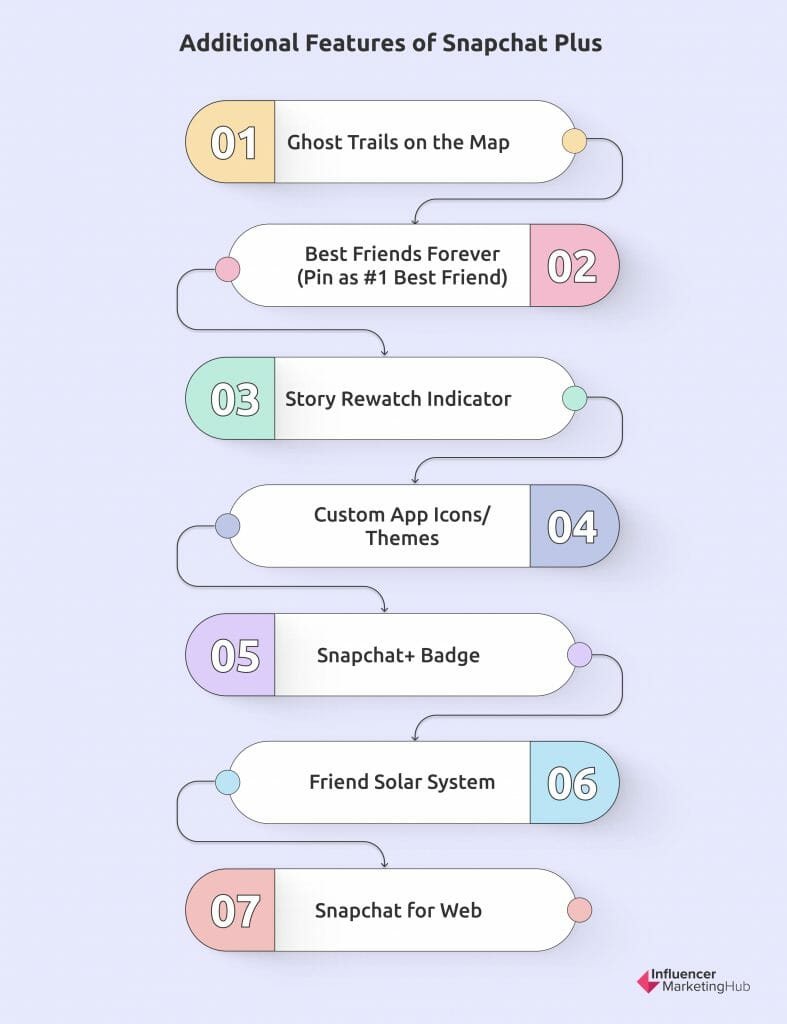 This feature list will change over time as Snapchat decides to try out new experimental and pre-release features. However, by paying a relatively small monthly subscription, Snapchat's "superfans" will have the first chance to play with the app's new features before the average user sees the changes.
According to Andreou, "single-playerish" features (those only involving the user, not affecting anyone else) will probably stay exclusive to Plus members, but features that involve interacting with other users will eventually go public.
1. Ghost Trails on the Map
Ghost Trails allows you to see where those of your friends who share their location with you have been in the last 24 hours. You can only see Ghost Trails for friends on the Map if they have made their location visible to you (location-sharing on the Snap Map is optional for all Snapchatters) and they have access to Snapchat+ in their country.
To see a friend's Ghost Trail, tap on their Bitmoji on the Map.
If you want to clear your Ghost Trail, toggle Ghost Mode on, then off in your Snap Map Settings. You can temporarily share your live location with friends, and your Ghost Trail will be visible only to those you share it with.
Ghost Trails may be a disincentive to subscribe to Snapchat Plus for some people, however. As TechRadar has warned, while the Snap Map can have benefits, such as looking at Stories from places you're about to visit for a vacation, Ghost Trails goes one step further. It places a yellow line by your friends, showing where they've been in the last 24 hours. You are effectively spying on where your friends or partners have been. Sure, they can adjust their settings to make themselves invisible, but by doing so, they are effectively removing any benefit from having Ghost Trails, and you may have embarrassing conversations about why they have disappeared from view.
---
2. Best Friends Forever (Pin as #1 Best Friend)
You can pin your BFF as your #1 Best Friend with Best Friends Forever. As the name suggests, you can only pin one #1 Best Friend at a time.
From Chat or the Send To screen, press and hold on your friend, then tap 'Pin as your #1 Best Friend.' And don't worry about upsetting your other friends – only you can view this pin.
---
3. Story Rewatch Indicator
If you have Snapchat+, you'll see the 👀 emoji under Stories that one or more friends have rewatched. The number next to the 👀 emoji counts how many friends have rewatched your Story, not the total number of times it's been rewatched. It doesn't indicate which of your friends rewatched your Story, however.
You can see how many friends rewatch Snaps you post to My Story, Private Stories, or Shared Stories. To see if anyone has rewatched a Story you've posted, tap on it, then swipe up.
You can toggle the Rewatch Indicator on/of by going to your Profile, then tapping your Snapchat+ membership card at the top. You can then toggle 'Story Rewatch Count' on or off.
---
4. Custom App Icons/Themes
This isn't the most exciting of features, but at least it can help you feel special. The average Snapchatter has the standard white ghost on a yellow background app icon on their device screen – just like everybody else. However, those who have subscribed to Snapchat Plus can select from nearly 40 possible icons.
To do this, go to your Profile, tap your Snapchat+ membership card at the top, tap 'App Icon,' and choose any app icon you'd like from the selection.
---
5. Snapchat+ Badge
Another cosmetic feature, albeit one that other people can see, is that as a Snapchat+ subscriber, you can add some flair to your display name with a black star badge ✪
This lets your friends know you're a Snapchat+ subscriber. The badge is off by default, but you can make it appear next to your display name by going to your Profile, tapping your Snapchat+ membership card at the top, and then toggling on 'Snapchat+ Badge.'
All your friends should be able to see your badge as long as they use an updated app version.
---
6. Friend Solar System
Snapchat+ subscribers can see a 'Best Friends' or 'Friends' badge with a gold ring around it on someone's Friendship Profile. Despite the usual meaning of the word "best," on Snapchat Plus 'Best Friends' means, you're one of each other's eight closest friends, and 'Friends' means you're one of their eight closest friends, but they're not one of yours. To view Friend Solar Systems, both you and your friend must have a linked Bitmoji.
If you tap on the badge, a panel will pop up telling you which planet you are in your friend's Solar System, with each planet representing a different position in their Best Friends list. So, for example, if your friend is the Sun and you're Earth in their Solar System, they consider you their third closest friend.
---
7. Snapchat for Web
Undoubtedly this feature will eventually become available for everybody. Still, for the moment, Snapchat for Web is limited to Snapchat+ subscribers in the United States, United Kingdom, Canada, and Snapchatters across Australia and New Zealand.
You can use Chrome to start a call or pick up where chats left off on mobile. Snapchat for Web includes messaging features like Chat Reactions and Chat Reply, and Snapchat will soon roll out Lenses.
---
How Do You Sign Up to Snapchat Plus?
Obviously, you have to live in one of the supported territories to sign up for Snapchat Plus. If you don't, you will have to wait until they expand the service to your country.
To sign up, follow these steps:
Open Snapchat and tap your profile icon in the top-left corner to open your profile page. If you are in a territory that supports Snapchat+, you'll see a gold-tinted banner advertising it below your name. Tap the banner. If you don't see the banner, Snapchat has not yet made it available to you.

Select the term of your subscription, one month, six months, or a year. Before you start your subscription, Snapchat will offer you a 7-day free trial. Tap on that button.

Your payment options will vary depending on what type of device you're using. Sign up using your Apple ID, Google account, or a linked debit or credit card.
Once you've finished the subscription process, Snapchat will bring up a screen explaining the main features of Snapchat Plus. In most cases, it allows you to turn each one on or off. One of the advantages of Snapchat Plus is its flexibility. It doesn't require you to have everything "all or nothing." You can pick and choose the features you want, and you presumably will be able to do the same for any new features that Snapchat adds later.
Ultimately, if you don't want to continue with Snapchat Plus, you can cancel your subscription by tapping the gear icon in the top-right and then "Snapchat+." Next, tap "Manage your Subscription" to open the page where you cancel. You will, however, have to use the same device you used to sign up.
---
Other Recent Snapchat Changes
While Snapchat Plus is the most talked-about update to Snapchat in 2022, there have been a few other changes.
Snap has introduced a new game, Ghost Phone. With this AR game, players can discover the secrets of an abandoned phone and solve the supernatural mystery of what happened to the previous owner. It uses surface recognition and world-scan technology to seamlessly weave AR ghosts into the players' real-world environment, prompting Snapchatters to get up and move to collect phantom energy.
Shared Stories is a new iteration of Custom Stories, which previously allowed Snapchatters to create a Story and add friends to view and contribute. With Shared Stories, Snapchatters who've been added to a group can also add their friends. However, there is no chat component, keeping all conversations between friends, Snapchat moderates content with care, and they notify Snapchatters if they've joined a Shared Story with someone they've blocked.
Snapchatters can now easily share eBay listings with their friends using the Snapchat Camera on Android and iOS. If you open the eBay app and select a listing, you can tap the Share icon. Then tap the "Snapchat" option to automatically jump to the Snapchat Camera with the automated eBay sticker. Next, create an original Snap with the eBay sticker and layer on, using any Snapchat creative tools. When the recipient views your Snap, they can tap the eBay sticker to jump to the listing in the eBay app.
Snapchat is rolling out Director Mode, a new set of camera and editing tools within Snapchat that make it easy to create polished content or enhance everyday moments. Creators can use a new Dual Camera capability that lets you use the front-facing and back-facing cameras at the same time. They have also made it easier to seamlessly transform the background of your videos on Snapchat with Green Screen mode. Their Quick Edit feature lets you take and edit together multiple Snaps with ease.
Snapchat launched Minis in 2020 as a way for partners to create lightweight experiences for the Snapchat community. They have now introduced a new Minis Private Components System, where partners can build lightweight Minis for Snapchat using HTML5–and have the opportunity to code in social elements such as reviews, ratings, and more, using a special templating system. Early partners include HBO Max, virtual greeting card company Givingli, and mobile data and minutes provider Ding.
Snapchat has launched a suite of new offerings making AR creation simple, fast, and cost-effective for businesses. Their AR Creation Suite includes 3D Asset Manager, a web content management platform, new AR Image Processing technology developed by Forma, and AR Shopping templates in Lens Web Builder. In addition, Snapchat unveiled a new, dedicated destination on Snapchat called Dress Up, bringing together the best of AR fashion and try-on experiences from creators, retailers, and fashion brands. Finally, Camera Kit for AR Shopping is a new offering for businesses to bring the Snap Camera and AR try-on to their own applications, with Puma being Snap's first partner to use this technology.
Frequently Asked Questions
What are all the perks of Snapchat plus?
Snapchat Plus costs $3.99 a month and gives users exclusive features like the ability to pin a friend as a BFF, exclusive badges, story rewatch counts, Snapchat web, and more.
Can you see if someone has Snapchat plus?
Snapchat+ subscribers can opt for a badge on their profile to let others know they are a premium subscriber. To see whether someone is a Snapchat+ subscriber, head to their profile page to see if they have a star badge next to their name.
Where is Snapchat plus available?
Snapchat+ will first launch in the United States, Canada, the United Kingdom, France, Germany, Australia, New Zealand, Saudi Arabia, and the United Arab Emirates. After that, Snapchat+ will expand to more countries. You can sign up by going to Snapchat+ under your profile.
What is Snapchat plus friends?
If you subscribe to Snapchat+, you can see 'Best Friends' or 'Friends' badge with a gold ring around them on someone's profile. Best Friends means you're listed as one of their 8 closest friends, and Friends means you're one of their eight closest friends – but they're not one of yours.