It's hard to believe that TikTok is just a few years old. The short-form video content platform burst onto the scene in 2016 but it's growth really took off in early 2020, as the world was staring a global pandemic in the face. As people were forced indoors and isolated from friends and family, TikTok was ready, willing, and able to not only offer entertainment but to also offer a way for us to combat our sudden forced loneliness with connection.
It's fair to say that the platform has grown up quite a bit over the past couple of years. And in more ways than one. For starters, what started out as a largely Gen Z app has gained more and more popularity among Millennials, Boomers, and the oft-forgotten (some would say voluntarily) Generation X. You'll even occasionally see stories from the Silent Generation (those born between 1928 and 1945) on the platform.
Along with the app's seemingly ever-increasing usage, TikTok also started TikTok for Business in June 2020. Finally, businesses could harness the explosive power of TikTok to advertise to its more than 689 million users.
But just because you can advertise on the platform doesn't mean you should. If your target market hits that 50+ age (older Gen X-ers, Boomers, and beyond), TikTok usage drops dramatically with only 11% of the platform's users falling into the 50+ age range. With Gen Z and younger Millennials making up 47.4% of the platform's user base (Statista, April 2021), you'll probably want to pay attention to the platform. Even brands whose target market is older Millennials and Gen X will likely do well advertising on TikTok.
---
TikTok Ad Management:
---
How Much Does It Cost to Advertise on TikTok?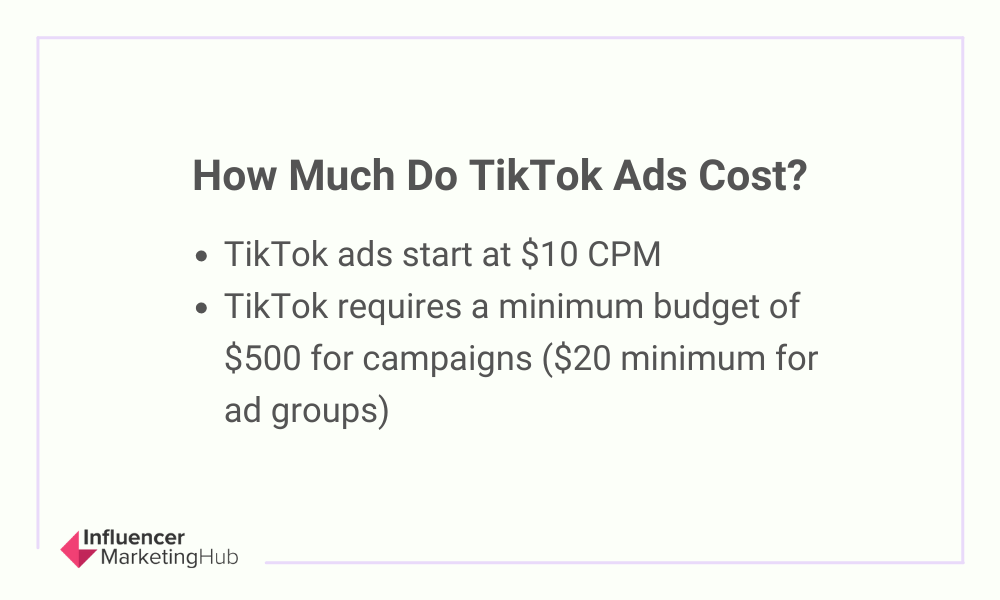 TikTok advertising can get pricey. It's probably the best option for large brands like Disney, Nike, and Amazon Prime — smaller businesses probably aren't going to have the budget to compete. TikTok ads start at $10 CPM and the platform requires a minimum budget of $500 for campaigns ($20 minimum for ad groups). Large campaigns might hit the $25,000 to $150,000 price point.
---
The Complete Guide to TikTok Ad Management
If your target market is on TikTok and the cost of advertising hasn't scared you away, advertising on the platform can help you reach the people who mean the most to your business. And, with TikTok's self-serve marketing platform, getting started is really easy.
TikTok Ad Management Step by Step
TikTok's self-serve Ads Manager provides easy-to-use tools that will help you create and manage ads on the platform. If you've created Instagram or Facebook ads already, you're ahead of the game. Here's how to do it:
Step 1: Choose a Goal for Your Ad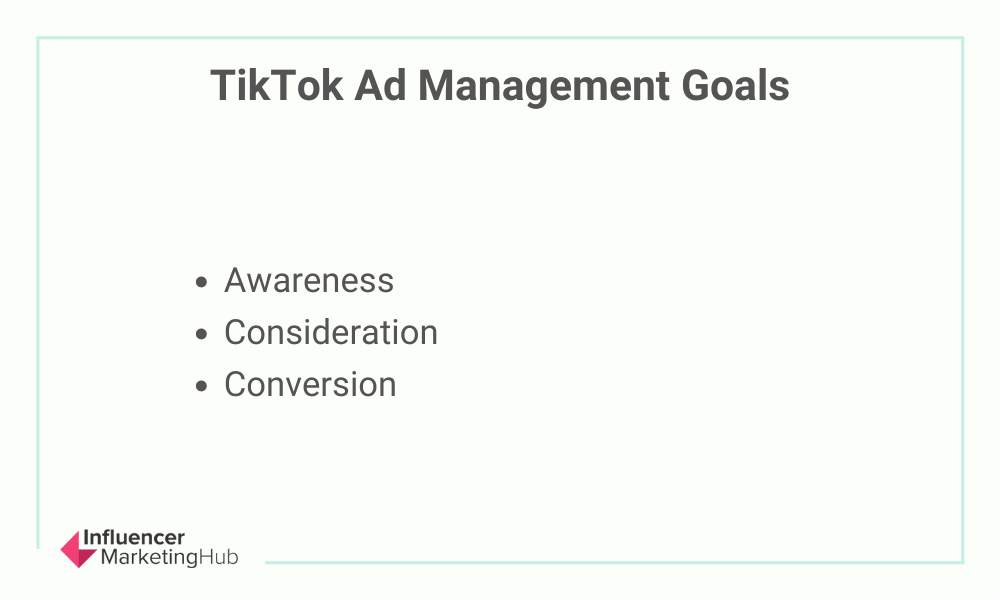 To create a TikTok ad, you'll start by choosing your goal. This answers the question "why am I running this ad in the first place" and will generally fall into one of three categories:
Awareness

Consideration

Conversion
Let's take a closer look at each of those categories.
---
Awareness
If you want to increase brand awareness and really get the word out about your new brand or new product, you're probably going to want to set a goal of awareness. With this goal, your ad will be shown to as many people as possible. Reach is pretty much the only objective here.
---
Reach
Awareness ads are all about reach. These ads will show your ads to a large number of your target market and a frequency that you choose so you can manage your messaging and budget. The recommended bidding method for reach ads is CPM (the price you're willing to pay per one thousand impressions).
---
Consideration
The next type of goal you can set for your TikTok ads is for consideration. These are the ads that will get your target audience to start thinking of your business as a solution to their problem and to seek out more information. There are four TikTok ad types that work for consideration goals:
Traffic

App installs

Video views

Lead generation
These objectives are pretty self-explanatory, but let's take a look at them.
---
Traffic
The traffic objective is intended to send people to a specific destination — your website or app. There are a couple of things to consider here. First, where do you want traffic to go? Second, who do you want to target? You might choose to target people who have previously installed your app or people who have visited your site before, etc.
---
App Installs
The app installs objective is intended to encourage people to install your app by sending them directly to your app store page. You can optimize your campaign for app installs or other in-app events when adding your app to the Event Manager. It's also encouraged that you use a third-party tracking service to track your app installs.
---
Video Views
With the video views objective, your ads will be built to maximize plays of your video ads from the audiences that are most likely to watch them. When setting up a video views campaign, you'll need to consider your overall goal, how much you're willing to pay, and your optimization goals. The billing method for video views is CPV.
---
Lead Generation
Lead generation ads are great for gathering contact information from your target audience so you can market to them in the future. With this advertising goal, you can publish in-feed video ads connected to a lead generation form (Instant Form). When a viewer taps on the call-to-action from your ad, your Instant Form will come up. Here, interested people can share their contact info, answer your questions, or even schedule an appointment with you. These forms are fully customizable based on your business, marketing needs, and industry.
---
Conversion
The last goal we're going to cover in this guide for TikTok ad management is conversion. With conversion goals, the point is to get your target audience interested enough to buy or use what you're offering. This might mean asking users to register for an account, opt-in, or complete a purchase. Conversion goals require that you install the TikTok pixel on your site. This, like the Facebook pixel, gives TikTok's Ads Manager the data it needs to track your conversions and optimize your ads. Conversion ads drive valuable actions on your website. You can also set a catalog sales objective.
---
Catalog Sales
Only managed accounts in the United States and Indonesia can create campaigns with the catalog sales goal. With this campaign, you can show ads featuring your products to people who have already shown interest in those products on your website or app.
---
Step 2: Define Your Target Audience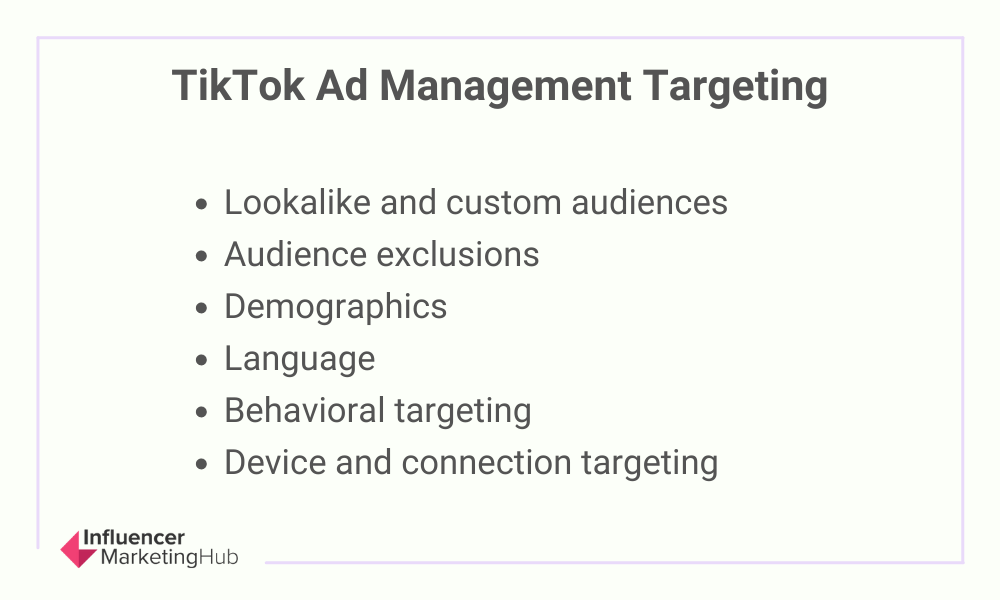 Once you've set your goal, you'll need to define your target audience. TikTok gives you the option to create custom audiences and lookalike audiences so you can reach people who are similar to the customers you already have. Plus, there are tons of targeting options so you can fine-tune the audience you want to reach:
Lookalike and custom audiences using your own customer list, app activity, website traffic, and engagement

Audience exclusions

Demographics like age, gender identity, location, and more

Language

Behavioral targeting based on videos users are interested in, how they've interacted with creators, and more

Device and connection targeting to reach people using 2G, 3G, 4G, Wifi, iOS, Android, etc.
You can even get really into the details and target users based on device model, carrier, and even the cost of the device they're using to view your ads.
---
Step 3: Set Your Budget
Now that you've established a goal and dialed in your target audience, it's time to set your budget. TikTok Ads Manager lets you enter a daily or lifetime budget and you can make adjustments or pause your ad spend as needed. It's important to be realistic with your budget and not commit to spending more than you can afford. Here are some budgeting best practices to make setting your TikTok ad budget easier:
Leave the campaign budget open

Set a daily budget instead of a lifetime budget for your ad group

If you're using bid cap or cost cap bidding, your starting budget should be at least 20X your targeted CPA

For conversion campaigns, use lowest cost as your bid strategy and set your starting budget at least 20X targeted CPA (no less than $100)

For app install campaigns, use AEO (App Event Optimization) with a starting budget of at least $100 and covering at least 20X targeted deep conversion CPA

Don't make any targeting, budget, or bid strategy changes while your conversion ad is in the learning phase (and wait at least two days between changes)

Once you're out of the learning phase, keep your budget within 50% of your prior budget and your bid within 20% of your prior bid
---
Step 4: Design Your Ad
If you've followed the steps to this point, you're now ready to design your TikTok ad. You can upload your own images and videos or create a new video using TikTok's Smart Video creation tool. This tool uses AI to analyze your video and help you create just the right video for your ad.
The choices you've made throughout this process will change the fields that you have available during ad creation. Like Google Ads, Facebook Ads, and other ad platforms, TikTok organizes ads into campaigns, ad groups, and ads. You'll start by creating your campaign and ad group before heading to the ad creation page. Ad creation in TikTok is really easy. As we mentioned, you can upload your own images and videos and use TikTok's Ads Manager tools to create scroll-stopping ads.
---
Step 5: Launch Your Ad
After you've created the ad or ads you want, you can publish your ads. TikTok Ads Manager has a smart auction system that will ensure that your ad gets facetime with the right audience when they're most likely to engage.
---
Step 6: Track, Measure, and Manage Your Ad
Launching your ad doesn't mean that you're done. Once your ads are live, you'll want to track and measure the performance of your ads so you can make adjustments as necessary to increase their effectiveness. To make it easy for you, TikTok Ads Manager offers up campaign analytics and reporting. The dashboard shows you information about your ad performance, spend, and the status of your campaigns. You can also see your TikTok ad performance based on specific demographics and behaviors.
Beyond the dashboard, the campaign page will show you the details of your ad performance. You can filter the information to show only the ads and criteria you want to see and even change the setup so you're always able to view the stuff that's important to you.
There's a lot of information available to you:
Daily and hourly data

Total cost

Impressions

Clicks

Conversions

Click rate

Conversion rate

CPC

CPM

Conversion cost
---
How to Create a TikTok Ad
Now that you understand the steps to take to create a TikTok ad campaign, let's walk through how to create a TikTok ad from the beginning.
---
Create a TikTok Ads Manager Account
Start by creating a TikTok Ads Manage account by clicking Get Started on the TikTok for Business page. Fill out your details and click Sign Up: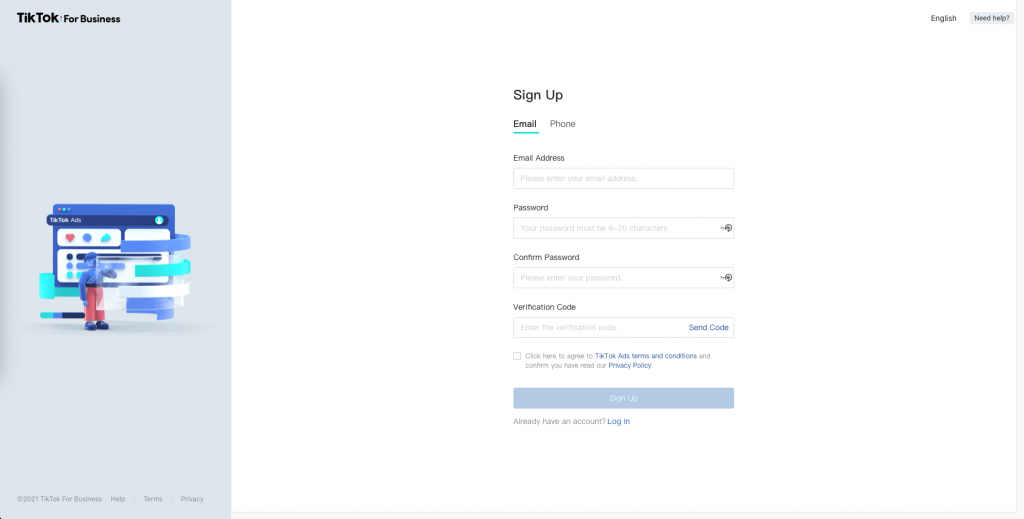 That's it! You're ready to start advertising. Easy, right?
---
Create a TikTok Ad Campaign
From the TikTok Ads Manager dashboard, click on Campaign in the top menu. Then, click Create: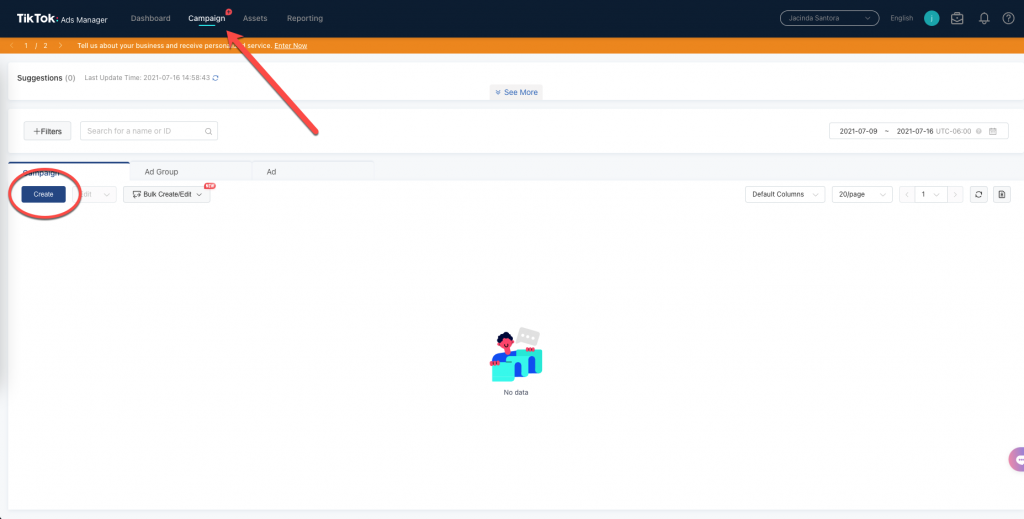 Next, choose your objective (the goal of your TikTok ad campaign):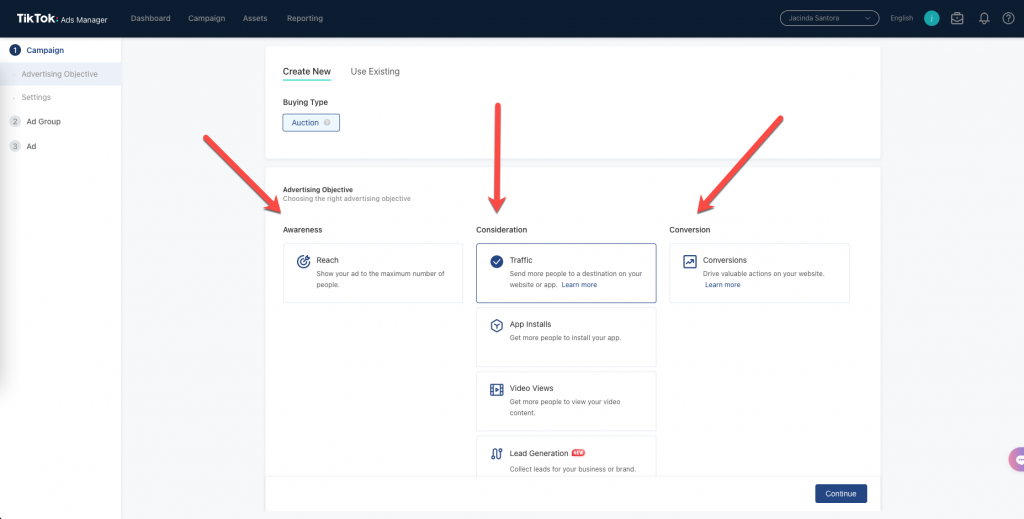 If you want to set a Campaign Name, create an A/B test, or change the budget for your campaign, just scroll down to see those options. Otherwise, click Continue.
For this tutorial, we're going to stick with the default options for a traffic objective.
---
Create a TikTok Ad Group
Next up, you need to create an ad group. Start by giving your ad group a name and choosing the promotion type. If this is your first time creating a TikTok ad, we recommend sticking with the automatic placement option.
After choosing placements, you'll be able to decide if you want to use TikTok's AI for creative optimization. As we mentioned before, with this option, TikTok builds your ads for you using the videos, images, and ad copy you want.
Farther down the page, you'll see audience targeting options. You can create a custom audience based on website traffic, customer files, previous ad engagement, or app activity. Or, you can target specific audiences based on interests and demographics.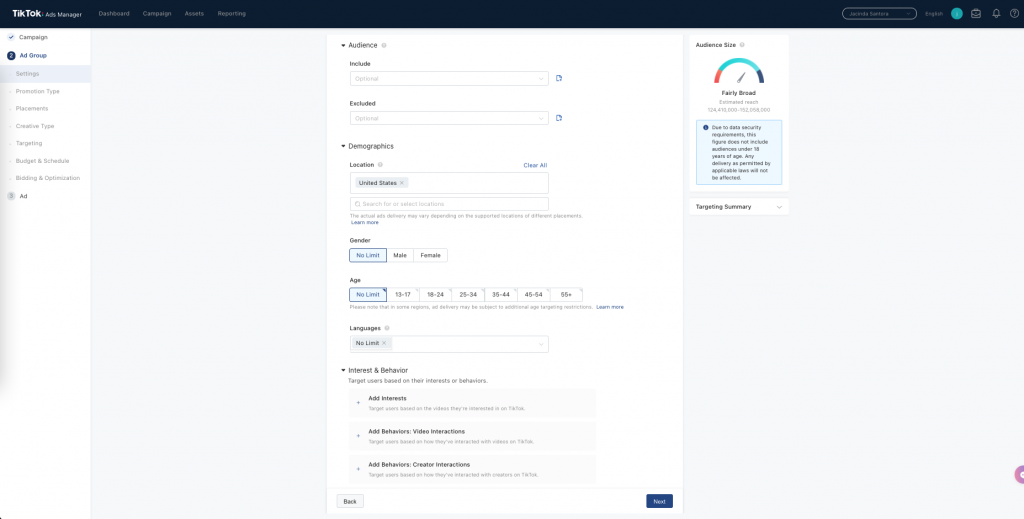 If you want to build a custom audience using your website traffic, you'll need to add the TikTok pixel to your website.
From there, it's time to set your budget and set up your bidding strategy: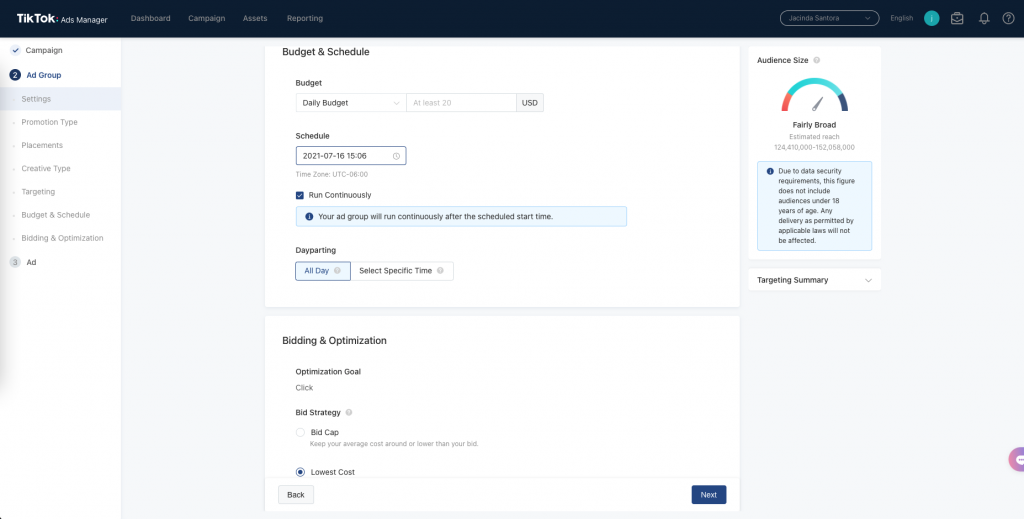 After setting up your budget and bidding strategy, click Next.
---
Create a TikTok Ad
Now it's time for the really fun part — building your ad creative! You can upload your own images and videos. If you upload images, TikTok will turn them into video. Once you've got your images and videos set, add your ad copy and a call-to-action.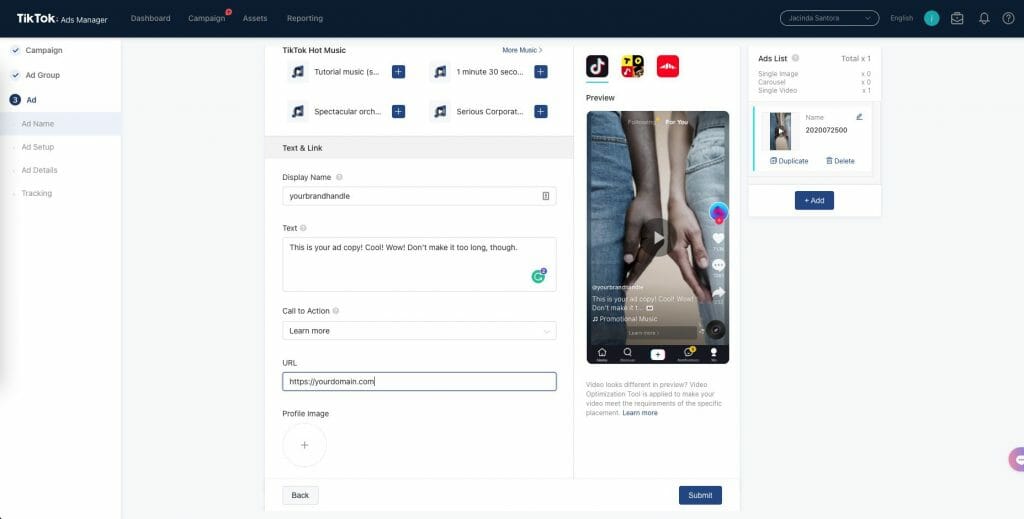 When you're happy with your ad, click Submit and your campaign will be sent for review.
---
Reach Your Audience With a Mix of Paid and Organic Content
TikTok ads can be a great way to reach your target audience in a fun, new way. But don't just post ads to the platform. These days, users want to get to know the brands they're buying from. We recommend using a mix of paid and organic TikTok content to keep users interested in what you post and less likely to cruise on past when your ads come up.
Frequently Asked Questions
What is TikTok?
TikTok is a short-form video social media platform where users can create vertical videos from 15 seconds to three minutes in length.
How do I go viral with my TikTok ads?
When you find out a surefire formula, let us know! You never quite know what content is going to end up going viral. All you can do is create a variety of interesting, entertaining, and engaging content and be ready to leverage your virality when it happens.
Should I use hashtags in my TikTok ads? How many?
Hashtags aren't super useful in TikTok ads. For organic content, try including three to five TikTok hashtags.
Do I need an influencer for my TikTok ads?
You don't need one but it can't hurt! Influencers are so named because they're influential. Many of them have a strong, engaged following that trusts them. This can be a huge boon for brands looking to make a splash fast.
Should I hire a TikTok ad agency?
If you're a smaller business just getting started with TikTok ad management, it's not necessary. Just follow the steps outlined in this article and don't budget more than you're able to spend. When you're able to accommodate rapid growth, hiring a TikTok ad agency can be very helpful!