TikTok is now a tale of two apps. Most of TikTok's Western audience originally belonged to Musical.ly. Its Eastern audience, however, knew the original app better, and TikTok still runs a separate version of the app in China called Douyin.
Although Musical.ly was extremely popular in the USA, it was founded in Shanghai, China by longtime friends Alex Zhu and Luyu Yang. They released the app in August 2014. We have written extensively about Musical.ly in the past, including Top 20 Musical.ly Influencers Who Have Built Small Media Empires for Themselves. Although the platform has changed, most of our articles are still relevant – the former influencers of Musical.ly are now the influencers of TikTok. The influencers have juggled positions since we wrote that article, however, and Lisa and Lena now top the TikTok charts.
---
Interesting read: See How much can you Earn from TikTok with the TikTok Influencer Money Estimator
---
The original version of TikTok is newer than Musical.ly. Bytedance launched it as Douyin in China in September 2016 and then introduced it to the overseas market as TikTok a year later.
Before long, Bytedance decided to expand their offering. They purchased Musical.ly on 9 November 2017, merging the two platforms internationally on 2 August 2018. The developer still offers the original Douyin app in China, however, as a separate app on their website
Neither TikTok nor its forerunner, Musical.ly, provides much in statistics publically. It is much harder to find follower lists than most of the other social networks, for example. However, with such a convoluted history, it is not too difficult to discover quite a few TikTok statistics. Let's kick off with this interesting look at TikTok's rise the last few years.
The Explosive Growth of TikTok

---
37 TikTok Statistics:
---
TikTok was the most downloaded non-game app in the Apple app store globally in the first quarter of 2018, reaching 45.8 million downloads
---
When you combine downloads from both the Apple App Store and Google Play, TikTok was the sixth most downloaded app in the world in the first quarter of 2018. Even more impressively TikTok garnered 800M downloads across iOS and Android in 2018.
---
According to Apptrace, the TikTok app is currently available in 154 countries.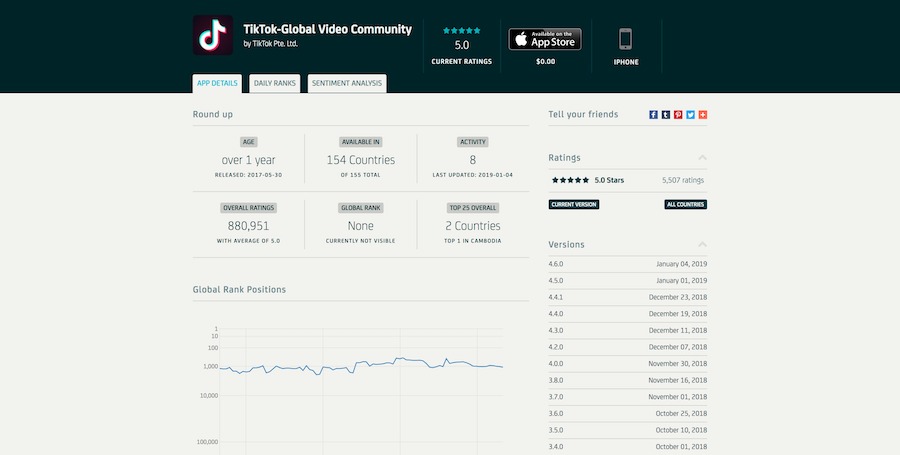 ---
TikTok is particularly prevalent in Thailand, where people have downloaded it more than 10 million times. Thailand's population is 68 million.
---
India is another populous country whose youngsters are attracted to TikTok. There are now more than 20 million active users in India.
---
TikTok's support has grown dramatically in most Asian countries. As well as the nations separately mentioned here, it is particularly loved in Cambodia, Indonesia, Japan, Malaysia, Thailand, and Vietnam.
---
Active daily users in China (mostly of the Douyin version) now exceed 150 million.
---
It can be easy to forget the size of some of the less traditional markets. The original TikTok / Douyin app hit 500 million global monthly active users in mid-2018, thanks mainly to China's social media video craze. This places TikTok 9th in terms of social network sites, ahead of better-known networks like Twitter, LinkedIn, Pinterest, and Snapchat.
Of course, definitions of "users" and "viewers" differ, depending on your source. This becomes even more complex for TikTok, because of their two apps operating simultaneously. According to Apptopia, TikTok boosted its user base by about 30% to more than 130 million viewers. This presumably excludes the Douyin viewers.
---
In November 2018 (after the Musical.ly merger) TikTok finally took the coveted #1 position in the Google Play Store in the USA, with 2.78 million downloads.
---
Although nobody has ever publicly disclosed the exact purchase price Bytedance paid for Musical.ly, most pundits estimate that it was in the range of $800 million to $1 billion.
---
TikTok has truly entered the international stage and is now available in 75 languages.
---
It took 200 days for the Chinese development team to create the original version of Douyin / TikTok.
---
Within a year of TikTok's development, it had already reached the milestone of 1 million views per day.
---
@lisaandlena, German-born identical twins are now TikTok's most successful account outside China, with 31.5 million fans. This is up from the 25.2 million fans the pair had when we wrote our review of Musical.ly influencers about a year ago.
---
@ChenHe is the most followed account in China for Douyin users, with 50.7 million fans.
---
The first prototype of Musical.ly was released in April 2014, and the official version was launched in August of that year. It took Alex Zhu and Luyu Yang about 6 months to build the product, after originally designing it as an online self-learning platform. This did not gain traction, so Zhu and Yang shifted their focus to a platform that incorporates music and video in a social network.
---
The Chinese company, Bytedance launched Douyin in September 2016. They branded it TikTok when they entered the international market in September 2017, but they still keep the original name in their home country.
---
TikTok has been installed on devices 800 million times.
---
Analysts estimate that TikTok earns $1.4 million per month.
---
42% of all TikTok revenue now comes from the USA.
---
Customers have now spent $50 million on TikTok purchases.
---
Echoing Android's smartphone market dominance, 80% of the TikTok downloads have been made to Android devices.
---
28.56% of the people who have downloaded the TikTok app use the app daily.
---
SimilarWeb ranks TikTok as #10 in its list of video players/editors in France.
---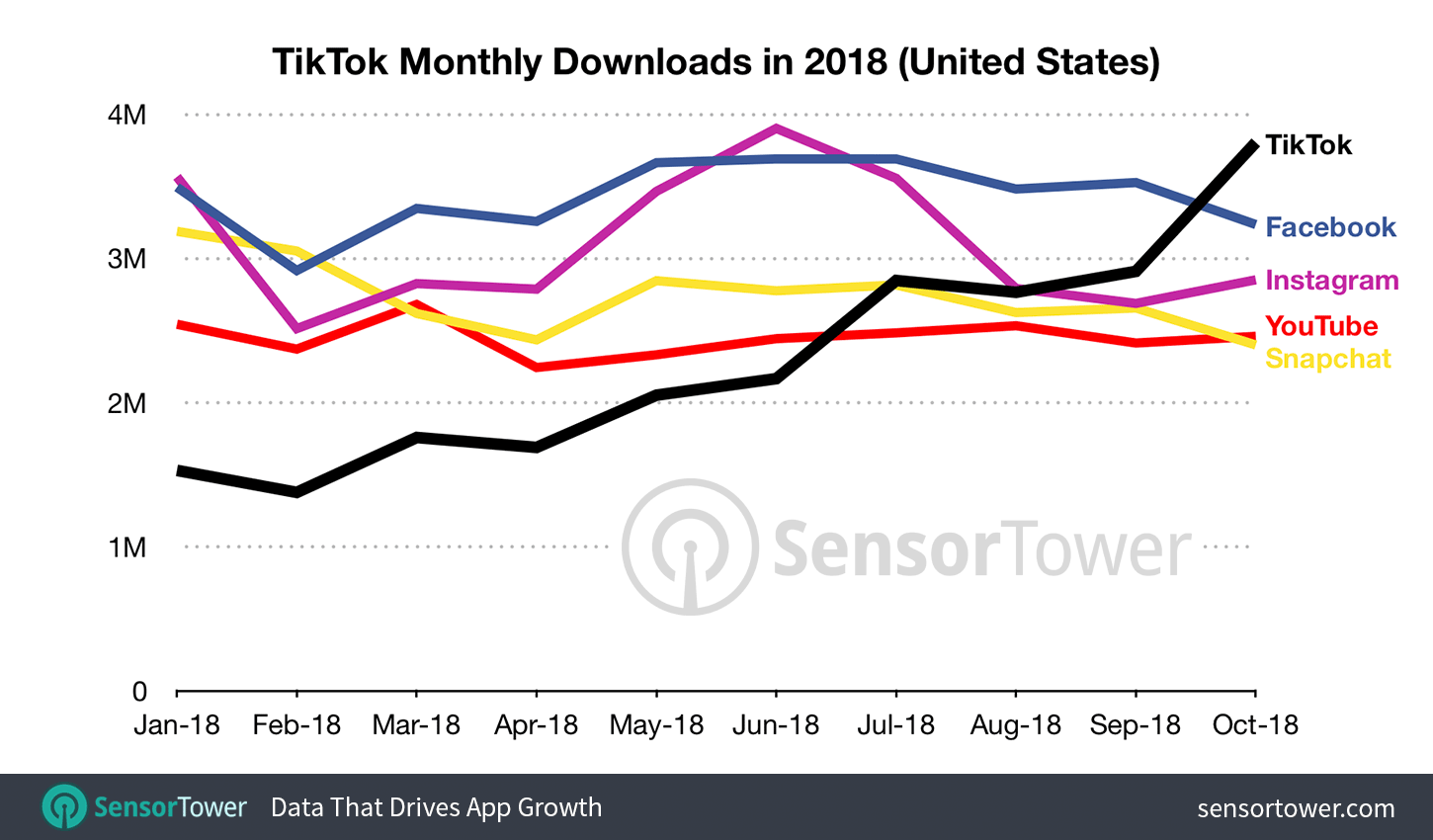 There were 3.81 million US installs of TikTok in October 2018 – up from 1.13 million US installs (of Musical.ly) in October 2017. This even beat the more established Facebook, which had 3.53 million first-time installs that month.
---
TikTok's engagement rate of 29% is low for a social network. This is well behind Facebook's 96%, Instagram's 95%, Snapchat's 95%, and YouTube's 95%. Apptopia measures engagement as being the portion of monthly users who open an app every day.
---
TikTok enjoyed a massive 275% increase in in-app spending between October 2017 and October 2018, taking it to $3.5 billion.
---
TikTok's user base still very closely matches that of Muaical.ly. Most of its users are young, with 41% aged between 16 and 24.
---
68% of engaged TikTok users claim to have watched somebody else's video in the last month.
---
63% of engaged TikTok users claim to have liked a video in the last month.
---
63% of engaged TikTok users claim to have followed someone in the last month.
---
53% of engaged TikTok users claim to have uploaded a video in the last month.
---
54% of engaged TikTok users claim to have commented on somebody else's video in the last month.
---
43% of engaged TikTok users have uploaded a "Duet" video.
---
TikTok's website reached the milestone of 1,000,000 estimated daily page views on Jan 5, 2019.
---
In early January 2019, TikTok's website had an Alexa ranking of 3,225 (i.e., Alexa estimates the site to be the 3,225th most viewed website in the world). This compares to an Alexa ranking of 4,778 in mid-November 2018.
---
TikTok's support base is widening – it is no longer just a site for short music videos and lip-synching. The #ThinBlueLine hashtag, featuring law enforcement videos, has received 37 million views.


---
Check out the leading TikTok Marketing Agencies Here