We have regularly written about the benefits of marketing on TikTok – not surprising, considering it is the fastest growing social network. One of our more relevant articles for brands suggested a TikTok marketing strategy and offered 10 TikTok marketing tips. For the last year, TikTok has made this easier for businesses with a formal TikTok advertising platform.
In this article, we look at why you would consider advertising your product on TikTok, and how to go about actioning the process.
---
How to Use TikTok Advertising:
---
Why Would You Consider TikTok Advertising?
If you're a Baby Boomer or somebody who hasn't kept up with the social media habits of youth, you might be surprised by the recent popularity of TikTok. As we showed in our Ultimate TikTok Benchmarks Guide, TikTok has quickly grown to become the world's 7th most followed social platform. It has a more sizable following than some of the arguably better-known platforms, such as Snapchat, Twitter, and LinkedIn.
Indeed, TikTok was the 6th ranking app globally by monthly active users in 2019, and its success has continued into 2020.
The nature of TikTok, featuring videos of 15 to 60 seconds, does limit the number of ad spots available, compared to some other apps, such as Twitter, meaning that your ad is less likely to get lost in a crowd of competing ads.
TikTok introduced a self-service advertising platform in 2019, similar in style to Facebook's offering, making it easier to create TikTok ads than it had previously been.
However, TikTok advertising isn't for every business. The first rule of social advertising is to market where your target audience spends its time. Therefore, there is little point advertising on TikTok if you sell to the wrong demographic. TikTok is overwhelmingly the realm of Millennials and Generation Z. As we found in the previously mentioned TikTok benchmarks article, 41 percent of TikTok users are aged between 16 and 24, and roughly 50% of TikTok's global audience is under the age of 34. If you mainly sell to Baby Boomers, there is probably little point in having a presence on the platform.
---
Types of TikTok Ads
TikTok's self-service platform helps brands make in-feed ads. For most of the other options, you will need to work with a TikTok ad account manager.
1. In-Feed Ads
This is the most cost-effective option for small and middle-sized businesses. Being able to use the self-service platform makes the process more straightforward, and these ads are generally cheaper than other types. These ads appear in the native feed of TikTok users' "For You" pages.
2. Brand Takeover
These ads are more intrusive than native ads. They appear as soon as somebody opens their TikTok app, taking over the screen for a few seconds before changing into an in-feed ad. For obvious reasons, TikTok limits the number of brand takeover spots.
3. Branded Hashtag Challenges
Hashtag challenges have become a staple fixture of TikTok. Somebody sets up a challenge in an opening video, encouraging their viewers to repeat a particular act, videoing themselves, and uploading their attempt. Branded hashtag challenges are the same as those by ordinary TikTok members and influencers; however, they are paid for by brands and therefore given priority by TikTok. They can include a shoppable component for retailers.
4. Branded AR / Effects Content
These ads appear in some of TikTok's more creative places, such as branded lenses, stickers, and other items, such as 3D/AR content provided by brands for TikTok filmmakers to use in their videos.
---
Potential Cost of TikTok Ads
TikTok advertisements were initially eye-wateringly expensive. Only large businesses considered making ads for the platform. That has changed now TikTok has in-feed ads and a self-service platform.
Now you can set your budget and TikTok's AI bids on your behalf for advertising spots. The precise cost per ad depends on a range of factors, including your marketing objectives, the targeted keywords, the size of the audience you intend to reach, times of the day and week, and your competition for ads in people's feeds. The limited advertising slots (compared to platforms like Facebook and Twitter) may still make TikTok advertising less suitable for very small businesses.
According to the TikTok help files, the minimum budget at the campaign level (for in-feed ads) is $500, and the minimum budget at the ad group level is $50. Some of the other types of advertising are still considerably more expensive, however. According to a June 2019 TikTok pitch document, brand takeovers cost $50,000 per day, hashtag challenges $150,000 for six days, and branded lenses $80,000 – $120,000 depending on the complexity of the lens design.
---
Steps for Setting Up TikTok Ads
1. Create a TikTok Ads Account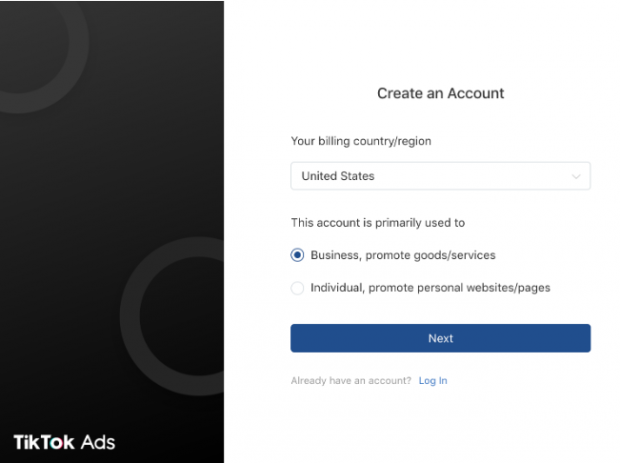 The first stage of setting a TikTok advertising campaign is to create your TikTok ads account. Obviously, you only need to go through this process once. You select your region and choose whether you are setting ads for a business or an individual account. You then answer a series of questions, giving your details. This isn't yet a fully-automated process, and after a page of questions, you receive a message saying that TikTok will get back to you. Assuming you meet TikTok's criteria, one of their account reps will set up an account for you.
---
2. Create Your TikTok Ads Campaign

Once you have a TikTok ads account, you can begin to set up your TikTok ads campaign. After your first campaign, this will always be the first part of any new campaign you set up.
TikTok uses the same type of system used by Facebook and most other social media advertising companies. At the top level, you have an advertising campaign with a stated goal, to which you allocate a specific budget. Within that campaign, you can have various ad groups. These are a collection of ads that you target to a particular audience using an identified portion of your overall budget. At the lowest level, you have individual ads that allocate to each ad group in your campaign.
To begin your campaign, you click on the Campaign button on the TikTok advertising dashboard and then click on Create.
TikTok asks you to set a campaign advertising objective. You can choose from Traffic, Conversions, or App Installs. Your choice here will alter some of the questions that you face at the later stages of the process.
You can also make some high-level settings here, including giving your campaign a name and setting an overall budget for your campaign. You can also set an overall daily budget limit.
---
3. Set Your Ad Placements and Add Details
At the next stage, you set up the ad groups for your campaign. You might start with a single ad group, possibly adding others later.
You then either pick Automatic Placement, or you choose Select Placement. Although we are mainly looking at TikTok here, in reality, TikTok is just one of ByteDance's apps. You can also opt to place your ads on Vigo Video (India only), BuzzVideo (Japan), TopBuzz (USA ), News Republic, and others.
TikTok then prompts you for details necessary for it to set up your ad group. These include any relevant URLs, display names, images, and categories. These questions depend on your selected advertising objective. For instance, if you previously stated that you wanted to promote App installs, you would provide details of the relevant app at this point.
---
4. Target the Audience for Your Ad Campaign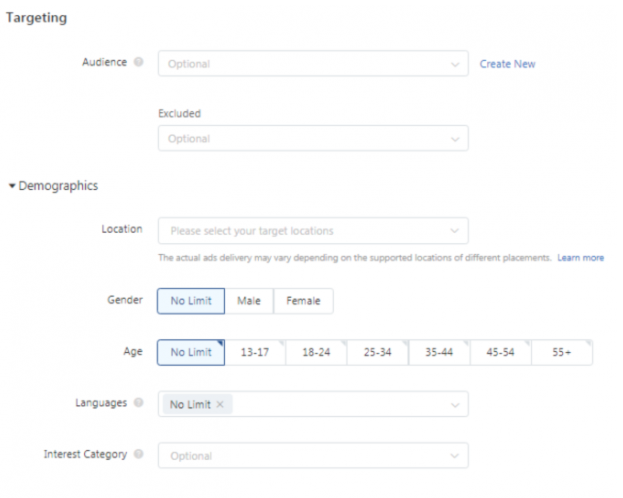 This next step is vital for a successful TikTok advertising campaign. TikTok asks you a series of questions so that they can target your ads to the correct audience. The better you can target your audience, the less "wasted" ads you will have, and the higher the likelihood that your ads will interest the people to whom TikTok serves them.
You can target your audience using such factors as gender, location, age, locations, interests, connections, or even OS versions. The latter category would presumably stop you from promoting an app to somebody who lacks the appropriate hardware (and operating system) for it to function.
You can also create custom audiences, based on such factors as your customer's contact data, website traffic, app activity, or ad engagement. If you intend to send traffic to a website, you first need to install the TikTok Pixel on your site to track visitors.
---
5. Set Your Ad Budget and Schedule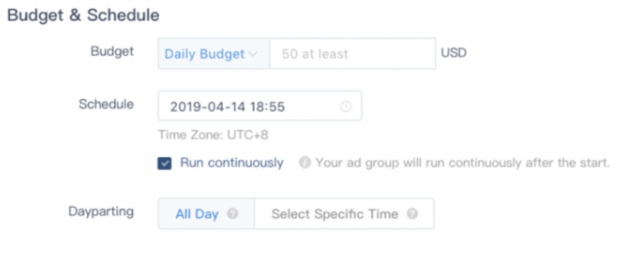 Although you had the opportunity to set an overall budget for your campaign in a previous section, TikTok now asks you to set your budget by ad groups and set a schedule. You can select either a total budget (the maximum you are prepared to spend for that ad group) or set a daily budget (the most you are prepared to spend per day).
You set your ad schedule here. You can opt to run your ad continuously over a specific date and time. Alternatively, you can choose to use Dayparting when you pick particular times of the day to serve your ads to your selected audience.
You also select a pacing option that gives TikTok an idea of how quickly it can use your budget. You can choose from Standard Delivery, which spends your budget evenly across the length of your campaign or Accelerate, which spends your budget more quickly.
---
6. Set Your Optimization Goal
There is little point implementing a TikTok advertising campaign without first setting some optimization goal. This is a quantification of what you hope to achieve with the campaign. You need to identify some key metrics that you aim to change as a result of your campaign.
TikTok asks you whether to optimize your ads for Conversion, Click, or Impressions. This affects your bidding, so it is vital that you know your optimization goal. TikTok tries to serve your ads to the people in your target audience that it believes most likely to do your preferred action (convert in some desired way, click, or watch your ad).
This also affects the way TikTok prices your ads:
Conversion – ads are priced by oCPC (optimization cost per click)

Click – ads are priced by CPC (cost per click)

Impression – ads are priced by CPM (cost per mille)
---
7. Design Your Ad and Upload Relevant Assets
Obviously, you can't set TikTok ads without creative assets. TikTok provides a useful tool, the Video Creation Kit, that helps with this process. We have previously detailed TikTok's video and specs and best practices.
---
Don't Forget to Monitor Your TikTok Ad Campaign
As always, there is little point setting up a TikTok advertising package unless you monitor its success. Once your ad runs, you can view its performance in your TikTok ads dashboard.
You can use various filters to drill down to discover detailed information about the performance of your ads, ad groups, and campaign.