Using an emoji wasn't always as easy as simply scrolling through a seemingly infinite list of icons and selecting the one that you would like to use. Before emojis, users had to be innovative by combining the : and - keys to create a smiley face or the : and ( key to create a sad face. Needless to say, as there are only so many ways to combine special keys to form what sort of resembles a face, you had a very finite list that you could use to liven up your texts back in the day. And by texts, we mean text messages. There were no short-form videos of dance crazes or challenges.
As a matter of fact, these early attempts weren't even called emojis. They were emoticons (aka an emotional icon that was created by combining punctuation marks, numbers, and/or letters).
Then, in the late 1990s, humankind was saved from having to get creative with existing text characters with the birth of emojis. Fast-forward many, many years, and TikTok has even gone as far as to launch its own unique, secret set of emojis. These emojis are different from the ones that you can access on your mobile phone and can be used across various operating systems.
Want to know what these are and how to get them? Here's how and other practical tips for using emojis on social media and ways that you can get more exposure for your content on TikTok.
---
Secret TikTok Emojis Revealed:
---
How Can You Access Secret TikTok Emojis?
It's actually pretty straightforward to access TikTok's unique (so-called secret emojis). You'll basically just need a specific code that relates to the specific emotion you want to communicate. Once you have this code, all you need to do is type the word/code between square brackets in the typing bar. The text code will automatically transform to the linked emoji when you press space.
Here are codes for 23 TikTok emojis of style one: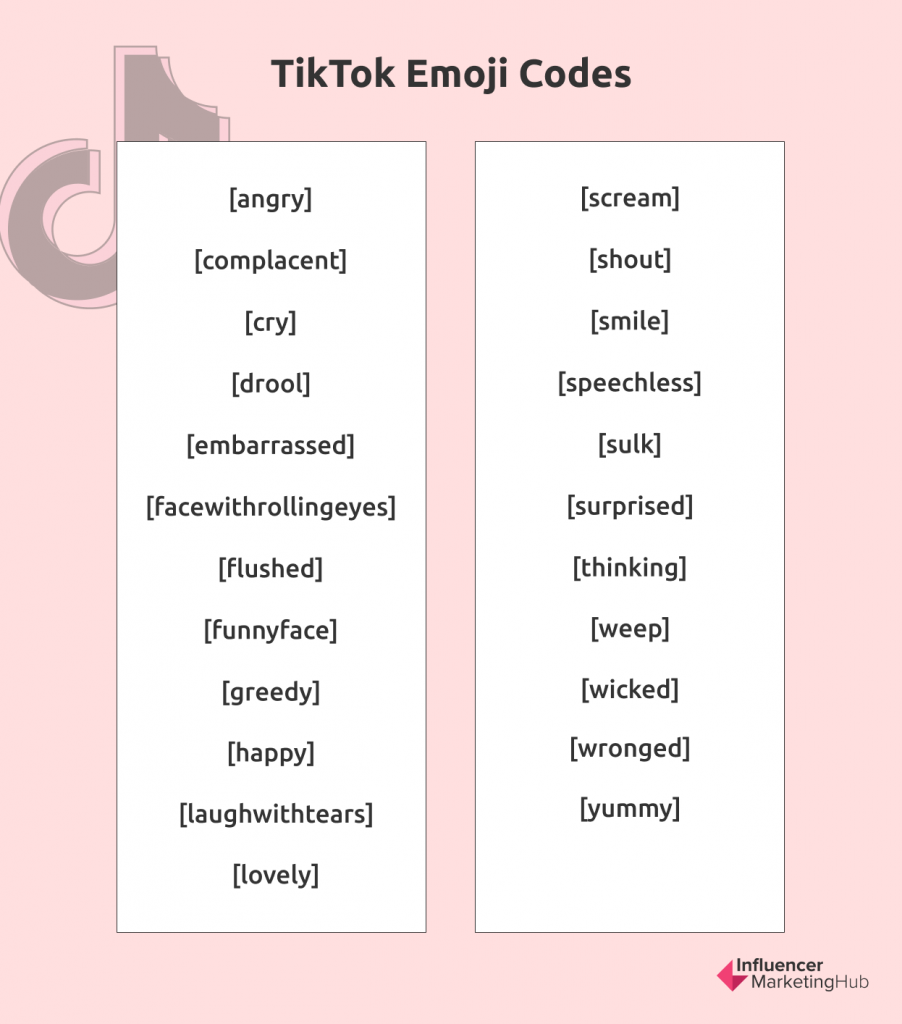 And, here are 23 more codes for secret TikTok emojis that are in a different style (FYI, we prefer this style):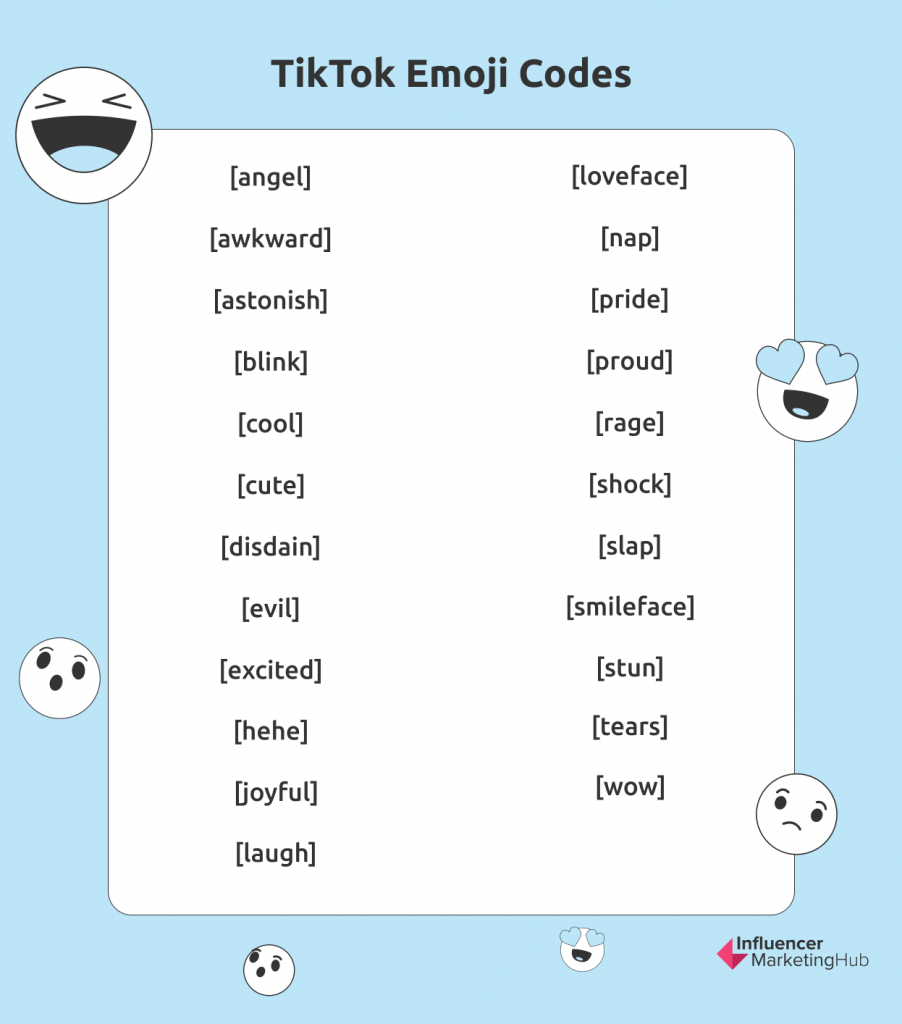 ---
Using Emojis on TikTok and Other Platforms
There's another way that you can use emojis on TikTok and that's by using emoji combinations instead of common phrases. It's a great way to let your comments stand out or simply let some of your own personality shine through.
Here are some of the most common combos that you can try out. Users will most likely not have any issues deciphering the meanings behind these combinations, but just in case you can't figure out the meaning we've included that too.
🐄💩– bullsh*t
🛏🏃🏿‍♀️– going to sleep
☕️👌🏾– sipping tea
👉🙄👈 – not listening
🍿🤏😮 – something is going down/drama is happening
You get the idea.
You can also combine this type of emoji with hashtags like #emojicombos or #emojicombinations that are trending. Or, if you're feeling creative, why not come up with your own emoji combination?
All in all, emojis serve a valuable purpose on TikTok and other social media channels. Not only do they add a dash of color and a fun element to posts, but they also make it easier to communicate specific emotions. After all, we process visual cues much faster than written texts. So, using an emoji instead of a colloquial phrase like it's about to go down, can be processed faster.
That being said, you still need to take into account the broader context. Whatever you add, should be relevant. If you add emojis 👈 and 👉, it soon loses it impact (apart from just being annoying).
Also, needless to say, you need to make sure that you know what the emoji means. If you think you know, double-check. You can, for example, use Emojipedia to make sure about a meaning. Using the wrong emoji isn't only embarrassing, but it could offend some which you definitely don't want to do if you're posting on behalf of a brand.
---
Other TikTok Trends to Get More Exposure for Your Content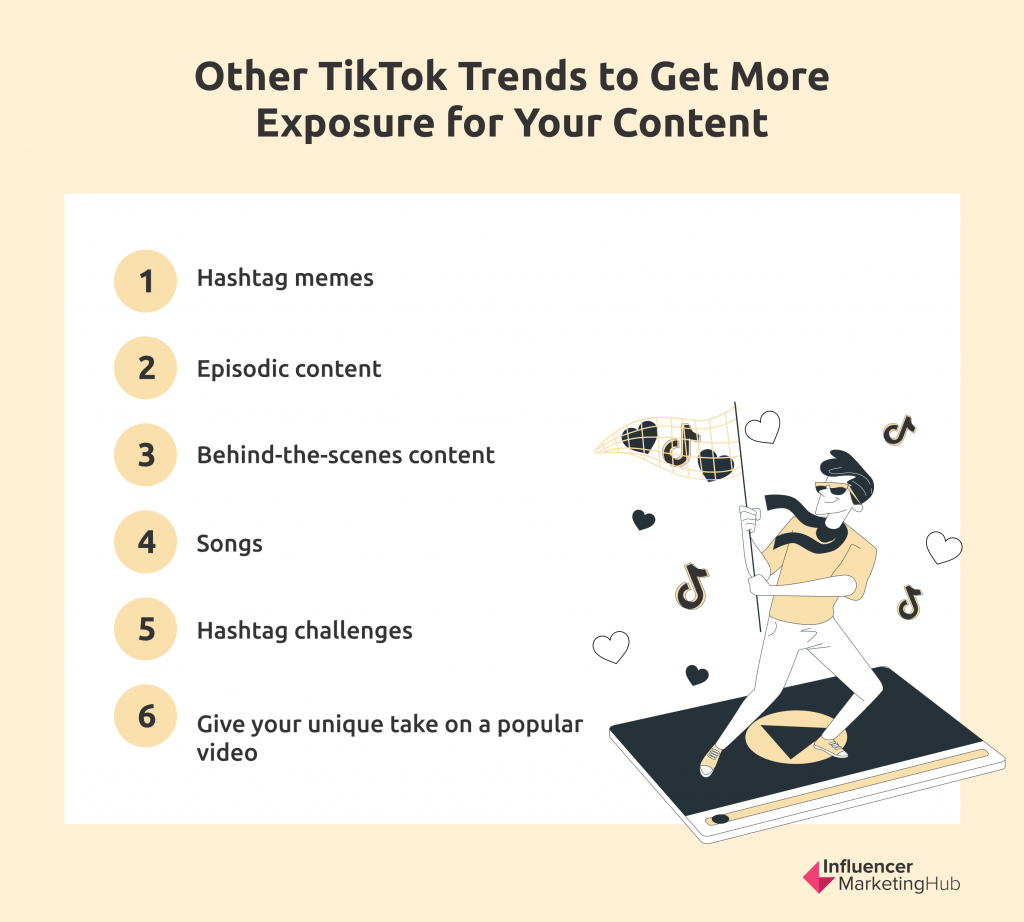 Hashtag memes
Another type of visual icon that's popular on TikTok is a hashtag memes. While memes are better associated with static images than video, they're actually quite common and popular on TikTok.
On TikTok, creators are making short videos that focus on their favorite memes. It has found favor among Gen Z and millennial users in particular and is expected to become only more popular.
---
Episodic content
While one of the key traits of TikTok is that the videos are short, influencers and brands are creating "longer" videos in the form of episodic content. Basically, they create a sequence of short-form videos.
Not only can it get followers to watch more of your content, but you can also use this format to share more in-depth videos. Though, it takes some skill and isn't as cut and dried as it sounds.
You need to ensure that you have some type of dramatic or exciting ending at the end of each short video so that your audience has a reason to continue watching the other videos too. Otherwise, your effort will be all in vain and the videos won't make any sense.
---
Behind-the-scenes content
If you're a brand or an influencer with a sizable following already, you can also create behind-the-scenes videos from time to time. It's one of the TikTok trends that are expected to increase in popularity. What makes it so popular is that viewers can get a glimpse into the personal side of their favorite creators on TikTok. After all, nowadays it's all about authenticity.
---
Songs
It's not only dance crazes on TikTok that go viral. Finding the right song is just as important. In fact, TikTok is causing some (sound) waves in the music industry. Some tunes have found stardom online before being signed to a label and artists are launching new songs on TikTok and other platforms more often.
Here are some of the top TikTok songs that you can use to let your content stand out:
Laxed (Siren Beat) by Jawsh 685 and Jason Derulo

Savage and Savage Remix by Megan Thee Stallion, featuring Beyoncé

OUT WEST by JACKBOYS and Travis Scott, featuring Young Thug

WAP by Cardi B, featuring Megan Thee Stallion

Rags2Riches by Rod Wave, featuring ATR Son

What You Know Bout Love by Pop Smoke

Baila by Tampa Curhat Beat and Karl Wine
---
Hashtag challenges
There are two ways that you can use hashtag challenges to create more exposure for your content on TikTok. You can either participate in one or create your own challenge.
If you're a brand, you can use the Branded Hashtags Challenges included in TikTok's advertising. While hashtag challenges are entertaining, it can be difficult to reach enough users for your challenge really to take off. That's why it's best to take advantage of TikTok's advertising options.
The simpler the challenge, the better the chance that people will participate. Then, to get others to create their own videos, remember to include a specific custom hashtag.
---
Give your unique take on a popular video
Unlike an emoji that you can simply copy and paste as is, for this strategy to work you need to add something unique. Basically, you take an existing popular video and then create your version of it. Creators will often add humor to help it stand out to create a type of parody, if you will.
---
Hashtags Versus Emojis
Last, but not least, don't forget to use hashtags. Emojis are not a replacement for hashtags and vice versa. To find the hashtags that are currently trending on TikTok, open the app and click on the Discover button at the bottom. A list of trending hashtags will appear that you could possibly include. You'll have to filter through the hashtags to find ones that match your interests and niche.
While trending hashtags change on a regular basis, here are some of the trending TikTok hashtags for 2022:
#love

#meme

#foryoupage

#funny

#cute

#fun

#music

#happy

#fashion

#learning

#prank

#1mincomedy

#blooper

#fitnessgoals

#myrecipe

#dancechallenge

#beautyhacks

#diycraft
---
Wrapping Things Up
The earliest forms of emoticons might be dead, but that's not the case with TikTok. As of January 2022, TikTok had 1 billion monthly active users across the world. What's more, over 160 million TikTok videos are watched in an internet minute. If these TikTok stats are anything to go by, its popularity isn't going to dwindle soon.
So, it's best that you start to learn the ins and outs of this platform and how to unlock all its features (like these uniquely styled emojis). Whether it's to use a standard emoji, one of these hidden emojis, or an emoji combo to replace a common term, there are many ways that you can add more visual appeal to your content and comments.
Frequently Asked Questions
Are hashtags effective on TikTok?
Hashtags make it easier for your audience to find your content on TikTok and other social media channels so using relevant hashtags on TikTok can help you to get more followers and attract more exposure for your content. The best approach is to use a combination of trending hashtags, business-specific hashtags, general hashtags, and branded hashtags.
What are some ways that you can engage with other creators on TikTok?
It's important that you make an effort to engage with your followers and other creators on TikTok. You can do this by, for example, using the duet features on TikTok to boost engagement or including a few special TikTok emojis. Depending on the content, you can also try to share some info about your products or brand when you engage with others (but just be careful that you don't come across as too promotional).
What are the most popular types of videos on TikTok?
There's a lot more to TikTok than just funny lip-syncing, dance, and challenge videos. While these for sure attract a lot of attention, there are several other types of videos that you can use to grow your reach. For example, you can also try to create the following types of videos to improve your popularity and gain more followers:
Episodic content
Social media challenges
Videos based on trending hashtags
Song imitations
Dialogue re-enactments
Cute animal videos
How-to videos
Behind-the-scenes content
Where can I learn more about TikTok features?
You can, for example, check out the TikTok Masterclass by Influencer Marketing Hub. It walks you through everything you need to become a TikTok influencer and make money by means of the platform. It's taught by Shelby Leimgruber and Ed Lawrence. Shelby is a social media influencer with over 500,000 followers on social media, while Ed has helped influencers to create profitable businesses. It includes resources, production worksheets and a TikTok Stash Bundle. Alternatively, you can just check out the Influencer Marketing Hub blog.
What are some tips for being successful on TikTok?
If you want to get more followers on TikTok and create a big name for yourself on its platform, it's important that you participate actively. You can, for instance, join a TikTok challenge that's currently trending to get more exposure for your content or liven up your comments by including special emojis. Though, the most important is that you create content that really resonates with your audience.