Non-fungible tokens (NFTs) and social media go hand in hand. NFT creators utilize social media to promote their work. Social media sites serve as a common ground for NFT sellers, buyers, and intermediaries. So, it's not a surprise that more social networks are experimenting with NFTs.
TikTok, which just hit a billion monthly users globally, joined the fray last October. The social media network has planned its own NFT drop in collaboration with the platform's top creators. TikTok even announced its NFT debut with a full-page text ad in the New York Times.
---
TikTok's NFT Venture:
---
TikTok Top Moments
TikTok Top Moments launched in the last quarter of 2021, offering a fresh take on the digital art trend. TikTok planned to use the NFT space to empower the TikTok creator community. In addition to giving recognition and compensation to artists and content creators, NFTs allow fans to own culturally significant TikTok events.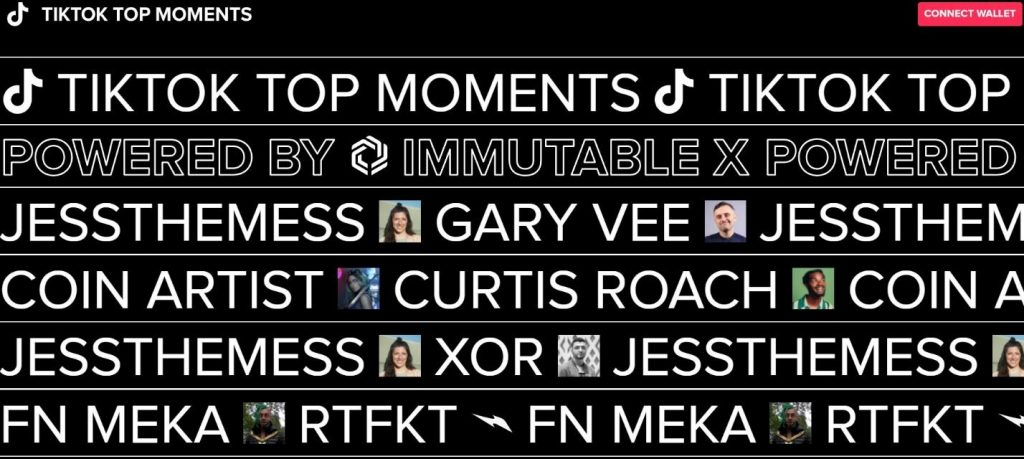 TikTok trends tend to influence culture and launch trends that impact society. TikTok wanted to bring something new to the NFT world by curating some pop-culture milestones and pairing them with prominent NFT artists. The video-focused social networking site advertised the campaign as owning a moment on TikTok that broke the internet.
---
TikTok on Ethereum Powered by Immutable X
TikTok opted to release its first NFT collection on the Ethereum blockchain, powered by Immutable X. The use of Immutable X is noteworthy since the platform has gone mainstream in the wake of the regular gas conflicts for NFTs on Ethereum.
The move by the social network to place TikTok Top Moments on the Ethereum blockchain effectively separates it from the platform's primary social media operation. As a result, the NFTs are not included in the app. Instead, they are built on the same framework as the other assets that are minted and exchanged on Ethereum. TikTok's NFTs are also available for purchase on secondary marketplaces like OpenSea.
---
The Value of TikTok Getting Into NFTs
As blockchain technology advances and consumer interest in digital assets increases, many Web 2.0 consumer tech firms are bound to penetrate the market. TikTok's foray into blockchain by offering NFTs on the Ethereum blockchain contrasts with Facebook's future goal. It's most comparable with Twitter's NFT venture, which debuted in June. Twitter released a collection of 140 NFTs that matched its original character limit. However, unlike Twitter, TikTok's concept provides lucrative compensation to the creators involved.
In general, the blockchain community, which values decentralization, has welcomed TikTok's approach of using a public blockchain. TikTok's emphasis on iconic moments underscores the historical significance of NFT even more. Each Top Moments NFT commemorates a single TikTok viral moment. As the NFT space evolves, the concept of historical value in collectability will be more prominent.
---
The Past: What Was Supposed to Happen
TikTok's initial plan was for TikTok Top Moments to feature a collection of viral TikTok videos from some of the platform's top creators. These notable social influencers would partner with major NFT artists on one-of-one (Auctioned) and limited-edition (Drops) NFTs.
Initially, the lineup included six TikTok stars and their high-profile collaborators:
Cutout artist Rudy Willingham with singer Lil Nas X

Rapper Curtis Roach with NFT collector COIN ARTIST

TikTok top creator Jess Marciante aka JessssTheMess with NFT enthusiasts Gary Vaynerchuk and xOr

Robot rapper FNMeka with digital shoe creator RTFKT

TikTok star Bella Poarch with musician and NFT expert Grimes

Kombucha girl Brittany Broski with Grimes again
The first auction began on October 6, and a new NFT would be featured every week. Each token in the collection was slated to be a part of the exhibit at the Museum of the Moving Image in Queens, NY. The proceeds from NFT sales will primarily benefit the TikTok creators and NFT artists participating, except for Broski and Grime's work, which will go to their chosen charity.
TikTok NFTs will be accessible for use with Ether, a popular cryptocurrency second only to Bitcoin, on the Ethereum blockchain. Ethereum's Layer-1 will auction off the one-of-one assets. On the other hand, limited-edition NFTs will only be available on Immutable X (Layer-2) and require no gas.
---
The Present: What Had Happened
As of writing, TikTok Top Moments presented half of the roster through auctions and limited drops:
Type: Auction
Artist: Curtis Roach
Winning Bid: 28.0 ETH
"Bored in the House" by Curtis Roach describes the early COVID-19 lockdown. Millions of people saw and shared the video on TikTok, catapulting the Detroit rapper to online stardom. The 15-second clip became a global anthem for coping with the isolation the pandemic brought. The original video has received over 50 million views, with countless remixes.
---
Type: Auction
Artist: FNMeka
Winning Bid: 3.675 ETH
FNMeka is the first and most popular male virtual influencer avatar on TikTok, with 10 million followers. FNMeka aspires to be a chef in this viral video and tests his cooking skills. Using Virtual Avatars, FNMeka hopes to inspire people to be anyone they want to be even just in the digital world.
---
Type: Auction
Artists: Jess Marciante and Gary Vaynerchuk
Winning Bid: 25.0 ETH
Jess came up with the idea for the viral video after wondering, "What's a video that stays in your brain rent-free?" As a result, he posed the topic to TikTok users. Users began stitching his video with their responses using StitchTok. Jess has become the video that lives in everyone's head rent-free.
---
Type: Limited Drops
Artists: Curtis Roach and COIN ARTIST
Status: Sold out
Curtis Roach dominated the TikTok scene in 2020 when his video "Bored in the House" became viral. For the limited drops, he collaborated with COIN ARTIST, the CEO of blockchain gaming firm Blockade Games, and a big supporter of NFTs. "Bored in the District" is an interactive reimagining of Bored in the House. The combination of cutting-edge blockchains with an internet-breaking musical moment produced a cultural and technological mash-up.
---
Type: Limited Drops
Artists: FNMeka and RTFKT
Status: Sold out
RTFKT, known for creating virtual footwear and digital artifacts, partnered with FNMeka to develop an ETH-inspired sneaker. The design combines the simplicity of a classic sneaker with modern futuristic vibes. The sneaker's functionality shows how many metaverses spanning from Decentraland to the real world can use it.
---
Type: Limited Drops
Artists: Gary Vaynerchuk, xOr, Jess Marciante
Status: Sold out
Limited drop's Rent Free is a play on Marciante's viral clip. It's a silhouette of Gary Vaynerchuk with a thought bubble listing all the TikTok handles who commented on the famous Marciante clip. Gary's face is made up of the VeeFriends ERC-721 smart contract address.
---
The Future: What's Going to Happen
While TikTok has rolled out NFTs for TikTok Top Moments, most of the lineup is nowhere to be found. The planned collaboration with Rudy Willingham and Lil Nas X never materialized. According to a write-up, it will not be released at all. Moreover, top TikTok creator Bella Poarch is rumored to consider leaving the program entirely due to concerns about its implementation.
TikTok has yet to provide an official announcement about the future of TikTok Top Moments. Delays with NFTs are prevalent because the technology is still in its early stages. And stars like Poarch and Lil Nas X are famous enough that any NFT release from them will potentially be in great demand regardless of date.
---
TikTok Users' Reception to NFTs
When it comes to TikTok's global demographics, about 33% of TikTokers are aged between 10 and 19. Only 9% of these young users are interested in cryptocurrencies.
TikTok's choice to include NFT into the platform is an excellent approach to promoting non-fungible tokens to a broader audience, but it's not without significant hurdles. For starters, some users may not find much value in purchasing a token based on a video that they can freely and easily access. The cost might also be a problem because the demographic mentioned above is often not financially independent yet.
---
TikTok NFT Influencers
An NFT influencer has excellent knowledge of the NFT field and others turn to them for assistance and insights. They typically have large social media followings. Influencer marketing has been a popular and efficient approach to promoting NFT projects. Because the influencer advertised the initiative, many of their fans invested in it. NFT influencers are gaining traction by sharing their experience and understanding with a growing audience on platforms like TikTok.
An NFT influencer is not the same as a builder or observer influencer. Builder influencers construct genuine NFT projects and arts. On the other hand, observer influencers are those who talk about what NFT creators do. With TikTok's entry into NFT, knowing the influencers that dominate the field is essential. There are tons of TikTok influencers to watch out for, but here are three focused on NFT:
Gary is a top influencer who rules TikTok and Twitter NFT talks. He also has a podcast, Props & Drops, where he and his co-host discuss anything and everything related to the subject. It's no surprise that he's one of the TikTok stars on the initial TikTok Top Moments collections.
Hector, aka Cryptocomix, presents valuable tools and resources for NFT users in a humorous, engaging manner. He advises his followers on how to get started with NFTs and cryptocurrencies. He talks about his own NFT ventures, how he created them, and how to get a job in crypto.
NFT Artwork uses TikTok's video service to present various pop culture and NFT facts. He covers new technology, revolutionary NFTs, and emerging trends.
---
What Comes Next for TikTok's NFT Venture
TikTok appears to be adopting a more selective tactic to its introduction with NFTs. All the creators and collaborators are TikTok power users. And every clip in the collection is based on an original TikTok viral video.
TikTok Top Moments can be a channel for growing social interest not just with NFTs but with cryptocurrencies and the metaverse too. This is due to the strong affinity of users with the videos featured on the platform. This means that content creators can earn from their NFT works while benefiting from TikTok's brand reputation.
It's possible that in the near future, TikTok will follow an approach that is more platform-oriented in which artists and creators will have the resources to simply transmit their digital arts to the Ethereum blockchain as a non-fungible token.
There's no word yet if the social site will continue to curate NFTs on the platform or if any user will be able to launch and sell NFTs on the site freely. Given the vast number of creators and artists who already have ready materials in their app, the latter would likely help TikTok's NFT platform expand considerably.
Mobile technology continues to be the main source of consumption and distribution for TikTok content. It will be great to monitor how the social site's NFT platform will evolve and improve in the future.
---
Final Thoughts
TikTok's foray into the NFT space looks promising, given the social network site's massive scope. People are interested, as proven by the sold-out limited-edition drops and auctioned assets. TikTok Top Moments, like many other social initiatives, require fine-tuning to compete with other social platforms' NFT programs. It would be interesting to see how TikTok adapts and modifies its first NFT infrastructure to improve the campaign and empower its content creators.
Frequently Asked Questions
Does TikTok have an NFT campaign?
Yes, it does. TikTok launched TikTok Top Moments last October. It is an NFT program that commemorates and trades iconic moments on the platform.
Who are the artists and content creators involved in TikTok Top Moments?
TikTok announced six top creators as part of Top Moment's first collection. The list is comprised of Rudy Willingham, Curtis Roach, Jess Marciante, FNMeka, Bella Poarch, and Brittany Broski. Their collaborators are Lil Nas X, Gary Vaynerchuk, xOr, RTFKT, and Grimes.
Was TikTok Top Moments discontinued?
TikTok rolled out the NFTs of Curtis Roach, Jess Marciante, and FNMeka. There's no word yet if the works of Rudy Willingham with Lil Nas X and Bella Poach with Grimes will push through.