Advertising Disclosure
Advertising disclosure:
Our partners compensate us. This may influence which products or services we review (also where and how those products appear on the site), this in no way affects our recommendations or the advice we offer. Our reviews are based on years of experience and countless hours of research. Our partners cannot pay us to guarantee favorable reviews of their products or services.
Marketing today means using as many viable channels as possible. It's all about reach and communicating strong, persuasive and useful messages to grow your business. Which is why employee advocacy has become such a strong tool for brands.
What does employee advocacy look like?
According to Hootsuite, 33% of your employees are already posting and sharing content about you on their personal social media accounts, without any prompting. Formal employee advocacy program offers a content strategy to guide the efforts of your employees, thus allowing you to keep track with the ROI of their efforts. They share curated content with their social networks and answer questions about your brand and products/services. More web traffic. Greater brand recognition. Increased content downloads. Shortened sales cycles. The list goes on.
---
Top 9 Employee Advocacy Tools for Brand Growth:
---
The Key to Employee Advocacy Success
It's a simple idea, employee advocacy. While simple enough, it takes more than just social media participation by your team to make it work. You need a strategic approach and the right tools.
In this blog post, we're sharing 9 of the top employee advocacy tools you should consider.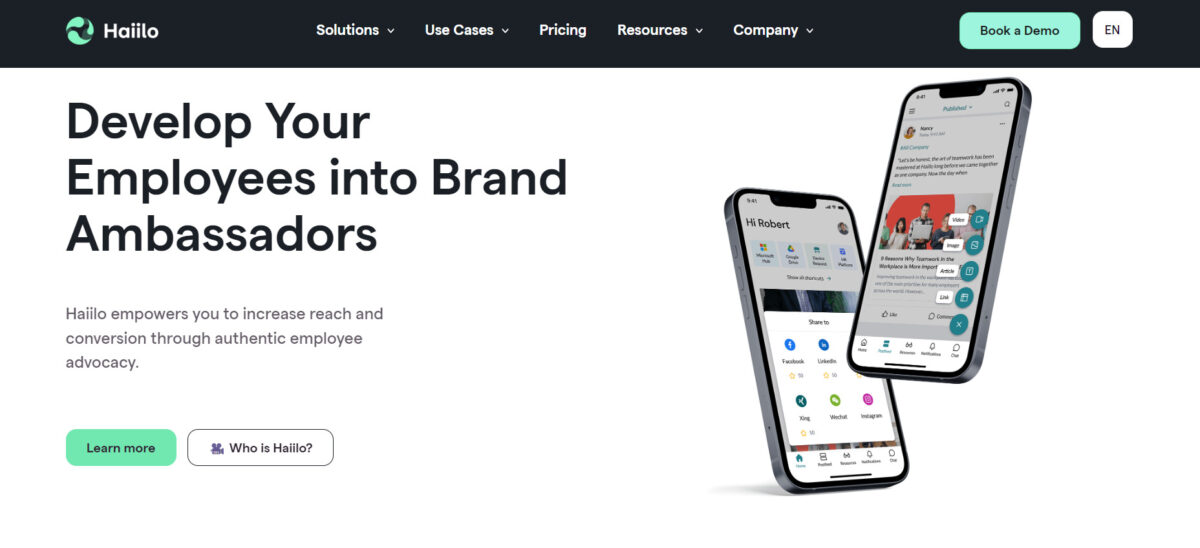 Haiilo stands out as a premier tool in the realm of Employee Advocacy. With its innovative features, it transforms employees into genuine brand ambassadors, amplifying the company's reach and credibility.
Features
Effortless Content Sharing
Haiilo simplifies the process of content sharing. Employees can seamlessly share company content, positioning themselves as industry leaders. The tool integrates with various channels, allowing sharing directly from web browsers, phones, emails, or intranets.
Comprehensive Social Media Integration
With Haiilo, you can connect all your social media channels, ensuring a unified and consistent brand message across platforms. This integration ensures that employees can share content on any platform, increasing the company's online visibility.
Captivating Captions
Haiilo provides appealing captions for your ambassadors, ensuring that the shared content resonates with the audience and drives engagement. This feature ensures that the content shared by employees aligns with the brand's voice and messaging.
Advanced Analytics
The AI-powered analytics platform is a game-changer. It allows enterprises to make informed decisions by analyzing communications across any employee segment. You can identify your most influential employees, set up automated reports, and get notified about critical developments.
Mobile App Experience
Haiilo's mobile app is user-friendly, ensuring that employees can share content on-the-go. Whether they're creating content or sharing knowledge and stories, the app provides a seamless experience.
Gamification
Haiilo takes employee engagement to the next level with its gamification features. Employees can see how they compare with colleagues in driving traffic and engagement. Leaderboards, rewards, and trophies are integrated to motivate and recognize the most active ambassadors.
---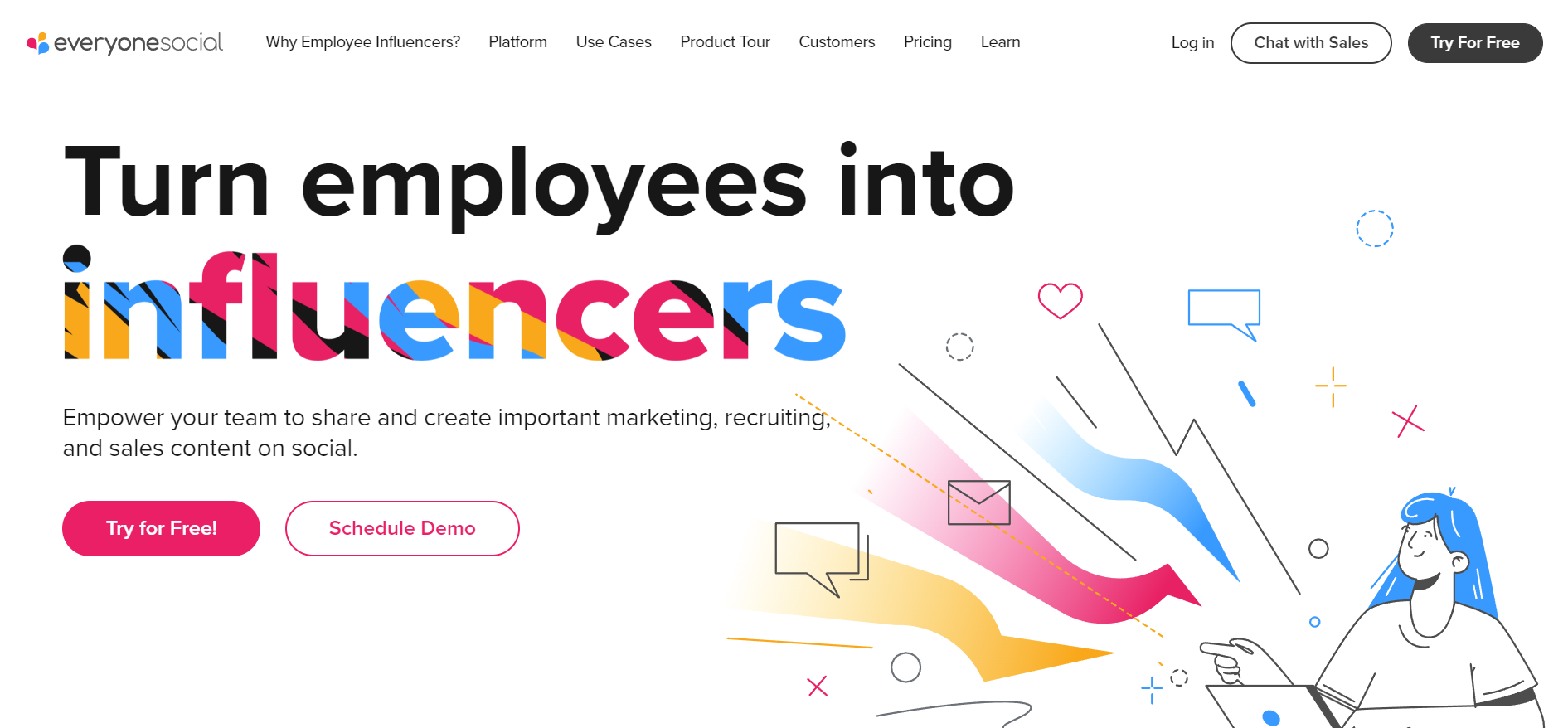 EveryoneSocial boasts an impressive combination of features. You're able to use the tool to empower sales, drive external and internal communication and leverage employees to source new talent.
Features
Smart Integrations
Sales teams are able to leverage social selling and can keep track of content directly through Salesforce. This allows sales to participate with prospects, generate and track leads seamlessly.
Other integrations include Marketo, LinkedIn Sales Navigator, Bitly and Adobe Analytics.
Share content
Users are able to easily share content from within the application and with followers and friends on Twitter, LinkedIn, Facebook, Instagram, WeChat, and more.
Gamification
Use leaderboards to influence and increase employee advocacy on social media. You're able to track and report each employees performance and produce reports that can be shared via email or mobile app.
---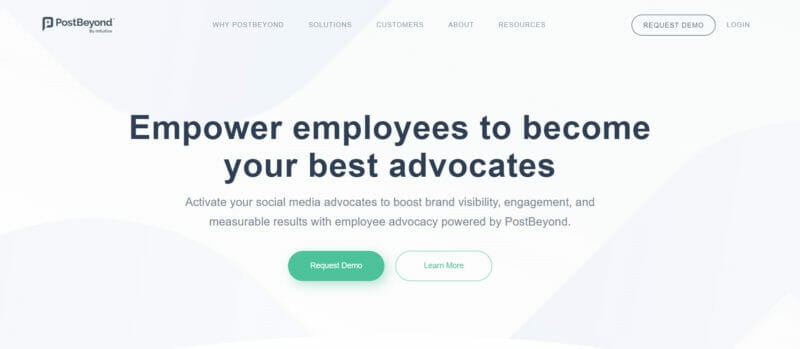 PostBeyond is an employee advocacy, social selling and employer branding (social recruitment) solution. It also includes a set of integrations to help brands that want to leverage social.
Features
Integrations
PostBeyond integrates with Salesforce, Bitly, Office 365, MailChimp and Marketo. These integrations allow for smarter marketing decisions and seamless sales processes that support social selling.
Content Curation and Sharing
Similar to other tools, PostBeyond allows admins to curate content for users to share. In PostBeyond, you're able to create topics that users can turn to for content.
Social Selling and Content Storage
PostBeyond's social selling module comes with a nifty marketing funnel content selection tool. The tool enables sales to take social selling to the next level by helping them serve up content according to the awareness, consideration or decision stages prospects may be in.
Recruitment
It's no secret that finding and retaining the best talent has become increasingly challenging. As more people use social media to find more promising career opportunities, the requirement for brands to better position themselves has also solidified.
PostBeyond's approach to helping brands attract the right talent is to alleviate the pressure on HR leaders. This is accomplished by empowering socially engaged staff to promote the companies they work for.
Advocates are able to share social posts that promote their employer's culture. This enables them to show the human side of businesses while also appealing to the career aspirations of hungry professionals.
Analytics
Analytics functionality includes tracking engagement from various social platforms. You can measure website traffic, earned media value (what you might have paid for the amount of exposure your advocates generated) and lead generation activity.
Gamification and leaderboard
PostBeyond also helps brands foster healthy competition. Advocates are able to track how well they perform on a leaderboard.
Employee advocacy is a very real and very viable solution for brands. It's a smart way to promote what makes your business special and support revenue growth. But to do both, you need to use software that will give you the features and functionality to share, track and measure your efforts.
---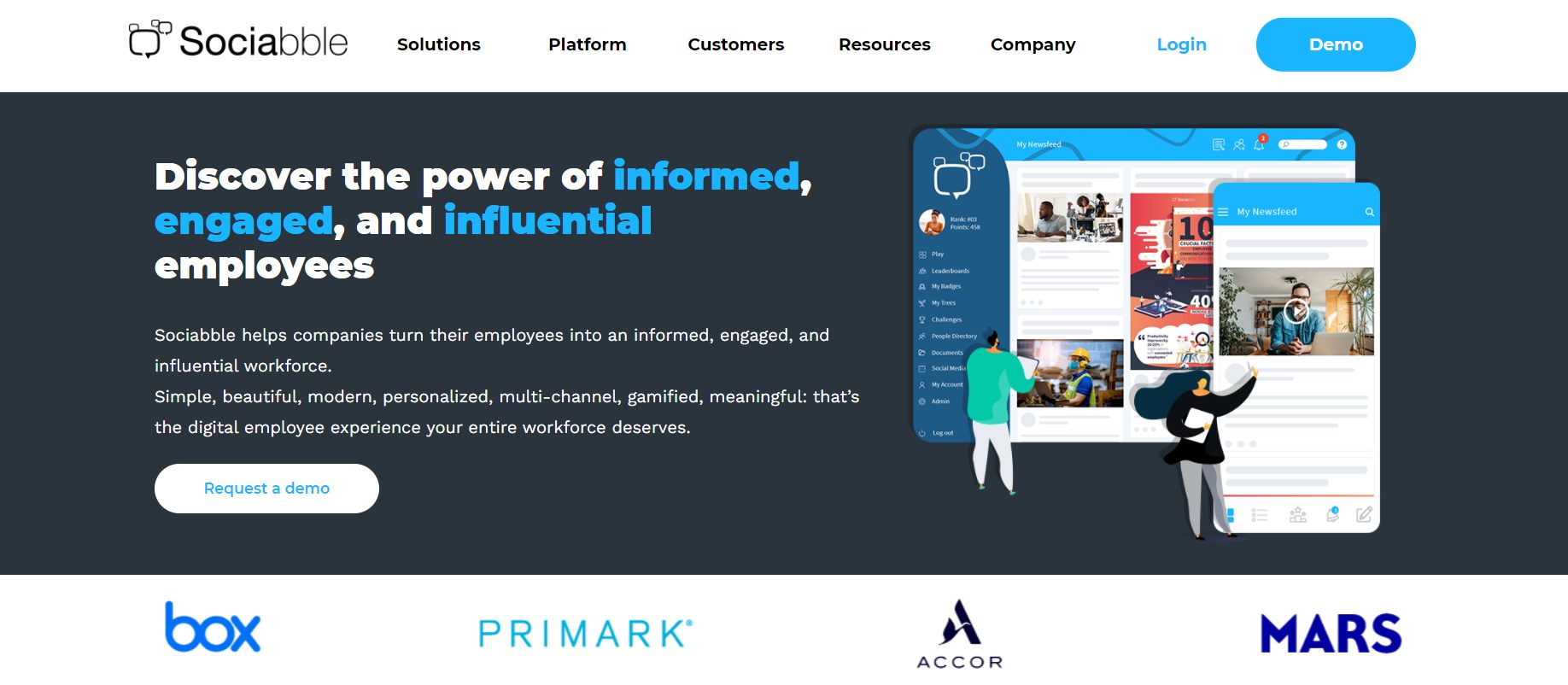 Sociabble has aptly dubbed their solution as a tool that "allows you to strike the perfect balance of brand, third-party, and user-generated content (UGC), as well as combine internal and external communication." And we think they're onto something.
Like Social Reacher, Sociabble includes gamification as a key element of their platform. And we think it's a smart idea. Incentives drive behaviour.
Sociabble takes things a little further, though. They've introduced social selling as a feature. Teams are able to lean into true social selling by making recommendations and demonstrating expertise. But what we're pleasantly surprised by is your ability to track lead generation and that originates from social selling.
Sociabble is more than an employee advocacy tool. Along with social selling ability, the also offer Social Wall, a real-time aggregation of all content your brand produces for website visitors to view.
Features
Content Aggregation, Curation, & Creation
There is more information and noise available today than ever before and social media is a big contributor. Sociabble's solution is Channels. They are themed and based on preference, allowing you to segment content and sources.
Gamification and Engagement
Your users will be able to get even more excited about promoting your brand's content. Sociabble offers the following to help you increase engagement:
Leaderboards

Campaigns

Challenges

Quizzes

Polls

Badges

Automatic & custom newsletters
You're also able to customise all gamification features by group.
Easy Access and Administration on the go
Sociabble also provides Android, iOS and Windows Phone apps. This makes it easier for you to keep tabs on how well your campaigns and team are performing.
Analytics & Performance Tracking
We're fans of data and analytics dashboards. Sociabble offers users access to personal dashboards along with unique metrics for social sellers. Administrators are able to get more specific data on content performance, including lead generation tracking.
User Sharing and Interaction
Users are able to like, share and modify content for both internal and external usage. All user activity is also available in a real-time feed.
---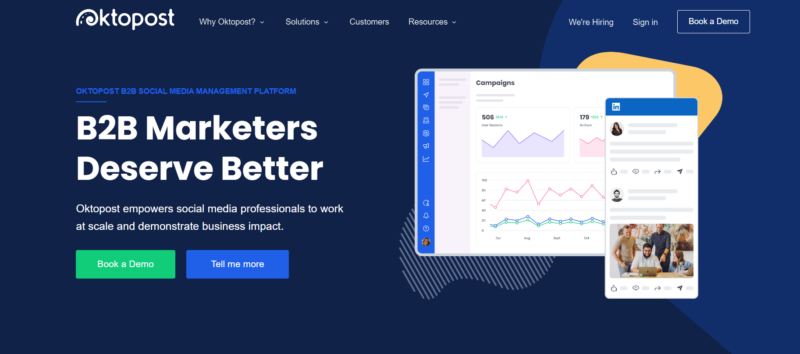 OKtopost, while also an employee advocacy tool, it offers a little more. Oktopost also includes social content publishing, listening, analytics, governance and integrations with marketing automation tools and CRMs.
This makes the tool all the more valuable, especially if you've been looking for a way to bundle all of the above.
Features
Easy Content Sharing
Employees are able to discover, filter and share your pre-approved content with their networks via desktop or mobile app.
Gamification
Oktopost provides a leaderboard where employees can track their performance and you can identify top promoters.
Reporting
Like Sociabble, Oktopost also includes social selling functionality. You're able to gather stats on leads generated, clicks track the impact each employee has on your social media goals.
---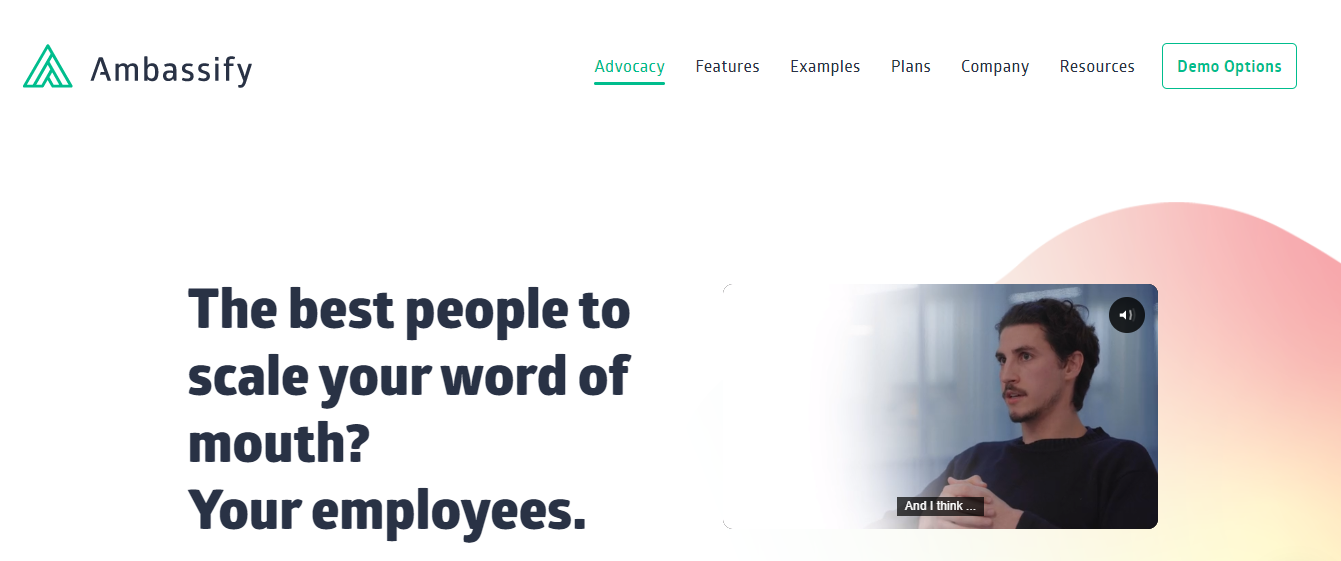 Ambassify has done a smart job of highlighting the three most important aspects of brand advocacy. Their solution is designed to help brands identify, interact and activate, measure and reward.
As a solution, Ambassify isn't just an employee advocacy tool, it can also be used as a customer advocacy solution.
Features
Identify and Recruit
You're able to identify top promoters and invite them to join your community. Once a part of your community, brand advocates can then be segmented into groups.
Participation and Gamification
Ambassify provides over 20 campaign types. These are used to promote content and also inspire your advocates to share it as much as possible. Campaign types can be tied to rewards that are issued upon completion of all task for a campaign.
Analytics and Insights
You can gather insights as your content is promoted. You're also able to take that information and use it to refine campaigns and create more appealing rewards for advocates.
---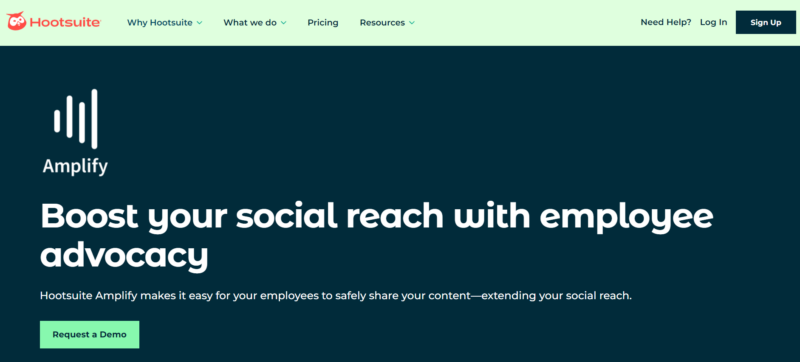 Hootsuite has been around for a while and so it made sense that they would introduce an employee advocacy solution of their own. If you're familiar with Hootsuite, you'll be pleasantly surprised at how easy it is to use Amplify.
Features
Creating, Curating and Sharing Content
Amplify can be added directly to your existing Hootsuite dashboard. This makes managing brand advocates, the content they have access to and other features straightforward. Creating content takes place in the same way as in Hootsuite's original social platform with a few added features for curators.
As an admin user, you can set topics for types of content that is appropriate for different employees. You're also able to update live content (does not update already published advocate posts) and create drafts or schedule posts for later.
Amplify also gives users the ability to recommend content to admins.
Manage Brand Advocates
Admins can issue invites to staff from within Amplify and also assign them to specific groups. Groups are to ensure that Amplify content is kept relevant for specific people and their audiences.
You can also remove advocates easily or add them to however many groups you choose.
Analytics
Amplify allows admins to measure social post impact, user adoption and engagement for Facebook, LinkedIn and Twitter.
---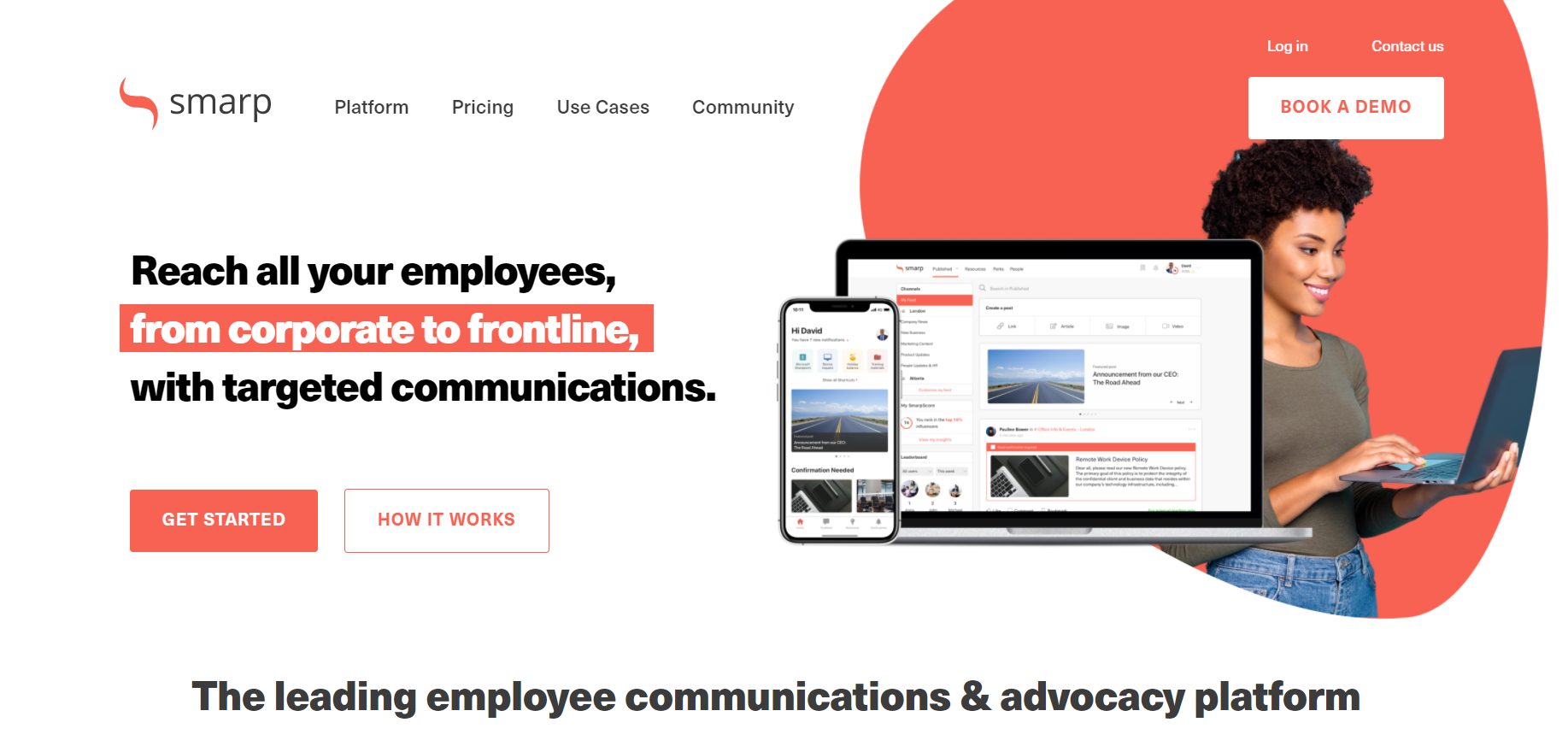 Smarp is an employee advocacy, communication and experience solution. It allows businesses to address all three business needs through a clean and well-designed interface.
As an employee advocacy solution, it packs all the features you'll need to share your brand's messaging, and a few more.
Features
Integrations
Integrations go a long way when it comes to employee advocacy tool. Smarp gives brands the ability to link their Active Directory databases to simplify user management, use Zapier to connect with thousands for other apps, and embed Smarp news feeds within their intranet or CRM.
Content Discovery and Sharing
Smarp provides users with a central point for content discovery. Each user has access to a company feed where they can see content that is for both internal and external usage.
Smarp also makes finding content easier with channels. Using channels gives admins the ability to share specific content that is easily accessible and can be stored by users in their personal content archives.
Analytics
Like other advocacy tools, admins can measure social impact, engagement and clicks via the analytics dashboard. Smarp also gives staff the ability to track their personal influence. Using a combination of a leaderboard and with a SmarpScore, an influencer grading system, your staff will be able to gauge how effective they are at promoting branded content.
Gamification
Smarp adds to the gamification element by enabling businesses to issue perks and rewards to top-performing advocates.
---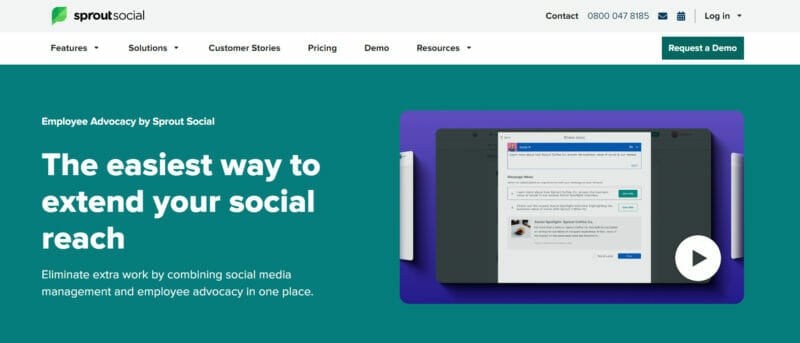 Sprout Social's known for their social media management application. As a tool, it's one of the most robust out there, and Bambu makes for a well-placed addition. Bambu includes both amplification and social selling, both rolled into a clean and intuitive interface.
Features
Content Curation and Sharing
Bambu allows administrators to curate content for staff to share. It also gives employees the ability to propose content using the Suggest a Story feature. Users simply enter the URL of the content they'd like to propose along with a note about why they think their audiences will find the content interesting.
Resource Database
Social selling involves more than answering questions. Employees need to be able to provide timely content that's designed to support the sales cycle. Bambu's resource database allows brands to store content for their employees to easily share when needed.
Analytics and Reporting
Bambu provides a host of analytics and reports. You're able to tell how much reach your content is generating along with your team's impact.
Gamification, Recognition and Incentives
Like most advocacy platforms, gamification is paired with incentives. This gives brands the opportunity to cultivate the behaviours that will propel their content to larger audiences.
---
Frequently Asked Questions
What are the benefits of employee advocacy?
Employee advocacy can help you to boost your web traffic and brand recognition. It can also help you to get more content downloads and shorten the sales cycles. Other ways that firms have benefitted from employee advocacy include: improved brand loyalty, better search engine rankings, improved customer service and higher conversion rates. What's more, it can also help you to reduce your marketing costs. In a study completed by Hinge Marketing, only 3.5% of firms indicated that they have not enjoyed any of these benefits.
How can employee advocacy be improved?
It requires more than social media participation by your employees to improve employee advocacy. You will also need to use employee advocacy tools for brand growth. Some of the top tools that you can check out to improve your employee advocacy include: EveryoneSocial, PostBeyond, Bambu (by Sprout Social) and Hootsuite Amplify.
Can I use Hootsuite for employee advocacy?
Hootsuite has also introduced an employee advocacy solution – Hootsuite Amplify. It can be added directly to your existing Hootsuite dashboard. If you want to create content, you will use the same way as in the original social platform of Hootsuite (but with a couple of extra features for curators). An admin user can create topics for types of content that is suitable for different employees, update live content and schedule posts for later.
How can I encourage my employees to advocate my brand?
Gamification and incentives can help you to encourage your employee advocates. You can for example use a leaderboard that advocates can use to track (and compare) their performance. This way you can quickly reward an employee with an extra day off or concert tickets for sharing content consistently. Badges can also work well. There are many employee advocacy tools like Bambu (by Sprout Social), Ambassify, and Smarp that offer gamification as a feature.