Advertising Disclosure
Advertising disclosure:
Our partners compensate us. This may influence which products or services we review (also where and how those products appear on the site), this in no way affects our recommendations or the advice we offer. Our reviews are based on years of experience and countless hours of research. Our partners cannot pay us to guarantee favorable reviews of their products or services.
In October, a massive data leak, containing the payout details of more than 10,000 Twitch streamers, made the headlines. Needless to say, the data went viral on social media sites.
Many of the streamers have admitted that the details were for the most part accurate, and some even used it as an excuse to create memes.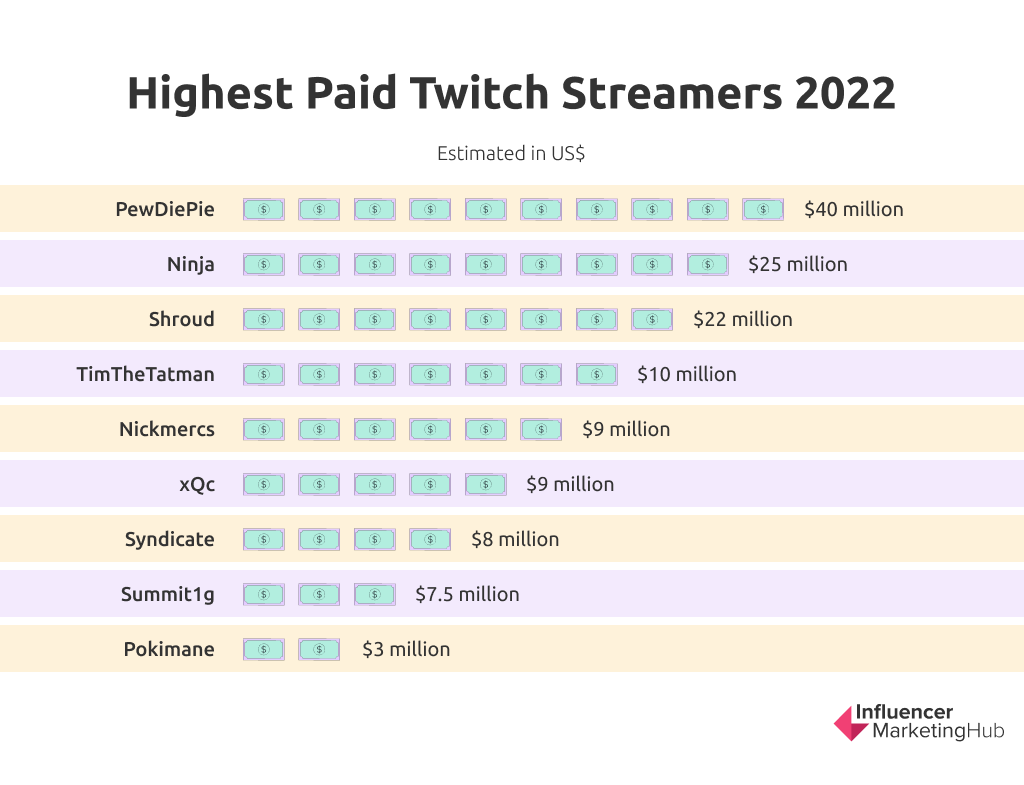 After all, it's no secret that the top streamers can make millions. You'll more or less already have an idea about creator's earnings, if you're a regular reader of our blog.
However, the thing about reporting on earnings is that it can never be entirely accurate. For instance, many of the streamers also have additional sources of income.
Instead, at Influencer Marketing Hub, we focus on providing an indication of the media value of a Twitch channel. For this, we've developed a Twitch Money Calculator that takes into account a number of factors to indicate how much influence a specific channel has.
To give you an idea of the earning potential of Twitch, we've created this article of the top gamers by revenue. And, no, it's not another data leak.
---
Top 9 Twitch Gamers: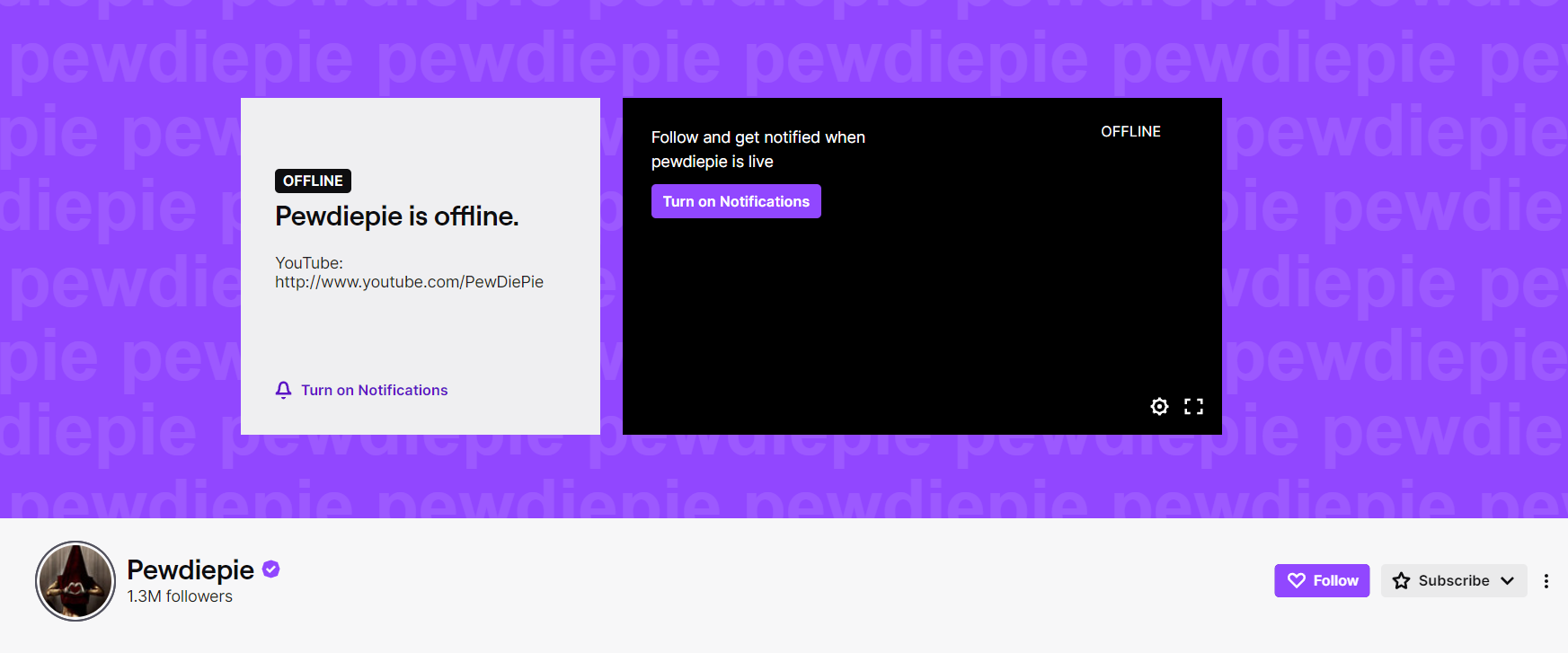 Estimated revenue $40M
While PewDiePie (aka Felix Arvid Ulf Kjellberg) is more known for his YouTube channel that has more than 100 million subscribers, he has also had success on Twitch. In fact, so much so that it has landed him the second spot on our list of the highest paid Twitch streamers in 2021.
Hailing from Sweden, PewDiePie has been in the limelight for over a decade already. However, some of this attention was because of a fair share of controversy. In 2017, Wall Street Journal accused him of anti-Semitism. As a result, two major partners, YouTube and Disney, dropped him.
Shifting the focus back to the milestones for which he is famous, he became the first YouTuber to boast more than 50 million subscribers. As of September 2021, he had the sixth most popular YouTube channel based on number of subscribers. His earnings over the years from his YouTube videos added up to more than $110 million, according to Money Nation.
What's more, he also generated almost $42 million by selling merchandise. From hoodies to hats, PewDiePie's merch store on the Represent platform is one of the best influencer merch stores.
---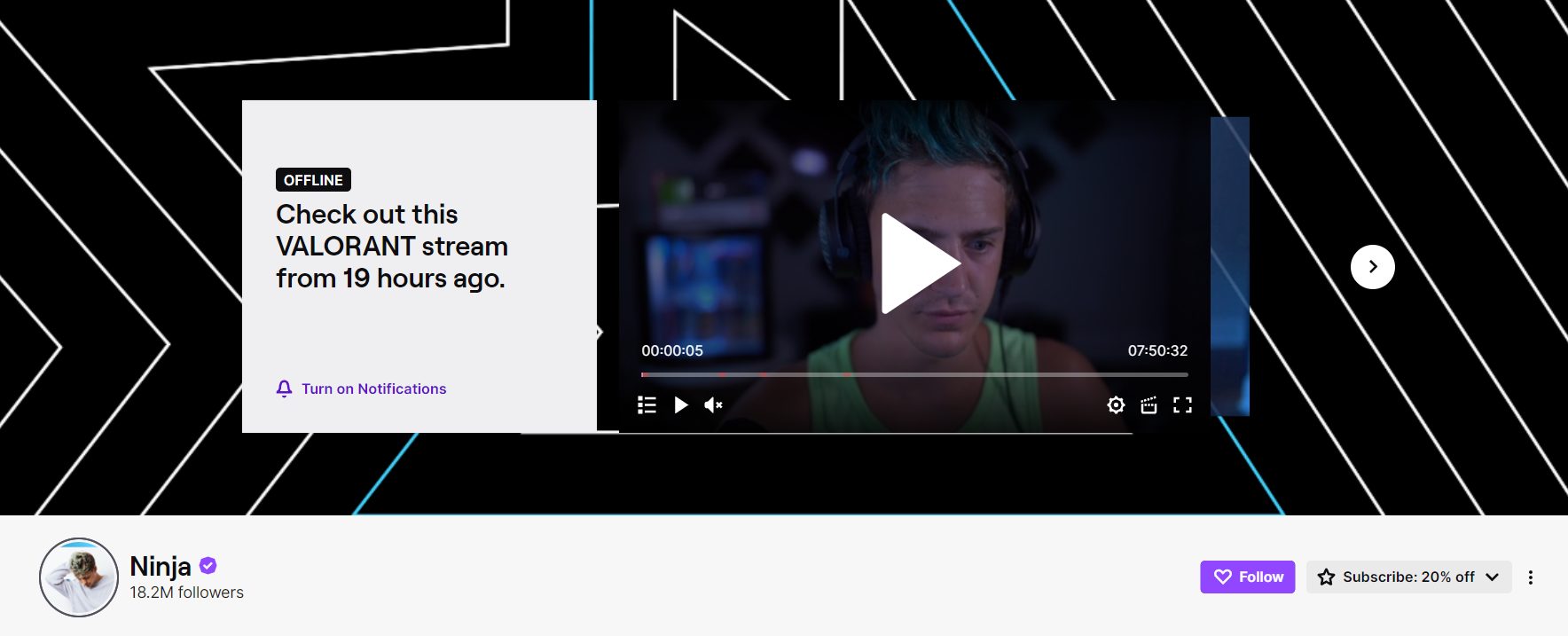 Estimated revenue $25M
Ninja (aka Richard Tyler Blevins) is a professional gamer who rose to stardom in 2017. He has participated in a number of e-sports teams and has played Halo 3 competitively, but it's actually his streaming of Fortnite, along with the likes of Travis Scott and Drake, that landed him in the mainstream spotlight.
Not only has his skills and personality bagged him millions of followers and dollars, but also a couple of awards. In 2018, he won a whopping four awards, while 2019 was equally impressive with two awards.
At the time of writing this article, Ninja boasted 17 million followers on Twitch, making him the most followed Twitch streamer by a long shot. He's best known for streaming Halo Infinite, Fortnite, and Halo 3.
Three years ago when he had about 12 million followers, Mediakix estimated that he took home a yearly estimated revenue of about $5.5 million. At that time, about 80% of Ninja's revenue was made up of subscriptions.
---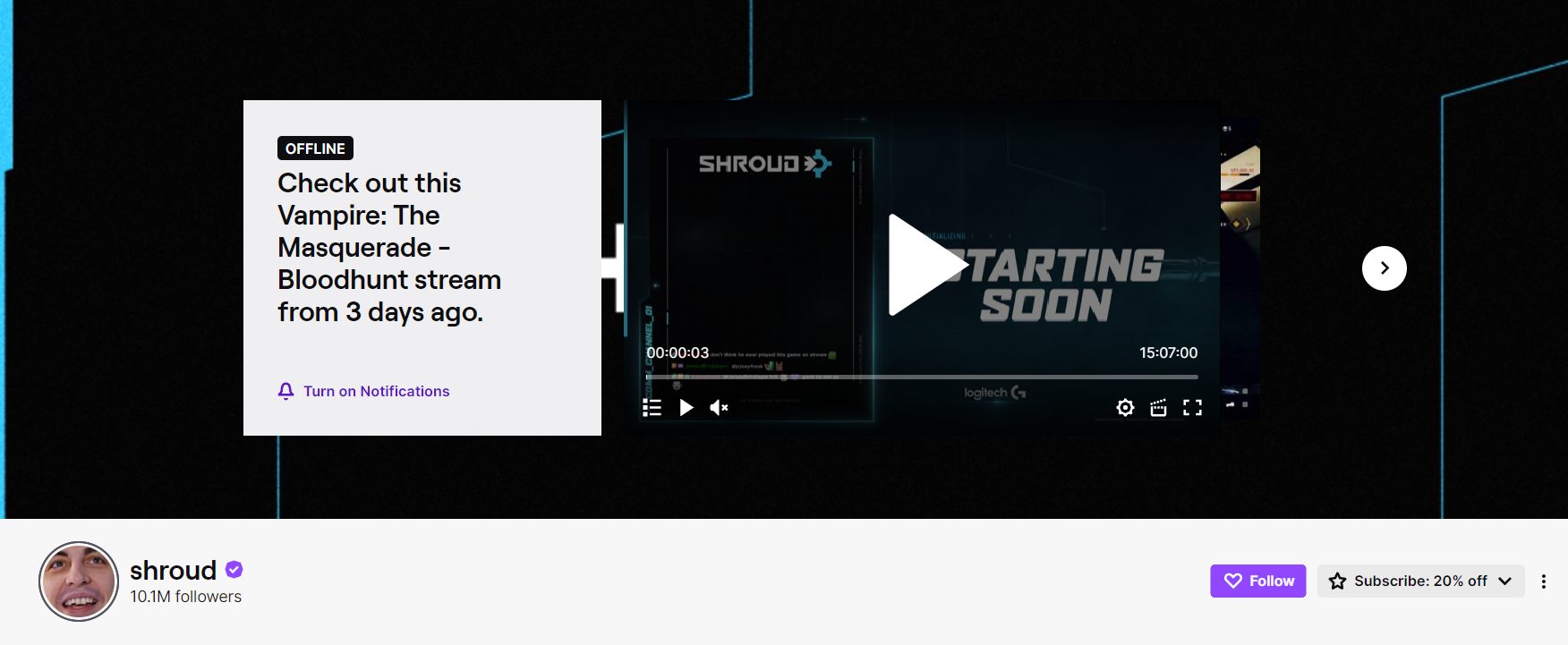 Estimated revenue $22M
Boasting nearly 10 million followers on Twitch, Shroud (aka Michael Grzesiek) is best known for PUBG, H1Z1, The Culling, Counter-Strike: Global Offensive (CS:GO), and Tom Clancy's The Division and Rainbow Six Siege. It's especially his skills at CS:GO that have contributed a lot to his fame and the game that launched his professional gaming career when he joined a number of ESEA teams.
After he retired from being a professional CS:GO player, he turned his attention to full-time streaming on Twitch. As of November 2021, he has streamed more than 10,000 hours and has over 530 million views behind his name. On average, he's active five days a week and streams about eight hours per day. So, you could say that he works a typical 40-hour workweek.
While he still streams CS:GO on Twitch, it only gets him about 15,000 average viewers. Now, his biggest draw cards are games like VALORANT, Apex Legends, and New World. On average, all these three games attract over 40,000 viewers. In fact, along with Hiko, Tenz, wtcN, and stylishnoob4, he is one of the most popular streamers of VALORANT.
In 2019, he won the Game Awards' Content Creator of the Year award. The previous year, this award was given to Ninja. So, if there were any shroud of doubt over his skills, that should clear it up. While he might not have as many Twitch followers as Ninja, they've ultimately won the same award.
---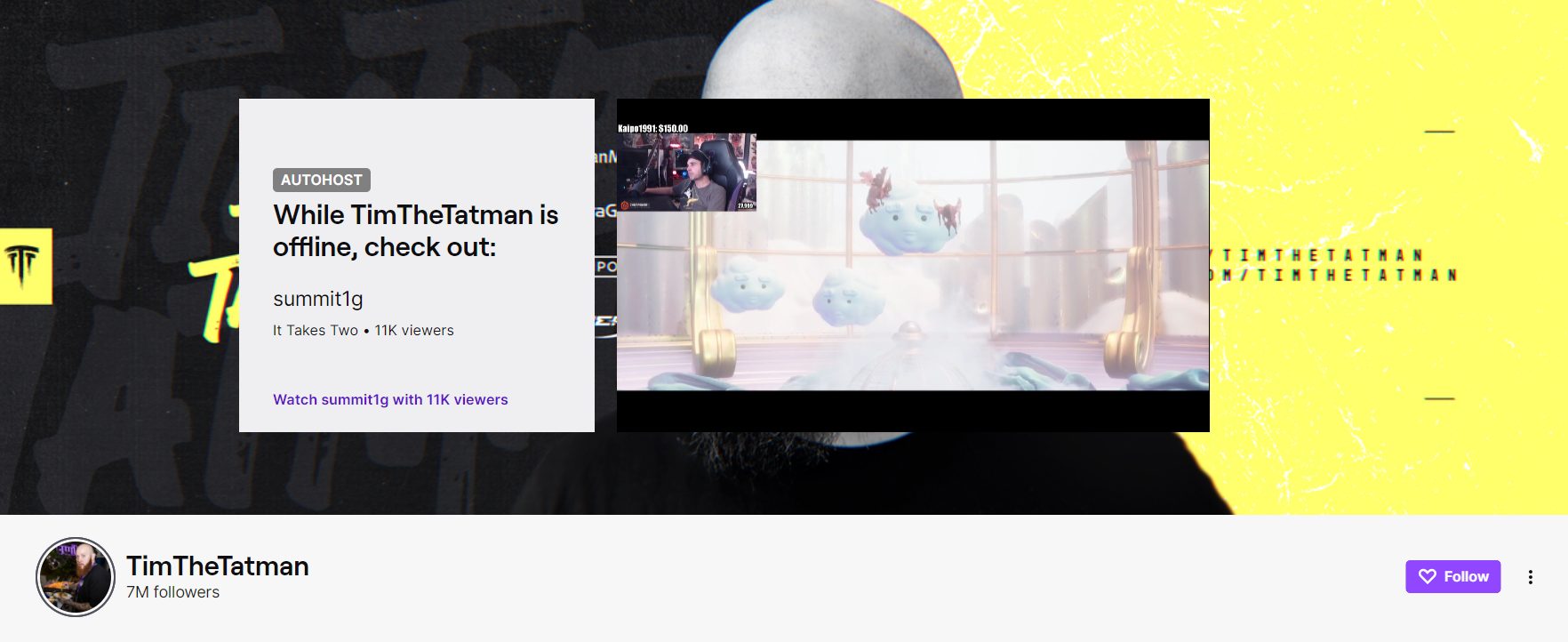 Estimated revenue $10M
TimTheTatman (aka Timothy John Betar) is an American gamer and internet personality. Since he first started streaming on Twitch nine years ago, he has built his (tatman) army to 7 million followers on the platform. In 2018, he also won the Gamers' Choice Award for the Fan Favorite Male Streamer. So, clearly he's a firm favorite among gamers.
While he's still regarded as one of 2021's top 10 Twitch gamers based on revenue, at the beginning of September he announced via a tweet that he was leaving the platform to stream exclusively on YouTube Gaming. He's not the only leading streamer to take this route. Ben Lupo (aka DrLupo) also announced in 2021 that he's leaving Twitch for YouTube.
In an interview with Business Insider, TimTheTatman shared that the reason for his move was streaming hours. With his new deal, he'll be able to spend more time with his wife and son.
Before he left Twitch, he was active about five days per week and streamed approximately seven hours per day. According to TwitchTracker, on his last day on Twitch he streamed Apex Legends and Call of Duty: Warzone.
As of November 2021, his new home – the TimTheTatman YouTube channel – boasted more than 4 million subscribers already. Though, before you think that he managed to get all those subscribers in merely three months, know that he's no stranger to YouTube. He joined YouTube many years ago and has built, as he likes to call it, "one of the most bizarre communities" on the platform.
---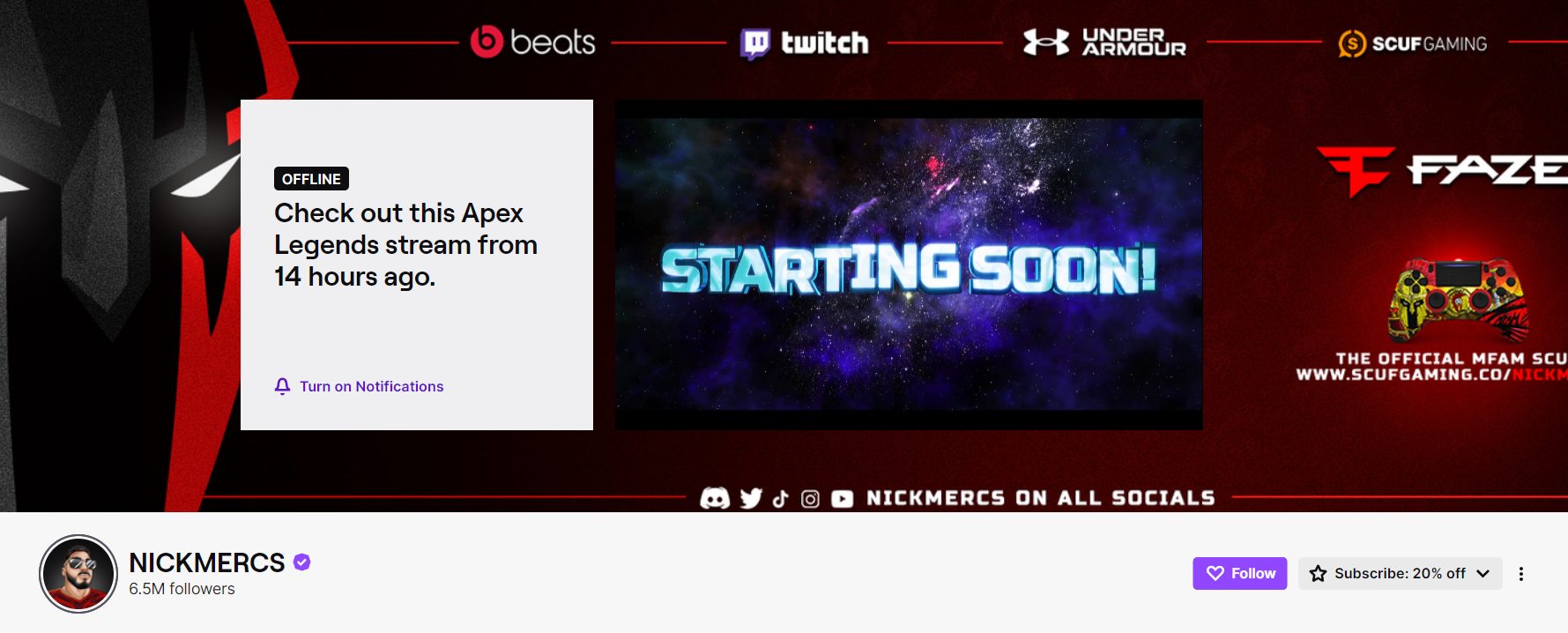 Estimated revenue $9M
Along with TimTheTatman, NICKMERCS (aka Nicholas Kolcheff) is one of the most popular streamers of Call of Duty: Warzone. He mostly streams competitive FPS games and also often plays Fortnite Battle Royale and Apex Legends. Recently, he has also streamed Halo Infinite and Riders Republic a lot.
In 2019, he joined FaZe Clan, one of the most popular content houses, after being with 100 Thieves, an e-sports organization. He has also appeared on the cover of Sports Illustrated, along with the rest of Faze Clan.
More recently, he partnered with Beats to create a NICKMERCS-branded product. Beats will also be the official sponsor of his Gauntlet event series. This is a great example of how gamers and brands can use influencer marketing to the benefit of both parties.
Unlike some of the other streamers who've opted to leave Twitch recently, in October 2021, NICKMERCS signed a deal to continue streaming exclusively on Twitch. Considering that he boasts more than 6.2 million followers, the platform most likely gave a sigh of relief to have retained him for the foreseeable future. Plus, according to TwitchTracker, he's also slightly more active than some of the other top streamers. On average, he's active 5.7 days and, to date, he has streamed nearly 11,000 hours.
---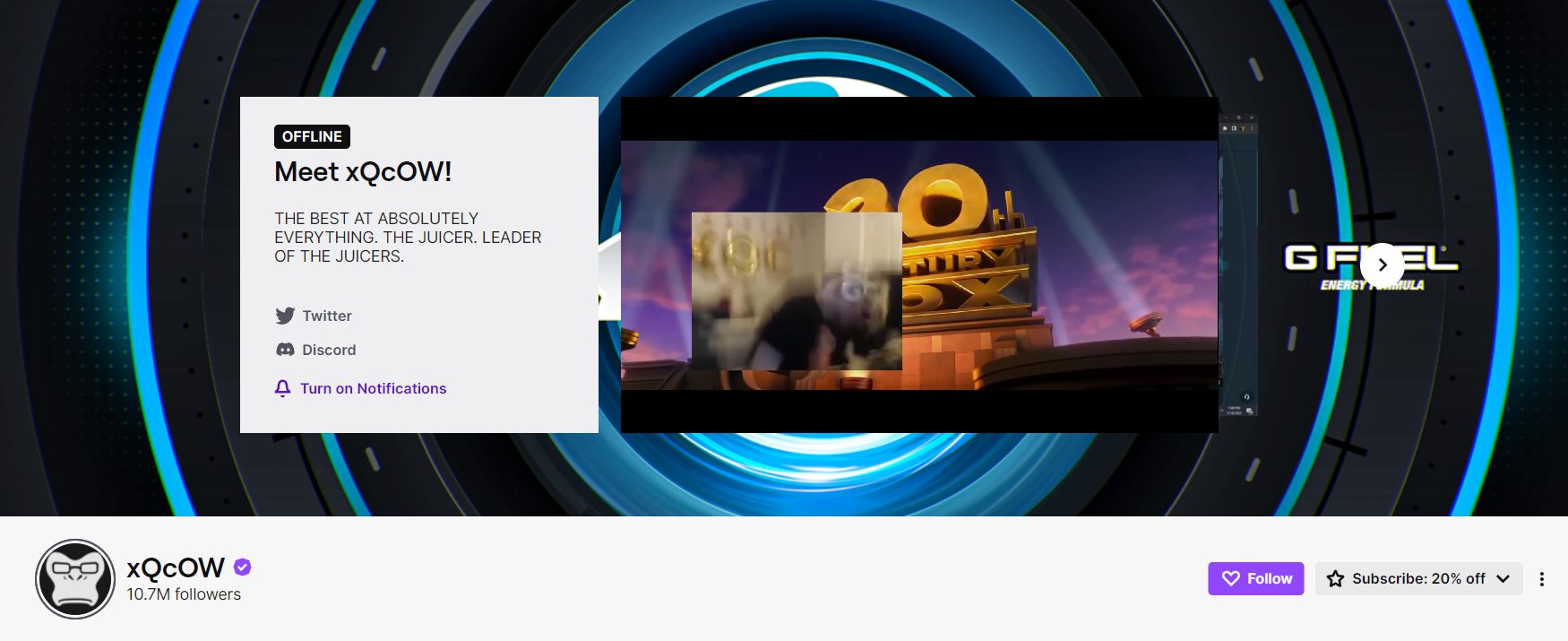 Estimated revenue $9M
xQc (aka xQcOW or formally Félix Lengyel) is a full-time Canadian Twitch streamer. He started playing League of Legends, before switching to Overwatch, for which he has become best known. In 2017, he was part of Team Canada that competed in the final of the Overwatch World Cup only to lose to South Korea.
Like some of the other top streamers, he also caused a decent amount of controversy. In his case, it was for his behavior and he has been found guilty of offensive remarks. Specifically on Twitch, he was penalized on a number of occasions with multiple-day suspensions for streaming nudity.
Nonetheless, he's still one of the gamers with the most followers on Twitch – nearly 10 million. Lately, he's been playing a lot of Apex Legends, Minecraft, and Grand Theft Auto V. However, it's his streaming of casino games that attracts the most viewers on average, according to TwitchTracker's data.
---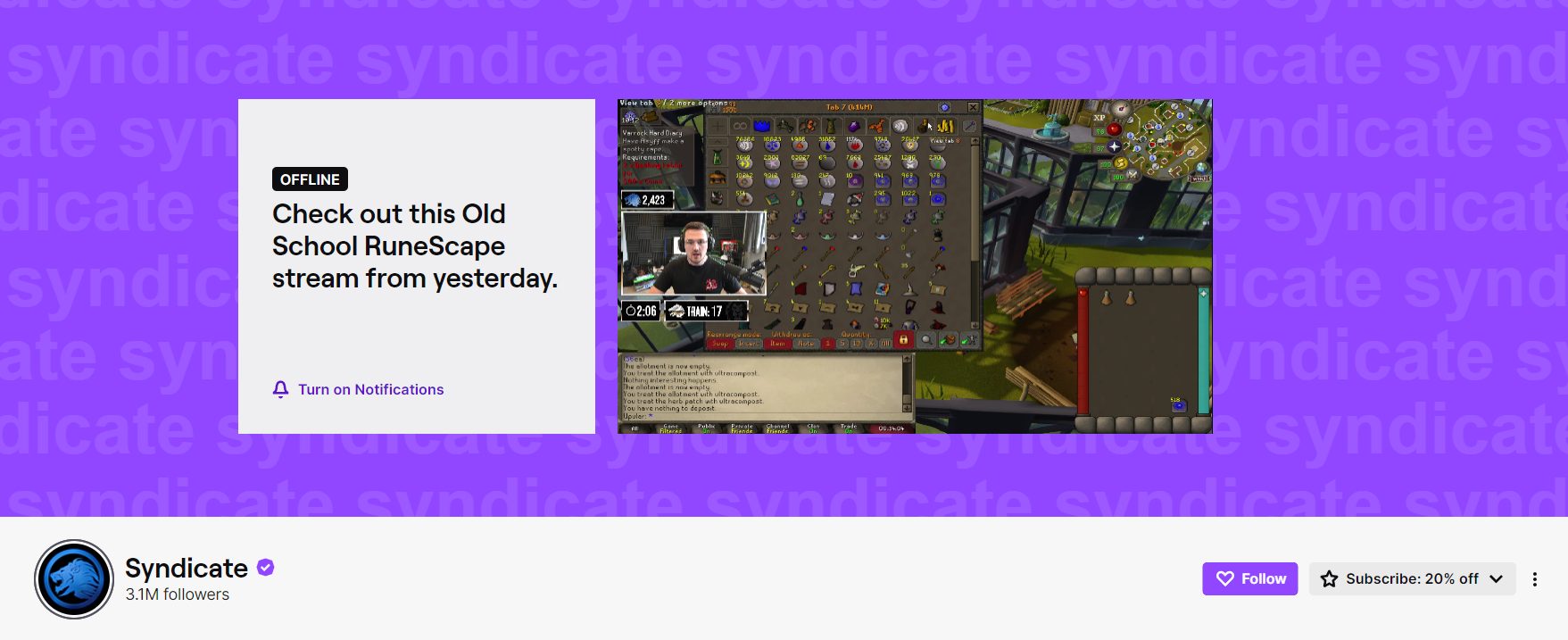 Estimated revenue $8M
While Syndicate (aka Tom Cassell) is one of the top Twitch gamers based on revenue, it wasn't without advertising violations. In 2013, he was involved in an endorsement of Microsoft Xbox One which violated Federal Trade Commission regulations as he and the other YouTubers didn't share that they were paid for the endorsement. Then, in 2015, he again violated these regulations when he neglected to mention his financial ties to Dead Realm that he endorsed. Fast-forward only a year later and he once again committed the same crime. This time while promoting a gambling website of which he was the vice president.
Lesson to be learned: always be transparent about endorsements. After all, authenticity is key if you want to appeal specifically to younger audiences who are the biggest consumers of gaming.
Controversy aside, on Twitch he has over 3 million followers and generated more than 75 million views. Also, considering that he's only active about three days per week and has streamed only about 3,900 hours, his success via the streaming platform is pretty impressive.
He mostly streams Call of Duty: Warzone, but also streams Call of Duty: Black Ops 4 and Call of Duty: Black Ops Cold War. While he hasn't streamed Minecraft since June 2021, that's another crowd-pleaser.
He's also one of the top gaming influencers on YouTube and his TheSyndicateProject channel has nearly 10 million subscribers. Similarly to Pokimane (the only female gamer to have made the list), he also started another channel on YouTube, Life of Tom, for sharing more personal stuff.
---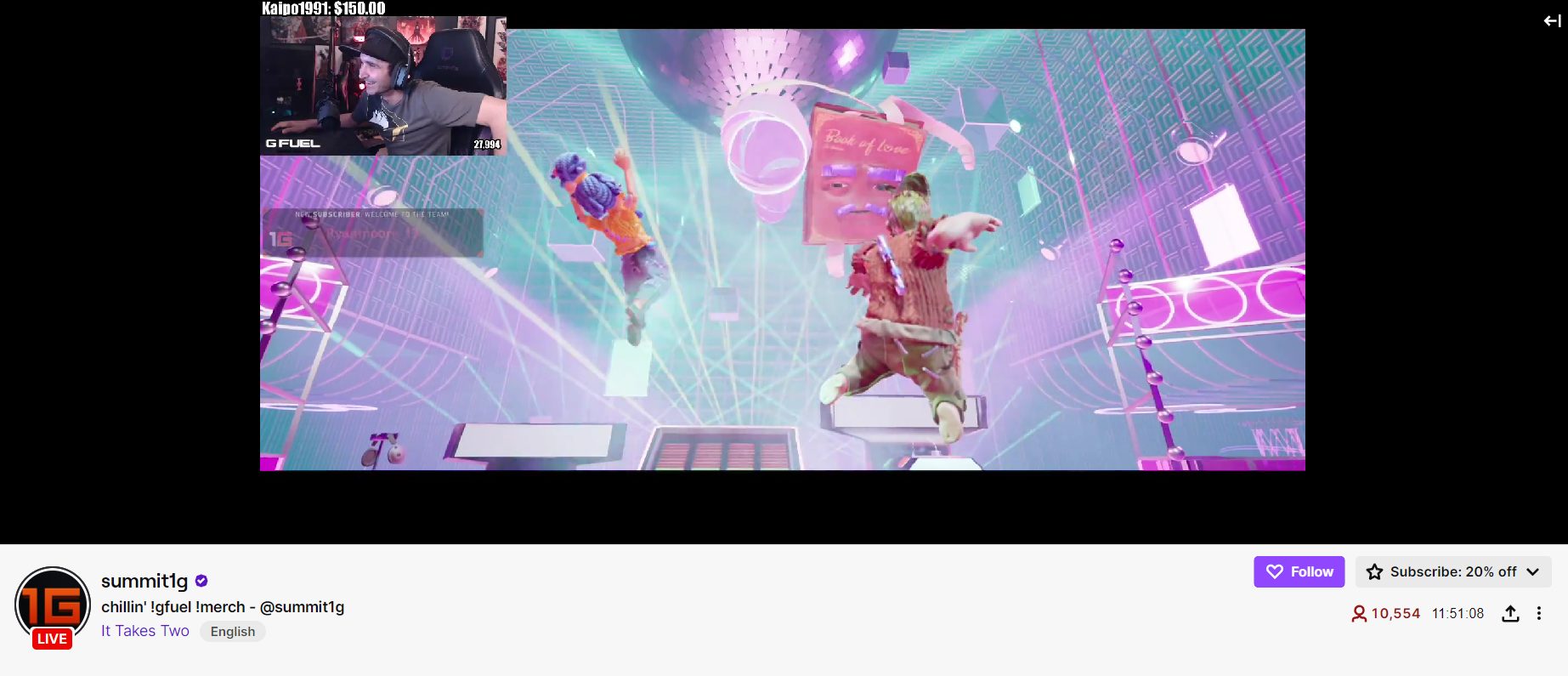 Estimated revenue $7.5M
Unlike many of the Twitch streamers on our list, summit1g (aka Jaryd Russell Lazar) streams a lot of racing games. He's one of the most popular streamers of Grand Theft Auto V.
Though, he's also into FPS games and is also one of the top streamers of Escape from Tarkov. More recently, he's also been streaming iRacing and Assetto Corsa.
Before turning to Twitch, he played professionally for A51 and Mythic. His career on Twitch has been equally successful. In fact, in 2017 he was the streamer with the most followers, while a year later he boasted the title of the owner of the channel with the most followers, albeit short-lived. In 2020, he renewed his contract with Twitch to stream exclusively via the platform for the next couple of years.
At the time of writing this article, he has 6 million followers and generated nearly 500 million views. Overall, he's one of the most active streamers and has streamed a whopping 16,308 hours. According to TwitchTracker, he's active almost every day of the week and broadcasts on average for nine hours, proving that if you put in the hours, it will pay (quite literally).
---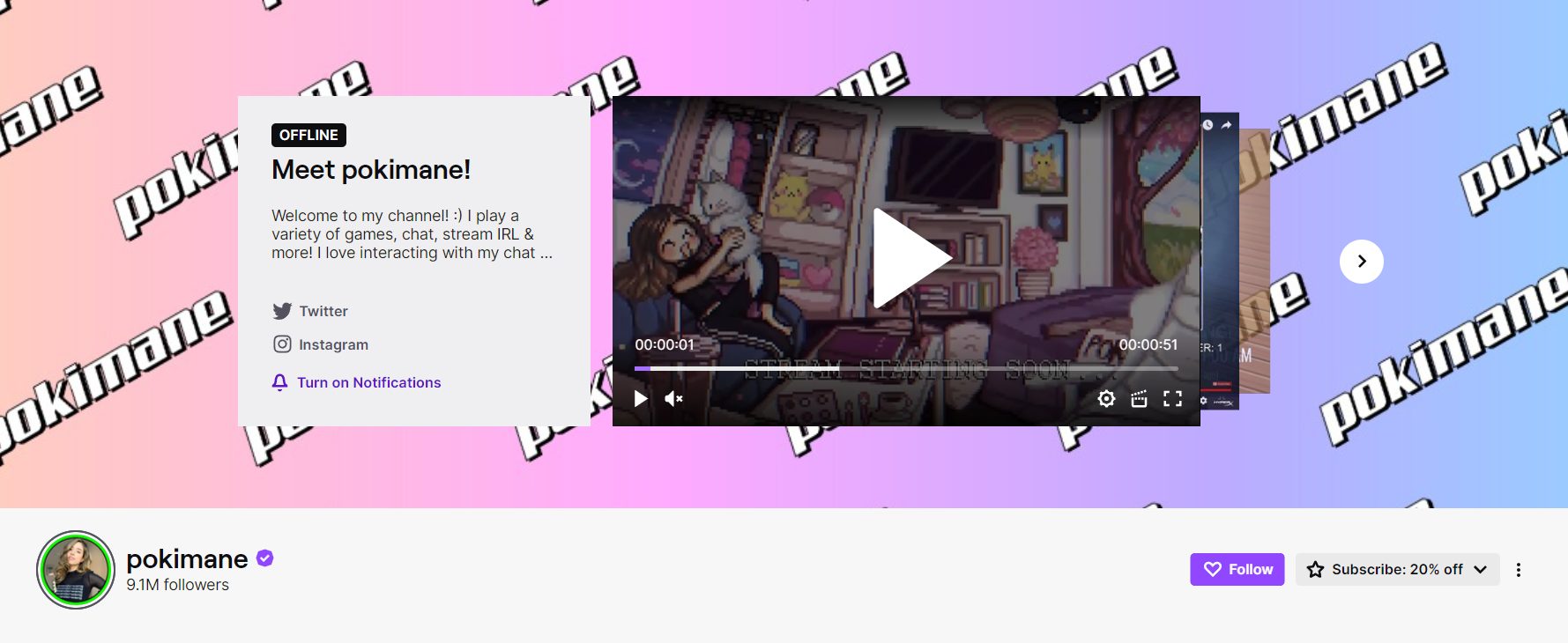 Estimated revenue $3M
If you haven't noticed it already, the first nine gamers on our list were all male. This male dominance was one of the first things that were noticed and highlighted after the earnings of the top streamers were leaked earlier this year. Only about 3% of the platform's highest paid streamers are women, of which Pokimane is one.
Pokimane (aka Imane Anys) is a Moroccan-Canadian female gamer who's best known for Fortnite and League of Legends. Her rise to Twitch fame started in 2017. In that same year, she also received the Shorty Awards for the Best Twitch Streamer of 2017 and co-founded OfflineTV, an online social entertainment content creator group based in LA.
More recently, she launched a talent-management and brand-consulting firm, RTS. Her goal with this new venture is to offer some guidance for other content creators in the gaming industry. To her, maintaining a work-life balance is crucial. While many other streamers broadcast seven to eight hours per day, according to TwitchTracker, her daily broadcast time is only four hours. So, with RTS, she wants to help other content creators avoid burnout.
Like many of the other top Twitch streamers, Pokimane is also active on YouTube. In fact, she has a number of channels and not everything is related to gaming. In 2021, she also started a new channel, imane, where she uploads vlogs and discusses personal topics.
At the time of writing this article, she had more than 8.3 million followers on Twitch and streamed over 100 games. Her YouTube following is not far behind and has 6.71 million subscribers to date. On Instagram, she also has a substantial following with nearly 6 million followers.
---
Wrapping Things Up
From sponsorship to merch sales to affiliate links to tournament winnings, there are various ways that the top Twitch gamers use to make a small fortune. Not only can you use the platform to make money, but it's also a great avenue if you want to build your brand further. Many of the top streamers on Twitch also have millions of followers on other social media networks like YouTube and even Instagram.
However, what this article highlighted is the dogged determination needed if you want to be a successful streamer. Most of the high-paid gamers approach it as a full-time job. In fact, if you look at the average hours that they stream per day, you could say they also put in "overtime". This just comes to show that even in the gaming world, there's no shortcut to success.
Frequently Asked Questions
How can you get more viewers on Twitch?
To get more viewers on Twitch, start with your game choice. It's best to play and stream a popular game. Once you've sorted out your game choice, turn your attention to improving the general appearance of your stream. You can use overlays, alerts, panels, and even create your own Twitch emotes. If you don't talk during streaming, that's the next habit you need to change. Lastly, set a clear schedule and stick to it (and if you can avoid streaming at peak times).
Can you make money as a gamer?
Yes, many gaming influencers make money by streaming on Twitch. It's estimated that the top 10 Twitch streamers make over $20 million among them. You can also make money through sponsorship and other strategies like selling your merch. If you plan on using Twitch, you should make it your goal to become a Twitch Affiliate or Twitch Partner. If you're just an everyday Twitch user, you'll need to improve your streaming skills and focus on building a following before you can use it to make money.
How do you make money on Twitch?
On Twitch, you can make money by means of various strategies. You can, for example, use affiliate links, sell customized merch, or focus on donations, sponsorship, and tournament winnings. All these strategies are available to Twitch streamers. However, for any of it to be effective, you need to have a substantial audience and improve your gaming and streaming skills first.
How can you calculate a Twitch channel's media value?
Influencer Marketing Hub has created a free online tool that can give you an estimation of the media value of any Twitch channel and the potential cost of buying a sponsorship for that specific channel. It takes into account a number of factors that include the number of total subscribers, number of total video views, average media value and total estimated media value. While it's not an official Twitch tool or associated or endorsed by Twitch, streamers and brands will find it useful.
Can you sell customized merch on Twitch?
Yes, any Twitch broadcaster with a substantial number of followers can sell customized merch on Twitch to make more money. In fact, PewDiePie has made millions by selling merch like hoodies and hats via the Represent platform. The most straightforward strategy is to create an online store and add a link to your merch store on your Twitch page. Then, all that's left to do is to promote your merchandise in your feed and direct your followers to your online store.