As a business, have you ever wanted to "slide in the DMs" of a potential client or customer? Lucky for you, there are ways to use Twitter DMs to engage your audience and ultimately grow your business.
Throughout this article, we'll walk you through how to send a DM and the various ways you can use Twitter DMs for marketing.
Let's dig in.
---
What is a Twitter DM (And How to Send One):
---
What is a Twitter DM?
A Twitter DM, or direct message, is a private message between you and another Twitter user. It doesn't appear on your feed and isn't accessible by anyone except for you and the person you messaged (or who messaged you).
Users are also able to create group direct messages to hold private conversations with multiple people at once.

Users can send basic text messages, tweets, images, videos, GIFs, and emoji all via Twitter direct messages. In fact, DMs have a 10,000 character limit, allowing you to have in-depth, one-on-one conversations or send simple, quick replies.
---
How to Send a Twitter DM
If you've never sent a direct message on Twitter before, you might be wondering exactly how to do so. There are a few different methods, so we'll walk you through each.
First, you can create a new message right from the Messages tab at the bottom right corner of your screen. Click the icon with the envelope and a plus sign to start a new message.

From here, you'll be able to choose from users you've messaged recently (if any) or search Twitter to find a specific user.
Another option is if you find a tweet that you want to share with someone. At the bottom of the tweet, click the Share icon to find the option to Send via Direct Message.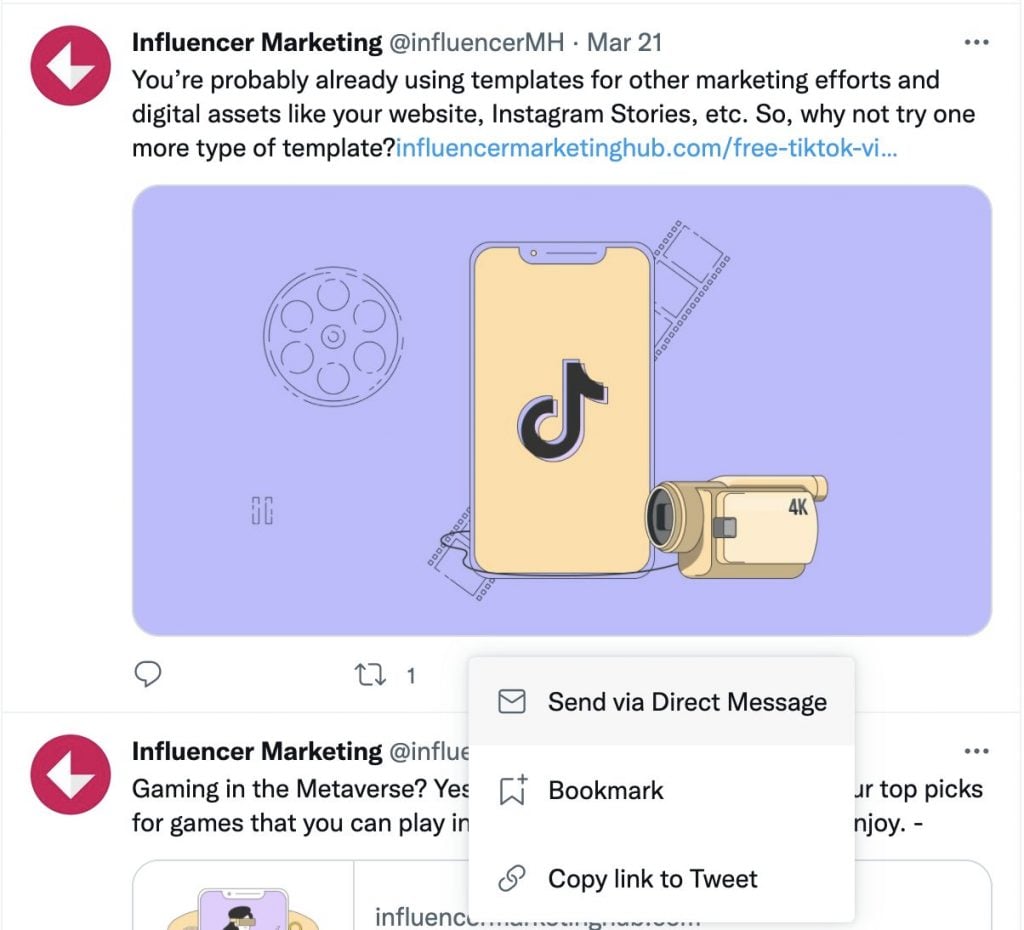 From here, you'll pull from the same list to find—or search for—the user you want to send the tweet to.
And the last option is to head directly to the person you want to message's Twitter profile. The option won't appear on everyone's inbox due to their message settings. Some users set it so that only people they follow can DM them while others allow anyone to DM them.
If you're able to message the user, you'll see the envelope icon at the top of their profile:
Click it to be taken to your message inbox with a brand new DM to your selected user open. Then you can simply type in your message to them and hit send!
---
Ways to Use Twitter DMs for Marketing
Now that you know a bit more about what Twitter DMs are and the different ways you can send them, let's talk about all the ways you can use this communication outlet for marketing your business.
Let Anyone DM You
As I mentioned, you can change your message settings to allow only people you follow to message you or have anyone on the app message you. (Note that messages from people you don't follow will appear in a separate "Message Requests" folder and you can decide whether or not you want to receive them.)
As a brand, it's a good idea to have your DMs open so that anyone can message you, whether it's an existing customer with a customer service issue, an interested customer who wants to learn more, or even an influencer (more on that next).
To update these settings, click the More option in your left-hand sidebar, then click Settings and privacy. You'll be taken to this menu:
Then, head down to the Privacy and safety menu to access your privacy settings. Click the Direct Messages menu option so you can toggle on the option to allow messages from everyone.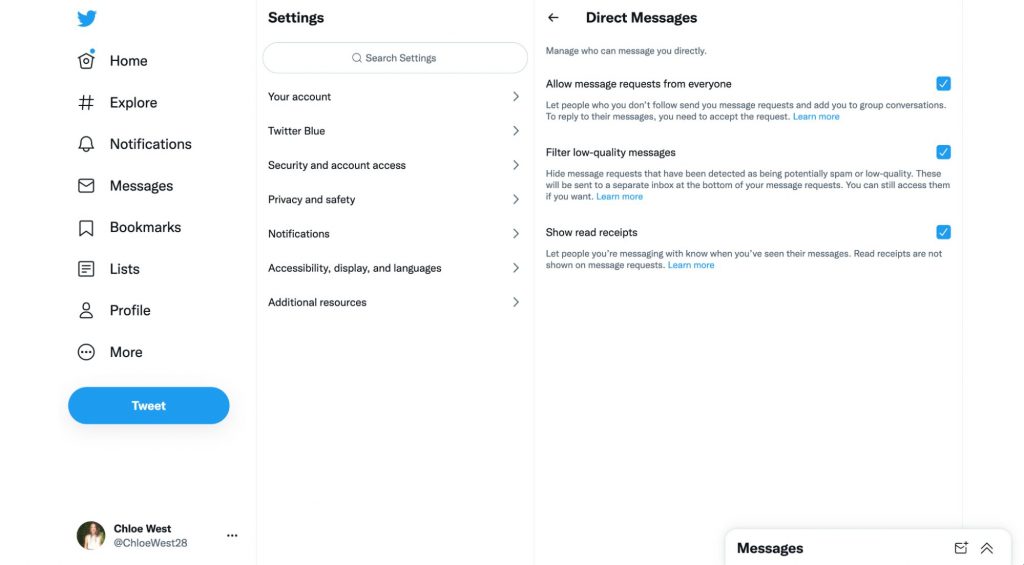 Allowing anyone to DM you gives you access to interactions with customers that you might not otherwise be able to have.
---
Connect With Influencers
Another way to utilize Twitter DMs for marketing your business is to connect with influencers. Influencer marketing is a great strategy for reaching even bigger audiences, and many industry influencers have a presence on Twitter.
Start by using Twitter search to find influencers and industry experts that are related to your niche and the products/services you offer. Then you can start a direct message conversation to discuss a partnership.
Talk about how your brand relates to their target audience and open the door to a potential influencer collaboration. From there, you can move the conversation to email or continue to discuss the logistics of your partnership via Twitter DM.
---
Reputation Management
Reputation management is all about managing and monitoring the way that your customers perceive your brand online (i.e., your overall reputation). And customer service is a big part of this.
This is why it's a good idea to use your Twitter DMs for customer service conversations. There are a couple of different ways you can do this.
First, you can monitor brand mentions so you're able to respond to anyone talking about your brand on Twitter. Customers may tag your Twitter handle directly, making it easy to find, but conducting regular searches of your brand name is a good way to catch any others.
From there, you can respond by asking the user to send you a direct message in order to handle the issue more effectively, just like The Sill did below:
Hi! We'll make sure to get you sorted with a replacement or a refund. Please send us a DM with your order number and our customer service team will get back on Monday.

— The Sill (@TheSill) March 26, 2022
Another option is to create a Twitter account specifically for customer service efforts, like HubSpot has done:
With this, you're able to funnel all customer service inquiries into one single online location—aside from your website.
Using Twitter for customer service should just be one part of the overall customer service experience, though. From here, you can gather their email address and other information to direct them over to your support team.
Offering support like this on social media is a great benefit for customer service, but it shouldn't completely replace your support process.
---
Twitter Chatbots
Just like with Facebook and Instagram, brands can also set up automated chatbots with their Twitter direct messaging. This is a great strategy for greeting customers who might be nervous about reaching out to a brand on Twitter.
With a chatbot, you can set up your automated welcome message that helps guide users and offers value right from the start. Alongside that initial message, consider adding a few clickable options to help the user get the help they're looking for, creating better-personalized customer experiences.
However, Twitter chatbots can do more than wait for customers to start a direct message chat with you. The platform also has the option to create chatbot experiences based on an initial tweet.
Take a look at this case study of Samsung's Twitter promotion. They created a tweet with an image and a customized direct message button that led users to their private messaging.
Your mission, find the perfect TV. Chat now to kick off your quest https://t.co/CdGAWM01yS

— Samsung Australia (@SamsungAU) June 8, 2017
Users who click the "Find your ideal TV button" are then led to the direct messaging interface so they can interact with Samsung's Twitter chatbot.
Customer interactions with businesses aren't always exciting, so creating an experience like this is a great way to get users excited about DMing your brand.
---
Lead Generation
Another great Twitter DM marketing strategy revolves around lead generation—or how you can gather more leads (typically email addresses) for your sales and marketing teams.
To do this, you want to start by creating a lead magnet that you can give out in exchange for an email address. This could be an ebook, swipe file, checklist, or another valuable and educational item that your target audience would be interested in.
Then, you'll create a tweet teasing your offer and tell followers they can reply to your tweet, retweet, follow you, etc., in order to receive the link to your freebie via DM.
Here's an example of this in action:
🚨 LAUNCHED 🚨

My first eBook!

I've curated the marketing strategies of brands like Cadbury, Dollar Shave Club, KitKat, Xiaomi, Stripe, Bumble, Fevicol, and 13 more.

For $0 💸

Drop a 👋 below & I'll DM you the link!

— Gaurav Arora 📢 (@aroragauravv) February 20, 2022
Interested followers will then respond in order to get access to the lead magnet. And if they don't have their DMs public, you can ask them to follow you so you're able to DM them the product—a great way to increase your following while generating leads!
Another option is to simply tease your email newsletter, like so:
Got an absolute 🔥 newsletter going out tomorrow.

If you're not a free sub to @CarbonateMe yet:

• Like this tweet, I'll DM you a signup link

• Retweet and I'll enter you in a contest for a free sponsorship spot next month pic.twitter.com/0KuDQRLPo4

— Blake Emal (@heyblake) January 31, 2022
This builds your email list, which is great for lead generation and nurturing all in itself. The above example also shows how you can incentivize people to sign up even further, by offering a giveaway.
You can use this tactic often, trying different opt-in methods each time to see what works best. Ask people to retweet, reply, follow, DM you directly, etc., in order to opt in.
Then, you'll send them the link to your landing page where they can opt in for your newsletter or lead magnet with their email address.
---
Add DM Prompts Into Tweets
Want to turn a Twitter conversation into a DM? You can easily add message prompts into your tweets that look like this:
Hey @buffer, is your system down? I can't log in.

— Omar (@hiiOmar) March 24, 2022
To do so, you first need to find your Twitter ID. The easiest way to do that is to head to a Find Twitter ID site like this one or this one and input your Twitter handle. Click the button to grab your numerical ID.
From there, you'll paste your numerical Twitter ID onto the end of the URL below, replacing the [YOURIDHERE]:
https://twitter.com/messages/compose?recipient_id=YOURIDHERE
Then you can paste it into the bottom of your tweet and it will appear as a "Send us a private message" button when you publish it.
This is a great way to prompt users to move conversations to your DMs to further build those customer relationships, whether it's a customer service issue, an influencer conversation, or a chat with a potential customer.
---
Add Twitter DMs To Your Marketing Strategy
Start using your brand's Twitter DMs strategically. By taking advantage of this direct communication outlet, you can easily get more out of Twitter.
And to improve your Twitter presence even more, learn how to grow your following so you're reaching an even larger audience.
Frequently Asked Questions
What does DM stand for?
DM has become a colloquial way of saying "direct message" or "private message." These are conversations that are private and can only be seen by the users involved in the message thread.
How do you DM someone on Twitter that doesn't follow you?
Some Twitter users will have their settings for anyone to DM them turned on, so you can still DM them. However, if they have their direct message settings toggled so that only people they follow can DM them, you can send them a public tweet mentioning what you'd like to talk about and ask them to DM you or ask them to follow you so that you can DM them.
Can you see if a DM has been read on Twitter?
Some users will turn on the "Show read receipts" option, meaning you'll be able to see if your message has been seen by the recipient.
When you send a direct message, a grey checkmark will appear by the date and time. If that checkmark turns blue, as you can see in the screenshot below, that means your message has been viewed.
How can I tell if I have a new Twitter DM?
If you have new incoming messages, you'll be able to tell one of two ways. First, you'll have a blue dot with a number of unread messages on top of the message icon in the left-hand sidebar.
In addition, your message window popup at the bottom right corner of your screen will turn blue then fade to a simple blue dot next to the "Messages" header.
If you choose to turn on direct message push notifications, you can also receive notifications on your desktop computer or smartphone that let you know anytime you receive a new Twitter DM.
How long can your Twitter DM be?
Twitter's DM limit is 10,000 characters per message, meaning you have a lot of ground to cover before you hit that character count. Make sure you're using your DMs wisely and not taking up more space simply because you can.